We review free products that we receive and participate in affiliate programs, where we may be compensated for items purchased through links from our site.
See our disclosures page for more information.
I'm not the largest lifter out there (shocking, I know). So when I saw the size of the Rogue Thompson Fat Pad, I was immediately skeptical. This thing lives up to its name by being…well, fat, to the point it made me look like a little girl.
But, as your parents probably told you, you should never judge a book by its cover. After all, a fat pad designed by powerlifting legend Donnie Thompson has to be good, right?
In my review of the Rogue Thompson Fat Pad, I'll discuss how my initial thoughts were flipped after putting it to the test.
Why You Should Trust Us
Aside from having researched, used, and extensively tested dozens of weight benches—of all varieties—we've also compiled the most comprehensive guide for the best benches for home gyms. I personally used the Rogue Fat Pad withdumbbells, benching, barbell work and more.
Beyond that, I've also spent years lifting weights, so I know what a comfortable weight bench feels like. And I'm a garage gym owner, so I know what people are looking for to get the most bang for their buck. You can trust I'll give an honest review and not lead you in the wrong direction.
Rogue Thompson Fat Pad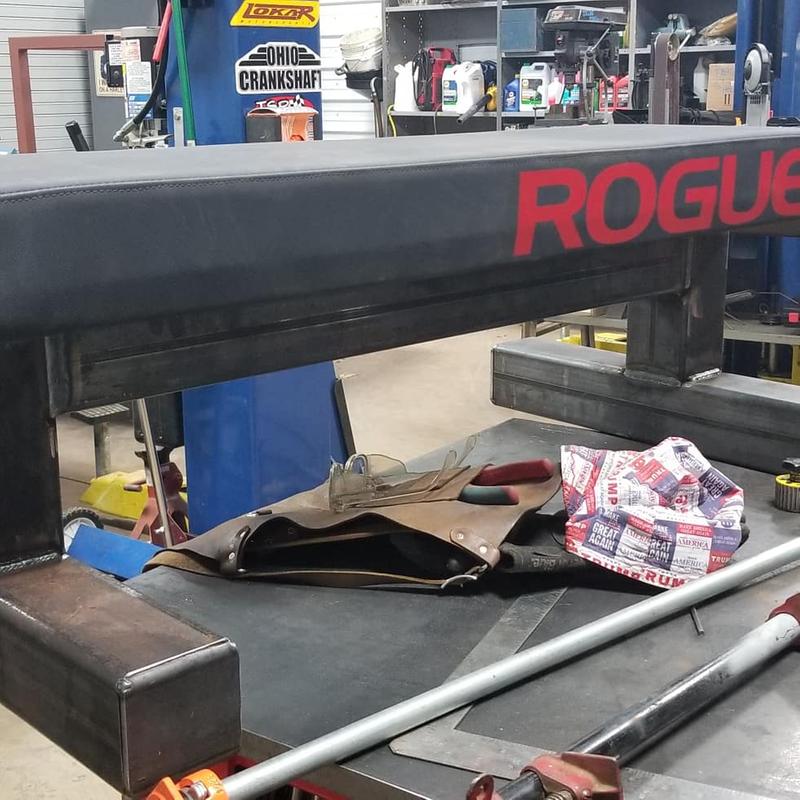 Rogue Thompson Fat Pad
The Thompson Fat Pad by Rogue is the proper bench pad to maximize power and minimize injury.Benefits:Promote Scapular movementEliminate Shoulder HangoverOptimizes Back and Upper body PositioningIncreases mechanic leveragesBenefits of the additional thickness and width:Scapular movement is uninhibited and eliminates AC tearsVery little to NO Translational loadingCommon Pec Tweaks are a thing of the past!Angry Humeral wear on the bicep tendon and soft tissue GONE!
A Quick Look at the Rogue Thompson Fat Pad
Donnie Thompson, who designed the Rogue Thompson Fat Pad and for whom it's named after, knows a thing or two about bench pressing. The former competitive powerlifter was the first person to ever total 3,000 lbs and held three bench pressing world records (in addition to two squat and three total records).
Donnie's dedication doesn't just end at lifting heavy weights with a barbell, though, as he spent seven years researching how to design the best fat pad to reduce injury, help get you a better grip on the bench, and promote better scapular movement.
There's no doubt this pad was built for someone much larger than me in mind. That said, I was still able to put it to the test to see how well it really worked.
Coop's Tips:
If you don't have a Rogue bench frame, you might need to drill or buy additional hardware
Consider the thinner Rogue Competition Pad if you're a smaller lifter
My Favorite Things:
Extremely stable and the most comfortable pad I've ever used
Allows the scapula to move more freely due to its size
The vinyl grips incredibly well. My personal favorite.
My Callouts:
Definitely an unnecessary purchase as it's costly–$155
Due to the width, it does leave marks on my lats EVERY SINGLE TIME I bench despite adjustments in my body positioning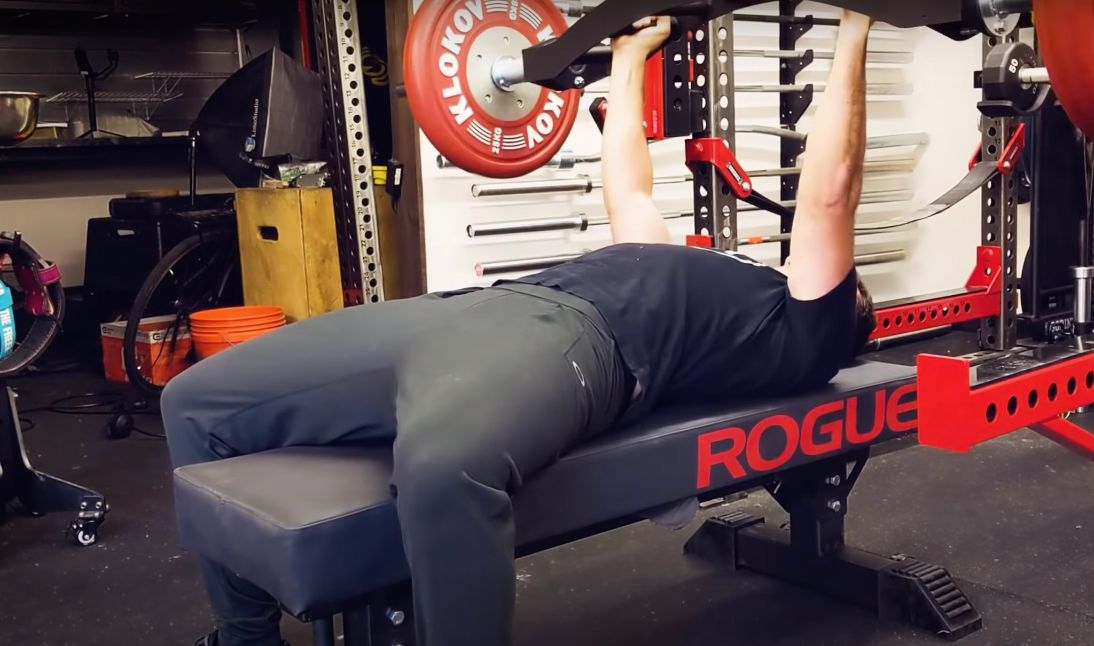 Is the Rogue Thompson Fat Pad Worth It?
Fat pads aren't the first thing most people think of when setting up a home gym. And unless you're working out at a hardcore powerlifting gym, there are very few places out there where you're going to find them.
At the end of the day, the Rogue Thompson Fat Pad and other pads like it are a specialty item reserved for a select group of lifters. Here's who we think should pick one up, and who should probably just stick with a regular weight bench.
Great for:
Injury-prone lifters trying to relieve stress on muscles
People who value comfort and durability
Larger lifters
Not recommended for: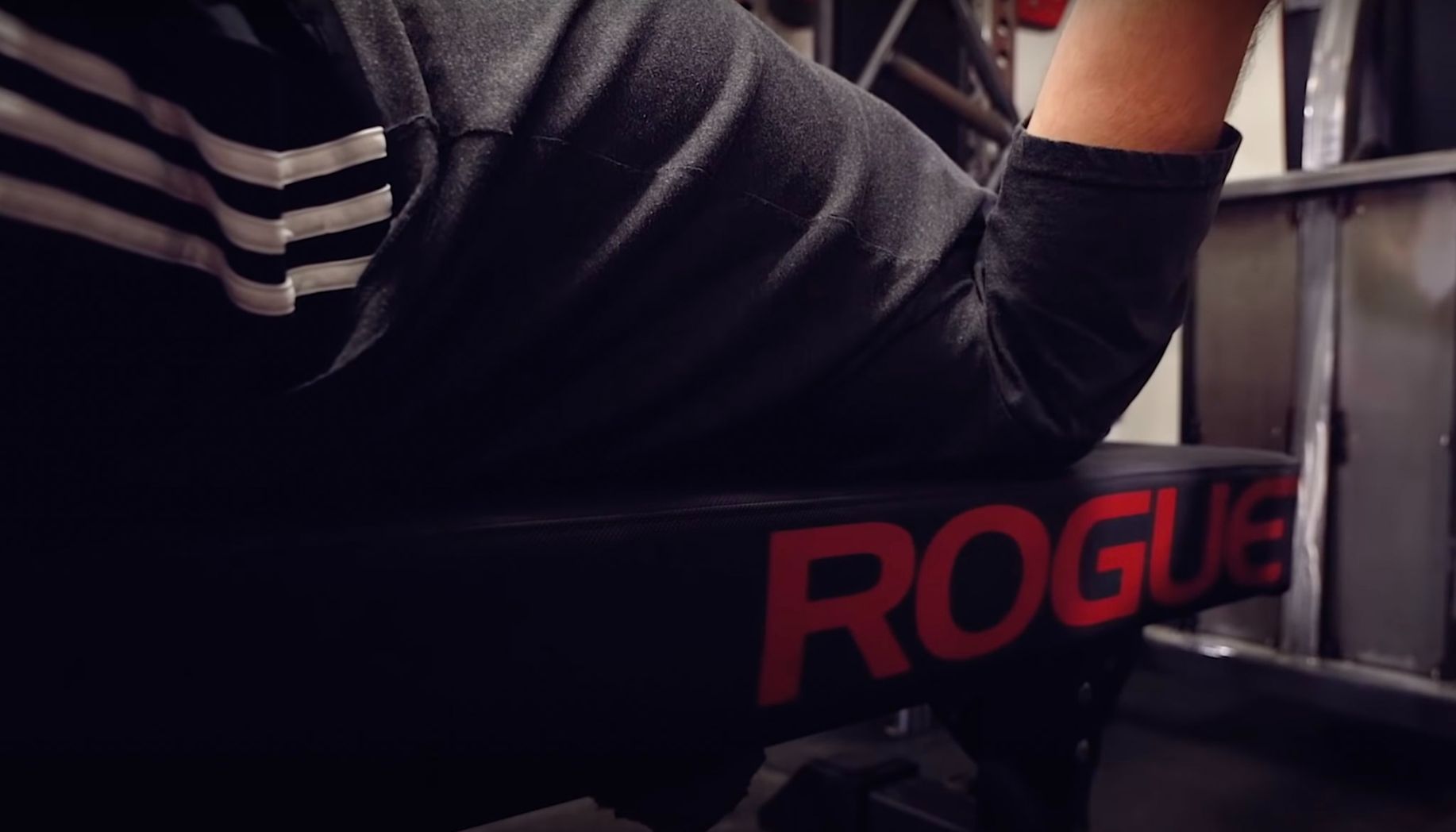 Working Out With the Rogue Thompson Fat Pad
I love bench pressing, and I have tested quite a few benches as well as pads. However, given my size (which is somewhere between a Lilliputian and the Hulk), and the Rogue Thompson Fat Pad's size, I was convinced this wasn't going to be very good for me, and I might just want to stick with a standard pad.
That all went right out the window as soon as I started putting this to the test. The pad is not only stable and comfortable, but its vinyl cover is very grippy while in use.
And despite its large size, it's not so thick I can't get leg drive by pushing my feet into the ground as I press. Rows felt equally as good as bench press due to the thick padding of the product. There's really nothing else like it.
While it might set you back a few bucks, you can also count on the pad being in your home gym near your power rack for quite some time. I've used mine for about four years and while the side logo has faded a bit, it still looks and feels like new every time I use it.
Rogue also sells a competition-sized fat pad that's the same thickness, but a little narrower at 12.5 inches. If you're someone who's preparing to participate in a powerlifting competition with IPF-certified barbells and plates, this might be a worthy investment. However, I prefer the fat pad's width for my purposes.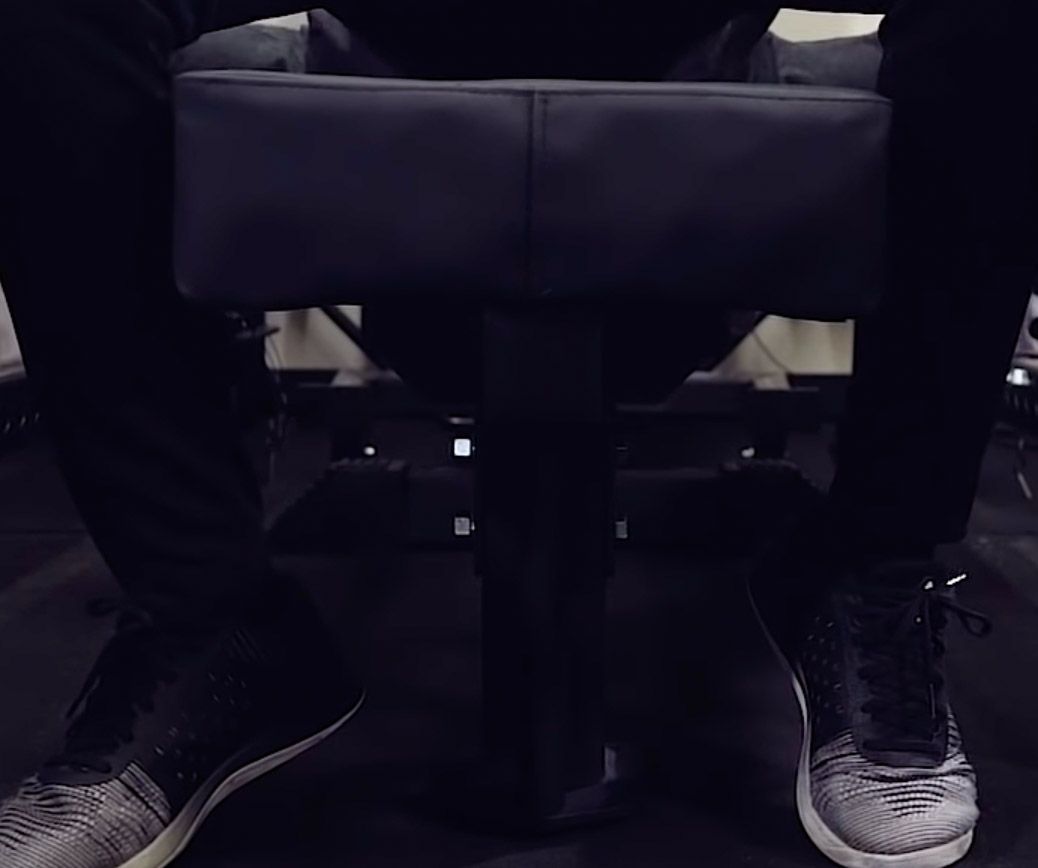 Rogue Thompson Fat Pad Construction and Materials
While there are other options out there, like the REP Fitness Wide Pad or FringeSport Fatty Comp Bench, you'll probably feel the difference in how those fat pads are constructed compared to the Rogue, which always puts out quality equipment. Rogue's fat pad is firm and heavy duty, without being rock hard.
Some may sacrifice comfortability for stability, and vice-versa—but not here. The plywood backing provides enough security so you don't feel uneasy on big lifts, while the vinyl covering provides enough plush to prevent any soreness from long-term use.
You might think some of that wears off after a while—you'd be wrong. As I mentioned before, I've had mine for about four years and it still feels the same way it did on Day One. There really is no product like it on the market. It's the best bench pad in the world, no question about it.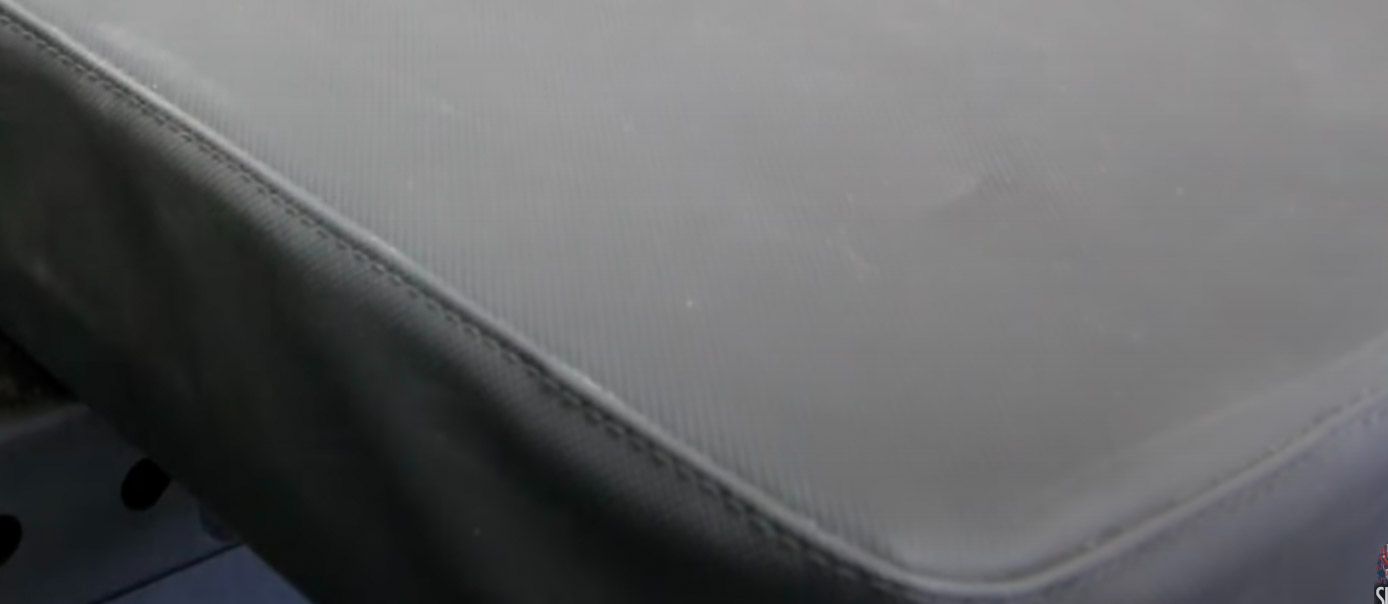 Ordering and Assembling the Rogue Thompson Fat Pad
The Rogue Thompson Fat Pad is, without a doubt, an investment at $155. Odds are the pad that came with your bench will serve you just fine, and home gym owners on a budget can secure a fat pad with similar dimensions, like the Titan Fitness Hefty Pad. It's a fraction of the price but also not as great of quality.
At the end of the day, you get what you pay for. Rogue makes some of the best fitness equipment in the world, like the Rogue Monster Utility Bench, and this is one of those cases where if you're willing to shell out a few bucks you'll have a product that will stay in your home gym, and likely your children's as well, for many years of happy lifting.
Try to go cheap on a product like this, and there's a good chance you'll find yourself needing to replace it after a while or feeling the side effects of bargain gym equipment.
Shipping costs range from $16-$30, depending on where you live within the continental United States—that number goes up exponentially if you're reading this from Hawaii or Alaska.
Assembly is easy if you have a Rogue bench—just simply drill it into the frame. The Rogue Thompson Fat Pad is compatible with all of the company's weight benches, and most other companies' weight benches. There are some, though, that might require some additional drilling and hardware to place the pad on the frame.
If you fall into that last category, then you're in luck. Donnie Thompson himself uploaded a YouTube videoon how to attach the Rogue Fat Pad to a non-Rogue bench. It might take a little work but hey, beats having to buy a whole new bench.
Either way, be aware the Fat Pad doesn't come with any bolts so you'll probably have to make a trip to the hardware store to attach it to whichever frame you're using.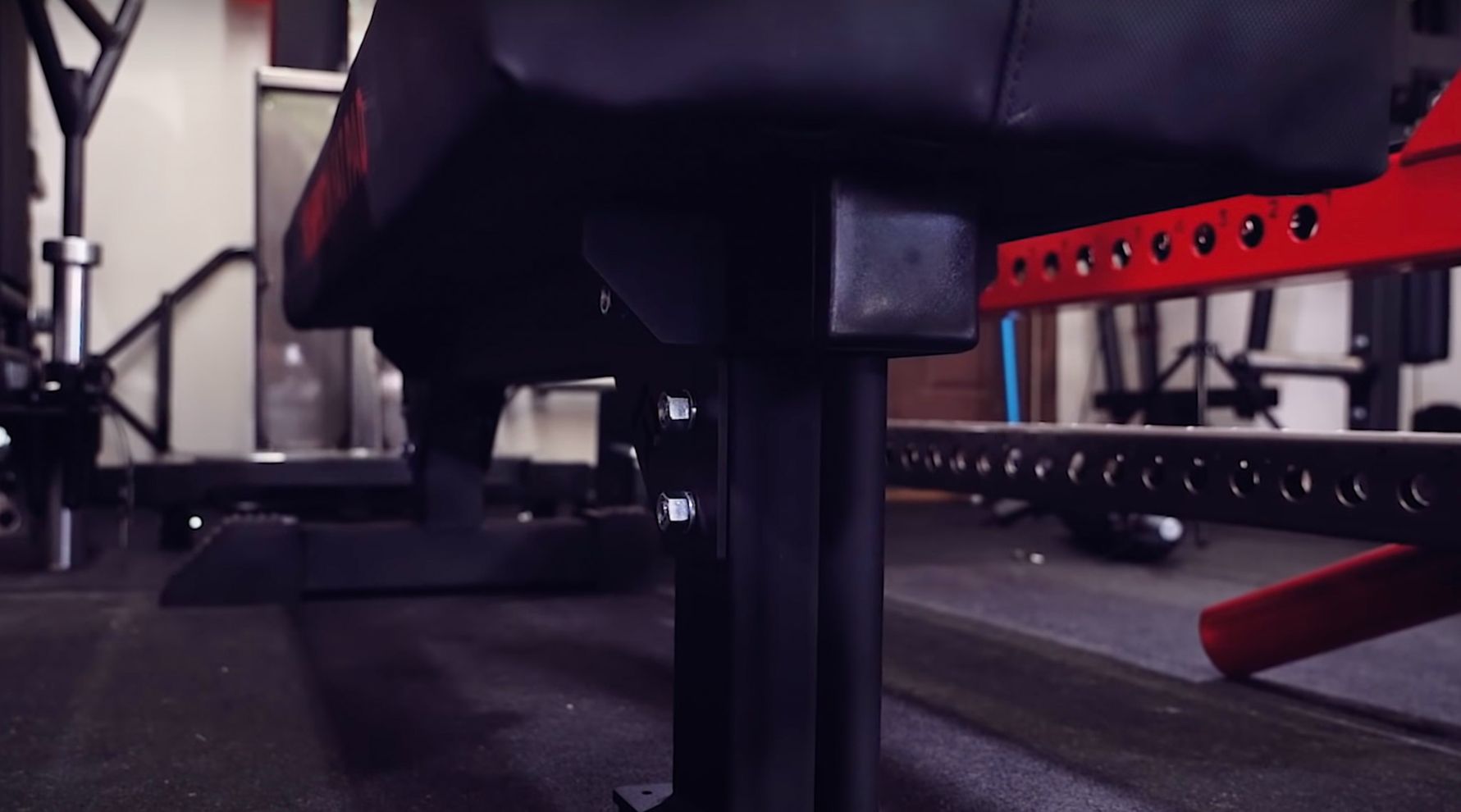 Rogue Thompson Fat Pad Specs
| | |
| --- | --- |
| Pad Length | 50" |
| Pad Width | 14.5" |
| Pad Height | 4.5" |
| Pad material | "Grabber" vinyl cover |
| Weight | 32 lb |
| Made in USA? | Yes |
Customer Experience
Every experience with Rogue has been great. Their customer service team can be reached by phone or email, though due to their popularity it might sometimes take a while for them to get back to you. They may be more expensive than the discounted brands, but I wrote a guide onhow to save money on Rogue equipment.
Returns
Think long and hard before deciding whether you want to purchase the Rogue Thompson Fat Pad. While unopened items can be returned within 30 days of delivery, opened and used ones will most likely be denied for a refund.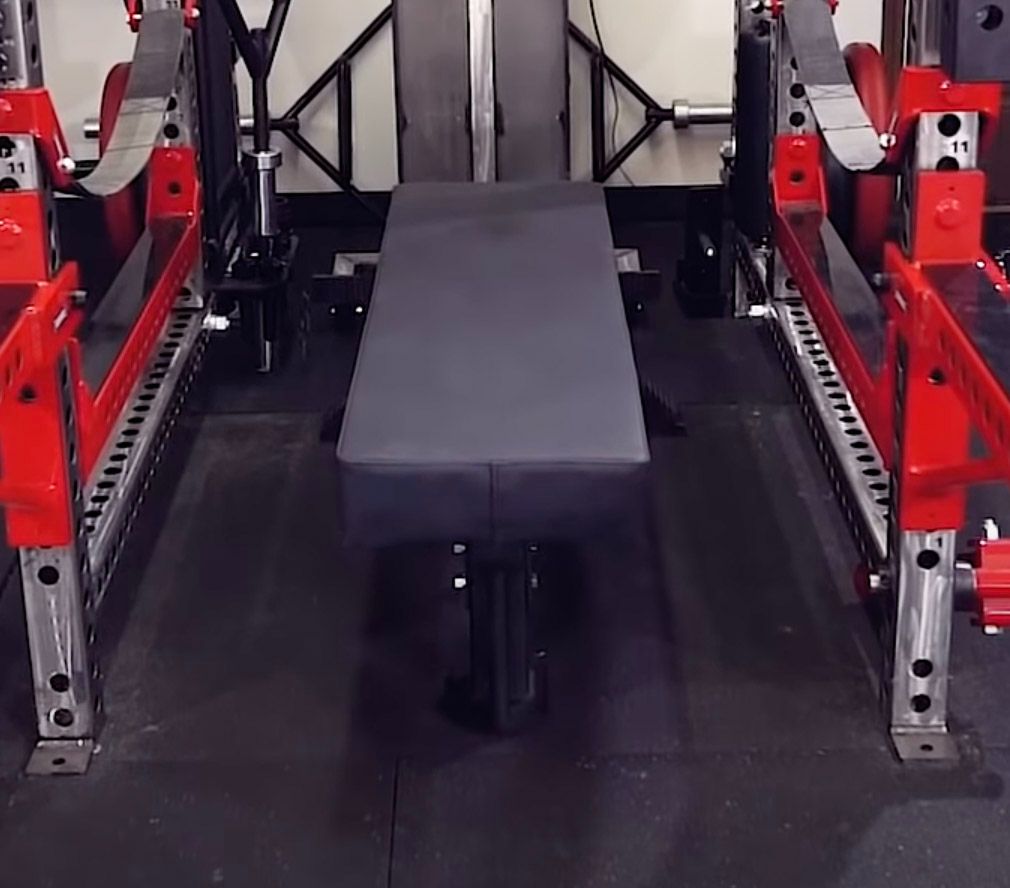 Customer Reviews
The Rogue Thompson Fat Pad is beloved by more than just myself. Reviews on the Rogue website are largely positive, with a 4.9 average rating, with many saying it's the best pad on the market and one reviewer even saying they sleep on it.
The only consistent negative point made is customers weren't provided any bolts to attach the pad to their weight bench.
Final Verdict of Our Rogue Thompson Fat Pad Review
A fat pad is not something the average lifter needs in their home gym on their standard bench, but if you're going to go with one, the Rogue Thompson Fat Pad has no competition. I wish it was on every piece of gym equipment I own, it's that good.
Takeaways:
It's pricey, but a worthy investment for dedicated powerlifters
Think before you buy, as you can't return it once it's used
We wouldn't recommend it for smaller lifters
Don't just take our word for it—it has rave reviews by lifters of all kinds.
Full Rating
Rogue Thompson Fat Pad FAQs
Here are some of the most commonly asked questions about the Rogue Thompson Fat Pad:
Is the Rogue Thompson Fat Pad for everyone?
It can be, but it's best suited for larger lifters in strength training and those who are injury-prone who need a competition fat pad or wider pad. For example, if your primary sport is CrossFit or weightlifting, you might not get much out of sinking your cash into this, unless you just want to experience luxury while you lift.
Can I use the Rogue Thompson Fat Pad on any flat utility bench?
Rogue says it's compatible with most weight benches, but you might need some additional hardware to secure it to a non-Rogue flat bench. It cannot currently be used on an adjustable bench. Also, be advised that it will adjust your overall bench height.
Is the Rogue Thompson Fat Pad a good value?
It's a great product, but it's an expensive one. While it's a great piece of equipment for benching, the pad on your bench is a much better value for most lifters. Let's face it: you can work your upper body and pecs on just about anything. But if you have the money, I do love this pad.