We test and review fitness products based on an independent, multi-point methodology. If you use our links to purchase something, we may earn a commission. Read our disclosures.
Indoor triathlon training is an excellent way to train and get fit when it's hard to get outside. Don't let bad weather and cold conditions keep you from getting to race day strong, healthy, and ready to cross that finish line!
You have all the tools you need to build strength and endurance at the gym or in your own home. There are treadmills designed to support high-mileage runners, stationary bikes that provide a dynamic ride, and dry-land training for swim fitness. So, whether your goal is to race your first triathlon indoors or continue building fitness during the off-season, indoor triathlon training is a powerful way to swim-bike-run all year long.
Gear You'll Need for Indoor Triathlon Training
Triathlon is a gear-intensive activity. Think of needing to kit up for three individual sports, and you'll be on the right track. At a minimum, triathletes will need good running shoes, a bike, a bike helmet, a swimsuit, and swim training gear.
But in my experience as a triathlete, I can tell you that this list can grow exponentially depending on the distance you want to compete in and where you race. I was partial to the half-Ironman distance (70.3) when I lived in Seattle.
My gear was an interesting mix of warm and cold-weather wear, and a wetsuit was a must for cold open water swimming. And the kit… I have drawers full of flashy spandex bike and tri kits, running singlets, running shorts, tights, jackets, hats, gloves, buffs, etc. You get the idea.
But the good news is that getting started in triathlon with a lot less is possible. Take it from Amanda Capritto, GGR editor and fellow triathlete, who did her first Olympic-distance triathlon on a mountain bike and slipping Target bike shorts over a one-piece swimsuit!
This is especially true if you're interested in training indoors for shorter sprint tris, considering you can mainly use gym equipment like treadmills and stationary bikes. And there are now races that take place entirely indoors—you can actually race in the gym! You'll run on the treadmill, cycle on a stationary bike, and swim in the pool.
If indoor training—and racing—sounds good to you, the only gear you'll need is regular gym clothes, running shoes, and a swimsuit. Everything else is 100% optional. Sounds good? Let's dive into the details.
Treadmills
While I'm one of those triathletes who always hated running on the treadmill, I can still acknowledge that they are a powerful indoor training tool.
Even if you do most of your running outdoors, treadmills are fantastic for speed work training sessions designed to increase your pace and build mental toughness. If you can run staring at a blank wall for any length of time, you can do just about anything!
But if your goal is indoor triathlon training—and an indoor race—the mighty treadmill is your best friend. No matter the distance, triathlons always end with a run, so you must get those legs conditioned!
A treadmill designed for high-frequency runners is going to be your best bet. You have plenty of options if you're working out at the gym; most commercial treadmills will be fine for any training you want to do. But what if you're looking to purchase a treadmill for home use? Here is a short list of our favorite types of treadmills for the triathlete looking to log some serious miles.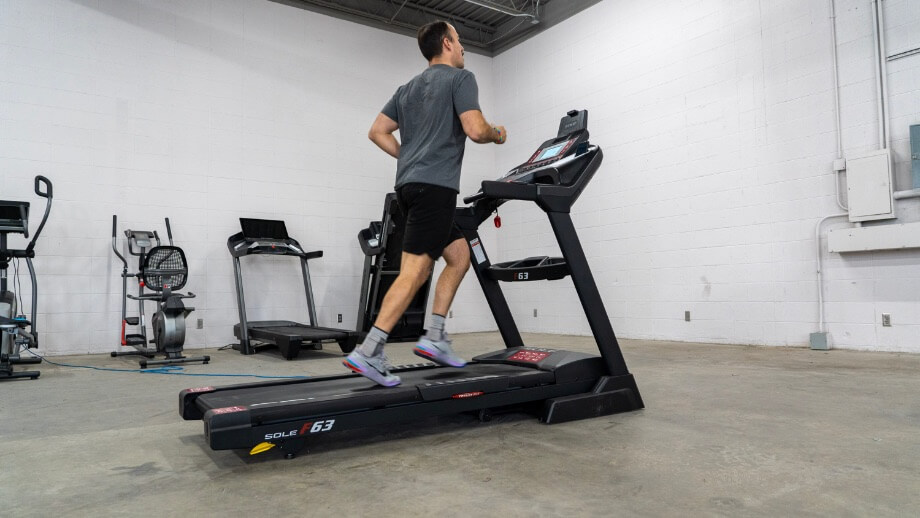 Learn more about all these treadmills and other top performers by reading our guide to the best treadmills.
NordicTrack Commercial 1750
This treadmill consistently tops our various guides to the best treadmills. It's pretty beefy and not cheap, but if you plan on running a lot indoors, this machine can handle the load. It comes with the iFIT training app that NordicTrack is well-known for.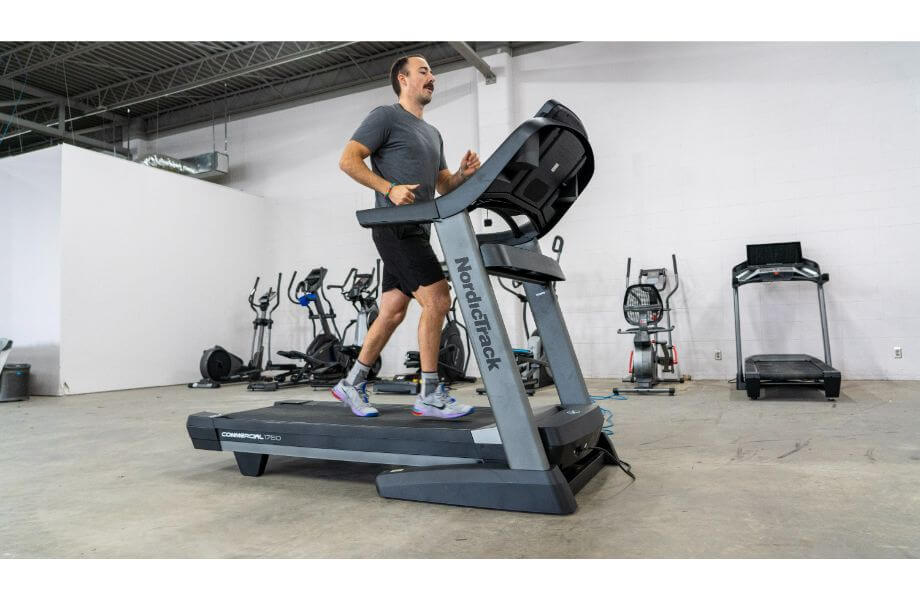 I run iFIT on my own treadmill, and I love the coaching programs. Having someone running with you helps pass the time in a semi-enjoyable way. It's also a great option to introduce new training programs to your routine or mix things up in the off-season.
But beyond iFIT, this treadmill allows you to run at an incline and a decline, which is an important feature that mimics the stresses of outdoor running.
Proform Pro 9000
The Proform Pro 9000 is also a team favorite. This is the official treadmill of the Boston Marathon and it's designed to handle a lot of mileage from high-frequency runners. The Proform Pro 9000 also comes with iFIT preinstalled and can handle incline and decline training. It's an excellent choice for runners who are thinking about higher-mileage training or longer races in the future.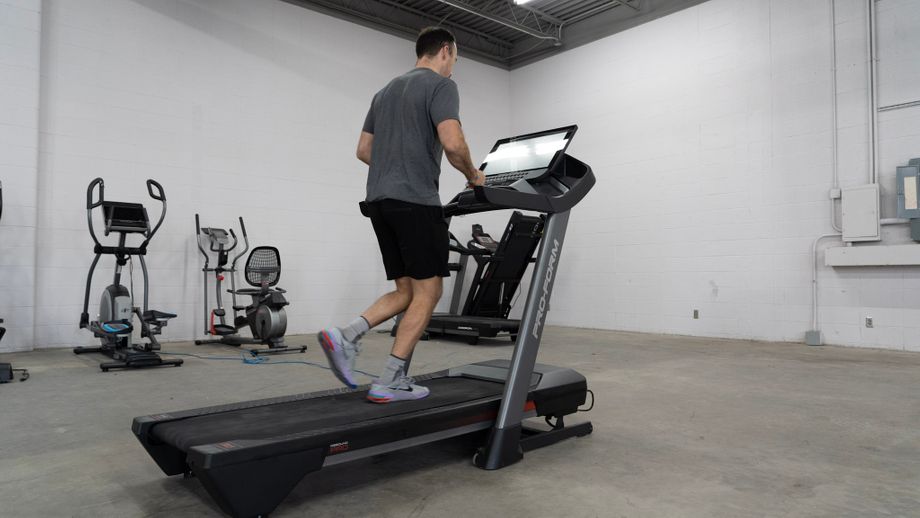 AssaultRunner Pro Treadmill
I'm a big fan of manual treadmills for indoor tri training. These machines are 100% powered by your legs, providing a more dynamic experience that closely mimics outdoor running. The AssaultRunner Pro won our award for best manual treadmill of 2023.
It's a beefy machine with a long belt that can accommodate a long stride and feels very stable. It also has an excellent display screen, which isn't very common with manual machines. This could be a great option regardless of the distance you choose to race.
Stationary Bike
When I decided to train for my first triathlon, I hadn't been on a bike since I was a kid. You know the saying, "it's just like riding a bike?" Well, that may be true for a regular bike, but there is a whole new level of complication when you add in multiple chainrings, 20+ gears, and clipless pedals! Going on my first bike ride for tri training was a major exercise in patience and comedic error…
The good news is that the learning curve didn't take that long, and I soon found myself cruising the streets around Lake Sammamish in the Seattle area. That is, until winter set in, and it was cold and wet every day. That's when I became a true believer in the importance of indoor training.
Whether you set up your own bike on a trainer or use a stationary bike at the gym, indoor bike training is highly beneficial. You can introduce "big gear" sets—where high levels of resistance mimics climbing steep hills—and high-cadence drills. Indoor cycling is also a great way to put a lot of miles in without worrying about weather conditions, traffic, or carrying a lot of water and nutrition.
Here are some of our favorite options when it comes to indoor cycling.
Set Your Own Bike up on a Trainer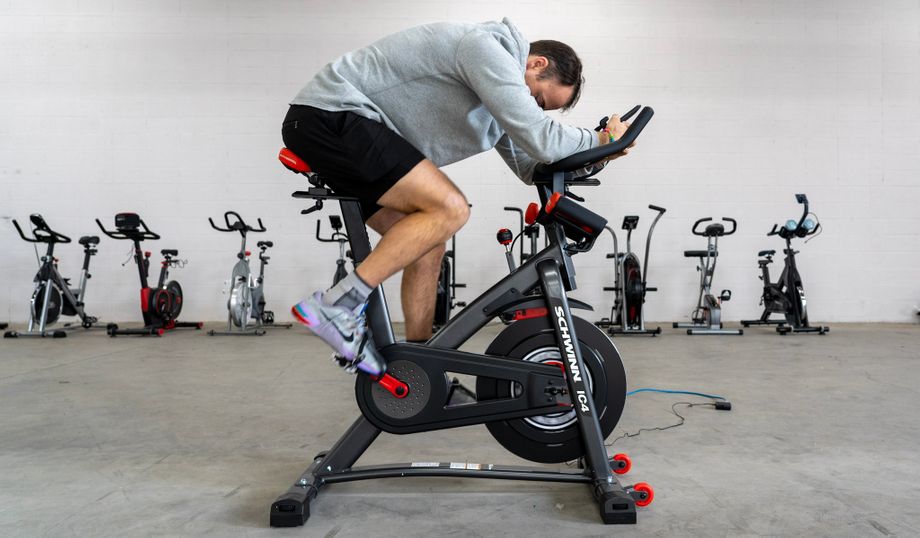 If you currently own a road or tri bike, setting it up on an indoor trainer can be a great way to train indoors. Not only are you taking advantage of gear you already own, trainers are a lot less expensive than investing in a stationary bike.
You'll also be training on the bike you'll be racing on and getting acclimated to the bike's geometry and seat position. Depending on your model, you'll either take off your back tire for an electronic trainer or replace the skewer on the back tire for a manual trainer.
I started with a generic Performance Bikes manual trainer for less than $100, which served me well for several years. Manual trainers allow you to increase or decrease resistance using a magnetic system. It's intuitive and takes only a few minutes to set up. The only downside is that your back tire will experience some wear as it spins over the flywheel.
On the other side of the coin, you'll find electronic trainers like the Wahoo KICKR system or the Zwift Hub Smart Trainer. I eventually upgraded to this when I wanted something a little more dynamic. It allows you to control resistance through your bike computer and can set up pre-programmed workouts. With these trainers, you remove your back wheel, so you're not putting any wear-and-tear on it.
Join a Spin Class
If you have access to a gym, a weekly or bi-weekly spin class can be a great way to train for your triathlon as well. Those sessions are tough, and you can be sure you'll get an intense workout each time. This can be a great way to introduce a level of effort you may not be able to get cycling on your own.
Purchase a Stationary Bike for Home Use
If you live close to a gym, you can use a commercial-grade stationary bike for indoor workouts. But you can also purchase a bike for your home use. Here are some of our favorites. For the complete list, check out our guide to the best exercise bikes.
NordicTrack S22i
The NordicTrack S22i won our award for Best Peloton Alternative in 2023. It has a steep price tag, but it's one of the best bikes for people looking for an immersive indoor riding experience. It does incline and decline training, has 24 levels of magnetic resistance, and has a large screen to stream iFIT programs and live spin classes. 
Bowflex VeloCore
If you're looking for a stationary bike to simulate outdoor riding, look no further than the Bowflex VeloCore. You'll notice right away that it sports an aggressive geometry similar to that of a road bike. It also has a unique feature that leans the bike side-to-side, which forces you to use your core to remain perfectly upright. But don't worry, the VeloCore is very stable, so there's no risk of falling over like on a real bike! It also comes with a nice big screen to stream workouts.
Dry-Land Swim Training Equipment
If you've never swam competitively, you've likely never heard the term "dry-land" before. It wasn't a term I became familiar with until my son became a competitive swimmer in middle school. The goal of dry-land swim training is to use strength and conditioning exercises to increase your power, mobility, and flexibility in the pool.
For a competitive swimmer, the idea is to use dry-land training to become explosive in the water, drop race times, and increase distance per stroke. For a triathlete, dry-land training is similar but different enough to warrant mentioning.
Open-water swimming (where most triathlons occur) requires a different kind of swimming than in the pool. You have to deal with choppy water, sighting a landmark to ensure you're swimming in a straight line, and (yes) people kicking you in the face.
In an indoor pool, you have lane lines to keep you on track and a nice wall to kick off every 25 or 50 yards. But either way, you have to learn how to propel yourself in the water, breathe efficiently, and build enough endurance to swim the distance of your desired race. Dry-land swim training can help with all of that.
Dry Land Swim Techniques and Tools
Like any training, you can go as high- or low-tech as you'd like. You can find dry land training plans that use bodyweight exercises, resistance bands, or a TRX strap. Others incorporate weight lifting and CrossFit-like exercises to help develop that explosiveness.
And then there is the Vasa Trainer. Vasa has several options, from the high-end SwimErg to the low-tech SportBench, designed to target swim-specific muscles. Each piece of equipment puts you in the correct stroke position to work on technique and uses resistance to increase strength and power in the pool.
Whether you're going to swim an indoor sprint tri or you want to cross the finish line of a full Ironman event, working on your swim fitness is an absolute must.
Strength Training Equipment
Endurance athletes, including triathletes, need to add strength training to their training plan. While it seems like a lot to juggle on top of running, cycling, and swimming, it's critical. Muscles are what support your joints when they're taking a beating over an extended period.
For triathletes, you'll want to focus on strength training exercises that cross-train the muscles you'll be using on race day. Exercises like squats, lunges, deadlifts, pushups, planks, and pull-ups will all increase your ability to run, bike, and swim faster and longer with less risk of injury. Check out our article on cross-training for endurance athletes for more details on these exercises.
RELATED: Cross-Training for Runners
The Benefits of Cross Training
Triathlon is unique in that you have built-in cross-training simply by training for three sports. With that said, adding strength training as your official cross-training activity brings many benefits.
Injury prevention: The Journal of Strength and Conditioning Research1 conducted a study in 2023 to look at injury prevention and safe training techniques for trail runners. They found that over 70% of injuries were due to overuse and overtraining. The good news is that a cross-training program that involves mobility and strength work can "foster stable, controlled movement," which can help with injury prevention. It's not a giant leap to extrapolate the same benefits for triathletes.
Performance enhancement: Building muscle strength through weight-lifting, TRX, or bodyweight exercise will improve your ability to go harder for longer on race day. In fact, another study in the Journal of Strength and Conditioning Research2 found that strength training two to three times per week is the best strategy to improve running economy—the relationship between how fast you can run and how your body processes oxygen. Your race-day experience will be much more enjoyable if you can run, bike, and swim at a lower heart rate.
Prevention of overtraining syndrome: It's easy for a triathlete to fall into a pattern of overtraining. Juggling three sports in one is a big commitment. But adding in several solid strength training sessions per week instead of additional mileage can help prevent that. You know you're dealing with overtraining syndrome if you experience unusual weakness or fatigue during workouts, decreased performance, and reduced motivation to continue training.
Indoor Triathlon Training Weekly Workout Plan
Indoor triathlon training is not only 100% doable, but it's also simple to incorporate into your life. This is especially true if you already have a habit of regular exercise. And if you have access to a nearby gym and pool, your monetary investment will be minimal. I always recommend that endurance athletes race one triathlon before committing to buying an expensive bike or a ton of gear. If you fall in love with the sport, there's plenty of time to look at a flashy kit, cool bikes, and a wetsuit.
Here are three sample indoor triathlon training plans that you can use to kickstart your conditioning. These plans assume your first race will be an indoor sprint distance event consisting of a 750-meter swim, a 20K bike, and a 5K run.
5-Day Per Week Beginner Workout Split for Triathletes
If you're a brand-new triathlete and new to multi-sport training, you must only bite off what you can chew. Your goal for your first sprint triathlon should be to finish and have fun. Don't worry about times, and it's 100% okay if you need to walk part of (or the entirety of) the 5K at the end.
You can train to finish without too many double workouts if this sounds like your speed. Here is a sample week early in an indoor triathlon training program to get you to the starting line on race day.
When planning, don't forget to factor in time for travel to the gym or pool, change into the right gear, and get your nutrition together. Also, plan on many more showers than you're used to taking!
| | | | | | | |
| --- | --- | --- | --- | --- | --- | --- |
| Monday | Tuesday | Wednesday | Thursday | Friday | Saturday | Sunday |
| Rest | – Swim 400 meters easy (16 x 25)- Strength training | – 25-minute treadmill run as 5x (2 minute walk + 3 minute run) | – 60-minutes on stationary bike or moderate spin class | Rest | – Swim 500 meters steady (10×50) | – 30-minute treadmill run as 6x (1.5 minute walk + 3.5 minute run)- Strength training |
5-Day Per Week Workout Split for Intermediate Triathletes
This sample 5-day training plan incorporates workouts designed for the athlete with a small base fitness level but is new to triathlon. Most days will have 2 training activities, which is very common with triathlon training. Unless you see that a workout is a "brick," you can separate the activities as you like.
A note on bricks: If you're new to triathlon, you're probably unfamiliar with this term. A brick is a workout that combines two activities back-to-back. For example, this plan may ask you to run right after getting off the bike or even do all three activities back-to-back. Bricks let you experience the muscular protest your legs will give you on race day. They are an essential part of triathlon training!
Here is a sample week of a 5-day per week indoor triathlon training plan at the beginning of the cycle.
| | | | | | | |
| --- | --- | --- | --- | --- | --- | --- |
| Monday | Tuesday | Wednesday | Thursday | Friday | Saturday | Sunday |
| Rest | – 20-minute treadmill run (easy)- Strength training | BRICK- 10-minute swim (easy)- 20-minute stationary bike (easy)- 10-minute treadmill run (easy) | Rest | – 30-minute treadmill run (with 10-minutes of speed work)- Strength training | – 60-minutes on stationary bike or moderate spin class | – 30-minute swim- Yoga |
6-Day Per Week Workout Split for Triathletes
Six-day training plans are far more common for triathletes. When you have to train for three sports all at once, it will take more time than training for only one. But we know you're up for the challenge!
The good news is that having six days available means you have fewer days to double up on workouts. And that can be easier to manage if you're working full-time or have a lot of family responsibilities.
Here is a sample week you might find mid-way through your indoor triathlon training plan. Don't forget to warm up before your workouts and take the time to recover afterward.
| | | | | | | |
| --- | --- | --- | --- | --- | --- | --- |
| Monday | Tuesday | Wednesday | Thursday | Friday | Saturday | Sunday |
| – 750 meter swim time trial. Swim the entire course without stopping and note your time.- Strength training | – 45-minute stationary bike with big gear work OR moderate 1-hour spin class | BRICK- 30-minute swim – 20-minute treadmill run (easy) | – 20k stationary bike time trial. Bike as hard as you can and record your time. | REST | – 30-minute treadmill run with speed work sets- Strength training | – 30-minute swim- spin class or 45-minute stationary bike workout with hills |
More Ways to Train for Triathlon Indoors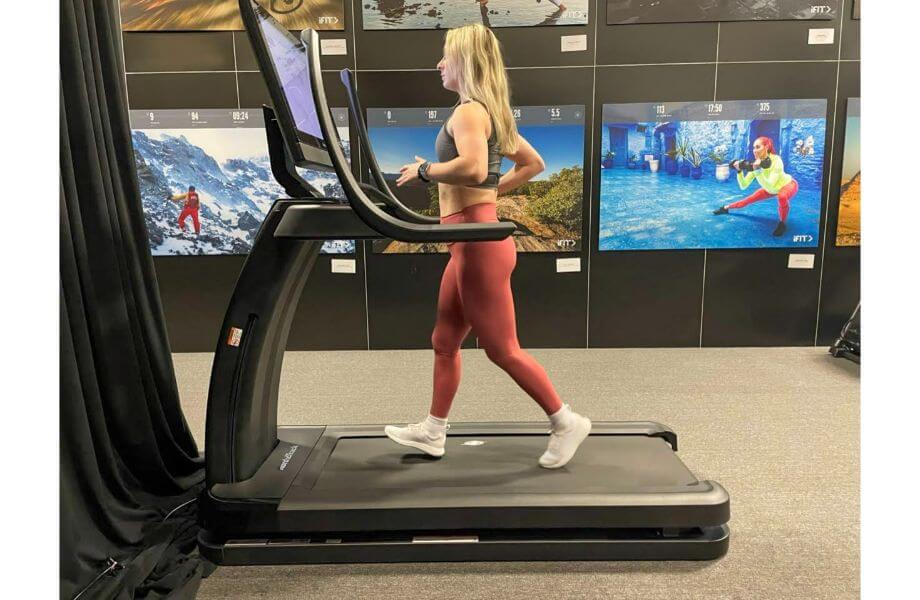 As with any sport, there are adjacent training techniques that can help you build the muscular strength and muscular endurance needed on race day. While you definitely need to practice swimming, cycling, and running, you can still gain fitness by focusing on other activities. This can be especially important if you need to travel for work or your local pool is closed for resurfacing (this happens more than you would expect…).
Rowing
Next to using the Vasa Trainer, rowing ergs are one of the best ways to build swimming fitness out of the pool. Triathletes typically swim freestyle, and the erg beautifully targets all those key muscles. You will develop your arms, lats, back, and shoulders, and your legs, glutes, and core will also get an excellent workout. Rowing is truly a full-body exercise.
Breathing Techniques
Breathing is a skill all on its own—especially in the water. If you didn't grow up swimming, this is not natural yet. You'll need to learn the fundamentals of how to breathe while swimming so you can stay comfortable, relaxed, and fast in the water. Spend time practicing blowing air out through your nose while swimming, and inhaling during the pull phase of your stroke. You can start doing this at the side of the pool and then advance from there.
Incorrect breathing habits can create a chain reaction that can ruin your triathlon experience. If you're gasping for breath in the pool or inhaling water, your heart rate will shoot up, and you'll need to slow down or stop altogether to get things under control.
Mobility Work
Running and cycling are both activities that tend to tighten up the muscles. Stretching and mobility work will help keep muscle fibers long and lean so you can increase your running stride and have more power on the bike.
I'm a big fan of adding a yoga session once a week and even adding short 15-minute yoga stretch sessions first thing in the morning. Triathlon can be a demanding sport on the body, but keeping muscles and tendons nice and loose will help tremendously toward injury prevention.
Can You Train for a Triathlon Indoors?
The answer is a resounding yes! After reading this article, I hope you have confidence in your ability to execute indoor triathlon training successfully. Between commercial gym equipment, treadmills, and stationary bikes you can purchase for your home, plus ready access to a pool, you're well on your way!
And no matter if you're a beginner or a seasoned triathlete, there are a host of training plans to get you to the start line healthy and ready to have a great time. While indoor triathlon training can be a lot to juggle, it's a great way to get fit, even during the cold winter months. And if your race is indoors, it's the perfect way to prepare.
With that said, if you plan on racing outdoors, make sure to work in some outdoor training time. This is especially true for the bike. You'll need experience with road safety, riding in poor weather conditions, and getting up steep inclines. And if your swim is in the open water, you need to learn how to sight and swim in choppy conditions. Indoor training can only mimic so much.
At the end of the day, you want to train like you race. Indoor triathlon training is an excellent option if you're new to tri or want to continue training in the offseason, but make sure you get outside as much as possible.
Indoor Triathlon Training: Final Thoughts
Indoor triathlon training is an excellent way to build fitness for your first triathlon and can be a great way of staying fit during the cold winter months. Use equipment that will support your race goals, and don't neglect your strength training. Now, go swim-bike-run to your finish line!
Indoor Triathlon Training: Q&A
Are There Indoor Triathlon Races?
Yes, there sure are! Indoor sprint triathlons are becoming more and more popular because they're more accessible to the new triathlete. With indoor races, you'll swim in a pool, transition to a stationary bike, and then finish with a run on the treadmill. You don't have to worry about transitions, open-water swimming, or riding your bike on the roads. And the only equipment you need to invest in is a swimsuit, goggles, workout clothes, and running shoes
What are the Most Common Triathlon Distances?
There are four standard triathlon distances: sprint, Olympic, half-Ironman, and Ironman. 
Sprint distance. Sprint races are the shortest and are made up of a 750-meter swim, a 20K bike, and a 5K run. 
Olympic distance. Olympic tris start with a 1,500-meter swim followed by a 40K (24.8 mile) bike and a 10K (6.2 mile) run.
Half-Ironman distance. The 70.3 race is a 1.2-mile swim, a 56-mile bike, and a 13.1-mile run.
Ironman distance. The full Ironman distance is a 2.4-mile swim, a 112-mile bike, and a 26.2-mile run. 
Why do Triathlons Start with Swimming?
Triathlons always start with a swim, followed by a bike and a run. The reason the event begins with the swim is primarily due to safety. Swimming in the open water poses the most significant threat to the safety of an exhausted athlete. If the swim was at the end of a triathlon, athletes would be more prone to cramps, which can lead to danger in the water.
Swimming is also an exciting way to kick off a race and is very-spectator friendly. Once triathletes are out of the water, they spread out pretty quickly on the bike, and you can only see them a few times during the race.
Citations
"Injury Prevention, Safe Training Techniques, Rehabilitation, and Return to Sport in Trail Runners." NCBI, 28 January 2023, https://www.ncbi.nlm.nih.gov/pmc/articles/PMC8811510/. Accessed 16 November 2023.
"Injury Prevention, Safe Training Techniques, Rehabilitation, and Return to Sport in Trail Runners." NCBI, 28 January 2023, https://www.ncbi.nlm.nih.gov/pmc/articles/PMC8811510/. Accessed 16 November 2023.