We test and review fitness products based on an independent, multi-point methodology. If you use our links to purchase something, we may earn a commission. Read our disclosures.
Unless you're blessed to have a home gym thousands of square feet large, you're probably looking to find versatile equipment that can do multiple things. When it comes to weight benches, that means finding an adjustable one that can be used as a decline, flat, and incline bench.
Now what if we told you that not only does such a bench exist at an affordable price, but it could also replace other machines in your home gym?
Our Force USA MyBench review looks at this versatile weight bench that comes with a preacher curl and leg developer attachment, all at an affordable price. But does it deliver on all its promises?
Let's find out.
Dozens of Weight Benches Tested and Reviewed
In our quest to find the best weight bench for every type of home gym owner, we've personally put more than 50 flat and adjustable benches through rigorous testing. That means using them for countless exercises, from the classic bench press to step-ups, to closely examining the padding on every single one.
And because our team consists of certified personal trainers, CrossFit L1-Trainers, and competitive weightlifters, we know what type of bench works best for different athletes. Those other sites will tell you that any bench will work for every type of lifter, which is only partially true, but everyone's different. We're here to give you a much more in-depth look at every product.
Force USA MyBench
Force USA MyBench
This niche product is a weight bench with a leg developer and preacher curl attachment. This is something that can be difficult to find on a bench, which can be frustrating if you are eager to complete exercises associated with these attachments.The bench is completely adjustable from -25 to 75 degrees. This means you are able to use this bench in a flat, incline, or decline position making it especially versatile in addition to the attachments. The weight rating comes in at 705 pounds, making this bench fairly durable. In addition to this, the padding is made from a high end upholstery with ripstop meshing and high-density foam padding.Some reviews state that this bench is simply too big, and people who are average height have to modify their position to really make this bench work for them. This being said, you are able to adjust the backrest to 6 positions and the seat to 3 different positions to help aid in this dilemma.The Force USA MyBench is easy to move as it comes with a handle and dual rear transport wheels.
A Quick Look at the Force USA MyBench
Force USA knows a thing or two about versatile workout equipment, and if you don't believe me, just look at the Force USA G20 All-in-One Trainer, which combines 11 strength training machines into one.
Force USA seems to have taken the same philosophy with the MyBench, which right off the bat gets major bonus points for being a flat, incline, and decline bench (or FID bench). There's six different backrest positions, ranging from -25 to 75 degrees, and three seat pad positions.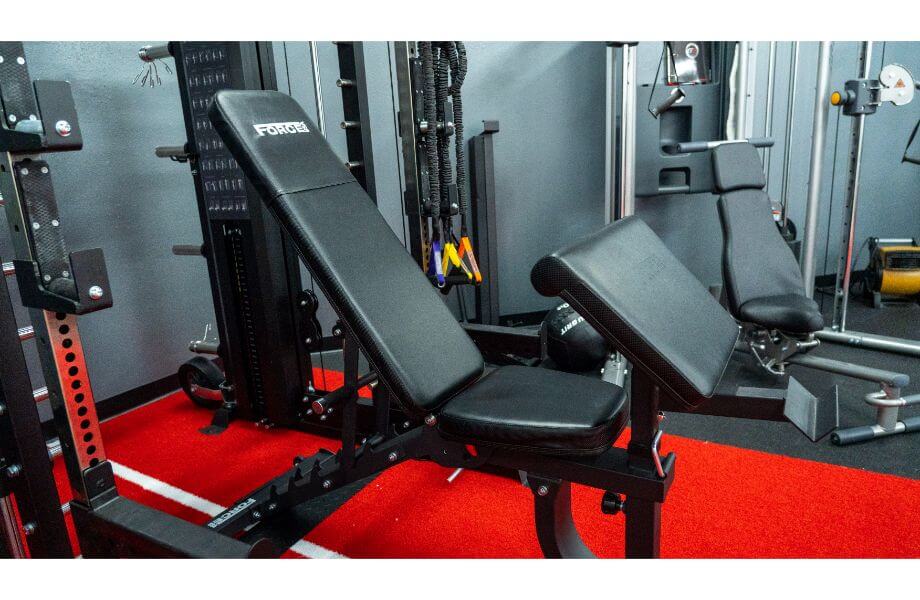 That alone would make this a high-value bench, but the addition of the preacher curl and leg developer attachments are the cherries on top.
It has a weight rating of 705 pounds, which is more than enough for most home gym lifters, but the tripod design and heavy-duty steel construction lead us to believe it could probably hold a little more than that if needed.
My Tips
Pros:
Very affordable at $399
Can be used as flat bench, incline bench, or decline bench
Combines 3 pieces of strength training equipment into 1
Lifetime structural warranty
Cons:
At 22" tall, it's not the best for shorter lifters
Only has 6 backrest adjustments, which is fewer than other benches
Leg developer attachment can be wobbly, according to online reviews
Is the Force USA MyBench Worth It?
There's no doubt that the Force USA MyBench is a versatile piece of equipment that can help many home gym owners maximize their floor space, and at $399 it's one of the most affordable adjustable benches on the market.
But there are certain people who may find that the MyBench isn't a perfect fit for them. Here's who we think will absolutely love it, and who may want to check out something else.
Great for:
Taller lifters
Those looking for versatile home gym equipment
Anyone on a budget
Not recommended for:
Shorter lifters
Those who need a weight bench that meets International Powerlifting Federation standards
People looking for compact exercise equipment
Force USA MyBench Specs
| | |
| --- | --- |
| Footprint | 67" L x 30" W x 22" H |
| Pad width | 12" |
| Weight | 101 pounds |
| Weight capacity | 705 lbs |
| Materials | Steel frame, high-density foam padding |
| Adjustment positions | 6 backrest, 3 seat |
| Warranty | Lifetime structural warranty, 90 days for upholstery |
MyBench or YourBench: Who's This Meant For?
The Force USA MyBench may be incredibly versatile and well-built, but that doesn't mean it's for everyone. If you look at the reviews for this product, you'll notice many people complain about its 22-inch height. Now, that was probably done to make room for the leg developer attachment, but it does present a problem for some lifters.
That's because while benching may be an upper-body movement, the use of leg drive (where you plant your feet on the ground to generate force) is equally as important for getting the barbell or dumbbells all the way up. But you can only get a good leg drive if your legs reach the floor, and there's quite a few people who may struggle with that on this bench.
Most benches are usually around 18 inches in height to meet International Powerlifting Federation (IPF) standards, but even if you're not planning on competing in a powerlifting meet, it's still a good height for most lifters. If you're someone who's a little taller than most, then you might love this bench.
I'd also usually tell you that not everyone needs an FID bench, though having the ability to do incline/decline pressing opens a lot of training opportunities to many lifters. These types of benches are typically used by bodybuilders who are looking to hit their chest at every angle to obtain the most aesthetically pleasing physique possible.
But since this bench is only $400, I'll skip that lecture, though as you'll read in a bit, this might be a case of "just because you could doesn't mean you should."
Some may look at the bench and scoff at the fact that it doesn't go to an upright 90 degrees, which is typically what most people set their bench to for shoulder or Arnold presses, but I think the 75-degree angle should suffice just fine.
Is the Force Strong With This Bench?
The main question, however, is how does this bench feel in use? Can a $400 bench that promises so much actually be good? We had Garage Gym Reviews founder Coop test it out, and to be honest, he was less than impressed with it.
On the decline function, he called it the "least impressive feature on the bench."
"Typically, ladder-style benches don't have them, but Force USA probably added one just because they could," Coop told us. "Stability is okay, but, due to a lack of foot holds, like what we see on decline benches that have attachments for back pads, it's a bit hard to feel secure."
The laser-cut shark tooth adjustment is quick to use, but it's not the most stable when compared to other adjustment mechanisms (such as pop-pin).
The padding and vinyl are not commercial-grade, but that's to be expected with a bench at this price point. "It's not very grippy like REP or a Rogue Monster Bench, the vinyl is also glossy and a bit slippery," Coop says, which leads us to believe this probably isn't the best for trying out a massive PR. He also said the padding is a bit thin, but again you shouldn't expect high-quality padding on a $400 bench.
Are the Preacher Curl and Leg Developer Attachments Worth It?
In short, Coop said the Force USA MyBench preacher curl and leg developer attachments were good but not the best. Coop added that more benches should be offering this type of versatility.
"I would love to see more benches incorporate a leg extension/leg curl attachment," he says. "I think there's a lot of people coming from commercial gyms that miss those movements."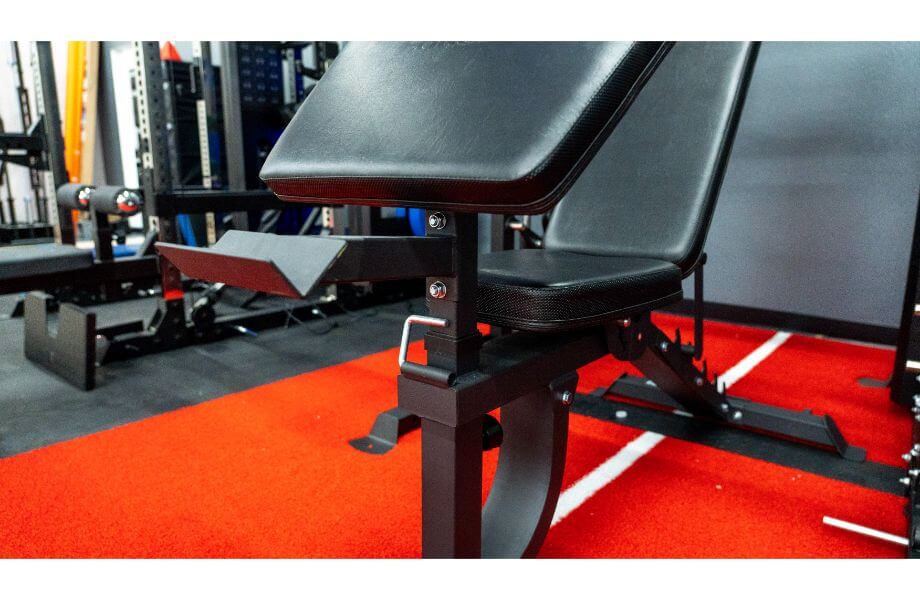 Footprint and Portability
The Force USA MyBench may pack three machines into one, but that doesn't mean it's compact. Its height already makes it one of the taller benches out there, and at 67 inches in length and 30 inches in width it does have a larger footprint than most other benches (which are typically 50-55 inches in length and 20 inches in width).
Again, that's due to the attachments but if you're in a very tight space this bench may not be the best fit for you.
The bench with all its attachments weighs around 100 pounds, and though its bulky Coop said it doesn't feel heavy. It comes with transport wheels for easy maneuvering. "When the attachments are removed it's not too bad to move around," Coop added. "It does not stand up, however."
Construction and Durability
Force USA doesn't list what gauge steel it uses on the MyBench, but it appears to be a solid piece of equipment. It does have a tripod design, which adds to its stability.
Force USA MyBench vs. Ironmaster Super Bench Pro
A Versatile Bench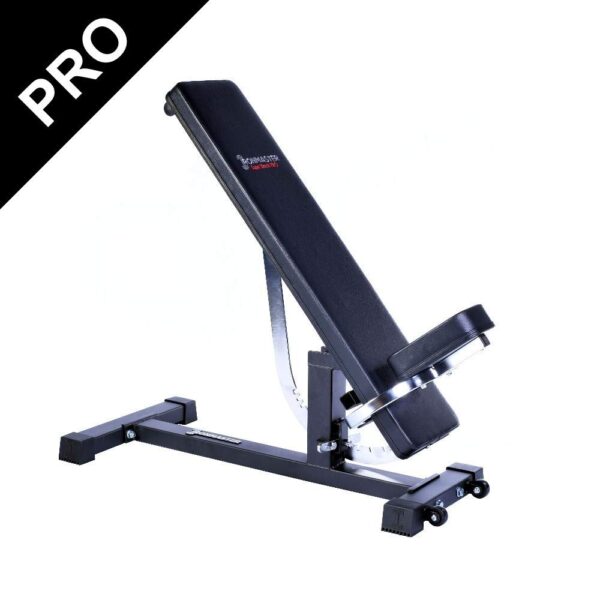 Ironmaster Super Bench Pro

Ironmaster's Super Bench PRO is the improved version of the Super Bench with notable upgrades including a lower height profile (within IPF standards), new locking system, transport wheels, high density back pad and wider base for increased stability. Constructed from 11- and 12-gauge steel, the bench is solid and can withstand over 1,000 pounds in the upright position and 600 in the incline. It is both compact and lightweight (only 68 pounds with the incline seat), and with standard transport wheels now included, the Super Bench PRO can be transported and stored vertically making it a great space saver as well. And that's not all. With 11 adjusted levels of incline, the Super Bench PRO is compatible with most PRO attachments. So, it is much more than your basic utility bench offering a myriad of ways to use the bench.While Ironmaster did a great job with the upgrades, there is still room for some improvements. For one, the back pad measures 10.5 inches wide, which is 0.5 inches wider than its predecessor, though will still feel really narrow for some. Because the seat is an attachment that matches the back angle, there is a zero gap pad in all positions. That said, the seat remains at a constant 90-degree angle, which some reviewers see as a major flaw since it can make it difficult to incline bench press comfortably. Several users also found the tapered end of the seat to be too narrow and uncomfortable.Made from 11- and 12-gauge steel, this bench uses a telescoping spine for its 11 position back adjustments that range from 0 to 85 degrees. The seat can sit at 12.5 or 14.5 inches from the ground, which accommodates various heights. Additionally, if you are looking to save space, the Super Bench PRO can be stored vertically.
The weight bench most similar to the Force USA MyBench is the Ironmaster Super Bench Pro, which is only $60 more expensive and also comes with flat, incline, and decline abilities.
Unlike the MyBench, the Ironmaster Super Bench Pro doesn't come with a leg curl/extension or preacher curl attachment included, but you can buy them separately. This is one of those cases where we believe spending the extra money is worth it in the long run, as Ironmaster's attachments just feel more secure and stable than Force USA's.
"The preacher curl attachment could also be enticing to some," Coop said of the MyBench, "but I prefer the design, weight, size, and versatility of the Ironmaster."
The Ironmaster bench is also 17.2 inches tall, making it a better option for lifters of all heights.
Financing, Warranty, Returns
Force USA has financing options for the MyBench FID that start at $34 a month.
The MyBench comes with a lifetime structural warranty, which covers the frame and shark tooth design adjustment mechanism, and a 90-day warranty for the padding.
Force USA offers a 30-day money back guarantee on all its products, including their power racks and functional trainers.
Ordering and Assembling the Force USA MyBench
As of this writing, the Force USA MyBench is out of stock but you can sign up to be notified when it's available again.
Force USA claims the bench is easy to assemble, but there's mixed reviews on how true that is. Some people claim the many attachments make assembly difficult, while others said it took them under an hour to get the whole thing up and running.
Customer Reviews
The Force USA MyBench has an average rating of 4 out of 5 stars with 16 reviews. Those with positive things to say about it raved about its versatility, but still took issues with its height.
The negative reviews centered around the bench's height and the fact that it felt wobbly during some exercises.

Final Verdict of Our Force USA MyBench Review
The Force USA MyBench may be a versatile and budget-friendly bench, but it's not a great bench. Our biggest complaints are the slippery vinyl, the lack of stability on the one decline position, and the unnecessarily tall height.
The height-adjustable preacher curl attachment and leg curl/leg extension attachment are a good value in our opinion, but you can find much better for around the same price range.
Is this the best piece of fitness equipment by Force USA? No, but there's still many people who could get some good use out of it, such as those on a budget.
Force USA MyBench Rating
Force USA MyBench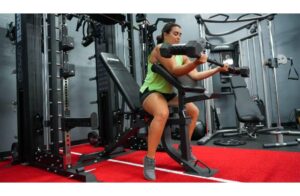 Our Force USA MyBench review looks at whether one of the most versatile weight bench is actually worth the price.
Product Brand: Force USA
Product Currency: $
Product Price: 399.99
Product In-Stock: InStock
Force USA MyBench FAQs
Who is Force USA?
Force USA is a U.S.-based manufacturer of home gym equipment that specializes in versatile home gym equipment, such as the modular Force USA MyRack, but they also make bumper plates, barbells, and squat racks.
Is Force USA a good brand?
We think so, and many of their products have ended up on our best-of lists.
Is Force USA an American company?
Yes. Force USA is based in Utah.