We test and review fitness products based on an independent, multi-point methodology. If you use our links to purchase something, we may earn a commission. Read our disclosures.
We've got everything you need to know about saving money on Force USA's best products right here. Read on to learn more.
We're big fans of Force USA's home gym products, especially their space-saving and versatile squat racks that provide a great value to those looking for strength training equipment. There isn't an actual Force USA discount code, but there are some ways to save on the brand's equipment.
Here's how to do it.
Discounts on Force USA Products
We put our best detectives on the case, and they were able to find the following ways to save when buying from Force USA.
GGR Coupon Code: Use our exclusive coupon code to save 5 percent on your next purchase of $250 or more.
Financing: Force USA allows you to break up your purchase into monthly payments
Military and First Responder Discount: First responders, veterans, and active service members get 10% off any order.
How to Apply the Discount Codes
Step One: For orders of $250 or more, enter code GGR5 at checkout to get 5 percent off.
Step Two: Put your desired Force USA products in the cart, and select the financing option before completing your order. Once you qualify, you'll be able to pick the payment plan that works best for you.
Step Three: Active-duty service members, veterans, and first responders must verify their status through GovX ID.
Step Four: Once completing the process, you'll be issued a discount code you can use at checkout.
When Do ForceUSA Products Go on Sale?
Force USA often runs big sales around major holidays. Check out our holiday sales pages to learn about the best deals on fitness equipment for you and your training partners.
What We Love About Force USA
Force USA All-in-One Trainer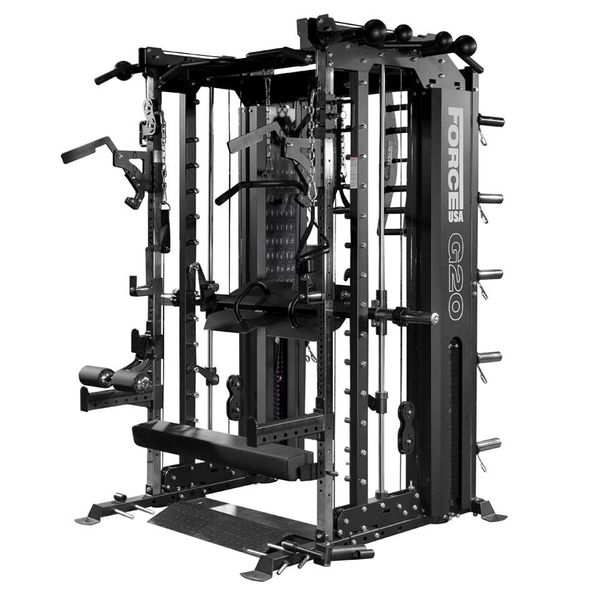 Force USA G20 All-In-One Trainer
Use code GGR5 at checkout to save 5% on all Force USA orders above $250! The Force USA G20 All-In-One Trainer is truly a magnificent machine that allows you to perform hundreds of different workouts within the same footprint of a single power rack. This 11-in-1 strength training system combines the functions of a power rack, functional trainer, Smith machine, leg press, chin up, suspension trainer, core trainer, lat pulldown, low row, calf raise, and an innovative new VersaPad station into one compact multi-station machine. The Force USA G20 comes with an impressive 29 attachments, 578 pounds of stacked weight and is built like a tank (steel construct).  With plenty of interior room to move around, the Force USA G20 supports multiple users.The dual weight stacks go up to 289 on each side, and the machine includes a 1:1 pulley ratio. The pulley movements are high quality and reported to be smooth. The Westside spacing boasts 51 different adjustment points included on the front posts which allows for very precise safety bar positioning to ensure that they can do their job without impeding your range of motion. This home gym system includes 11-gauge steel throughout and is not going to budge after having it set up, which also means that you need to find a good spot for it to begin with. Shipped at 1,525 pounds, this bad boy is not easily assembled, so that is something you must plan for. The footprint measures a width of 75 inches, a depth of 67 inches, and a height of 91 inches, which is relatively compact for an all-in-one gym but still a hefty size to fit in most rooms.
Force USA specializes in power racks for anyone interested in weightlifting, powerlifting, CrossFit, and most other types strength training. Their racks are modular, meaning you can add multiple attachments to them to customize them to your training needs. Our two favorite from them are:
Curious what type of attachments you can add to your power rack or functional trainer? Here are just a few:
Cable crossover
Lat pulldown
Chin-up bar
Dip handles
Spotter arms
Although racks are certainly their forte, Force USA also sells other home gym equipment at a pretty reasonable price, including:
Bumper plates 
Leg press machines 
Why Buy From Force USA?
Let's say you've found a Force USA product that fits your needs and budget, but you're not quite sure you're going to like it. Why not try it out for a month?

Force USA has a 30-day "no questions asked" money back guarantee that allows you to test the product out and return it for a full refund (minus shipping and handling) if you don't like it. The product does have to be in new condition, so we don't recommend putting it through the ringer but you can do a few squats and bench presses to see if it's something you'd want to keep.
Honestly, though, we think you'll be happy. Force USA has high-quality, space-saving products that combine multiple home gym products into one. Plus, it comes with a lifetime structural warranty so if the rack ever falls apart on you due to a manufacturer defect you can get it replaced at no cost.