We test and review fitness products based on an independent, multi-point methodology. If you use our links to purchase something, we may earn a commission. Read our disclosures.
When we say something's an "all-in-one" piece of equipment, we typically mean it can eliminate the need for other machines. And it usually comes in a space-saving footprint to help you perform a variety of movements without hogging up all of your home gym's floor space.
Today, we're talking about something that is actually an "all-in-one" home gym, in that it has every machine you'd see in a commercial gym frankensteined into one. Our Force USA G20 review will examine the different components of this trainer, who might benefit from getting one, and how to save yourself some headaches during assembly.
The All-in-One Website for Your Fitness Needs
We assembled the Force USA G20 All-in-One Trainer more than a year ago, used it quite a few times since then, and somehow managed to move it from Coop's house all the way to the Garage Gym Reviews headquarters. We mention that because we're dedicated to letting you know everything you need to know about a piece of equipment before you decide whether to buy it. You simply won't find an exercise equipment review website more thorough than us.
Not only that, we're a team of personal trainers, CrossFit coaches, competitive athletes, and assembly experts. So we know what it's like to use the best squat racks, cable machines, and other equipment, and we wouldn't recommend anything that we wouldn't use ourselves.
All-in-One Home Gym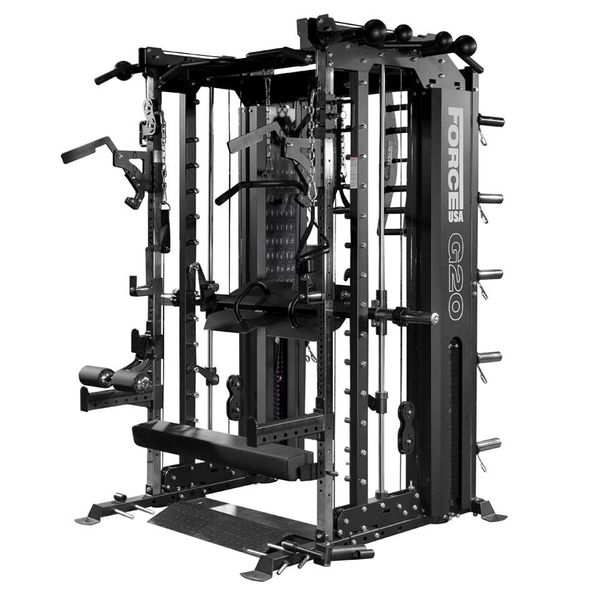 Force USA G20 All-In-One Trainer

Use code GGR5 at checkout to save 5% on all Force USA orders above $250! The Force USA G20 All-In-One Trainer is truly a magnificent machine that allows you to perform hundreds of different workouts within the same footprint of a single power rack. This 11-in-1 strength training system combines the functions of a power rack, functional trainer, Smith machine, leg press, chin up, suspension trainer, core trainer, lat pulldown, low row, calf raise, and an innovative new VersaPad station into one compact multi-station machine. The Force USA G20 comes with an impressive 29 attachments, 578 pounds of stacked weight and is built like a tank (steel construct).  With plenty of interior room to move around, the Force USA G20 supports multiple users.The dual weight stacks go up to 289 on each side, and the machine includes a 1:1 pulley ratio. The pulley movements are high quality and reported to be smooth. The Westside spacing boasts 51 different adjustment points included on the front posts which allows for very precise safety bar positioning to ensure that they can do their job without impeding your range of motion. This home gym system includes 11-gauge steel throughout and is not going to budge after having it set up, which also means that you need to find a good spot for it to begin with. Shipped at 1,525 pounds, this bad boy is not easily assembled, so that is something you must plan for. The footprint measures a width of 75 inches, a depth of 67 inches, and a height of 91 inches, which is relatively compact for an all-in-one gym but still a hefty size to fit in most rooms.
A Quick Look at the Force USA G20
When Force USA says this thing is an "all-in-one" trainer, they mean it. Here are the 11—yup 11—strength machines combined into one:
Power rack
Functional trainer
Smith machine
Leg press
Chin-up/Pull-up
Suspension trainer
Core trainer
Lat pulldown
Low row
Calf raise
VersaPad
So yeah, there's a lot to go over with this machine. There's also multiple ways you can customize this machine by adding different attachments to it, but that increases the price and footprint of it as well.
There are horns to store your weight plates on the back of the rack, however there are no barbell storage options.
Our Tips
Use our exclusive Force USA discount code to save 5 percent off orders above $250.
Unless you have a full work week to assemble this, we highly recommend factoring in the $700 professional assembly service into the cost of this machine.
Make sure you're setting this up in your forever home–this thing is extremely difficult to move once it's assembled.
Pros:
Replaces 11 different machines with one, great for those looking for more versatile and compact equipment options
High-quality construction
Countless opportunities to customize it to your training needs and desires
Can be used by multiple people at once
Rack comes with Westside spacing
51 adjustment points
Comes with financing options starting at around $200 per month
Cons:
Very expensive, starting at $6,000 for the basic model
No barbell storage
In certain parts, quality is sacrificed for quantity
Only compatible with Olympic bumper plates
Difficult assembly (though professional assembly service is available)
Weighs well over 1,000 pounds, so once it's assembled it can't really be moved
Force USA G20 Review
Is the Force USA G20 Worth It?
The Force USA G20 starts at $6,000, which is a heck of a lot of bills to drop on one piece of equipment. But we think there's a lot of people who could get more than their money's worth from this all-in-one piece of equipment.
It takes up about as much space as a high-end power rack, with the added benefit that it can be used by multiple people at once. You can hit pull-ups while your training partner does cable raises, and another could be using the leg press attachment.
And when it comes to money, there are financing options available. Plus, think about how much you'd spend on commercial gym memberships over your lifetime and compare it to the cost of this machine. If anything, you may end up saving money in the long run.
Now, we will say that it's not the most high-quality machine out there and some of the attachments leave a lot to be desired. But if you're OK with having something that's a Jack of all trades and master of none, you'll love this rack.
Great for:
People who like to train with multiple training partners
Anyone looking for a true "all-in-one" training solution
Those who know they won't be moving for a while (if ever)
Not recommended for:
Those with low ceilings or who move homes every so often
Anyone on a tight budget
Trainees who don't like using bumper plates
Force USA G20 Specs
Footprint
Exterior: 75" W x 67" D x 91" H
Interior: 40" W x 60" D x 84" H
Weight
1,200 lbs (may change depending on attachments)
Weight capacity
1,000 lbs
Weight stack
Dual 289-lb weight stacks
Pulley ratio
1:1
Material
11-gauge steel
Comes with
Power rack
Functional trainer
Smith machine
Leg press
Chin-up/pull-up
Suspension trainer
Core trainer
Lat pulldown
Low row
Calf raise
VersaPad
A Closer Look at the Force USA G20
Right off the bat, the Force USA G20 is a very good machine and it does a lot of things very well, and we'll get into that in just a second. But it should be said there are some areas where it's a "Jack of all trades, master of none."
That's one of the trade-offs of having one rack with so many attachments. Now we will say that each component performs just fine, and for most home gym owners there should be no problem. You're just not going to get the same quality as you would from Rogue Fitness.
We'll walk you through the Force USA G20 Trainer from front to back, looking at the main components of the machine and some of its attachments.
Power Rack and Functional Trainer
If you're looking at the Force USA G20 straight on, the first uprights you'll see will be for your power rack and functional trainer. These are 2-inch-by-2-inch uprights made from 11-gauge steel. The fact that it's a 2-inch-by-2-inch upright means you can't use attachments from other companies like Rogue or Titan Fitness, but Force USA sells many attachments on its website.
The numbers on the holes are etched in, but in a very faint way. "I wish they were laser cut," Coop says. "I understand that's an additional cost, but man, this thing is already so expensive, and I feel like that's something they really should've thought through."
The front of the uprights comes with Westside hole spacing, an innovation by the masterminds at powerlifting institution Westside Barbell that puts the barbell at a more advantageous position for bench pressing (the holes are spaced 25 millimeters apart at the bottom of the rack, and 50 near the middle and top). There's also 51 different attachment points.
You'll also need safety spotters if you're looking to bench or squat, which the Force USA G20 comes with. They're not quite as long or as good as other safety spotters, but they'll hold up when you need them to.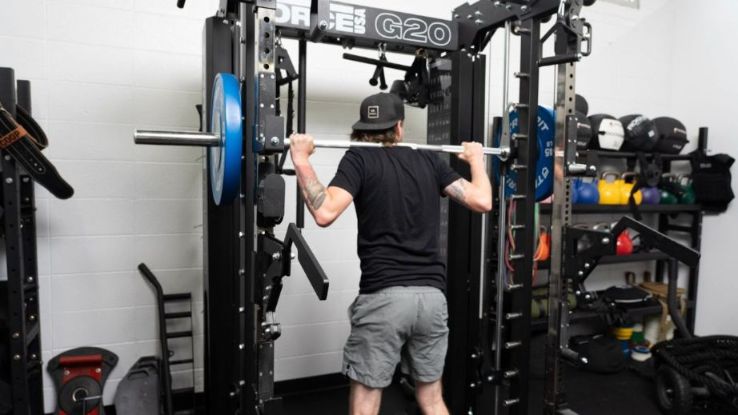 Coop noticed the uprights' sides didn't have nearly as many increments as the front, which limits the number of attachments you can use as well as the adjustment positions for the functional trainer.
The functional trainer comes with dual 289-pound weight stacks, each has a handy exercise chart, and they have a 1-to-1 ratio (meaning you're actually pulling the weight you choose on the stack, unlike other cable machines). The trade-off is the cables don't travel as far as machines with a 2-to-1 ratio, and the starting weight for isolation exercises is a little heavier (you typically want to start lighter on those moves).
Force USA also added band pegs if you want even heavier weights for your functional trainer exercises. If you want more range of motion, you can use extension chains to get more distance between yourself and the pulley.
This is also where you can attach the lat pulldown, dip bar, tricep rope, monolift, calf raise, landmine, and other attachments that come with the Force USA G20.
The entire unit is capable of holding 1,000 pounds, which is more than enough for home gym owners.
Lat Pulldown
The front of the Force USA G20 is where you can attach your lat pulldown bar—you get three: a straight bar, multi-grip bar, and sawtooth bar.
Some lifters don't like performing lat pulldowns on a functional trainer, because it was designed for different exercises, and if you're in that camp Force USA sells a lat pulldown and lat row station upgrade that's an additional $1,200. This lat pulldown station is plate-operated, and can hold up to 300 pounds.
Smith Machine
Ah, the Smith machine, one of the most controversial strength training machines out there. We're actually fans of it, and as Coop points out, four-time World's Strongest Man Brian Shaw uses one, so you should, too.
This Smith machine uses ball bearings on a guide rod, which makes it incredibly smooth. Coop was able to get a full range of motion when using it for overhead presses, and he's just a hair under 5 feet,10 inches tall.
It's also pretty easy to move the barbell—which has passive knurling—all the way to the top if you want to use other parts of the machine.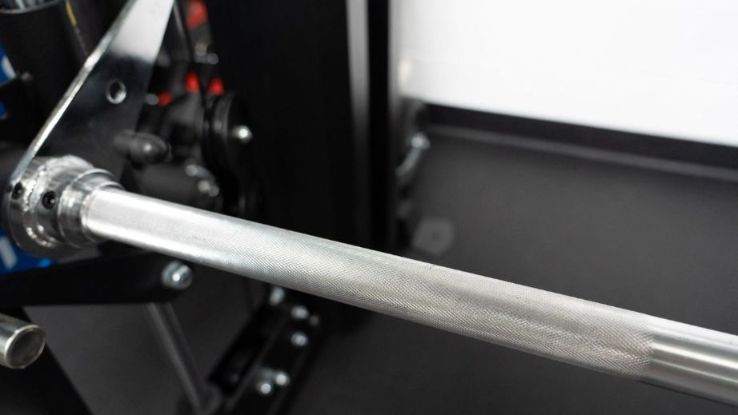 The Smith machine is also where you can put some of the attachments, including the vertical leg press. The footplate easily attaches to the Smith machine's barbell, and can be removed when not in use.
Pull-Up/Chin-Up Bars
There are three places in which you can do pull-ups or chin-ups: the front, and both of the sides. The front-facing bar is a multi-grip pull-up station, and you'll have to move the Smith machine bar out of the way if you're looking to use it.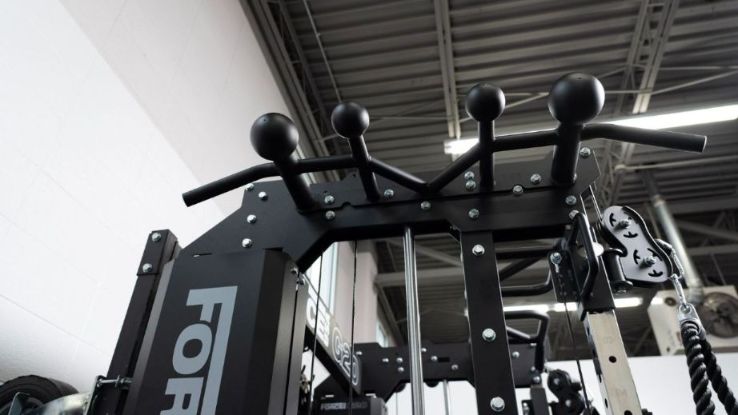 The two sides of the machine have globe-grip chin-up bars, and can easily be used while someone is either benching or using the functional trainer (trust us, this thing is stable enough where it won't impact either person's workout).
Attachments
The Force USA G20 comes with a dizzying number of available attachments, but this is an area where you'll sacrifice quality for quantity. The front safety spotter arms, for example, aren't as long as ones you'd find on other racks and force you to bench or squat closer to the rack than you might be used to.
The roller J-hooks are a nice addition, but the powdercoat chips easily and the UHMW plastic isn't as smooth as ones you'd find at a similar price point. Force USA advertises the trainer as commercial grade, however we respectfully disagree with that assessment.
Ordering and Assembling the Force USA G20
Ordering the Force USA G20 is the easy part—you simply hit add to cart and it ships to your house. Assembly…well, that's a different story.
"It's just a monster," GGR Operations Manager Sam "AsSAMbly" Presley says. "There are literally hundreds of bolts." Sam has assembled hundreds of exercise bikes, treadmills, squat racks, and other pieces of exercise equipment before, and this one was by far his hardest in terms of the amount of time it took him.
How long did it take? Thirty-five hours. Yup, he spent basically an entire work week securing the uprights, tightening screws and bolts, and assembling the functional trainer.
Force USA offers a $700 professional assembly service, which Sam highly recommends. "Bake it in with the price," he says, "and you can save yourself a 35-hour work week in doing so."
We had to rent a tow truck to move it from Coop's house to the GGR headquarters, so we hope wherever you're placing this thing is your forever home.
Footprint
One of the big advantages of the Force USA G20 is that it doesn't take up that much space, at least compared to having all the machines it replaces in the same home gym. The exterior is 75 inches wide, and it's 91 inches tall. So it's not the best pick for people with low ceiling heights, but this could easily fit in a garage and still leave plenty of room for your car.
Force USA G20 vs. REP PR-4000/ REP Ares Cable Attachment
REP Ares Attachment
REP Fitness Ares Cable Attachment

The REP Fitness Ares Cable Attachment was named after the god of war. If you're looking for a multi-use attachment for your power rack, and are tight on room in your home gym, this could be a great option for you. Since it attaches to your pre-existing power rack, it doesn't take up much extra space. Plus, you're able to perform exercises like lat pull downs, low rows, wood chops, single-arm chest presses, and many more.Each weight stack has 260 pounds with the option to purchase an upgrade to increase the weight an additional 50 pounds. However, it is worth noting the attachment has a ratio of 2:1, which means a 200 pound stack will feel like 100 pounds. I'm a fan of the adjustability of the front pulleys, because you're able to turn them in a full circle to perform more movements and not be limited by the rack.Curious if your power rack will work with this attachment? According to the REP Fitness website, only the PR-4000 and PR-5000 series are compatible, but you might be able to use this if you have 1-inch holes in your uprights. If you have a non-REP Fitness power rack, I would recommend speaking with REP customer service to confirm your rack will work with this attachment.
The only comparable product we could think of would be the REP PR-4000 (or the REP PR-5000) with the upcoming REP Ares cable attachment. The REP PR series is a modular power rack that can be customized however you like it.
REP recently unveiled the Ares cable attachment, which can be added to your REP PR rack to give you added versatility. The Ares doesn't ship until August 2023, so we haven't tried it yet but we'll be sure to give you our thoughts when we do.
So which would we recommend? In our opinion, the REP racks are going to be of higher quality (certainly when it comes to attachments like the spotter arms), and we like that the Ares uses a 2-to-1 ratio. That said, REP doesn't have as many attachments as Force USA's, so it's going to depend on what you want from your trainer.
Check out our full REP PR-4000 power rack review for a closer look at the modular rack.
Customer Service
Force USA can be reached via phone, email, or its website, and even has specific lines for Canadian customers (it doesn't ship to any other countries).
Returns, Warranty, Financing
The Force USA G20 does have a 30-day money-back guarantee, but every return must be approved by the company beforehand. Honestly we're not sure how returning a product of this size would work considering all the parts would have to go back into the boxes they came in, but there's nothing on their website saying you can't try. You will have to pay for shipping charges, which are calculated on weight (and this thing weighs a lot).
Force USA has a lifetime structural warranty, meaning if there are any defects in the rack you can get a replacement part for free. The cables and pulley system have a two-year warranty, and all rack attachments come with a 90-day warranty.
Financing plans for the Force USA G20 start at around $200 per month, which you can apply for at checkout.
Customer Reviews
As of this writing, there are only six reviews for the Force USA G20, and all are either 4- or 5-stars. Overall, customers are pleased with the rack despite some small complaints about the quality of the attachments.
Final Verdict of Our Force USA G20 Review
Are you someone who only has space for one piece of strength training equipment, and want it to perform a wide range of movements? The Force USA G20 checks that box and will eliminate the need for you to ever have to buy another piece of home gym equipment (besides a cardio machine and maybe some dumbbells).
If you're looking for something that offers the best-of-the-best, or want a modular rack that can be used with other companies' attachments, then this isn't it. The Force USA G20 does a lot of things OK, but it's not amazing or perfect at any one thing.
Force USA G20 Rating
Force USA G20 All-in-One Trainer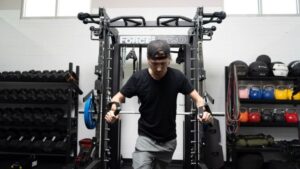 The Force USA G20 All-in-One Trainer combines 11 strength training machines into one, making it a highly versatile piece of equipment for home gyms.
Product Brand: Force USA
Product Currency: $
Product Price: 5999
Product In-Stock: InStock
Force USA G20 FAQs
Is Force USA made in China? 
Yes, Force USA manufactures its products in China and imports them to the United States. 
How much does the Force USA G20 cost?
The Force USA G20 All-in-One Trainer starts at $6,000, but the price can go up if you add certain attachments to it.
Can I finance the Force USA G20? 
Yes, there are financing options available that start at around $200 per month.