We test and review fitness products based on an independent, multi-point methodology. If you use our links to purchase something, we may earn a commission. Read our disclosures.
REP Fitness has its Ares Cable Attachment on pre-order, and we're here to tell you: This thing is sick. It's a functional trainer with a low row and lat pulldown that integrates with your existing PR-4000 or PR-5000 rack.
In our REP Ares Cable Attachment review, we will break down this highly engineered piece of equipment, tell you if we think it's worth it, and share how you can get yours on pre-order.
We Know Home Gyms
We are no strangers to cable machines. Our team has tried and tested most of the best functional trainers on the market. Not only that, but we use this equipment in our own daily personal workouts.
We specifically test functional trainers for their durability and to truly see how "functional" they are for home gym owners. Our team assesses the strength of the cables, the range of the weight stack, and the overall footprint of the machine.
REP Ares Cable Attachment
REP Fitness Ares Cable Attachment
The REP Fitness Ares Cable Attachment was named after the god of war. If you're looking for a multi-use attachment for your power rack, and are tight on room in your home gym, this could be a great option for you. Since it attaches to your pre-existing power rack, it doesn't take up much extra space. Plus, you're able to perform exercises like lat pull downs, low rows, wood chops, single-arm chest presses, and many more.Each weight stack has 260 pounds with the option to purchase an upgrade to increase the weight an additional 50 pounds. However, it is worth noting the attachment has a ratio of 2:1, which means a 200 pound stack will feel like 100 pounds. I'm a fan of the adjustability of the front pulleys, because you're able to turn them in a full circle to perform more movements and not be limited by the rack.Curious if your power rack will work with this attachment? According to the REP Fitness website, only the PR-4000 and PR-5000 series are compatible, but you might be able to use this if you have 1-inch holes in your uprights. If you have a non-REP Fitness power rack, I would recommend speaking with REP customer service to confirm your rack will work with this attachment.
A Quick Look at the REP Ares Cable Attachment
Just one look at the Ares, and you know that REP put an insane amount of thought into how to smartly integrate a functional trainer with a power rack. Right off the bat, you'll notice dual weight stacks (three cheers for heavy weights!), multiple terminals for attachments, and knurled adjustment handles.
And where REP really did a great job is in the details. We'll dig into construction specifics later in this review, but from what we can tell, the brand is really putting its stamp on the market with the Ares.
Our Tips
Use the customization tool on REP's website to make sure you put in your exact rack dimensions so the Ares fits.
Our Favorite Things:
Incredibly versatile with 6 terminal points
Adds a lat pulldown, low row, and functional trainer to your existing rack
Doesn't limit the functionality of your squat rack
Dual weight stacks at 260 pounds each (option to upgrade to 310 pounds each)
Knurled handles on the trolleys
Moves incredibly smoothly
Adds very minimally to existing footprint of your rack
Works with your other attachments
Aesthetic details are fantastic
Our Callouts:
Expensive addition to your garage gym
No band pegs
Long assembly process
Extremely heavy and therefore hard to move once it's in place
Low row pulleys are a little too low
Doesn't work on the Omni rack
Can't use a spotter while you're benching due to weight stacks
Video Review
Is the REP Ares Cable Attachment Worth It?
First, this is an expensive piece of home gym equipment. At more than $2,500, the Ares is probably out of the question for a lot of people. And because it's so big and heavy, it might not be practical for a lot of people either.
However, if money is no object and you have a compatible rack, we can't deny just how cool the Ares is. It has just about all the features we would ask for on a functional trainer/lat row/lat pulldown, aside from maybe being able to be plate-loaded.
Great for:
People who own a PR-4000 or PR-5000
Home gym owners who like high-quality, higher-priced equipment
Anyone who wants a functional trainer that integrates with a power rack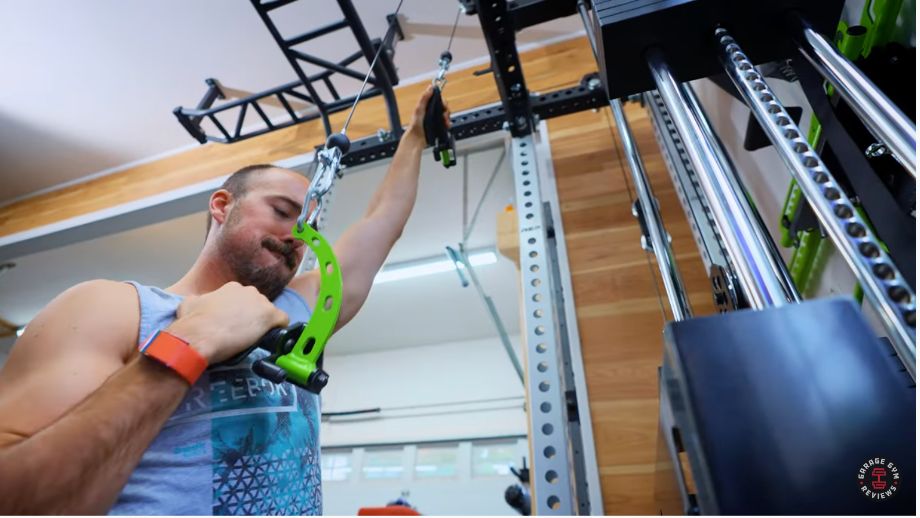 How to Buy the REP Ares Cable Attachment
To get your REP Ares cable attachment, visit the REP website, where you can enter your existing rack measurements. Click "Add to Cart," and you'll check out the same way you would with any other product.
REP Ares Cable Attachment Specs
| | |
| --- | --- |
| Price | $2,699 |
| Weight Capacity | Trolleys: 450 lbs each; Cables: 450 lbs each |
| Weight Stack | Dual, 260 lbs each; option to upgrade to 310 lbs each |
| Total Weight | 965 lbs |
| Footprint | Adds 1.2 inches in height; adds 1.6 inches in width to PR-4000 and 5 inches in width to PR-5000; adds 6 inches to front of rack with footplate |
| Tolerance | 3% (weight plates) |
First Impressions
Coop said it himself: "This product may be a halo project for REP." He has used the REP Ares for his own training, using it every way he can, including some of his own DIY tricks.
In other words, this is a product that is putting REP on the map, especially in the rigs/racks/attachment arena. But is it something that home gym owners really need? Think of this like the Titan Ronan–it's an innovative, well-built tool, but is it a really necessary addition?
Maybe not. Then again, the Prime Fitness Prodigy Rack isn't one of those home gym essentials, but Coop still has one and uses it often.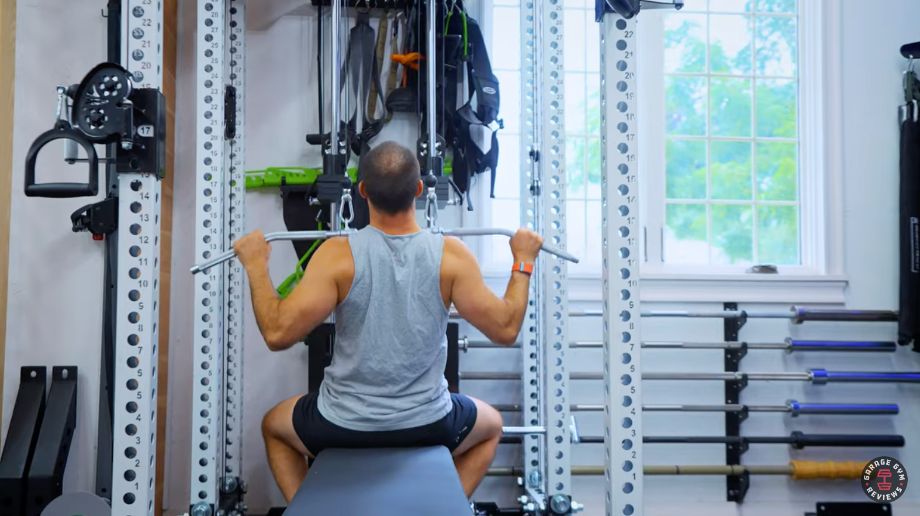 Regardless of if this would be part of the average person's collection, we still think this cable attachment is an incredibly engineered fitness product that will elevate REP Fitness.
Yes, this is definitely narrower than your typical functional trainer. However, REP used a 6-foot 2-inch model in its release video, who appeared to have no issue reaching a full range of motion.
Compatibility
The Ares is compatible with the following:
REP PR-4000 6-Post 24" + 16"
REP PR-4000 6-Post 30" + 16"
REP PR-4000 6-Post 41" + 16"
REP PR-4000 6-Post 16" + 16"
REP PR-4000 4-Post 16"
REP PR-5000 6-Post 30" + 16"
REP PR-5000 6-Post 41" + 16"
REP PR-5000 6-Post 16" + 16"
REP PR-5000 4-Post 16"
Also, the Ares works with both 80-inch and 93-inch racks.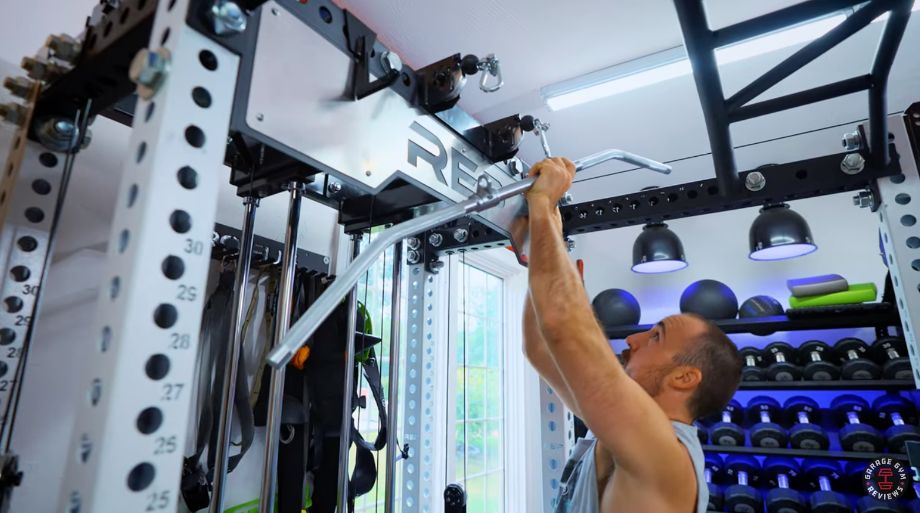 Versatility
The attachment points for the Ares are probably what makes this one of the most innovative pieces of equipment on the market.
There are six–count 'em, SIX–terminals for your cable attachments:
Two at the top for lat pull-downs
Two at the bottom for low-rows
Two on the sides where your trolleys are
Add to that dual weight stacks that total 520 pounds (620 if you upgrade), and you have incredible versatility all from one unit that can handle unilateral exercises. There aren't many machines on the market right now that allow you to perform single-arm or single-leg movements with a heavy weight stack.
Generally speaking, we're not sure who really needs 620 pounds from a cable machine, unless you're going to use it for something like belt squats. But because you get micro-adjustment plates as well, this is now a tool you can use for heavier movements as well as things like low-weight shoulder rotation exercises.
Footprint
How is the Ares different from other functional trainers? It integrates with your existing power rack. Therefore, you don't need more dedicated floor space, save tacking on a few extra inches depending on what model you get:
Adds 1.2 inches to height
Adds 1.6 inches to width to PR-4000 and 5 inches to PR-5000
Adds 6 inches to front of rack with footplate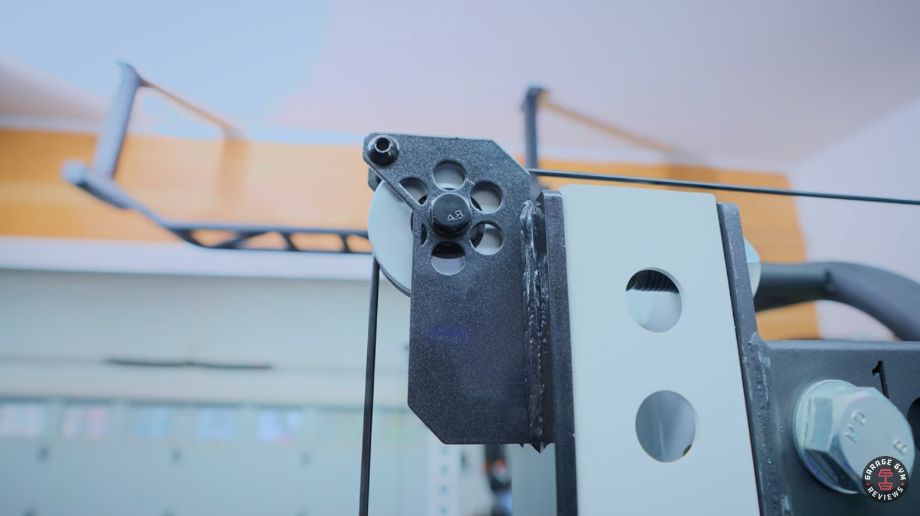 Construction
The Ares comes in two different versions: one for the REP PR-4000, and one for the REP PR-5000. The difference is mainly just in the sizing, except for one obvious difference: the trolleys, which we will get into below.
Weight Stacks
The dual weight stacks sit in the back of the squat rack. Each comes with 260 pounds in 5-pound increments, though you have the option to upgrade to 310 pounds. Additionally, with the Ares, you get four micro-adjustment plates at 2.5 pounds each. Each plate is marked in both pounds and kilograms.
The weight stacks have a 2:1 ratio. What this means is that the weight "feels" half as heavy as it actually is, thanks to the pulley system. So if you have a stack loaded to 260 pounds, it actually feels like 130 pounds. One fantastic thing that REP did was put the "feel" weight on the plates so you get a more accurate picture of what you're moving.
As Coop points out, having those large weight stacks on the back of the rack increases the rack's stability. Also, you can combine them together so you can really load movements like lat pulldowns and low rows. This is a huge benefit of the Ares system: You can get heavy and it doesn't take up much space.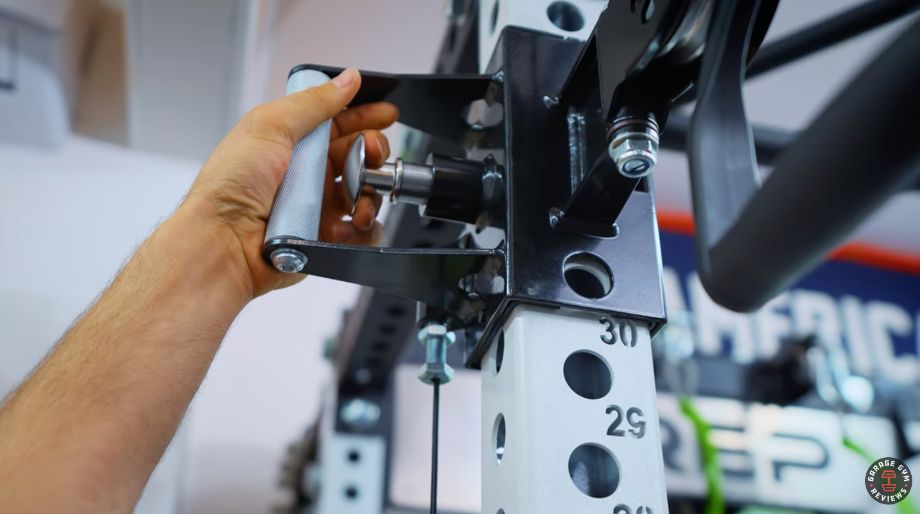 Trolleys, Pulleys, and Cables
As Coop says, "There is a lot going on here."
The base of the whole system is the REP PR-4000 or PR-5000, so it requires "a ton" of pulleys—36, to be exact, each with a custom retainer so the cables don't get off track. Each pulley uses aluminum (REP used to use nylon) and has a 180-degree swivel. This is an awesome feature, because it means that your range of motion shouldn't be limited. Also, using aluminum means the pulleys should last longer.
The pulleys all have holes throughout them. Coop personally asked REP about this when he went to the HQ, and they said it's on homage to the Equalizer plates. It also makes the system lighter, but this is a mainly aesthetic system.
The trolleys are one of our favorite parts of the Ares. You can tell that REP wanted to make sure you could move them up and down as easily as possible. There is a plastic liner inside the trolley, which enables it to move over the upright smoothly (and hopefully avoid scratches). Coop did find this to be extremely smooth, using slow and fast movements to see if there were any catches.
Also, the trolley uses a pop-pin adjustment system with a knurled handle. We literally can't wait to get our hands on it. (Also, REP, we would love to see the knurling on the jammer arms as well!)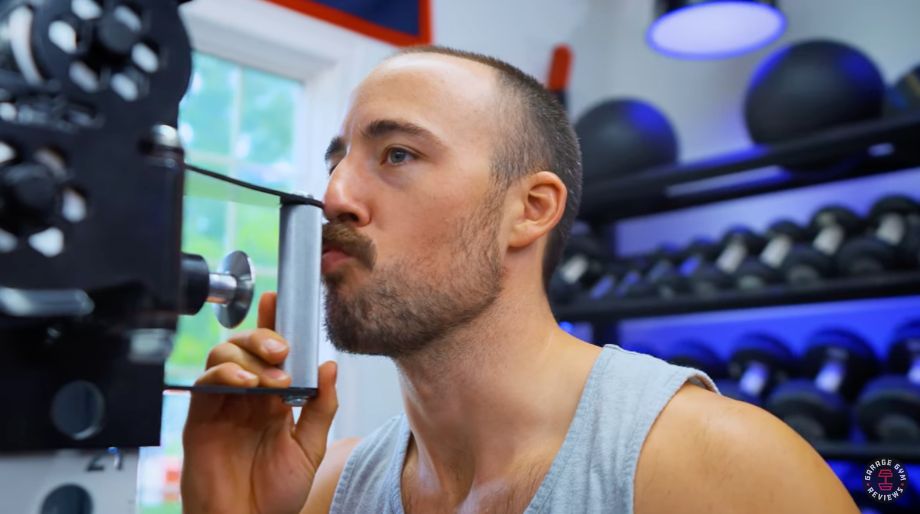 Here is where you're going to see a slight difference between the PR-4000 Ares and the PR-5000 Ares. For the 5000 series, the trolley handles are on the side of the rack. For the 4000 series, the handles are the back side. Therefore, the footprint of your PR-5000 is going to increase in width if you integrate the Ares.
The cables on the Ares are rated for 450 pounds each. They have a rubber lining intended to prevent rubbing.
According to REP's release video, if you have a 93-inch rack, the cable travel is 96 inches. If you have an 80-inch rack, the cable travel is 72 inches. The brand states that cable travel doesn't change no matter the depth of your rack.
Footplate
The footplate isn't anything overly special: it has a matte black powder coat and tread for better grip. It is nice that it has a pop-pin design to easily move.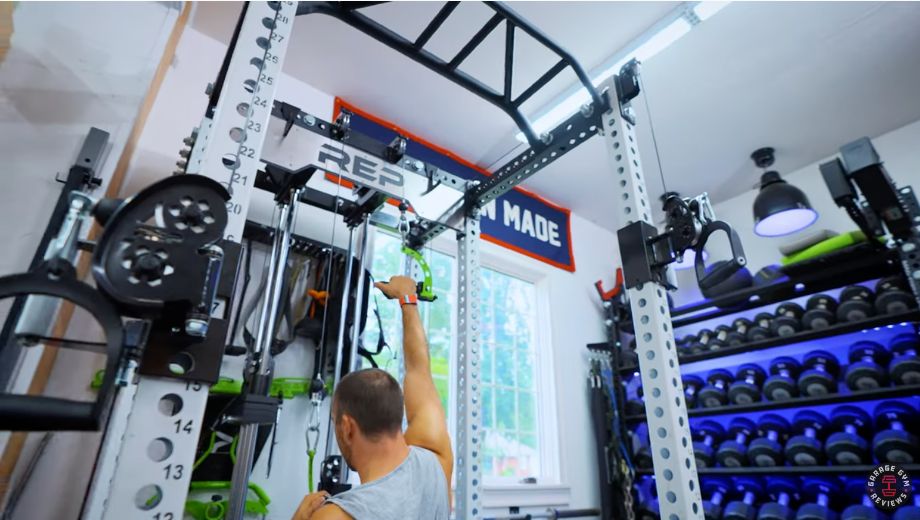 Lat Pulldown and Low Row
The lat pulldown is what Coop calls the "shining achievement" of this rack. It's very well done because you can use a regular bar or a banana hook for a single attachment point. Coop found in using the Ares that because you are using the bench for a seat, you can remove the bench and do standing or kneeling rows.
The low row can get really heavy, thanks to your ability to combine the weight stacks. However, in use, Coop points out that the positioning is a little lower than what he would prefer. The cabling comes down at the sides of your heels, which is a different angle and could slightly limit your range of motion.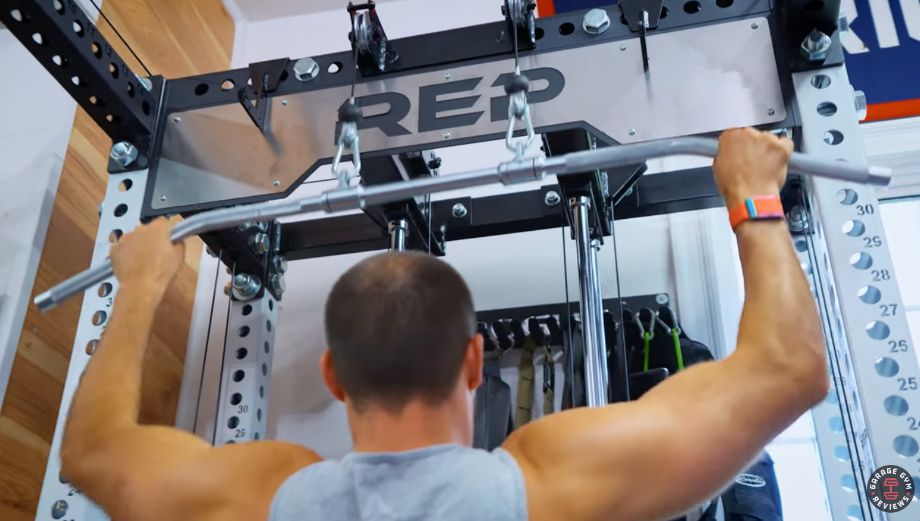 Functional Trainer
Coop found this to be one of the low points. He notes that one of the exercises people like to on functional trainers is the chest fly. However, there isn't enough cabling to provide the full range of motion you might want for this exercise. He said it felt a little awkward, especially compared to other functional trainers.
However, overall, this system on the front of the rack is still great for most people in most exercises. It moves smoothly and even creates a nice sound.
Ares Attachments
In addition to the Ares system and weight stacks, you receive:
2 strap-style D handles
Lat pulldown bar: fully knurled throughout grip area, hard chrome, two attachment points
Banana: connects both weight stacks
Low row bar
Footplate
Four 2.5 lb weights for micro-adjustments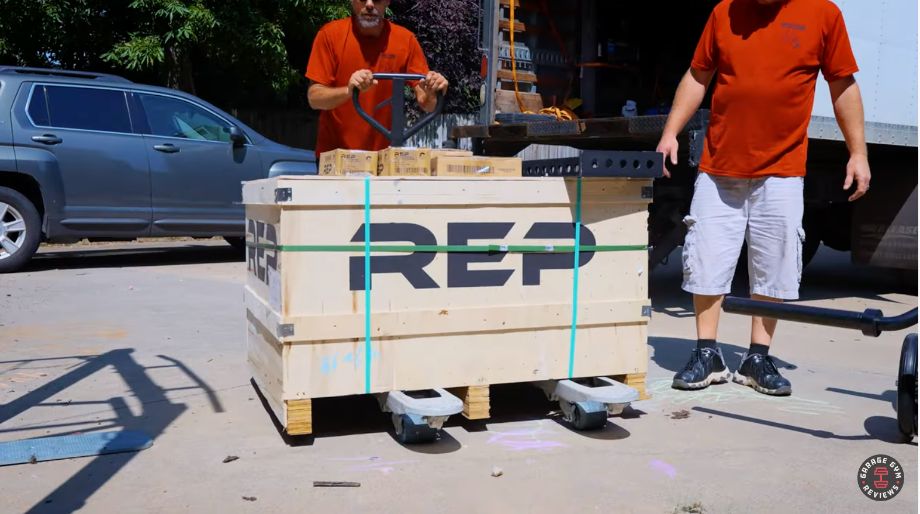 As"SAM"bly
Our very on Sam "AsSAMbly" Presley put together the REP Ares. He said the process is overall okay. It comes in a massive crate with multiple numbered boxes that don't really align with the instructions. There are heavy weight stacks, so be prepared for heavy lifting and a lot of overhead look.
Sam said the entire process took about four to five hours with a team, but it would easily be a 10- to 12-hour job to do alone.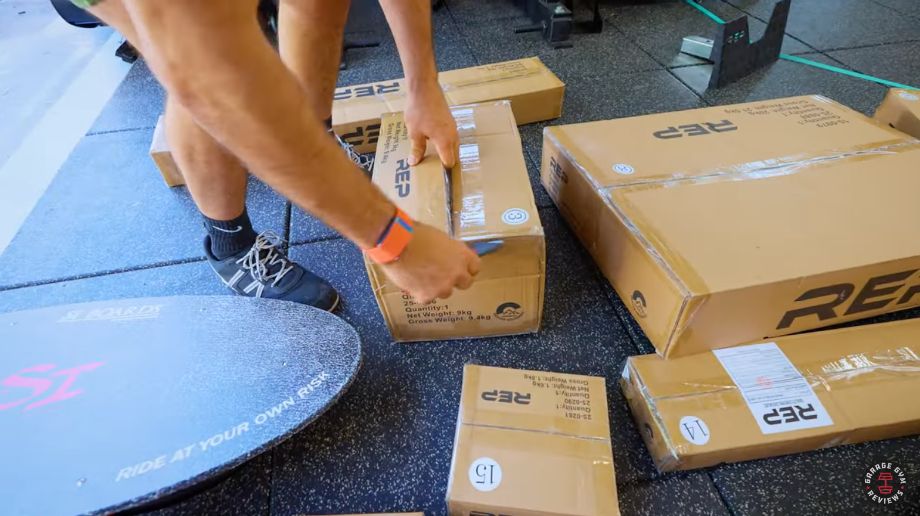 Final Verdict of Our REP Ares Cable Attachment Review
From what we can see without actually getting our hands on the Ares yet, we think this is a pricey, well-engineered piece of fitness equipment. While we wouldn't necessarily tell every home gym owner to run out and get it, we would say that if you have the money, this looks like an excellent investment.
REP Ares Cable Attachment Rating
REP Ares Cable Attachment
In our REP Ares Cable Attachment review, we take a first look at this innovative functional trainer.
Product Brand: REP
Product Currency: $
Product Price: 2,699
Product In-Stock: InStock
REP Ares Cable Attachment FAQs
Do you need to bolt down a power rack if you have the REP Ares?
Safety first: Bolting down any rack is going to keep you much safer. REP noted in its release video that putting 500 pounds of weight from the Ares on the back of your rack will help provide stability. We always advise bolting down when you can, especially if you're doing heavy barbell lifting that requires you to get a bar in and out of the rack.
Does the Ares affect the functionality of a power rack?
use your existing rack attachments. Also, due to the dual weight stacks, you can't walk through the back of your rack.
How do I get the REP Ares Cable Attachment?
You can order the Ares through REP's website.
Does the REP Ares Cable Attachment work with other racks?
We don't really know the answer to this yet. Our guess is that it will be super customized to REP's rack measurements and therefore not compatible with other racks.