We review free products that we receive and participate in affiliate programs, where we may be compensated for items purchased through links from our site.
See our disclosures page for more information.
The REP ISO Arms are an adjustable jammer arm squat rack attachment focused on high functionality at a lower price than competitors. After using them for the past four months, we feel they offer the best value for home gym owners with a power rack, which is the typical value proposition for REP Fitness. We do recommend them, but feel the adjustment feature could be improved.
Adjustable Jammer Arms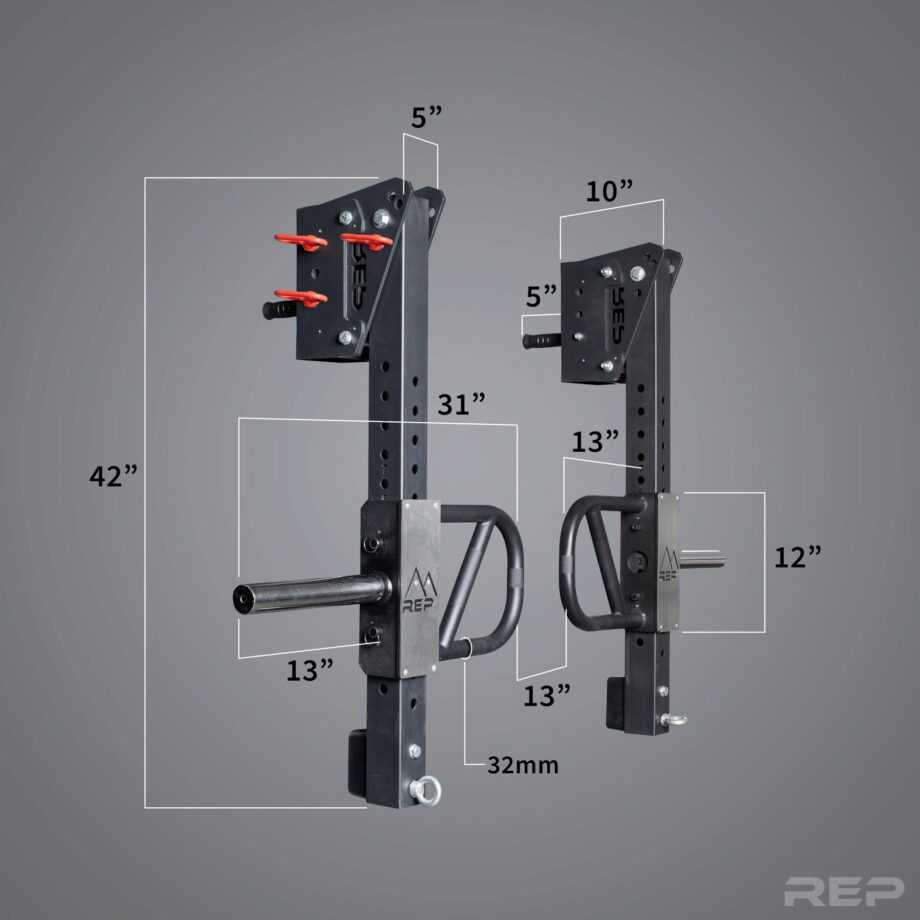 REP ISO Arms
Our ISO arms replace many machines you might rely on in a commercial gym, giving you even more reason to bring the gym home! This innovative power rack attachment offer a ton of versatility and save you precious floor space by replacing bulky equipment and easily storing out of the way when not in use. Because of our unique bearing design, REP ISO arms can travel through a full 180-degree arc to offer limitless training options. With this one attachment, you're able to train more dynamically: row, deadlift, squat, press, belt squat - seated or standing - and much more. The independent arms allow lifters of all strength levels to seamlessly move between two-sided and one-sided movements, adding ease and versatility to your workout routine. These heavy duty ISO arms are constructed with a 4-way hole pattern so athletes have a completely modular arm (sliding the handle up and down, changing the handle's orientation, adding j-cups) that allows you to keep innovating. Specifications: Compatible with REP PR-4000 and PR-5000 V2 series racks. 3x3 11 gauge steel with black powder coat finish. Arm weight (each): Approximately 64lbs, 45lbs without the handle. Arm length: 42" Maximum arm width (including weight horn and handle): 31" *REP recommends that ISO Arms be used only on racks that have been securely bolted to a floor and/or on which Front Feet Extensions are in use.
Home gym owners are always looking for ways to save space in their gyms. The REP Iso Arms is a power rack attachment that isn't the first of its kind, but is one of the best budget home gym equipment currently available. They, like all adjustable jammer arms offer a ton of versatility and saves precious home gym floor space.
RELATED: Best squat rack
We've been fans of adjustable jammer arms since reviewing the Rogue LT-1 Trolley System and think the value proposition along with some of the unique features REP has created will cause them to be featured in gyms all over.
What Are the REP ISO Arms Rack Attachment?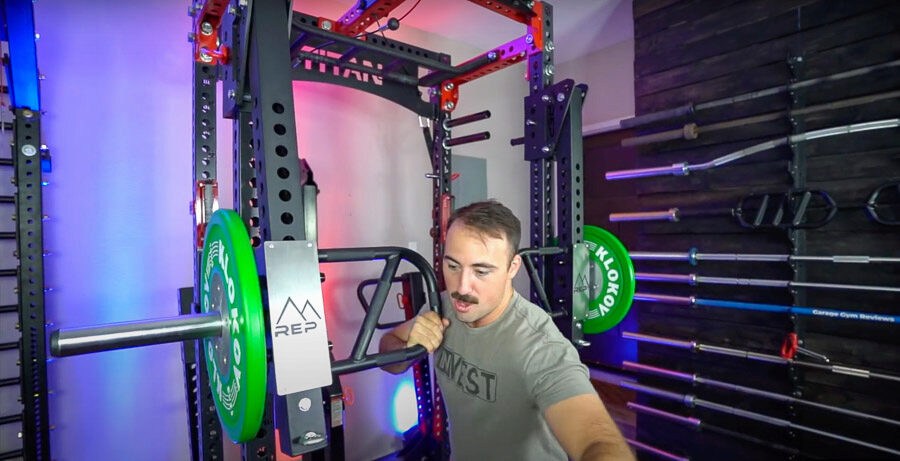 The REP ISO Arms are an attachment designed for the REP PR-5000 Power Rack and REP PR-4000 Power Racks that increase the versatility of the rack, without taking up additional floor space. Essentially, they're an ideal option for a home gym.
In testing the ISO Arms for our review, we performed many different exercises, including bench press on a weight bench (with a unique mod,) incline press, shoulder press, shrugs, car deadlift, snatches, and even hip thrusts.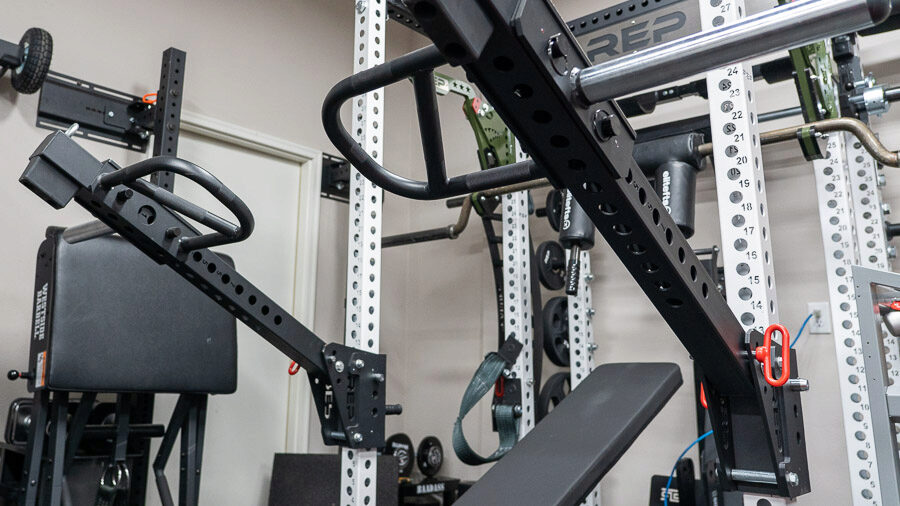 In addition to the typical movements allowed by jammer arms that move up and down the upright, the REP ISO Arms allow for the arms to be locked to be used for isometric holds (which is why they chose the name ISO.) However, what I like more about the ability to lock the arms is that they can be stored out of the way and be used for pull-ups, dips, and if you attach bands to them, they can be used for band-assisted jumps ala Cal Dietz, Triphasic Training.
The ISO Arms are also incredibly affordable at $399 when compared to other adjustable lever arm systems we've reviewed like the Rogue LT-1 .50 Cal Trolley System and the Sorinex Adjustable Jammer Arms.
What We Like About the REP ISO Arms?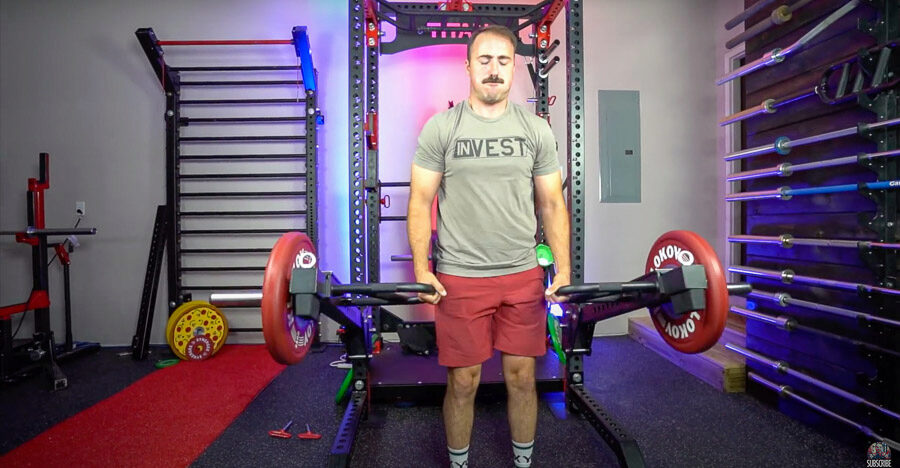 There are certainly many features to like about the REP ISO Arms, which we'll discuss, but the value (price to features ratio) of the Arms is what we like the most. We've tested and reviewed all of the most popular jammer arm attachments. This includes the Rogue LT-1 Trolley System, Sorinex Adjustable Jammer Arms, as well as cheaper options like the Titan Jammer Arms. Although each of these has different parts that are superior to the ISO Arms, REP has basically combined many of the best functions of these and stripped the extra pieces to reduce cost without sacrificing functionality.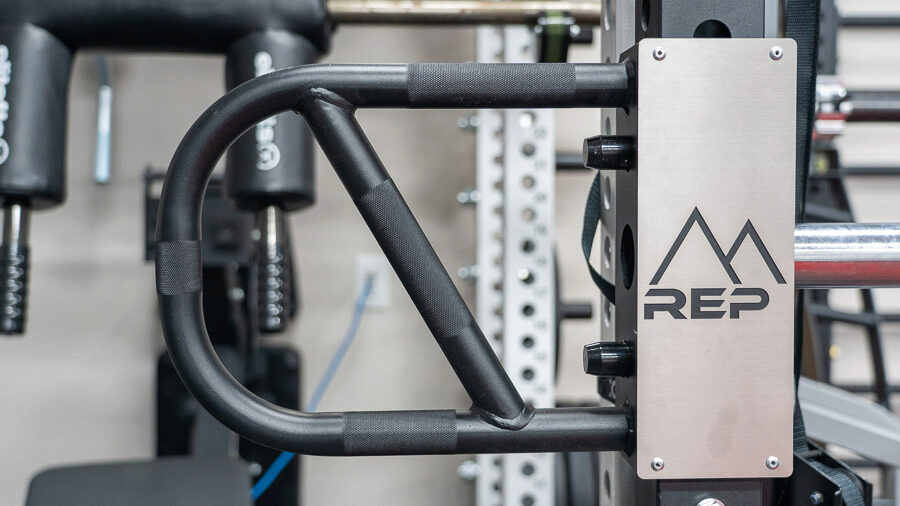 The REP ISO Arms can do all of the movements that their competitors can do including the snatch, overhead press, bench press, rows, deadlifts, and others while adding more variety thanks to the ability to lock the arms. In addition, the ISO Arms can adjust up and down the squat rack uprights, albeit not as well as their competitors like the rollers and bearings on Rogue's version, but it can still accomplish the basic function.
Hiding beneath the metal female section of the ISO Arms that wraps around the power rack uprights are pieces of UHMW plastic that is similar to what's found on j-cups and prevents metal on metal contact. These pieces do end up leaving residue on colored racks like my white REP PR-5000 Rack, but it's not difficult to remove it.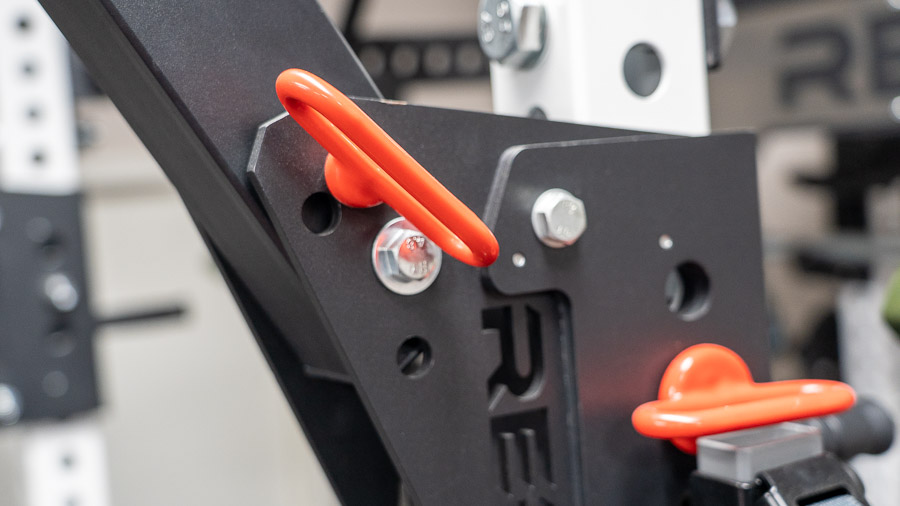 This functionality of sliding up and down the uprights is essential to getting the most out of the arms. However, another function is dialing in the tightness of the brackets on the uprights. If there's too much play between the ISO Arms bracket and the squat rack uprights, the trainee will feel disconnected from the movement.
I will say that the ISO Arms from REP are certainly not the tightest against the uprights in comparison to their competition like the Sorinex Adjustable Jammer Arms that feature a clampdown system. However, thanks to the two side pins, there is much less play than I initially expected with the arms.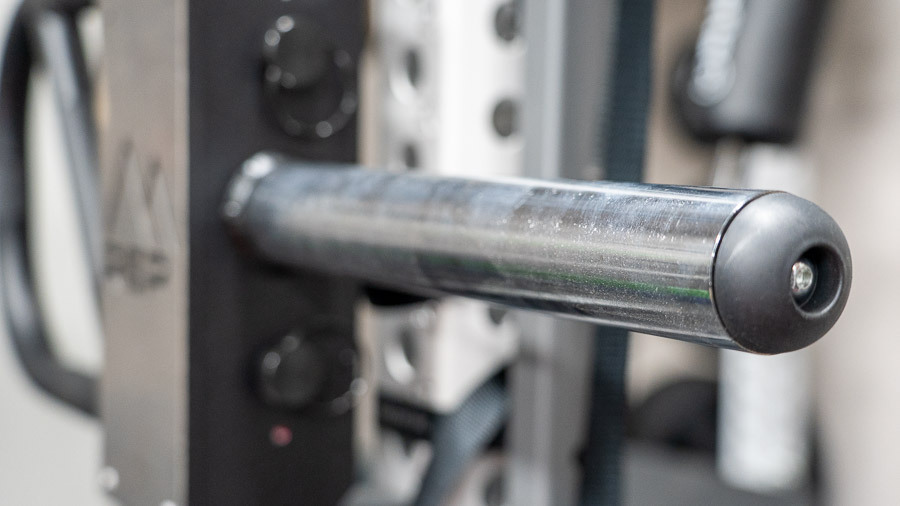 The removable handles feature the same powder coating as the arms and arm brackets as well as the familiar REP stainless steel badge that is superior to stickers in my opinion. The handles, much like the competition can be removed and placed on the power racks cross members and used for pull-ups in addition to what they're used for on the arms.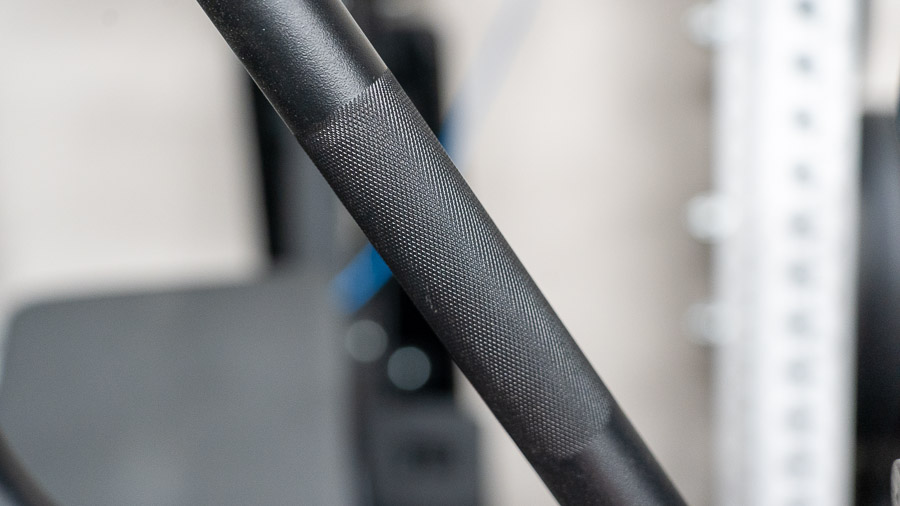 The handle has a knurled section for grip that is a nice touch and something not offered standard by any other companies. The weight plate sleeves on the handles are chrome plated and have a rubber stopper on the end which makes loading bumper plates easier and the chrome should prevent corrosion better than a chipped powder coat.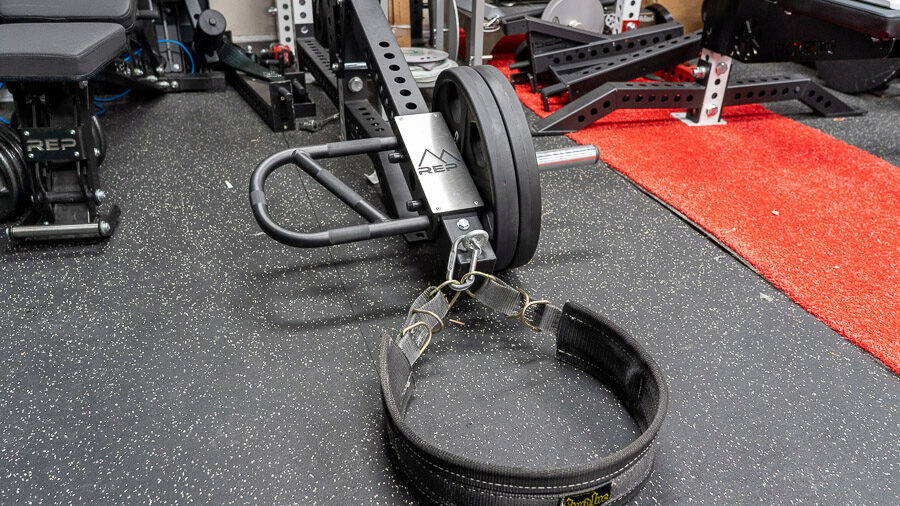 In addition to being used for movements that most jammer arms are used for, the ISO Arms can also be used for belt squats out of the box. REP probably noticed the number of people creating DIY Belt Squats and decided to add eye hooks to the end of the arms. You can then attach a belt with a carabiner and do weighted belt squats. This is a cool, simple solution that shows to me that REP is listening to customers. Although not as nice to use for squatting as the Sorinex J*Squat that we've reviewed, it gets the job done without any extra cost.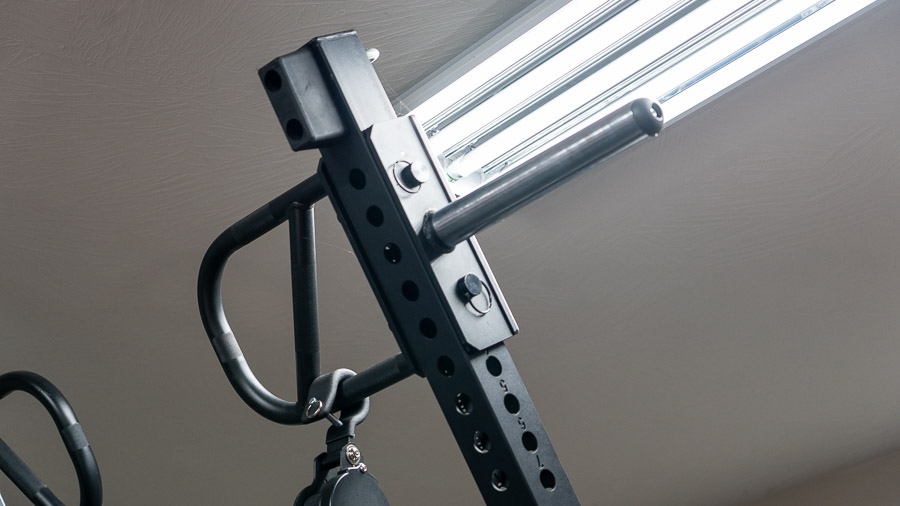 The last feature of the ISO Arms that we've been big fans of since getting them four months ago is the ability to lock the arms out in a fixed position. We leave ours placed in the highest position so they're always out of the way and can also be used for pull-ups or attaching gymnastics rings to for dips. This functionality can also be extended to be used for isometric exercises or dips. This was a really smart feature and something we expect others to copy.
Things We Dislike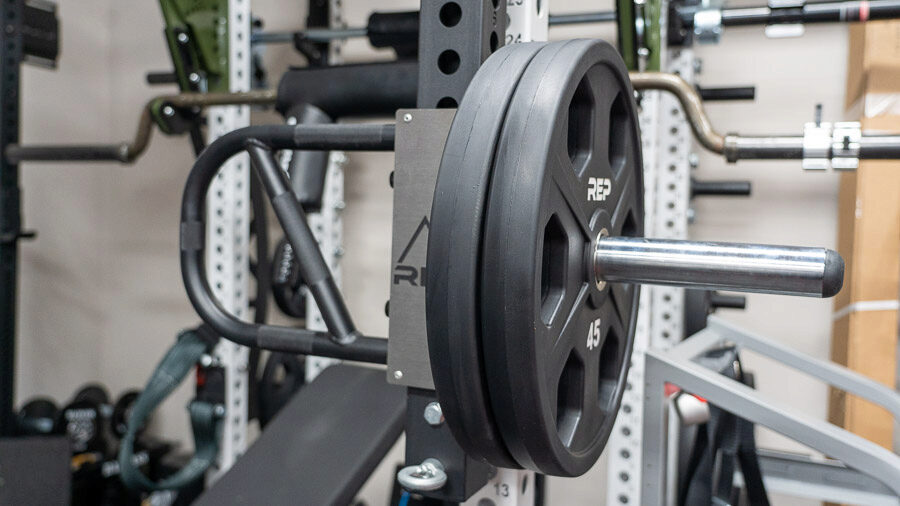 As we've stated in our REP PR-5000 Power Rack Review, the quality of the attachments is not on the same level as the rack and the ISO Arms are a great example of this. It makes sense on one hand because they're designed to be a more budget-friendly jammer arm alternative to the made in the USA options currently dominating the garage gym space. However, sometimes I wonder if REP should have two different lines. One that screams high quality, and another that is for those that are more cash conscious. The adjustment system on the rack is okay. It works as previously stated, but due to how heavy the arms and brackets are, the handle on the back helps, but it's still difficult to move up and down the rack's uprights.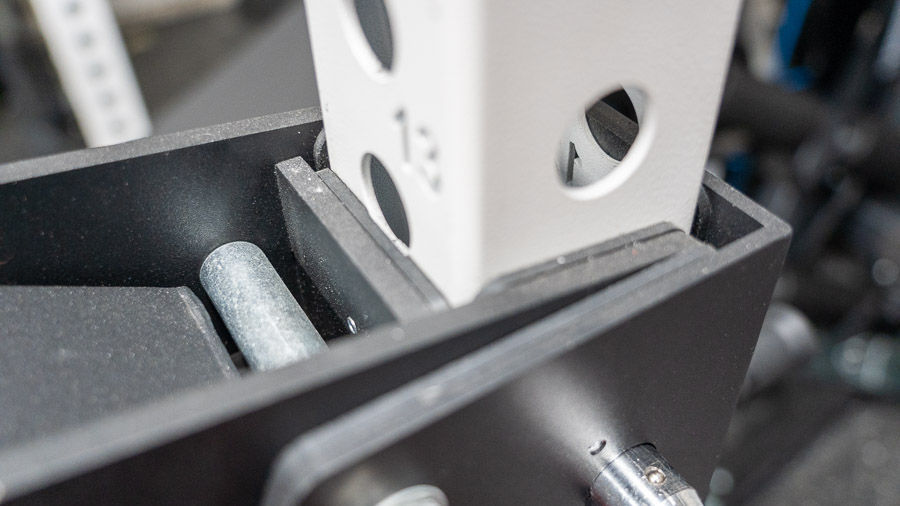 Due to the difficulty in moving the arms up and down the rack, I could foresee people using them less because of the setup time required. This is why the LT-1 Trolley System from Rogue Fitness is so nice because it's very quick and seamless to move up and down. The stability of the arms is pretty good, especially for the price, but it's not as secure and locked-in feeling as the options from Sorinex and Rogue.
Who Should Add the REP ISO Arms to their Power Rack?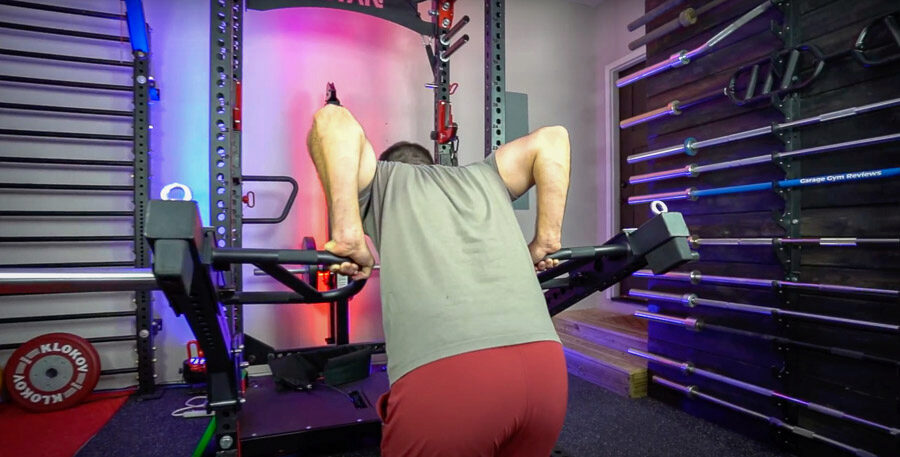 It's pretty obvious the market REP Fitness is catering to. Those that want a high level of functionality without the added expense of being made in the USA and a less form, but more function. The REP ISO Arms is great for those that don't want to pay $1000 or more for the Rogue or Sorinex Adjustable Jammer/Lever Arms but want the functionality. They're a tremendous value and although I prefer the feeling and details of the competition, REP once again wins out for the best value.
REP ISO Arms vs The Competition
The REP ISO Arms isn't the only rack attachment of this sort. There are many on the market at varying price points.
REP ISO Arms vs. Rogue LT-1 Trolley System
REP vs Rogue Lever Arms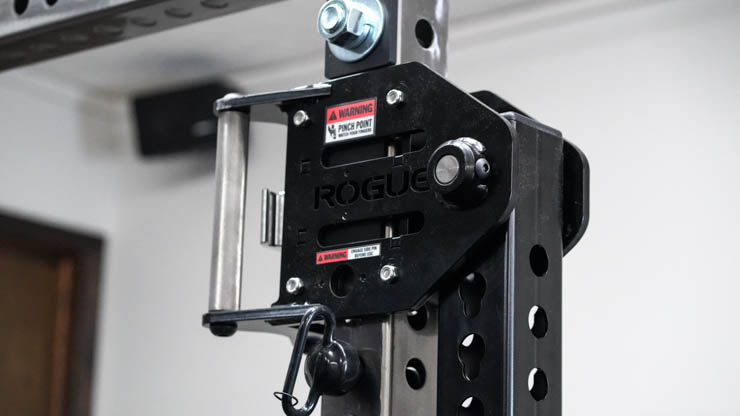 Rogue LT-1 50 Cal Trolley & Lever Arm Kit
The Rogue LT-1 Trolley™ and Lever Arm Kit gives athletes the ability to quickly reconfigure a Monster rig or rack for a wide range of movements, without the need of a wrench or other tools. We've put years of research and refinement into this design, looking to create an optimal mechanism that can attach to an existing 3x3" upright and enable easy north/south adjustments with lock-in stability. The LT-1 is compatible with all Rogue Monster Series racks and rigs (a Monster Lite version is available separately) and can be set-up to perform everything from incline bench presses to rack pulls, shrugs, squats, deadlifts, bent-over rows, snatches, and lunges. The trolley portion includes 3/8" mounting brackets, (4) acetal rollers, and (2) stainless steel knurled handles, configured in a unique "trigger" design inspired by the look of the Browning 50 Cal used during World War II. Simply grasp the two handles and pull out the machined aluminum trigger to disengage the holes and set the trolley at the desired position on the upright. The trigger itself is spring loaded, so it snaps back into place at the selected height with the aid of a 1" machined pin. The (2) lever arms are constructed from 3x3" 11-gauge steel and come with adjustable 1.25" diameter handle attachments and a weight post with 12" of loadable length. Your kit includes: (2) Trolleys, (2) Arms of selected length, (2) Handle with loading pin. Please Note: The Monster Lite version does not include stainless steel trolley handles, or stainless steel weight loading pins. These features will be finished in our signature textured black powder coat. Knurled knobs located on the quick attach handles will be replaced by a 5/8" detent pin. Specifications: Made in the USA Patent Pending Design Compatible with Rogue Monster Series Racks and Rigs (Monster Lite option available separately) Trolley Attachment: (4) Acetal Rollers w/ Bronze Bushing at hinge point, MG Black finish Trolley Handles: Knurled Stainless Steel, 1.125" diameter 3x3" 11-Gauge Steel Lever Arms Arm Length Options: 48" Standard / 35" Short Handle Attachments: Textured Black, 1.25" diameter Weight Post: Stainless Steel, 12" loadable length 3/8" Thick Steel Mounting Brackets 1" Hitch Pin Browning 50 Cal inspired trigger design Product Weight: 71LB (single side) 142LB (total) As a complete system, the LT-1 represents an entirely new level of efficiency, user control, and versatility for home gyms and large-scale facilities, alike.
The Rogue LT-1 Trolley System is the best adjustable lever arm system on the market. However, it's also one of the most expensive. Rogue has had plans to expand the Trolley System line, but I'm not sure if they'll come out with some of the attachments anymore.
Regardless, the REP ISO Arms are a much better value than Rogue's offering. Rogue is made in the USA, offers a tremendous warranty, and has all of the high-end features and attention to detail they're known for. In addition, the movement up and down the rack's uprights is vastly superior on Rogues' side in comparison to REP. But, they're also more than double the price of REP for what is essentially the same use cases. The ISO Arms actually surpass some of the functionality of Rogue when you experience the ability to lock in the arms for storage out of the way.
REP ISO Arms vs. Sorinex Adjustable Jammer Arms
REP vs Sorinex Jammer Arms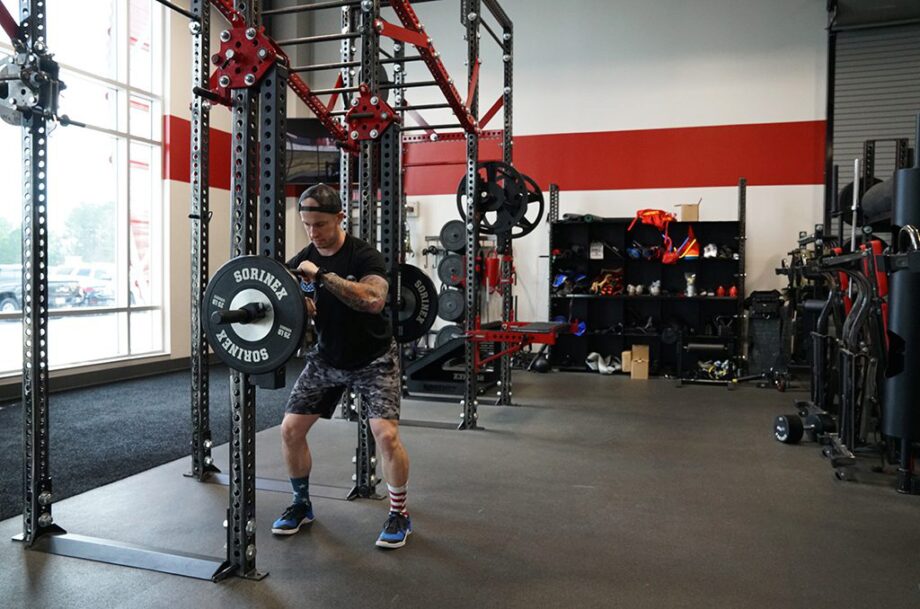 Sorinex Adjustable Jammer Arms
The Sorinex Adjustable Jammer Arms were designed with future innovation in mind. In the late 2000's, Sorinex introduced the first ever rack attached Jammer Arms. Many coaches wanted to utilize traditional jammer press movements but did not want to sacrifice floor space in their weight rooms. Sorinex created an innovative training solution that has now evolved in the Adjustable Jammer Arms. As coaching philosophies changed and new training environments were created, the Jammer Arms found their home. Fast forward to 2018 and the Jammer Arms are replacing big clunky leverage pieces with modularity, functional safety, and space-saving movements. Bilateral and unilateral movements. Dynamic, variable, or isometric. Standing or seated. Press, row, squat, or pull. Your training options are limitless. Thus, a new proven concept; room for constant growth, change, and efficient training time use was created and forever changed the strength training equipment world. Length: 50″ Width: 3″ Height: 3″ Material: 11 Gauge American Steel Finish: Black Texture Powder Coat Fits: Base Camp Series | XL Series | Dark Horse Racks Features Adjustable Rack Mounted Attachment Point (Patent Pending) Easily switch between upper & lower body specific movements 11 Gauge Steel Secured with 1″ Adjustable Pins Custom Color Options
Sorinex was the first to come out with jammer arms that adjust. This was a fantastic idea whose impact can be seen by the number of companies that have copied the idea and the number of home gyms that now have the equipment in their gyms. With that said, similar to the comparison to the Rogue LT-1 .50 Cal Trolley System, the ISO Arms from REP are simply a much better value when compared to Sorinex.Sorinex's system has better quality, but the adjustment method for the upright bracket is clumsy and awkward to move and much of the wear parts are still powder coated, such as the handles.
For most, the ISO Arms are a better value. However, the Sorinex Adjustable Jammer Arms are very smooth moving when in use and are the original design with a higher-end fit and finish.
Full Rating
REP ISO Arms
The REP ISO Arms are an adjustable jammer arm squat rack attachment focused on high functionality at a lower price than competitors. After using them for the past four months, we feel they offer the best value for home gym owners with a power rack, which is the typical value proposition for REP Fitness. We do recommend them, but feel the adjustment feature could be improved.
Product Brand: REP Fitness
Product Currency: $
Product Price: 399.99
Product In-Stock: InStock