We test and review fitness products based on an independent, multi-point methodology. If you use our links to purchase something, we may earn a commission. Read our disclosures.
As at-home fitness becomes more popular (and accessible) fitness equipment manufacturers keep upping the ante to provide the best cardio machines on the market—including exercise bikes, treadmills, and rowing machines. If you're landing on this comparison between Echelon vs NordicTrack, that means you have probably narrowed down your search and weeded out the big dogs like Peloton.
Now that you're closer to reaping the benefits of indoor cycling, running, or rowing, we're going to take a look at the brands as a whole then we're going to dig a little deeper and compare some popular machines side-by-side.
Brand Comparison: Echelon vs NordicTrack
| | | |
| --- | --- | --- |
| | NordicTrack | Echelon |
| Treadmill models | 8 | 3 |
| Exercise bike models | 7 | 5 |
| Elliptical models | 4 | No |
| Rowing machines | 3 | 2 |
| Smart gyms | 2 | 1 |
| Interactive programming | iFIT | Echelon Premier membership |
Quick Look: NordicTrack vs Echelon
When it comes to the selection of the best smart treadmills and studio exercise bikes, NordicTrack and Echelon have a lot of similarities. Although both brands manufacture a variety of cardio equipment, in this comparison we'll focus on indoor bikes and treadmills.
The price ranges are similar in addition to the monthly subscription fees that go along with the respective programming—both of which are high-quality and engaging.
One of the main differences is the fact that NordicTrack offers a longer warranty period than Echelon. We think it's a little surprising that Echelon only offers one year on both its treadmills and bikes. Afterall, most of these products are priced over $1,000, so it makes sense that you'd want the longest warranty possible.
Who Should Buy NordicTrack
Folks looking for a long-lasting warranty
Gym owners who want to finance equipment 
Folks who own iFIT-enabled cardio equipment from NordicTrack or ProForm
Who Should Buy Echelon
Home gym owners who like live classes to stay motivated
Anyone who is a leaderboard enthusiast
Tech-savvy indoor cyclists or runners
Key Similarities Between NordicTrack and Echelon
Monthly memberships required for full bike functionality
Vast libraries of on-demand classes
Heavy flywheels and silent magnetic resistance on stationary bikes
Incline training on treadmills
Financing available with both brands
Both brands available on Amazon
Interactive programming offers more than just machine-based workouts
Two options for your bike pedals: SPD pedals and toe cages
Important Differences Between Echelon and NordicTrack
NordicTrack offers a superior warranty period with 10 years on the frame
All NordicTrack bikes have an automatic trainer control feature to change resistance
Echelon offers daily live classes, while iFIT has live events and races
Some Echelon bikes and treadmills require your own tablet for programming
Echelon offers Bluetooth handlebar resistance controls on exercise bikes
NordicTrack offers strength training workouts in addition to cardio
Echelon vs NordicTrack Treadmills
When it comes to best treadmills for home gyms, our GGR product testers gravitate to the Nordictrack Commercial 1750 time and time again. It has a solid frame that doesn't shake at top speeds and the touchscreen provides exceptional interactive programming.
That said, there are eight machines currently in the NordicTrack treadmill lineup. Each machine offers something a little different than the next. For example, the X22i and X32i are incline trainers that give you the opportunity for indoor hill training up to 40% grade.
As for Echelon, you'll find you have the choice between three models. The entry-level model is a simple and solid choice for walkers and joggers. It will also require your own tablet or smartphone if you want to connect with the Echelon app for programming. You can find all the details about this model in our Echelon Stride review.
The other two Echelon models provide the touchscreen experience you expect on modern treadmills. Plus, you'll find the brand offers similar specs to NordicTrack (like price points, top speeds, running deck length, and user weight capacity) but it's worth noting the brand's warranty policy only lasts one year, which is far under the standard treadmill warranty policy.
Treadmills: Echelon vs NordicTrack Comparison Chart
| | | |
| --- | --- | --- |
| | NordicTrack | Echelon |
| Price range | $1,199 to $4,499 | $1,299 to $3,499 |
| Treadmill models | EXP 7i, 10i, 14i; Commercial 1250, 1750, 2450, X22i, X32i | Stride, Stride-s, Stride-5s |
| Max weight capacity | 300 lbs | 300 lbs to 400 lbs |
| Top speeds | 12 MPH | 12.5 MPH |
| Incline training | Yes | Yes |
| Running surface length | 55" to 65" | 55" to 60" |
| Warranty | 10-year frame, 2-year parts, 1-year labor | 1-year warranty |
Echelon vs NordicTrack Indoor Bikes
Both brands offer several options for exercise bikes all within the same price range. Some of the main differences is the built-in tech: Some Echelon bikes don't have touchscreens, while all the NordicTrack bikes have screens built in. Later, we'll compare two popular models and go over all the specs in detail.
| | | |
| --- | --- | --- |
| | NordicTrack | Echelon |
| Price | $999 to $2,499 | $889 to $2,229 |
| Exercise bikes models | S27i, S22i, S10i | GT+, EX-5, EX-5s-10, EX-5s-22, EX-8s |
| User weight capacity | 325-350 lbs | 300 lbs |
| Programming | iFIT | Echelon Premier membership |
| Pedals | SPD clips and adjustable toes cages | SPD clips and adjustable toes cages |
| Warranty | 10-year frame, 2-year parts, 1-year labor | 1-year warranty |
Two Bikes Compared: NordicTrack S22i vs Echelon EX-8s
Now that we've taken a look at each company from a bird's eye view, we're going to look at two popular indoor cycle bikes picks from each brand: The NordicTrack S22i and the Echelon EX-8s.
Our team of expert product testers has had their hands on both exercise bikes. We'll get into the details of our experience later, but for now I will tell you that the NordicTrack S22i is highly regarded and is even our overall top pick for the best exercise bike for home gyms. This is going to be quite the showdown between studio cycle bikes.
NordicTrack S22i vs Echelon EX-8s Comparison Chart
| | | |
| --- | --- | --- |
| | NordicTrack S22i Studio Bike | Echelon EX-8s Connect Bike |
| Price | $1,999 | $2,229 |
| Footprint | 61" L x 22" W x 58" H Footprint | 59" L x 23" W x 65" H |
| Weight | 205 lbs in box | 124 lbs |
| User weight capacity | 350 lbs | 300 lbs |
| Resistance level | 24 levels of magnetic resistance | 32 levels of magnetic resistance |
| Display | 22" rotating HD touchscreen | 24" curved HD touchscreen |
| Programming | iFIT membership | Echelon Premier membership |
| Monthly membership | $39 family plan | $35 all-access plan |
| Pedals | SPD clips and adjustable toes cages | SPD clips and adjustable toes cages |
| Warranty | 10-year frame, 2-year parts, 1-year labor | 1-year warranty |
Other bikes offered from NordicTrack and Echelon include:
Echelon GT+
Echelon EX-5
Echelon EX-5s-10
Echelon EX-5s-22
NordicTrack S27i
NordicTrack S10i
Technology Features
If you're debating between the NordicTrack Commercial S22i and the Echelon EX-8s, just know that with either exercise bike you choose, you'll have quality audio with built-in speakers and excellent visuals with HD touchscreens.
Both brands also offer immersive at-home cycling experiences with studio sessions, outdoor trainer-led rides, and open scenic rides. Plus, both fitness apps have more than cycling workouts. You can use the monitor to follow along with HIIT, yoga, or pilates.
You'll be able to see the screen easily even when you're off the bike. The NordicTrack S22i has a 22-inch HD touchscreen that rotates 360-degrees and the screen on the EX-8s flips 180 degrees so you can step in front of your bike to view workout programs. All that said, you'll need a stable WiFi connection to have full functionality of either bike.
Although there are quite a few similarities, there are also some differences between the two bikes and the technology they offer. One of the standout features I enjoy with iFIT and NordicTrack cardio machines is the AutoAdjust controls. We actually get into the nitty-gritty details of our experience in the NordicTrack S22i review if you're curious about learning more.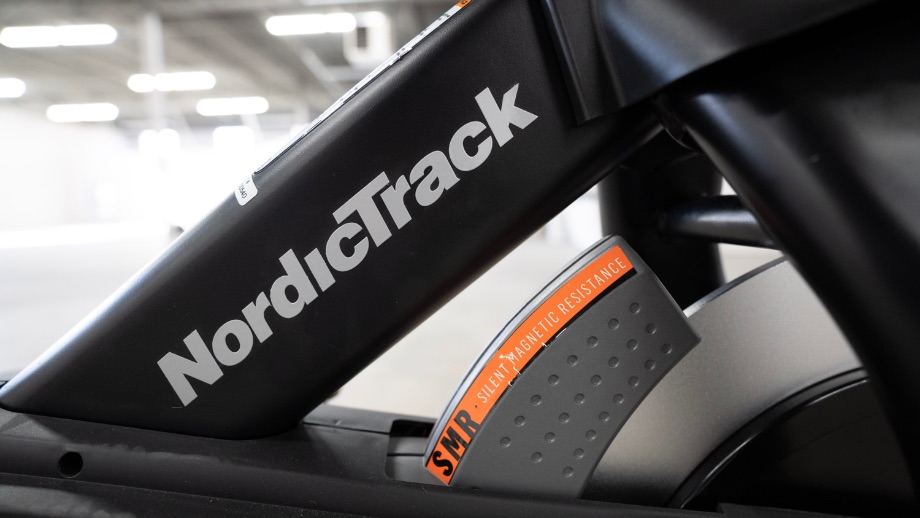 The AutoAdjust feature lets your iFIT instructor change the bike's magnetic resistance depending on the coaching cues. This automatic control also applies to geographical locations on scenic rides and when you're using the Google Maps feature. You can drop a pin nearly anywhere in the world and the AutoAdjust feature will accommodate the bike's resistance to the route you mapped out.
The Echelon app offers a wide array of on-demand workouts and over 40 daily live classes (which is not offered through iFIT). You can also take part in challenges and see how you stand up to the others on the Echelon leaderboard.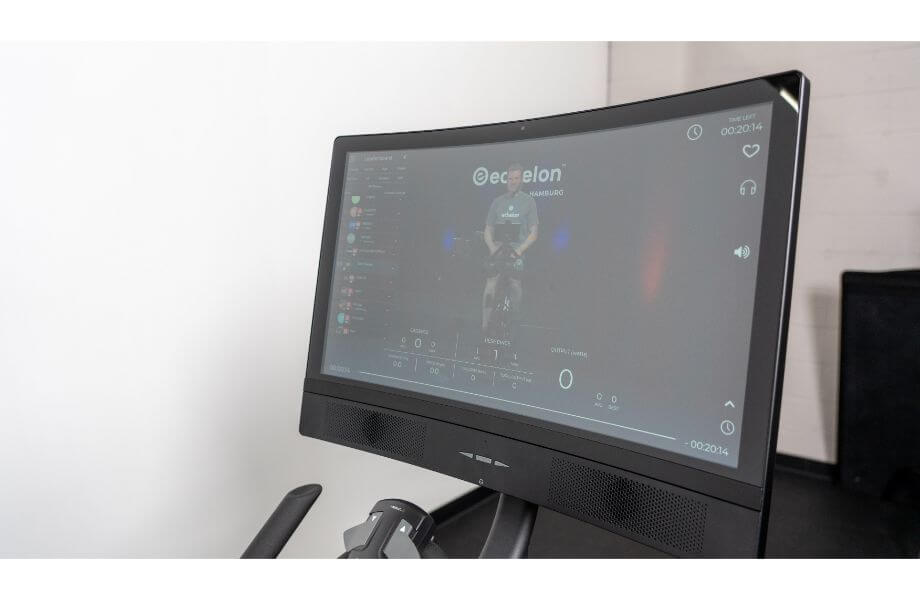 It's worth noting that one of GGR's product testers noticed the similarities between the Echelon app and what Peloton offers. "Echelon is definitely trying to be like Peloton, but isn't not quite there," she says.
RELATED: Echelon vs Peloton
Echelon offers two versions of the Echelon app (which is similar to what Peloton does). The All-Access membership costs $34.99 per month and the Fit Pass costs $11.99 per month. The main difference is the fact that the less expensive Fit Pass version eliminates the leaderboard-style competition, global status, and other advanced workout metrics.
When it comes to resistance controls, the Echelon falls slightly behind the NordicTrack S22i Studio Cycle. The EX-8s uses Bluetooth connectivity so you can make resistance adjustments via a button on the handlebar versus reaching down for the knob.
Although it's not quite hands-free, we think it will make cycling classes a little easier. In addition to workout classes, the Echelon app also has scenic rides that take your destinations all over the world. For the full rundown of features on this bike, check out our Echelon EX-8s review.
Exercise Bike Conveniences
When it comes to some simple conveniences while you ride, you can be sure that both bikes have you covered with dual water bottle holders and dumbbell holsters (for light dumbbells).
However, that's where the conveniences end on the Echelon—the NordicTrack features a media tray for smartphones and an adjustable workout fan.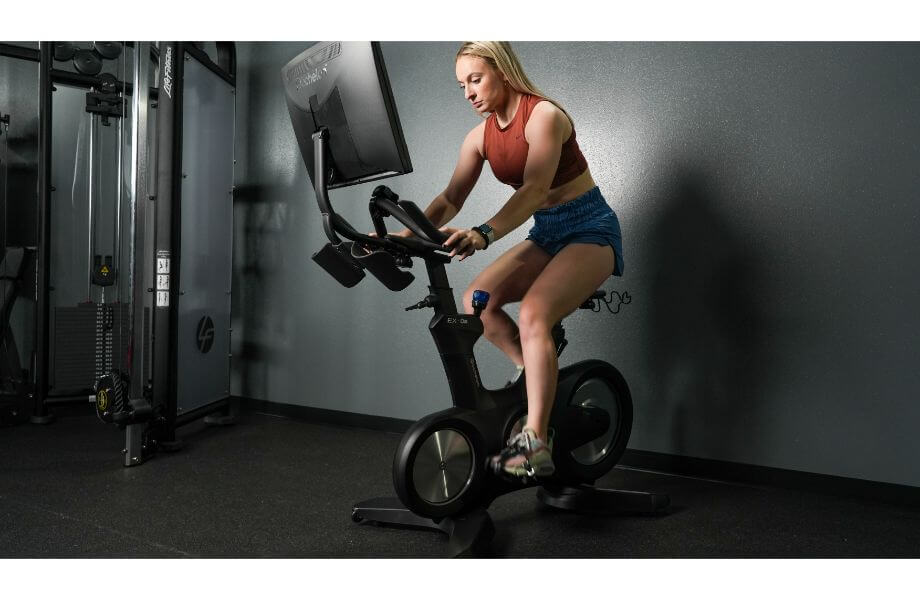 Ergonomics and Comfort
Both bikes offer seat adjustability in both height and front-to-back adjustments so you're not reaching for the handlebars. The S22i does have one extra adjustment on the seat: It can be tilted up and down, which is pretty unique.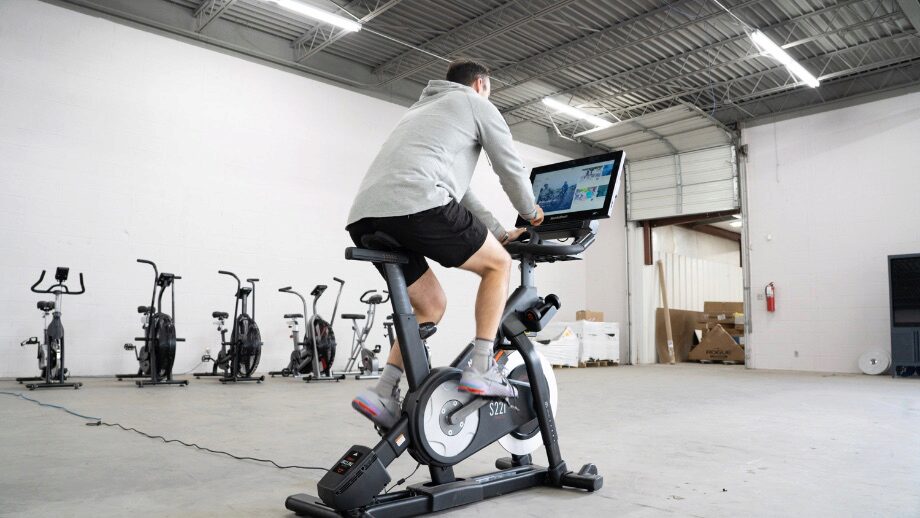 The handlebars on both bikes have multi-position grips so you can either find your most comfortable spot or change grip when you're out of the saddle. It's also worth mentioning that from our experience, both seats are firm and do not provide a lot of cushioning—just be warned!
Lastly, we like that both bikes offer adjustable toe cages in addition to SPD clip-in options on the reverse side of the pedal. It's not like the Peloton Bike, where you have to buy clip-in shoes to use the bike.
RELATED: Peloton Bike Review
Company Policies
Here is a look into both brand's company policies:
Warranty
The NordicTrack brand beats out Echelon on the warranty by a long shot. Echelon bikes have a ridiculously short one-year limited warranty. You will have the option to pay additional fees to extend the warranty, but for an additional $339 you'll only get two extra years of coverage.
On the flip side, the S22i has the traditional NordicTrack warranty of 10 years on the frame, two years on parts, and one-year on labor. It's worth noting that it can take a while to hear back from NordicTrack when you're looking to get questions answered (even when you use the live chat function).
Return
When it comes to return, both Echelon and NordicTrack have similar policies with a pretty standard 30-day return window. With either brand you'll be in the hook for shipping fees when you send the bike back. NordicTrack also charges a 10% restocking fee.
Financing Options
Both brands also offer financing, which is a relief because these bikes are not cheap.
NordicTrack offers financing at checkout through TD Bank. If you qualify, you can receive 0% financing with 12- or 39-month loan terms. These terms are based on your credit history and standard purchase rates are 29.99% APR.
Echelon uses Citizens Bank for third-party financing. You will have to apply for this option during the checkout process. At the time of writing this, promotional loan rates range from 0% to 19.99% APR and standard purchases are 29.99% APR.
Final Thoughts on Echelon vs NordicTrack
Although the brand offers similar bikes, there are some key differences to be aware of. Here is a quick summary of our considerations: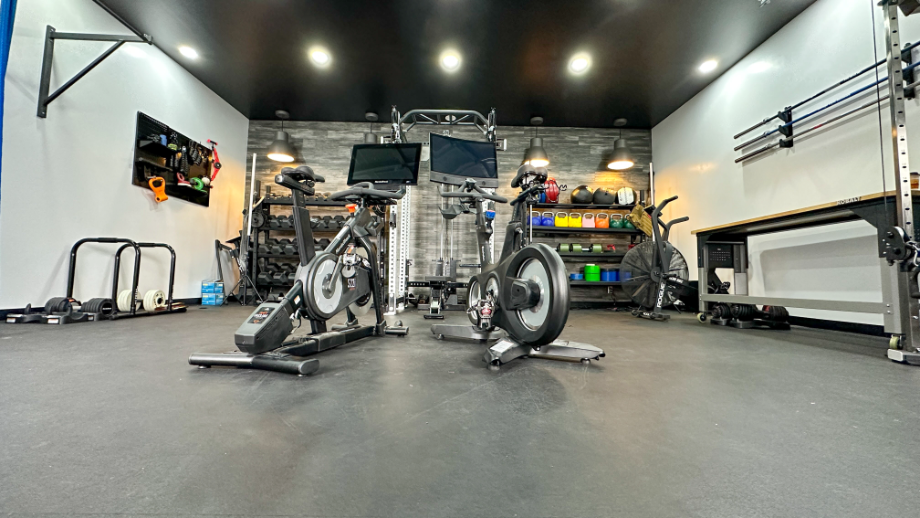 NordicTrack has better warranty coverage with a 10-year warranty on the frame versus Echelon with a limited one-year warranty.
NordicTrack bikes give you a hands-free experience with AutoAdjust, the brand's automatic trainer control feature that changes resistance for you. Echelon bikes offer Bluetooth-enabled buttons on the handlebars for resistance changes.
The all-access Echelon Fit app offers more than 40 live classes per day and leaderboard metrics to see how you're holding up to the community.
Echelon vs NordicTrack FAQs
Is Echelon any good?
What makes a good cardio machine depends on your unique fitness goals, budget, and personal preferences. That said, in our experience with testing Echelon products, we think the brand manufactures high-quality machines from exercise bikes to rowers.
Which Echelon bike compares to Peloton?
The Echelon COnnect Bike EX-5 is one of the more similarly built models to the Peloton Bike, however in terms of built in technology capabilities, the Echelon EX-8s Connect Bike is more similar to the Peloton.
Can I still use Echelon without subscription?
Yes you can use Echelon cardio machines without a subscription, but you'll only have access to the basic functions.
Is Echelon owned by Amazon?
Although you can purchase Echelon cardio equipment on Amazon, it is not owned by Amazon.