We test and review fitness products based on an independent, multi-point methodology. If you use our links to purchase something, we may earn a commission. Read our disclosures.
Before the ProForm 505 CST treadmill was discontinued, it was a highly sought-after budget treadmill. Users appreciated its space-saver design, iFIT capabilities, and ProShox cushioning feature. Plus, it comes from the reputable ProForm brand, which many people associate with high quality and durability. Fortunately, despite its reasonable price, this product still maintained that standard.
Buyers found this entry-level treadmill to be a pretty solid piece of exercise equipment that got the job done. While it wouldn't be everyone's top pick for their home gym, you could count on it to help you reach your fitness goals.
In this ProForm 505 CST treadmill review, I will give you the nitty gritty on this now-discontinued product. That way, if you do happen to see it around somewhere, you can decide if it's the right option for you.
We Know Treadmills
Some people test food, and others test cell phones and similar gadgets. But we test treadmills, and I mean lots of treadmills. Our testers include experts from almost any area you could think of. For instance, we've got USA Weightlifting coaches, nutrition specialists, and more. Heck, we've even got gym owners, prior division 1 athletes, and certified personal trainers too. So if you're looking for a well-rounded perspective on treadmills and their capabilities, you're at the right place.
Looking for an Alternative to the ProForm 505 CST?
The ProForm City L6 is an affordable choice. It comes with iFIT programming, has a compact build, and easily moves around your space.
Best Alternative to ProForm 505 CST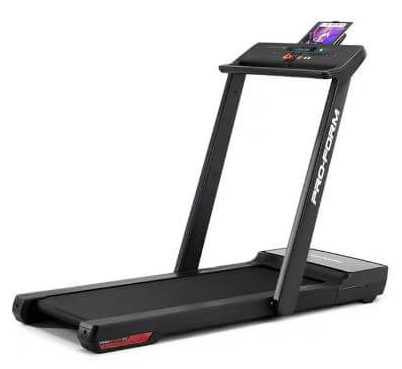 ProForm City L6 Folding Treadmill
The ProForm City L6 Folding Treadmill is the currently most affordable treadmill offered by ProForm. The L6 does not come with a built-in screen, instead it has a device holder for your table or phone. Similar to the other ProForm models the L6 utilizes iFIT programming with trainer-controlled speed, but you will have to stream classes from your phone or tablet.The L6 has a tread belt size of 17.5 by 45 inches, which is on the smaller side, but this treadmill is built to be compact. The overall footprint of this treadmill is 29 inches wide by 70.25 inches long and 44.5 inches tall. The treadmill handlebars fold down so it can be stowed away. The 1.6 CHP motor can achieve speeds of 0-8 miles per hour.There are limited online reviews of the L6 treadmill. Most users had positive experiences, enjoying the quick and easy assembly and compact design. One user did have the treadmill arrive broken and had difficulty with customer service. At the time of publishing, there are no user reviews about using iFIT with the L6 treadmill.
A Quick Look at the ProForm 505 CST
The ProForm 505 CST is an iFIT-compatible folding treadmill with advanced cushioning and a 5-inch backlit display. While the brand boasted having a roomy running area, it only checks in at 20 inches wide by 55 inches long. This is likely because it is a space-saving treadmill and is best for those in compact spaces. While this might work for the majority of people, it may not be the most comfortable option for taller runners.
If you are someone who walks or jogs and is not really a fan of running, you'll like this treadmill. It comes with 18 workout programs, making it convenient for someone who might not know where to start. Unfortunately, advanced runners will want to explore other ProForm machines or even NordicTrack treadmills. Most treadmills offer speeds up to 12 MPH, but this one taps out at 10.
The ProShox cushioning on this treadmill is a huge plus for individuals who are tired of using treadmills that put lots of stress on their joints. This machine offers cushioning throughout the deck area, giving you a soft landing with every step. What does this mean? You can work out longer and recover faster while still torching calories.
Pros:
Easier on the joints
Foldable for easy storage
Great for walkers and joggers
Cons:
Not ideal for runners
Uncomfortable for taller runners
Only goes up to 10 MPH
ProForm 505 CST Specs
| | |
| --- | --- |
| Footprint | 73.5″ L x 36.5″ W x 61″ H |
| Weight | 203 LBS |
| Weight Capacity | 325 LBS |
| Motor | 2.5 CHP Motor |
| Walking Belt | 20" x 55" |
| Display | 5-inch backlit screen |
| Incline | 0% – 10% |
| Speed | 0 – 10 MPH |
| Programs | iFIT Compatible |
| Warranty | Discontinued Product (ProForm offers 10-year frame warranty and 1-year parts and labor warranty) |
Where Can I Find the ProForm 505 CST?
These days, if you take a quick visit to the ProForm website, you'll see a page dedicated to their 505 CST machine, but the product is currently out of stock. During its heyday, this treadmill would cost you $999, but today its listed price is $699.
While some people might jump at that price, you might want to hold your horses. For one, you'll have a hard time finding this treadmill anywhere since it's been discontinued. It even appears sold out on Amazon. And for two, many other treadmills are available that offer similar, if not better, features at an affordable price.
Key Features of the ProForm 505 CST
I think one of the most impressive features for this treadmill is its reasonable price. Although hard to find, $699 isn't bad for a brand-name entry-level treadmill. Another key feature is its weight capacity. Many budget treadmills don't permit a 325-pound user weight capacity at this price range. In fact, even high-tech, mid-range treadmills like the ProForm Carbon T14 don't offer a 325-weight capacity. It only accommodates up to 300 pounds and is priced at $1,599!
The 2.5 CHP Mach Z motor also stands out because you don't often see this motor size in budget treadmills. Although this isn't the best treadmill motor in the world, it's fairly quiet and should last a long time.
Footprint, Portability, and Durability
When this treadmill is fully assembled, its measurements are 73.5 inches long by 36.5 inches wide by 61 inches tall. Its space-saving design makes it useful for those with limited space. However, that means you must be okay with a more restrictive running surface.
In addition, the ProForm 505 CST is foldable, but it's not known for being the easiest folding treadmill out there. You must use a latch pin to secure the treadmill's deck when in its folded position. This is unlike other modern treadmills, which often have a hydraulic locking system that automatically engages when the deck is raised to a certain position. Still, it does have wheels, so you can easily place it where you want in your home.
For a budget machine, it's a pretty durable product, but it does have quite a few plastic parts that are subject to wear and tear. A few users even say that that makes it somewhat noisy. Overall, it's still a quality treadmill produced by a brand known for reliable, easy-to-use products.
Ergonomics
This treadmill does come with a 0% to 10% incline, which isn't bad at its price range. Some treadmills offer up to a 15% incline, but most individuals wanting this machine aren't necessarily looking for that. The ProForm 505 CST's top speed is 10 MPH. While this isn't quite the industry standard, it's more than suitable if you're only walking or jogging.
What I do like is the machine's QuickSpeed control and Quick Incline control buttons. With one click of a button, you can adjust your speed and intensity instantly. Those who don't like pressing a lot of buttons just to make adjustments will appreciate these features.
The ProShox Cushioning throughout the deck is also a plus for those wanting a cushioned treadmill. Overall, the machine doesn't make working out dreadful. With its incline range and max speed, you'll still be able to get a good calorie burn in.
Technology Benefits and Conveniences
This treadmill is iFIT-enabled, which does up the ante on one's workout experience. You can follow along with the iFIT Coaches and it'll automatically adjust the speed and incline on your machine. In order to utilize this feature though, you'll need to connect your own tablet via Bluetooth. After that, you can access the iFIT classes and go on your next workout adventure.
Those wanting to monitor their heart rate can do so by just grabbing onto the handlebars. The two EKG grip pulse heart-rate sensors will conveniently display your heart rate within just a couple seconds.
Related: The Best iFIT Treadmills
The 5-inch backlit display might not be a touchscreen, but it does display your mileage, speed, calorie burn, heart rate, and incline. Plus, with the tablet holder, you don't have to worry about your tablet blocking your display screen.
This treadmill also comes with dual 2-inch speakers and an auxiliary port so you can plug in your tablet, iPod, or smartphone. That way you can listen to tunes of your choice while burning calories.
It's safe to say that the ProForm 505 CST isn't known for its technical capabilities, but it still offers some decent features.
Final Verdict of Our ProForm 505 CST Review
The ProForm 505 CST is a budget-friendly treadmill that was a top-seller and user-favorite for years. With its space-saving design, 18 built-in workout programs, and iFIT capabilities, it may have even been ahead of its time.
It's now discontinued, but it admittedly ran a great course. However, today, there are plenty of other treadmill options out there that you can consider.
ProForm 505 CST Rating
ProForm 505 CST
In our ProForm 505 CST Treadmill review, we take a look at the specs of this now-discontinued treadmill.
Product Currency: $
Product In-Stock: SoldOut
ProForm 505 CST
ProForm 505 CST FAQs
Can you run on ProForm 505 CST treadmill?
You could run on this treadmill, but it may not be the most enjoyable experience, especially if you're tall. Advanced runners would likely feel challenged because its top speed is 10 MPH. This treadmill is best for walking and jogging.
How much does the ProForm 505 CST treadmill weigh?
This treadmill is 203 pounds. The average treadmill weight is approximately 270 pounds, so this one is on the lighter end. 
Is the ProForm 505 CST discontinued?
Yes, this ProForm machine is now discontinued.  
How do you use a ProForm 505 CST treadmill without iFIT?
If iFIT isn't for you, just hold down the iFIT or Bluetooth button for 30 seconds to bypass iFIT activation. After that, your treadmill will be in manual mode. From there, you can come up with your own workout or use one of the 18 built-in workout programs that come with it. Voila! You now know how to use your ProForm without iFIT!