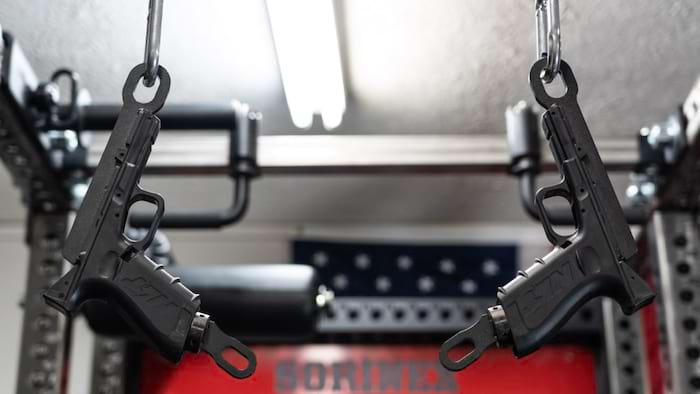 There's a lot to like about the Sorinex Pistol Grips, but without a doubt, our favorite part of the grips is their build quality. Saying the Pistol Grips are stout is an understatement. Rather than being a cheapy plastic cap gun with a loop attached, these are made of a high-strength nylon-based polymer invented by Gaston Glock called Polymer . To those fluent in Glock history, this is the exact same material used on Glocks. The idea was to provide increased durability to the gun industry. Suprisingly, and a big reason why Glocks have become so popular among those who work in the most difficult conditions, is that Polymer 2 is actually more resilient than carbon steel and most other steel alloys. In other words, this material is made for the toughest conditions, and therefore shouldn't present any issues, ever, in your training. Those that actually use guns on a day-to-day basis will greatly appreciate this.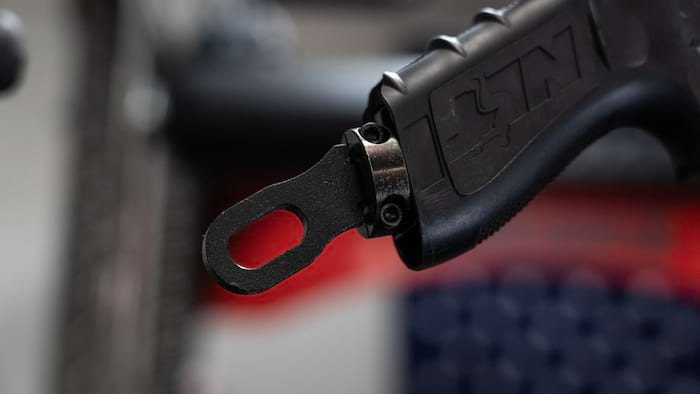 The urethane shell is secured via screws to a metal spine that on the pair I have is black and on the newly released pair is red. I'm glad they went with red, mainly because the red matches my rack and the combination of black and red is one of my favorites. Secondly because my all black pair could easily be mistaken for a real gun. As these increase in popularity, we'd love to see various colored spines available to match different rack colors.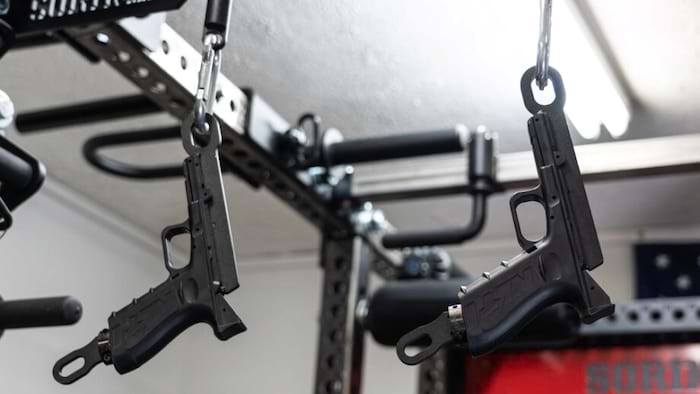 The Pistol Grips have a loop on both the end and butt of the gun that is wide enough to take just about any size carabiner or strap. I'm glad they decided against a small hole which would make it difficult to attach various tools. The Pistol Grips weigh in at 2 LB a piece and come with straps and Omega Climbing Carabiners that just like the Grips, can handle anything you plan to throw at them.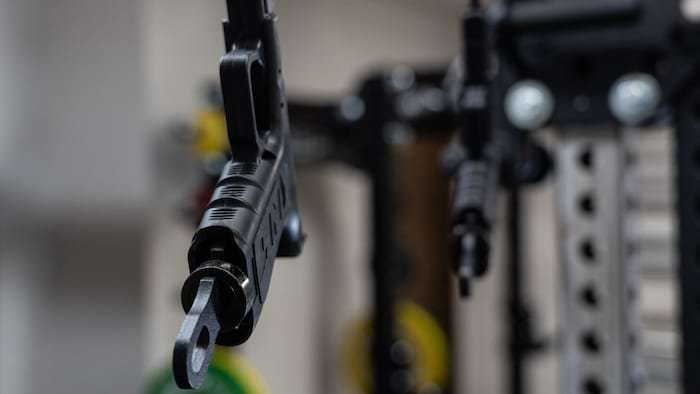 Finally, the Sorinex Pistol Grips are made in the USA and come in at $129+shipping. That's a bit pricey for such a small tool, however, once you feel them you realize they're a premium piece of equipment and not just a cheapy throwaway. I foresee other companies trying to copy these with much lower quality and therefore price point, but for those, like me, that prefer things that both last and increase joy every time you touch them, you'll not have a problem with the value.
If you want a fun, yet versatile grip tool that will get questions every time someone walks in your home gym or commercial gym, then these are for you.