We test and review fitness products based on an independent, multi-point methodology. If you use our links to purchase something, we may earn a commission. Read our disclosures.
If there's one thing I've learned on my road to becoming an expert product tester it's that the best treadmill for me is not going to be the best treadmill for you. Every person has their own individual preferences and unique health & fitness goals, and that's why we're here—to provide you with an unbiased take on home gym equipment, like dumbbells, barbells, exercise bikes, ellipticals, and more, so you can decide what's right for you.
In this ProForm City L6 review, we're diving into a machine that doesn't wow on paper, but may be just what you need to jumpstart your fitness journey. Let's dive in.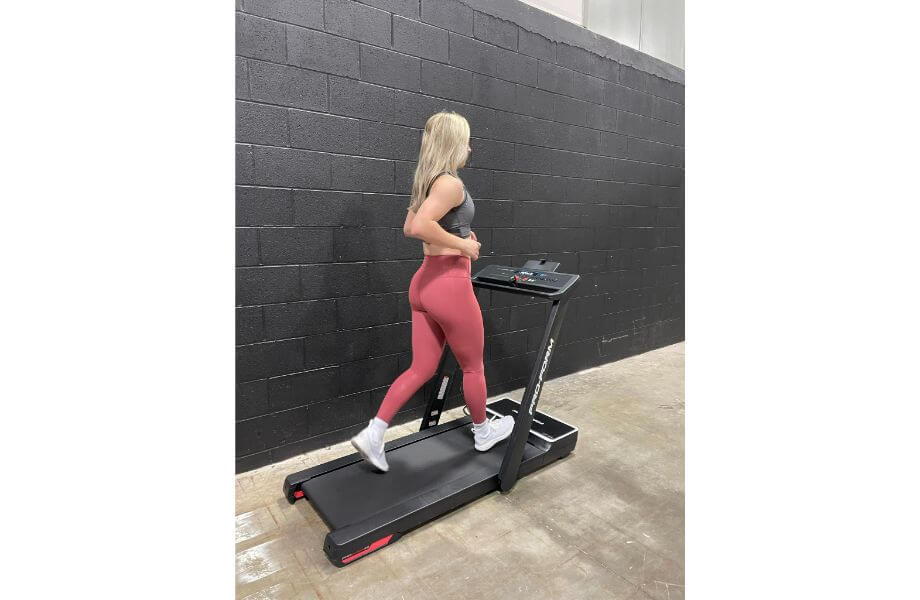 We're Runners, We're Track Stars
Team GGR knows some stuff about treadmills. We've not only tested more than three dozen machines at this point, we rely on our knowledge and experience as certified personal trainers and CrossFit coaches to fill in any gaps. And recently, I got to travel to the NordicTrack/ProForm headquarters in Utah to put my feet on all of the cardio machines both brands currently offer, including the City L6, so you're in for a treat in this treadmill review.
ProForm City L6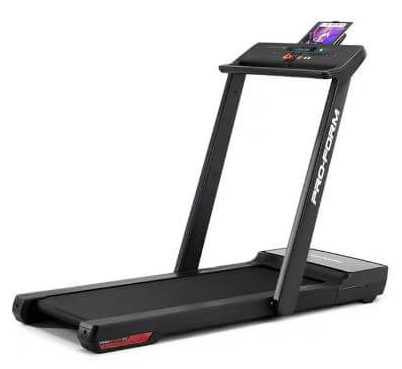 ProForm City L6 Folding Treadmill
The ProForm City L6 Folding Treadmill is the currently most affordable treadmill offered by ProForm. The L6 does not come with a built-in screen, instead it has a device holder for your table or phone. Similar to the other ProForm models the L6 utilizes iFIT programming with trainer-controlled speed, but you will have to stream classes from your phone or tablet.The L6 has a tread belt size of 17.5 by 45 inches, which is on the smaller side, but this treadmill is built to be compact. The overall footprint of this treadmill is 29 inches wide by 70.25 inches long and 44.5 inches tall. The treadmill handlebars fold down so it can be stowed away. The 1.6 CHP motor can achieve speeds of 0-8 miles per hour.There are limited online reviews of the L6 treadmill. Most users had positive experiences, enjoying the quick and easy assembly and compact design. One user did have the treadmill arrive broken and had difficulty with customer service. At the time of publishing, there are no user reviews about using iFIT with the L6 treadmill.
A Quick Look at the ProForm City L6
ProForm currently offers three series of treadmills, the City being the least expensive option. The L6 is the only model available in the City series, which is characterized by its comparatively reduced footprints.
The City L6 is a compact treadmill through and through, and while it's pretty bare bones, the capability to connect to iFIT workouts and allow personal trainers to adjust your speed automatically is a pretty standout feature. 
RELATED: Best Workout Equipment for Apartments
My Tips
Know what this treadmill is and isn't—it's not the most durable machine on the market, but if size and stowability are your top concerns, you might be in business.
Be prepared to pay a monthly fee for the iFIT subscription after the free trial; you don't need it to use the machine, but it's a nice touch.
If you don't intend on using iFIT, there might be a better option for you at this price point. Check out our guide to the best budget treadmills.
Pros:
Folds completely in half
Can be easily moved
Assembly is a breeze
iFIT-compatibility with auto-adjust
Cons:
1.6 CHP motor won't work for most runners
250-lb weight capacity is below industry standard
No screen
Speeds only up to 8 MPH
No incline
Short deck
Is the ProForm City L6 Worth It?
While there are quite a few cons to the City L6, this machine could make a great home treadmill for a specific type of person.
Great for:
People who live in small spaces
Walkers who want a treadmill to workout inside
Those who want to use iFIT
Not recommended for:
Runners
Tall runners, big, or heavy people 
Those who want a substantial machine
ProForm City L6 Specs
Check out the defining features of the City L6 below.
| | |
| --- | --- |
| Footprint | 70.25" L x 29" W x 44.5" H |
| Foldable | Yes |
| Weight | 125 lbs |
| User weight capacity | 250 lbs |
| Motor | 1.6 CHP Mach Z |
| Deck size | 45" L x 17.5" W |
| Speed | 8 mph |
| Incline | None |
| Cushioning | ProShox cushioning |
| Display | Small digital screen |
| Bluetooth | Yes |
| Device holder | Yes |
| Warranty | 10-year frame, 1-year parts and labor |
Workout Experience on the ProForm City L6
From looking at the specs, I have to be honest and say that I wasn't expecting much when I hopped on the City L6. The motor's power of just 1.6 CHP leaves much to be desired, and with no incline and a top speed of 8 MPH, I was skeptical.
But, I actually like this machine for what it offers—it's foldable, compact, connects to the iFIT app using your own device, and is easy to use. If you just need a machine to walk, or casually jog, and you're under approximately 5 feet, 10 inches tall, it would work well.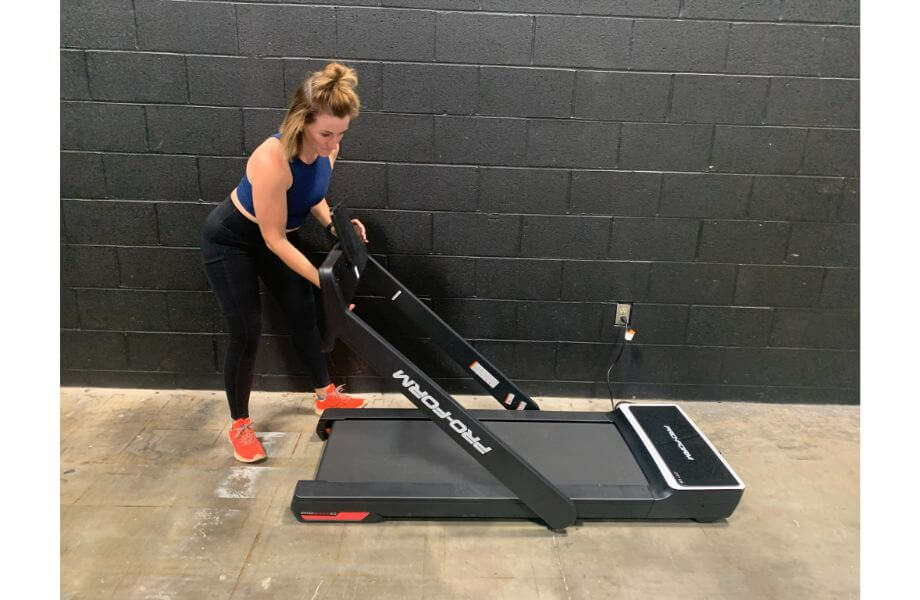 That being said, the motor horsepower, weight capacity, and deck size really limit who can use this machine comfortably. I'm nowhere near the 250-pound weight limit, and when I cranked it up to 8 MPH, the machine shook quite a bit. Plus, with a max speed of only 8 MPH, serious runners are not going to get a good workout on this. And even if the machine did go faster, the 45-inch-long tread belt wouldn't be long enough for a majority of people to run comfortably on.
I mentioned iFIT—my app connected easily to the Bluetooth-enabled machine and I took advantage of a walking workout, which was great. But just inherently, even iFIT capabilities on the City L6 would be limited because of the treadmill's actual specs.
Read on for more about how this treadmill could fit into your home gym—or living room/gym— setup.
Footprint & Portability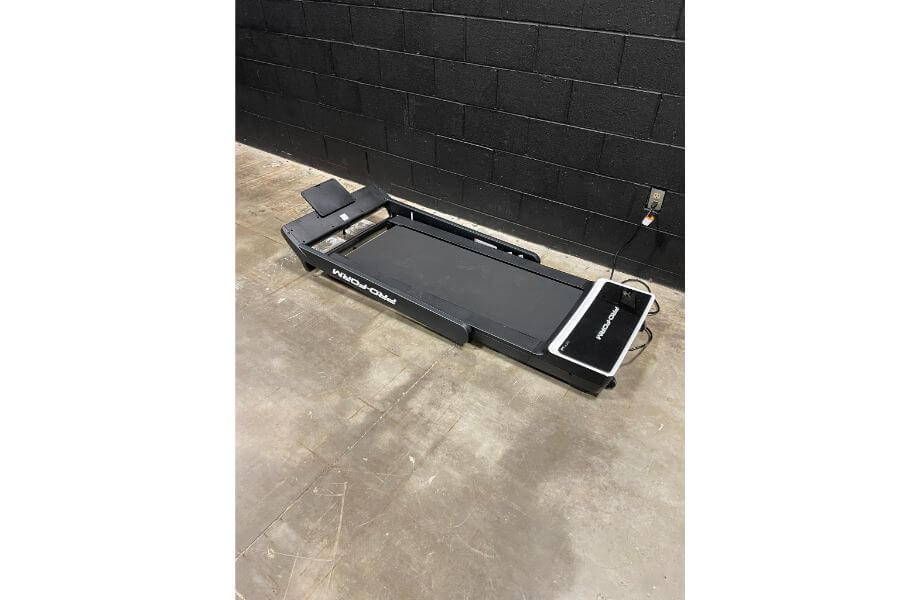 If your top priority is a treadmill that folds and stows easily, the ProForm City L6 is your hitter. When in use, the footprint is just 70.25 inches long by 29 inches wide by 44.5 inches high. For comparison, the NordicTrack 1750—which is a pretty substantial treadmill and one more akin to what you'd see in a commercial gym—is 80 inches long by 38 inches wide by 65 inches high. The L6 is quite a bit more petite and would be perfect for home use.
The City L6 folds completely flat, to essentially the height of the deck, so you can slide it underneath a bed or desk. It's quite easy to fold it—there's a lever on the left hand side of the console that you press, then the handlebars and console release down toward the deck.
The machine has two wheels on the front end for easy maneuverability, and at just 125 pounds, most able-bodied people should be able to move it short distances on their own. I found the City L6 to be one of the easiest pieces of fitness equipment I've ever moved.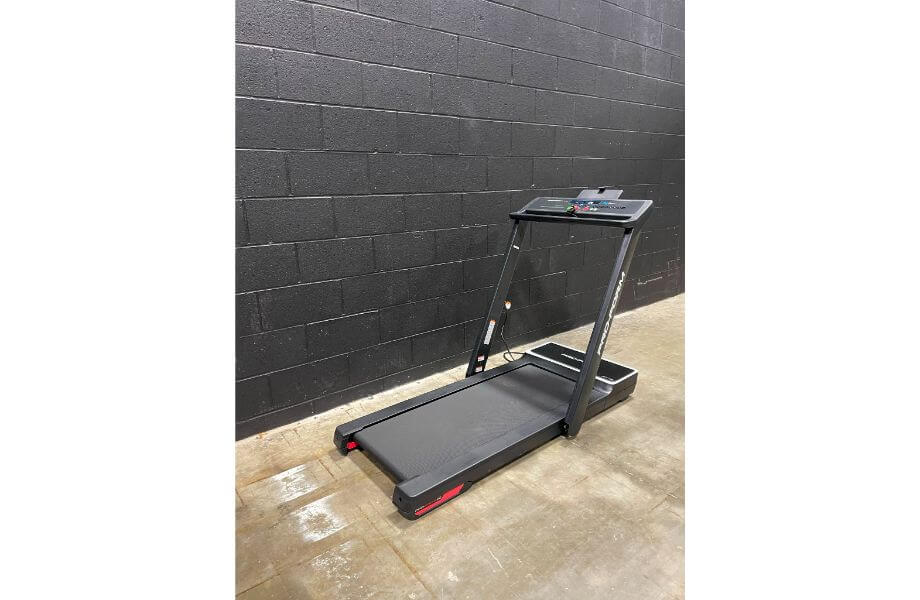 Durability & Construction
With a weight capacity of 250 pounds—industry standard is 300—and a motor that clocks in at 1.6 CHP—industry standard is 2.5—the City L6 leaves much to be desired. You'll typically have to make sacrifices in this area when a machine is as compact as the City L6 is, so it's really about your own goals and personal preferences.
I experienced shaking at top speeds, which is never a great feeling, but when I was walking the machine seemed stable. If you mainly want to walk on this machine, I think it will last much longer and provide a pleasurable workout experience.
The Ergonomics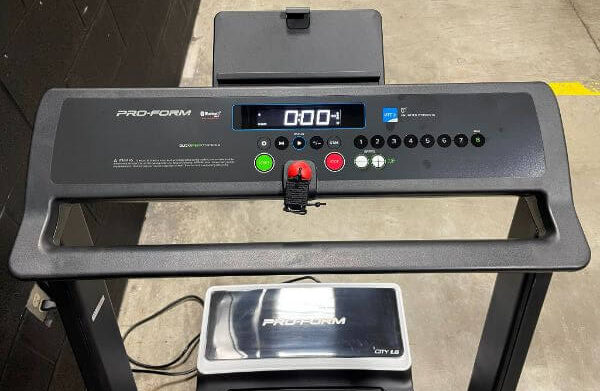 Let me preface this by saying that I'm fairly short—5 feet, 4 inches on a good day—so I had no issues with the size of the deck on the City L6. However, at 17.5 inches wide by 45 inches long, many people will find it much too small. Industry standard is at least 50 inches for walkers, 55 inches for joggers, and 60 inches for runners or taller people.
There is a cushioning system on the City L6, which I actually liked. Fellow expert product tester and cardio queen extraordinaire Caroline Lubinsky loves her some heavy deck cushioning—well, I should say her reconstructed ankle does—like on the NordicTrack X32i, but for me, it can be too much. The City L6 was goldilocks in my opinion.
There are no rails flanking the belt, only a straight handlebar across the front, so if balance is a concern, consider this detail. A built-in tablet holder is affixed to the top of the small LCD display, and would fit most smartphones and smaller tablets.
Technology Benefits and Conveniences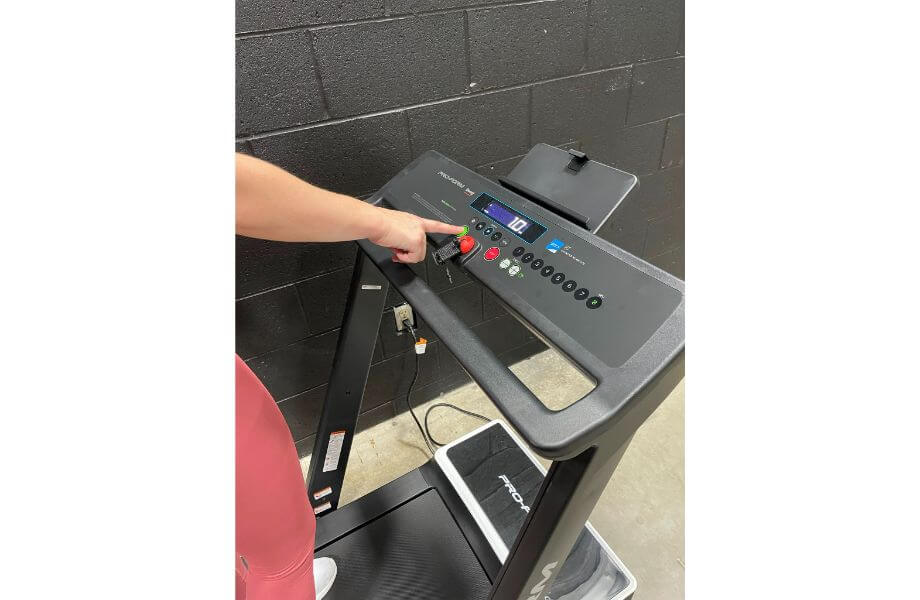 While the ProForm City L6 doesn't have a screen of any kind—just a small LCD display that shows metrics including time, distance, and calories— there's a smattering of quick-adjust buttons for the speed as well as Start and Stop. You're able to connect the machine via Bluetooth to iFIT using your own device to take advantage of the trainer-led live and on-demand workout programs.
You'll get a 30-day free trial with your purchase, but then you'll have to pay for the iFIT subscription, which is $180 for an individual yearly plan or $396 for a family membership with five profiles.
While I'm an iFIT fan, I think you could use the City L6 without it and be just fine, simply because it's already a fairly basic machine with no integrated screen, low top speed, and no incline. However, iFIT does offer off-the-treadmill classes as well, like strength training and yoga, so it may be worth it if you'll take advantage of other offerings. 
RELATED: Incline Treadmill Benefits
Comparison to Goplus 2-in-1 Folding Treadmill
For most people—especially if you're looking for a walking treadmill—the Goplus 2-in-1 would provide a similar experience to the City L6 with a few key differences, including the significantly cheaper price tag. Check out the side by side below.
Goplus 2-in-1 Folding Treadmill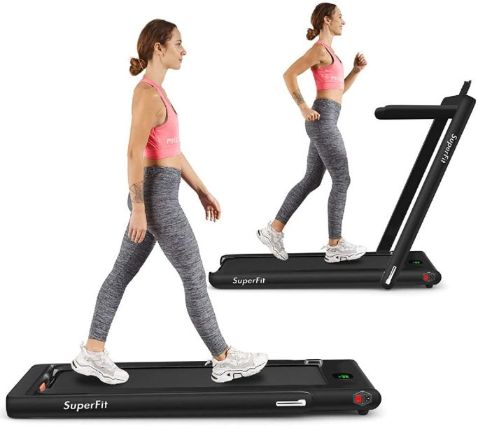 GoPlus 2-in-1 Folding Treadmill
If you are new to the world of exercising, enjoy walking, or are an occasional jogger, the GoPlus 2-in-1 Folding Treadmill could be the treadmill for you. The GoPlus 2-in-1 offers two sport modes, running and walking, with maximum speeds of 8 miles per hour and 2.5 miles per hour respectively. With a 2.25 horsepower motor, it can easily be used under a standing desk so you can get your workout in while working. The GoPlus 2-in-1 Folding Treadmill features a five-layer non-slip and shock-absorbing running belt, safety key, Bluetooth speaker, remote control to change speeds and a phone mount on the handrails. With these features, you can connect and listen to your favorite music, watch a show or talk on the phone all while getting a workout! Although the running surface is a bit smaller than most measuring 40 inches by 16 inches, it does provide cushioning to decrease the tension put on your back, joints, knees and ankles.The LED display has a sleek and minimalist design which shows time, speed, distance and calories, monitoring your movement data in real time. Overall, this is a great budget treadmill for the right customer. That said, the GoPlus 2-in-1 Folding Treadmill is not built to withstand any sustained or fast running. Additionally, because of the smaller running deck and fixed handrail height of 3.5 feet, the GoPlus 2-in-1 is not a good fit for taller people.
| | | |
| --- | --- | --- |
| Treadmill | ProForm City L6 | Goplus 2-in-1 |
| Price | $599 | $350 |
| Footprint | 70.25" L x 29" W x 44.5" H | 49" L x 27" W x 42" H |
| Deck size | 45" L x 17.5" W | 40" L x 16" W |
| Motor | 1.6 CHP | 2.25 CHP |
| Display | Analog display | Analog display |
| Bluetooth | Yes | Yes |
| Compatible programming | iFIT | None |
| Machine weight | 125 lbs | 84 lbs |
| Foldable | Yes | Yes |
| Speed | 8 MPH | 8 MPH |
| Incline and decline | No | No |
| Weight capacity | 250 lbs | 265 lbs |
Check out our full Goplus 2-in-1 review to learn more about this compact, wallet-friendly machine.
Customer Experience
ProForm offers a 10-year frame warranty, plus a 1-year parts and labor warranty on the City L6. A great warranty is considered 15 years to life on the frame, but with a more budget-friendly machine like this, I'm not surprised the comprehensive warranty is a bit lacking.
If you don't like your City L6, you can return it within 30 days of receipt, but be aware that returns will be charged a return shipping fee of $250 plus a 10% restocking fee.
ProForm also offers 0% APR financing on this machine, $16 per month for 39 months, if you qualify.
From my research, there are complaints about ProForm customer service, citing delayed responses or unhelpful reps. This is something to consider if you plan to purchase from ProForm.
Ordering and Assembling the ProForm City L6
While I didn't assemble the ProForm City L6 firsthand, I got to chat with a ProForm rep who did while I was visiting the company's headquarters. Like GGR's operations manager Sam "asSAMbly" Presley, he's put together his fair share of cardio equipment.
The rep said that because this machine is lightweight and simple, the setup process is very basic. There are fewer parts than say, the ProForm Pro 9000, which is a beast of a machine, and one person could assemble it on their own. Two people would make the job much faster, though.
Customer Reviews
ProForm doesn't include any reviews of the City L6 on its website, but on Amazon, the machine has a 4.2-out-of-5-star rating with 14 ratings thus far.
Those who loved it appreciated its compact frame and foldability, while negative reviews centered on a lack of customer service.
Final Verdict of Our ProForm City L6 Review
The ProForm City L6 treadmill won't be for everyone, that's for sure. But if you live in a small space, it's one worth considering.
This machine's compact size and foldability are ideal for apartments and condos.
Given its motor power and deck size, walkers will have the most success with the City L6.
iFIT compatibility provides a nice touch if you're interested in streaming interactive programming.
For the price, you may be better off looking at the Goplus 2-in-1 folding treadmill—particularly if you don't care about iFIT compatibility.
ProForm City L6 Rating
ProForm City L6
Looking for a compact, foldable treadmill? Check out our ProForm City L6 review to see if this machine is worth your money.
Product Brand: ProForm
Product Currency: $
Product Price: 599.00
Product In-Stock: InStock
ProForm City L6 Review FAQs
Does the ProForm City L6 have incline?
No, the ProForm City L6 does not incline.
Can you use ProForm City L6 without iFIT?
Yes, you can use the City L6 without iFIT, instead opting for manual mode. Normally, I'd recommend using iFIT on all NordicTrack/ProForm machines, but because the City L6 doesn't have an integrated touchscreen or offer speeds higher than 8 MPH, this becomes less important in my opinion.
How do you fold a ProForm City L6 treadmill?
It's quite simple to fold the ProForm City L6. There's a lever on the left side of the console that releases the handlebars from the frame—you'll then slowly lower them down until they are flush against the deck.