We test and review fitness products based on an independent, multi-point methodology. If you use our links to purchase something, we may earn a commission. Read our disclosures.
According to the National Apartment Association, almost 39 million Americans live in apartments. That's a big part of the population! If you're one of those people, you might be searching for the best workout equipment for apartments, which can be a tall task.
You have to consider dimensions, noise, and if you'll be able to easily move the equipment when the time comes. Luckily, the team at Garage Gym Reviews has done all the heavy lifting (hehe) when it comes to investigating the top concerns apartment dwellers have about fitness equipment. We've narrowed it down to the top nine pieces of workout gear you need to check out to get your best sweat yet, no matter the size of your apartment.
Both Fitness Experts and Current or Former Apartment Residents
Our team of expert product testers and reviewers have so many certifications, you might think we're messing with you. But we're not. We're certified personal trainers, nutrition coaches, CrossFit coaches, and weightlifting coaches. Plus, we've all lived (or currently live) in apartments and know a thing or two about fitting fitness equipment into small spaces.
9 Fitness Must-Haves for Your Apartment
Best Exercise Equipment for Small Apartments: PowerBlock Elite Adjustable Dumbbells
Good for: People who need adjustable dumbbells that can easily be stored
Best Exercise Equipment for Small Apartments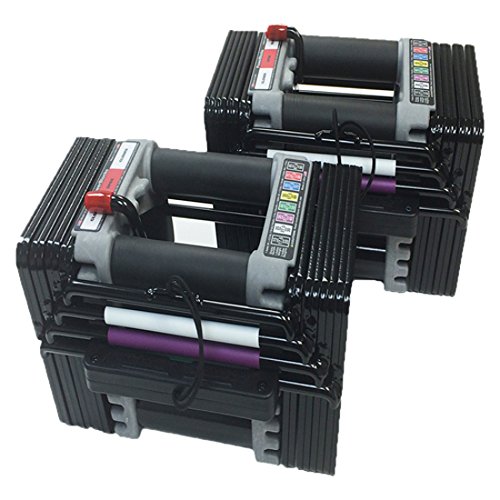 PowerBlock Elite Series Adjustable Dumbbells
PowerBlock was an innovator in this category and has been making adjustable dumbbells since 1991. This means they have had over 25 years of production and refinement to create the ultimately adjustable dumbbells set, and they truly have. The PowerBlock Elite dumbbells are one of the highest-rated and best-selling sets of all time. This is one of the last adjustable dumbbells sets to still be made in the USA, and PowerBlock uses only premium-quality materials. Thanks to their smart and economical design, the PowerBlocks are extremely tough and can withstand all sorts of regular gym abuse.Has a weight range of 5-50 lbs per hand and increments- 2.5 (adder weight), 5, 7.5, 10,15, 17.5, 20 25, 27.5, 30, 35, 37.5, 40, 45, 47.5, 50 pounds per hand Is expandable later to 70 and again to 90 pounds per hand. Made in USA 10 year home use warranty Replaces 16 pairs of dumbbells in the space of 1
Pros:
Easy to store away
Equivalent to 16 traditional dumbbells
Made in the USA
Simple to change between weights
Can purchase additional expansion kits
Cons:
Non-traditional dumbbell shape
Handle is padded instead of knurled
Should not be dropped
If I could only have one piece of fitness equipment in my apartment, I'd definitely choose a set of PowerBlocks. These adjustable dumbbells are some of the best on the market, with a bunch of weight options to quickly switch between. I find these to be especially useful for people who want a variety of weights for different exercises but simply don't have the space for 16 different pairs of dumbbells. You can use as little as 2.5 pounds or as much as 50 pounds per dumbbell.
PowerBlock also offers various expansion packs (sold separately) if you're interested in progressing with the set you already own. These expansions can make each dumbbell as heavy as 90 pounds, but they do get pretty clunky by the time they get up to that weight.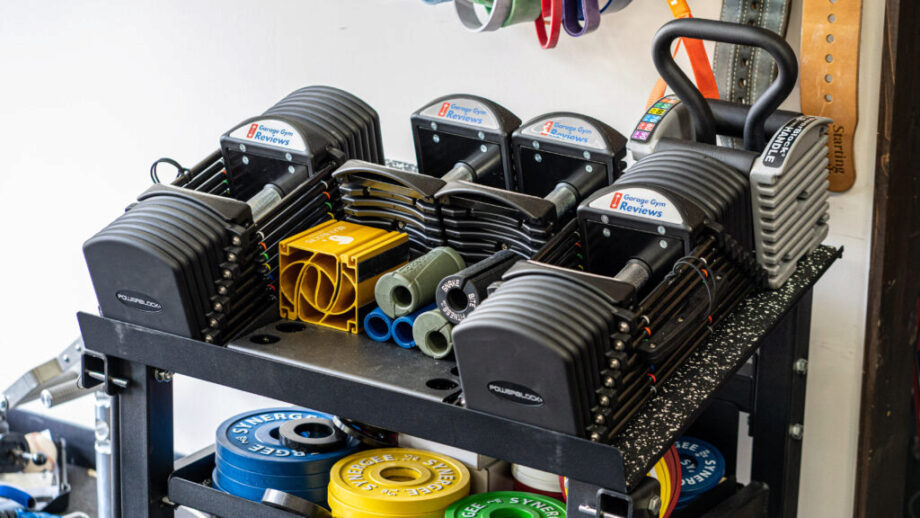 Although these are adjustable dumbbells fashioned into a non-traditional shape, it does make it easier to store them. Picture a fishing tackle box, except it's 11 times as heavy. That's what a PowerBlock looks like. Since the bottom is flat (instead of a round dumbbell like the Bowflex 552s), they can be easily stored under your bed or in a plastic tub when you're not using them.
If you're in an apartment, chances are you know not to randomly throw things on the floor, because it's annoying for your neighbors. No harm no foul with the PowerBlocks, since they are not supposed to be hastily dropped on the floor, as this could damage the locking mechanism.
Read our full PowerBlock Adjustable Dumbbells review.
Price
Dimensions
Weight per hand
Total weight
Starts at $419 for a pair
12″ L x 6″ W x 6″ H
2.5, 5, 7.5, 10,15, 17.5, 20 25, 27.5, 30, 35, 37.5, 40, 45, 47.5, 50 lbs
825 lbs
Best Exercise Equipment for Upstairs Apartments: X3 Bar
Good for: Individuals who like the feeling of an actual barbell but don't have the size for one
Best Exercise Equipment for Upstairs Apartments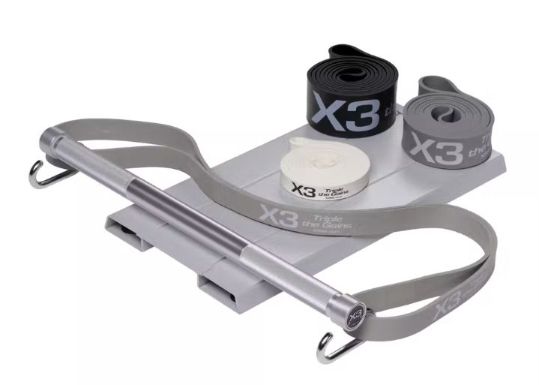 X3 Bar
The X3 Bar combines all the best parts of a resistance band with a barbell, giving you up to 300 pounds of force (600 with the separately sold Elite band) in a portable package. The materials are some of the most durable we've ever used, and can be used to perform just about any move you can think of.Where the X3 Bar really pays off is in the programming that comes free with every purchase. Thousands of people have been able to gain muscle and lose body fat with Dr. John Jaquish's 12-week training program that utilizes a four-day push-pull split.
Pros:
Able to produce a lot of force without noise
Excellent knurling
Doesn't need to be assembled
Financing is available
Doesn't take up lots of space
Cons:
Expensive
Bands only have a 1-year warranty
Some reviewers complain the bands look worn quickly
You know those noisy upstairs neighbors who sound like they're bowling at 5 a.m.? Yeah, nobody wants to be that person, which is why we recommend the X3 Bar for anyone who may live on the second floor or higher.
Created by the so-called "Tony Stark of the Fitness Industry," this bar may not turn you into Iron Man but it can help you lift some heavy iron, man. Well, technically you're lifting high-quality latex bands attached to a bar, but you get the point. The bands along with the bar allow users to generate up to 300 pounds of force (up to 600 if you get the separately sold Elite Band) without needing loud bumper plates. It also eliminates the need for you to stomp during your workouts, keeping the noise to a minimum.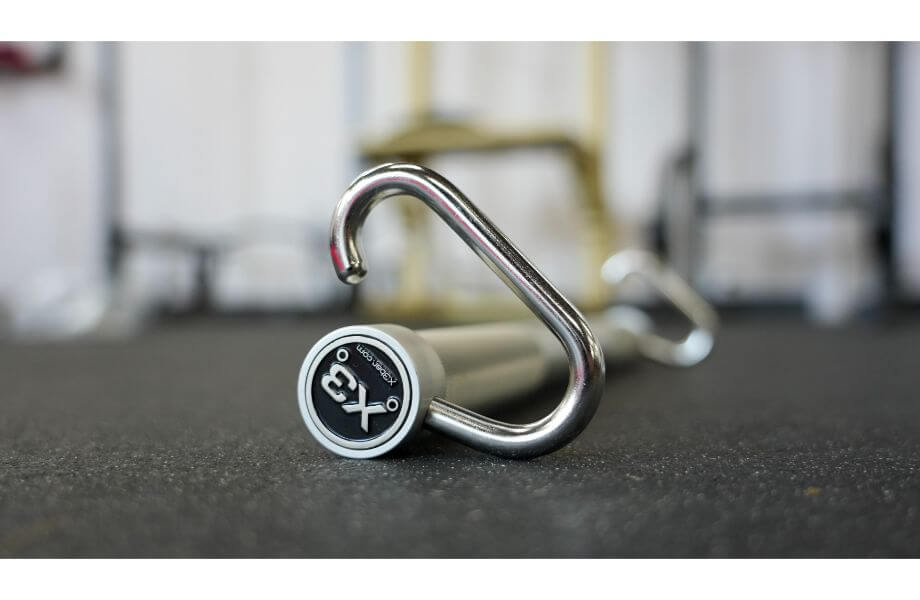 The X3 Bar allows you to do just about every strength training move you can think of, so it really is an all-in-one gym (cardio not included). What's more, it takes up less space than a yoga mat, so it won't crowd your apartment either. While it does a lot, the $550 price tag may be expensive for some people, though there are financing options available.
Take a gander at our full X3 Bar review.
Price
Available force
Weight
Resistance bands
Under $550
Between 300-600 lbs
17-19 lbs (depending on the band used)
4 included with purchase; 1 sold separately
Best Cardio Exercise Equipment for Apartments: Niceday Elliptical Machine
Good for: Quiet cardio while watching television or listening to music
Best Cardio Exercise Equipment for Apartments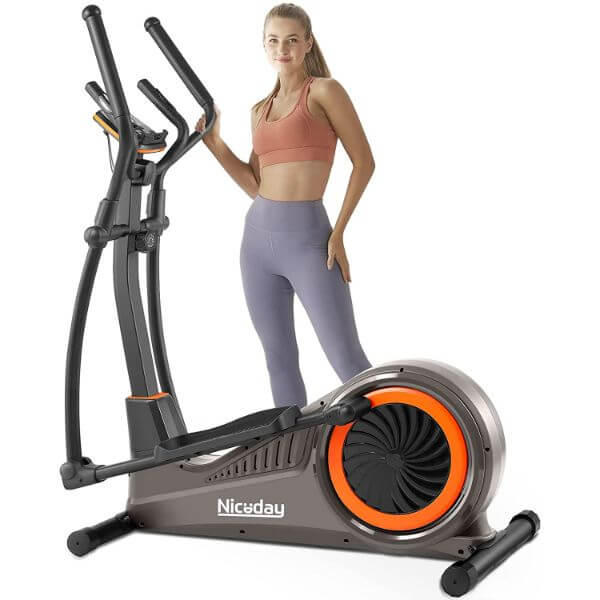 Niceday Elliptical Machine
Arriving 90% pre-assembled, the Niceday Elliptical Trainer is an easily installed, sturdy, and quality elliptical for someone looking for a low-impact, efficient workout. Equipped with large pedals and constructed with steel, the Niceday Elliptical Trainer supports weights up to 400 pounds and is designed for users between 4 feet, 9 inches and 6 feet, 2 inches tall. But, the 15.5-inch stride will likely feel too small for those over 6 feet tall.A 16-pound flywheel offers 8 levels of magnetic resistance without the need for any electrical source. A battery-powered digital monitor displays time, speed, distance, and calories so you can stay on track towards your fitness goals. According to Niceday, all data is dual-calibrated by algorithms to ensure accuracy of fitness metrics provided.The magnetic resistance is intended to reduce noise emission, which is recorded at only 20dB. There are some reports that the machine is noisier but often this is because of poor maintenance. Should there be any part that is damaged or making noise, Niceday offers a life-long promise and pays for all replacement costs.
Pros:
Very quiet machine
Portable
Doesn't need to be plugged in to use
Weight capacity of 400 lbs
Budget-friendly
16 resistance levels
Cons:
Shakes a little while in use
Light flywheel
Pulse sensor isn't the most accurate
15.5-inch stride length is on the shorter side
Garage Gym Reviews Head of Content Kate Meier tested the Niceday elliptical (alongside of myself) and was shocked at just how quiet it was. For an elliptical priced under $600, the Niceday also impresses with a 400-pound user weight capacity, well above the industry standard.
Even with the high user weight capacity, this machine has a smaller-than-average footprint, which makes it an ideal choice for apartment dwellers. Plus, the elliptical can be tipped onto the included transport wheels, so you can easily move it from place to place.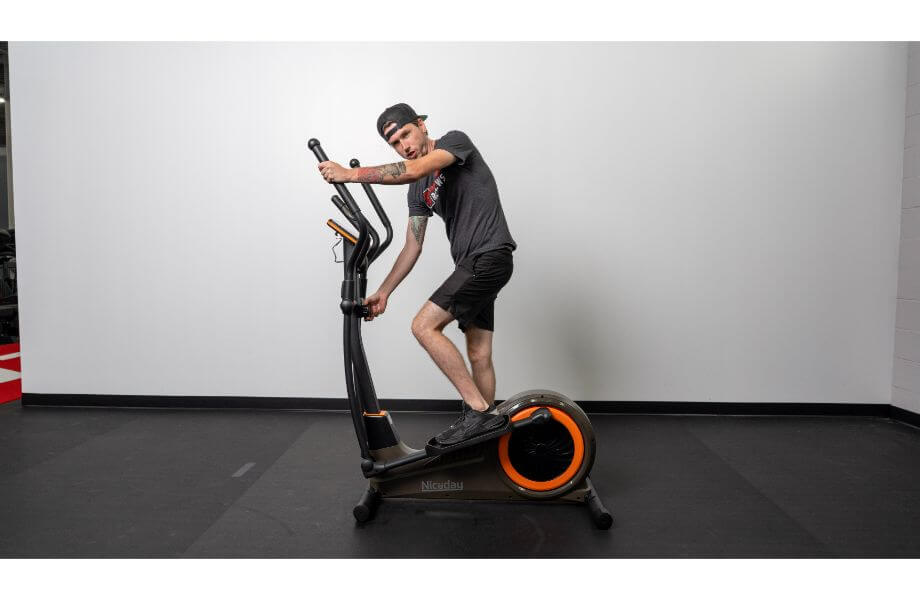 The Niceday Elliptical Machine is also low-impact, which is both friendly for your joints and won't cause any annoying thumping that your neighbors will complain about.
I also like that you don't have to worry about finding a compatible outlet for this elliptical because it runs on battery power. Tight on space and want to stick this bad boy in your walk-in closet for a makeshift gym? No problem! Since the Niceday doesn't need to be plugged in to use, you don't need to stress about finding an extension cord.
There isn't much to dislike about the Niceday elliptical, but the stride length is one of the few things I'm not crazy about. At just 15.5 inches, the stride length is at least 3.5 inches shorter than I'd typically like to see on an elliptical. This doesn't mean you won't be able to get your sweat on, but you may feel like you're using more of a step machine if you're closer to 6 feet tall.
Read our in-depth Niceday Elliptical Machine review.
Price
Weight capacity
Flywheel
Weight
Under $600
400 lbs
16 lbs
106 lbs
Best Low-Impact Exercise Equipment for Apartments: LEIKE Exercise Bike
Good for: An easy way to get cardio in without putting too much pressure on your joints
Best Low-Impact Exercise Equipment for Apartments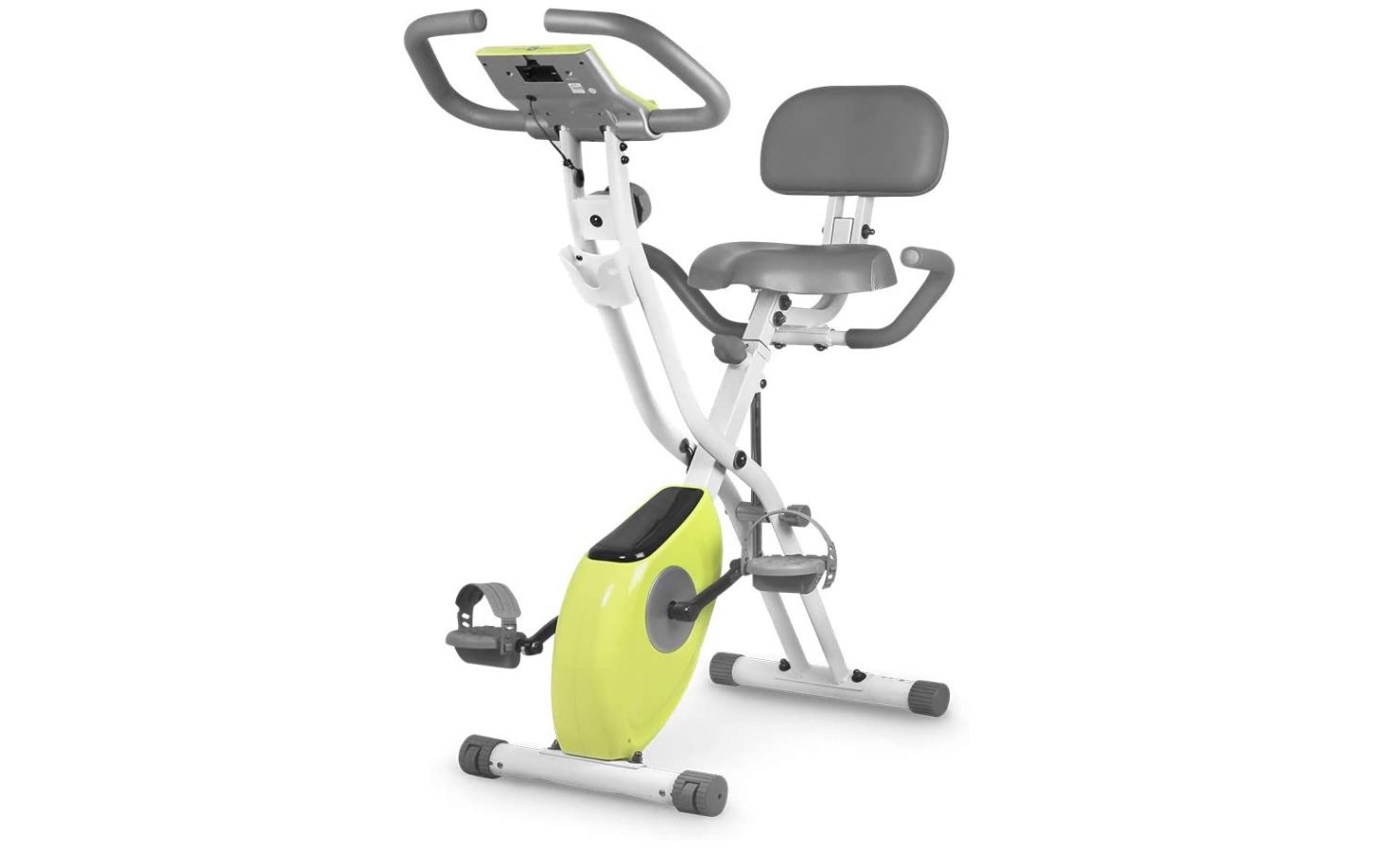 LEIKE X Bike
The LEIKI Fitness X Bike is an ultra-quiet folding exercise bike for indoor use. It has a large, padded seat plus a backrest, as well as padded handlebars and an LCD monitor to show stats like time, distance, pace, and calories burned.
Pros:
Under $200
Can be folded for storage
Quiet machine
10 levels of resistance
Seat height can be adjusted to accommodate people of different heights
Portable with useful transport wheels
Cons:
Subpar weight capacity of 220 lbs
It can shake at higher speeds
No extras
Micro apartment owners unite! Garage Gym Reviews Staff Writer Anthony O'Reilly previously lived in a 300-square-foot apartment in New York City and owned this LEIKE Exercise Bike, so you can rest easy knowing that it'll probably fit in your space. Anthony said this bike essentially got him through quarantine, because he'd sit on it while he worked or watched television.
"The LEIKE bike provided a way for me to get some low-impact cardio in during a time when I wasn't comfortable running outdoors," Anthony explains. "Plus, I never received a single complaint from neighbors about my bike being too loud."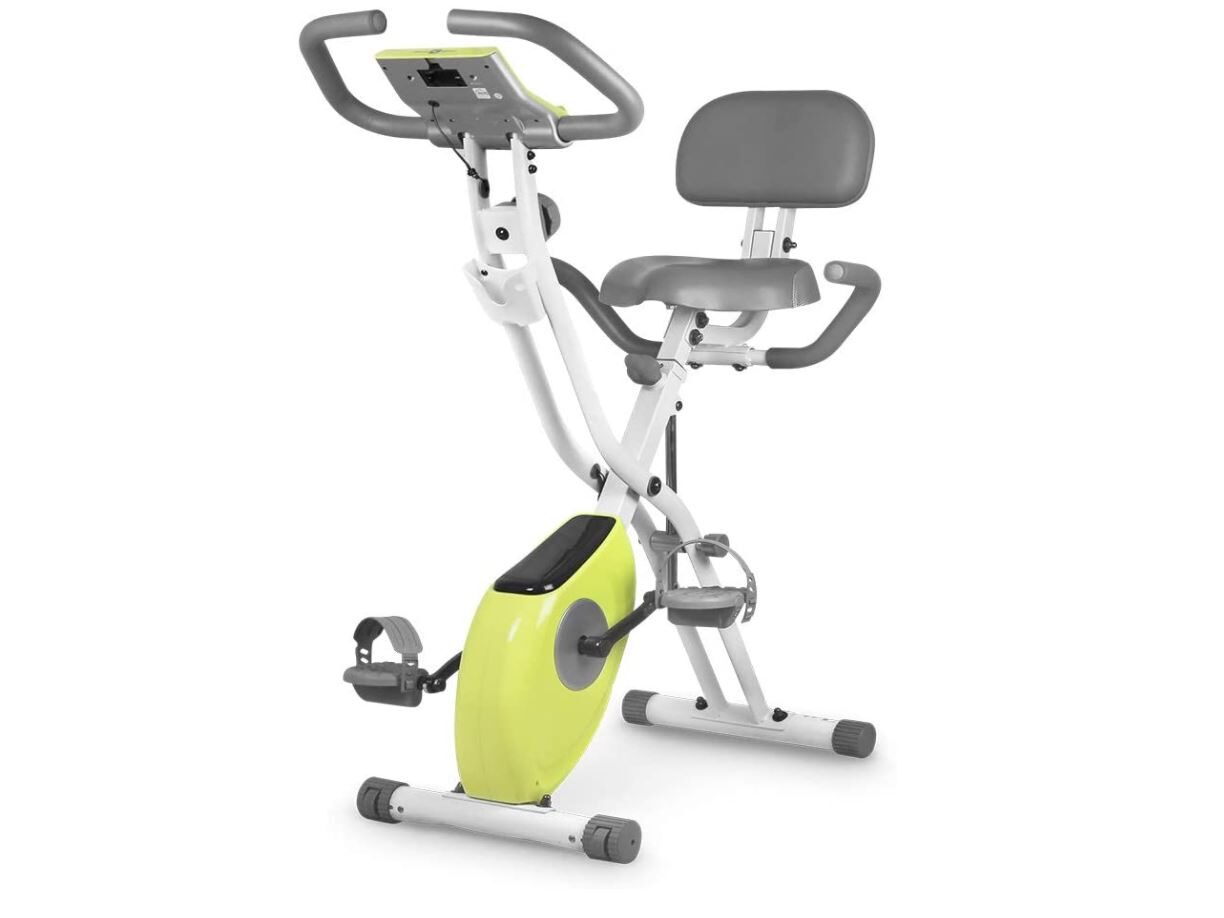 Anthony is a tall man and was still comfortable using this exercise bike. This is likely due to the adjustable seat, which is able to accommodate people of different heights.
Plus, the LEIKE bike is able to be folded and transported really easily. It weighs under 40 pounds and folds in a flash for convenient storage. With such a slim and compact design, it isn't a huge surprise that the LEIKE only has a weight capacity of 220 pounds (below the industry standard of 300 pounds).
You'll also need to be cognizant of how hard you're pedaling. Although I like to feel like I'm racing in the Tour de France as much as anyone, you'll need to be aware that the LEIKE bike may shake as you pedal harder coupled with higher resistance.
Price
Dimensions
Resistance options
Weight
Under $200
46" L x 16" W x 9" H
10
38.5 lbs
Best Smart Fitness Equipment for Apartments: Tempo Move
Good for: Technology lovers who don't have the space for other smart fitness equipment
Best Smart Fitness Equipment for Apartments
Tempo Move
The Tempo Move is a very affordable younger sister to the Tempo Studio. Access a lot of benefits you get with Tempo Studio:AI-powered form correction Access to thousands of classes Some weights includesIn order to use Move, you need to have an iPhone XR (or later version) as well as a TV.
Pros:
Compact and inconspicuous
Budget-friendly compared to traditional smart fitness equipment
Works similarly to the regular Tempo
Wide variety of on-demand classes
Cons:
Can only be used with iPhones
Included weights may not be heavy enough for everyone
$39 per month membership needed to use as intended
The Tempo Move has recently made waves on TikTok for its aesthetically pleasing storage cabinet and interactive programming. The Move is the less expensive (and smaller) version of the original Tempo, but is the ideal size for apartment living.
Whether you're into HIIT or want to nail strength training, Tempo has excellent on-demand classes for you to enjoy at $39 per month. For under $500, your Move comes with a variety of lighter weight plates, which can be added onto the adjustable dumbbell bar. You even get cute collars that come with the Move, which I love.
(Pssst: Get the best Tempo discount codes.)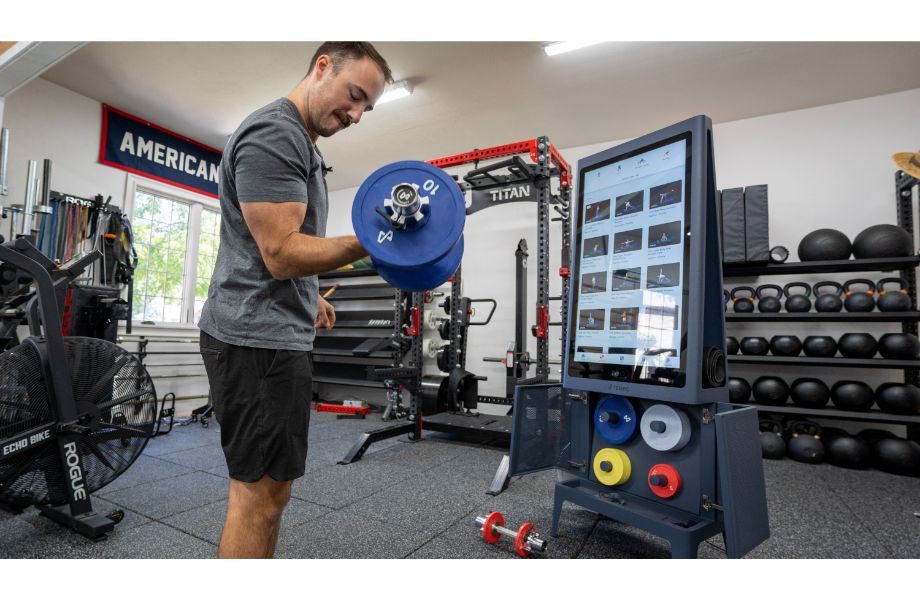 On the downside, you can only utilize the Tempo Move if you have an iPhone (and a television, but most people have one of those). If you have an Android, the Move isn't yet compatible with your phone. It is also worth noting that this may not be for you if you're not interested in paying a monthly subscription fee for your programming, and would rather do your own thing.
Want to learn more? Read our full Tempo Move review.
Price
Requires
Warranty
Dimensions
Under $500
A recent iPhone and a television
3 years
22" H x 13.5" W x 13.5" D
Best Pull-Up Bar for Apartments: Perfect Fitness Multi-Gym Doorway Pull-Up Bar
Good for: People who don't want to mount a pull-up bar onto their apartment wall
Best Pull-Up Bar for Apartments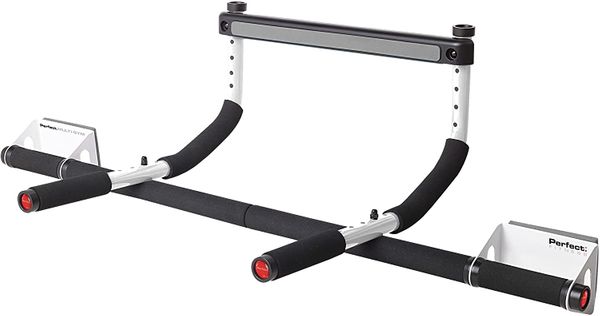 Perfect Fitness Multi-Gym Pull-Up Bar
Pull-up bars provide an awesome return on investment if you use them. Most pull-up bars cost less than $100 (including the Perfect Fitness Multi-Gym, which costs less than $50), and pull-ups are one of the very best exercises for increasing upper-body strength and overall functional fitness.The Perfect Fitness Multi-Gym Doorway Pull-Up bar is a great option for home gym owners who don't want to mount anything to the wall or ceiling. This lightweight but sturdy bar is easily portable and can be stored away when not in use.It supports a maximum user weight of 300 pounds, so if you're super strong, it may not support your weighted pull-up goals. For the vast majority of trainees, though, this simple pull-up bar will more than suffice.
Pros:
Multiple grip options
Under $40
Can be easily attached to a door frame
Max weight capacity of 300 lbs
Cons:
Grips are foam versus knurled
Assembly instructions aren't great
No obvious warranty
I'm someone who always ended up at Lowes the night before moving out of an apartment because I needed to fill the holes I put in walls from screws and nails. Eliminate this problem (at least when it comes to pull-up bars) by purchasing the Perfect Fitness Multi-Gym Doorway Pull-Up Bar! This inexpensive bar clocks in at under $40 and can hold up to 300 pounds. Plus, you don't have to secure it to a stud(s) before using it.
The Perfect Fitness Pull-Up Bar is one of the most versatile pieces of equipment you can have in your apartment. You'll be able to do pull-ups with various hand grips, dips, and even take it off the door to use it for push-ups.
Some customer reviews mention that the directions to assemble this pull-up bar aren't the best, but I don't think that is a huge issue. There were also complaints about the foam grips versus something more sturdy, but I think this is a pretty standard feature for the price.
Price
Dimensions
Weight
capacity
Weight
Under $40
23.3" L x 7.8" W x 4.5" H
300 lbs
Under 10 lbs
Best Resistance Bands for Apartments: Bodylastics Resistance Bands Set
Good for: Individuals who want stackable tube resistance bands
Best Resistance Bands for Apartments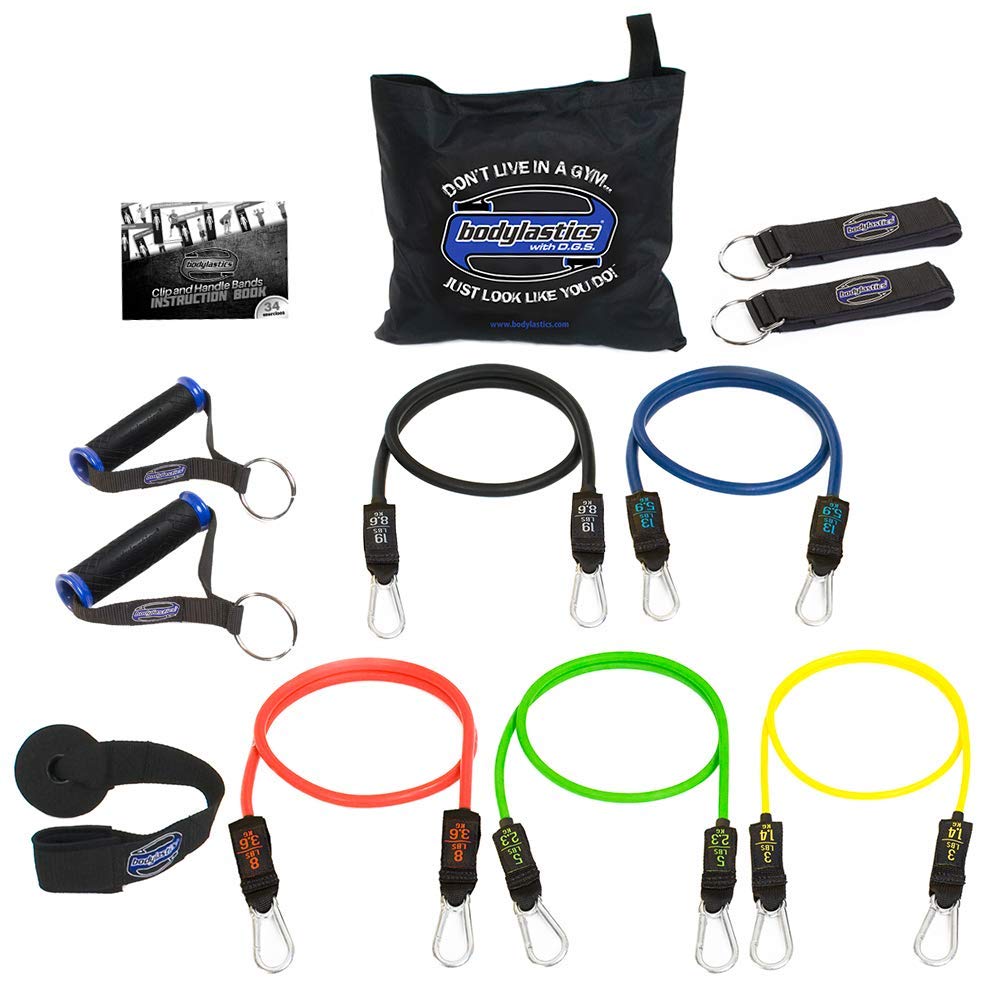 Bodylastics MAX Tension Resistance Bands
Bodylastics Max Tension Resistance Bands Systems incorporate the best of the best materials for the greatest durability and workout experience. Each of these exercise band kits include either 5, 6, 7 or 14 of our top rated Anti-Snap Malaysian latex tubes with solid iron Carabiners, Heavy Duty Components, Travel bag and instructions.12 Pieces Version - Max Tension 96 lbs: -Five bands of varying resistance (ONE: 3 lbs Band; ONE: 5 lbs Band; ONE: 8 lbs Band; ONE: 13 lbs Band; ONE: 19 lbs Band) -TPR Waffle Grip Handles (Set of 2) -Door anchor -Ankle straps (Set of 2) -Carrying bag -Printed Instructions 14 Pieces Version - Max XT 142 lbs: -Six bands of varying resistance (ONE: 3 lbs Band; ONE: 5 lbs Band; ONE: 8 lbs Bands; ONE: 13 lbs Band; ONE: 19 lbs Band; ONE: 23 lbs Band) -TPR Waffle Grip Handles (Set of 2) -Door anchor -Ankle straps (Set of 2) -Small Anywhere Anchor -Carrying bag -Printed Instructions 19 Pieces Version - Max XT Strong Man 202 lbs: -Seven bands of varying resistance (ONE: 3 lbs band; ONE: 5 lbs Band; ONE: 8 lbs band; ONE: 13 lbs band; ONE: 19 lbs Band; ONE: 23 lbs Band; ONE: 30 lbs Band) -TPR Waffle Grip Handles (Set of 4) -2 Door anchors -Ankle straps (Set of 4) -Medium Carrying bag -Printed Instructions
Pros:
Door anchor is included in each set
Resistance bands are stackable
Lightweight, portable, and stowable
Doesn't smell latex-y like most resistance bands
Cons:
May need to purchase additional bands over time
Not made in the USA
90-day warranty
Resistance bands are one of the most space-saving options for workout equipment on the market. The Bodylastics Resistance Bands Set is great for advanced athletes and beginners alike, since the five included bands can be stacked on top of each other.
Plus, you can utilize the door anchor, which is included in each set. This maximizes the number of exercises you can do with these bands, since you aren't just limited to movements where you have to hold the band.
I love the Bodylastics bands because they don't leave my hands smelling like a Discount Tire after I use them for 30 minutes. Surprisingly, plenty of the best resistance bands do this, so it is a real treat when a set doesn't.
The Bodylastics bands come with a travel pouch for easy storage. Even if you have the smallest apartment in Los Angeles, you'll still have room in your home to store these in your sock drawer.
Price
Materials
Resistance bands included
Weight
Under $50 (For set of 5)
Rubber, plastic, and nylon
Between 5-16 (Depending on set you purchase)
3.25 lbs
Best Weight Vest for Apartments: Hyperwear Hyper Vest Elite Weight Vest
Good for: Runners and bodyweight workout enthusiasts looking to kick it up a notch
Best Weight Vest for Apartments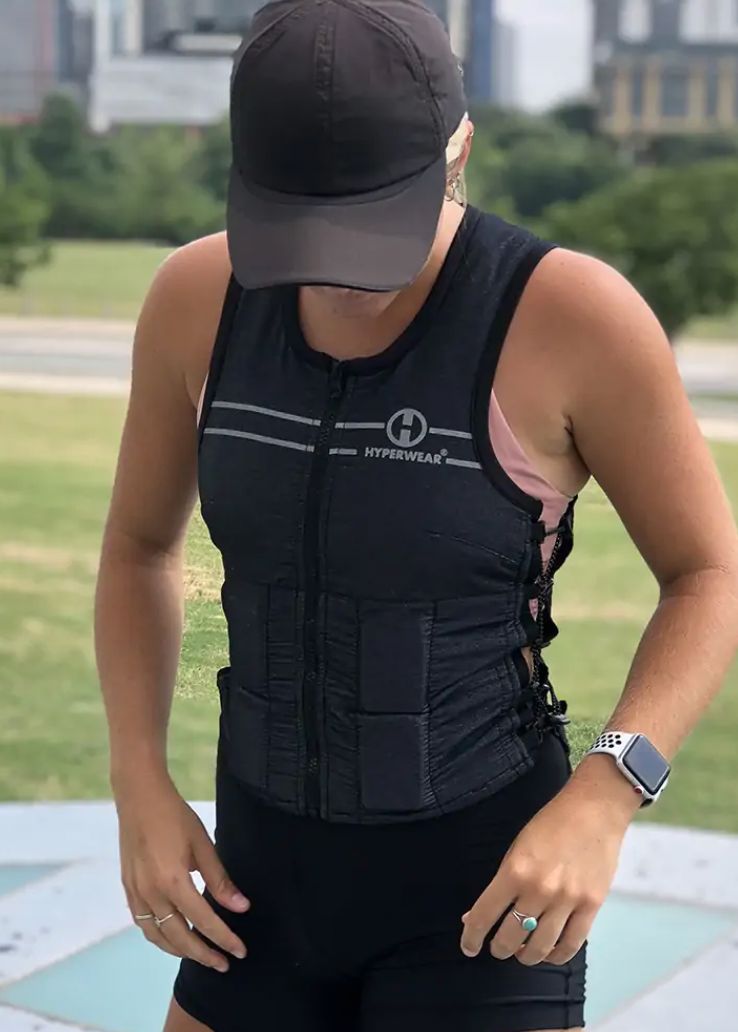 Hyperwear Hyper Vest Fit
There are a lot of weighted vests out there. There are not a lot of weighted vests engineered specifically for women. Hyperwear designed the Hyper Vest Fit with the female body in mind, so unlike most other weighted vests, the Hyper Vest Fit does not have any weight in the chest area. All of the weight is contained to the midsection of the vest -- the stomach and back areas -- to prevent compression and discomfort in the chest.The Hyper Vest Fit is adjustable and holds a maximum of 10 pounds. The removable weights are made of steel shot (small balls of steel) encased in thick, durable plastic. To adjust the weight, add or remove the weights to the individual sleeves in the vest. Each weight weighs half a pound. It can be a little tricky to get the weights in at first, so have some patience.The vest is made of Cordura fabric, a durable nylon blend. It zips up the middle and has elastic side lacing for a custom fit. Hyperwear provides a size chart to help you select the right size for you; our product tester recommends considering sizing down, as she ordered a medium based on the size chart but was left with a lot of excess elastic after tightening the vest.
Pros:
Hugs closely to the body
Allows the user to be mobile without extra bulk
Customizable lacing makes this very adjustable
Made with Cordura fabric
Cons:
Maxes out at 20 lbs
Expensive
Not sweat wicking
Want to up the ante on your bodyweight workouts in your apartment? The Hyperwear Hyper Vest Elite Weight Vest can help you take your movements to the next level with ease. The Cordura fabric that makes up the bulk of this vest is extremely durable, and the side laces help customize the fit for each person.
If you're looking for a really heavy plate-loaded vest, this isn't the best option for you. However, I'm running on the assumption that most apartment residents don't have a barbell, rack, and plates, which would render a plate-loaded vest useless.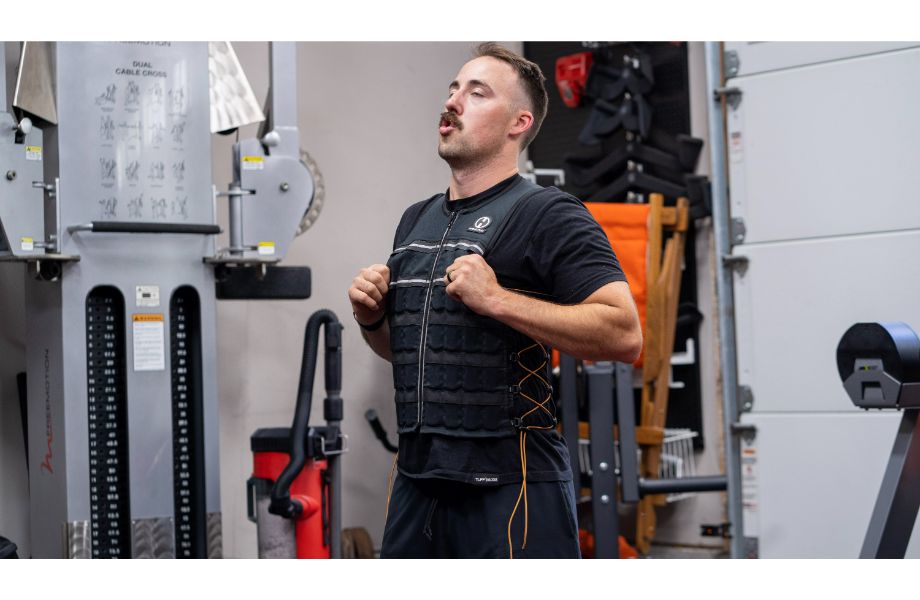 Although you can get a heavier result with a plate-loaded vest, I actually prefer the Hyperwear vest because it hugs your body and allows for more mobility. This is an excellent feature for those who want to be able to take this vest outside for a walk or run.
You can choose between 10-,15-, or 20-pound vests at checkout. Plus, you can actually purchase additional weights (sold separately), which look like little 2-inch bars that go inside the vest.
It is worth noting that this vest is an investment––starting at $230, it isn't super cheap (if you want something more affordable, check out the Condor Sentry Vest). However, I think it is worth the money and can be a versatile piece of equipment in your workout arsenal.
Take a look at our full Hyperwear Hyper Vest Elite Weight Vest review.
Price
Weight options
Sizes
Made with
Between $230-$300
10,15, or 20 lbs
Small to X-Large
Cordura fabric
Best Quiet Flooring for Apartments: Amazon Basics Foam Interlocking Exercise Gym Floor Mat Tiles
Good for: People on a budget who need a way to make their workouts quieter
Best Quiet Flooring for Apartments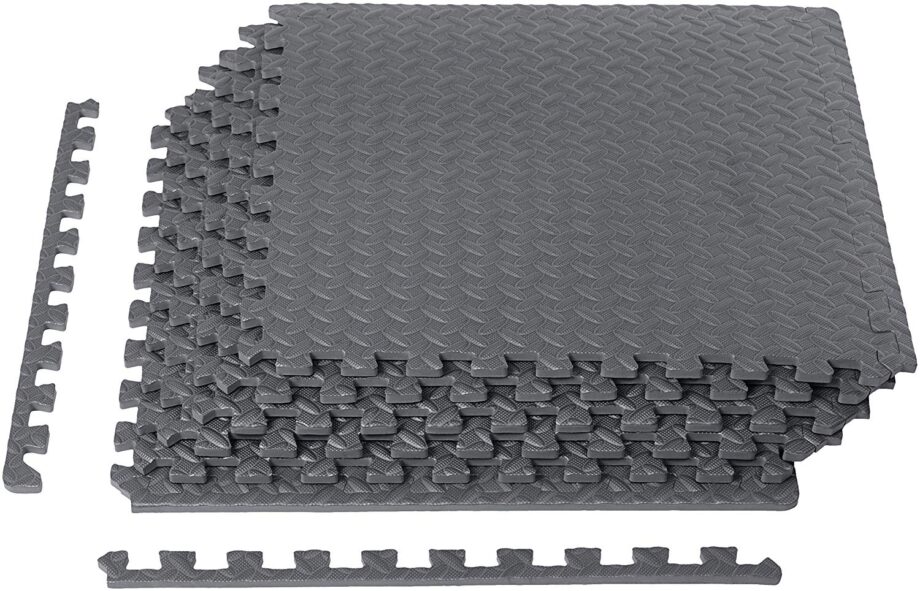 AmazonBasics EVA Puzzle Exercise Mat
Optimize your workout space with the AmazonBasics EVA Puzzle Exercise Mat. No need to install special flooring or feel limited to narrow yoga mats. The convenient mat makes it easy to spread out, and it adds a comfortable, cushioning layer to hard floors—or an added layer of protection to floors with carpeting.Best of all, it can be picked up and moved or compactly stored out of the way when finished. The puzzle-style exercise mat makes a great choice for any garage, basement, fitness room, or gym. It can also be used in a kid's play area, making all that rough and tumble a bit less precarious.The puzzle exercise mat features dense, high-quality EVA foam (with zero toxic phthalates) to ensure long-lasting, reliable performance. The mat protects floors from scratches and dings, helps reduce noise, and brings added comfort to workout routines. Whether it's a weight-lifting bench, stationary bike, dumbbells, jump ropes, or ab roller wheels, the dense foam mat makes an excellent foundation for all that must-have workout gear.The durable foam mat offers an optimal amount of cushioning thickness, which means less pressure on knees, wrists, elbows, and back for greater comfort when doing jumping jacks, sit-ups, push-ups, yoga poses, stretches, and other floor exercises. The grippy, non-skid mat also provides a slip-free surface for added safety.
Pros:
Can deafen the noises created by exercising
Inexpensive
Easy to clean and move
Free shipping through Amazon Prime
Cons:
Interlocking could be more secure
Not great for super high-intensity movements
Likely will not hold up for years
Need a way to deafen the sounds of you pedaling away on your exercise bike or striding on your elliptical? Consider purchasing the Amazon Basics Foam Interlocking Exercise Gym Floor Mat Tiles for your apartment! This $25 cushioned mat comes in six squares that can be "locked" together like a giant puzzle.
I like that this option from Amazon is way cheaper than most of the other home gym flooring options we've tested and reviewed. Plus, it can easily be disassembled and stored when you aren't actively using it. Life hack: You can also use this in place of a yoga mat on hardwood floors for a little extra back cushioning.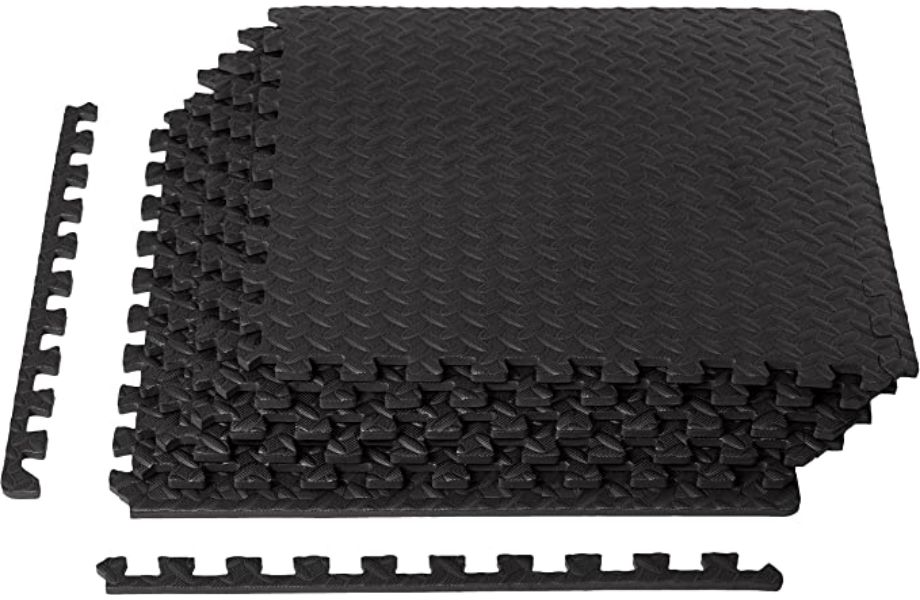 Since these are made with foam, cleaning any extra dirt or debris off of them is a breeze. Just grab regular soap and water and scrub with a dishcloth for best results.
If you're looking for interlocking mats that will withstand high-intensity activities that involve jumping, these aren't your best pick. Since they are a more budget-friendly option, they do tend to become "unlocked' with repeated movement. But since you're in an apartment, you probably shouldn't be doing crazy jumping jacks above your neighbors anyway, but that is just my two cents.
Price
Material
Covers
Weight
Under $25 per 6 squares
Foam
24 square feet
300 grams
Other Products We Researched
There are tons of different directions to go when choosing fitness equipment for an apartment, and too many additional options to even mention. If you're still not finding what you're looking for on this roundup, check out some of our others that might be helpful:
How We Picked and Tested
We asked ourselves these critical questions when deciding if a piece of equipment was going to make this list:
Footprint: What are the dimensions of the piece of equipment? How large is the footprint? Would this fit comfortably in a little space or apartment? How much floor space does it require? Will it fit in a normal apartment living room?
Portability: Can this piece of equipment be moved easily? Will it require additional hands or assistance? Are there any transport wheels or features that make moving it easier? Will it be easy to take to another location or apartment?
Stowability: Can this piece of equipment be folded or compacted in any way? Can it be easily stowed under a bed, in a closet, or in a bin?
Noise level: How loud is the machine or piece of equipment? Will it disturb neighbors?
Price: How expensive is the piece of equipment? How does this compare to the prices of similar pieces of equipment?
Technology: Does the piece of equipment have any technology extras like interactive programming? Does the equipment have Bluetooth?
Versatility: What types of workouts can these pieces of equipment be used for? Will they support an upper body, lower body, or full body workout? Will it help build muscle or provide a cardio workout?
Durability: Does the piece of equipment seem like it will stand the test of time? How durable does it seem compared to similar pieces of equipment we've tried in the past?
Accessibility: Is it accessible to most people? Is the piece of equipment simple to use and get started with? Will most people be able to figure it out?
Materials: What type of material is the piece of equipment made of?
Benefits of Workout Equipment for Apartments
Trying to figure out if purchasing fitness equipment for your apartment is worth it? Check out some of the top benefits from certified personal trainer and GGR writer Anthony O'Reilly.
"As someone who's lived in apartments most of his life, I know how difficult it can be to find home gym equipment that not only works for your fitness goals but also fits in your living space," Anthony explains."That said, I think there's a few reasons why it's worth the time and effort."
Time
Just like with any other type of home gym, the biggest benefit of fitness equipment for your apartment is that you save time commuting to and from a gym.
It's Yours
You can bring this equipment with you wherever you move, whether that's another apartment or a house. You can also sell the equipment you have to make a quick buck.
Forces You to Adapt
Having to workout in an apartment can teach you how to adjust your workout habits, and you may find yourself picking up new techniques or habits you may not have otherwise discovered.
Cost
You're already paying rent, so why bother with a high-cost gym membership on top of that? Fitness equipment will save you money in the long run.
Buying Guide: What to Look for in Workout Equipment for Apartments
When trying to decide what equipment to include in your mini home gym, here are some of the most important factors to consider:
Quiet
Obviously, your main goal is to workout. You're not trying to piss off every neighbor in your building with loud thumping or excessive noise. Picking equipment that isn't inherently loud will make you seem like a kind and considerate neighbor.
Remember the old adage your mom probably drilled into your head as a kid? "Treat others the way you'd want to be treated" continues to hold weight today, especially when considering shared spaces.
Small
Unless you live in a massive penthouse, you're probably tight on space. Finding equipment that isn't the largest option on the market is always a smart idea. Take a look at the piece of equipment's footprint you're interested in and measure your space ahead of time. You'll save yourself a lot of angst and irritation if you know your new workout gear will actually fit in your apartment.
Portable
Maybe you stay in your apartments for years at a time, but I never did. Making sure you can move the equipment when it is time to jet off to a new place is key.
I'd also recommend considering if your apartment has an elevator or just a bunch of stairs. You may have a way easier time moving a treadmill down the hall and into an elevator versus those who only have staircases.
Affordable
Deciding where to spend your money when it comes to fitness equipment is a very personal decision. If you're more into the smart, technology-esque programming, investing your money in something like the MIRROR or a Tempo Move may be your best bet. Others who enjoy the more traditional aspects of slinging weights may spend more of their budget on adjustable dumbbells.
I suggest budgeting out ahead of time how much you're looking to spend, and using the majority of your money on the thing(s) you'll be excited to use most.
Workout Equipment for Apartments FAQs
How can I exercise when I live in an apartment?
You can definitely exercise when living in an apartment! Utilizing small, quiet, and portable pieces of equipment is a prudent investment when you have limited space. Take louder activities like burpees or high knees outside to keep the peace inside your building and work on perfecting your overhead shoulder press or push-ups in the meantime.
Where do you store exercise equipment when you live in an apartment?
Storing exercise equipment in your apartment can definitely be a challenge. I recommend finding equipment that is portable or can be folded in some way. Some foldable treadmills are thin enough to be slid underneath a bed, or against a wall in a closet. Other options like the PowerBlock Adjustable Dumbbells are square-shaped, and can actually sit flat on top of existing storage tubs or bins.
How can I exercise quietly in my apartment?
Refraining from high-impact exercises like jumping rope or box jumps is a good start. I also suggest purchasing rubber floor mats to put under the area you plan to exercise. This is a great way to damper any additional loud noises that happen while you're exercising. Low-impact cardio machines like exercise bikes and ellipticals can also be an option for quiet exercise in an apartment.
What cardio equipment will give me the best home workout?
I always think it is most important to do cardio that you actually enjoy doing. If you hate using the rowing machine, it doesn't matter if it will help you burn ten more calories than a treadmill––you shouldn't spend your money on it. All cardio machines will help you get your heart rate up, which isn't that the real goal? 
If we're talking about the best cardio machine that will actually fit in your home, picking up a folding stationary bike may be a safe bet. You'll be able to store this exercise machine against a wall or in a closet when you aren't using it.
Are TRX bands or sliders a good option for an apartment?
Although I actually love TRX bands, they aren't a prudent choice for people in apartments. You have to anchor the bands using a stud in your wall, which I wouldn't personally be comfortable doing in an apartment. Although they do work a variety of muscle groups, you may be better off with a set of resistance bands if you want to save your wall.
As far as sliders go, they may be a good choice if you have flooring that is slippery enough to use them on. I suggest going the DIY route (like I did during the height of the pandemic) and use two paper plates as cheap sliders on carpet. You're welcome.