We test and review fitness products based on an independent, multi-point methodology. If you use our links to purchase something, we may earn a commission. Read our disclosures.
Whether you're looking for a cushioned treadmill because your joints are begging you to, or you just want a more comfortable workout experience, you've come to the right place. I've compiled a list of the six best cushioned treadmills on the market today.
Regardless of your budget or skill level, I've found solid options to fit almost everyone's cushioning needs. I've had my hands (er, actually, my feet) on every single one of these treadmills I recommend, so you can feel confident in your purchasing decision.
Real People, Real Reviews
Shockingly, we are not three rats in a trench coat. The team at Garage Gym Reviews is full of real people with tangible experience and extensive knowledge of the fitness industry. We're not just writers and reviewers––we're certified personal trainers, nutrition coaches, and former NCAA Division 1 athletes. Plus, we know a thing or two about quality treadmills, considering we've tested dozens. We're excited to help you find your new favorite cardio machine.
6 Best Cushioned Treadmills
Best Cushioned Treadmill Overall: NordicTrack EXP 7i Treadmill
Good for: Switching up the cushioning depending on your current needs
Best Cushioned Treadmill Overall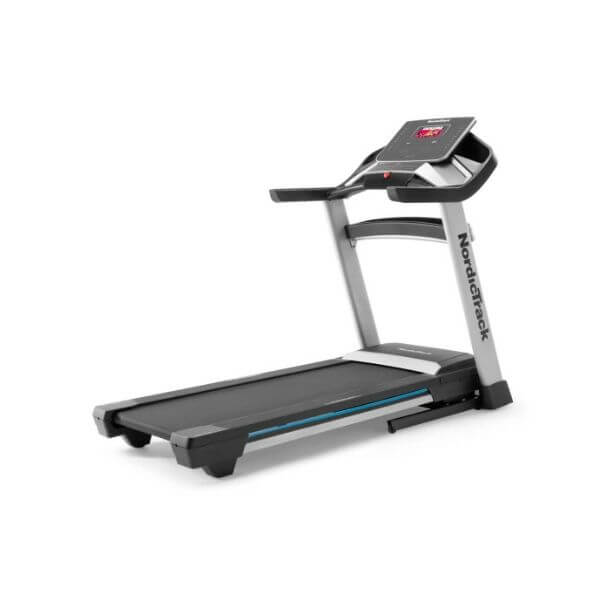 NordicTrack EXP 7i
The NordicTrack EXP 7i offers the reputable NordicTrack-quality build and virtual training experiences at an affordable price. Powered by a 3.0 CHP, the EXP 7i reaches speeds up to 12 miles per hour and supports incline ranges up to 12%. Featuring a folding design, compact footprint, cushioned running deck, and a 7-inch interactive touch screen, the EXP 7i could be a good option for those with limited space.The roomy 20-by-60-inch running deck has a FlexSelect cushioning to reduce impact to joints and back. Training for a road race? Simply turn off the cushioning for a road running experience. And, with membership to the iFIT training platform, you can mock any global terrain and immerse yourself in the virtual images. Or, choose from over 16,000 live and on-demand videos to be guided by elite personal trainers. AutoAdjust technology on the EXP 7i allows these trainers to virtually change your speed and incline so you can focus on your workout.There are also some added conveniences that add a nice touch to this treadmill. The console is equipped with two digitally amplified speakers, a console fan, and a storage tray. There is no tablet holder, but the storage tray has the capability to hold whatever you may need. Bluetooth connectivity makes it easy to sync headphones for a wirefree experience.The 7-inch screen does sit high on the console which may make it hard for shorter individuals to see it clearly. Some users have disliked the smaller screen size, but for the price and its capabilities, it is more than you would find on comparable treadmills.
Pros:
Cushioning system can be increased or decreased
Compatible with iFIT programming
Simple to assemble
Incline options
20" W x 60" L deck
Great financing options
Cons:
Heavy machine
Tiny screen
Tech support is sometimes lacking
The NordicTrack EXP 7i has a feature I haven't seen on any non-NordicTrack treadmills––adjustable cushioning! The brand's FlexSelect Cushioning allows the user to change the intensity of the cushioning (after folding the machine) with a simple twist of the hand. Whether you want an extra-comfortable walk or want to simulate road running, you can make it happen on the EXP 7i.
I enjoy the user-friendly controls, as well as the 12 incline and speed options. Since the deck is 20 by 60 inches, which is the industry standard, the EXP 7i is an ideal choice for almost everyone. As a tall person, I especially enjoy the deck size, because I'm able to stride naturally without worrying about any missteps.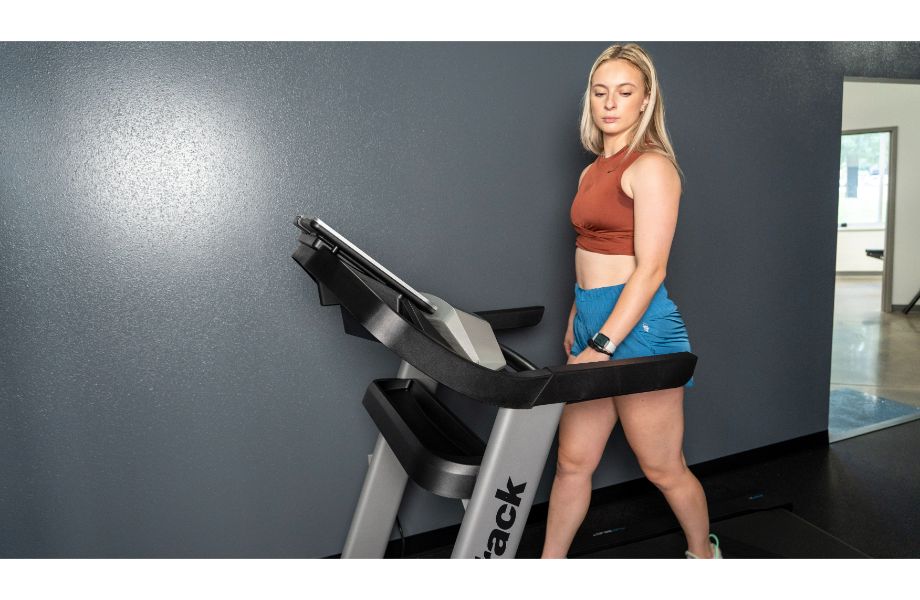 Plus, the EXP 7i is compatible with iFIT programming (membership sold separately), which can be viewed on the included touchscreen. The touchscreen is a bit small for my taste at just 7 inches, but I like that it's an option on a treadmill in this price range.
For those who balk at the idea of assembling your new treadmill, NordicTrack offers delivery and assembly for an extra $149. However, the actual assembly process is pretty simple if you decide to go the DIY route. The only thing I'd recommend is grabbing a friend or two to help, because the EXP 7i is heavy at 222 pounds.
Take a look at our full NordicTrack EXP 7i Treadmill review.
| | |
| --- | --- |
| Price | About $1,100 |
| Cushioning | Can turn cushioning up or down |
| Deck | 20" W x 60" L |
| Display | 7" HD Smart Touchscreen |
| Warranty | 10-year frame, 2-year parts, 1-year labor |
Best Cushioned Treadmill for Home Workouts: Horizon 7.4 AT
Good for: TV show and programming connectivity
Best Cushioned Treadmill for Home Workouts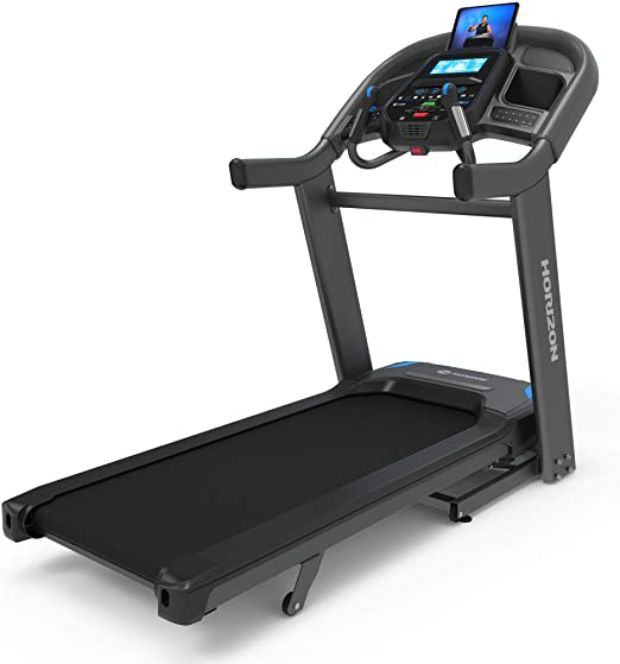 Horizon 7.4 AT Treadmill
The Horizon 7.4 AT treadmill is a workhorse. It isn't a Peloton Tread, nor does it claim to have all the bells and whistles that a technology based treadmill might offer. However, with a 3.5 CHP motor, you'll be able to do pretty much any type of cardio your heart desires. If you're in the mood for some all out sprints, the 7.4 can accommodate you with maximum speeds up to 12 mph. Want to feel like you're climbing a mountain? The 7.4 can help you there too with a 15% incline. Plus, if you're into regular steady state cardio, the 7.4 has a XL running deck of 60 inches, so you can stride without the fear of falling off.Plus, the warranty on this treadmill is stellar. You get a lifetime warranty on the frame and the motor, plus two years on parts and one year on labor. What more could you ask for?
Pros:
Can be paired with various fitness apps
Quick-dial adjustments are user-friendly
Custom interval keys are useful for creating your own workout
Well-cushioned deck
350-lb weight capacity
Comes with a free heart rate chest strap
Lifetime warranty on frame and motor
Cons:
Large machine
Lots of plastic components
Have to use your own device for streaming
For those of us who enjoy interactive programming, the Horizon 7.4 AT treadmill is a standout choice. You can connect various apps (and a free included heart rate monitor) to the 7.4 via Bluetooth. During your home workout, you'll be able to view various metrics, see your heart rate, and hear programming through the dual speaker system.
Plus, you'll have a comfortable run or walk thanks to the 3-Zone Variable Response Cushioning. According to the Horizon website, the 3-Zone Cushioning refers to the "impact zone, transitional zone, and push-off zone." Each of these zones requires a different type of cushioning for optimal usage––neutral, firm, and flexible. Horizon clearly put a lot of thought into the cushioning, which makes for a better user experience.
Garage Gym Reviews Writer and Editor Amanda Capritto initially tested the 7.4, and was pleased to note the sturdiness of the structure.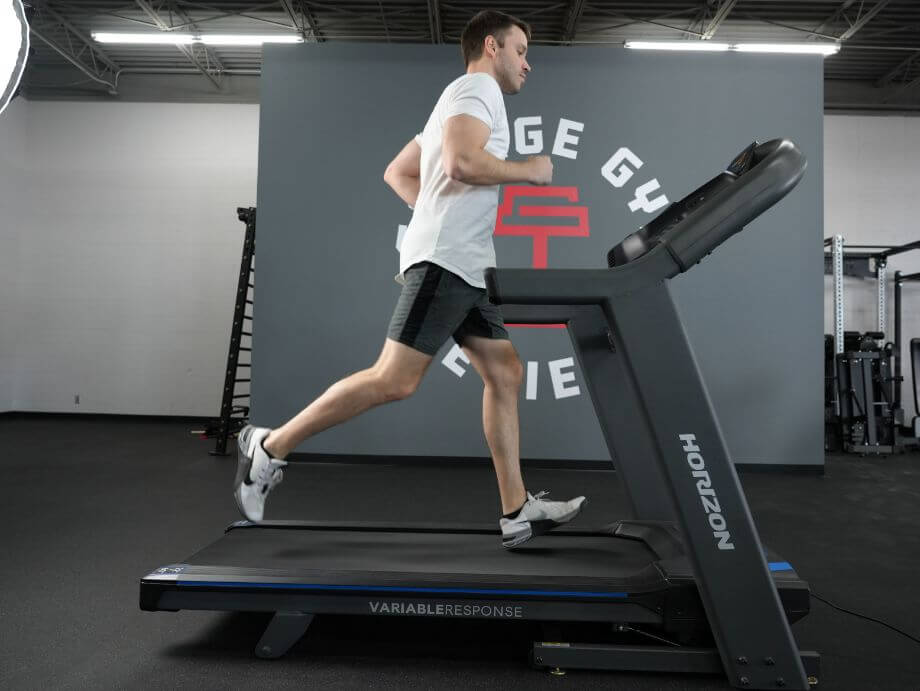 "Although there are a lot of plastic components, I feel confident in the durability of the 7.4," Amanda explained. "The lifetime frame and motor warranty certainly don't hurt either!"
It is worth noting that you'll need to use your own device to stream any programming or shows. This isn't a big deal to me personally (especially since the included device holder is beefy), but it is good to know for those who really want a touchscreen.
Read all our thoughts in the Horizon 7.4 Studio Tread review.
| | |
| --- | --- |
| Price | About $1,600 |
| Cushioning | 3 zones of different cushioning |
| Deck | 22″ W x 60″ L |
| Display | LCD screen |
| Warranty | Lifetime frame and motor, 5-year parts, 2-year labor |
Best Cushioned Treadmill for Around $1000: Sole F63
Good for: Trainees who want a good value
Best Cushioned Treadmill for Around $1000
Sole F63
Named "Best in its Price Range" by Fit Rated, Run Reviews, Treadmill Reviews, and many others. Easy Assist Folding Deck Design makes storing your treadmill easy and convenient. High-end rollers create a static free motion leading to a long lifespan. Smoothest treadmill when making adjustments mid-workout. LCD screen provides real-time statistics to monitor progress towards goals.Plus, Sole has recently released its own version of Peloton-esque programming: STUDIO. You can access a variety of on-demand classes for just $19.99 per month.
Pros:
Good value at just over $1,000
Options up to 15% incline
Cushioned belt supposedly reduces "joint impact" according to Sole
325-lb user weight capacity
Excellent warranty
Cons:
Heavy machine
Shakes slightly at higher speeds
Smaller LCD screen
At just over $1,000, the Sole F63 is a great value for individuals who want a machine with cushioning without an outrageous price attached. Plus, you can't go wrong with the lifetime frame and motor warranty to help you feel secure in your purchase.
According to the Sole Fitness website, the F63 has a "Cushion Flex Whisper Deck," which apparently "reduces joint impact by 40%." I'm not entirely sure how Sole measured the joint impact and I cannot vouch for that percentage, but the cushioning is excellent from my firsthand experience.
If you love being able to power walk uphill, you'll enjoy the up to 15-percent-incline options on the F63. Plus, the F63 comes with a free heart rate monitoring strap, which can come in handy when you're trying to see your pulse rate (maybe while calculating your VO2 Max).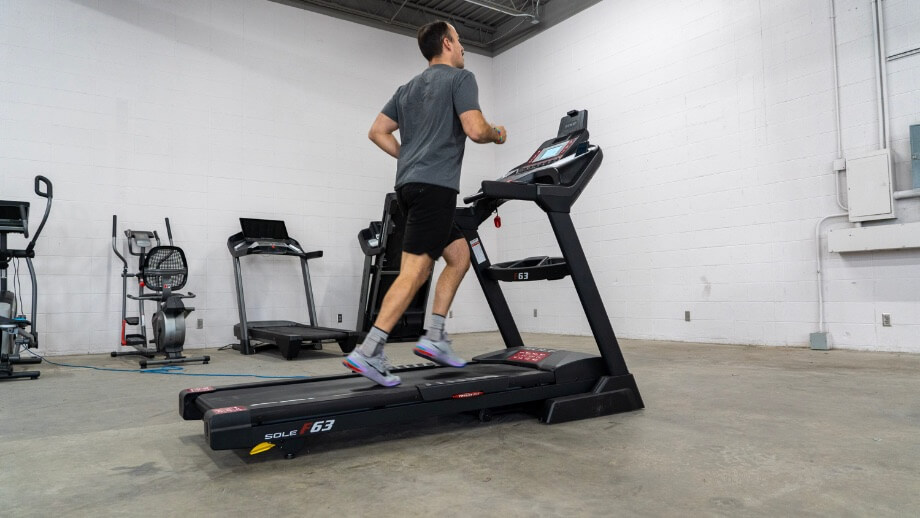 Although there are six preset training programs on the F63, there isn't an included touchscreen for interactive programming. However, there is a nice device holder above the small LCD screen for you to add your own phone or tablet.
It is also worth noting that the Sole F63 does shake slightly at higher speeds. It isn't a terrible shake, and doesn't make the machine feel unstable, but something to be aware of.
See our full Sole F63 treadmill review.
| | |
| --- | --- |
| Price | Around $1,100 |
| Cushioning | Well-cushioned and quiet |
| Deck | 20″ W x 60″ L |
| Display | 6.5″ LCD screen |
| Warranty | Lifetime frame and motor, 3-year deck, parts, and electronics, 1-year labor |
Best Cushioned Treadmill for Beginners: BowFlex Treadmill 10
Good for: Those who want an especially sturdy cardio machine
Best Cushioned Treadmill for Beginners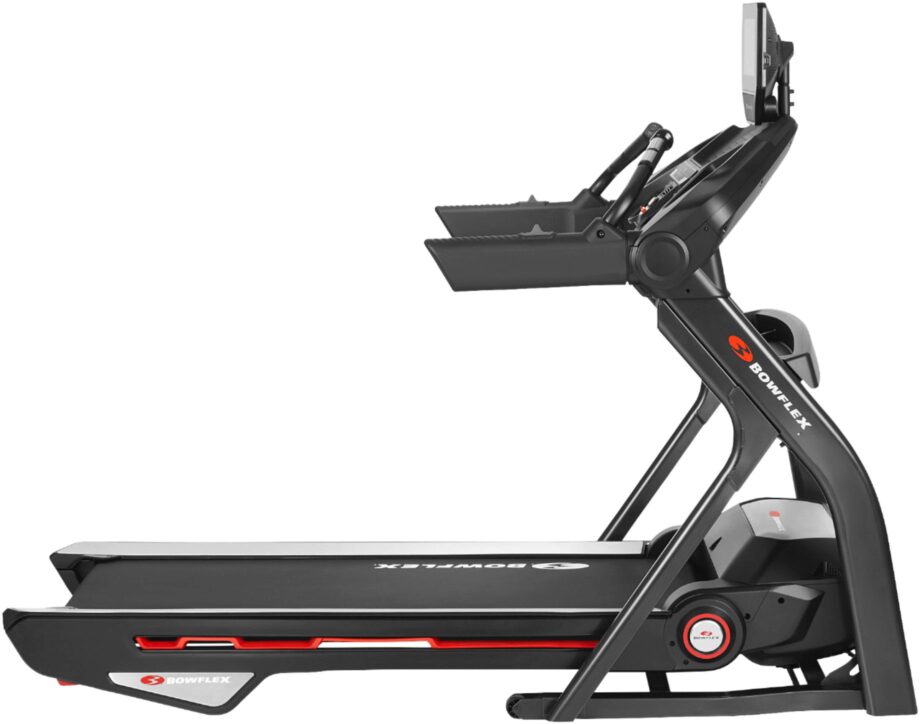 Bowflex Treadmill 10
If you're looking for an interactive treadmill with a solid and sturdy build, the Bowflex Treadmill 10 is a great option for any runner. The Treadmill 10 supports speeds up to 12 miles per hour and, quite impressively, has both motorized incline and decline options ranging from -5%-15%, which makes it possible to train for any terrain. That said, it is odd that Bowflex shares no information on the motor's power. In fact, they stated that they do not have that information on their website when questioned by a potential buyer. Other sites have reported a whopping 4.0 CHP motor, but we couldn't confirm that. Still, users do report a powerful feel to the motor with little to no lag time. Use the interactive, high-definition, adjustable touchscreen to access a myriad of training content that comes with your one-year free JRNY membership. Bound to keep you motivated and on track with your fitness goals, the JRNY membership provides virtual coaching, trainer-led workouts and adaptive workouts that progressively get harder as your fitness improves. The Bowflex Treadmill 10 comes with some awesome conveniences, too. It's Bluetooth-enabled for smart devices, has an included Bluetooth heart rate armband, a console fan and boasts speed and incline knobs for ease of use. The cushioned running deck will feel roomy, too, as it measures 22 inches by 60 inches, which is larger than most folding treadmills. To that end, the Bowflex Treadmill 10 uses a soft drop folding system to easily fold and unfold. However, weighing 323 pounds assembled, this tank of a machine is not easily moved around, so plan on dedicating a space in your home gym for its use. 
Pros:
Compatible with JRNY programming
Incline and decline options
400-lb user weight capacity
Comfortable deck
Foldable
Cons:
Difficult assembly process
323 lbs
Screen doesn't tilt
If you're a beginner, I'd recommend the Bowflex Treadmill 10. Whether you want to walk more frequently or become a long-distance runner, this sturdy and cushioned treadmill will aid you in reaching your goals.
The Bowflex Treadmill 10 features a 10-inch touchscreen, which is compatible with JRNY programming (membership sold separately). Utilizing interactive programming can be a good way for beginners to get into the groove of exercising without having in-person interaction with an instructor.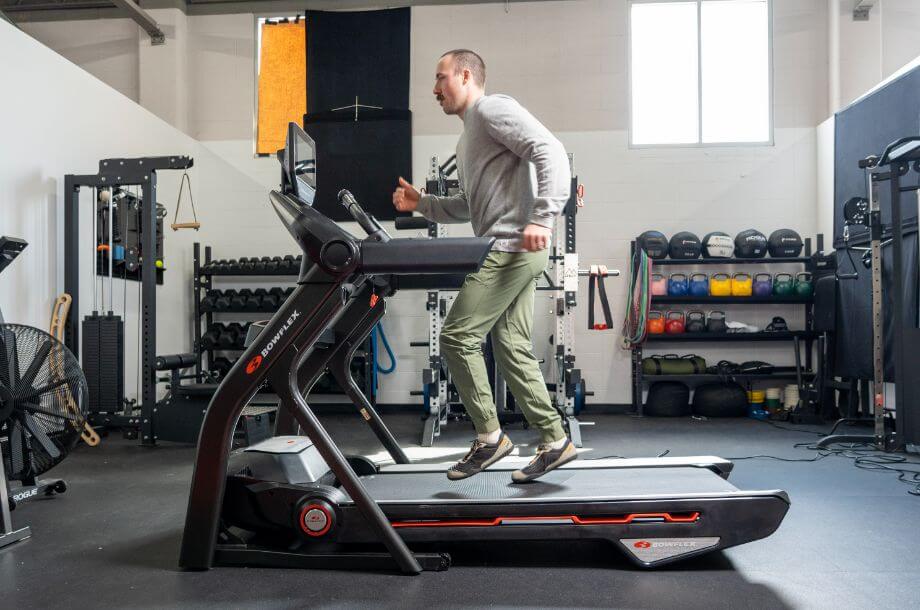 Plus, the 400-pound weight capacity is exceptional (and inclusive). This makes the Bowflex Treadmill 10 a great option for heavier people who want to feel supported. And support they will feel! The frame of this machine is virtually unmoving while in use, so it makes sense that the treadmill is a weighty 323 pounds.
If you don't have a lot of extra space, this machine isn't for you. The Treadmill 10 doesn't fold very flat at all, and it isn't simple to move even after being folded. The footprint itself is large and in charge, which can be tough for people in smaller spaces looking for a compact treadmill.
Read all our thoughts in the Bowflex Treadmill 10 review.
| | |
| --- | --- |
| Price | About $1,800 |
| Cushioning | Heavily cushioned deck |
| Deck | 22″ W x 60″ L |
| Display | 10" Adjustable HD touchscreen |
| Warranty | 15-year frame and motor, 5-year parts, 2-year labor, 1-year electronics |
Best Cushioned Treadmill for High-Intensity Workouts: ProForm Pro 9000
Good for: Advanced athletes, interval training, or people who enjoy all the bells and whistles
Best Cushioned Treadmill for High-Intensity Workouts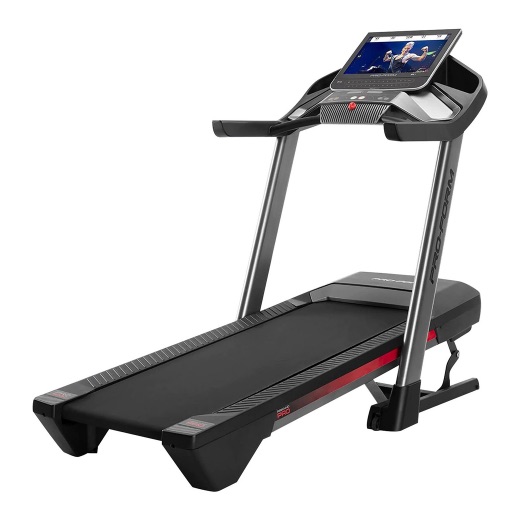 ProForm Pro 9000
Take your training to the next level with an iFit Family membership on the Pro 9000 treadmill. Engage in a whole new workout experience as streamed live and on-demand personal trainers lead you in studio classes and take you all around the world, automatically controlling your treadmill's speed, incline, and decline to give you a unique, hands-free workout.
Pros:
iFIT connectivity on a 22-inch screen
20" W x 60" L running deck
-3–12% incline and decline options
No shaking while in use
Quick speed controls make changing the intensity simple
3.6 CHP motor
Cons:
Heavy and difficult to move
Assembly requires two people
Connectivity is sometimes spotty
Are you used to pounding the pavement for your HIIT workouts and want to make your experience a little more comfortable? Consider checking out the ProForm Pro 9000 treadmill. This top-of-the-line cardio machine has thick "ReBound Pro Cushioning" to enhance even your toughest workouts. Plus, the generously sized 22-inch touchscreen with compatible iFIT programming (membership sold separately) doesn't hurt either.
iFIT has an extensive, on-demand class library with a variety of high-intensity runs and sprint sessions to choose from. I also love the user-friendly jump buttons below the display. They make changing incline, decline, and speed simple with just a single button push.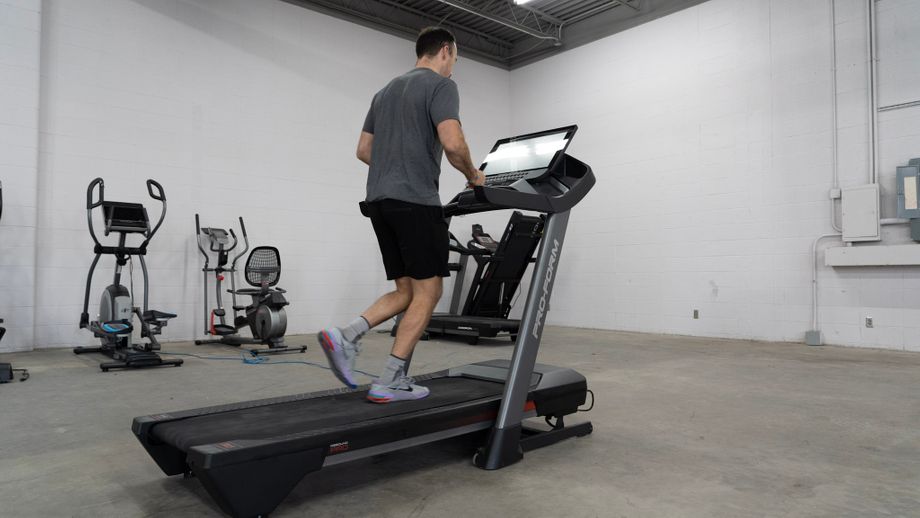 The Pro 9000 is an extremely stable machine. You won't have to worry about it shaking during a flat run or a hill climb. However, this very stable machine comes with a very heavy weight (shocker, I know) of 263 pounds when it arrives at your doorstep. When it's time to move this treadmill, I recommend grabbing a friend or two to make the process safer.
Although a 10-year frame warranty isn't terrible by any means, I'd expect slightly better for the almost $1,800 price. The industry standard for a frame warranty is 15 years to life on a nice treadmill, so perhaps ProForm will improve upon this guarantee in the future.
Check out our ProForm Pro 9000 treadmill review.
| | |
| --- | --- |
| Price | About $1,800 |
| Cushioning | Bouncy and thick cushioning |
| Deck | 20" W x 60" L |
| Display | 22" HD Touchscreen |
| Warranty | 10-year frame, 2-year parts, 1-Year labor |
Best Budget Cushioned Treadmill: Sunny Health And Fitness (SF-T4400) Treadmill
Good for: An apartment or condo without lots of space available
Best Budget Cushioned Treadmill
Sunny Health and Fitness Treadmill SF-T4400
The Sunny Health & Fitness Treadmill is a space-saving and affordable treadmill perfect for general trainees who may not have specific athletic goals, such as becoming better runners. It's foldable and comes with a soft drop feature, a top speed of 9 miles-per-hour, and 9 preset workout programs.We think this is perfect for the person who may just want to get more steps in during their day, or just wants a low-impact way to improve their cardiovascular fitness. While the tread is a little shorter than most, it does feature shock absorption technology for those who can find their stride on it.
Pros:
Reasonable price point (Under $500)
Foldable
Shock-absorption deck
Small footprint
Easy to build
Cons:
Manual incline can be a pain to adjust
220-lb weight capacity
Lots of plastic pieces
Small deck
Even if you're not looking to drop a wad of cash on a treadmill, you can still get a well-cushioned, budget treadmill for under $500. The Sunny Health and Fitness (SF-T4400) treadmill impresses with a shock-absorption deck, which helps eliminate excessive bounce back for users. This essentially means your run or walk will be more comfortable, because your feet won't be pounding the deck with too much force that the treadmill can't handle.
Plus, this machine is an excellent option for those in small spaces. The SF-T4400 can be folded almost flat for storage in a closet or up against a wall. Garage Gym Reviews Staff Writer Anthony O'Reilly tested this machine and thinks it might even fit into the back of a larger car when folded.
I think this is a solid machine for beginners––you won't struggle with a difficult build and there are nine preset programs to give users some direction for their workouts.
However, I don't love the low weight capacity of just 220 pounds––80 pounds below the industry standard. I do understand it is a budget option and compromises have to be made to keep the price low, but this roadblock makes the SF-T4400 a less inclusive option.
Check out our Sunny Health And Fitness (SF-T4400) Treadmill review.
| | |
| --- | --- |
| Price | About $420 |
| Cushioning | Shock-absorbing cushioning |
| Deck | 49" L x 15.5" W |
| Display | LCD display |
| Warranty | 3-year frame, 180 days parts and components |
Other Cushioned Treadmills We Researched
Schwinn 810 Treadmill: Although I love the variety of preset programs on the Schwinn 810, the belt is extremely thin.
XTERRA Fitness TR150: The XTERRA Fitness TR150 is a walking treadmill I love. Unfortunately, the cushioning is subpar and wouldn't be a machine I'd recommend for those with joint pain.
How We Picked and Tested
There are tons of things we consider before putting any piece of fitness equipment on a roundup. In this case, here are the main questions we asked ourselves while determining which treadmills would make the cut:
Cushioning: What is the cushioning system like? How does it feel? Is it adjustable?
Price: What is the price tag? Does it seem reasonable based on the features you're getting?
Assembly: Is the assembly difficult? Are there options for professional assembly when purchasing? Will you need a second person to assist with assembly?
Warranty: What is the warranty for the frame, motor, parts, and labor?
Weight capacity: What is the weight capacity? How does it line up with the industry standard?
Deck size: How large is the running surface?
Footprint: How large or small is the treadmill?
Speed options: What is the max speed?
Materials: What is the treadmill made with? Does it have a steel frame? Are there lots of plastic components? How heavy-duty is the treadmill?
Portability: Can the treadmill be folded? Is it heavy? Can it easily be moved?
Display: How large is the display? Is it a touchscreen, LED, or LCD screen?
Workout experience: Does the machine shake while in use?
Extras: Is there a cupholder, tablet holder, or accessories holder?
Motor: What horsepower does the motor have?
Technology: Does the treadmill have preset workout programs? Is it compatible with interactive programming (like an iFIT membership)? Does it have Bluetooth connectivity?
Benefits of Cushioned Treadmills
Trying to figure out if picking a cushioned treadmill for your home gym is your best bet? Certified personal trainer (and Garage Gym Reviews Staff Writer plus Editor) Amanda Capritto weighs in.
"Cushioned treadmills are basically the industry standard now, but that doesn't mean the benefits shouldn't be highlighted," Amanda explains. "A treadmill with a cushioned deck is ideal for many populations, including people with arthritis or other degenerative joint conditions; people recovering from ankle, knee, or hip injuries; seniors who need to be careful about how much joint impact they endure; and even just for long-distance or frequent runners who want to keep up a long running career."
What Type of Treadmill Cushioning is Best?
"Cushioned treadmills may have the same type of cushioning throughout the deck, variable cushioning to better accommodate the various parts of a running stride, or cushioning that you can actually turn on and off," Amanda remarks. "Any of these options are great, and it depends on what you're looking for. Combined with a high-quality pair of running shoes, shock absorption will be optimal and joint impact will be greatly minimized."
RELATED: How to Choose Running Shoes
Buying Guide: What to Look for in Cushioned Treadmills
Trying to figure out what to look for in a new cardio machine for home use can be tough, so we're here to help make the process a little easier. Check out the main things you need to know to get a cushioned treadmill you'll love.
Price
In my experience, more expensive treadmills usually have better cushioning. However, this isn't exclusively the case. Make sure you determine a personal budget ahead of time or look for treadmills that offer financing, like NordicTrack.
Type of Cushioning
I suggest carefully reading through the product page of a treadmill you're interested in. Pay special attention to mentions of the deck––does the machine have shock-absorption or extra cushioning? Brands usually want to highlight all the positives their products have to offer, so if you don't see any mention of the deck beyond the size, it probably isn't well-cushioned.
Warranty
Industry standard-wise, a treadmill should ideally come with a 15-year to life warranty on the frame and motor. This is, of course, in a perfect world, and budget options don't always have such an extensive warranty. Make sure you are aware of your new machine's warranty stipulations ahead of purchasing.
Deck Length
For all you tall folks out there, you'll want to look for a deck size of 20 by 60 inches. This will allow you to stride comfortably in all your workouts. If you're a shorter person or just want to use your new treadmill to walk or jog occasionally, deck size is a less important factor.
Best Cushioned Treadmills FAQs
Which treadmills are best for bad knees?
Do only high-end treadmills have good cushioning?
Typically, more expensive treadmills will have better cushioning. However, this doesn't mean a budget home treadmill won't have any at all.
Does the Peloton Tread have good cushioning?
Unfortunately, I've only tried Peloton's exercise bike. After looking at the specs for the Peloton Tread, I'm not convinced there are any shock absorbers or extra deck cushioning on the treadmill belt.
What treadmill workouts would you recommend?
Personal trainer Jacob Penner has created a list of the best treadmill workouts if you need a little inspiration. Whether you're short on time, want to target your lower body, or hit your treadmill's top speed with a sprint session, Jacob has you covered.