We test and review fitness products based on an independent, multi-point methodology. If you use our links to purchase something, we may earn a commission. Read our disclosures.
Exercise bikes have come a long way from the days when they were just a stationary bike that you pedaled but went nowhere. Now, the best exercise bikes come with speakers that rival stereos of years past, a hi-def screen that makes Netflix shows pop, and Bluetooth functionality for just about anything you can think of.
Our Echelon EX-8s review takes an in-depth look at such a stationary bike, which has some impressive bells and whistles. And though they're nice, they're not really the reason why most people buy an exercise bike. You'll get our honest thoughts on how this bike performs for its primary purpose: Giving you the ability to get an intense cardio workout anytime, anywhere.
Dozens of Bikes Tested — And We're Not Even Close to Tired
As the worldwide leader of home gym equipment reviews (yeah, we said it), we make it a priority to test as many exercise bikes as possible. And we've done so by personally pedaling thousands of miles on dozens of different bikes from the Peloton to the best air bikes. Seriously, our cycling expertise is off the chain–sometimes literally.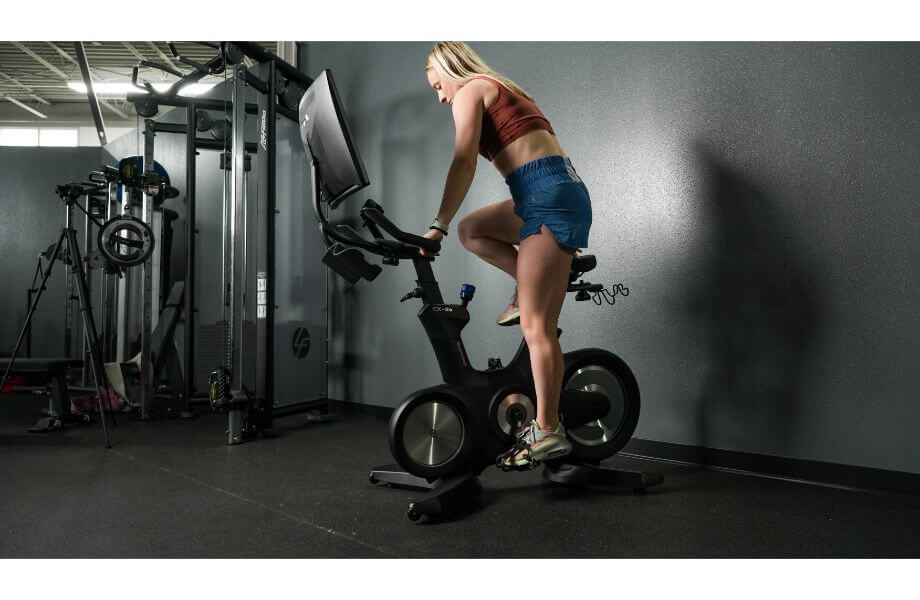 Our team also includes certified personal trainers, physical therapists, CrossFit coaches, and people who do triathlons, so we have the professional knowledge to back up our anecdotal takes for these bike reviews. We're like that finance friend who explains what crypto is, except our recommendations are a safe and useful investment.
A Techy Bike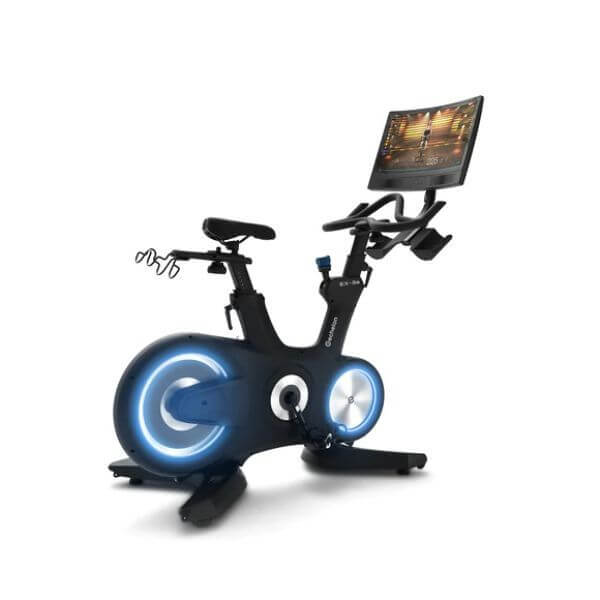 Echelon EX-8s
Exercise bikes have become much more than just a bike, taking on an entirely new immersive experience that branches out beyond cycling. Smart exercise bikes are taking the at-home workout experience to the next level offering a connected, high-tech, interactive, and motivating fitness routine. The Echelon EX-8s is a premium smart bike designed to add to user's motivation and to enhance the immersive nature of the entire experience.The EX-8s features a 24-inch curved interactive HD screen that not only mimics the feeling of being in a cycling studio, but also enhances the entire experience. While a curved screen may not seem like a big deal, trust us when we say it is. What's more, this screen swivels 180 degrees, which allows users to jump off the bike and into another workout by just flipping the screen.This bike is incredibly cool-looking as well. Its sleek design is highlighted by the dual-ring design that includes illuminating wheels. These wheels rotate through 15 LED color variations synced to your live fitness metrics. You can literally watch the colors change based on the intensity of the workout, which is very motivating. The EX-8s is equipped with some impressive specs including adjustable handlebars that  maximize comfort and enable good form. These handlebars have control buttons that allow users to change resistance levels even when out of the saddle, a feature not seen on many other smart bikes. Other notable features are the Bluetooth 5.0 connectivity, a fast processing speed, 32 levels of magnetic resistance, and water bottle holders to keep you hydrated throughout the workout. The EX-8s does require a membership to Echelon's online fitness platform, which costs $35 per month. Without it, the bike really cannot be used, which is a bummer. That said, the platform is stacked with live and on-demand workouts, a ton of music and playlists, and over 60 world-class instructors. 
A Quick Look at the Echelon EX-8s Connect
The Echelon EX-8s is part of Echelon's Connect Bike Series, which was launched to compete against Peloton in the home studio cycling space. The bikes range from the basic, no-screen Echelon GT+ Connect Bike, to the one we're taking a look at here.
The Echelon EX-8s comes with 32 magnetic resistance levels, a 24-inch curved HD touchscreen that seeks to simulate on-road cycling (it also flips 180 degrees for off-bike workouts), customizable LED color variations, a heart rate monitor, dual-facing speakers, hybrid pedals that can be used with cycling cleats or cross-training shoes, a Bluetooth resistance controller, and low-impact shock support.
*inhales* Yeah, that's quite a mouthful.
My Tips
Check to see if there's an Echelon discount code you can use to bring the cost of your order down.
Pros:
4-way adjustable seat and handlebars can fit people of multiple heights and sizes
Resistance can be adjusted without touching the knob
Dual pedals can be worn with training shoes or cycling cleats
Cons:
Terrible 12-month warranty
Monthly subscription required to access most features
Very expensive at $2,300, though financing plans are available
Video Review
Is the Echelon EX-8s Worth It?
The Echelon EX-8s sells for around $2,299, and that's a lot of Benjamins to stack even if you opt for a monthly financing plan. Now, we should say right off the top that this is a very good bike for a number of reasons: It looks very sleek, has a wide range of resistance levels, comes with good live and on-demand workout programming, has a number of tech features (if that's your thing), and it's a quiet exercise bike that won't disturb partners, roommates, or neighbors.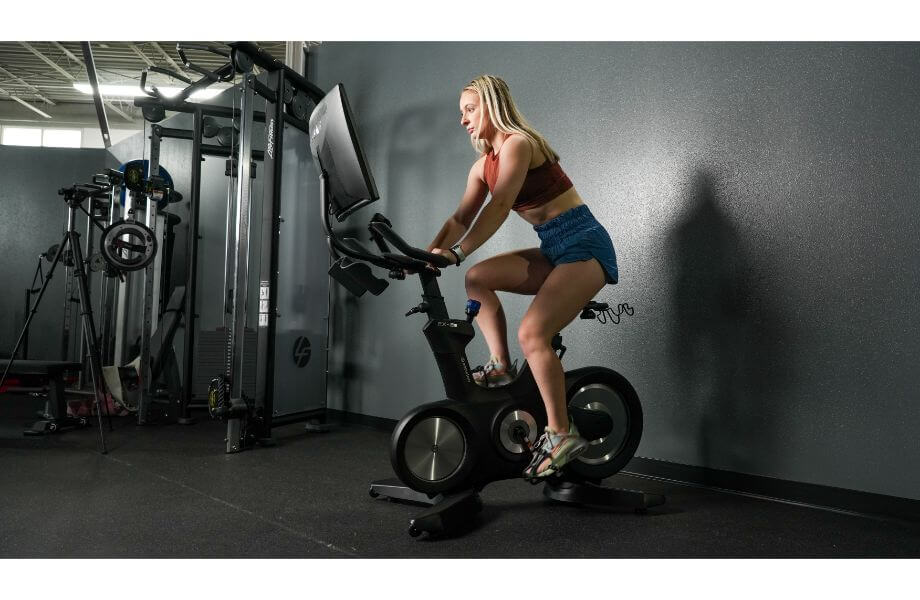 But, there are a number of bikes that are considerably more affordable than this one that provide a similar workout experience, if not better. At the end of the day there's really nothing that special about the Echelon EX-8s that we feel would warrant the price, unless you're someone who just really likes all the extras it comes with.
Also, for such an expensive bike, you only get a one-year warranty. So if something breaks on you on day 366, you're out more than $2,000. That's a no from us, dawg.
If you're looking to save money, check out our recommendations for the best budget exercise bikes.
Great for:
People with joint pain
Families or groups who want to share a highly adjustable exercise bike
Those who like cardio equipment with plenty of tech features
Not recommended for:
People who just want a simple exercise bike
Those on a budget
Echelon EX-8s Specs
| | |
| --- | --- |
| Footprint | 59″ L x 23″ W x 65″ H |
| Weight | 124 lbs |
| Weight capacity | 300 lbs |
| Flywheel | 38 lbs |
| Resistance levels | 32 magnetic levels |
| Drive system | Belt |
| Display | 24" curved HD touchscreen |
| Pedals | Dual-sided: SPD clips/adjustable toe cages |
| Connects to fitness trackers? | No |
| Conveniences | Dual water bottle holders, dual front-facing speakers, phone charging ports, dumbbell rack, low-impact flexing frame |
| Warranty | 12-month limited parts and labor |
Going For a Ride On the Echelon EX-8s
The Echelon EX-8s was tested by former professional soccer star and GGR staff writer Caroline Lubinsky, who knows a thing or two about cardio conditioning.
Overall, she says, the bike felt pretty stable whether she was using it on the lightest resistance setting or the heaviest. "The frame of the bike itself didn't shake when you started against higher resistance," she told me, "But the huge screen did." And that was one of her biggest problems with the bike, which is strange considering it's one of the main selling points.
We'll talk more about the screen in a bit, but Caroline noticed that not only was it unstable (which may have been an assembly issue on our part), but it also made the bike hard to move. That might not be a problem if you're leaving it in one place, but many home gym owners are either moving it from one room to another, or from one corner of their home gym to the next to make room for another piece of equipment.
The 38-pound flywheel provides a smooth ride and was very quiet during use. Typically the heavier flywheels will have a more seamless rotation than their lighter counterparts, and that means they'll produce less noise. The quieter turns are also due to the bike's use of a belt drive system, which produces less noise compared to high-maintenance chain drive systems.
When it comes to the seat, Caroline says it wasn't exactly at Goldilocks level but somewhere close. "Not particularly comfy, but not terrible," she says.
Curved Touchscreen
Most exercise bikes have a touchscreen display that kind of looks like a laptop screen, but the Echelon EX-8s has a curved screen that's supposed to make studio cycling workouts appear more lifelike. Meaning you'll actually feel like you're in an indoor cycling class, or biking trails across the country.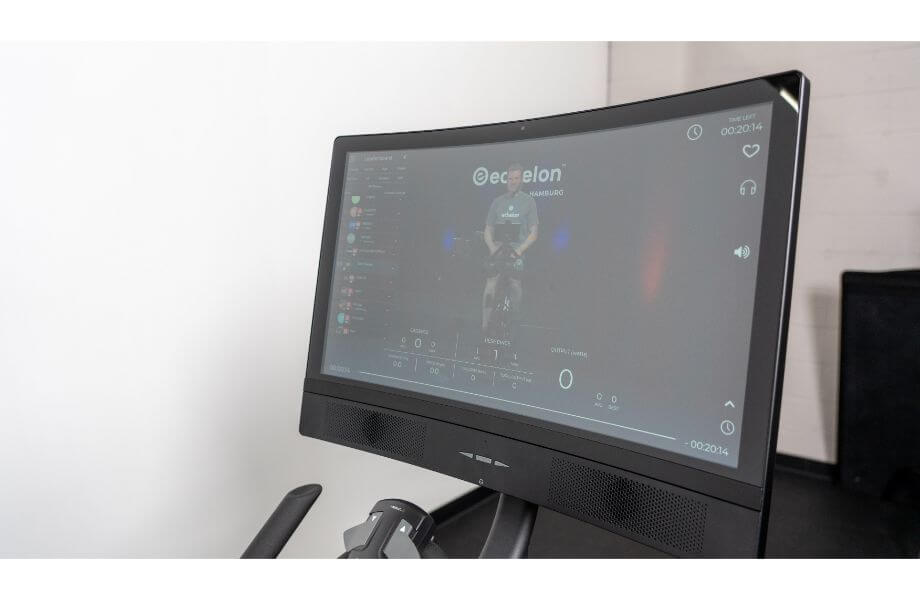 I read many other reviews of people who were blown away by the screen, but Caroline's a little harder to impress than most. "Eh, not really," was her response when I asked if the screen changed her experience.
The screen has dual-facing speakers that, according to other reviews, is great if you're looking for a substantial noise level, but the quality (specifically the bass) is somewhat lacking.
Flexing Frame
A lot of the Echelon EX-8s' features are, to be polite, unnecessary (we're looking at you, LED flywheel lights), but the flexing frame actually serves a great purpose. Essentially, the bike moves with you to absorb some of the shock if you come out of the seat or you start pedaling a little hard.
Stationary bikes are naturally a low-impact form of exercise, but pedaling still does put some stress on your joints. If you're someone who needs to take extra care of your knees and ankles, this feature might be worth the extra money. Caroline has had full ankle reconstruction surgery, and the fact that she was able to use this bike on its highest setting and be OK says a lot.
Echelon Fit App
Echelon Fit is the company's answer to the Peloton app's viral live and on-demand workouts, led by world-renowned trainers and cyclists. There are 60-plus instructors, 40-plus daily live classes, challenges, and specific artist series, including one by Pitbull, who's an investor in the company (¡dale!).
There's also a travel-the-world fitness class option for those who prefer scenic rides, which is reminiscent of Bowflex's JRNY and NordicTrack's iFIT cycling classes. There are also off-bike workouts for things such as high-intensity interval training (HIIT), yoga, strength training, pilates, and running.
RELATED: HIIT Bike Workout
The all-access membership costs $34.99 per month, and can also be used on Echelon's rowers, treadmills, and smart mirrors. There is a lower-cost option called Fit Pass that's only $11.99 per month, but it doesn't come with features such as leaderboards, workout metrics, or the ability to compete against people around the world.
Caroline's personally a fan of the motivating instructors and programming offered on Peloton, but she says Echelon is still a great option. "They are doing a decent job, but the production quality isn't quite there yet," she says.
Resistance
There are 32 levels of magnetic resistance on the Echelon EX-8s Connect Bike, an impressive amount. It gets extra points for using magnetic resistance, which creates pressure using…well, magnets. It's much more durable and quieter than friction resistance, which uses brake pads to create tension.
There's a knob, like you'd find on most exercise bikes, but the bike also comes with bluetooth adjustment so you can make the resistance lighter or heavier just by using the control on the handlebar. That's pretty neat.
Adjustability
The Echelon EX-8s has a four-way adjustable set and handlebars, meaning both can be moved horizontally and vertically, so they can fit people of just about any height.
Pedals
The pedals are hybrid, meaning there's adjustable toe cages on one side that can be used with your favorite athletic shoes, and SPD-compatible pedals on the other that can be used with cycling cleats if you wish to do so. It's a free country, so feel free to pick which works best for you.
RELATED: How to Choose an Exercise Bike
Conveniences
The Echelon EX-8s comes with two water bottle holders and a dumbbell rack.
Design and Construction
The Echelon EX-8s has a heavy-duty steel frame, and while there's plastic in some parts, it's not enough for us to worry about the durability of this bike. Caroline says the bike looks "sleek," and I have to agree. If you're one for aesthetics, you're going to like this bike.
Portability
The bike weighs 124 pounds, which might be a lot to some people, but the transport wheels make the job pretty easy. Caroline did note that the bulky screen does make it a little awkward to move, especially if it's not fully secured like ours was (again, that could've been our fault).
Echelon EX-8s vs. Peloton
The Bike Plus
To be fair, the Echelon EX-8s is more comparable to the Peloton Bike+, but we haven't tested that one just yet (we're working on it!). That bike is essentially the same bike as the original Peloton indoor cycling bike, but with automatic tension control, a nicer screen that fully rotates, and better audio.
To be honest, our vote goes to Peloton here for a few reasons. One of the biggest is that you get a much better warranty–five years for the frame and 12 months for parts and labor. With Echelon, you only get a one-year warranty for the entire bike. That's not a lot of time for a bike that costs a few hundred dollars more than the Peloton Bike+, which right now sells for a little under $2,000.
We also think the workout programming on Peloton is of a higher quality, and the all-access membership is just about the same price as the Echelon Fit app.
The one downside is that Peloton's bike must be used with Delta-compatible cycling cleats, which cost extra if you don't have those.
For our full thoughts on the two exercise bikes, check out our Echelon vs Peloton showdown.
RELATED: Peloton Bike Review
Customer Service
Echelon can be reached via phone, text, live chat, or a form you can find on their website under "Contact Us." They're also on all major social media platforms.
Warranty, Financing, Returns
We've mentioned it a few times, but the Echelon EX-8s only comes with a 12-month warranty. You can shell out a few extra hundred dollars to extend it by a year or two, but even that sounds a bit much for a bike you're already dropping more than $2,000 for. Most companies will offer a warranty of around three to five years.
With such a high price tag, many people will be thankful to learn that financing options are available starting at $49 per month.
If you're still a little wary, you can try out the bike for 30 days and return it for a full refund (minus shipping and handling) if you find it's not for you.
Ordering and Assembling the Echelon EX-8s
Ordering the Echelon EX-8s is as simple as hitting "Buy Now" and filling in your payment and shipping information.
Assembly is also a breeze, and shouldn't take any longer than 20 to 30 minutes. The frame comes in one piece, and you screw on all the other parts using an Allen wrench. There's even a YouTube video you can follow if you need any further explanation.
Customer Reviews
There are no customer reviews for the Echelon EX-8s on the company's website, and the product is not available on Amazon. If this changes we will update this section.
Final Verdict of Our Echelon EX-8s Review
There's a lot to like about the Echelon EX-8s, but aside from the flexing frame, many of the features feel a bit superfluous. At the end of the day, the bike doesn't feel much different from the many others we've tested and with Peloton's recent price cuts we're more likely to recommend that for most home gym owners.
But if you're someone for whom budget is no concern, and we want something really nice for your home gym, you won't be disappointed in this exercise bike. It delivers where you need it and the extras will be a great talking point for your home gym.
Echelon EX-8s Rating
Echelon EX-8s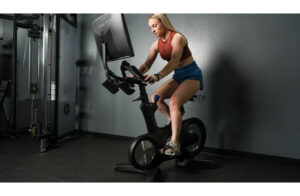 Our Echelon EX-8s review will let you know if all the features on this exercise bike make it worth the high price tag.
Product Currency: USD
Product Price: 2299.99
Product In-Stock: InStock
Echelon EX-8s FAQs
Is Echelon as good as Peloton?
The Echelon EX-8s bike is of similar quality to Peloton's, and might even be a more solidly built bike. However, Peloton has them beat in terms of live and on-demand workout programming. That's how Peloton made its name, and no brand has been able to come close to them yet.
How many Echelon models are there?
There are many Echelon bikes, but the Smart Connect series that the Echelon EX-8s is a part of has five: Echelon GT+ Connect,,Echelon Connect EX-5, Echelon Connect EX-5s-10 (there's another version of the EX-5s with a 22-inch screen), and the Echelon Connect EX-8s. 
Is Echelon a good brand?
Echelon makes great cardio machines, from exercise bikes to rowers, that come in multiple price points. The Echelon Fit app also has great live and on-demand classes for cardio and strength training.