We test and review fitness products based on an independent, multi-point methodology. If you use our links to purchase something, we may earn a commission. Read our disclosures.
Some of the best treadmills on the market today don't just feature big motors and power incline training—they offer built-in workouts, interactive programming, or the ability to track your workout metrics. Home gym equipment in general has made a shift to blend new technology with old-fashioned sweat. You'll notice this shift in cardio equipment with high-tech screens, wearable fitness trackers, and smart home gyms.
In this roundup of the seven best smart treadmills, I'm going to lay out some of the coolest technology offered by top fitness brands to help you decide what smart treadmill is right for you.
We've Got A Pulse on Treadmill Tech
Our expert product testers at GGR have not only tested dozens of treadmills from a variety of brands, we've also tested some of the top fitness apps out there including Peloton, iFIT, and JRNY. It also helps that we're a team of Olympic athletes, CrossFit Level 1 Trainers, nutrition coaches, and certified personal trainers. Our goal is to combine our collective fitness industry experience and product testing to help you determine what's worth investing in for your home gym and what's not.
7 Best Smart Treadmills
Best Smart Treadmill Overall: NordicTrack Commercial 1750
Good for: Anyone who wants a high-quality running machine plus interactive programming
The NordicTrack Commercial 1750 is one of our team's top picks for home treadmills. It's built for running with the powerful 3.5 continuous horsepower motor, 60-inch-long running surface, and both incline and decline training options.
The NordicTrack 1750 is also foldable, sturdy, and smart. The built-in touchscreen and interactive iFIT programming is where this treadmill really comes to life. The 14-inch touchscreen pivots and tilts for comfortable viewing on the treadmill as well as easy viewing off the treadmill, because iFIT offers more than just treadmill sessions; you'll have a library of on-demand workouts ranging from yoga and meditation to dumbbell workouts and cardio intervals.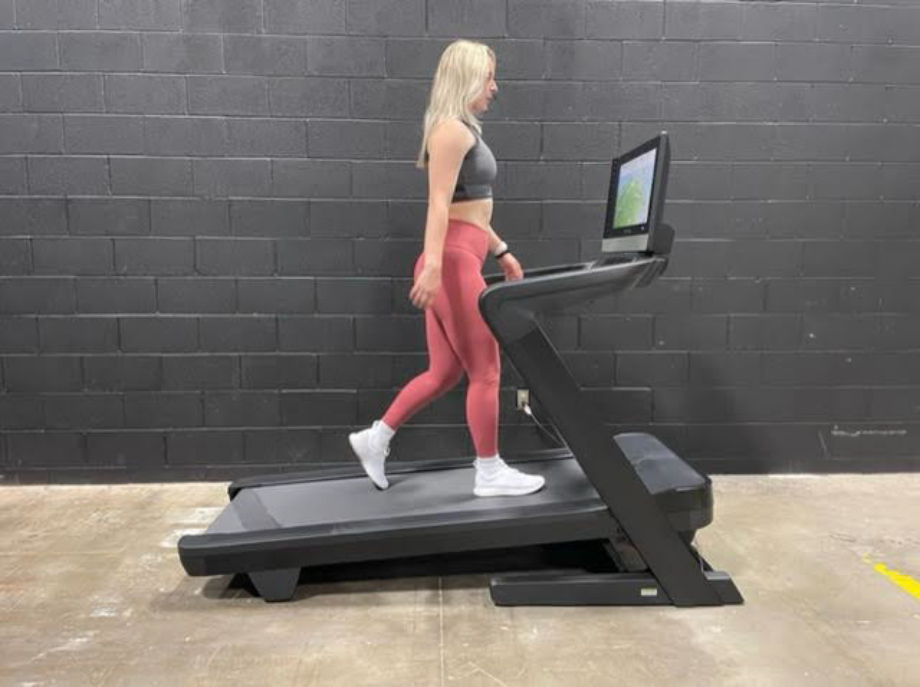 During trainer-led treadmill sessions, you can take advantage of a hands-free workout experience with auto-adjust technology where the treadmill incline, decline, and speed will automatically adjust based on your trainer's coaching and your prior performance. If you're curious about our experience testing the NordicTrack 1750, be sure to check our in-depth review.
For workouts on and off the treadmill, iFIT will track your progress on the homescreen and keep track of any workout milestones. The app will also make suggestions for workout programs you might like based on what you've completed.
| | |
| --- | --- |
| Price | $2,499 |
| Footprint | 80" L x 38" W x 65" H |
| Display | 14" tilt and pivot HD touchscreen |
| Programming | iFIT |
Best Smart Treadmill for Beginners: Horizon 7.4 AT
Good for: Folks looking for a Bluetooth-enabled treadmill to connect with fitness apps
The Horizon 7.4 AT might not be exactly what you think of when we say smart treadmill because it does not feature a built-in touchscreen. However, we think the 7.4 AT deserves a spot on this list because it can connect via Bluetooth to popular third-party apps like Peloton. The Bluetooth technology with the treadmill also allows you to simultaneously connect your fitness apps in addition to a wireless heart rate monitor.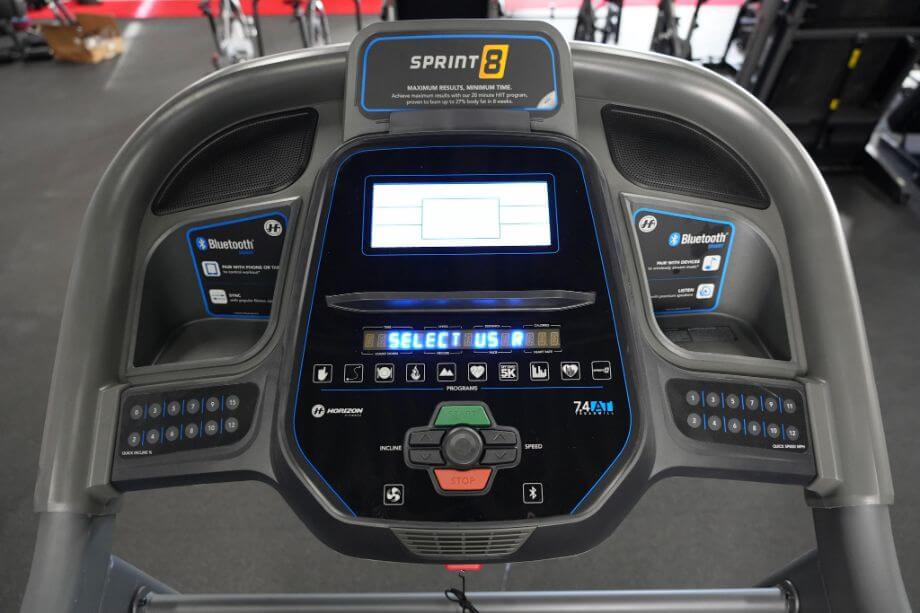 The thing that makes the Horizon 7.4 AT so smart is the fact that the treadmill can transmit speed and distance metrics from the machine to select fitness apps. Running on the 7.4 AT is not just following along with an app of your choice, it's using a machine that can help you track your progress.
Another feature you might like is that you're not required to use an app at all if you're new to treadmills and just want to use the machine and the handful of built-in programs the 7.8 AT offers. The machine will function just fine without it but it also has all the necessary tech if you do want to have interactive programming.
Although the Horizon 7.4 AT might not feature automatic incline and speed adjustments, the console features a pair of upright handles with QuickDial controls. This feature is a method to rapidly change speed and incline with a swift roll of a dial rather than fumbling with buttons on the console.
| | |
| --- | --- |
| Price | $2,399 |
| Footprint | 76" L x 37" W x 63" H |
| Display | 8.25" LCD screen |
| Bluetooth | Yes, ability to connect with apps like Zwift and Peloton |
Best Budget Smart Treadmill: ProForm Pro 2000
Good for: Anyone looking for a smart treadmill and interactive programming options, all under $2,000
The ProForm Pro 2000 is one of our more budget-friendly picks when it comes to treadmills with smart technology. This treadmill won't cost you more than $2,000, and you have the option to finance directly through the ProForm website for 0% APR for the first 12 months.
The ProForm Pro 2000 has a 60-inch running deck complete with ReBound Pro, the brand's patented shock-absorbing system. The Pro 2000 also features a powerful motor and a 300-pound user weight capacity. Additionally, this ProForm treadmill allows you to utilize your iFIT membership for trainer-led treadmill workouts and auto-adjust technology.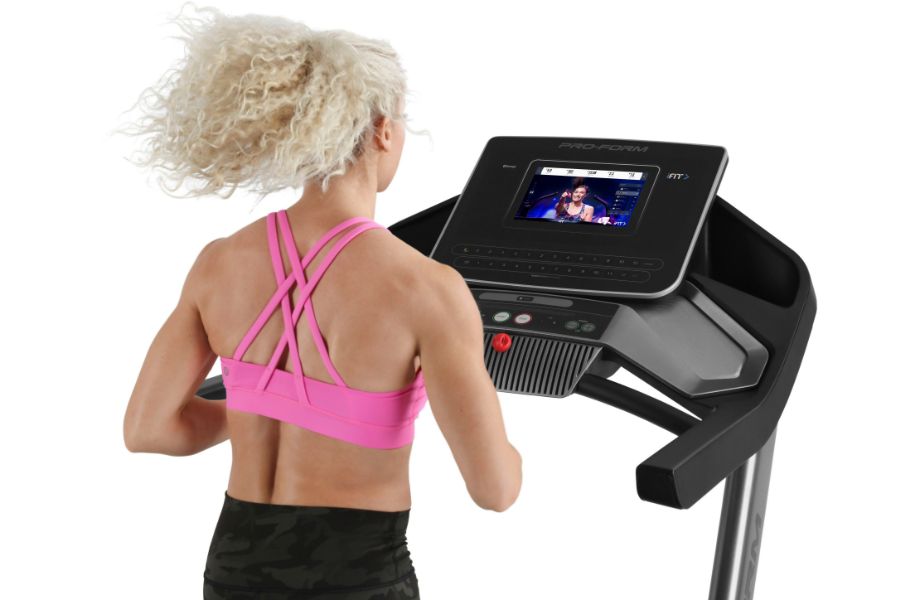 Using iFIT also gives you access to off-treadmill sessions like strength training and yoga. Although this treadmill doesn't feature a tilt and pivot screen, if you want to do any floor training, you can log into the iFIT app on your phone or tablet and take your workout from the treadmill to the living room.
You can read our in-depth review on the ProForm Pro 2000 for more details.
| | |
| --- | --- |
| Price | $1,799 |
| Footprint | 77.3" L x 35.3" W x 59.6" H |
| Display | 10" smart HD touchscreen |
| Programming | iFIT |
Best Durable Smart Treadmill: Sole TT8 Treadmill
Good for: Folks looking for a reliable treadmill machine with just a touch of tech
Firstly, our expert product testers appreciate the fact that Sole Fitness offers a lifetime warranty on the frame and motor for most of its treadmills, which is a breath of fresh air to anyone who owns a large piece of fitness equipment.
In addition to a high-quality warranty, the Sole TT8 has some additional features that make it a durable machine for avid runners, including a powerful 4.0 horsepower motor and a 400-pound user weight capacity.
The Sole TT8 is not only a durable treadmill, it also offers more tech features than most other products from Sole Fitness. This treadmill won't offer Peloton-caliber technology, but it can offer you the chance to upload and sync your workout metrics to your smartphone and log your workouts in apps like Zwift or Apple Health. The Bluetooth technology can also connect your phone to the wireless speakers and track your heart rate with a wireless heart rate monitoring chest strap.
If you're curious about the full run-down of the Sole TT8, read our full review.
| | |
| --- | --- |
| Price | $2,399.99 |
| Footprint | 82" L x 36" W x 58" H |
| Display | 10" TFT touch panel +Android system |
| Bluetooth | Bluetooth-enabled speakers and metric transmission to third-party apps |
Best Smart Treadmill for Runners: Bowflex Treadmill 22
Good for: Runners who want the ability to stream entertainment or interactive programming
The Bowflex Treadmill 22 delivers a 60-inch-long running deck adequate for tall runners or folks with a long stride, plus incline training up to 20 percent and decline down to negative 5 percent. It also has Comfort Tech deck cushioning to dampen the impact running and sprinting can have on your joints, as well as interactive programming that supplies a virtual personal trainer in the comfort of your home gym.
Your purchase of the Bowflex Treadmill 22 comes with a one-year free trial of the JRNY app that you can access on the 22-inch touchscreen console. JRNY has on-demand fitness classes for both cardio and strength training, and scenic running options with Explore the World. If you're looking to read up on our full experience, be sure to check out our in-depth review on the Bowflex Treadmill 22.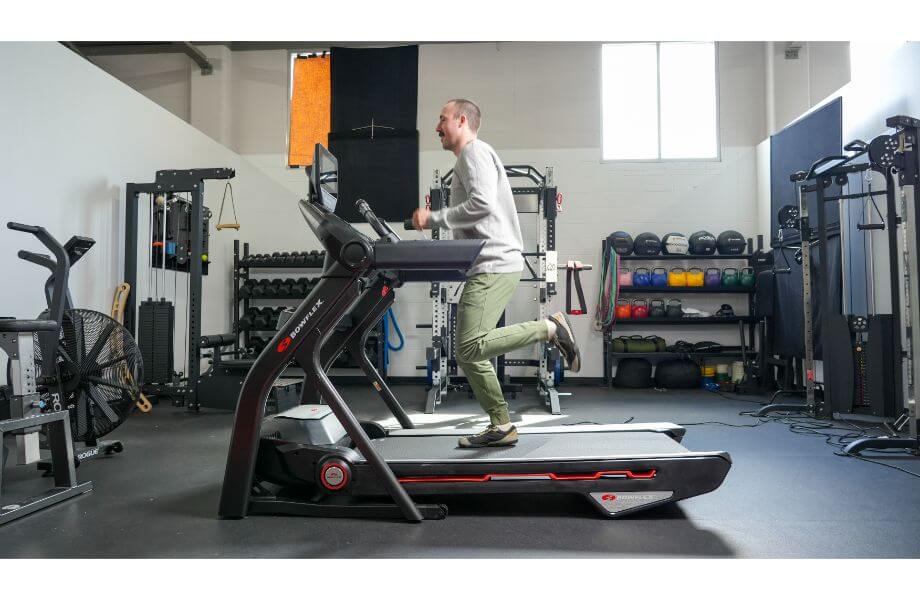 Additionally, the Bowflex Treadmill 22 offers something most other brands do not: The ability to stream your favorite shows and movies on Hulu, Netflix, Amazon, Prime Video, Disney+, and HBO Max. Memberships for those streaming services are sold separately, but it's worth noting that the app allows you these third-party entertainment services and even overlays your workout metrics around the borders of your screen so you don't have to toggle in and out of your show to track your progress.
| | |
| --- | --- |
| Price | $2,699 |
| Footprint | 85" L x 39.6" W x 70" H |
| Display | 22" adjustable HD touchscreen |
| Programming | JRNY, plus ability to stream Hulu, Netflix, etc. |
Best Incline Smart Treadmill: NordicTrack X22i
Good for: Anyone who is serious about hill climbing and incline training
The NordicTrack X22i is a large piece of equipment for home use, but if you're someone who trains for hill climbing or incline sprints, this treadmill has an incredible incline range up to 40 percent and decline capabilities down to negative 6 percent. This treadmill also features a powerful 4.0 CHP motor, top speeds of 12 mph, and a 60-inch tread belt.
In addition to this treadmill being bulky, it's not a folding treadmill, so you'll need dedicated space in your home gym. However, if you're looking for incline ranges that can simulate outdoor hill training and shock absorption, this is the ultimate machine.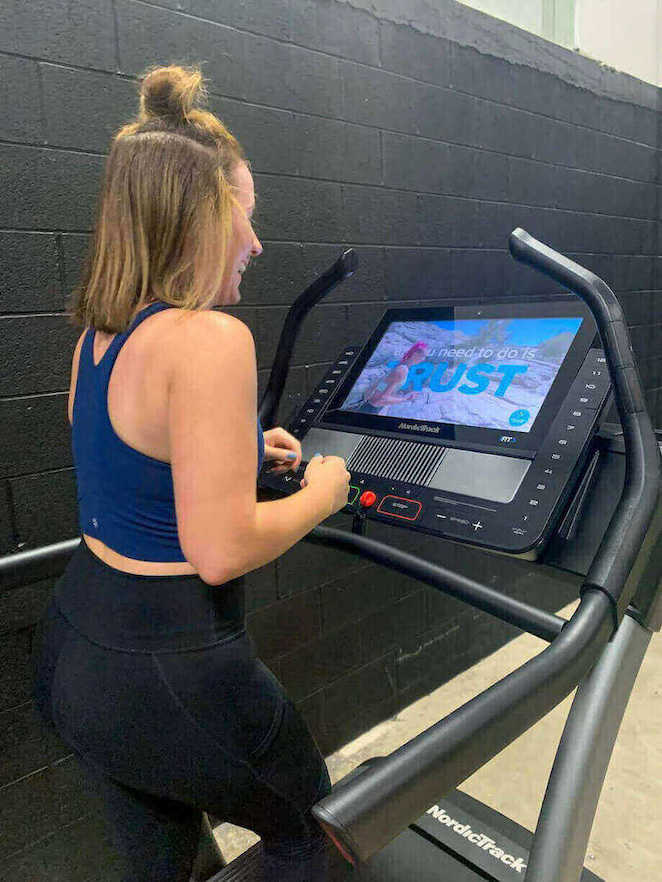 You'll also benefit from on-demand interactive programming with an iFIT membership. You'll also be able to utilize automatic trainer control for incline and speed controls, tracking your metrics, and Google Maps technology so you can drop a pin and virtually work out nearly anywhere in the world. To read about our hands-on experience with the NordicTrack X22i, make sure you read our full review.
| | |
| --- | --- |
| Price | $3,499 |
| Footprint | 70" L x 39" W x 72.5" H |
| Display | 22" smart HD touchscreen |
| Programming | iFIT |
Best High-End Smart Treadmill Peloton Tread
Good for: Runners who want to experience live and on-demand workouts from home
Peloton is one of the top brands in at-home fitness and paved the way for at-home workouts with live sessions and on-demand studio classes. Peloton's collection of classes covers everything from treadmill running to boxing to mediation.
The Peloton Tread offers a 59-inch running belt, decent 3.0 CHP motor, weight capacity of 300 pounds, and max speeds of 12 mph. The specs on the Peloton Tread compare to both the NordicTrack X22i and Bowflex Treadmill 22, but the hype of the Peloton app is where the real draw is—customers rave over the quality of the community, trainers, and programming.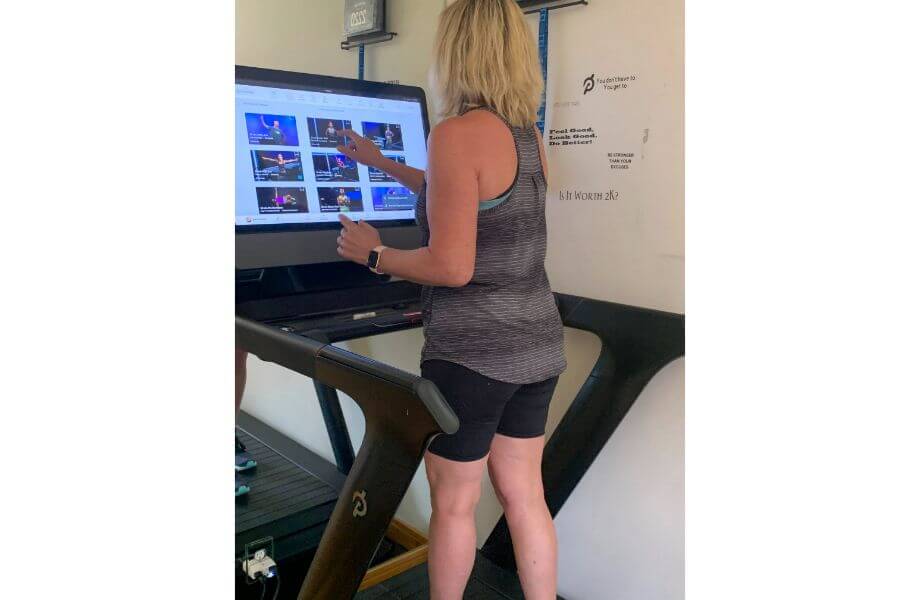 The Peloton Tread comes with a 23.8-inch touchscreen to navigate your next workout and view past workout metrics. The screen also comes with speakers built into the monitor. If you're an Apple Watch user, you can pair your device to the treadmill for automatic syncing of your workouts to stay on top of your fitness goals.
If you want more details, you can read our full review on the Peloton Tread.
| | |
| --- | --- |
| Price | $3,495 |
| Footprint | 66" L x 33" W x 62" H |
| Display | 23.8" HD touchscreen |
| Programming | Peloton app |
Other Smart Treadmills We Researched
NordicTrack 2450: This is an ideal option if you like the NordicTrack 1750 but you want a bigger touchscreen.
NordicTrack X32i: This treadmill is very similar to the X22i but with a higher price tag.
ProForm Pro 9000: This treadmill did not make it to this list because it features similar specs to the Pro 2000, which has a more budget-friendly price point.
How We Picked and Tested
Not only did our expert product testers here at GGR want to deliver a curated list of smart treadmills ideal for home gyms, but we also wanted to let you know what other factors were considered when were selecting treadmills for this list:
Tech capability: For this list of best smart treadmills, our team wanted to make sure that you will have the option to not just connect your phone to built-in speakers. We wanted to choose treadmills that offer touchscreen displays, built-in programs, and the ability to collect your workout data.
Programming options: We wanted to give you treadmills that offer interactive workout programs and on-demand personal training experiences, either directly through the brand's app or a third-party app.
Motor horsepower: This list is made up of treadmills with motors that can support running speeds because the stronger the motor the better performance you'll get for continuous running.
Speed and incline: We thought that since this list is made up of smart treadmills, we'd better make sure they're all capable of fast speeds and incline training, too.
Price point: You will see a range of prices from about $1,700 to over $3,000. We wanted to make sure this list represented what additional features come along with higher price tags.
Benefits of Smart Treadmills
Investing in a smart treadmill for your home gym can not only be fun, it can help keep you engaged on your progress and goals.
Personal Training At Home
Not only do apps like Peloton, iFIT, and JRNY offer workouts for you to follow along with, you have your very own personal trainer right in front of you the whole way—and one that can't hear you cursing them out.  
Interactive Programming
Interactive programming isn't just the personal training aspect, it's also the technology that gives you new workout suggestions based on your progression. Most of the top brands have apps that allow you to track your progress and interact with the app on your fitness goals.
Metrics and Workout Stats
A pretty cool feature of smart treadmills is the ability to track and transmit data from your workouts to your smartphone or tablet. Some treadmills can even connect to multiple devices, allowing you to track your heart rate through a wireless monitor while simultaneously tracking speed and distance metrics.
What to Look for in a Smart Treadmill
Here are some things to consider when shopping for a smart treadmill:
Programming
Do you want the ability to choose the app of your liking and that's specific to your training style or do you like the idea of services like iFIT and Peloton? Before you make your purchase, it's worth thinking about if you want the freedom to pick a fitness app that you like or commit to the app your treadmill is set up to stream.
Bluetooth Connectivity
There are plenty of treadmills out there that are Bluetooth-enabled. However, I suggest reading the fine print to make sure you know exactly what you can do with that Bluetooth technology. For example, if you're looking for a treadmill that can sync your metrics to your phone or fitness tracker, make sure the treadmill you want can do that. Some machines are only set up to use Bluetooth for the built-in speaker function.
Machine Capability
In addition to getting the technology you want from a treadmill, make sure you don't sacrifice tech for the overall specs of the treadmill. Be sure you know that your treadmill can support your weight and the amount of running you want to do. We suggest at least a 2.75 horsepower motor to support frequent running. Additionally, if you're on the taller side, make sure the running deck is at least 60 inches to give you adequate room for your full stride.
Smart Treadmill FAQs
What does a smart treadmill do?
Smart treadmills range from treadmills that have built-in touchscreens and interactive programming to treadmills that can transmit workout data to your phone and connect with popular fitness apps like Zwift and Strava.
Does an incline treadmill burn belly fat?
Although you cannot spot-treat fat loss, doing cardio exercise can help with your overall weight-loss goals. Cardiovascular exercise is an efficient way to burn calories and burn fat. That said, your nutrition and caloric intake play a big part of your overall weight and body composition.  
Which treadmills can you watch TV on?
The Bowflex Treadmill 22 is one of the few treadmills that allows you stream entertainment apps like Netflix, Hulu, and HBO Max.