We test and review fitness products based on an independent, multi-point methodology. If you use our links to purchase something, we may earn a commission. Read our disclosures.
If you're into fitness, then odds are that you have heard of Bowflex. The brand has been a mainstay in the industry for more than 30 years. They are most widely known for all-in-one home gyms, but today we are going to take a dive into one of their newer products: The Bowflex Treadmill 22.
We have tested and reviewed the Bowflex Treadmill 10, which is the more affordable model in the brand's treadmill line. So, we turned our attention to the Bowflex Treadmill 22 and asked ourselves: Is there a big difference? Is this upgrade really worth it? Let's take a deeper look in this Bowflex Treadmill 22 review.
We Have Run Hundreds of Miles on Treadmills
At Garage Gym Reviews, we test and research so you don't have to. Our goal? To help you build the perfect home gym for your needs. In order to do this, we have run hundreds of miles on different treadmills like Nordictrack Commercial 1750 and the Peloton Tread to give you our unbiased, expert opinion on how these machines perform.
Our roster of product testers includes certified personal trainers, marathon runners, and Crossfit L-1 trainers who just want what is best for you. When talking about the Bowflex T22, we have combined our knowledge and testing of the Bowflex T10 with customer reviews and machine specs.
Bowflex Treadmill 22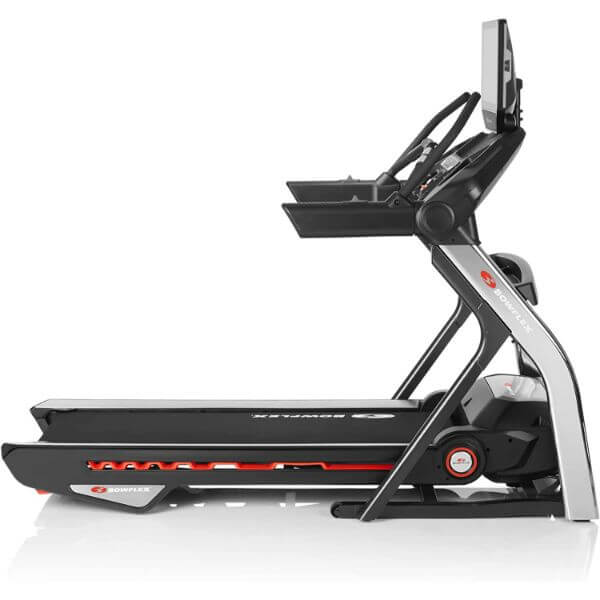 Bowflex Treadmill 22
The Bowflex Treadmill 22 is a high-end treadmill packed with features and specs that may make it attractive to serious runners and beginners alike. Some of the most notable features include a 22-inch interactive console with an HD touchscreen, speeds ranging from 0 to 12 miles per hour, and inclines ranging from -5% to 20%, offering plenty of variability to challenge even the seasoned runner.Fully equipped with the JRNY fitness platform, you can expect an immersive training experience at your fingertips. JRNY houses coach voice-led workouts, as well as over 200 scenic routes with curated playlists to keep you motivated on your next run.Additionally, with the JRNY membership, you can access and stream entertainment apps including Netflix, Hulu, Disney+, HBO Max, and Amazon Prime Video. A one-year membership is included in your purchase of the 22. However, beyond that one-year timeframe, you will need to pay for a membership in order to use the Bowflex Treadmill 22 and access all of its features.The specs and components on this treadmill are noteworthy. The 22-inch by 60-inch cushioned running deck is spacious enough to accommodate users of varying heights and, with a max user weight capacity of 400 pounds, this treadmill will work for the vast majority of the population.While some buyers found the console to be slightly confusing, it offers a lot of features well worth the time it takes to figure them out. Speed and incline knobs allow you to make adjustments to the intensity mid-stride and the built-in fan will keep you cool on those hot days. You are able to monitor your progress with key fitness metrics on the HD screen to stay in the zone. The 22 comes with heart rate hand grips as well as Bluetooth compatibility and an arm heart rate band for more accurate heart rate training.When you are done with your workout, the Bowflex 22 can be folded using the Softdrop folding system claimed to reduce the footprint by more than 40% — a perk for those with limited floor space. Unfortunately, Bowflex does not provide any information on the motor's power, but given the vast range in speed and incline, it should be plenty powerful for all users.
A Quick Look at the Bowflex Treadmill 22
So, why "22"? This treadmill boasts a 22-inch HD touchscreen that is Bluetooth-compatible and uses the JRNY app for interactive programming. This treadmill has a large footprint, but it's foldable with a "soft-drop folding system," which saves a little room.
There's a lot to like about the 22—and a lot to be aware of, like the machine's big price tag.
What We Know About Bowflex Treadmills
While we haven't quite gotten our hands on a Bowflex 22, we have been able to test the Bowflex Treadmill 10. There are some similarities between the two products that we can call out:
The large, 22" by 60" running path on both machines makes it ideal for taller people and is well-cushioned.
The treadmills use the JRNY membership ($149/year) for programming, which is adequate but not stellar like iFIT and Peloton.
Both products are foldable, however both weigh more than 300 lbs.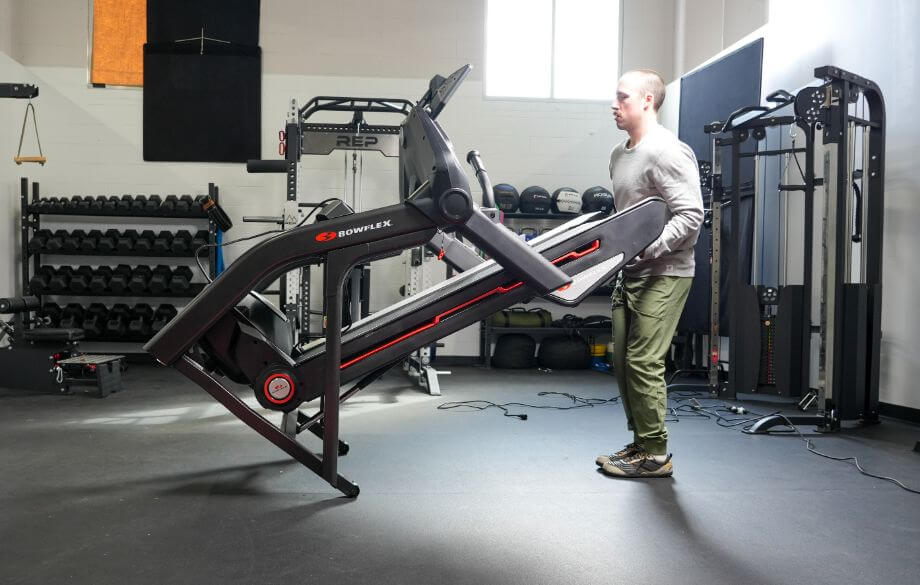 Pros:
A large 22-inch touchscreen
You can stream apps like Netflix, Disney+, Hulu, and more with a JRNY membership
Large range of incline and decline with -5% decline up to 20% incline
Max user weight of 400 lbs
Large running deck: 22" by 60"
Handle adjustment knobs
Cons:
Very expensive price tag at more than $2,500
JRNY fitness app subscription is required for interactive programming
Large footprint
Weighs 336 lbs
Hard to assemble
Motor size and horsepower not published by Bowflex
Is the Bowflex T22 Worth It?
So now that you have read a little more about the treadmill, you probably want to know if it's worth buying.As of this writing, it's priced at $2,699. That's a pretty hefty investment. Here's who we think it could be ideal for, and who might want to consider something else:
Great for:
People who want to run or sprint
People who are looking for a large HD touchscreen to watch while they workout
Those seeking incline and decline training
Not recommended for:
People who are on a budget
Somebody who needs compact fitness equipment
Those who want just basic treadmill programming
Bowflex Treadmill 22 Specs
| | |
| --- | --- |
| Footprint | 85" L x 39.6" W x 70" H |
| Weight | 336 lbs |
| Weight Capacity | 400 lbs |
| Running Deck | 22" W x 60" L |
| Speed | Up to 12 mph |
| Incline | -5% to 20% |
| Display | 22" HD Touchscreen |
| Bluetooth Connectivity? | Yes |
| Compatible Apps | JRNY, Zwift, Hulu, Netflix, Amazon Prime Video, Disney+, HBO Max |
| Heart Rate Monitor | Yes |
| Foldable | Yes |
An Expert Opinion on Working Out With the Bowflex T22
As of yet, we haven't been able to test out this exact model of a Bowflex treadmill. However, we have been able to do a complete test on the Bowflex Treadmill 10. There are actually a ton of similarities between the two products.
For instance, the mechanical parts, the folding treadmill technology, and the handle incline controls are similar. The main difference between the two products is the size of the touchscreen (the Bowflex T22 has a 22-inch screen, and the Bowflex T10 has a 10-inch screen).
Therefore, we can reasonably conclude that a lot about the actual treadmill itself is pretty similar. You can expect a durable machine with some pretty cool features like a decline training and a 22-inch touchscreen. We can also assume that this treadmill is going to be pretty difficult to move and to put together, based on our experience with the T10.
Our expert testers most enjoyed the comfortable running deck, which is a roomy 22 inches wide and 60 inches long. This accommodates people of most heights.
Having a treadmill that does decline training is rare (and clearly, expensive). We also see decline training on a machine like the NordicTrack Commercial 1750, which is at about the $2,000 mark. The Bowflex 22 has the edge here, because its incline range is -5% to 20%, one of the largest ranges we've seen.
Customer Reviews
As always, customer reviews are mixed. Here's a sampling of what we found on Amazon and the Bowflex website:
"It's hot in Texas, so I went with a treadmill that would entertain and inspire me to continue my jogging routine in the hot summer months. I love the "explore the world" mode. I've tried out many different locations and they've all been enjoyable. I especially enjoy the programs with automatic incline. Seems sturdy. Was a beast to put together but operates well. So far so good!" — Marn, Denton, TX
"I bought this for my wife who had been wanting a treadmill for a long time. We were both very pleased with it and used it every day…until it broke. After having it less than a month it just stopped working…We waited 3 weeks for the tech to come out and Bowflex sent us the wrong part for the treadmill, Now we have to wait another 3 weeks for them to fix our $3000 treadmill." — Benjamin A. Perkins, Amazon
"I absolutely LOVE the large track, and the Explore the World feature. I was used to using my [sic] Peleton Tread, so I was expecting it to auto adjust speed for me during the setup run." — K Proud, Amazon
Footprint and Durability
This product is not known for its discreet size or weight. As we have talked about, the Bowflex T22 takes up a ton of space (even when folded) and weighs over 300 pounds. That being said, this footprint and weight really adds to its durability. You can expect this treadmill to last a while with a 15-year frame and motor warranty.
Due to its size, it is hard to move, but on the flip side, this treadmill can hold a person up to 400 pounds. This treadmill does require an outlet as it needs to be plugged in to work.
Lastly, we're disappointed to learn that Bowflex doesn't disclose the motor size of the T22. We've seen reports online that it's as high as 4.0 CHP, which is excellent for those who want to use this machine often for intense running exercise.
The Ergonomics
This machine is high-end when it comes to ergonomics. If the T10 is any indicator, we know that the T22 will be a comfortable machine to run on, especially since it has a wide running belt and treadmill deck. This allows you to take long strides and reach your full potential.
The T22 also has what Bowflex calls "Comfort Tech" cushioning on the belt, which we enjoyed on the T10.
And of course, the T22 has all the extras you would expect from a machine at this price:
Water bottle holder
Large storage tray
Extended handlebar grip
Adjustable touchscreen
Built-in fan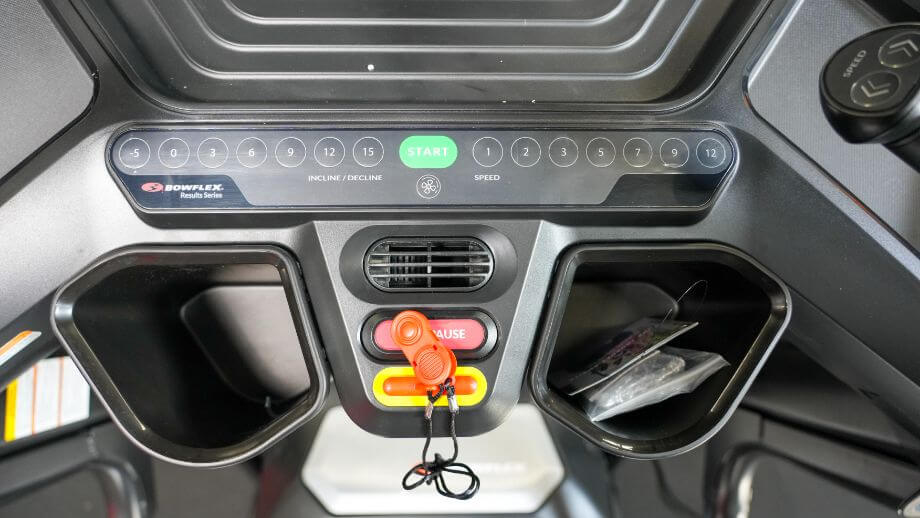 Technology
If you are looking for top-of-the-line treadmill technology, look no further. With the 22-inch HD touchscreen, you can "Explore the World" through the Bowflex JRNY app that provides different home workouts for you. You can also use the JRNY app for streaming services, like Disney+ and Hulu (though you have to have a subscription to JRNY to do so).
However, since the JRNY app is required, that means that there aren't really many workouts for you to follow on your own for free, like you could on other treadmills. The Bowflex T22 does come with a Bluetooth heart rate monitor as well as an armband to help you track your heart's activity during your workout. You can also monitor your pulse through the hand grips.
Brand Policies
Bowflex comes with a hefty warranty policy. The T22 has a 15-year frame and motor warranty, a five-year mechanical parts warranty, a one-year electronics warranty, and a two-years labor warranty. Some reviews are referring to complaints about the Bowflex customer service, especially when it comes to the technology. If you decide you want to return the product, you have about two weeks to do so.
Ordering and Assembling the T22
When testing the Bowflex T10, we learned that it is nearly impossible to set up alone. In fact, one of the main take-aways that we stated was that we think you should splurge for professional set-up if your finances allow. If not, hopefully you can find one or two people who are willing to help you out. As we have said, this product weighs over 300 pounds, making it really difficult to put together and to move.
Bowflex offers financing with which you can pay $150 per month if you don't want to put down over $2,000 today. Shipping costs an extra $199, and if you want to pay for assembly along with your shipping, it is $349 total. Depending on your location, you can expect the product to ship in about a week or so.
Final Verdict of Our Bowflex Treadmill 22 Review
The Bowflex Treadmill 22 is known to be a sturdy, durable machine. However, there are other tech-savvy treadmills on the market that get the job done for a better price. If you have the money and love this machine, I don't think you'd regret it.
Bowflex Treadmill 22 Rating
Bowflex Treadmill 22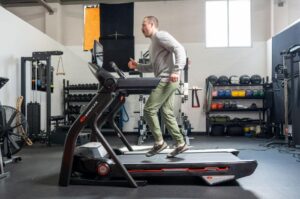 The Bowflex Treadmill 22 is a high-end treadmill with a number of high-end features, like dynamic programming, decline capabilities, an HD touchscreen that can stream shows, and more. However, with those features comes a steep price tag.
Product Currency: $
Product Price: 2799
Product In-Stock: InStock
Bowflex Treadmill 22 FAQs
Is Bowflex 22 worth it?
This depends on your needs. If you have a higher budget and are looking for high-end technology, this could be the best treadmill for you! If you are a little more pinched for cash and are just looking for a basic treadmill to run on, there are better options out there for you.
How heavy is Bowflex 22?
The Bowflex 22 weighs 336 pounds.
What size motor is in the Bowflex 22?
While Bowflex doesn't disclose the size of the motor, we have seen reports that the treadmill motor is a 4 CHP motor.
Can I use the Bowflex treadmill without a subscription?
No, you need a JRNY subscription to run the treadmill.