We review free products that we receive and participate in affiliate programs, where we may be compensated for items purchased through links from our site.
See our disclosures page for more information.
After putting the T-Grip Bar by American Barbell through nearly every exercise you can think of including pressing, pulling, curls and more over the course of two months, we believe that the T-Grip Bar is one of the best multi-grip bars available. That said, this is definitely a bar in which you get what you pay for, and the cost may very well be prohibitive for many looking to purchase a multi-grip specialty bar.
American Barbell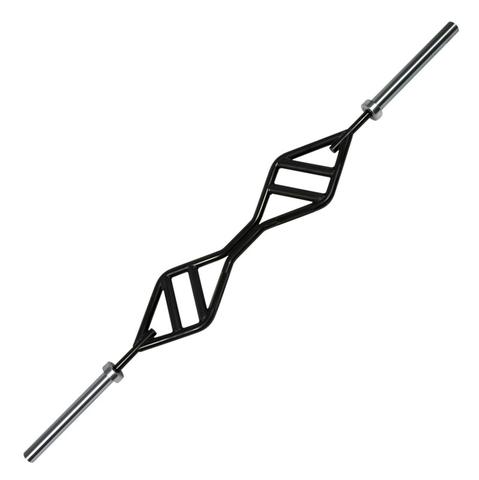 T-Grip Double Angle Handle Bar
This bar was designed with versatility in mind. Featuring a 1-1/4" diameter shaft (31.75MM), they fit all commercial benches and racks and now have the option of non-rotating sleeves (bar weight 30lbs) or rotating sleeves (bar weight 55lbs). The sleeve construction is one piece, drop-forged and boltless and has a hard chrome finish. The bar shaft is finished in black zinc.Ships in 1-2 weeksSpecifications:-Length: 84 inches-Handle diameter: 1-1/4" (31.75MM)-High-Quality Knurled Grip-Safe Load Capacity: 500LBS + -Patented and Made in the USA
Multi-Grip Bars are some of the most fun training bars to own. Their versatility may be somewhat lacking, but that's why they're considered specialty bars, they're made for special purposes. The T-Grip Bar by American Barbell certainly fits this bill as it is made mainly for pressing with the ability to do some fun and unique pulling exercises.
This said, compared to most other multi-grip bars, also known as swiss or football bars, the T-Grip Bar is the most versatile multi-grip bar currently available as I will detail very soon.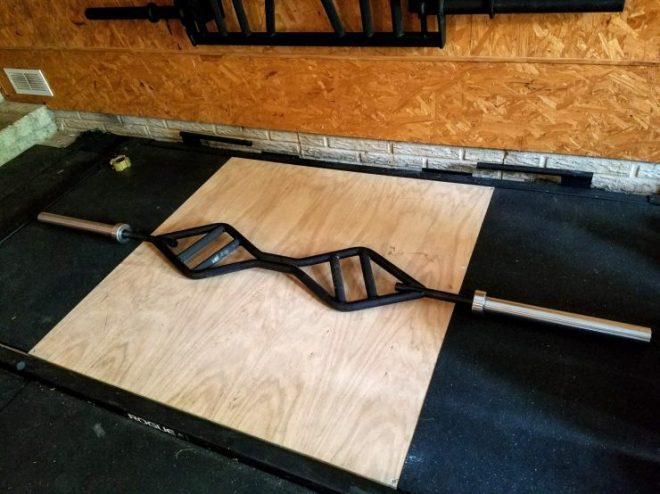 T-Grip Bar Review
Specialty bars almost always have the same feel. They're often made with less attention to detail, rarely have knurling and if they do it's poorly done and you might as well forget about the sleeves spinning.
The T-Grip Bar, however, has taken all of the premium features we prize in a high-end barbell and included them.
The first feature that stuck out to me about the T-Grip Bar were the sleeves.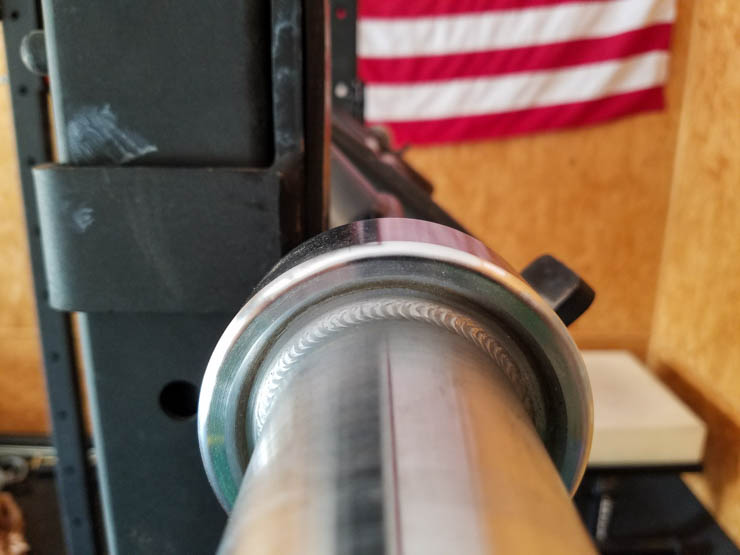 American Barbell offers the T-Grip Bar with two styles of sleeves. Either fixed or with an Olympic sleeve as shown here.
After having use the T-Grip Bar extensively, I can say that although an unnecessary feature, spinning sleeves make the experience of using the bar much more smooth. Not to mention that they won't get chipped and look like they were run through a wood chipper after the first use (I'm looking at you Rogue…)
The sleeve construction uses a bushing bearing and is the EXACT same sleeve and construction as what is used on my pick for the current top power bar, the American Barbell Mammoth Bar.
As you can see, the sleeve is precision welded to the sleeve hub and then recessed so the weld joint doesn't interfere with plates sitting flush against the sleeve. It'snot only beautiful in appearance, but also in use.
The actual sleeve features a microscopic ribbed pattern that makes a sound so satisfactory that I imagine Bob Hoffman, the founder of York Barbell, crying with envy every time I add plates.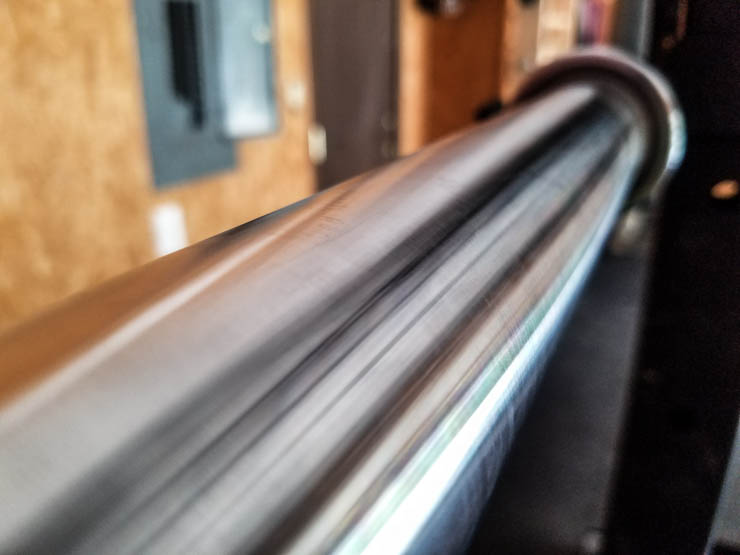 The rotation system used by American Barbell on this bar is aptly a bronze bushing.
Bronze bushings are durable, consistent, and just plain work… for a LONG time. I have never had an issue with a bronze bushing and prefer them over composite bushings due to my experiences with them. Unsurprisingly, due to American Barbell's attention to detail, the spin on the T-Grip Bar is better than a majority of Olympic barbells available today.
Moving on from the sleeves to the shaft of the bar, you find one of the most unique designs for a multi-grip bar.
In addition to the T-Grip Bar, I also own the Rogue MG-3 Multi-Grip Bar which features a traditional design.

The problem with this design and one of the standout features of the T-Grip Bar is that doing overhead pressing (my favorite movement) is nearly impossible due to the boxy nature of the MG-3 and most other multi-grip bars. The T-Grip bar has flipped this design on its head and included a cutout in the middle of the bar to easily pass your head through during any overhead press.
It's so well executed, pressing with the T-Grip Bar feels just as comfortable as pressing with a standard barbell and keeps you from having to excessively lean back.
Not to mention, the angles in the middle are knurled so you can also do curls. 💪🏻
You'll notice that the bar has many welds. Whenever welds are used on a precise piece of equipment like a bar, there are many potential problems, the largest being the angles not being true. Fortunately, American Barbell has made sure that before welded, everything is lined up and I could not find any discrepancies with my T-Bevel.
This may sound like an obvious thing, not only are the shafts holding the sleeves separate from the handles, but as you can see, there are two shaped bars that are then welded to the sleeve shafts and then each other.
It's confusing to explain, but I can only imagine how confusing it is to keep everything square.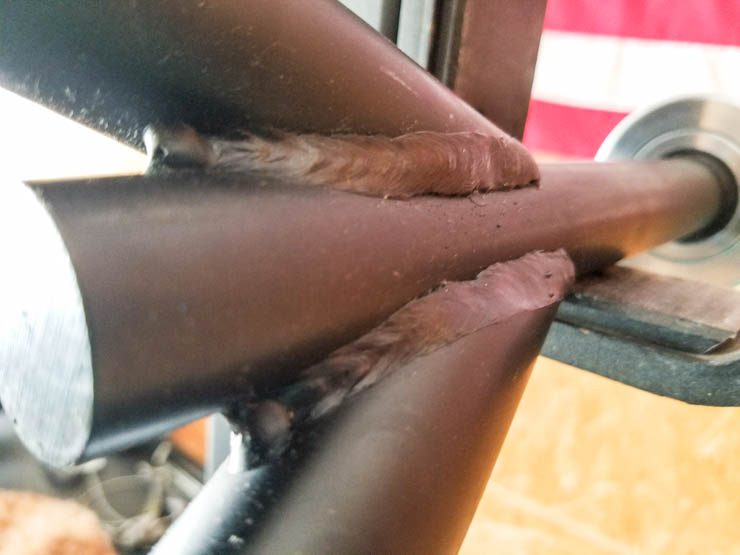 The welds are all decently smooth and well done unlike manyof the import equipment cropping up more and more on the market.
The weld in the middle of the bar is probable unnecessary, but I'm glad they included it for increased stiffness and durability.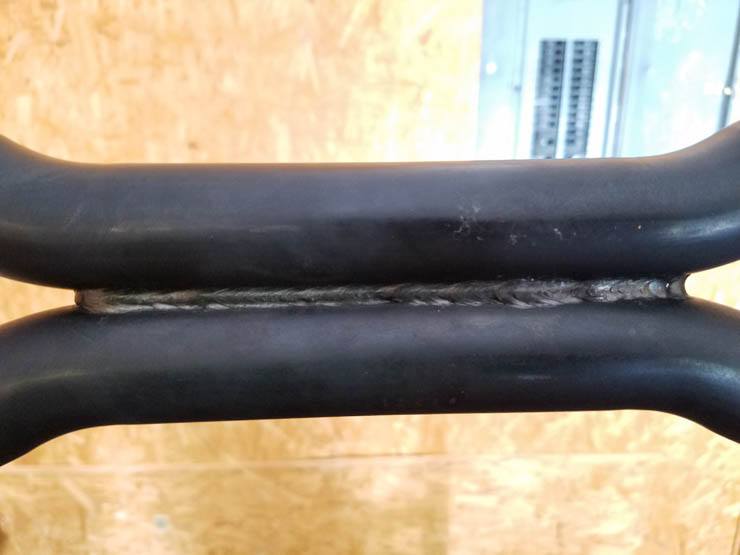 One area in which the T-Grip Bar differs from nearly every other multi-grip bar is that it features knurling.
Knurling isn't entirely necessary for a specialty bar, but if I had a choice, I'd pick a bar with knurling over one without any day of the week. Not only does it feel better for pressing, but chalking up and doing rows and curls feel awesome on a multi-grip bar that is knurled.
The knurling isn't cheaply done either. I wouldn't compare it to other American Barbell bars, but it's not bad. Not overly aggressive, yet has a good tack when using chalk.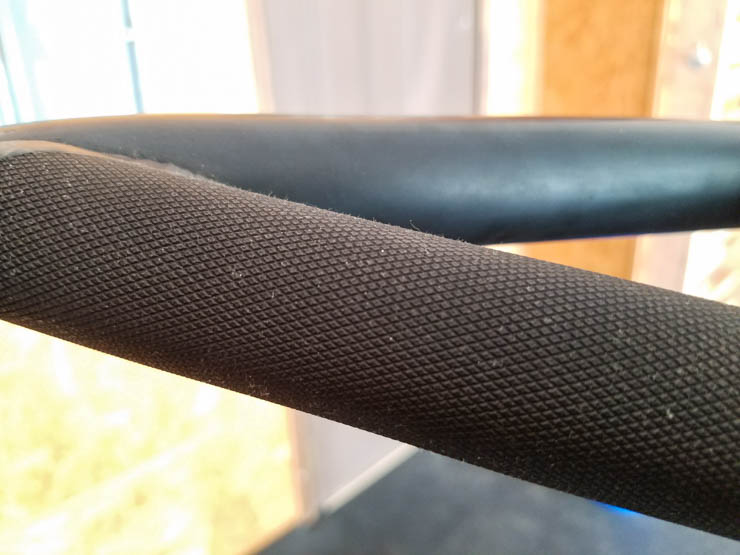 The handles are listed at a comfortable 31.75mm which wasn't too far off from what I tested them at.
For a specialty bar, that's pretty impressive.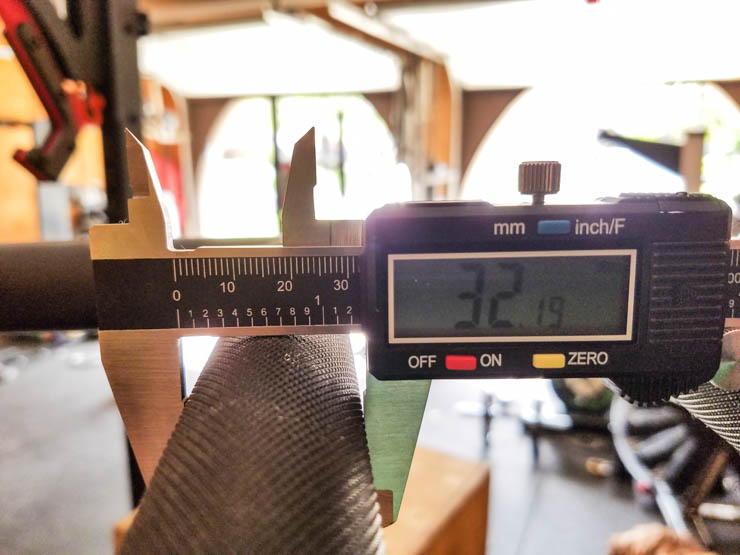 I also decided to weigh the bar on a precision scale to see how if it's close to the listed weight.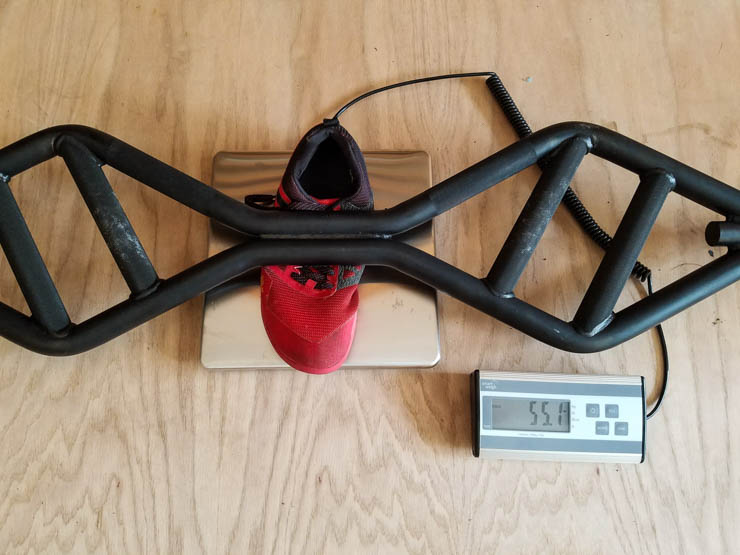 As you can see, the bar came out to just over 55 lbs (and yes, the scale was zeroed after the shoe was placed on it.) Pretty close to the stated weight.
I would have liked the bar to come out to an even 45 lbs for easy addition while loading plates, but it's not a deal breaker.
Finally, the T-Grip Bar is made in America, something that matters to me, but not all. 🇺🇸
Suggested Improvements
As with any piece of equipment, there are areas that can be improved.
The first area has to do with the weight of the bar. It's currently listed on American Barbell at 45 lbs. but weighed in at 55 lbs. on my calculated scale as previously mentioned.
The second area of improvement is for the finish.
All of the T-Grip Bars come in a black zinc finish which looks pretty cool but will likely oxidize quickly. I think it would be great to have the option for different finishes such as chrome or bright zinc.
Finally, my last suggested improvement is one that may not be possible due to the complexities of the bar, but I would like to see it offered at a lower price.
You can purchase the T-Grip bar without the Olympic Sleeves, but to me that's one of the best features.
Why You Should Own a Multi-Grip Bar
First off, you don't NEED a multi-grip bar. In fact, I'd say that you could get just as strong and fit using the basic barbell for all of your exercises as you could using specialty bars, dumbbells, and cable machines. In fact, there are many people who live and teach by this method, most notably being Mark Rippetoe of Starting Strength.
But, we must remember that the equipment that most helps us reach our goals are the ones worth purchasing. If purchasing a multi-grip bar allows you to train more or train in a manner that most allows you to meet your goals, then it's a worthy purchase.
For myself, I like variety. I like being able to use different bars for different movements for different training sessions. I can't say this definitively, but I likely train more because I have equipment that allows me to vary my training. I don't use it as a crutch, but I have the ability to have many different pieces of equipment, and since they aid me, I use them.
The Multi-Grip bar should, at least in my opinion, be one of the first specialty bars you purchase (possibly second behind a nice buffalo bar like the Duffalo Bar.)
No other piece of training equipment, outside of dumbbells, will aid your upper body training like a multi-grip bar. Presses can now isolate different muscles and rows can be done with neutral handles that are sure to build the barn door back you've always wanted.
There are two main types of multi-grip bars:
Swiss/Neutral Grip Bars
Football Bars
Both have similar purposes with slightly different ways of achieving them.
Swiss Bars use neutral, straight parallel handles.
Football Bars use handles with a slight angle, mimicking the hand angle a lineman would use when pressing off an opponent, thus the reason for the name.
I personally prefer Football Bars as the angle feels better on my wrists and I enjoy it more for things like skull crushers and curls, but you can't go wrong with either.
Final Thoughts
This bar is the definition of you get what you pay for. It's expensive, but it's also built to hold a truck and has features you can't get with any other multi-grip bar.
If you're like me and delight in having the "best of the best" than make this your next purchase.
If you'd rather have a less expensive version, check out the T-Grip Bar with Solid Ends. It's about $100 less.
Full Rating
American Barbell T-Grip Bar
After putting the T-Grip Bar by American Barbell through nearly every exercise you can think of including pressing, pulling, curls and more over the course of two months, we believe that the T-Grip Bar is one of the best multi-grip bars available. That said, this is definitely a bar in which you get what you pay for, and the cost may very well be prohibitive for many looking to purchase a multi-grip specialty bar.
Product Brand: American Barbell
Product Currency: $
Product Price: 360
Product In-Stock: InStock
Where to Purchase
American Barbell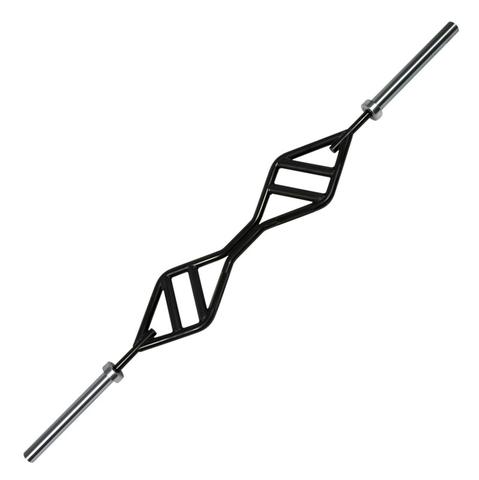 T-Grip Double Angle Handle Bar
This bar was designed with versatility in mind. Featuring a 1-1/4" diameter shaft (31.75MM), they fit all commercial benches and racks and now have the option of non-rotating sleeves (bar weight 30lbs) or rotating sleeves (bar weight 55lbs). The sleeve construction is one piece, drop-forged and boltless and has a hard chrome finish. The bar shaft is finished in black zinc.Ships in 1-2 weeksSpecifications:-Length: 84 inches-Handle diameter: 1-1/4" (31.75MM)-High-Quality Knurled Grip-Safe Load Capacity: 500LBS + -Patented and Made in the USA