We test and review fitness products based on an independent, multi-point methodology. If you use our links to purchase something, we may earn a commission. Read our disclosures.
The Bowflex LateralX LX5 is a low-impact elliptical trainer that works differently than traditional ellipticals. It not only moves in a normal pedaling fashion, but the pedals can work laterally, as well. This was to make a more athletic alternative to a treadmill, and it provided a full-body workout because most of the major muscle groups are involved while the machine is in use.
Bowflex used to offer this machine for a little over $2,000, but they discontinued production of the Bowflex LateralX LX5 and it is no longer available on Amazon. However, there is a chance it could still be purchased online or in some stores. Therefore, we created this Bowflex LateralX LX5 review of the machine so you know exactly what you're getting should you be fortunate enough to have it in your home gym.
We Know Fitness Equipment
Here at Garage Gym Reviews, we are dedicated to fitness and are serious about finding the best equipment. That's why our team is composed of certified personal trainers, CrossFit-L1 trainers, nutrition coaches, and other passionate members of the fitness industry. Our testers research, study, and most importantly, use a lot of fitness equipment, including ellipticals, so we know what works best for you. We consider everyone from beginner to advanced athlete when we test out machines or equipment. If you see a positive review from GGR, you can feel confident about having it in your home gym because we would have it in ours, as well.
Looking for an Alternative to the Bowflex LateralX LX5?
Best Alternative to Bowflex LateralX LX5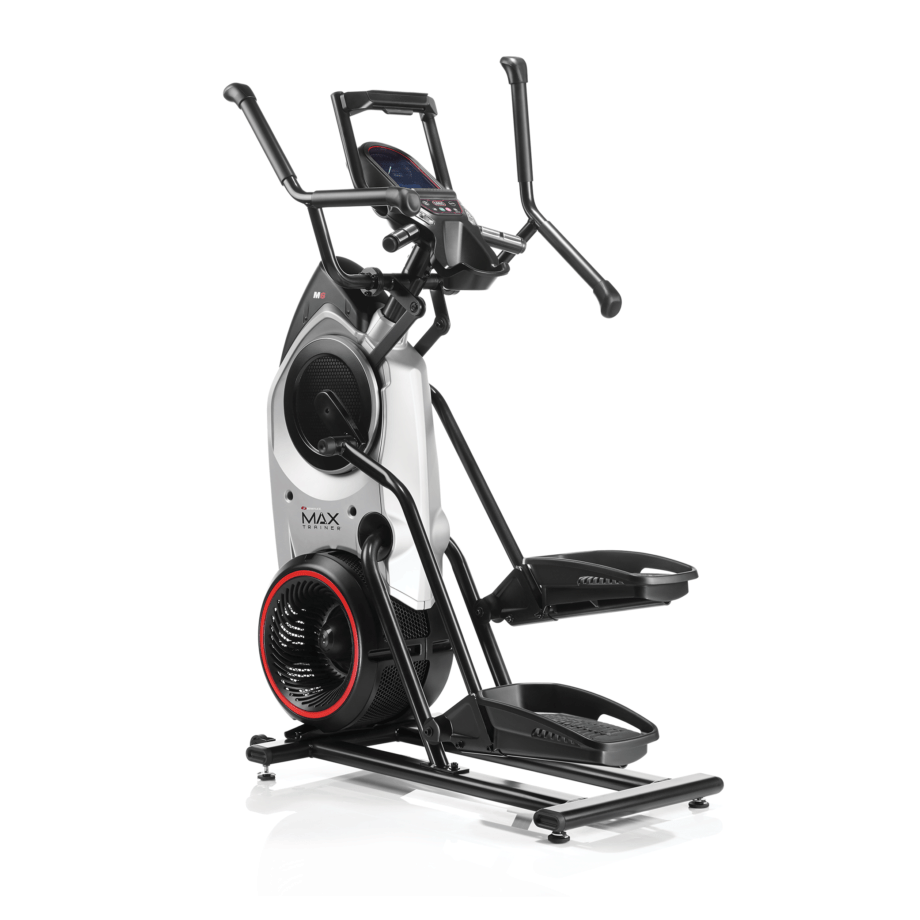 GGR Score: 4.2
Product Highlights
Gets harder as you get stronger
Stair-stepping design targets muscle development
Compatible with JRNY app
Ideal for HIIT workouts
Pros & Cons
Pros
Stair-stepping design targets muscle development
Compatible with JRNY
Ideal for HIIT workouts
Cons
No interactive touchscreen
Pretty basic display
Expensive
Bottom Line
The Bowflex M6 provides a heart-pumping, low-impact workout that resembles stair-stepping.
If you can't find the LateralX LX5, but still need a reliable elliptical, we suggest you check out the Bowflex Max Trainer M6. The smaller footprint will make it a great fit for most home gyms, and the stair-stepping motion will help with lower-body development as well as offer a low impact way to burn a lot of calories.
A Quick Look at the Bowflex LateralX LX5
Bowflex takes different approaches to their equipment, ranging from their resistance training products such as their adjustable dumbbells to how they create an elliptical machine like this one. The Bowflex LX5 is not like traditional cardio machines because you can change the motion of the workout; you can pedal like a traditional elliptical, move in a standing/squatting alternative pattern, or go side to side.
Cross trainers and athletes who want something that offers incline and lateral movement will be glad to have this one. Beginners may need time to feel comfortable using it at first, but the variety of workout programs will help them get acquainted while they make progress. All of the benefits that come with the LX5 will make it worth the time and investment.
Pros:
Multiple movement patterns
Stimulates many muscle groups
10 pedal angle settings
10 resistance levels
Moving and non-moving handlebars
Manual and 9 installed programs
Workout videos available
Storage for four user profiles
Bluetooth 4.0 compatible
Heart rate sensors and chest strap
Cons:
Long assembly time
Heavy machine
Large footprint
Shorter labor warranty than others
Bowflex LateralX LX5 Specs
Due to the fact that the Bowflex LateralX LX5 is off the market, our team had trouble finding reputable sources for some of these specs.
| | |
| --- | --- |
| Footprint | 53.5″ L x 46.3″ W x 62.9″ H |
| Weight | 258 lbs |
| Weight capacity | 300 lbs |
| Flywheel | N/A |
| Stride length | 18″ |
| Incline | 10 total settings |
| Resistance options | 10 |
| Preset programs | 10 |
| Interactive programming | Yes |
| Warranty | 3 years frame, 3 years parts, 1 year electronics, 90 days labor |
Key Features of the Bowflex LateralX LX5
The biggest and most obvious feature to cover is the lateral movement of the machine. This side-to-side motion offers a way to train muscles like the adductors and abductors that you may not have on other machines. The lateral range could also help athletes such as hockey and basketball players who have to move laterally as well as forward and backward.
It also makes workouts more challenging, interesting, and fun for fitness enthusiasts of all ages and levels. Regardless of your fitness goals, the LX5 could help you make the most out of the time you have to train because you're challenging your total body with a low-impact workout.
Footprint, Portability, and Durability
LateralX machines are among the larger machines that Bowflex produced. It isn't only long, but it's wide because of the lateral stride. Because of this, you will need to make sure you have adequate space to use it and keep it. It's also a heavy machine, coming in at over 250 pounds.
Even though it's big, it can be moved. There are transport wheels on the front and handles on the back so you can pick up the back end and roll it like a wheelbarrow. There are also large feet on the bottom so it won't move once you do have it where you want it.
The machine is durable, and it will support up to 300 pounds of user weight. This is a common weight capacity among cardio machines, and it will be durable enough for people who want to lose weight or bigger athletes who want to maximize cardiovascular health.
Ergonomics
You will need plenty of room around the machine to perform the lateral motion on the machine safely without any issues. You can also stop the machine anytime you wish by holding down the stop/pause button. The pedals are adjustable and they can be locked in place thanks to the red tabs on the back.
Technology Benefits and Conveniences
There are two pairs of handlebars. The moving pair will benefit the upper body while the center pair can be something solid to hold onto if necessary. Even though there are a lot of moving parts on the LX5, it's a very quiet machine. You can watch TV or something on another device without the sound of the machine being a bother.
The 7.5-inch LCD screen is backlit, and it's easy to operate. You can also listen to music thanks to Bowflex Radio. Heart rate monitoring is possible thanks to the sensors on the hand grips as well as by using the chest strap that is included.
Final Verdict of Our Bowflex LateralX LX5 Review
The Bowflex Lateral LX5 is a machine that can benefit new trainees and those who have been in the training game for a while. The LX5 may not be available through Bowflex anymore, but that doesn't mean it isn't a valuable piece of fitness equipment. Once you use this machine, you may wonder why you hadn't gotten your hands and feet on one sooner. The challenges that this machine will offer your muscles will be different than traditional ellipticals, but the potential for success will make the effort to get one worth it.
Bowflex LateralX LX5 Rating
Bowflex LateralX LX5
This Bowflex LateralX LX5 review covers everything you need to know about this discontinued elliptical trainer.
Product Currency: USD
Product Price: 1499
Product In-Stock: InStock
Bowflex LateralX LX5 FAQs
​How old is Bowflex LateralX LX5?
According to Amazon, the Lateral LX5 was first available in October 2019, which makes it a little over 3 years old as of this writing. So, while it may be discontinued, it's not an old machine. If you can get one, it will likely serve you well for a long time to come.
How much does a Bowflex LateralX weigh?
The machine weighs about 258 pounds, and it has a user weight rating of 300 pounds. It's a big machine, but it is durable. It could be difficult to move around once it's assembled, but the wheels on the front and handles on the back will make it easier.
Are Bowflex ellipticals good?
We like them, and we think you will, too. Like other forms of fitness equipment, Bowflex offers an alternative with their products. That said, more options are better and some other top brands you should consider include Sole and NordicTrack.