We test and review fitness products based on an independent, multi-point methodology. If you use our links to purchase something, we may earn a commission. Read our disclosures.
I'm sure you've thought about the different things you'd buy if you hit it big on a scratch-off ticket. I'd personally buy myself a first-class ticket to Manchester, England, and get a front-row seat on the Stretford End of Old Trafford to watch Manchester United.
But if you're reading this Freemotion t10.9b Reflex Treadmill review, you might be someone who would invest in some high-quality workout equipment for your home gym. At close to $10,000 this machine is certainly not for everyone, but it can be a worthwhile investment if you're willing or able to shell out that kind of money.
We'll go over who should spend that type of money and why we think it will pay off for them at the end of the day.
Land of the Freemotion Treadmill Reviews and Home of the Brave
The Garage Gym Reviews team has reviewed treadmills ranging from a couple of hundreds of dollars in price all the way to models like the Freemotion t10.9b Reflex Treadmill that cost more than my first car. As certified personal trainers, CrossFit Level 1 Trainers, and nutrition experts, we understand that not everyone can afford the "best-of-the-best," and that's OK.
We're here to provide options for people on budgets, those in compact spaces, and those who are willing to spend thousands of dollars on gym equipment from brands like NordicTrack and ProForm.
An Expensive Treadmill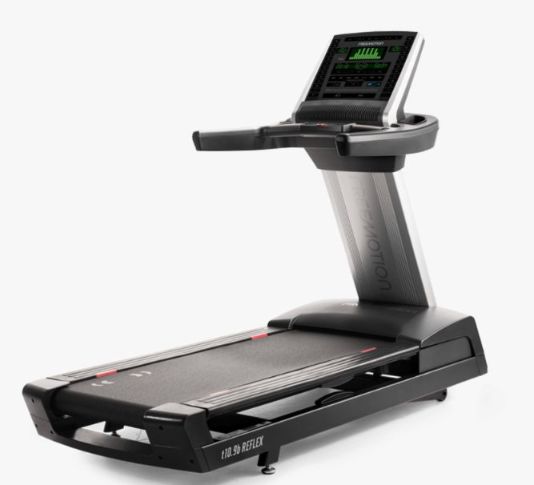 Product Highlights
5.0 HP AC motor
Upgradable LCD monitor
Cushioned deck
iFIT capabilities
Pros & Cons
Pros
Has an incredible motor
iFIT compatibility
Preloaded training programs
Cushioned deck
Cons
Expensive, at more than $9,000
Can't fold
Touchscreen costs extra
Bottom Line
A commercial-grade treadmill that's equipped with a powerful motor.
A Quick Look at the Freemotion T10.9b Reflex Treadmill
The Freemotion t10.9b Reflex Treadmill is a commercial-grade cardio machine that comes with a high-powered motor with more horsepower than some motorized scooters, some of the best tread cushioning on the market, and a high-quality steel frame that can stand up to just about anything.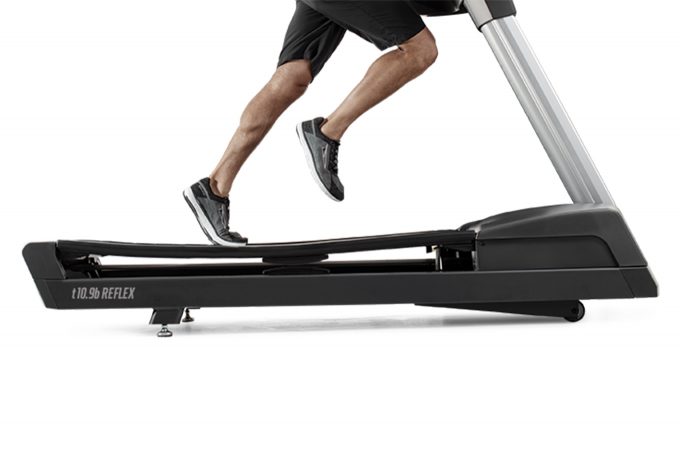 To put it bluntly, this is a treadmill for long-distance runners who want to recreate real-world conditions in the comfort of their own home.
My Tips
If you want to upgrade the screen you have to reach out to a Freemotion consultant to get a 15-inch touchscreen.
Pros:
High-powered 5.0 HP AC motor
Reflex cushioning to reduce impact to feet, hips, and knees
iFIT-compatibility and preloaded training programs
Google Maps routes
Cons:
Costs more than $9,000
Touchscreen costs extra
Is the Freemotion T10.9b Reflex Treadmill Worth It?
The Freemotion t10.9b Reflex Treadmill costs around $9,200, which is roughly the same price some tickets for Taylor Swift's Eras tour are going for on the secondary market (and that's just the nosebleeds).
Luckily for you, we understand commercial-grade treadmills all too well. Here's who belongs with this treadmill and who should shake it off in favor of another machine.
Great for:
Long-distance runners
Those looking for shock-absorbing tread decks to reduce impact
Anyone who's not concerned about price
Not recommended for:
Those on a budget
Runners who only occasionally use a treadmill
People looking for compact exercise equipment
Freemotion t10.9b Reflex Treadmill Specs
| | |
| --- | --- |
| Footprint | 87.7" L x 34" W x 66"H |
| Weight | 487 Lbs |
| Maximum user weight | 400 lbs |
| Running surface | 21.5" W x 60" L |
| Horsepower motor | AC 5.0 CHP |
| Foldable? | No |
| Incline/decline | 0-15% |
| Warranty | 7 years for frame and motor, 2 years for parts, 1 year for console and labor |
| Speed range | 0-12 mph |
| Step-up Height | 12.2" |
| Number of programs | 44 |
Customer Reviews
As of this writing, there are no customer reviews for the Freemotion T10.9b Reflex Treadmill online, and only one five-star rating for the machine on Amazon.
Workout Experience On The Freemotion T10.9b Reflex Treadmill
The Garage Gym Reviews team has, unfortunately, not been able to get our feet on the Freemotion T10.9b Reflex Treadmill but we've used the Freemotion i11.9 Incline Trainer Treadmill, which has similar treadmill features to the one we're looking at today.
One of the best things about the T10.9b Reflex treadmill is its Reflex cushioning, which boasts a 50-percent reduction in impact to your feet, knees, hips, and joints. We're not exactly sure how they're measuring that, but having used Reflex cushioning in the past we can say that it's quite comfortable. This can help people run for longer periods of time because they won't have to hop off due to discomfort.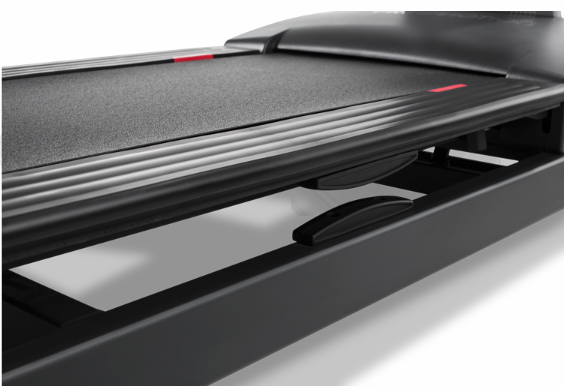 Another thing that will allow runners to go for longer distances is the AC 5.0 CHP, which is well above the industry standard of 3.0 CHP. To put it in layman's terms, this treadmill's motor is more powerful than some motorized mopeds and scooters that are capable of reaching up to 30 miles per hour.
The Freemotion T10.9b Reflex Treadmill only goes up to 12 miles per hour, but the powerful motor will allow it to run for much longer than a standard treadmill and will require less maintenance over its lifetime.
Also, we love the 400-pound weight capacity because it allows heavier people to have access to a treadmill that they can use for weight loss.
The running deck is 21.5 inches in width and 60 inches in length, which is just about the industry standard.
For a nearly-$10,000 machine, I'm surprised it comes with a basic LCD screen, but there is an upgrade available for a 15-inch touchscreen. They don't say how much it costs to upgrade to the touchscreen but either way, you can sync the treadmill with iFIT to access live and on-demand workout classes.
It's not technically a smart device, but you can find a number of workout programs that match your fitness goals via the app's user interface.
Footprint and Portability
The Freemotion Fitness T10.9b Reflex Treadmill is 87.7 inches long, 34 inches in width, and 66 inches tall, and weighs a whopping 487 pounds. That's a large footprint, and what makes it worse is that it's not foldable so you better break out the measuring tape before committing to buying this treadmill.
There was no options for expert assembly options for this machine on Freemotion's website but you might be able to reach out to a Freemotion consultant to get someone to your house to put it together.
Technology Benefits And Conveniences
The T10.9b comes with a basic LCD display that displays metrics such as time, speed, incline level, calories, distance traveled, and heart rate. You can also purchase a 15-inch touchscreen if you're looking for a more high-tech treadmill.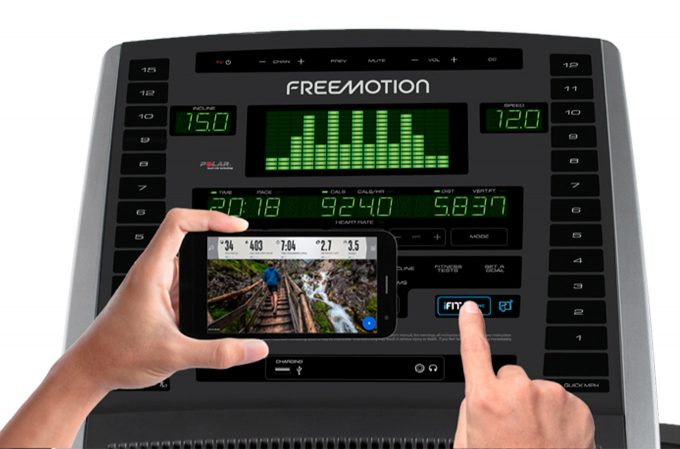 Regardless, the treadmill comes with iFIT programming and has 44 preloaded workout programs, including several Military-grade fitness tests and a set-a-goal workout center.
The treadmill comes with one-step instant response controls that allow you to adjust its speed and incline control, along with precision quick speed controls to quickly change how fast the tread goes.
You also get dual water bottle holders and built-in EKG grips for heart rate monitoring.
Warranty, Financing, Returns
The Freemotion t10.9b Reflex Treadmill comes with a seven-year warranty for the frame and motor, two-year parts warranty, and one year of coverage for the console. This is well below the industry average of a 15-year-to-lifetime warranty for the frame, which is disappointing considering how expensive this treadmill is.
Freemotion has a 30-day return policy, but you will be charged a $250 shipping fee and a 20-percent restocking fee, which comes out to around $1,800. That's a lot of change.
Financing options are available at checkout, starting at $239 per month.
Final Verdict of Our Freemotion T10.9b Reflex Treadmill Review
The Freemotion T10.9b Reflex Treadmill is a great option for long-distance runners and those who appreciate commercial-grade fitness equipment. Here are some of our final thoughts:
The AC 5.0 CHP and Reflex cushioning make this a great option for people looking for a durable treadmill.
The 400-pound weight capacity is well above the industry standard.
It's not a great option for those in compact workout spaces.
Freemotion T10.9b Reflex Treadmill Rating
Freemotion T10.9b Reflex Treadmill
Is a nearly $10,000 treadmill a good investment for a home gym? Our Freemotion T10.9b Reflex Treadmill review will let you know.
Product Currency: USD
Product Price: 9299
Product In-Stock: InStock
Freemotion T10.9b Reflex Treadmill FAQs
How much does a Freemotion treadmill weigh?
The Freemotion T10.9b Reflex Treadmill weighs 487 pounds and is not foldable.
Do Freemotion treadmills fold?
Some do, but the Freemotion T10.9b Reflex Treadmill does not.
What is a Freemotion treadmill?
A Freemotion treadmill is a commercial-grade treadmill that comes with 44 preset programs, a cushioned deck, and a powerful motor.