We test and review fitness products based on an independent, multi-point methodology. If you use our links to purchase something, we may earn a commission. Read our disclosures.
The REP Fitness PR-5000 V2 Power Rack is the most complete piece of equipment that REP Fitness has released to date. The PR-5000 Squat Rack uses the familiar 3-inch-by-3-inch uprights with 1-inch holes and is designed to rival the Rogue Monster Series and Sorinex XL Series of racks at a much more affordable price point.
We originally reviewed the REP PR-5000 in 2019. Since then, REP Fitness has added many more attachments as well as full customization options on an updated website that is now very mobile-friendly (thank goodness). One of the things that hasn't changed is our opinion: This is one of the best power racks on the market.
If you're looking to outfit your home gym with a new rack and want high-end quality with infinite expandability that is priced lower than competitors (and don't mind an imported rack) then we recommend reading more of our REP PR-5000 Power Rack review.
The Best Rep Fitness Rack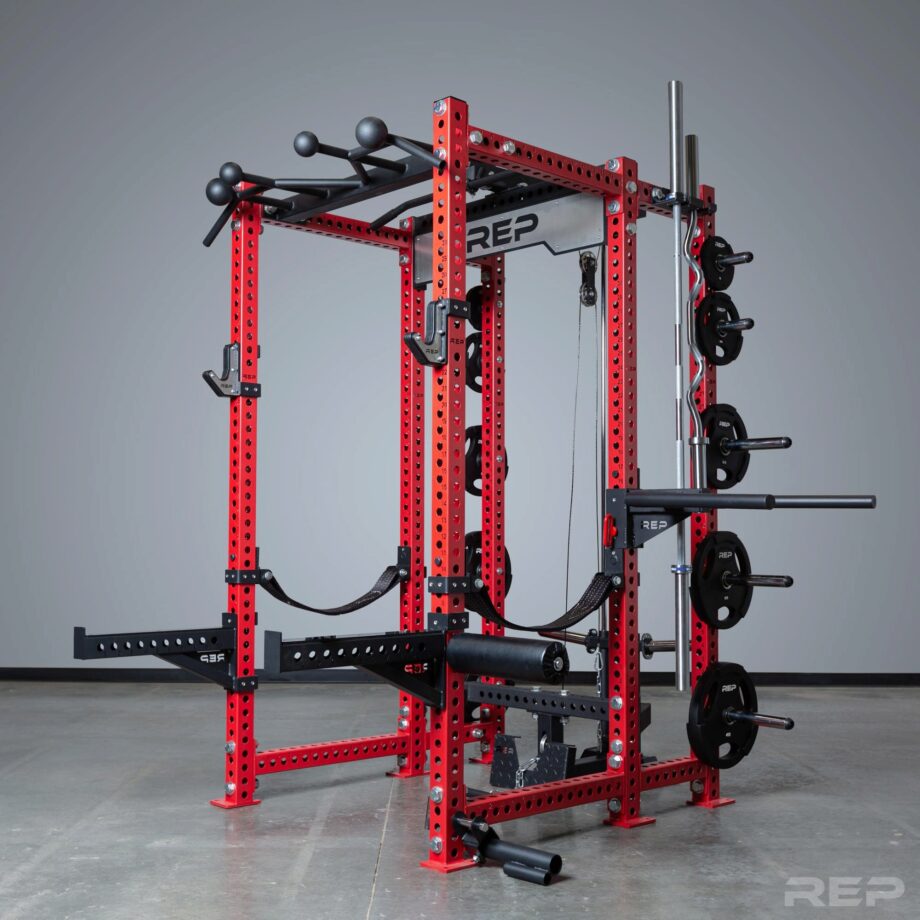 REP PR-5000 Power Rack V2
The Rep PR-5000 Power Rack V2 is our top of the line power rack system and allows for virtually limitless configurations and attachment setups. Featuring 3x3" 11-gauge steel with oversize 1" diameter hardware, this is the type of rack found in universities, professional athletic facilities, and commercial gyms that are serious about strength training. In a home gym, it's all you'll ever need.The 4-way laser-cut hole design gives you limitless possibilities in configuring your attachments to suit your space.Features Include:Laser-cut numbering on the front and back of uprights and each side of crossmembers for ease of lining up j-cups, safeties, and other attachments. 1" diameter hardware for the ultimate in peace-of-mind under heavy load. 2" hole spacing throughout entire rack. Large logo brace with stainless steel faceplate for additional rigidity and side-to-side stability. Stainless steel accents on j-cups and other attachments for a high-end classic look. Exclusive attachments taking advantage of the 1" diameter holes. All attachments include UHMW liners to protect bar knurl and/or paint on your uprights where appropriate.Optional Upgrades:Uniquely shaped base stabilizer for removing the need to bolt down 48" depth, and also serves as an anchor point for the pulley system and low row foot plate. *REQUIRED FOR LAT/LOW ROW PULLEY SYSTEM. Improved lat pulldown/low-row with foot brace to help brace legs during low row. Optional leg-roller pad to keep you seated during lat pulldown. Dip Attachment with bolt-together design for less shipping cost on our most popular attachment. Band pegs - Set of 4 for adding band resistance to your barbell workouts. Landmine attachment for multiple uses including many core movements. Weight horns with new urethane coating that makes them longer-lasting and better able to protect your plates. 12" size is great for larger iron plates and bumper plates, while 6" is ideal for 10 lb and less iron or change plates. Front Foot extension for working outside the rack without bolting down. Allows you to add spotter arms off the front of the rack and have dedicated setups for benching and squatting without changing j-cup or safety height. 24" Spotter arms with UHMW liners. Lowered J-cup option effectively allows 1" hole spacing on the uprights by holding your bar 1" lower than our standard or flat-sandwich j-cups. You must have a pair of standard or flat-sandwich in combination with a lowered j-cup pair to achieve this effect.In Development:Adjustable Monolift with detent pin for added security - $349 (ETA: Jan/Feb 2019) Iso Lever Arms - $399 (ETA: Jan/Feb 2020) Belt Squat Attachment - $279 (ETA: Jan/Feb 2020) 80" upright Lat/Low Row Attachment - $349 (ETA: January 2020)
Why You Should Trust Us
Personally, I have had my hands on more power racks, squat racks, and half racks than I can count. When I say I put racks to the test, I mean it. I like to do things like drop more than 700 pounds on an Amazon rack and drop more than 800 pounds on the Titan Safety Straps because it's awesome. But also, I do these things because they are the things I have to do to see if racks and accessories live up to the hype.
About a year of using the PR-5000 in red, I upgraded to the all-white PR-5000 V2 to give it a whirl. The crossbars and j-cups and other odds and ends are black, so I basically built a Stormtrooper squat rack. I used the V2 for all my usual exercises and tested many of the accessories.
A Quick Look at the REP PR-5000 Power Rack V2
REP Fitness has completely come up from behind as a fitness equipment company selling racks, bars, and CrossFit equipment. Today, REP is an extremely popular and well-respected name in the garage gym space.
The Rep PR-5000 V2 Power Rack is Rep Fitness' response to the Rogue Monster and Sorinex XL series of racks. Although it's not made in the USA like the aforementioned racks, it utilizes the same dimensions, the gauge of steel, hardware size, hole size, and has many similar attachments with more coming.
We previously stated that the Rep HR-5000 Half Rack was REP Fitness' best squat rack, but that is no longer true. The PR-5000 V2 is truly a top-of-the-line rack at a better price point than much of its competition (although we're not entirely sold on the attachment quality). Your barbell and plates would be happy to live inside of this rack (oh, and you would too).
Coop's Tips
The PR-5000 is a fully customizable power rack; keep an eye on your final price because each piece adds up quickly.
REP's had issues keeping this and their options in stock. Be patient and watchful for new stock.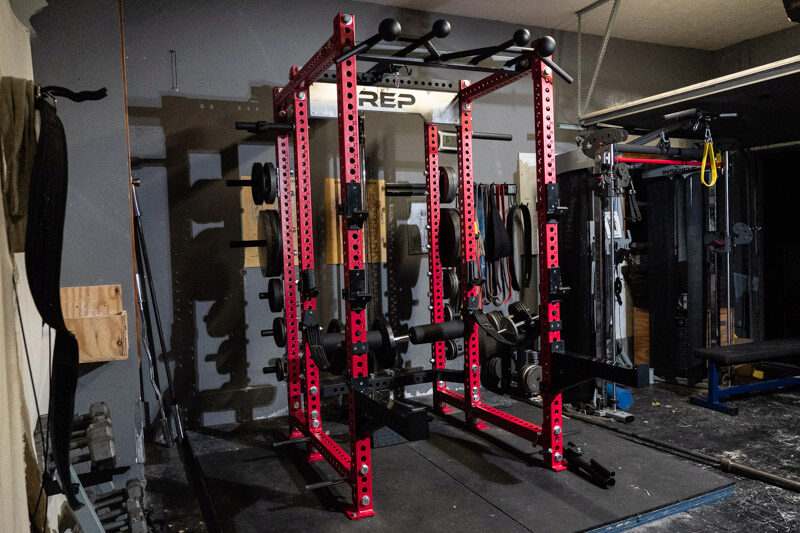 My Favorite Things
Great value for the price
47" outside post width (makes re-racking the bar easier)
Fully customizable
3-in x 3-in 11-gauge steel
Wide variety of attachments
Compatible with many Rogue Monster Series and other company attachments
Laser-cut numbers
My Callouts
Some accessories aren't as high-quality as the rack itself
Top crossmembers don't sit flush with the uprights
No option for black zinc hardware
Is the REP PR-5000 Worth It?
If you've got the money to blow and want a top-of-the-line power rack that is essentially an erector set for strength training, but you don't want to spend a bit more to get a Rogue or Sorinex rack, your best choice is likely the Rep PR-5000 V2.
We were honestly blown away at the quality, number of accessories, and the focus on various details. It's obvious that REP is trying to be in the conversation for "what is the best squat rack available?" and we think they've done it.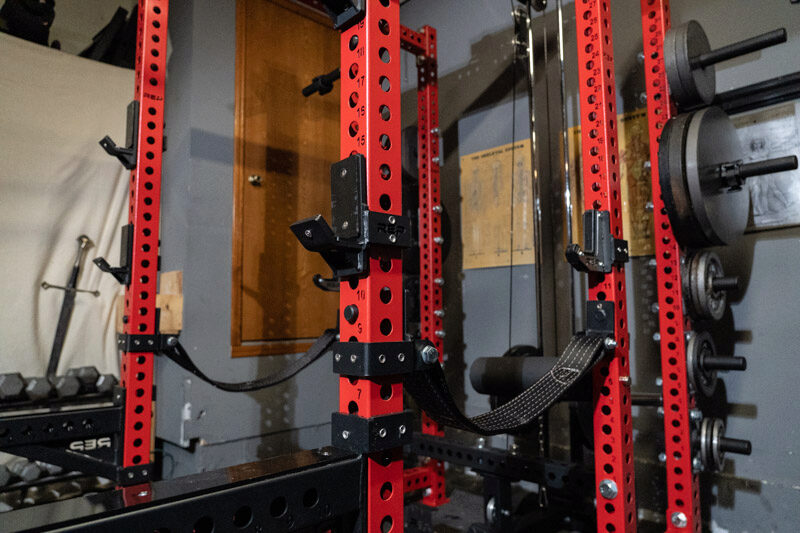 As much as I'd love to recommend 3-inch-by-3-inch, 11-gauge racks with 1-inch laser-cut numbers with all the trimmings to all of our readers, I cannot in good conscience do so. The racks are, by and large, completely overkill for a majority of home gym owners (not so with all of the strength coaches and commercial gym owners that follow us). For example, the strongest gym in the world, Westside Barbell, still uses 2-inch-by-3-inch, 11-gauge cages without issue.
Great for:
Home gym owners who want a lifetime rack, but at a better price than many competitors
Those wanting an infinitely expandable rack
Trainees who want endless accessory options and like modularity
REP Fitness PR-5000 Power Rack Specs
| | |
| --- | --- |
| Depth Options | 30 or 41 in |
| Height Options | 80 or 93 in |
| Material | 3-in x 3-in 11-gauge steel |
| Weight capacity | 1,000 lbs |
| Hole spacing | 2-in spacing between holes |
| Color Options | Metallic black, matte black, red, blue, green, orange, clear coat |
| Pull-Up Bars | Four options |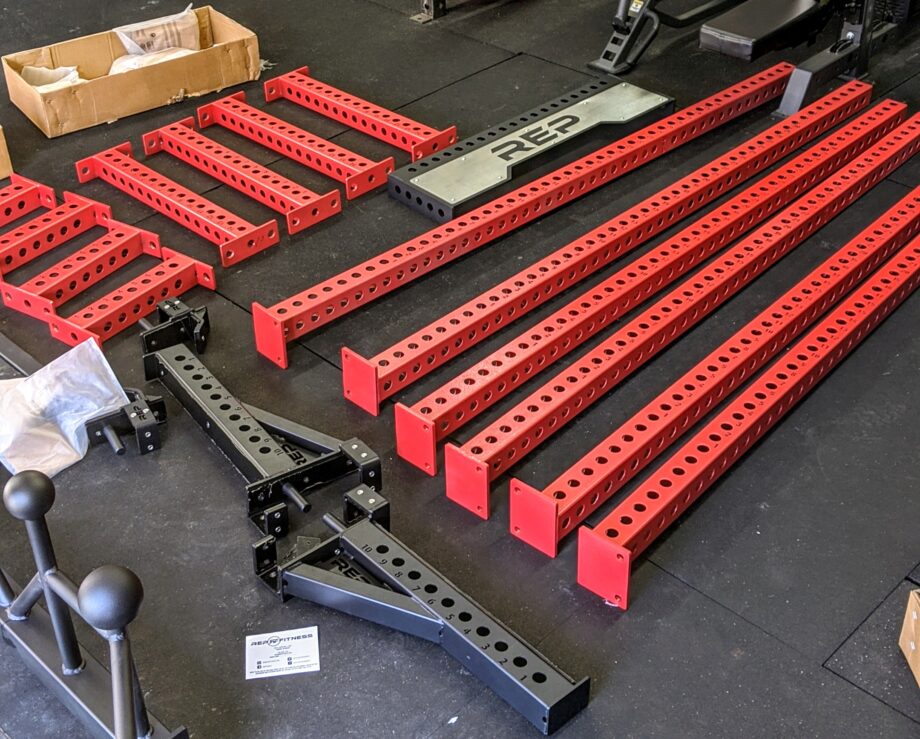 Built Like a Tank With Infinite Expandability
There's a lot to like about the PR-5000, but by and large, the best feature is the materials chosen.
The PR-5000 uses 3-inch by 3-inch uprights and crossmembers that are 11-gauge steel, which is thick steel tubing. This gauge of steel has pretty much become the standard for squat racks today and can be seen on nearly every rack (worth recommending) on the market.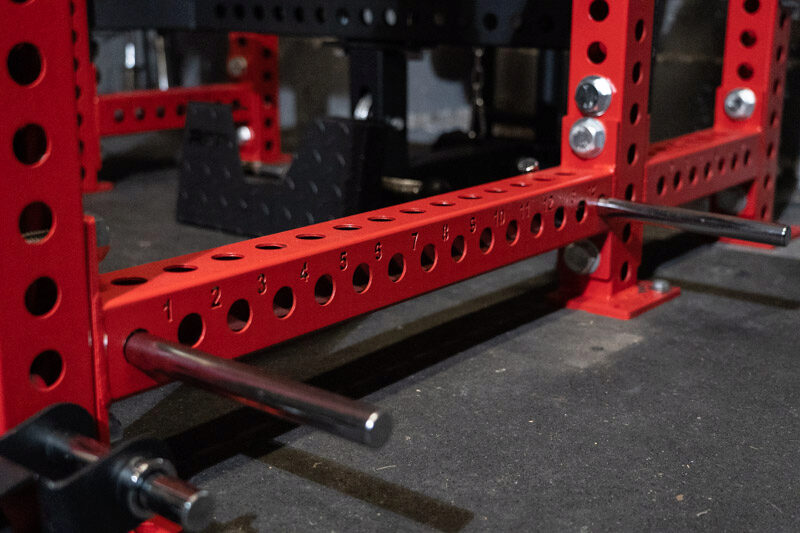 Although 7-gauge is a thicker steel that was initially displayed on some of the earlier Ferraris of racks, it's truly overkill. You could even say that a rack with 11-gauge steel is overbuilt, because most of us don't need anything nearly this strong. Still, it feels good to know when you're going heavy that these uprights truly support you.
Even the welds on the racks are better than we expected. Although they're not quite as good as Rogue or Sorinex, REP is using robot tube welders that apply rather clean lines with little overspray. This is done throughout the rack and extends to many of the accessories.
One thing I really like is that the uprights on the PR-5000 are 47 inches apart, which is preferable as it allows for easier re-racking of an Olympic barbell. This has never been a huge deal for me, but to many, it's very important. Rogue is known for having 49-inch spacing, which has caused quite an annoyance to some, so I would say 47 inches was a good choice (although that means many of Rogue's pull-up bars won't work on Rep, and vice versa).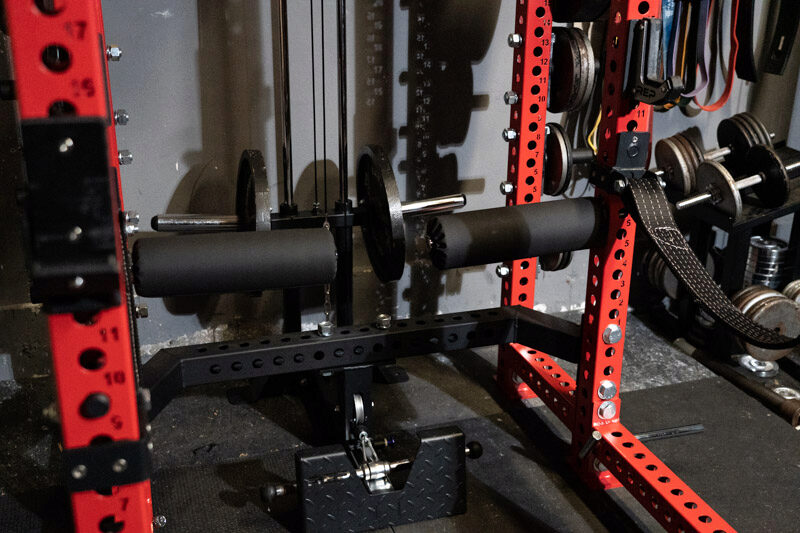 Four-Way Hole Design
In order to make the rack infinitely expandable and have the ability for trainees to make different configurations, REP made the smart decision to laser cut 1-inch holes from top to bottom, on every side of the upright, 2 inches on center. It appears by strength history lore that Sorinex was the first to offer a four-way hole design; however, it's since become the go-to and is ideal (even better than 7-gauge racking seen on companies like Legend Fitness and Hammer Strength).
The reason we like a four-way hole design so much is that it allows the user to decide how to configure. There are many racks on the market today with great designs, but because they use two different hole sizes (say 1-inch holes for the squat area and other-sized holes for the attachment and crossmember area), it becomes very difficult for the user to build the rack however they'd like.
I don't know about you, but if I'm spending nearly 2 grand on a squat rack, I want to make it how I'd like and have the ability to change it as my needs and goals change (which, by the way, happens often for me; I change the layout of my garage gym nearly once a month).
If you're a commercial gym owner or are looking to add new racks to your university, a four-way hole design like what the PR-5000 V2 has will allow you to string racks together, put racks back to back, and make racks with 20 posts if you want. The options are only limited to your imagination and bank account.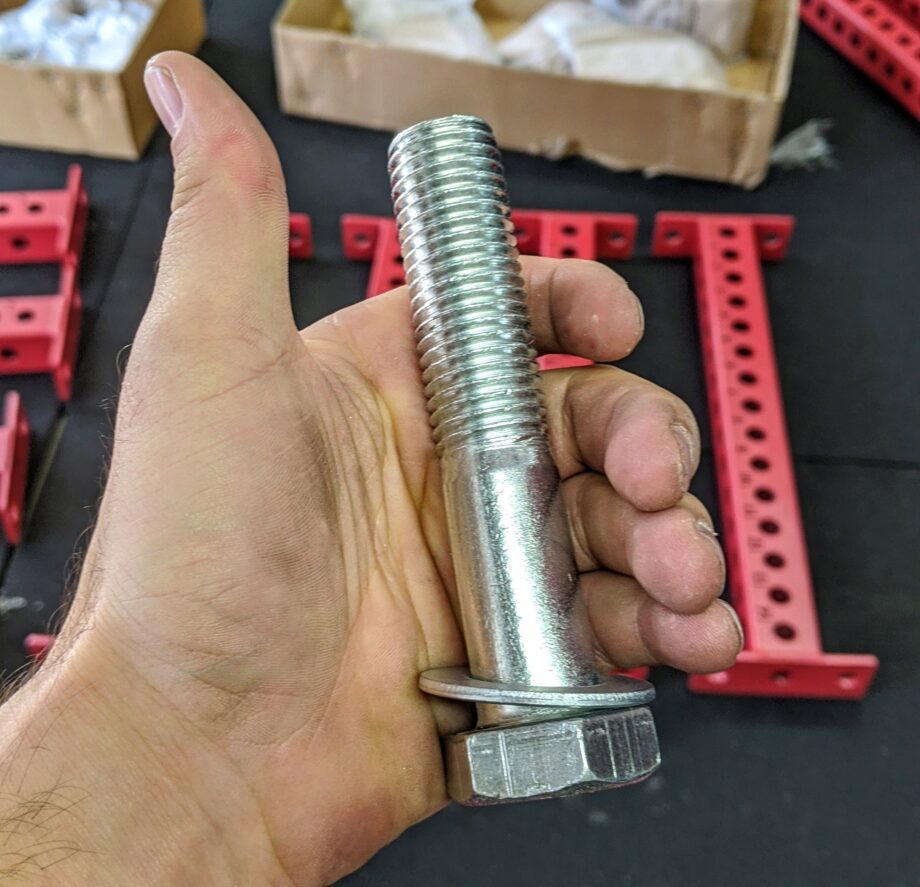 Hardware
In order to connect all of the crossmembers, uprights, pull-up bars, and other attachments, REP uses oversized, absolutely beefy 1-inch hardware. One-inch bolts and nuts are massive and completely unnecessary, but they look awesome.
Using hardware like what's seen on the Rep PR-4000 Rack Series or Rogue Monster Lite Series works well, but it doesn't look nearly as good as 1-inch hardware. Honestly, putting lesser hardware on a 3-inch-by-3-inch tube is like throwing slim tires on a Ford F-350; it just looks out of place.
Attention to Detail
Just so we're clear, in case this is your first time to Garage Gym Reviews, I really like details. I like knowing that a company put extra thought into various aspects of their products. Simply making a product and slapping a logo on it is fine for a basic, cheap piece of equipment. But if you're going to charge what the REP costs (especially for an imported product), then you better believe I (and most of the market) expect well-engineered and well-designed features.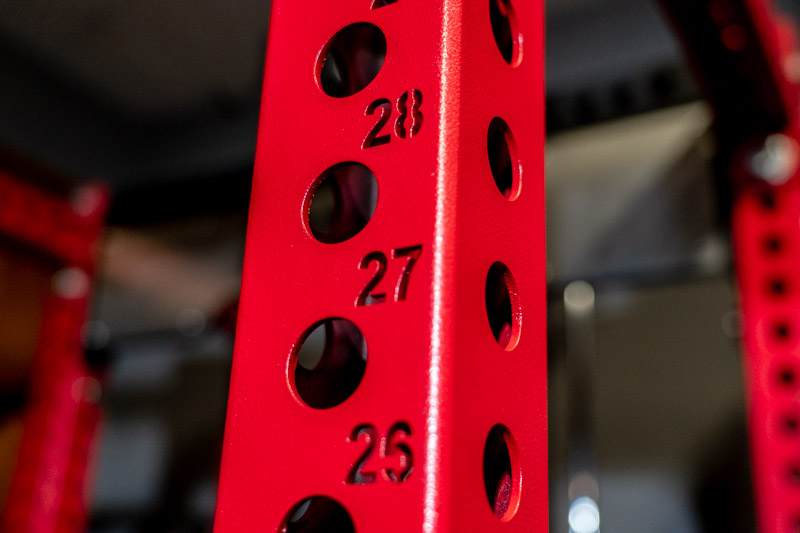 Laser-Cut Numbers and Logo
I like laser-cut numbers on every hole as much as the next guy, but more numbers mean increased manufacturing costs, which, in turn, means a higher cost to the customer. Although the PR-5000 V2 is an expensive power rack, it's still somewhat budget-friendly in comparison to some of the competition.
REP, in an effort I would assume to save costs, has added laser-cut numbers in the areas most used. Meaning, they have numbers for 1-30 on the front and back of the uprights as well as on the inside and outside of the bottom and top cross members. (I'm really glad they added numbers on the cross members, by the way.)
Laser-cut numbers make it easy to switch your j-cups and barbell when going from squatting to bench pressing as well as when you're adding attachments. They prevent the rack from having chalk and tape that is often used by home gym owners to identify where they bench and squat.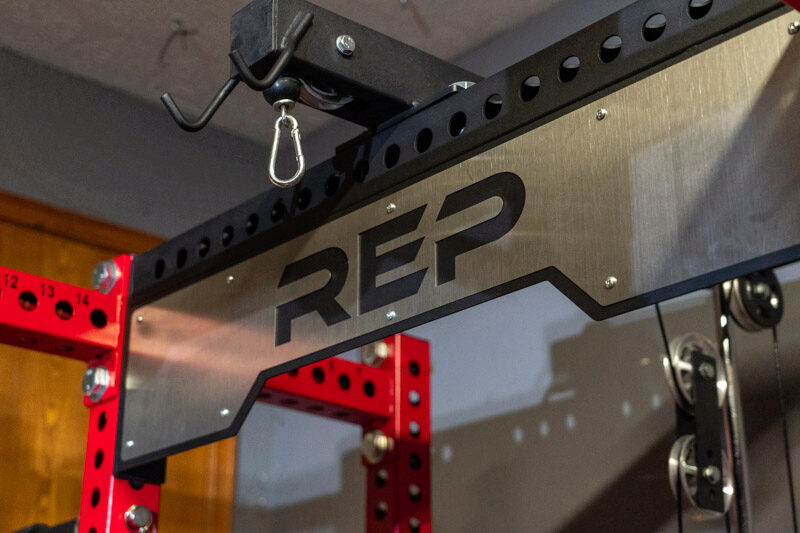 In addition to the numbers, REP Fitness hasn't used any stickers on the PR-5000 V2 at all. I've been rather vocal about companies using stickers on expensive pieces of equipment and it's nice to see that REP has listened. To replace the stickers, REP has laser-cut their logo (tastefully) on their arch logo, j-cups, safety bars, uprights, and other places. They didn't make the logos gaudy or put them everywhere, just in enough places that you know who made it and can be proud of it.
A few other details I really like:
UHMW j-cups to protect your barbell
Ultra-high molecular weight polyethylene (UHMW) coating for attachments to protect paint
Robotic welding and powder coating for better consistency in appearance and strength
Optionality
REP Fitness did a complete overhaul of its website in late 2021. With those changes came an updated rack customization system that is easy to navigate. We used to recommend building out your rack on desktop only, but the mobile version of the REP site is fantastic now.
When you are building your rack, you have a number of options to choose from right off the bat. Keep in mind that just about every upgrade has an added cost to it: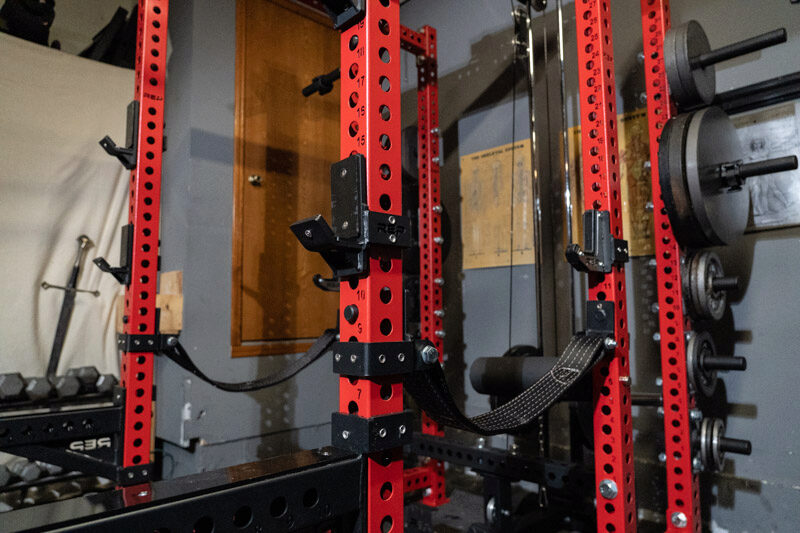 Height: The first choice you have is how tall you want the uprights: 80 inches (great for basement gyms or those with short ceilings) or 93 inches. There used to be a 100-inch option, but it looks like that's no longer available.
Depth: There are also depth options including 30 inches, which makes a big, yet somewhat compact rack; and 41 inches for those who like a lot of space to work with when doing box squats, plyometrics in the rack, or other strength training workouts.
Colors: In addition to the height and depth of the rack, there are a wide array of color options to choose from. There are many powder coat colors, including metallic black, matte black, red, blue, green, orange, and clear coat.
Weight Storage: There is an option to add on bumper plates weight storage uprights and crossmembers in colors that match your rack. You can also choose to add weight storage horns (which, if you're adding on the uprights, you may as well get unless you have your own system).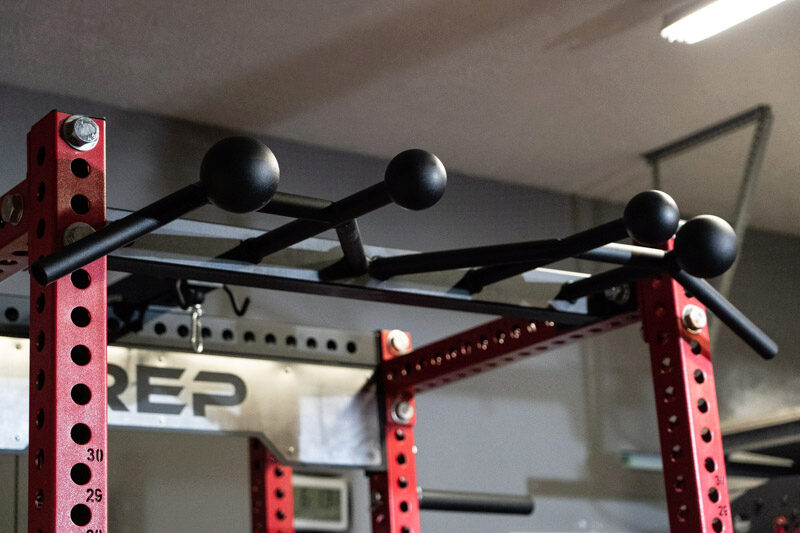 Pull-Up Bars: The pull-up bar options are focused mainly on the most popular types like a standard 1.25-inch pull-up bar great for CrossFit athletes that like to kip and do muscle-ups; along with a fat grip 2-inch pull-up bar; a multi-grip pull-up bar seen most often in powerlifting gyms; and a globe pull-up bar (which is the one we chose).
J-Cups: Choose from standard, flat, or round sandwich j-cups.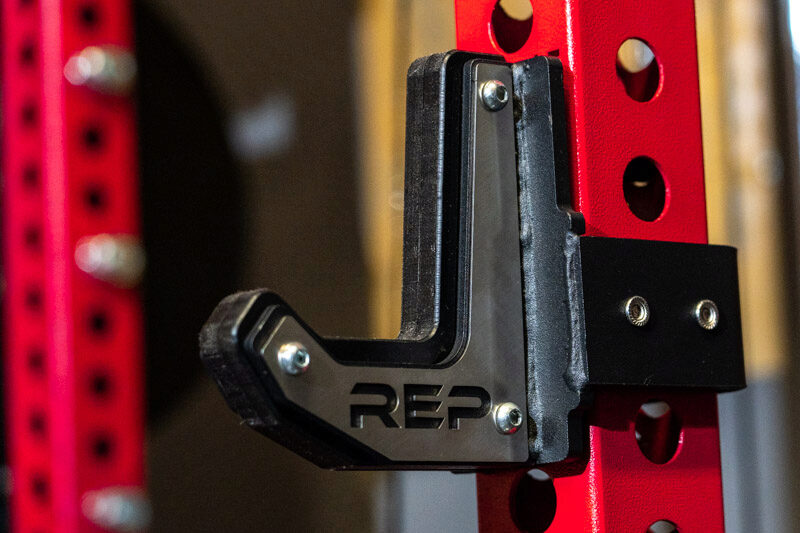 Accessories
If a company comes out with a squat rack without committing to having a full line of compatible attachments, they're going to have a hard time gaining wide acceptance. We've seen this with the Titan TITAN Series Rack that for all intents and purposes is very similar to the REP PR-5000 V2, however, they have few options and even fewer accessories.
REP has an entire line of accessories for the PR-5000 Series, which has been done in a similar fashion on its PR-4000 series (another great rack we recommend.)
The list of current accessories available as of this writing is as follows:
| | | |
| --- | --- | --- |
| Spotter arms | Flip-down safeties | Barbell tube stand |
| Rear base stabilizer | Pin pipe safeties | Dual barbell hanger |
| Front foot attachment | Strap safeties | Monolift attachment |
| Dip attachment | Lat and lat row attachment | Belt squat |
| Band pegs | Landmine attachment | Cable catch |
| Leg roller | Utility horn | ISO arms |
This is one of the benefits to a versatile rack with holes throughout and why we recommend them to home gym owners. Buying a rack that is limited on holes and therefore limited on accessories is a big mistake. So is buying a rack with unusual sizing. For instance, REP Fitness used to sell racks between 2 and 3 inches in width. This prevented people from adding the accessories they wanted.
In addition to all of REP's accessories being compatible, so are those from Rogue Fitness, Sorinex Exercise Equipment, and Titan Fitness that are made for 3-inch-by-3-inch uprights with 1-inch hole sizing. This means if you don't like REP's accessories, but like the price and quality of the rack, then you can add the attachments from Sorinex and Rogue later on.
The quality of Rogue and Sorinex attachments are better, so combining the two is a good idea. I plan to use accessories from all sorts of the companies on the rack.
A Few Concerns With Attachments
First off, and this is a bit of a gripe, but the level of quality of the accessories for the PR-5000 V2 aren't all up to the level of quality of the racks. For instance, the j-cups are great–outstanding even–with their sandwich-style that uses UHMW plastic on all parts touching a barbell or the uprights and stainless steel, laser-cut covers, but the Globe Pull-Up Bar features slick powder coating and ugly welds with overspray throughout.
The plate-loaded lat pulldown, although a good budget-friendly option that is center-mounted (love this feature) at just over $400 that also includes a stabilizer, isn't quite the level of quality as the rack itself (although there should be a weight stack option on the horizon).

The powder coating is okay, the assembly wasn't the greatest (although I'm thankful they saw our post on Instagram about their instructions and made a video and detailed PDF within two days), and the lat pulldown bar and low row accessories that came with it are cheap.
I totally get selling a budget-friendly option, but I know REP could come out with an option that's equal to the level of the rack. I bring this up because the belt squat is a truly innovative solution, but it's going to be hooked to this lat pulldown that is less than stellar with nowhere near as good of quality as say, the Rogue Rhino.
There are a few other minor gripes on the accessories: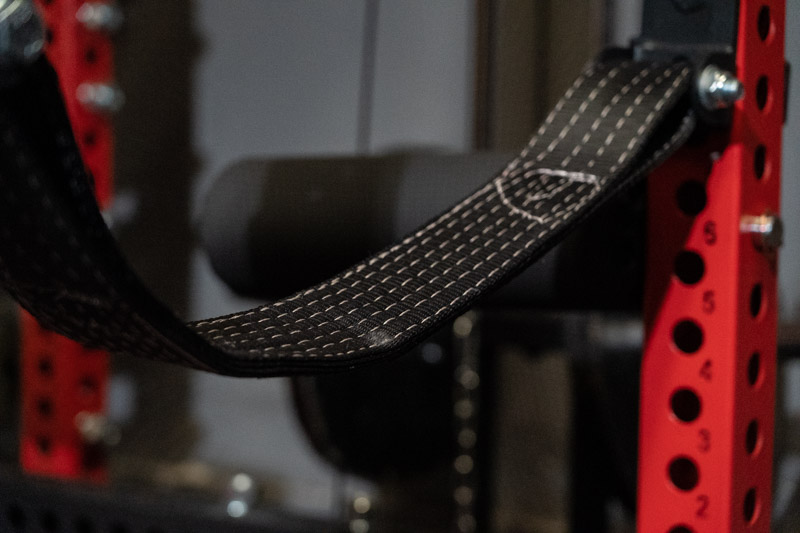 The strap safety attachments are faced the same way
A lot of iron sand fell out of the box when we opened the spotter arm box (thankfully the only box that had it)
The leg rollers use hitch pins, but there's no cords attached to the clip so they don't get lost like what Sorinex features.
The leg rollers also use a less dense foam than I think they should as well as the same material REP uses on their FB-5000 Bench, which we like for the bench, but due to the way it's secured on the end, I'm worried it won't wear well over time.
Outside of these things though, the accessories are pretty good. The weight horns that hold Olympic plates are coated in urethane as are the utility horns that can be used for dips, pull-ups, and other accessories. The leg rollers aren't quite as secure as Rogue's, which feature a lock-nut, but work well and have decent vinyl and foam attached.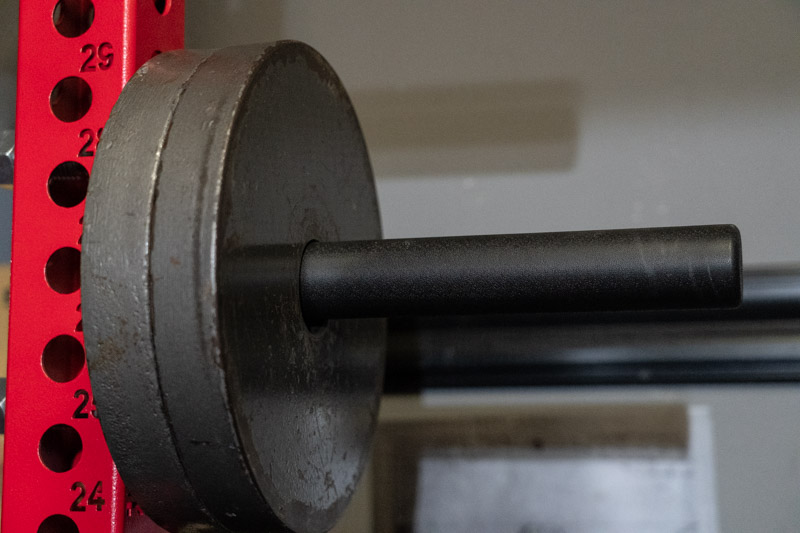 Are the accessories as good as the rack cage itself? Not all of them. However, they are cheaper, they do have some unique features, and if you don't like them, you can easily add options from other companies. All in all, the accessories do not turn me either onto or off the rack (although that belt squat is pretty sweet).
What We Don't Like About The REP PR-5000 V2
I think it's important to start off by saying that despite the rack being imported, the quality control of the products we received was quite good. There were some issues with our order, however, that was because we were one of the first to order and they were quickly corrected.
With many imported products, you end up with iron sand and a ton of missing parts (anyone who has ordered from Titan knows this all too well), but the REP racks exceed Titan greatly. I don't think most people would be able to tell many differences between the PR-5000 and say a Monster Series, regardless if someone who writes about gym equipment all day like me does.
With this said, these are improvements we could see made.
The powder coat that's used on the rack is glossy, yet more textured than Rogue, Sorinex, or EliteFTS / Williams Strength. It's not bad, and you can't really tell from a distance, but I prefer a smoother surface. I think this is more of a preference thing than anything as some will prefer the opposite.
Next, REP uses bright zinc hardware throughout. I don't mind bright zinc, however, I would have liked to see the option for black zinc hardware, as I know many prefer it. It does wear more over time, but again, it would have been a good option and something that can surely be added eventually.
Additionally, although I like the stainless nameplate, it would have been cool to see colors or have the option to customize this part. I'm sure this will happen as orders increase, but for now, the current logo is definitely a step-up from the HR-5000.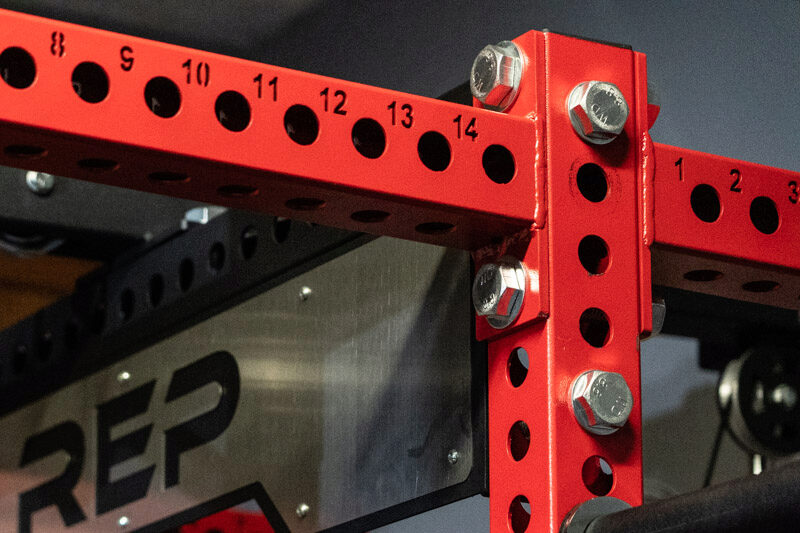 Lastly, outside of the attachments not being at the same level as the rack, is that the top crossmember isn't flush with the top of the uprights. This is the same for the Sorinex XL Rack, but I really like having a flush crossmember as it gives you the ability to add accessories like the Rogue Slinger and other forthcoming things from many different companies.
As you can see, these are all pretty small things, which is crazy considering how much of an undertaking this project must have been for REP. I am very impressed.
Rep PR-5000 V2 Vs. Rogue Monster Power Rack
The rack most people are going to be comparing the Rep PR-5000 V2 to is the Rogue Monster Series of Racks like the RM-3, RM-4, and RM-6.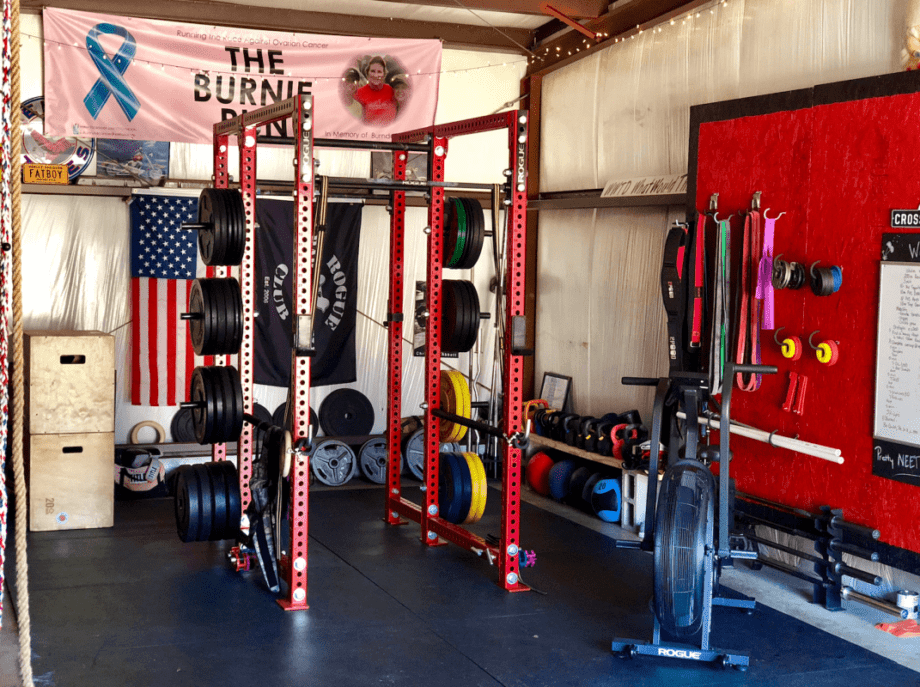 Here are the things that are different:
The Rep PR-5000 Rack is imported and the Rogue Monster Series is made in the USA.
The REP PR-5000 uses a more textured powder coat with slightly fewer colors than Rogue.
Rogue uses a top flush mount crossmember while REP uses the same crossmember for top and bottom.
REP has a budget-friendly lat pulldown option (which could be used on either rack).
Rogue has more accessories, but they're interchangeable, so not a big deal either way with some modification.
Rogue has more laser-cut numbers.
Rogue has a higher upright option standard, REP has a lower upright option standard (although Rogue can custom cut their uprights to a desired height. Not sure about REP).
Rogue uses keyholes on the side of the rack, REP does not.
Rogue Monster Racks are 49 inches to the outside posts; REP's are 47 inches (similar to Sorinex).
Outside of this, the racks are very similar. I'm sure I'll get emails from both sides for clarity, but currently, this is what I see.
Regarding price, REP is quite a bit cheaper depending when you build both racks to be as close as possible to each other:
| | REP PR-5000 V2 | Rogue RM-6 2.0 |
| --- | --- | --- |
| Price | $1,169 | $2,380 |
| Uprights | 93 in | 90 in |
| Depth | 41 in | 43 in |
| Hardware | Bright zinc | Bright zinc |
| Pull-Up Bar | Single | Single |
| Coating | Powder coat blue | Powder coat blue |
| J-Cups | Sandwich-style | Sandwich-style |
| Safeties | Straps | Straps |
Granted, there are both smaller and larger price discrepancies between the racks depending on the options chosen, but overall, the REP Rack is clearly cheaper. And, to be honest, it should be. USA manufacturing is more expensive, and although the PR-5000 Squat Rack is more than good enough for most people, Rogue overall has a better fit and finish.
So, do we recommend the Rogue Monster Rack or REP PR-5000? Well, as with most things, it depends on your situation. However, for most people, the PR-5000 is going to offer a similar level of functionality and looks as the Rogue Monster Series at a lower price. If made in the USA with US-sourced steel is extremely important to you, then go with Rogue or Sorinex. However, it's not like REP is a foreign company, they do employ 50+ people in the US and are based out of Colorado.
Rep PR-5000 V2 Vs. Sorinex XL Power Rack
The Sorinex XL Power Rack is more expensive than both the Rogue Monster Series and REP's options. Sorinex also typically appeals to a more professional crowd than home gym owners. With this said, however, Sorinex is making some of my favorite equipment. The brand's outside-the-box thinking combined with high-quality craftsmanship has led to it having one of the most esteemed names in the industry.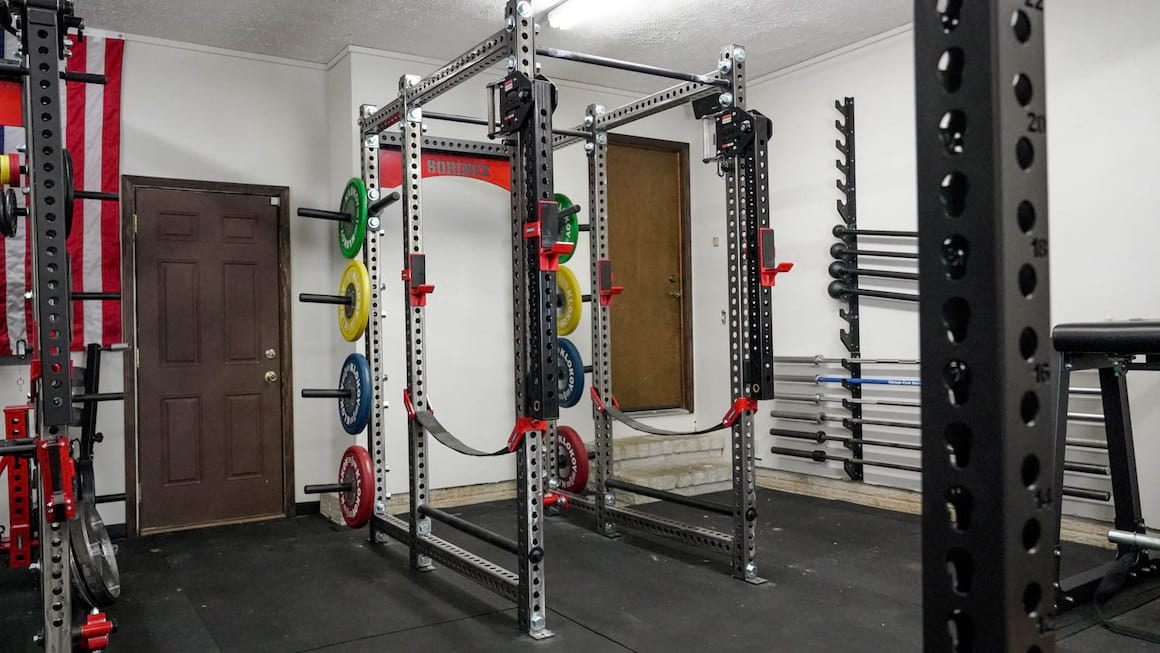 When compared to the REP PR-5000, the Sorinex XL Power Rack is more similar than the Rogue Monster Series Racks due to the 47-inch width, four-way hole design that excludes keyholes, and the design of the top crossmembers.
If the Rogue Monster Rack is too expensive for you and you were, therefore, going to look at REP, then Sorinex is definitely out of your price range.
Would we suggest a Sorinex XL or BaseCamp Rack over the PR-5000 V2 to most people? No. Again, most people wouldn't notice the difference in details and would rather spend less. I wouldn't say the esteem of REP PR-5000 Rack is on the same level as a Rogue Monster or Sorinex XL Rack (meaning, resale value would be less and perceived value is less); however, I also don't think most people care.
If you want the customization ability and quality of Sorinex, go with them. If that doesn't matter and you want to spend less, then REP will get you 90% of the way there.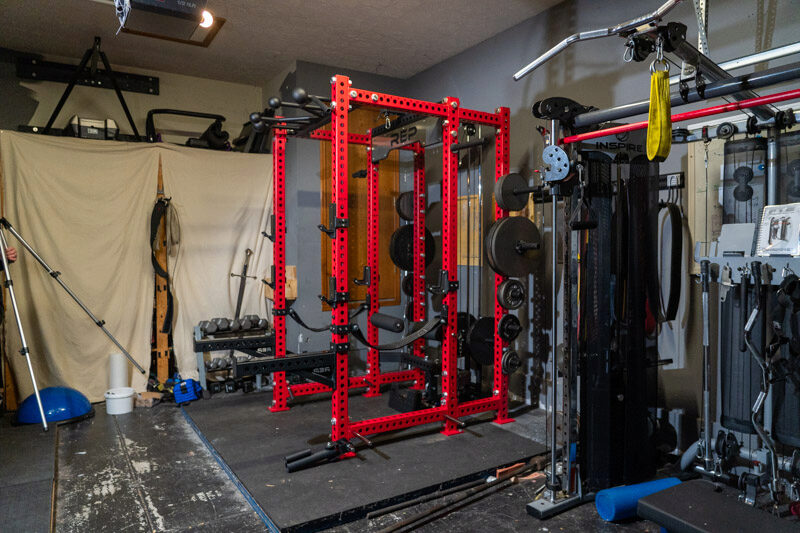 Customer Experience
REP Fitness offers lifetime warranties on all rack frames as well as on structural welds on attachments. However, items like pop-pins, pulleys, and cables come with just a one-year warranty.
I have always had a good experience working with REP if I'm missing parts or have an issue with a product. When it comes to returns, you have 30 days to determine whether or not to keep your rack. If you choose to return it, you have to contact REP for an authorization and will pay as much as a 15% restocking fee if you have used the product and it's not in its original packaging. You might also have to pay shipping.
Customer Reviews
When REP redesigned its website, something happened and customer reviews completely disappeared. So we went to our Home Gym Community on Facebook to find what our readers were saying. There were a lot of very happy customers, as well as people who chose to use Rogue attachments on the PR-5000:

Final Verdict of Our REP PR-5000 Power Rack Review
Years later, and we still feel that the REP Fitness PR-5000 Power Rack is one of the best racks you can get. It's affordable and made with high-quality materials. Time and again, we will recommend this to people who have the money to spend on an overbuilt, highly customizable rack.
Full Rating
REP PR-5000 Power Rack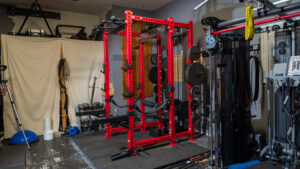 The REP PR-5000 V2 Power Rack is the most complete piece of equipment that REP Fitness has released to date. The PR-5000 Squat Rack uses the familiar 3"x3" uprights with 1" holes and is designed to rival the Rogue Monster Series and Sorinex XL Series of racks at a more affordable price point. If you're looking to outfit your home gym with a new rack and want high-end quality with infinite expandability that is priced lower than competitors (and don't mind an imported rack) then we recommend the PR-5000 V2.
Product Brand: REP Fitness
Product Currency: $
Product Price: 864
Product In-Stock: InStock
REP PR-5000 Power Rack FAQs
Are REP power racks good?
At Garage Gym Reviews, we have thoroughly tested racks from REP, Rogue, Sorinex, Titan, and many other leading brands. REP Fitness has proven itself to be making some of the best power racks on the market, including its line of fully customizable options with the PR-4000 and PR-5000. We love the solid construction, vast array of attachments, laser-cut numbers and attention to detail.
Is REP as good as Rogue?
REP Fitness and Rogue Fitness are two of the leading brands in the equipment industry, producing equipment great for home gyms and commercial gyms. In the last few years, REP has really started competing with Rogue, especially when it comes to power racks and accessories. 
Many of Rogue's products are made in the USA, whereas REP (based in Colorado) imports many of the items it sells. We think that generally, Rogue still has an edge on REP when it comes to quality, but Rogue is usually more expensive, which doesn't always appeal to the home gym crowd.
Our team owns equipment from both brands, and we believe that both have advantages and disadvantages. 
Does the Rep PR-4000 need to be bolted down?
The REP PR-4000 (and the PR-5000 series) have front foot extension attachments, which provide increased stability and typically means you don't have to bolt the rack down. However, if you don't have the front feet, or if you are doing kipping movements on the pull-up bar, it's wise to bolt down the rack.
How wide is the REP PR-5000?
The REP PR-5000 features a 47-inch width, which is great when racking and un-racking a barbell.