We test and review fitness products based on an independent, multi-point methodology. If you use our links to purchase something, we may earn a commission. Read our disclosures.
The Prime Fitness Prodigy Racks pack the most versatility and functionality in a squat rack of any we've tested. If you were to combine a squat rack and functional trainer into one unit, you'd have the Prodigy Rack from Prime Fitness. After testing the plate-loaded version of the Prodigy Rack, we can confidently recommend the racks to those that want a highly versatile rack in a small amount of space and don't mind the premium price tag.
Prime Fitness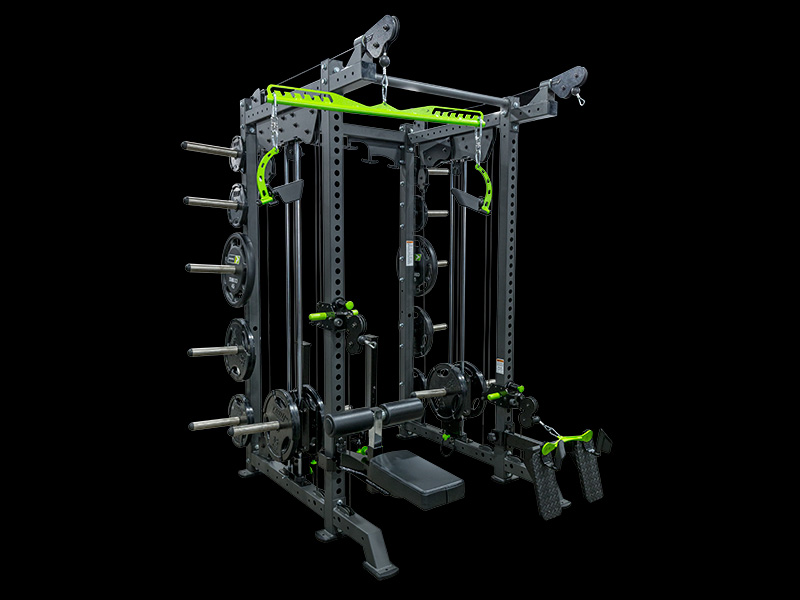 Prime Prodigy HLP Plate Loaded Rack
Similar to its HLP Selectorized counterpart, the Prodigy HLP Plate Loaded Rack features two dual pulley systems for an extraordinary amount of functionality and exercise possibilities. What makes the HLP Plate Loaded Rack unique is PRIME's cable ratio technology.
Prime Fitness is likely a somewhat lesser known company to those in the home gym space, but they've been making a big splash lately by teasing their Prime Prodigy Racks. Thanks to a unique design featuring the combination of a functional trainer and squat rack, the Prodigy Racks are likely the most versatile squat rack currently available. These racks feature incredible attention to detail (some of the things they thought of blew us away) and marry two pieces of equipment that typically take up the most square footage in a garage gym—the squat rack and cable machine/lat pulldown.
Although it's ideal to have a separate squat rack, cable machine, and lat pulldown, not only will that be grossly expensive, but most home gyms simply don't have the space. Although there are some minor shortcomings with the racks, overall, we love the design, features, finish, and performance of the rack and recommend them to anyone who wants a transformer of a rack and doesn't mind paying a premium for a premium piece of equipment.
Video Review
Who is Prime Fitness?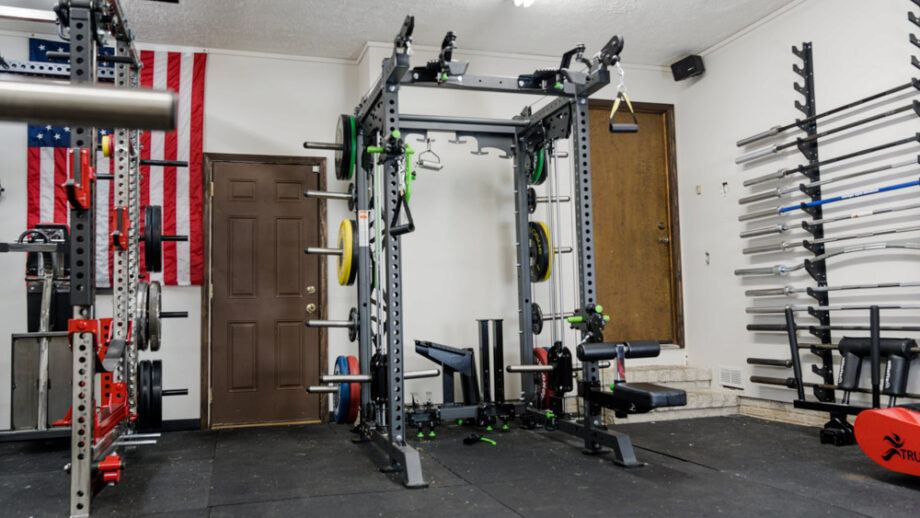 Prime Fitness started popping up on my radar a coupleof years ago or so. I was visiting a gym and noticed theyhad some new machines that were black with a bright lime green accent color throughout the machine. Although I don't typically train with machines seeing as I'm in a garage gym, I loved the feeling of them and the ability to load different parts of the machine to fatigue different parts of the movement.
Flash forward a few months and I had a guy ask me about what I thought about Strive Fitness Equipment machines. Turns out, Prime Fitness is essentially Strive Fitness. To make a long story short, Strive Fitness has made some of the most well-liked fitness machines of all time. Thanks to their research-backed designs and over-engineered build, Strive Fitness machines are hard to find because no one wants to get rid of them. Unfortunately, Strive Fitness Equipment was both expensive and lacked the marketing dollars to make them a household name. The guys behind Prime Fitness also operate a manufacturing plant that made the equipment for Strive and offered to buy out the company to prevent them from going into bankruptcy. With a new owner and rebuilt team, Prime Fitness has brought the Strive Fitness machines into the 21st century, along with many new inventions like the Prime RO-T8 Handles that we positively reviewed previously.
One unique thing about Prime Fitness is that their equipment is close to 100% made at their manufacturing plant in Pittsburgh, Pennsylvania with US Steel. This extends to even some of the items that hardly anyone makes in America like the weight stacks used in their various selectorized machines. Although this increases the price on items, this allows them to control every aspect of the manufacturing process and reassures customers that they're getting a piece of equipment that is pretty much 100% made stateside.
What is the Prime Prodigy Rack?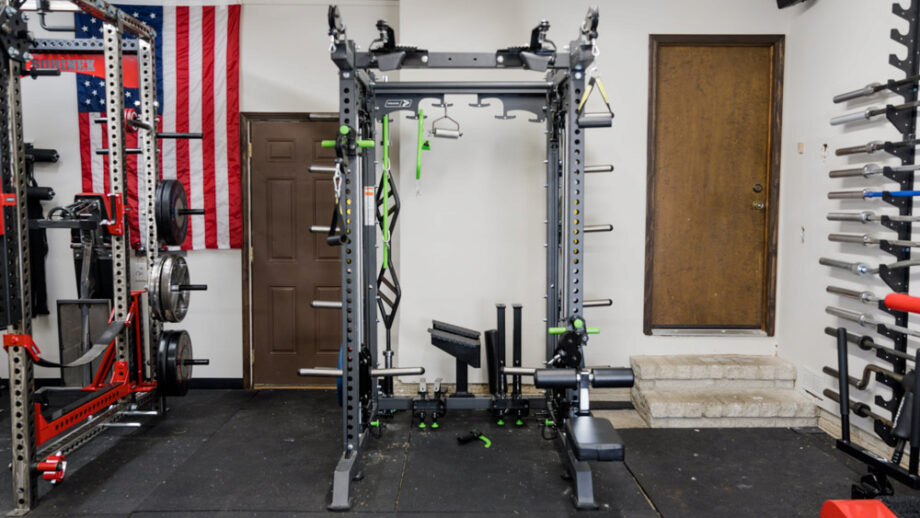 The Prime Prodigy Rack is a squat rack that combines the functionality of a functional trainer and lat pulldown to create an all in one barbell/cable-based rack in as little square footage as possible. The Prime Prodigy series of racks actually come in four different variations. A half rack, full rack, plate-loaded version known as the Prodigy HLP Plate Loaded (the version we're reviewing), and a selectorized version known as the Prodigy HLP Selectorized. Each rack features 3″x3″ 11-gauge uprights combined with 5/8″ hardware and 1″ holes for accessories, the Prime Prodigy Rack is strong enough to handle just about any weight you plan to lift.
Although every rack version looks stout, it's the Prodigy HLP Selectorized and HLP Plate Loaded versions that we're most interested in due to them standing out from the sea of power racks available today. The idea behind the HLP racks is that they're designed to be able to replace three large, heavy, and expensive pieces of equipment—the squat rack, lat pulldown, and functional trainer. Each of these pieces are known for being expensive and taking up a large amount of space. For the home gym owner, having a rack that packs a lot of functionality into one unit, is ideal, not just for saving money but also for saving space. The Prodigy Racks can also be used in a commercial setting, although we think gyms outside of those that do a lot of personal training would be a bit limited with the rack as only one person can work on it at a time.
What We Like About the Prime Prodigy Racks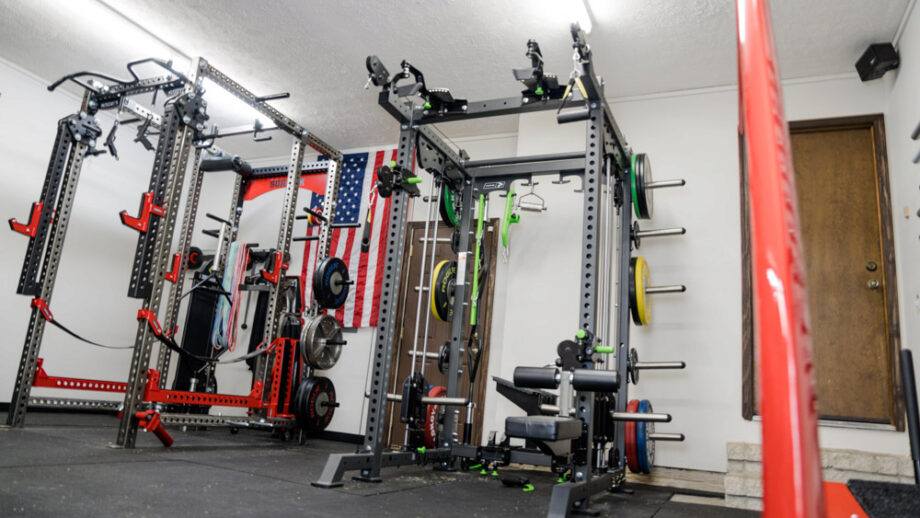 After spending more than 3 weeks and 20 training sessions among a few different people, we've concluded that the Prime Prodigy Rack, specifically the Prime Prodigy HLP Plate Loaded Rack is one of the best all-in-one racks currently available. Sure, there are some minor shortcomings that I'll mention later on, but there really isn't much available currently (that will change I'm sure) that can compete with the quality and quantity of exercises that can be done with this rack.
The uprights and cross members that make up the Prodigy line of racks are standard fare. 3″x3″ 11-gauge steel has become the customary steel used for racks due to its strength and stability. I know Prime has used 7-gauge steel in the past on some of their previous racks, but I don't think it's needed and would just add extra cost and weight to an already pricey rack. The Prodigy HLP Racks feature what is essentially a half-rack to lift on—meaning two uprights that attachments can also secure to, and fully integrated selectorized or plate-loaded weight trolleys on the back half of the rack.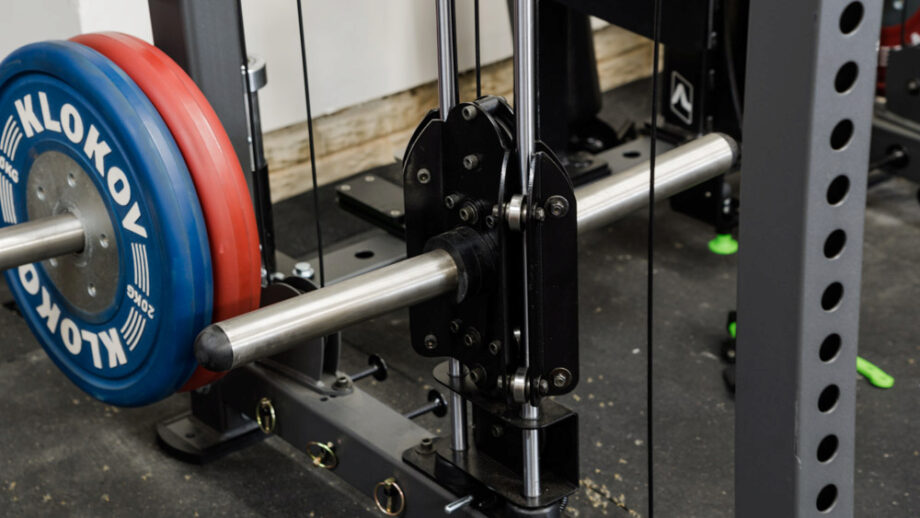 Without a doubt, the stand out feature on the Prodigy Racks are the use of weight trolleys within the rack. The plate-loaded version, which is the one we received to review, and also the one we'd suggest for most reading this, allowsthe rack to go from just being able to beused with a barbell, to offering two adjustable attachment points and two overhead attachment points. This, essentially, turns the rack from just a power rack where the barbell is used to a piece of equipment that you'll use for pretty much every weighted exercise you can think of. The best part of this whole situation is that the additional functionality of the rack comes with no additional space requirements. Instead of having to buy two separate pieces of equipment in addition to a rack that will be both expensive and space consuming, you'll have three multi-use and varied pieces of equipment in one.
In regards to the performance of the cable system, it works very similarly to a standard functional trainer with some additional usability. I'll speak primarily to the HLP Plate Loaded version as it's the one I have on hand to test, but it can do just about everything my Free Motion Dual Cable Cross Functional Trainer can do (albeit without as many adjustments), while also offering a lat pulldown and squat rack.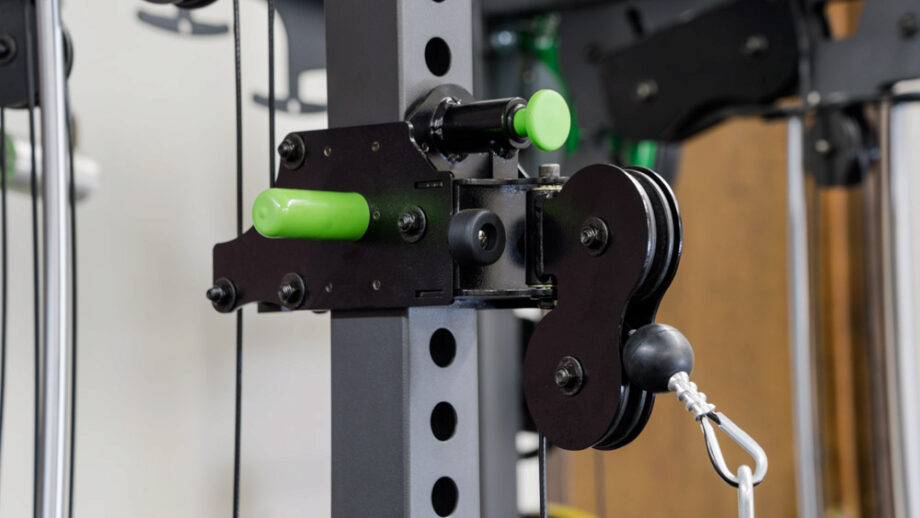 One thing we've noticed about this rack as that there were few details overlooked. The cables are made in the USA and some of the highest quality you can buy, the pulleys are strong and able to take a lot of abuse, the pins used on the functional cable carriages are stainless steel and adjust up and down on the upright pretty smoothly, the guide rods are high quality while the plate posts on the guide weight carriage are stainless steel with rounded rubber end caps. Even the overhead cable pulleys feature swivel heads instead of being fixed like most lat pulldowns that yet again increase what you can do with the rack. The amount of engineering that had to go into this thing is insane, and thankfully, they didn't cut any corners because it would be very easy for something to go wrong with so many moving parts, especially under load.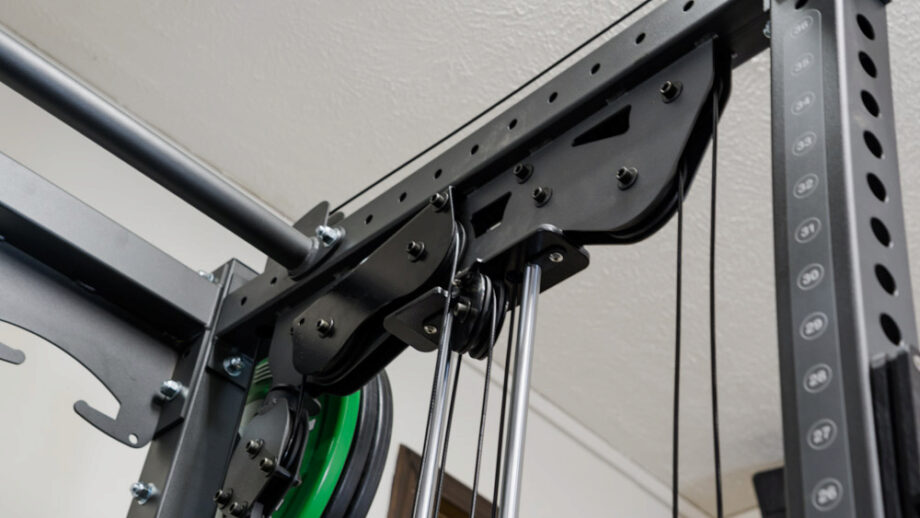 The back of the rack features plate posts, again, made out of stainless steel with round, rubber end caps that make it easy to put plates on and will look as good next year as they do today (takes notes Rogue.) Also on the back of the rack are cross members that connect the two racks together. The top cross member features hooks for various cable accessories to hang from while the bottom has holes for other accessories to attach when not in use. The HLP Selectorized has another cross member that goes across the middle of the rack, which I'm surprised the Plate Loaded version doesn't as it's very helpful for storing accessories.
Lastly, one of my favorite features of the entire rack is the ability to change the pulley system from a 2:1 ratio to a 4:1 ratio. What this means is you can increase the travel of the
Overall, the Prodigy HLP Plate Loaded Rack from Prime Fitness is an excellent rack with more features than we've ever seen in a rack done extremely well. If you want an extremely high-quality rack that can do more than just about any other and don't mind paying for that quality and functionality, then you should definitely consider the Prime Prodigy Series.
Prime Prodigy Rack Accessories Review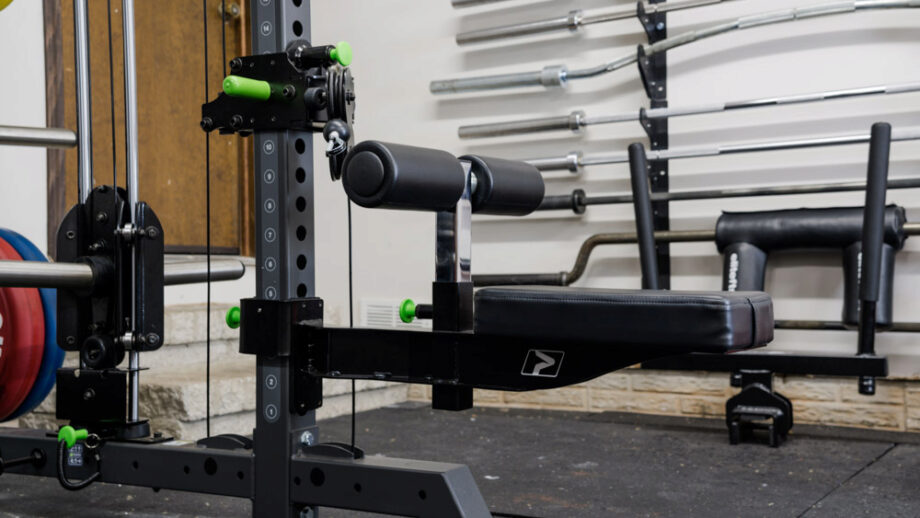 With so many moving parts on the rack, there needed to be a lot of accessories to meet the potential versatility of the rack. The problem with most companies who come out with a rack and then throw some accessories together is the accessories are typically a secondary thought. "Ahh, just throw some together that work and people will buy them" is the sentiment of many companies.
This couldn't be further from the truth for Prime Fitness and the Prodigy Rack. It seems they spent as much time on most of the accessories as they did on the rack.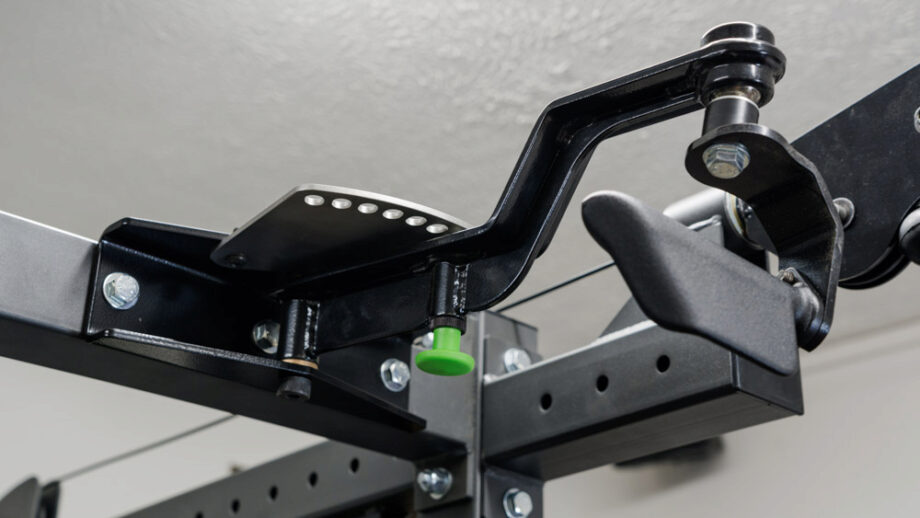 Without a doubt, my favorite accessory that came with the rack was the pull-up handles that utilize the RO-T8 Handles. Not only do they have the handles, but they also swivel 360 degrees and do so fluidly while under load. It's crazy and quite possibly the best pull-up implement I've tested. Next, the lat pulldown seat is incredibly well done. In addition to using the same foam and padding as they use on their top of the line selectorized machines that sell for as much as a small car, they even put a bend in the seat to avoid the cable to could possibly be in the way. Features like this are often overlooked and it's cool to see them notice the details as much as we do when reviewing them.
In addition to the aforementioned accessories, the Rack is available with a landmine attachment, low row platform (featuring diamond plate), step-up box, leg roller, j-cups, and safeties. Although there are some accessories that are better than others, overall, Prime did a great job. The biggest gripe, which we'll detail further in the "Shortcomings" section is with the j-cups.
Some Minor Shortcomings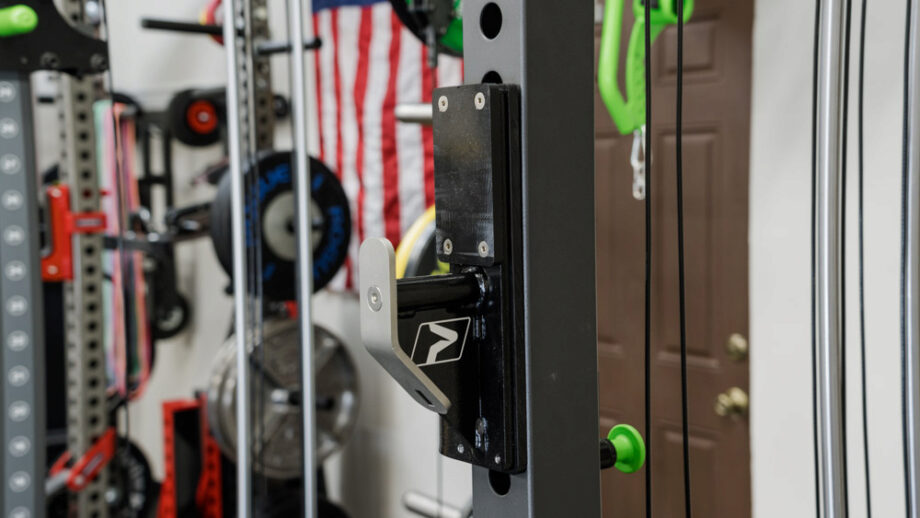 Despite the Prime Prodigy Rack being a great, premium option for those wanting a versatile squat rack, it's not without its shortcoming, albeit minor shortcomings.
First, as mentioned in the "Accessories Review" section, the j-cups are our least favorite feature of the rack. Here's why, rather than having a UHMW covered platform to protect both your barbell and j-cups, Prime Fitness uses a powder-coated bar that ends up having the barbell knurling grind into it. I'd really like to see this part of the rack improved, and it could be done pretty easily. This said, I do like that the backer pins are stainless.
The other shortcoming, and this one is pretty minor, but the plate-loaded trolley isn't nearly as smooth as I'd expect the selectorized version to be. For instance, the weight feels heavier during the concentric phase of the movement and lighter during the eccentric. Essentially, when pulling away from the rack, the trolley feels heavier than when returning back to the rack. We're hoping that this is simply due to the rack not being fully broken in, so we will continue to oil the guide rods and update this review should this change. If you want the smoothest experience, and also a better overall looking rack, then we suggest the selectorized version.
How Does the Prime Prodigy Rack Compare to Similarly Priced Racks?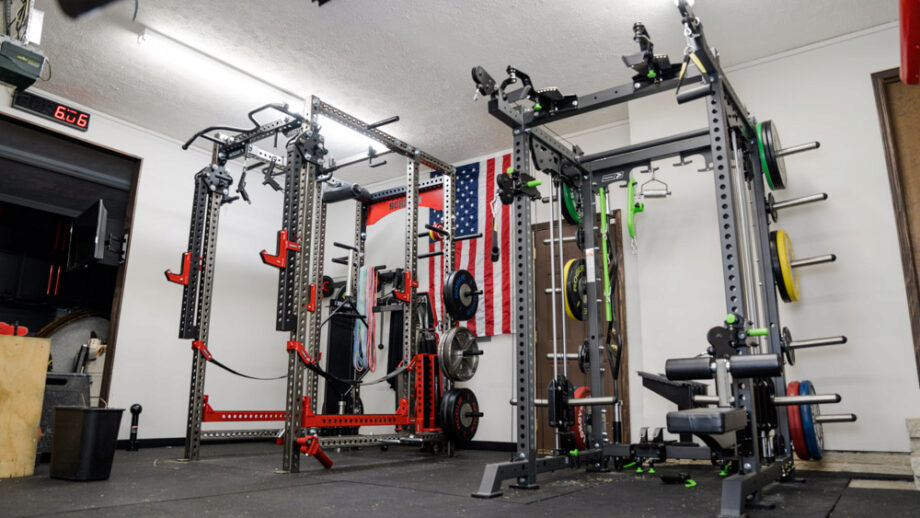 There are many racks on the market today, and many near the price point of the Prime Prodigy Rack. With this in mind, there are a few things to consider. If you're not really going to utilize the pulley system of the rack, then there are other racks we would suggest. Companies like Rogue Fitness, Williams Strength, PowerLift, and Sorinex Exercise Equipment are all making great power racks that are similar in price point.
We've noticed more companies trying to increase the versatility of their racks by adding pulley systems, and I think it's a great idea. Rogue recently came out with the Slinger and plans to offer it with a weight stack sometime in the future. Sorinex now has the option to add a lat pulldown within a Base Camp Rack. I say this to show that Prime Fitness isn't the only company adding a pulley system to their rack, however, they are the only ones doing it in this manner with this amount of functionality for in such a small amount of space.
The Rogue Monster Rack is a great rack. The Sorinex XL Rack is a great rack. But, if you're looking for a rack that can do a lot of what those do (not all because the Prodigy HLP Series is not a full power rack) as well as many things those can't, then the Prime Prodigy Rack is your best option currently.
Full Rating
Prime Fitness Prodigy Racks
The Prime Fitness Prodigy Racks pack the most versatility and functionality in a squat rack of any we've tested. If you were to combine a squat rack and functional trainer into one unit, you'd have the Prodigy Rack from Prime Fitness. After testing the plate-loaded version of the Prodigy Rack, we can confidently recommend the racks to those that want a highly versatile rack in a small amount of space and don't mind the premium price tag.
Product Brand: Prime Fitness
Product Currency: USD
Product Price: 4850
Product In-Stock: InStock
Prime Fitness Prodigy Racks FAQs
How much does a prime Prodigy rack cost?
$5,500.00 MSRP The Prodigy HLP (High/Low Pulley) Selectorized Rack is the flagship of the PRIME Prodigy Rack family, offering remarkable adaptability and utility in an aesthetically pleasing design.
Is Prime Fitness made in the usa?
PRIME Fitness is revolutionizing the strength training industry. PRIME equipment, proudly made in the United States, is pushing the boundaries of what is possible via a dedication to a science-forward approach. Every piece of PRIME gear is made to take your training to the next level.
What is thePrime Fitness Prodigy Rack?
The Prodigy Rack from Prime Fitness is like combining a squat rack and a functional trainer into one item. We can certainly suggest the Prodigy Racks to individuals who want a highly adaptable rack in a limited amount of space and don't mind the premium price tag after evaluating the plate-loaded version.
Where to Purchase
Prime Fitness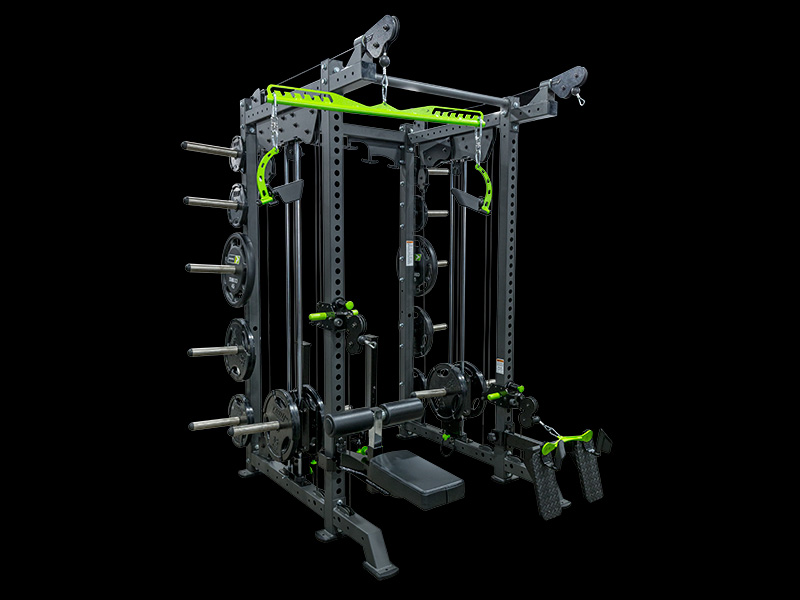 Prime Prodigy HLP Plate Loaded Rack
Similar to its HLP Selectorized counterpart, the Prodigy HLP Plate Loaded Rack features two dual pulley systems for an extraordinary amount of functionality and exercise possibilities. What makes the HLP Plate Loaded Rack unique is PRIME's cable ratio technology.