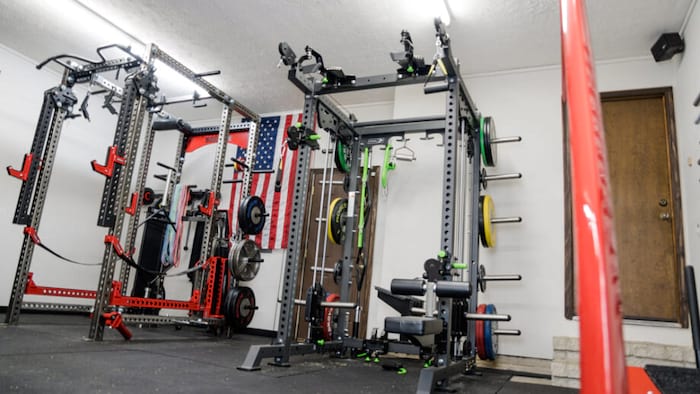 After spending more than 3 weeks and 20 training sessions among a few different people, we've concluded that the Prime Prodigy Rack, specifically the Prime Prodigy HLP Plate Loaded Rack is one of the best all-in-one racks currently available. Sure, there are some minor shortcomings that I'll mention later on, but there really isn't much available currently (that will change I'm sure) that can compete with the quality and quantity of exercises that can be done with this rack.
The uprights and cross members that make up the Prodigy line of racks are standard fare. 3"x3" 11-gauge steel has become the customary steel used for racks due to its strength and stability. I know Prime has used 7-gauge steel in the past on some of their previous racks, but I don't think it's needed and would just add extra cost and weight to an already pricey rack. The Prodigy HLP Racks feature what is essentially a half-rack to lift on—meaning two uprights that attachments can also secure to, and fully integrated selectorized or plate-loaded weight trolleys on the back half of the rack.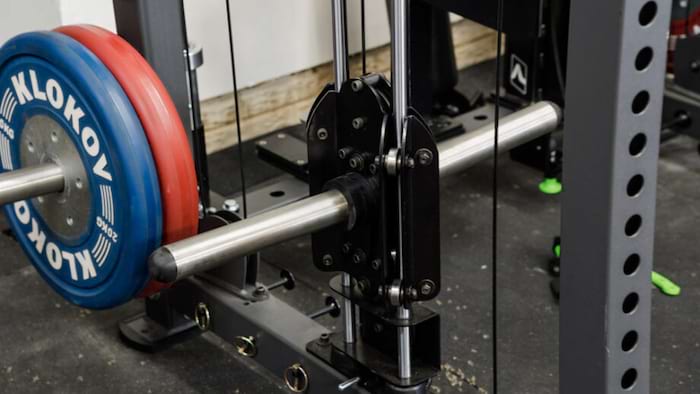 Without a doubt, the stand out feature on the Prodigy Racks are the use of weight trolleys within the rack. The plate-loaded version, which is the one we received to review, and also the one we'd suggest for most reading this, allows the rack to go from just being able to be used with a barbell, to offering two adjustable attachment points and two overhead attachment points. This, essentially, turns the rack from just a power rack where the barbell is used to a piece of equipment that you'll use for pretty much every weighted exercise you can think of. The best part of this whole situation is that the additional functionality of the rack comes with no additional space requirements. Instead of having to buy two separate pieces of equipment in addition to a rack that will be both expensive and space consuming, you'll have three multi-use and varied pieces of equipment in one.
In regards to the performance of the cable system, it works very similarly to a standard functional trainer with some additional usability. I'll speak primarily to the HLP Plate Loaded version as it's the one I have on hand to test, but it can do just about everything my Free Motion Dual Cable Cross Functional Trainer can do (albeit without as many adjustments), while also offering a lat pulldown and squat rack.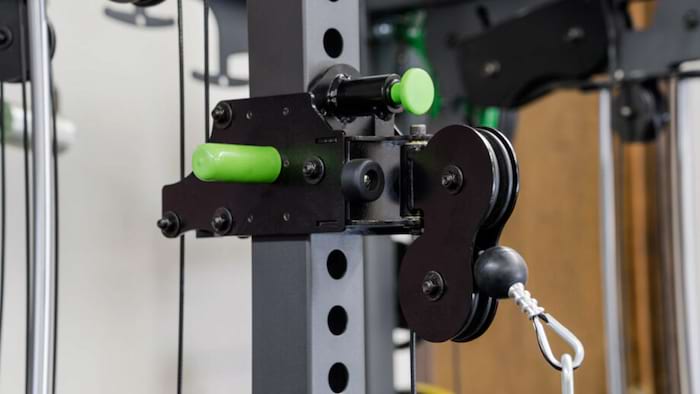 One thing we've noticed about this rack as that there were few details overlooked. The cables are made in the USA and some of the highest quality you can buy, the pulleys are strong and able to take a lot of abuse, the pins used on the functional cable carriages are stainless steel and adjust up and down on the upright pretty smoothly, the guide rods are high quality while the plate posts on the guide weight carriage are stainless steel with rounded rubber end caps. Even the overhead cable pulleys feature swivel heads instead of being fixed like most lat pulldowns that yet again increase what you can do with the rack. The amount of engineering that had to go into this thing is insane, and thankfully, they didn't cut any corners because it would be very easy for something to go wrong with so many moving parts, especially under load.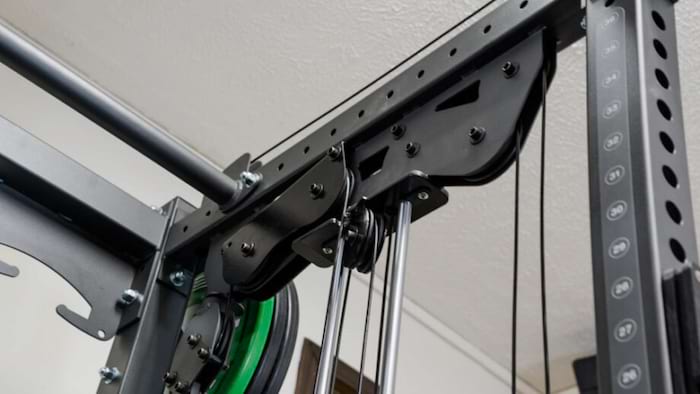 The back of the rack features plate posts, again, made out of stainless steel with round, rubber end caps that make it easy to put plates on and will look as good next year as they do today (takes notes Rogue.) Also on the back of the rack are cross members that connect the two racks together. The top cross member features hooks for various cable accessories to hang from while the bottom has holes for other accessories to attach when not in use. The HLP Selectorized has another cross member that goes across the middle of the rack, which I'm surprised the Plate Loaded version doesn't as it's very helpful for storing accessories.
Lastly, one of my favorite features of the entire rack is the ability to change the pulley system from a 2:1 ratio to a 4:1 ratio. What this means is you can increase the travel of the
Overall, the Prodigy HLP Plate Loaded Rack from Prime Fitness is an excellent rack with more features than we've ever seen in a rack done extremely well. If you want an extremely high-quality rack that can do more than just about any other and don't mind paying for that quality and functionality, then you should definitely consider the Prime Prodigy Series.