We test and review fitness products based on an independent, multi-point methodology. If you use our links to purchase something, we may earn a commission. Read our disclosures.
I'm a fan of power towers, and it's not just for the sweet rhyme scheme—a lost art in naming gym equipment. Not only a nice name, power towers are also a versatile piece of equipment for bodyweight exercises, particularly for the upper body and the core.
Most power towers have stations for pull-ups or chin-ups, dips, push-ups, and knee or leg raises—and some have even more versatility. They can be a great addition to just about any home gym setup, or even a great piece of equipment to start your home gym with.
With so much versatility in one machine, they can also be great space-savers in your garage gym. You can even add equipment to them for more versatility, like resistance bands or gymnastics rings.
Just like any piece of equipment though, not every power tower is going to be the same; there's a lot to consider, like the footprint and construction. That's why we at Garage Gym Reviews have compiled a list of the best power towers on the market, covering a wide range of wants and needs.
And we barely considered the rhyming or alliteration on these power towers (alright, I might have a little bit).
Powerful Testing With A Towering Amount of Research
Our research and testing team has collectively done hundreds upon hundreds of pull-ups and dips to provide you with the best information on what to look for from a good pull-up bar or dip station. I myself, a strength-biased athlete who is pretty awful at bodyweight movements, have done several pull-ups and dips, and can tell you what to look for on these power towers. We tested machines on this list for durability, construction, and overall feel and value.
We do this not only to inform you about what equipment is best for your needs, but also because it's our passion. We're a team of certified personal trainers, weightlifting coaches, CrossFit trainers, and lifelong competitive athletes; we love to geek out over this stuff.
The 8 Best Power Towers
Best Overall Power Tower: Sportsroyals Power Tower
Good for: Those wanting a sturdy, customizable power tower with multiple grips
What stands out on our pick for best power tower overall, the Sportsroyals Power Tower, is its versatility and customization. It is one of few power towers that has a pull-up bar with an adjustable height, meaning it can be adjusted for a taller athlete, but can also accommodate low ceilings. The backrest also can be shifted forward and back between seven positions. The power tower offers similar stations and quality as other competitors, but comes in at a lower price.
The push-up bars can be adjusted into three different angles, allowing for different grips and hand positions in your push-up workout. Furthermore, the pull-up station provides multiple grips for more variations; wide and neutral grips in particular. The ergonomic armrests for knee raises are angled inward at 10 degrees, to prevent a sweaty elbow from slipping off the tower arms.
We tested the first design of the Sportsroyals Power Tower, which has a base built in an H-shape. Side bars come out either side to further add stability. The new design has the base built with a dual triangular design and three crossbars, providing more stability than typical H-shape bases. This allows for it to have a weight capacity of 440 pounds, which is significantly more than most power towers. Although not the most stable power tower ever, it will get the job done for most. The front crossbar can be a bit of a tripping hazard, however.
While the adjustable pull-up bar is great, the max height is 92.7 inches, which makes the pull-up bar top out a few inches lower—this means it's not much higher than most power towers. This, along with a narrow pull-up grips, might make this a less than desirable option for a taller person. GGR Founder Coop found the dip handles to be a bit wide for his tastes, but still comfortable enough for most people.
Additionally, some reviews claimed the assembly instructions were hard to follow. If you can power through the assembly, though, the Sportsroyals Power Tower has good value as an adjustable and versatile power tower.
| | |
| --- | --- |
| Price | $289 |
| Dimensions | 42.3" L x 27.6" W x 70.1"-92.7" H |
| Weight | 62 lbs |
| Weight Capacity | 440 lbs |
| Material | Heavy-duty steel |
| Warranty | 1 year on the frame, 90 days on other parts |
Best Value Power Tower: Weider Power Tower
Good for: Anyone searching for a multifunction machine at an affordable, value price
The Weider Power Tower is our pick for the power tower with the best value because of its versatility at an affordable price. The Weider Power Tower is easy to assemble, and versatile, with four separate stations—pull-up, dip, knee raise, and elevated push-ups. Unique in its design, this power tower has the dip and knee raise station on one side, and pull-up and push-up stations on the other. This could allow for two people to use the power tower at the same time.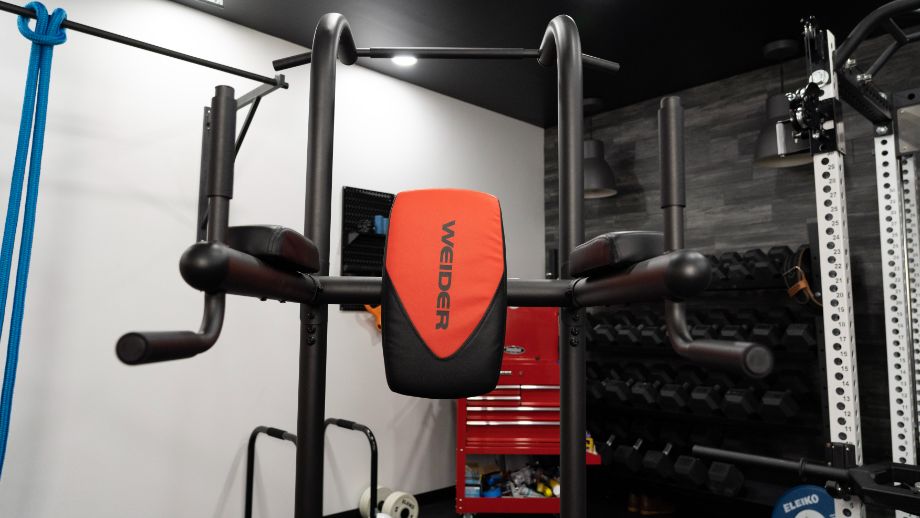 A purchase of the Weider Power Tower has a 30-day trial membership to iFIT included. A training library of exercises and trainer-led workouts at your disposal, iFIT can be a solid benefit to anyone needing guidance, or anyone who prefers a trainer-led experience.
The handles are padded to grip comfortably and avoid slipping. The tower is only 86 pounds and rated to hold 300 pounds. However, this is for someone on a budget, so it's a little light and less stable than it could be. You may need sandbags, dumbbells, or weight plates to stabilize the tower at the bottom, as some heavier people wobble more on the power tower.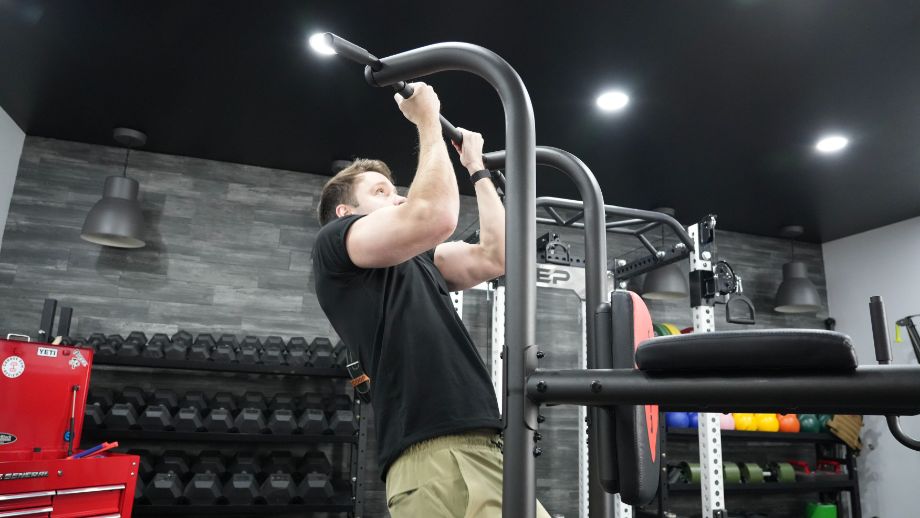 Unfortunately, Coop says, the dip handles are not great quality, although the leg raise station and pull-up bar work nicely. Another issue you may have with the Weider Power Tower is its size. At over 41 inches wide and 84 inches tall, it will take up some real estate in any garage gym. Also, with its two-station design, you'll need space to reach the front and back of the power tower, meaning this can't just be set up by a wall.
However, if you have the room for it, it can be a great addition to your gym space for a low price: $179 with free shipping at the time of this writing for Amazon Prime users.
| | |
| --- | --- |
| Price | $179 |
| Dimensions | 57" L x 41" W x 84" H |
| Weight | 86 lbs |
| Weight Capacity | 300 lbs |
| Material | Not disclosed |
| Warranty | 90 days parts and labor |
Best Wall-Mounted Power Tower: OneTwoFit Wall-Mounted Power Tower
Good for: People needing a budget-friendly power tower that can save space in your home gym
The OneTwoFit Wall-Mounted Power Tower is a multifunctional pull-up bar with a couple of tricks up its sleeve. Lightweight and modular, the pull-up bar can be rotated from a pull-up station to a dip and knee raise station by lifting and placing the OneTwoFit on hooks mounted on the wall.
The pull-up bar is not a high-end bar, as the powder coating is not the best and the hand grips are made of cheap foam and are uncomfortable; the vinyl padding is also not the highest quality. But for its low price point, this pull-up station gets the job done and will appeal to many people needing a budget option for their power tower. Coop liked its dip handles' width as well, as many power towers tend to be wide.
Having a dip station mounted on a wall saves you a lot of space when compared to a traditional power tower, and it can be mounted at any height needed, making this a good option if other towers are a little short. Maneuvering from pull-up bar to dip station is pretty easy, too.
One issue is to make sure the wall you are mounting the power tower onto is a concrete or brick wall for the most stability. If mounting onto normal drywall, you'll have to put up wood panels or plywood first, before installing the tower into the wall. Unfortunately, the OneTwoFit Wall-Mounted Power Tower does not come with the lag bolts needed for this type of installation, either.
| | |
| --- | --- |
| Price | $120 |
| Dimensions | 30.3" L x 37.4" W |
| Weight | 23.5 lbs |
| Weight Capacity | 440 lbs |
| Material | Alloy steel |
| Warranty | Not disclosed |
Best Power Tower for Small Spaces: Fitness Gear Pro Power Tower
Good for: Those needing a compact space for their bodyweight exercises
The Fitness Gear Pro Power Tower is a great choice for home gym owners that don't have a lot of space for a bulky power tower. This tower is about seven feet tall. It isn't very wide, either, so it won't require a major blueprint in your workout space. In addition, the armrests can be folded down and the backrest removed, providing more space for pull-ups, or just to save a bit more space. Still, with its low height, it may not be a great fit for taller people.
One unique feature of the Pro Power Tower is that the back pad can be removed and attached at the lower part of the tower, and used for ab exercises like crunches or sit-ups. This adds a new dimension of versatility to this machine, allowing you to get all of your abdominal work done at one station. Some users said that the backrest is a little loose when attached though.
There are multiple grips for pull-ups, although I would like to see a straight bar for chin-ups. There is also no padding on the handles. Regardless, the Fitness Gear Pro Power Tower is a great fit for a small space, and at an affordable price.
| | |
| --- | --- |
| Price | $179 |
| Dimensions | 38.5" L x 32.5" W x 84" H |
| Weight | 83 lbs |
| Weight Capacity | 300 lbs |
| Material | Heavy-duty steel |
| Warranty | 90 days, 1-year extra warranty available |
Best Outdoor Power Tower: Stamina Outdoor Power Tower Pro
Good for: Anyone looking for a workout station that will weather the outdoors
The extremes of the outdoors can be harsh for any gym equipment, even quality-made products. Changes in temperature, along with moisture and the elements, will cause paint to crack and metal to rust. If you want something outdoors, you'll need to make sure your equipment is designed to endure the outside weather.
That's where the Stamina Outdoor Power Tower Pro comes in, our pick for the best power tower for the outdoors. The exterior coating is specially engineered to prevent chipping and protect from corrosion. There is also UV-protection, which will keep the gold-colored power tower from fading.
The Outdoor Power Tower Pro is constructed from high-quality 11-gauge steel, making this power tower very durable. It also is able to be bolted down into concrete, but that may not be necessary for most people, as the sturdy power tower already weighs close to 150 pounds.
In addition to a multi-grip pull-up, push-up, and dip station, there's a ledge on the back of the tower for step-ups or box jumps. This is a nice touch for an outdoor power tower, even though you should be careful with your shins jumping on a metal platform. There isn't a dedicated leg raise station, however.
The dip handles are a little short, making it a little awkward to dip for some. This power tower is also $469, which is not a great option if you have to budget. Still, this power tower is a good choice if you're looking to take your bodyweight workouts outside.
| | |
| --- | --- |
| Price | $469 |
| Dimensions | 46" L x 51" W x 84" H |
| Weight | 144 lbs |
| Weight Capacity | 330 lbs |
| Material | 11-gauge steel |
| Warranty | 3 years on the frame, 90 days on other parts |
Best Versatile Power Tower: Fit! Home Gym
Good for: Anyone needing a full bodyweight gym that can fold away to save space
The Fit! Home Gym is a patent-pending all-in-one home gym that can be collapsed into a flat package less than two feet wide and four feet long—about the size of a folding table. When it is fully assembled, the home gym is built into a power tower. Additionally, the wood base can be used with resistance bands and cables for a full-body workout machine, similar to the Vitruvian Trainer+.
We were unable to test out this power tower/home gym combo, but we really like its ingenuity. In its construction, Fit! uses wood for the base and steel for the frame, allowing for a solid weight capacity of 300 pounds. The tower can be constructed in very little time; the website claims it can be built in under 60 seconds. No tools are required in its construction or disassembling.
A purchase of the Fit! Home Gym also includes a membership to the Fit! app, giving you access to a library of over 100 exercises performed on this home gym, along with some trainer-led workouts.
While the Fit! Home Gym is extremely versatile and compact, the power tower has a top height of 76 inches, making the pull-up station not suitable for most tall athletes. But if the pull-up height works for you, this is an incredibly versatile power tower and home gym, with solid value.
| | |
| --- | --- |
| Price | $399 |
| Dimensions | 43.5" L x 23.5" W x 76" H (fully assembled) |
| Weight | 102 lbs |
| Weight Capacity | 300 lbs |
| Material | Wood and steel |
| Warranty | Not disclosed |
Best Adjustable Power Tower: Bowflex BodyTower
Good for: Anyone looking for a versatile power tower with loads of exercise options
Although this was out of stock when we wrote this review so we weren't able to test it ourselves, we think that Bowflex provides a solid and multifunctional power tower with adjustable arms in their BodyTower. The Bowflex BodyTower features EZ-Adjust arms that can be moved up and down the power tower to suit the user's height, but also to accommodate different exercises.
The BodyTower boasts the ability to do over 18 exercises. Not only does the power tower have typical stations for a power tower, but the adjustable arms can be lowered and used for one-legged squats, elevated push-ups, and assisted planks, amongst others. The tower comes with a placard listing eight exercises, as well as a workout guide with an extra 10 exercises. However, with a little bit of creativity, 18 exercises is probably a conservative estimate.
The BodyTower is built solidly with a heavy-duty powder-coated steel frame. The back cushions and armrests are foam pads covered with a nylon stitching, and the tower also comes with sling straps that can connect with carabiners, for more versatility.
The tower is heavy at 120 pounds, which is very stable when placed on level ground. However, the rubberized feet are fixed, so if the ground is even at all, the tower may wobble a little. Also, the base might be too big for some spaces, at 50-inches-by-50-inches, and the height only reaches 77 inches, which may not be adequate for taller people. Still, if you have the space, the Bowflex BodyTower is a great versatile piece of gym equipment.
| | |
| --- | --- |
| Price | $399 |
| Dimensions | 50" L x 50" W x 77" H |
| Weight | 120 lbs |
| Weight Capacity | 300 lbs |
| Material | Heavy-duty, powder-coated steel |
| Warranty | 5 years on the frame, 1 year on parts |
Best Power Tower with Bench: Titan Power Tower with Bench
Good for: People wanting a versatile power tower with the added convenience of a weight bench
We like Titan for good-value strength products, so if you are looking for a great starting piece for a home gym, the Titan Power Tower with Bench can be a fantastic choice. Featuring the usual four stations of a power tower—dip, pull-up, push-up, and knee raise—the Titan Power Tower also has a bench station, opening up a multitude of workout options.
This power tower was also out of stock when we were writing this review so we haven't gotten to test it yet, but we know that it has rubberized feet to help it feel secure on any surface, and at only 83 pounds, the Titan Power Tower can hold up to 350 pounds. Still, some larger users have said that the power tower feels less stable when using the machine, wobbling a little bit.
There is a lot of value in this power tower. It is made of quality materials at an affordable price, under $200. And this price includes the weight bench, which makes this price almost a steal.
One thing to note is the large footprint the Titan Power Tower with Bench requires. At over six feet long, the added bench makes this much longer than most other power tower options. However, if you can fit this in your garage gym, this power tower with its bench is a solid piece of exercise equipment to add.
| | |
| --- | --- |
| Price | $199 |
| Dimensions | 76" L x 40.25" W x 86" H |
| Weight | 83 lbs |
| Weight Capacity | 350 lbs |
| Material | Steel |
| Warranty | 1 year |
Other Power Towers We Researched
We looked into quite a few power towers while compiling this list. Here are a few that didn't quite make the cut:
Body Champ VKR Power Tower: The Body Champ VKR Power Tower has incredible versatility, with an adjustable dip station to lower for sit-ups and crunches. It also provides hanging straps for more variety in your upper body and core workouts. With that said, we preferred a few other machines that offered more versatility.
Stamina 1690 Power Tower: This power tower has its greatest strength in its budget-friendly cost. Usually $300, the Stamina 1690 Power Tower is often on sale, which makes it a potential candidate for a buyer on a budget. However, the weight capacity is only 250 pounds, making this Stamina power tower a less-than-ideal option for heavier athletes.
XMark Freestanding Dip Station: The XMark Dip Station is a simple dip station. While this option can be smaller and more compact than a power tower, there's just not enough versatility to trump most power towers.
ProForm Carbon Strength Power Tower: The ProForm Carbon Strength Tower has a sleek look that makes it fit in with many gym setups. Furthermore, the leg raise area feels to be at a good width…unlike the dip handles of the dip station. The dip bars are so wide, Coop felt it may be unsafe to do dips for most people. It may be a good fit for a bigger person though.
How We Picked and Tested the Best Power Towers
When choosing the best power towers, we did a combination of research and testing, looking at the quality and construction of the machines. While testing, we took these power towers through several bodyweight exercises, checking for flex and wobble during workouts. While doing pull-ups, dips, and hanging leg raises, we checked the quality and feel of the padding and handlebars. We also researched and accounted for the footprint of each power tower, as well as the build of the towers, and the weight limits each tower was rated at.
Benefits of Power Towers
Power towers are beneficial in their convenience and in their workout options. Let's break down a couple of those benefits right now.
Great For Beginners and Experts Alike
Power towers offer challenging workouts and exercises for skilled fitness enthusiasts, but are also a great starting point for beginners as well. You can affix resistance bands to the pull-up bars or dip station to assist with those exercises for someone newer to bodyweight exercises. Likewise, if you find pull-ups a little too easy, strap on a weighted vest, or hold a leg raise while pulling. These exercises are easily customizable to your needs.
Save Time and Space
No, we're not talking about a cheap Doctor Who spinoff when we're talking about saving time and space. We are talking about how a power tower can save some floor space in your home gym, and also help you work more efficiently at home, saving time.
With most power towers being multifunctional and offering one machine for multiple exercises, it can be your all-in-one trainer for the upper body. You only need one machine for your upper body's strength training, leaving more room for barbells and power racks—whatever else you desire in your home gym!
Additionally, having a power tower and a home gym will save you time and money; you won't have to worry about gym membership fees or a 20-minute commute to and from the gym. In some cases, you can get your power tower workout done in the time it would take to drive to the gym. The convenience of home gym equipment like a power tower is real.
Build Upper Body Strength
Power towers are the place to do upper-body exercises during your workout routine, and doing upper-body exercises like dips, push-ups, and pull-ups will strengthen those muscle groups. Dips will tackle the triceps and chest, while pull-ups get the biceps and lats firing.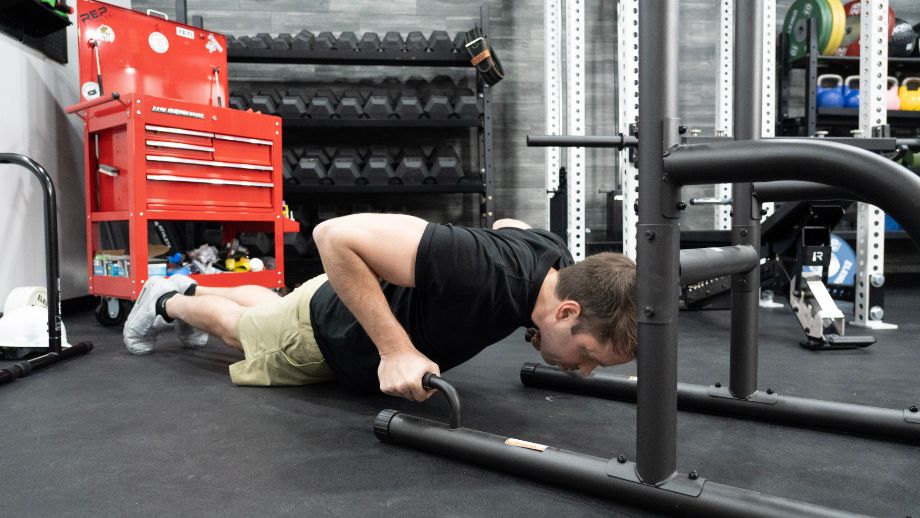 An August 2017 study1 showed that variations of the pull-up all resulted in increasing and building strength in the lats, biceps, traps, and deltoid muscles. Most power towers provide a multi-grip pull-up bar for variety in your training, and will help you build that upper body strength.
Train Abdominal Muscles
Power towers also customarily have a station for some ab work. You can perform vertical knee raises to train the rectus abdominis, or the front of the abdominal muscles. Adding twists in will also get the obliques, too. By training the abdominals, you will build muscle and strength in your core, which not only benefits your balance and overall strength, but betters your day-to-day life
What to Look for in Power Towers
Hopefully, by now, you're a fan of power towers, too, for more reasons than just the rhyme. Interested in buying one for yourself? Here are some things to look for.
Footprint
One of the most important things to look at is the footprint. Most power towers can take up a lot of floor space, so it's important to know how much room you're dealing with at your home gym. Some power towers may just be too big.
Another aspect to consider is your ceiling height. Many power towers have a height at seven feet, which will be fine for most ceilings, but if you have a low ceiling, this may not work. Fortunately, there are options with lower heights if your home gym doesn't have high ceilings.
Construction
Another aspect to consider is the build of the power tower. This helps determine the stability of the power tower, as well as the maximum weight capacity. A power tower isn't often made with the same grade and quality steel as a power rack, but ideally you're looking for a heavy-duty steel frame.
The base is also something to consider in your purchase. Most power towers are not made to be bolted into the ground or wall, which can cause a little bit of wobbling while in use. Wider, weightier bases will help with that wobble.
Versatility
Because power towers can take up space, it's important to make sure that you're getting what you want out of your fitness equipment. Most power towers have stations for knee raises, dips, pull-ups, and push-ups, but some have extra stations, like a weight bench for bench press, or an added ledge for box jumps. While not every power tower will have these options, it's wise to consider what you want out of your power tower, to make sure your choice has the best value for your needs.
FAQs
What should I look for in a power tower?
Are power towers stable?
It depends on the power tower you are using. Most power towers have some sort of engineering component to the base that adds to its stability. Some bases are heavier to prevent too much wobble; others have a wide base to keep it balanced and stable during pull-ups. However, some power towers have fixed legs and need to be on a level floor; any unevenness will cause them to wobble a little bit.
Can I keep a power tower outside?
I wouldn't recommend keeping a power tower outside unless the machine is designed for outdoor use. The weather can cause rusting and paint chipping to equipment left outside. However, an outdoor power tower will have a paint coating to protect against chipping and corrosion, and even color fading. They are designed to be more durable and endure the elements outside. Our pick for the best outdoor power tower is the Stamina Outdoor Power Tower Pro.
References
Snarr RL, Hallmark AV, Casey JC, Esco MR. Electromyographical Comparison of a Traditional, Suspension Device, and Towel Pull-Up. J Hum Kinet. 2017 Aug 1;58:5-13. doi: 10.1515/hukin-2017-0068. PMID: 28828073; PMCID: PMC5548150.