We test and review fitness products based on an independent, multi-point methodology. If you use our links to purchase something, we may earn a commission. Read our disclosures.
NordicTrack is well-known for its superb treadmill lineup that includes some of the coolest high-tech and high-powered machines (see our article about the best NordicTrack treadmills). What a lot of people don't know is that NordicTrack also offers a fantastic—albeit small—rowing machine lineup that integrates with iFIT as well.
NordicTrack currently produces two rowing machines, the RW900 and the RW700, and in this guide, I'm going to help you decide which is the best NordicTrack rower for your home gym.
There's Nothing Oar-dinary About Our Rowing Expertise
From water rowers to magnetic rowers to air resistance options, our team has tested all of the best rowing machines (and plenty of the not-best ones, also…). This is to say, we know our facts when it comes to rowing machines. We can help you determine which product meets the most important criteria for you, whether that's Bluetooth connectivity, an ergonomic seat, or heart rate monitoring capabilities.
NordicTrack Rowing Machine Lineup
Which NordicTrack Rower Should You Buy?
NordicTrack offers two rowing machines, both of which require an iFIT membership for full functionality. Yes, having to pay for a membership is a little annoying but iFIT is honestly one of the best rowing apps we've tried, so we think it's worth the monthly subscription cost.
Both rowers, the RW900 and RW700, work via digital resistance (also called magnetic resistance) and have 26 resistance levels. 
Both pieces of fitness equipment gather the same metrics and display them on touchscreens during on-demand iFIT workouts; both have SmartAdjust technology that allows iFIT trainers to remotely control your resistance; both have comfortable, padded seats and oversized, adjustable foot pedals.
Either way, you're going to get a solid piece of exercise equipment that allows you to perform low-impact, full-body workouts. The specs are very similar and both models are high-quality indoor rowing machines. Up next is a deeper look at both.
NordicTrack RW900 Rowing Machine
Good for: People who want a top-of-the-line magnetic resistance rowing machine with all of the perks
NordicTrack RW900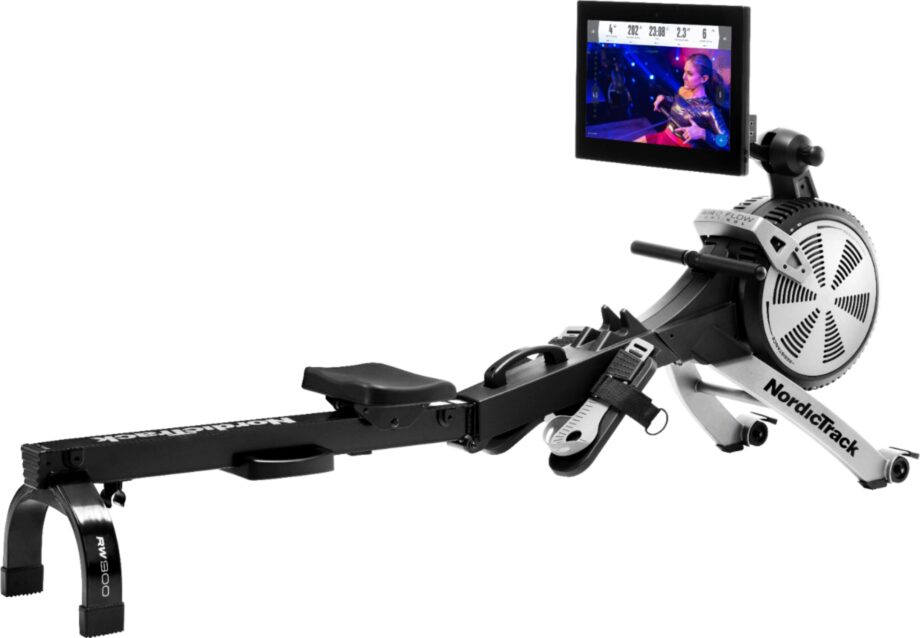 GGR Score: 4.55
Community Score: 3.5
Product Highlights
Rotating smart HD touchscreen
Immersive workouts
Solidly built
Smooth ride
Made in USA
Pros & Cons
Pros
Massive 22" HD touchscreen display
Pivoting and tilting screen for use off the rower
Solid build quality
Comfortable padded seat
26 digital resistance levels
Auto-adjust resistance
Large foot pedals and adjustable straps
Quiet ride
iFIT workouts
Soft, grippy handles
Bluetooth-enabled
Cons
Monthly subscription required for full functionality
Large footprint
Doesn't fold
Requires an outlet
Can't store in a garage (voids warranty)
Low 250-lb weight capacity
Heavy at around 160 lbs, but has transport wheels
Bottom Line
If you're looking for a high-end rowing machine with interactive rowing workouts, this is a great pick.
The NordicTrack RW900 rower is the top-tier rowing machine in the lineup. I tested the RW900 in our Springfield, Missouri, testing center and I had so much fun using it. The overall build feels strong, sturdy, and supportive, and the ride is quiet thanks to NordicTrack's Silent Magnetic Resistance. (I won't say it's silent, but it's pretty darn close.)
Thanks to the massive 22-inch display, you can become entirely immersed in whatever iFIT workout you're streaming, whether it's a studio row or a scenic row. I recommend the scenic rows, FWIW.
Equipped with Bluetooth connectivity and AutoAdjust technology that allows iFIT trainers to control your resistance level from wherever they are, this rowing machine is about as techy as tech can get.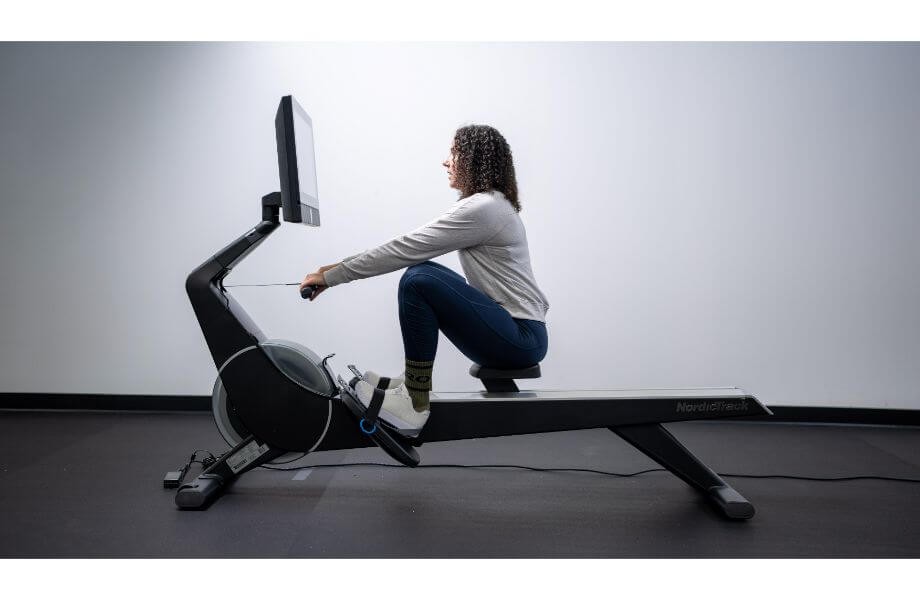 The RW900 is one of the most comfortable rowing machines I've ever used, thanks to the large, padded seat and soft-touch handles. The seat height is about 24 inches off of the ground, making it easy to get in and out of. I love this feature because it makes rowing more accessible to people with limited mobility.
My main complaint about the RW900 (and the RW700) is the low user weight capacity of 250 pounds. This is below the industry standard of 300 pounds, and very low compared to the 500-pound weight capacity of the Concept 2 RowErg (formerly the Model D Rower) and the 507-pound capacity of the Aviron Strong Series Rower.
Read our full NordicTrack RW900 rower review.
NordicTrack RW700 Rowing Machine
Good for: Individuals who want a solidly powerful rowing machine with a few less perks for a significantly lower price
NordicTrack RW700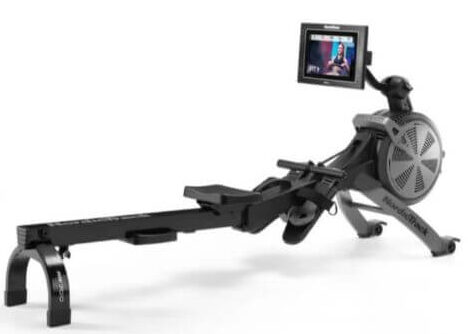 GGR Score: 4.2
Product Highlights
26 levels of silent magnetic resistance 

iFIT programming 

Oversized pedals with adjustable nylon foot straps 

Soft grip handles 

Bluetooth capability

Front-mounted transport wheels
Pros & Cons
Pros
Less expensive than the RW900
Pivoting pedals
Adjustable foot straps
26 levels of silent magnetic resistance
iFIT programming
Oversized pedals with adjustable nylon foot straps
Soft-grip handles
Bluetooth capability
Front-mounted transport wheels
AutoAdjust technology
Pivoting touchscreen display
Cons
10-inch touchscreen is relatively small
Weight capacity of 250 lbs is below industry standard
Monthly fee required to use all features
Requires an outlet for use
Doesn't fold
Bottom Line
The NordicTrack RW700 rower has a lot of great features but overwhelming negative reviews of product failure.
The RW700 rower, as compared to the RW900, is the lesser model. It costs about $500 less than the RW900, but truthfully, the biggest difference is the screen size.
The RW700 rowing machine features most of the same components as the RW900—including must-haves like Bluetooth connectivity, 26 levels of resistance, trainer-led workouts via an iFIT subscription, and automatic resistance adjustment—but the screen is smaller.
Yup, that's the only real difference: a smaller screen. And sacrificing the massive 22-inch touchscreen will save you about $500. To me, that makes the much smaller 10-inch screen worth it.
A giant touchscreen display is nice, sure, but for most folks it's probably not a must-have. I'm willing to bet that the majority of people would like to save $500 and put it toward something else (some adjustable dumbbells to get your cross-training in, maybe?).
For people with not-so-great eyesight, following the at-home rowing sessions on the 10-inch screen might be tough, but most people will find the functionality to be the same.
Read our full NordicTrack RW700 rower review.
NordicTrack Rower Comparison Chart
| | | |
| --- | --- | --- |
| | RW900 | RW700 |
| Price (at time of writing) | $1,999 | $1,499 |
| Product Weight | 163 lbs in box | 146 lbs in box |
| Product Dimensions | 82″ L x 22″ W x 54″ | 87″ L x 22″ W x 47″ H |
| Foldable? | No | No |
| Folded Dimensions | N/A | N/A |
| Flywheel | Inertia-enhanced magnetic flywheel | Inertia-enhanced magnetic flywheel |
| Display | 22" tilting and pivoting HD touchscreen | 10" tilting and pivoting HD touchscreen |
| Resistance Type | Silent magnetic resistance | Silent magnetic resistance |
| Resistance Levels | 26 | 26 |
| Sound System | 30-watt dual speakers | 30-watt dual speakers |
| Console adjustable? | Yes | Yes |
| Connectivity | Bluetooth | Bluetooth and audio auxiliary port |
| Transportation | Front-mounted transport wheels | Front-mounted transport wheels |
| User Weight Capacity | 250 lbs | 250 lbs |
| Programming | Rowing workouts via iFIT app | Rowing workouts via iFIT app |
| Membership options | Individual or family membership, monthly or annually | Individual or family membership, monthly or annually |
| Financing Available? | Yes | Yes |
| Warranty | 10-year frame warranty, 2-year parts warranty, 1-year labor warranty | 10-year frame warranty, 2-year parts warranty, 1-year labor warranty |
Discontinued NordicTrack Rowers
NordicTrack currently has the older version of the RW900 on closeout. It's on sale for $1,299 at the time of writing. If you're ready to buy, I recommend snagging this deal because the new RW900 is not all that different from the old version.
What to Look For in NordicTrack Products
NordicTrack is known for manufacturing high-quality cardio machines that last. In general, keep an eye out for these features:
Display: How big is the display and is it a touchscreen?
Transportation: Can one person easily move the item? Does it have wheels?
Ergonomics: Is the item designed to accommodate bodies of all sizes and varying mobility levels?
Programming: Is it iFIT-compatible? Can you use it without iFIT if you wanted to?
Power: Does it require batteries or an outlet?
Connectivity: Does the product have Bluetooth connectivity? Do you need to connect it to your home WiFi? If so, does your WiFi support the connection?
Metrics: What fitness data does the product track?
Dimensions: Will the product fit in your intended space?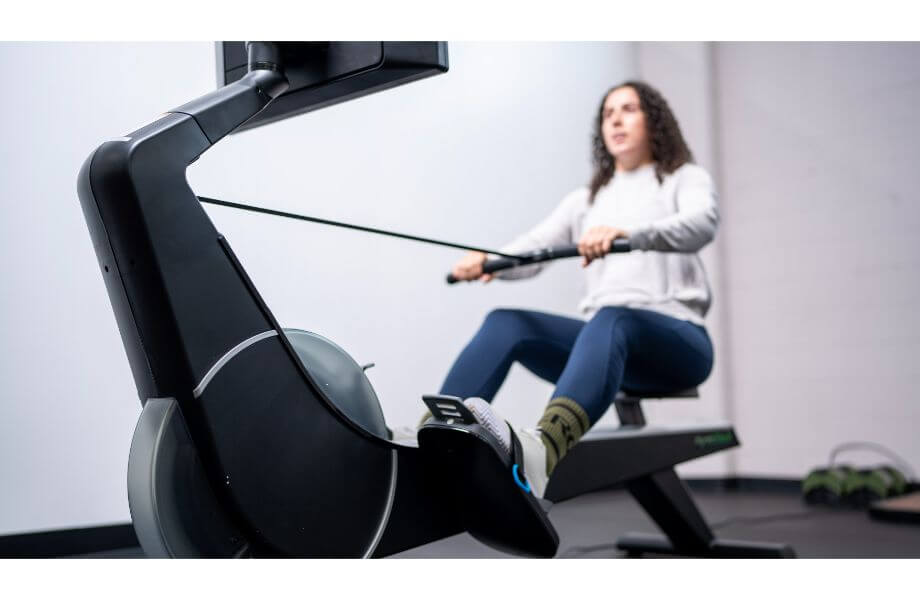 Brand Policies
Here's a look at how NordicTrack handles warranties, returns, and financing.
Warranty
NordicTrack offers the following warranty on all of its cardio machines:
10 years on the frame
2 years on parts
1 year for labor
If you buy a NordicTrack product from a third-party retailer such as Amazon, double-check to ensure the warranty still applies.
Returns
NordicTrack's return policy is as follows:
You have 30 days from the delivery date to return the item in its original packaging for a full refund
You're on the hook for a nonrefundable $250 return shipping charge plus a 10% processing fee
Fees for iFIT memberships and delivery/assembly services are not refundable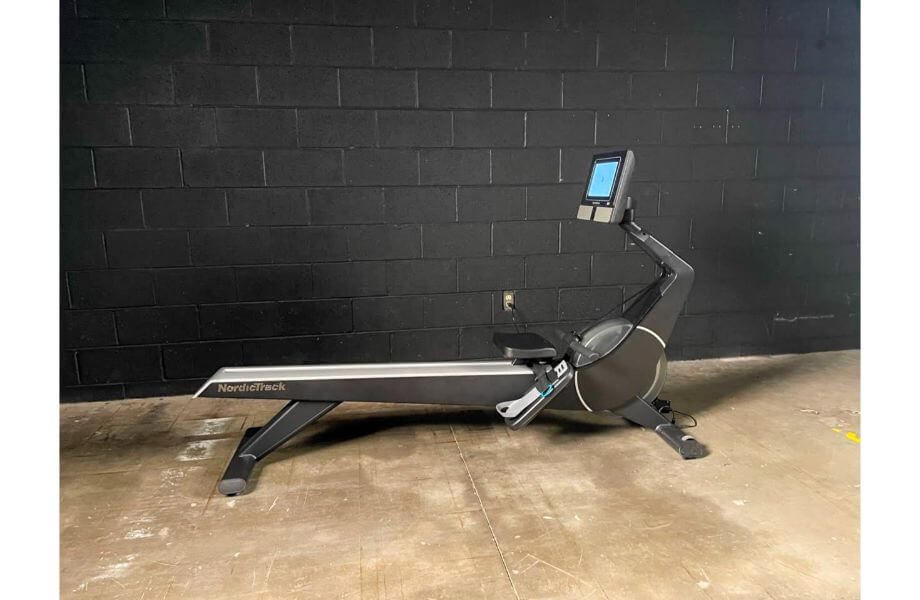 Financing
There are a number of ways to finance NordicTrack equipment. We have a full guide to NordicTrack financing, but in short, NordicTrack offers financing via TD Bank, and you may qualify for any of these options:
0% APR for 12 months
0% APR for 36 months
0% APR for 39 months
0% APR for 43 months
0% APR for 44 months
0% APR for 48 months
Best NordicTrack Rowers: Final Verdict
Both the NordicTrack RW900 and RW700 rowing machines are solidly manufactured with great build quality you can feel during use. They both function via an iFIT membership, which not only has wonderful rowing machine workouts but also offers strength training, yoga, HIIT, running, cycling, hiking, meditation, and even cooking classes. Ultimately, buyers will be well-served by either rowing machine.
Best NordicTrack Rowers: FAQs
Here are the answers to some common questions about NordicTrack rowing machines.
Does NordicTrack make rowing machines?
Yes, NordicTrack makes two types of rowing machines, the RW900 and the RW700. The two are extremely similar, with the primary difference being the size of the display. The RW900 features a 22-inch screen while the RW700 features a 10-inch screen.
What is the difference between Hydrow and NordicTrack? 
Hydrow and NordicTrack are completely different brands, although the NordicTrack RW900 does look an awful lot like the RW700. Notably, NordicTrack as a whole offers several types of fitness equipment, from treadmills to ellipticals to strength training equipment, whereas Hydrow only offers rowing machines at this time. Learn more about Hydrow with our Hydrow Rower review.
Is a rowing machine better than walking?
Rowing and walking are both great forms of cardio exercise. Rowing could be a better option if you want to minimize impact to your joints, or if you like to mix things up. One difference worth noting is that walking can be done outside or inside on a treadmill, and with rowing, you're limited to indoor exercise unless you own a rowboat and have access to a body of water.