We test and review fitness products based on an independent, multi-point methodology. If you use our links to purchase something, we may earn a commission. Read our disclosures.
Who doesn't love a good massage? I love walking out of a massage parlor feeling so zen and flexible. I don't like how time-consuming or expensive massages are, though. I think a lot of people probably feel the same way, considering the explosive popularity of handheld massage guns.
If you tend to get muscle knots and trigger points, a percussive massage gun is a must-have. You probably know the popular names like Theragun and Hypervolt, but there are tons of lesser known brands with solid massage guns for lower prices. In my ExoGun Massage Gun review, you'll find out if the ExoGun DreamPro is one of those unicorns.
Why You Should Trust Us
I've been reviewing percussive massage guns since 2018 and I've covered some of the most popular models, including the Hyperice Hypervolt and TimTam Percussion Massager. I've also reviewed newer massage guns from brands just starting to dip their toes into the water, such as the REP Fitness RAPIDSTRIKE Massage Gun.
ExoGun Dream Pro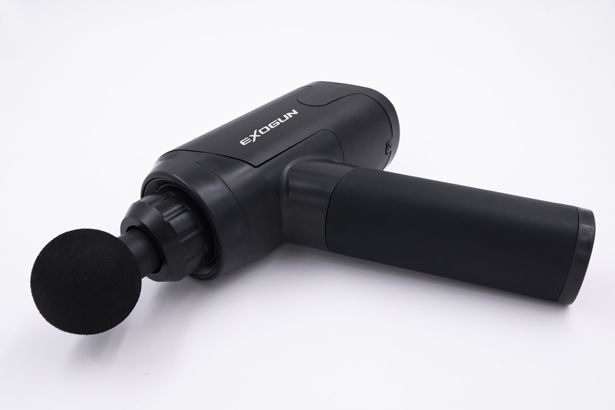 ExoGun DreamPro
Treat yourself with the percussion therapy device trusted by pros worldwide. The most powerful and versatile handheld percussion massage device for high impact recovery and low impact deep tissue massage. 1 ExoGun Dream Pro Massager 1 Charging Cable (110-240 V) 4 Attachments Percussion massage is proven to speed up recovery and increase muscle function. Exogun's ShockSmart sensitivity and customizable settings ensure that each muscle is massaged with the most accurate impact possible. Cordless, quiet, and lightweight, ExoGun was made to go anywhere and everywhere. Take it outdoors or inside. Use it discreetly at work or after your workouts. ExoGun fits easily in backpacks, gym bags, and briefcases. With our industry leading battery life, you can get 4-6 hours of usage per charge. ExoGun's multiple settings and massage heads can work out any tension from the toughest of muscles to the most sensitive zones. Turn up the power for intense recovery or slow it down for full release after a long day.
A Quick Look at the Exogun DreamPro Massage Gun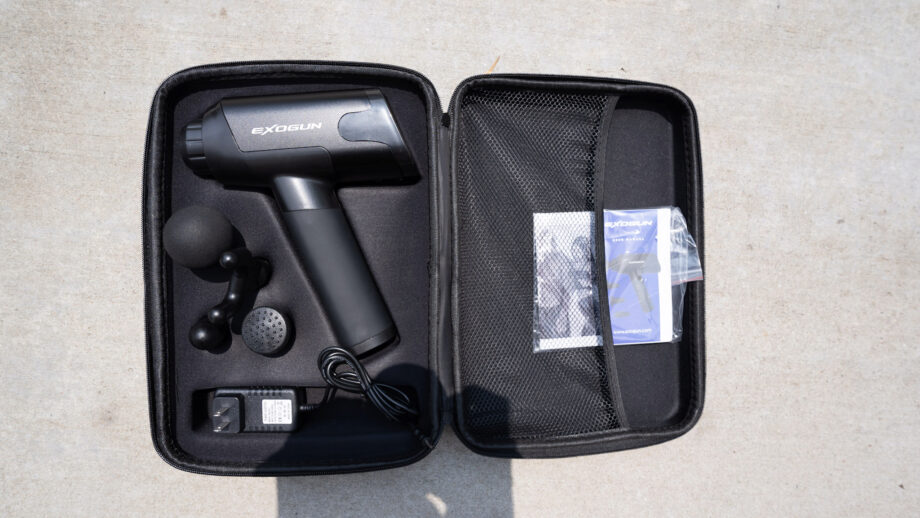 ExoGun released its flagship product, the DreamPro Massage Gun, during the percussive therapy boom of 2019. It launched just before the onslaught of Theragun and Hypervolt copy-cats took over Amazon. Compared to all of those imitation massage guns, the ExoGun does have some unique features, such as the digital screen and centralized handle. However, for the most part, the ExoGun massage gun isn't far better or far worse than most of the percussive massage devices you can find online.
Coop's Tips:
Allow time for charging: This massage gun doesn't come with a fast-charge cable.The touchscreen takes some getting used to, compared to the analog buttons on most massage guns.Take your time finding out comfortable ways to hold the ExoGun. The design is top-heavy and can stress your wrist if you aren't careful.
My Favorite Things:
Has six speed settings from 1200 to 3200 percussions per minute (PPM)
My Callouts:
Design is top-heavy and it's hard to hold
Carrying case is thin and the zipper isn't strong
Rubberized handle will likely wear out over time
Is the ExoGun Massage Gun Worth It?
In truth, I think there are better massage gun options out there in the same price range as the ExoGun ($150 to $200). But that doesn't mean the ExoGun isn't right for anyone. Here's a look at who might enjoy the ExoGun massage gun and who's probably better off researching other options.
Great for:
People looking for a decent massage gun at a decent price
People who don't care to travel with their massage gun
People who aren't looking for the latest and greatest percussive technology
Not recommended for:
People who want a massage gun that's easy to travel with
People looking for the most powerful option
People who need something very ergonomic and easy to hold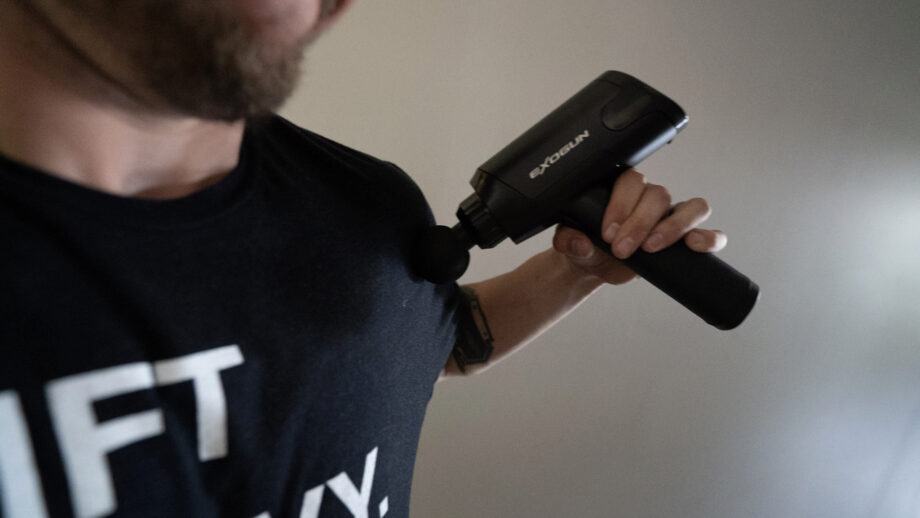 Using the ExoGun Massage Gun
My overall impression with the ExoGun DreamPro is that for the price and size, it doesn't pack enough power. The website says the ExoGun massage gun has an amplitude of 16 millimeters (referring to the stroke length, or how deep the massage gun can reach into your muscle tissues) and a stall force of 60 pounds.
However, Theragun also claims the same exact specs for its massage guns, and having tried both, I'm not confident the ExoGun actually lives up to those specs. It doesn't feel nearly as powerful as any of the Theragun models; not even the new miniature one, according to our staff writer Amanda Capritto, who's reviewed more than 30 massage guns.
Attachments
The ExoGun comes with four massage head attachments: a round foam attachment, a flat silicone attachment, a bullet silicone attachment. and a fork silicone attachment. The different attachments have different purposes: The round and flat heads are ideal for sweeping across large muscles such as the quads; the bullet is for small areas such as the arch of your foot; and the fork is designed specifically for the neck and muscles on either side of your spine.
It doesn't come with a cone attachment, which is another one used for deeper, targeted treatment. The cone attachment is a pretty standard part of the package nowadays, especially for a product close to $200, so I was a little bit disappointed not to see it.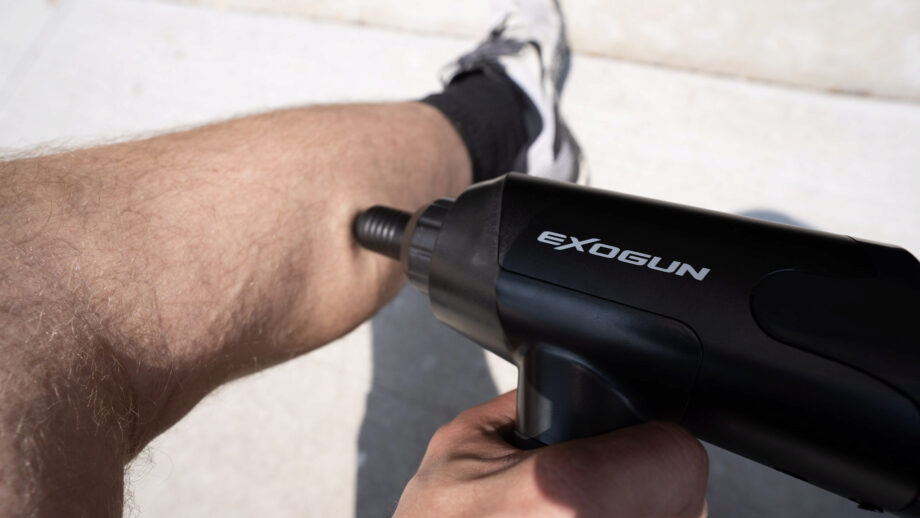 Experience
I didn't find the ExoGun DreamPro to be strikingly good or bad. It's not one of the best massage guns—it's just okay, and it could be better for the price. It's a basic cordless massage gun with decent percussive power.I've had other massage guns provide better pain relief and a better overall experience. If you're looking for something super powerful or super innovative, look elsewhere.
Battery Life
The ExoGun percussive massager has one of the better battery lives I've seen, but it doesn't match up to what the website claims. ExoGun claims the massage gun has a month-long battery life, and although this device kept going for several days, it needed to be charged before a month was up.
As for the charger itself, the charging cable is not USB-friendly (not a super common feature, but welcome) and the battery isn't replaceable. This means if your cable broke or battery stopped taking a charge, you'd have to buy a whole new device. At this price point, I think the ExoGun should come with an additional battery to prolong overall battery life or so you have a backup in the case of loss or damage.
Traveling With the ExoGun Massage Gun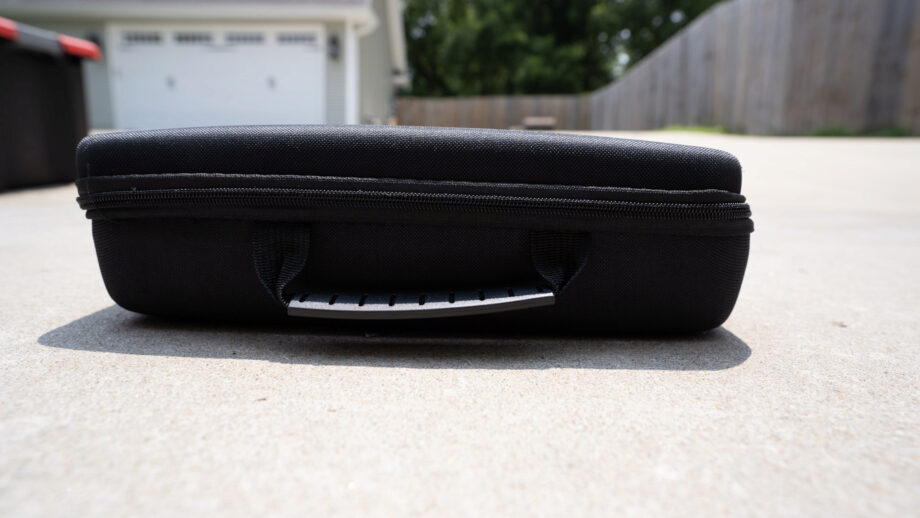 Like most percussive massage guns these days, the ExoGun DreamPro comes with a carrying case. Even with the case, I probably wouldn't bring this massage gun with me except maybe on a short road trip. It's pretty big and would take up a lot of space in your carry-on or suitcase on a plane.
On exogun.com, the carrying case is listed as a $49 value. I think it's far from that. To me, the case feels thin and flimsy and I'm already having trouble with the zipper despite only using the massage gun for a few weeks. Also, the attachments don't stay in their molded spaces, so everything sort of falls out when you open the case.
The Ergonomics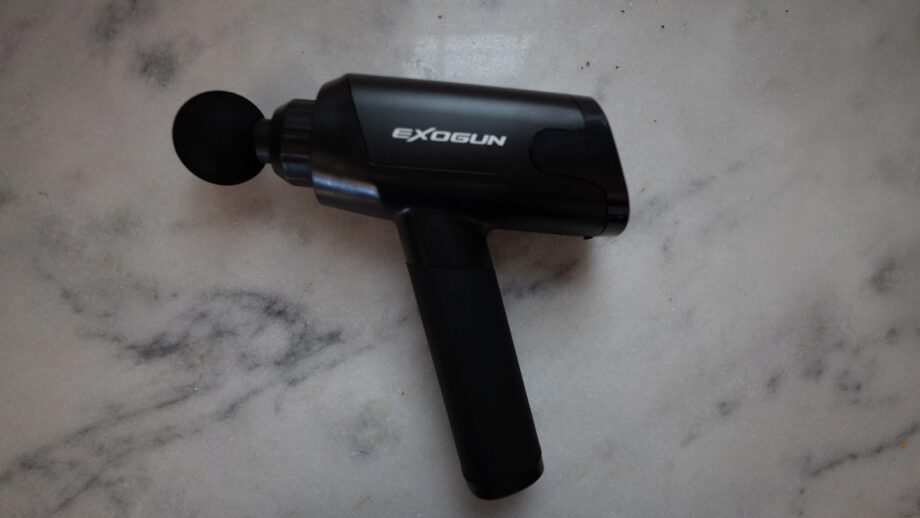 Ergonomics is where ExoGun has a lot of room for improvement. I think, in an attempt to stand out from competitors, ExoGun designed the DreamPro massage gun with a boxier shape and a centralized handle, versus the typical cylindrical design of most massage guns.The ExoGun definitely stands out from a purely aesthetic standpoint.
But when it comes to actually using the massage gun, the design feels clunky and heavy. For the way the ExoGun feels in hand, I expected a lot more power—and more power would've perhaps made up for the heavy-handed design.
Because the design is so top-heavy, it's hard to hold for long periods of time, especially when massaging your upper back or shoulders. This reduces the overall functionality of the massage gun, in my opinion. The handle is thin compared to that of most percussion massage guns, which can be good or bad depending on the size of your hands. It has a rubber coating which assists with grip, but it'll definitely wear out over time.
Technology Benefits and Conveniences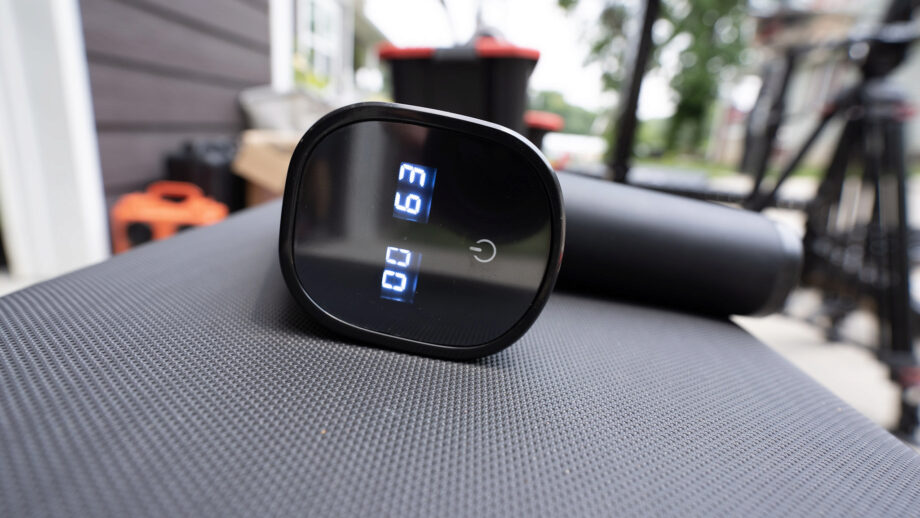 The ExoGun isn't exactly the epitome of the latest percussion massage technology. (Look to Theragun or Hyperice for that.) There's one techy thing that stands out about the ExoGun and that's the digital screen.I haven't come across another percussion device with a digital-only screen.
Most massage guns have analog buttons and a small LCD or OLED screen to display the speed, percussions per minute, or amplitude. Some massage guns—even some of the most expensive and high-quality ones—don't have a screen at all. I don't think you really need a screen on a massage gun, and I actually realized I prefer analog buttons over digitized ones, but the large screen on the ExoGun is a plus if you prefer that kind of stuff.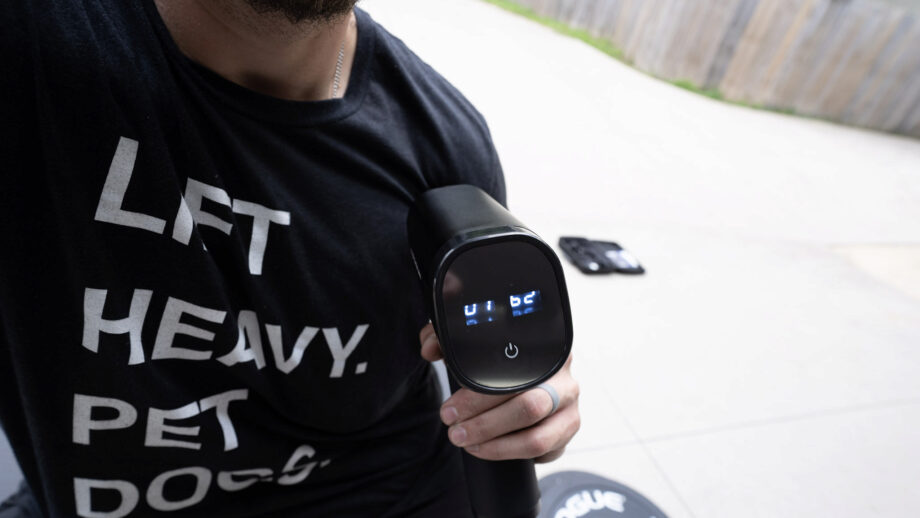 Ordering the ExoGun Massage Gun
There was nothing out of the ordinary about ordering the ExoGun DreamPro Massage Gun. I simply ordered it directly from the ExoGun website (although you can also get it from the BestBuy website) and got it shipped to my house.
It shipped quickly and was delivered within a week. When you check out online, you can use a credit or debit card or your PayPal account. Shipping costs are calculated at checkout and those depend on where you live.
ExoGun Massage Gun Specs
| | |
| --- | --- |
| Speeds | 6 (1200-3200 PPM) |
| Motor | 24V Brushless Motor |
| Stall Force | 60 pounds |
| Attachments | 4 (round flat, fork, bullet) |
| Battery Life | 1 month |
| Noise | 70 decibels |
Customer Experience
If you have problems with ExoGun or any of its products, you can reach out via a contact form on the website, an email, or customer service phone number. ExoGun also has a robust FAQ library for common questions. The ExoGun DreamPro comes with a one year warranty, which is pretty good considering the price and quality of the device. One year seems to be standard even for higher end massage guns, including all Theragun models except the Pro series.
Customer Reviews
There are a lot of good reviews and a lot of bad reviews about the ExoGun massage gun. It seems like not many people feel neutral about this product: They either love it or hate it. Positive reviews praise things like the percussive power, battery life, and variety of massage attachments. Negative reviews call out that the massage gun isn't as powerful as the buyer thought it would be, that delivery took a long time, or they got a defective product.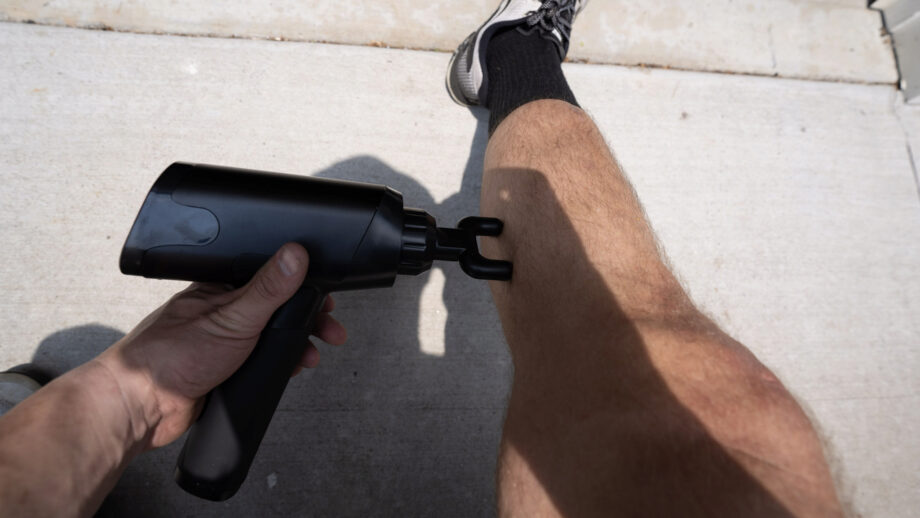 Final Verdict of Our ExoGun Massage Gun Review
Ultimately, the ExoGun DreamPro Massage Gun didn't turn out to be one of my favorites. I found the design to be somewhat clunky, which makes it hard to hold and use for more than a few minutes. At a price point of less than $200, I think you're pretty much getting what you pay for, although there are many massage guns in the $150 to $250 range with better ergonomics and specs than the ExoGun.
Doesn't have the latest and greatest massage gun technology, but it's not a terrible deal for the price.
The design could be more ergonomic to make it easier on the wrist and forearm during use.
It's relatively quiet and simple to use.
Full Rating
Exogun Massage Gun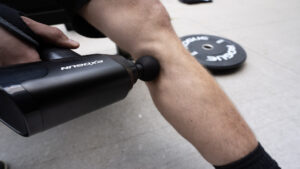 The ExoGun DreamPro Massage Gun isn't one of my favorites, but it's not a bad option for someone looking for a budget massage gun.
Product Brand: ExoGun
Product Currency: $
Product Price: 169
Product In-Stock: InStock
ExoGun Massage Gun FAQs
What does a massage gun do?
Handheld massage guns promote blood flow to sore muscles, muscle knots, and trigger points by applying pressure to soft tissues including muscle tissue and fascia. This helps reduce inflammation in sore areas, flush out lactic acid and other byproducts, and bring oxygen and nutrients to the muscles to facilitate recovery.
How do massage guns work?
Massage guns use percussion therapy, a type of soft tissue manipulation that targets specific muscle groups. It's similar to a deep tissue massage, but you can do it yourself and the treatment time is quicker.
What are the benefits of massage guns?
Similar to massage therapy, using a massage gun helps relieve muscle tension, may improve range of motion, and alleviate muscle pain and muscle soreness.
When should you use a massage gun?
Most people use massage guns for workout recovery on their rest days, but there are benefits to applying percussion therapy directly pre-workout and post-workout, too.
Is the ExoGun DreamPro a good massage gun?
The ExoGun DreamPro is an okay massage gun, but it's not great. If you have $150 to $200 to spend, definitely look into other options in the price range to determine if the ExoGun is your best option or not.
How long does the ExoGun massage gun battery last?
The ExoGun website claims the battery lasts up to a month, but in my experience, it lasted only about 10 days with regular use.