We test and review fitness products based on an independent, multi-point methodology. If you use our links to purchase something, we may earn a commission. Read our disclosures.
Belt squat machines notoriously have a large footprint and an even bigger price tag. But what if we told you that the Mammoth from Fringe Sport provides a small, portable belt squat option for anyone who owns a squat rack? The Mammoth is a belt squat attachment, similar to the Revolt Belt Squat attachment, but better because it's adjustable.
In this Fringe Sport Belt Squat review, we'll dive into the specs, explain how it works, and let you know who this power rack attachment will be best for.
Expert Squatters Here to Help
At Garage Gym Reviews, we've been testing specialty equipment and the best home gym equipment for nearly a decade. Since the humble beginnings of founder Coop Mitchell testing used pieces of equipment in his garage, we've grown into a large team of expert product testers and writers who all have extensive backgrounds in the fitness industry (including certified personal trainers, nutrition coaches, CrossFit Level 1 Trainers, and Olympic athletes).
For the Fringe Sport Mammoth, Sam Presley, GGR operations manager, assembled the belt squat attachment, and Coop personally tested the attachment with a workout of squats, lunges, and rows.
Fringe Sport Mammoth Belt Squat
GGR Score: 4.18
Product Highlights
Belt squat attachment

Attaches to your existing squat rack

Works for 5/8" and 1" holes

Affordable price tag

Adjustable lever arms

Adjustable height
Pros & Cons
Pros
Affordable
Free shipping
Comfortable belt
Customizable height
Cons
Sells out frequently
No warranty
Bottom Line
The Fringe Sport Mammoth Belt Squat is unlike traditional belt squat machines because it's actually an attachment that goes on your existing squat rack. Belt squats are ideal for folks looking to train legs without loading weight on the spine.
A Quick Look at the Fringe Sport Mammoth Belt Squat
Fringe Sport caters to budget-conscious home gym owners by providing an extensive collection of strength and conditioning equipment to choose from whether you like to train WODs, powerlifting, bodybuilding, Olympic weightlifting, or HIIT sessions with kettlebells or one of the best battle ropes.
Over the years, we've tested several pieces of strength training gym equipment from Fringe, including Olympic bars, specialty bars, bumper plates, pull-up bars, and weight benches.
We've also used the brand's cardio equipment, like the Rogue Echo competitor bike we wrote about in the Fringe Sport Raptor Air Bike review.
While comparison shopping, other brands that might show up in the Fringe price range include REP Fitness and Titan. While the Fringe equipment selection rivals Rogue Fitness, prices are much higher, and Rogue's equipment is manufactured in the USA, while Fringe Sport is not.

RELATED: Titan Squat Rack Reviews
Before You Buy
Compatible with most squat racks on the market Including 2×2, 2×3, and 3×3 uprights
Includes hardware for ⅝-inch and 1-inches holes
Weight plate peg is 14 inches long for stacking up bumper plates or traditional iron plates
Be sure to check out our Fringe Sport discount code page to take advantage of any current deals
Fringe Sport Belt Squat Video Review
Is the Fringe Sport Mammoth Belt Squat Worth It?
While not everyone wants or needs a belt squat machine or attachment, it's worth it if you struggle with shoulder mobility and it's difficult to get under the squat bar. It's also worth it if you don't want to vertically load your spine with a barbell, which might be the case if you've had a back or neck injury.
RELATED: What is a Belt Squat Machine?
Plus, we think that because it's compatible with pretty much all major squat rack uprights (and it's priced under $300), it makes an ideal lower body investment for anyone looking to develop their leg strength.
Great for:
Anyone with a squat rack
Adding versatility to lower-body workouts
Folks who want to train legs without spinal load
Not recommended for:
Squats over 450 lbs
People who lack hip mobility
Beginners
Fringe Sport Belt Squat Specs
| | |
| --- | --- |
| Price | $249 |
| Weight | 32 lbs |
| Weight capacity | 450+ lbs |
| Dimensions | 30" L x 3" W x 2" H |
| Loadable sleeve | 14" L |
| Materials | 11-gauge steel (UHMW plastic to protect rack) |
| Finish | Black powder coat (black zinc finish on hardware) |
| Compatibility | Useable with 2×2, 2×3, or 3×3 racks |
| Holes | Includes hardware for ⅝-inch and 1-inches holes |
| Warranty | 1-year belt, lifetime on lever arm |
Using the Fringe Sport Belt Squat
A traditional belt squat machine is a stand-alone piece of equipment that typically takes up the same footprint as a squat rack or deadlift platform. The purpose of the belt squat is to load the legs without loading the spine.
The belt squat achieves this with a belt. Instead of getting under a squat bar and taxing your back, traps, neck, and shoulders in addition to your legs, the belt squat puts the load around your hips and leaves your upper body free from additional weight.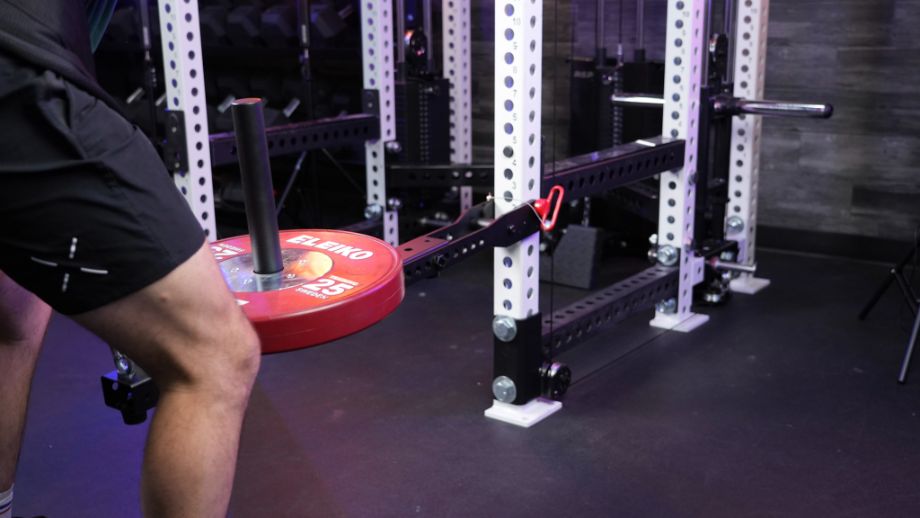 Don't let that fool you about belt squats being easy, though; the movement is truly challenging. In fact, you may even feel the fatigue from belt squats more acutely than back squats due to the movement being so isolated to your lower body.
The Mammoth belt squat attachment from Fringe Sport is unlike the competition because you'll be able to adjust the length of the lever arm. The length can be adjusted from 39 inches long to 49 inches. Coop notes that competitors offer a fixed length set of about 30 inches.
According to Coop, "You can choose the length that feels most comfortable and fits in your home gym. For some, that's really small, and so making the lever shorter may be the only way to use it," he says.
Durability and Construction
According to Coop, the Mammoth belt squat attachment offers a simple, durable design. And it's true; the attachment is quite simple: It's a straight lever arm constructed similarly to the upright of a squat rack. It's constructed from 11-gauge steel and offers a 2-inch-by-3-inch post.
The post itself has a black powder coating finish and the hardware has a black zinc finish. Where the attachment meets your squat rack with a hitch pin, the inside of the attachment has UHMW plastic to protect the finish on your squat rack.
You will have to assemble the attachment yourself, but it's worth noting it comes with heavy-duty M16 bolts, an eye belt for the belt attachment, and a ⅝-inch and 1-inch hitch pin to fit whatever type of rack you have.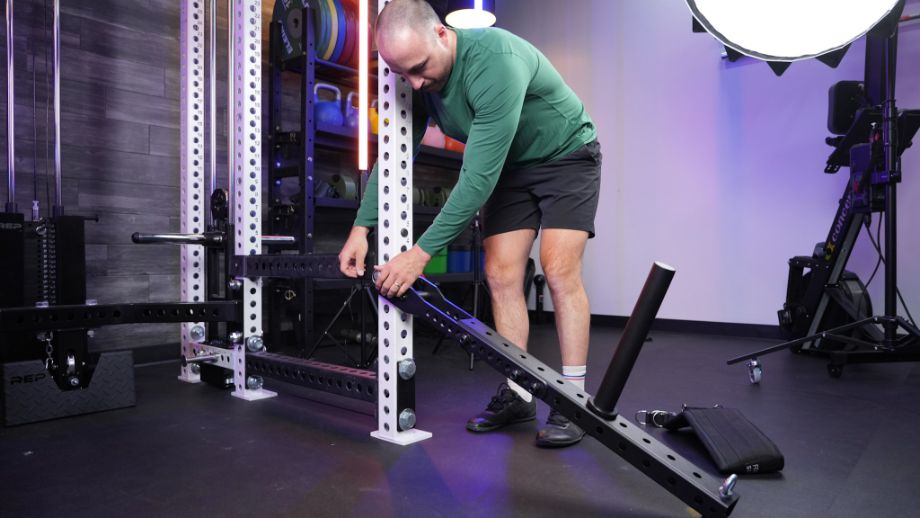 "It's going to work on 99% of racks that are in home gyms today. And you don't have to choose a different option. You simply rotate the upright so the thin portion is on the top for the 2-inch-by-3-inch option or flip it for the 3-inch-by-3-inch option," says Coop.
The lever is adjustable by unbolting the M16 bolts and selecting the length of your choice (between 39 and 49 inches). Adjustments can be made during your workout, but this will require a bit of work and won't be quick between supersets.
"Most cheap belt squats have a fixed length, and they're short—too short," says Coop. "With a longer lever, you can decrease the forward-to-backward travel due to a more exaggerated arc."
The other adjustment worth knowing about is the weight sleeve (which is sometimes referred to as the weight horn). The weight sleeve has a 14-inch loadable sleeve and is also bolted onto the lever arm.
"The weight horn is bolted on—instead of welded on—allowing you to place it wherever you'd like on the upright to feel most comfortable," says Coop. "Most people will put it in the middle, but there may be some that change the placement due to their body size or the way they use it."
The downside to the weight horn being bolted and not welded is that this will likely be a point of failure after repetitive use. For this reason, Coop rates the Mammoth belt squat at 4.5-out-of-5 stars for durability and construction.
Ergonomics and Comfort
Above, we covered the two ways the belt squat attachment can be adjusted for ergonomics: The length of the lever and where the weight horn sits. While making these adjustments isn't the quickest process, we think it's important to mention these features add value so you can get the best fit possible.
Aside from the comfort of not adding to stress on your upper back or loading your spine, Coop notes that the actual belt on the belt squat attachment is comfortable and features heavy-duty D-rings and multiple length options.
With all of these positive things to say, Coop mentions one thing he'd like to see different future iterations: a kickstand. "The problem with these belt squats (versus a more expensive option) is the lack of ability to start at the top of the rep," says Coop.
In a nutshell, what he's saying is you have to get your hips and entire body quite low to hook the belt to the Mammoth attachment and stay low to get the movement started. "Having to start at the bottom and lunge up into place is less than ideal," Coop adds.
For this reason, Coop rates the Fringe Sport belt squat 3.5-out-of-5 stars for comfort and ergonomics.
Fringe Sport Belt Squat Vs Revolt Belt Squat Attachment
Revolt Belt Squat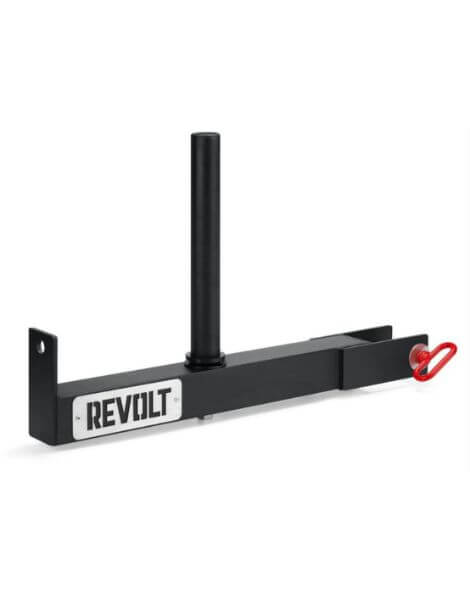 GGR Score: 3.5
Product Highlights
Belt squat attachment for racks 

14.5" loadable post length

Weighs 18 lbs
Pros & Cons
Pros
Allows you to do belt squats without expensive belt squat machine
Fits 2"x2", 3"x2" and 3"x3" racks
Try it risk-free: 30-day money back guarantee with free returns
Cons
Doesn't come with actual belt for squatting
Users would like a kickstand so don't have to start squat at bottom
Longer post for people using bumper plate
Bottom Line
Overall, the Revolt Belt Squat attachment is an affordable way to achieve the belt squat exercise in your home gym. If you only have bumper plates in your gym, you might be frustrated by the lower amount of weight you can move.
In the battle of the belt squat attachments, Fringe Sport beats Revolt because of the adjustability and customization settings. Although both brands offer similar pricing, the ability to adjust the lever length from 39 inches to 49 inches will offer more people ease of use and versatility for more exercises.
Both Revolt and Fringe manufacture belt squats from high-quality, heavy-duty materials and design them with compatibility to nearly all of the best squat racks on the market. Coop says, "Fringe Sport is the new, cheap belt squat king. I've crowned it. If you're in the market for one, the Revolt is dethroned."
If you're interested in what Coop has to say about Revolt, check out our in-depth video review of the Revolt Belt Squat for more insights.
| | | |
| --- | --- | --- |
| | Revolt Belt Squat | Fringe Sport Belt Squat |
| Price | $299.99 | $249 |
| Weight | 18 lbs | 32 lbs |
| Weight capacity | 495 lbs | 450 lbs |
| Weight post length | 14.4" | 14" |
| Compatibility | 2×2, 2×3, or 3×3 racks | 2×2, 2×3, or 3×3 racks |
| Hole size | ⅝" and 1" | ⅝" and 1" |
| Materials | Steel, powder coat finish | Steel, powder coat finish |
| Length | 30" | 39" to 48.75" |
| Warranty | N/A | 1-year belt, lifetime on lever |
Customer Experience
If you are unhappy with your purchase or have questions about your Fringe Sport products, the brand has several options to get in touch with customer support. Firstly, there is a live chat function in the bottom right-hand corner of the website. I used the live chat feature to ask if there was a warranty on the Mammoth belt squat, and I got a response back in seven minutes.
Fringe also has a customer service phone number (512-201-4404) or email address (team@fringesport.com) you can use. It's also helpful that the website lists the customer service office hours—which are Monday to Friday 9 a.m. to 5 p.m. Central Standard Time) so you know when to expect responses.
However, hopefully, you won't need to reach out to customer service. The brand has a 100% satisfaction guarantee stating, "If you are not happy with anything, contact us immediately, and we will make it right."
Ordering and Assembling the Fringe Sport Mammoth Belt Squat
When the Mammoth belt squat attachment is in stock, ordering is fairly easy. However, at the time of writing this review, the Mammoth is out of stock.
At checkout, you'll have the ability to use express payment options including Shop Pay, Amazon Pay, PayPal, Google Pay, or Meta Pay. If that's not your style, you'll also have traditional credit card options after entering your personal information. Here, you'll also have financing available from Affirm, Shop Pay, Amazon Pay, and PayPal.
If you choose to finance through any of these third parties, after you complete your order, you'll be redirected to the lender's website.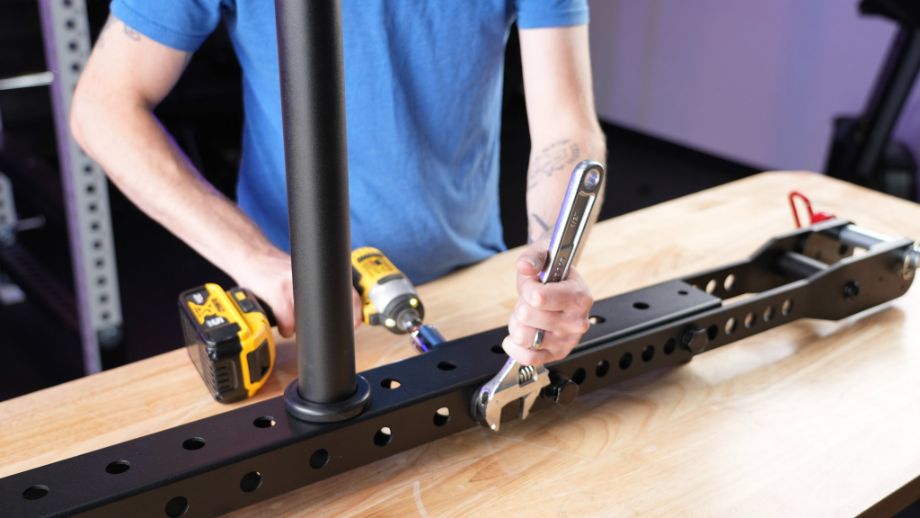 Additionally, you'll like knowing Fringe offers free shipping. Once the Mammoth arrives, you'll notice it comes in a fairly small box because all the parts come broken down ready for assembly.
Sam Presley, GGR operations manager, didn't have much trouble with the assembly process. He used a wrench and an impact driver for fast assembly and tightening of the M16 bolts. You should be able to use a socket wrench if you don't have access to an impact driver. Plus, most reviews I read also stated assembly was easy.
RELATED: DIY Gym Equipment
Customer Reviews
With only eight customer reviews on the website, it's hard to gauge the feedback. However, all reviews are currently at either a 4- or 5-out-of-5-star rating.
In a much more lengthy review that I didn't include below, the reviewer says, "It doesn't matter what the tensile strength of the pieces or that you improved the stitching of the belt. If my sleeve eventually fails, this thing is useless. From what I've read about other belt squats being sold, most weld the attachments together. Those welds eventually fail. That's why I was intrigued by this design. But, if anything were to give, I'm worried that my bolted weight sleeve may give eventually if the stripped nut eventually fails."

Final Verdict of Our Fringe Sport Belt Squat Review
The Mammoth belt squat attachment from Fringe Sport is an affordable way to isolate your legs without loading your neck, shoulders, and upper back. This is ideal for anyone recovering from an upper-body injury or general shoulder mobility.
Fringe Sport Mammoth Belt Squat Rating
Mammoth Belt Squat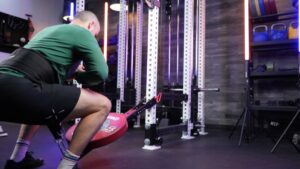 In this Fringe Sport Belt Squat review, we'll take you through how it works and everything we like and dislike about it.
Product Brand: Fringe Sport
Product Currency: $
Product Price: 249
Product In-Stock: InStock
Fringe Sport Belt Squat FAQs
Here are some common questions we wanted to answer about the Mammoth Belt Squat:
Are belt squats effective?
Belts squats are a highly effective way to load just your legs and add virtually no pressure to your shoulders, neck, and spine. The weight is loaded onto your waist and hips via a belt and effectively targets your quads, hamstrings, and glutes with squats, lunges, and deadlift-style hinges. 
Are belt squats harder than squats?
While both versions of squats are difficult in unique ways, the main reason belt squats are challenging is because your legs are isolated (almost like a leg press). The belt squat does not require full-body muscle recruitment like the traditional back squat. 
How much does the belt squat weigh?
According to the Fringe Sport website, the Mammoth is 32 pounds and provides 80% relative load. 
Do belt squats build mass?
Belt squats (along with bodyweight squats, dumbbell squats, and barbell squats) have the potential to build muscle mass depending on several factors, including load, repetitions, number or sets, and range of motion. If you're generally wondering what it takes to make gains, check out our guide on how to build muscle.