We test and review fitness products based on an independent, multi-point methodology. If you use our links to purchase something, we may earn a commission. Read our disclosures.
Do choices overwhelm you also or am I just anxious 24/7? Maybe both are true, but regardless, making decisions is an inevitable part of life. And when it comes to picking from thousands of pieces of fitness equipment on the market, the options can feel staggering. Luckily, your friends at GGR are here to help guide you through the storm.
In these XTERRA treadmill reviews, I'll break down all the specs and information you need to know to make a wise purchasing decision. With industry standards top-of-mind (combined with good old-fashioned hands-on testing), I'll give you my honest thoughts on some of the most popular XTERRA treadmills.
XTERRA XTERRA, Read All About It!
I love juicy information, don't you? The cool kids call it tea (I admittedly sometimes do also), but at the end of the day, facts and research are what make the world go 'round. Luckily, GGR has expert product testers and reviewers who get the inside scoop around the clock on the latest and greatest fitness equipment.
It's our job (and pleasure) to craft something digestible and interesting to read that is chock-full of information. And even better? We know what we're talking about. After all, we're certified personal trainers, former college soccer players, and nutrition coaches. GGR is full of subject-matter experts with a passion for fitness (and we can't wait to give you the tea).
Which XTERRA Treadmill Should You Buy?
XTERRA has three different lines of treadmills: Performance, Sport, and Compact series. Both the Compact and the Performance series have four treadmills each, whereas the Compact series only has three different machines to choose from.
The Compact series has the least expensive machines, with the cheapest being the XTERRA TR150 at just under $650. This series is ideal for those in smaller spaces, especially since all of these machines have reduced footprints and are foldable.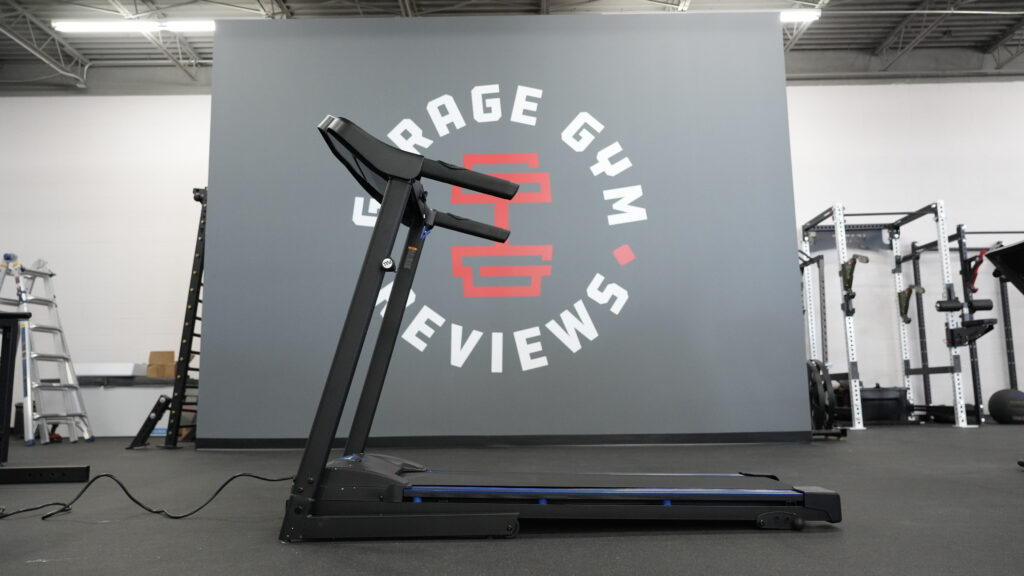 If you're looking for something sturdy with a powerful motor, I suggest checking out the Performance series, particularly the XTERRA TRX5500. This machine is around $2,000, and is the most expensive treadmill currently offered by the brand. However, you do get 15 levels of incline, a large deck, and a 3.25 CHP motor. Unfortunately (or fortunately), you do normally get what you pay for when it comes to treadmills.
The Sport series machines from XTERRA are a good choice for those who want lots of incline options or a larger deck. They are within what I consider to be a mid-range price point.
XTERRA Performance Series Treadmills
XTERRA TRX3500 Treadmill
Good for: Someone who wants solid preset programs on their treadmill
XTERRA TRX3500 Treadmill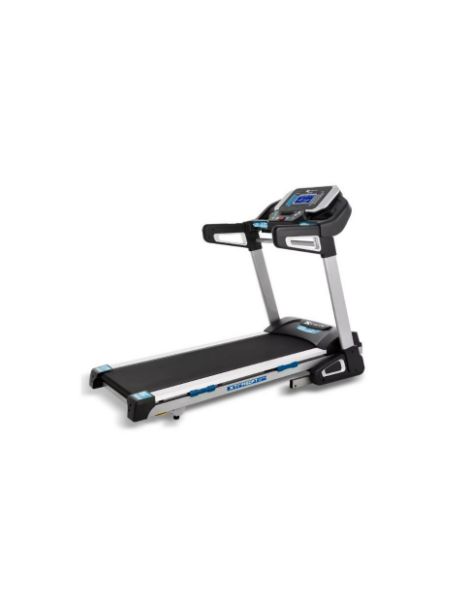 GGR Score: 3.56
Product Highlights
30 preset workout programs 

Built-in Bluetooth connectivity

Handlebar speed and incline controls

Dual cup holders
Pros & Cons
Pros
Foldable for easy storage
Bluetooth connectivity
Transportation wheels
350-lb user weight capacity
Cons
Small LCD blue backlit monitor (no touchscreen)
Customer reviews say it can be noisy
Less incline capability than other similar models
Bottom Line
The TRX3500 Treadmill is an affordable at-home treadmill that most anyone can use. It comes with features like 30 preset workout programs, Bluetooth connectivity, and more.
If you're not into the idea of crazy bells and whistles on your treadmill, you may appreciate the XTERRA TRX3500. This machine has great specs and warranty, but doesn't have things like a touchscreen or interactive programming. Instead, you'll be treated to a variety of preset programs that are included on the treadmill's dashboard.
This machine also features an impressive 350-pound user weight capacity, which means it can support heavier folks with relative ease. You'll also be able to enjoy an expansive 20-inch-by-60-inch deck, which is roomy enough for folks with longer strides.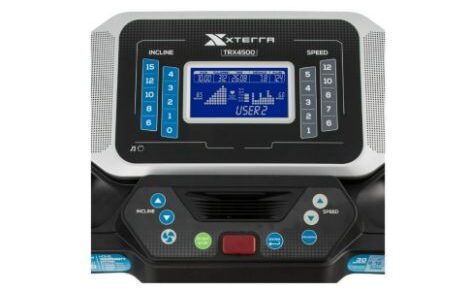 Some reviewers do mention that this machine can be noisy, but many of these issues can usually be resolved with maintenance. Remember to frequently clean and lubricate your treadmill to keep the machine running without a hitch.
I am a big fan of the TRX3500's foldability. This machine is really sturdy as well, so this is a lethal combination in my book. Plus, this model also has a gas shock (unlike the TR150), so the deck will come down slowly and gracefully when unfolded.
XTERRA Sport Series Treadmills
XTERRA TR6.6 Treadmill
Good for: A heavier or taller person
XTERRA TR6.6 Treadmill
Product Highlights
3.0 CHP motor is ideal for sprinting, walking, jogging, and running
350-lb user weight capacity is above the industry standard
High step-up height may not work for those with balance issues
LCD display; no touchscreen
20" x 60" deck is ideally sized for taller folks
Pros & Cons
Pros
3.0 CHP motor
Oversized deck
15 levels of incline
350-lb user weight capacity
Lifetime frame and motor warranty
Variety of convenient extras
Foldable
Financing is available
Cons
Doesn't have a touchscreen
Heavy machine
High step-up height
Bottom Line
The XTERRA TR6.6 is a mid-range treadmill with great specs. If you don't mind having a cardio machine without a touchscreen, you'll enjoy what the TR6.6 has to offer.
For the $1,600 price, the XTERRA TR6.6 treadmill has a lot to offer the average consumer. The 3.0 CHP motor is what we'd expect to see on a machine built to withstand frequent running, jogging, or walking.
The 20-inch-by-60-inch running deck is also good for taller people or those who enjoy sprinting. Even more impressive is the 350-pound user weight capacity. This is 50 pounds more than the industry standard, so the machine is an ideal match for heavier folks.
The intuitive display features jump buttons for both the speed and incline on the TR6.6. This is useful for those who enjoy HIIT workouts and frequently are changing pace or slope.
Although this machine doesn't have much to dislike, there are a few things to keep in mind before purchasing. One, this treadmill is heavy. Like almost 300 pounds heavy when it arrives at your door. You'll need some assistance to both move and assemble this beast of a machine. Secondly, the step-up height is almost eight inches high, so it isn't the best choice for someone with balance issues.
XTERRA Compact Series Treadmills
XTERRA TR150 Treadmill
Good for: Someone on a tight budget or in a smaller space
XTERRA TR150 Treadmill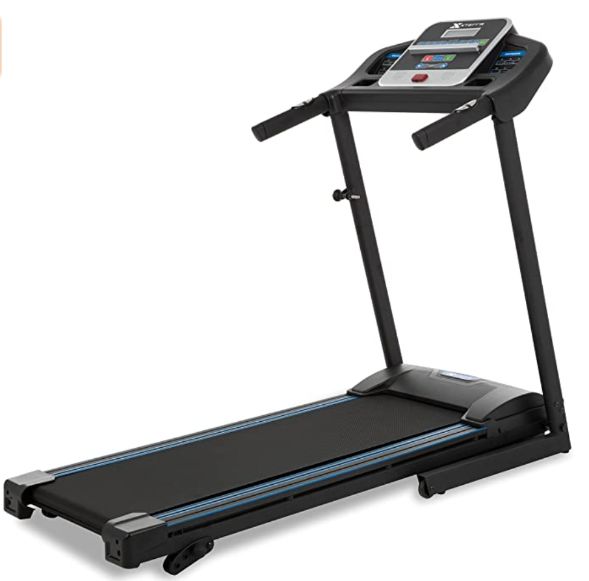 GGR Score: 3.5
Product Highlights
Simple to use
Lifetime warranty on the frame
Easy to build
12 preset programs
Deck has sub-par cushioning
Pros & Cons
Pros
Foldable
Portable with transport wheels
Ideal for beginner walkers to speed walkers
Lightweight
Great warranty
Easy-to-read 5-inch LED display
12 preset programs onboard
Cons
Only 2.25 horsepower motor
Some reviewers report it is noisy
Water bottle holders on console reportedly do not fit normal bottle sizes
Users claim they received an error code after one use
Several reviews reported that the dimensions provided are inaccurate
Not suited for experienced and heavy users
Bottom Line
The XTERRA TR150 is a starter treadmill available on the lower end of the budget scale offering a commendable lifetime frame warranty and features comparable to competitive models. If you are just beginning your fitness journey, this is a great option for you.
The XTERRA TR150 is a budget-friendly and compact treadmill ideal for someone in a smaller space. Although there isn't a motorized incline on this machine, you can still enjoy some uphill benefits with three manual incline levels.
You'll also get to enjoy 12 different preset workout programs, which can be a good resource for beginners. Having expensive, subscription-based programming isn't sustainable or realistic for everyone, so this is a nice feature.
GGR founder Cooper Mitchell has tried the TR150, and he had a lot to say about it.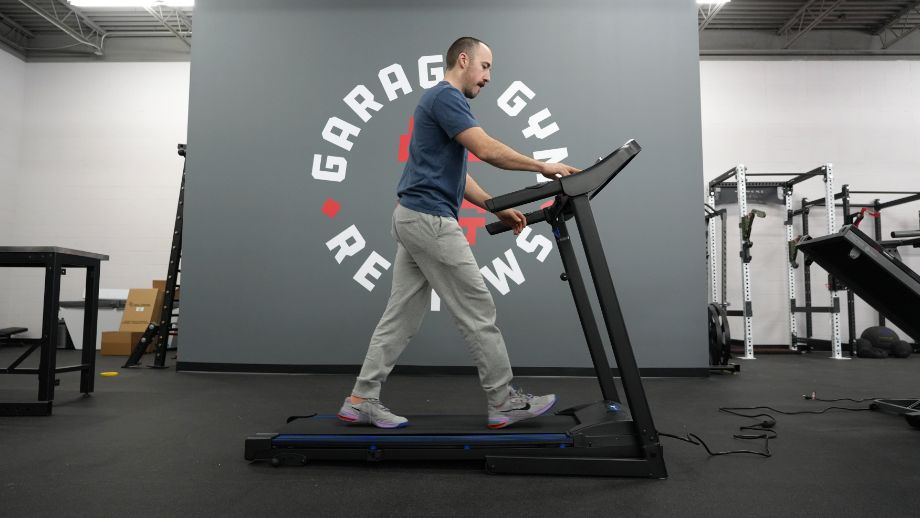 "I like the simplicity," Cooper explained. "The belt isn't my favorite as it's loose and ruffled a bit at the edges out of the box. The deck doesn't add much in the way of comfort either. For walking and light jogging, it works, but I wouldn't suggest long runs or sprints on it."
Cooper also mentioned that he was leery of the TR150's folding capabilities. Since this machine doesn't have a gas shock, the deck can easily flop down with a good amount of force, which could be unsafe. If you do plan to fold or unfold this machine frequently, use extra caution and be aware of your surroundings. 
The XTERRA TR150 treadmill is available for purchase on both the XTERRA website and on Amazon. However, I definitely recommend buying this machine on Amazon because it's $200 cheaper.
Get the 4-1-1 with our XTERRA Fitness TR150 treadmill review.
XTERRA Treadmill Comparison Chart
| | | | |
| --- | --- | --- | --- |
| | XTERRA TR150 Treadmill | XTERRA TR6.6 Treadmill | XTERRA TRX3500 Treadmill |
| Price range | Around $650 | Around $1,600 | Around $1,300 |
| Series | Compact Series | Sport Series | Performance Series |
| HP Motor | 2.25 CHP | 3.0 CHP | 3.0 CHP |
| Dimensions | 63.4″ L x 28.75″ W x 51.4″ H | 78.9″ L x 35″ W x 57.1″ H | 77.2″ L x 35.5″ W x 56.1″ H |
| Running surface | 16″ W x 50″ L | 20" W x 60" L | 20" W x 60" L |
| Incline and decline | 3 levels of manual incline | 15 levels of incline | 12 levels of incline |
| Speed range | 0.5-10 MPH | 0.5 – 12 MPH | 0.5-12 MPH |
| Display | LCD display | LCD display | LCD display |
| Warranty | Lifetime frame, 1-year motor, 90-day deck, parts, and labor | Lifetime frame and motor, 5-year deck, 2-year parts, and 1-year labor | Lifetime frame and motor, 2-year deck and parts, and 1-year labor |
| Step-up height | 5.15″ | 7.66″ | 7.75″ |
| Weight | 97 lbs | 260.2 lbs | 213.9 lbs |
| Weight limit | 250 lbs | 350 lbs | 350 lbs |
| Water bottle holders | Yes | Yes | Yes |
XTERRA Brand Policies
Knowing a brand's policies before purchasing a machine is always a good idea. Let's take a closer look at the important things: the offered warranties, returns, and financing.
Warranty
XTERRA does not offer the exact same warranty for every treadmill across the board. However, the brand does offer a lifetime warranty on each treadmill's frame, which is a huge win. For context, the industry standard is between 15 years to life on a frame, so this is ideal.
In terms of the other things generally covered by a warranty (think motor, deck, parts, and labor), these vary from model to model. On the more budget-friendly machines, like the XTERRA TR150, you'll get 1-year warranty on your motor and 90 days for everything else. This isn't necessarily surprising, especially since this machine is an inexpensive choice.
Returns
Depending on if you buy your XTERRA treadmill on Amazon or on the XTERRA website, you'll need to follow their specific processes and procedures. If you purchase your machine from XTERRA directly, you can return your machine within 30 days for a full refund.
However, it is worth noting that you'll need to foot the bill for return shipping yourself, as the brand will not pay for this expense. You'll also need a specific return address authorization, which you can get by calling customer service at (870) 336-4286.
Amazon does charge return shipping as well, but their returns process is a little different. After clicking on the "Returns and Orders" tab in the upper right corner, you'll be able to select the item or items you want to send back. Amazon then charges $.75 per pound for you to send the item back. The cost will be deducted from your final refund. If you purchase a really heavy treadmill from Amazon and want to return it, you'll need to be aware that this could mean your return shipping cost will be exorbitant.
Financing
All-hail XTERRA's financing options! The brand allows you to finance machines through the company Bread, which is then funded by Comenity Capital Bank. Depending on if you qualify (which involves a credit check), you could pay as little as 0% APR for 12 months.
XTERRA Treadmills FAQs
Who manufactures XTERRA treadmills?
Dyaco is the parent company of XTERRA. They also own popular brands such as Spirit, Sole Fitness, Johnny G, and Dyaco Medical.
What are the top 5 home treadmills?
What features do XTERRA Fitness treadmills have?
XTERRA treadmills usually have some (if not all) of the following:
Transport wheels
Preset programs
Various incline levels
Cup holders
Cooling fan
Backlit LCD display
Xtrasoft deck cushioning 
Bluetooth connectivity
Included chest strap for heart rate monitoring
Controls on handlebars
Pulse sensors