We test and review fitness products based on an independent, multi-point methodology. If you use our links to purchase something, we may earn a commission. Read our disclosures.
Looking for a Fringe Sport discount code you can actually use? We have you covered.
Fringe Sport makes some of our favorite barbells on the market, including the Fringe Sport Hybrid, Lone Star Power Bar, Longhorn Buffalo Bar, and the Bomba Bar V3.
Although I would consider Fringe Sport to be a more affordable option when it comes to home gym equipment, it still isn't equivalent to ordering off the dollar menu. This is where Garage Gym Reviews comes in with discount codes and coupons you can use to save money on Fringe Sport products. 
Save on Fringe Sport Products
We know finding discounts on Fringe Sport products can be tough, so we've compiled the four best ways to save money on some of the best home gym equipment.
Sales Page: Fringe Sport has a comprehensive sales page where you can see the latest steals and deals.
Financing: Want to break up your Fringe Sport payment into more manageable pieces? You can finance your purchase through Affirm at checkout.
Military and Law Enforcement: You can get 5% off your Fringe Sport order if you're in the military or in law enforcement.
Ambassador Program: If you want free goodies or to save money on your next Fringe Sport purchase, join the ambassador program. You'll have to tag Fringe Sport in multiple posts on Instagram and make sure you're signed up via the link.
How to Apply the Fringe Sport Discount Code
Step One: Check out the sales page to see if any of the products you were looking to purchase are marked down. Add any desired products to your cart.
Step Two: For those within law enforcement or the military, Fringe Sport offers a 5% off discount. Simply call (512) 201-4404 to provide proof and receive your exclusive discount. At checkout, you'll be able to add the code and save.
Step Three: If you're looking to join the Fringe Sport Ambassador program, you can first sign up at this link. Once you're signed up, create a post on Instagram and be sure to tag Fringe Sport within your post. Make sure your account is set to public so Fringe Sport can reach out with information about claiming your prize! The prizes vary between coasters, a water bottle, and coupons to save money on your next order.
Step Four: At checkout, you'll have the option to break up your purchase into more manageable chunks by financing with Affirm.
When Do Fringe Sport Products Go on Sale?
Looking to save even more cash? Check out one of our holiday sales pages to see when your favorite Fringe Sport products typically go on sale.
What We Love About Fringe Sport
Fringe Sport Midas' Revenge Bar 20kg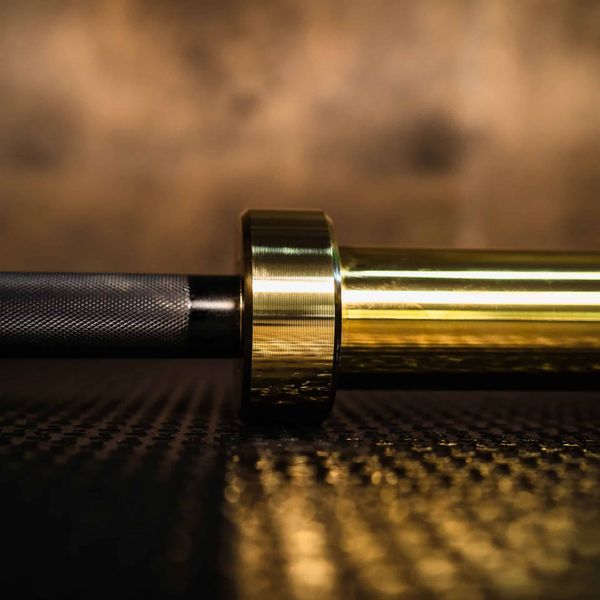 Fringe Sport Midas' Revenge Bar 20kg
Frings Sports hit a home run with the new Midas' Revenge Bar. Not only does this bar look incredibly sleek, but it boasts a moderately-aggressive, pyramid-style knurling and slow controlled spin which, let's face it, are the benchmarks for a great barbell for powerlifters. With a 190,000 PSI tensile strength, an impressive max weight capacity of 1,500 pounds, and a durable Cerakote finish in matte black, you can hit your heavy lifts without any worry of damaging the bar. Oh, and Fringe Sport offers a lifetime warranty.The 16.4-inch long and 2-inch diameter gold titanium sleeves are incredibly scuff-resistant. When we dropped the bar from above the head onto a concrete floor without any plates, there was hardly a scratch to be found. The spin on the Midas' Revenge Bar is bound to feel phenomenal as it is made from four aerospace-grade bronze oil-lite bushings. It is ideal for slower lifts such as squats, bench press and deadlifts, but is also a good choice for CrossFit training.This one-of-a-kind bar features the ever-reliable bronze bushings (aero-space grade), a 28.5 millimeter shaft, dual knurling and a smooth controlled spin best for slower lifts. 
Fringe Sport offers some of the best barbells and bumper plates on the market. The brand creates products that are high-quality, usually budget-friendly, and designed to fit right in at your home gym. Here are a few of my favorite Fringe Sport products I think you should consider picking up.
Why Buy From Fringe Sport?
Fringe Sport sells almost everything you need to create an epic home gym. They have barbells, kettlebells, dumbbells, plates, ropes, sleds, and more. Here are some of the top reasons we suggest buying from Fringe Sport:
Free shipping within the USA
365-day return policy
Ability to finance with Affirm
Budget-friendly equipment without sacrificing quality