We review free products that we receive and participate in affiliate programs, where we may be compensated for items purchased through links from our site.
See our disclosures page for more information.
There are a ton of barbells out there in the fitness world. (I should know: I've tested nearly 100 of them.) Having trouble choosing one for yourhome gym? Have no fear, Coop from Garage Gym Reviews is here! I'm adding to my collection of barbell reviews with this Fringe Sport Bomba Barbell Review, diving into all of the pros and cons of this blacked-out needle bearing bar.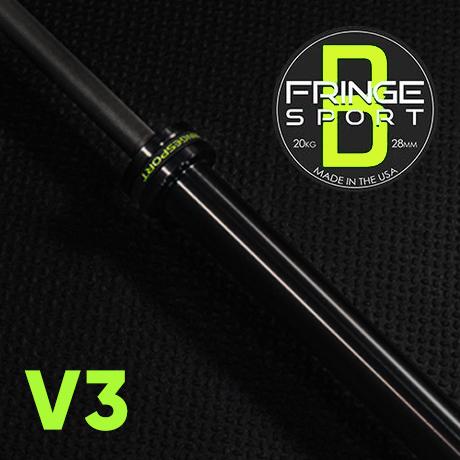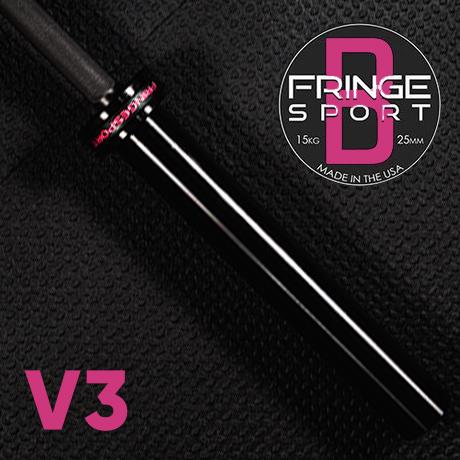 If there's one piece of home gym equipment you should have, it's a barbell—and some weight plates.
My Favorite Things:
One of the least expensive USA-made barbells at around $300
Uses a bearing rotation system
Aesthetically pleasing & corrosion resistant black Cerakote finish
201K tensile strength is high and slightly above industry average
Shipped well-protected in its barbell tube
My Callouts:
A bit more play in the sleeves than I would like
Black Zinc sleeves will fade with time
Knurling feels a bit lighter than I'd expect from an Olympic weightlifting barbell, but it's partly due to the Cerakote coating.
Why You Should Trust Us
If I know a lot about anything, it's barbells. My personal obsession has led me to create some of the most in-depth, comprehensive content on barbells for home gyms you'll find anywhere.
From Rogue to Eleiko to REP and more, I've tested and covered all of the best (and some of the not so great) barbells on the market. After testing nearly 100 barbells—and researching more than 150—I've created guides to the best Olympic barbells, the best CrossFit barbells, and the best barbells for powerlifting.
For this Fringe Sport Bomba barbell review, I put the Bomba Bar V3 to the test by using it during several different types of workouts, including powerlifting, weightlifting, and CrossFit. Is this the best barbell for you? Let's dive in.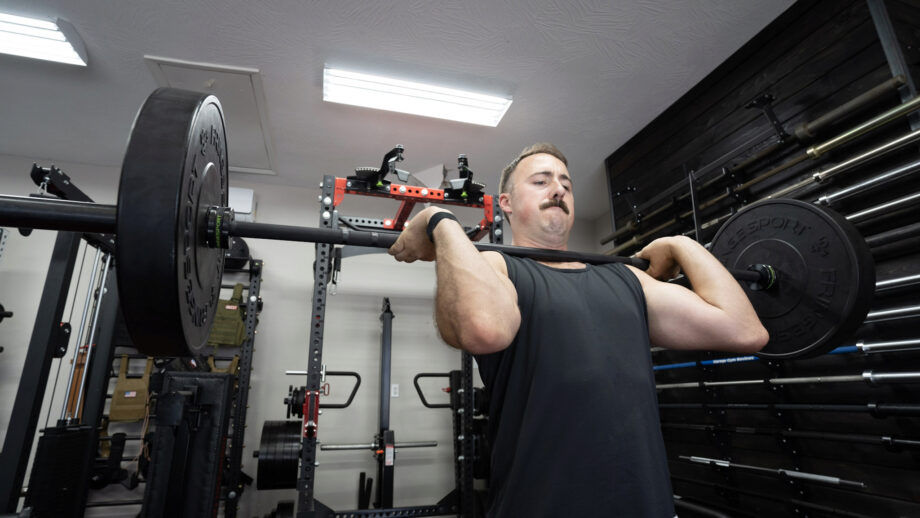 A Quick Look at the Fringe Sport Bomba Bar V3
The Fringe Sport Bomba Bar is the latest in a line of quality, value-focused barbells from Fringe Sport. The Bomba Bar V2 was known for its high tensile strength, great spin, and a low price. The 3rd Version of that bar, the one I'm reviewing today, builds on that value proposition with quite a few improvements.
The Bomba Bar V3 comes in a dual finish: black Cerakote on the shaft and black zinc on the sleeves. I'd like to eventually see Fringe Sport offer Cerakote bars in different colors, but black-on-black is always a solid aesthetic choice.
As for specs, the Bomba Bar V3 sits with the cool kids. It has a spec list that in some regards rivals Rogue barbells and makes many bars seem vastly overpriced. With above-average tensile strength, dual knurl marks, and a lifetime warranty, this bar is built well and backed up—but it's still not perfect. Keep reading for my full Fringe Sport Bomba barbell review.
Is the Fringe Sport Bomba Barbell Worth It?
The Fringe Sport Bomba Barbell V3 clocks in at a pretty decent price of around $300—it's not the cheapest bar out there, but it's far from the most expensive. Although it's a great value, that doesn't make this particular bar the best fit for every home gym owner. Here's who should consider the Fringe Sport Bomba V3 and who should look for other options:
Great for:
Olympic weightlifters who love a lot of spin in a barbell
Anyone who needs a general purpose barbell with increased rotation
People looking for a decently priced USA-made bar
Not recommended for:
People who prefer less spin/movement from the sleeves
People who desire more aggressive knurling
Anyone who wants a stainless steel barbell
Ordering the Fringe Sport Bomba Bar V3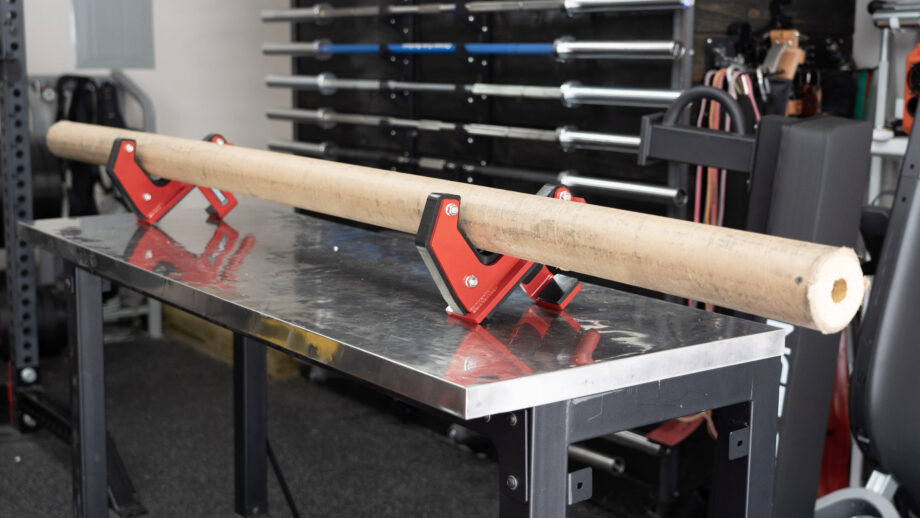 I was pleased to receive the Bomba Bar V3 well-packaged in a protective barbell tube without dings or scratches to the product. I personally think perfection upon arrival should be standard when it comes to barbell delivery, but those are high expectations.
Ordering from Fringe Sport is always easy. The website is simple to navigate and the checkout process is smooth. You can check out with Shop Pay, Amazon Pay, Google Pay, or PayPal. And shipping is free! I love to see it.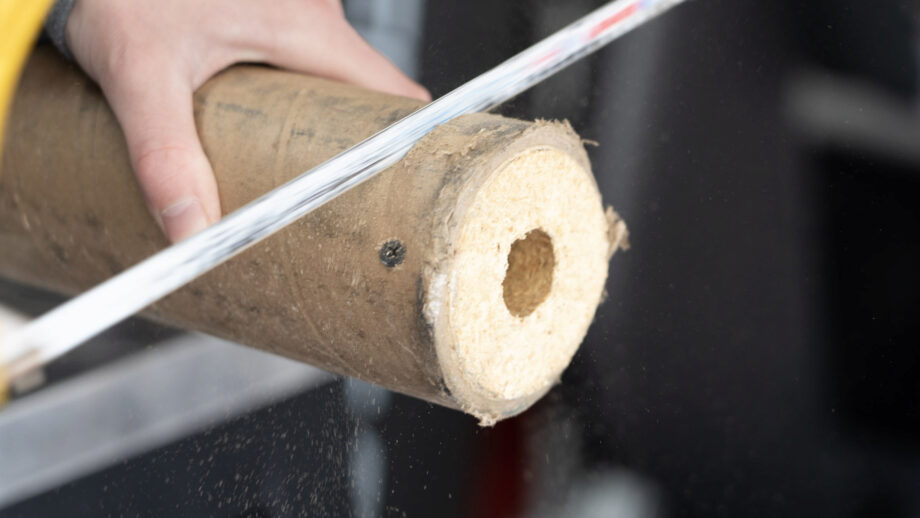 Construction and Use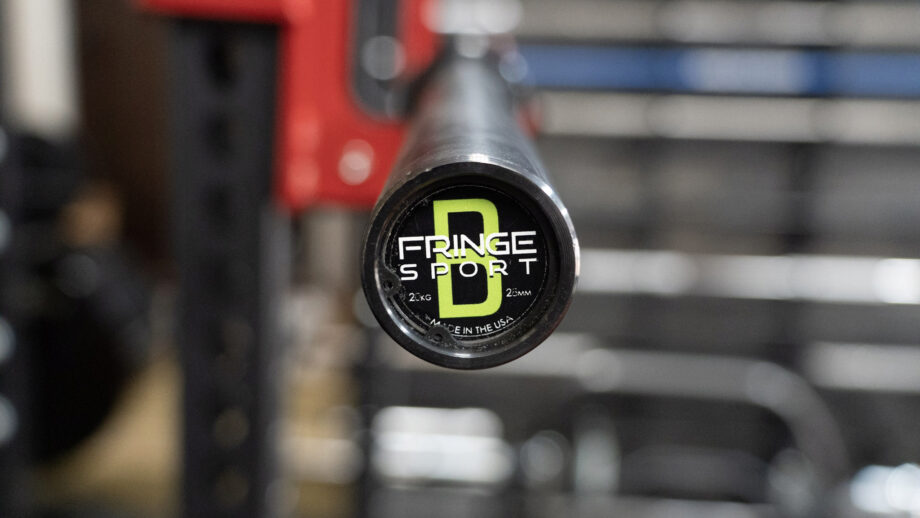 For the most part, I enjoyed using the Fringe Sport Bomba Bar V3. I only have one real complaint, which is that there's more play in the sleeves than I would like. There seems to be extra space between the shaft and the bearings, which creates side-to-side and back-and-forth movement in the sleeves. This can also lead to premature wearing of the barbell and increased noise.
Fringe Sport markets the Bomba Bar V3 as a multi-use bar, but I think it's best suited to the Oly lifts and CrossFit WODs with lots of barbell cycling. Since there's so much spin and play in this barbell, it may not be the best choice for powerlifters and bodybuilders who focus on the slower, less explosive lifts where stability upon unracking the bar from the squat rack plays a big part in the lift.
Here are some more specifics about the construction of the Fringe Sport Bomba Bar V3:
Bar Weight
The Bomba Bar V3 comes in both a 20-kilogram bar and a 15-kilogram bar. I love to see barbells manufactured in both men's and women's versions. As per usual, the 20kg bar has a 28-millimeter shaft and 16-inch sleeves, while the 15kg bar has a 25-millimeter shaft and 13-inch sleeves. Both versions are great Olympic bars and the choice comes down to your preference for bar weight, diameter, and length.
Tensile Strength
The 20-kilo version of the Bomba bar V3 has a tensile strength of 201K PSI. That's slightly above the industry average, which ranges from 170K to 190K. The 15-kilo version of this barbell has a tensile strength of 200K PSI. That's higher than some of the best women's barbells available, including the Rogue Bella Bar (read ourBella Bar review). Both versions of the Fringe Sport Bomba Bar V3 can easily withstand drops from overhead with a few hundred pounds on them.
Durability and Finish
Stainless steel is always the most durable option for a barbell and removes the need for a finish, but it's not as cost-effective. Luckily, there's been vast improvement to barbell finishes over the last decade or so, and the best, most durable options have become more widespread.
One of those is Cerakote, which you'll find on the shaft of the Bomba Bar V3. Cerakote is a very thin ceramic coating that protects the steel of the barbell from rusting. Thanks to its ability to create designs and fun colors on a bar, Cerakote has quickly become an industry standard.
Cerakote will undoubtedly wear over time, but if it's applied properly, it should prevent corrosion from forming in the knurl for a long time. As for the sleeves, those are coated with black zinc, which will fade over time due to friction between weight plates and the bar, but I do prefer it over Cerakote on barbell sleeves.
These are pretty standard expectations when it comes to barbell finishes, and as long as you take care of the Bomba Bar V3, the only wear-and-tear you should experience is minimal and cosmetic. You'll face possible corrosion down the line if you never clean your barbell or store it in a humid or uncovered environment.
Still, the Bomba Bar V3 comes with those two very special words: lifetime warranty. If a company is confident enough in its product to offer a lifetime warranty, that's a good sign they believe in its durability.
Sleeves and Shaft
The Bomba Bar V3 is made to IWF specs, which means the total bar length is 86.6 inches, the shaft is 51.5 inches, and the loadable sleeve length is 16.25 inches on the 20kg bar. The diameter of the 20kg Bomba Bar V3 shaft is the standard 28 millimeters.
On the 15kg bar, the total bar length is 79.1 inches, the shaft length is 51.5 inches, and the loadable sleeve length is 13 inches. The shaft diameter of the 15kg Bomba Bar V3 is 25 millimeters, making it great for athletes with smaller hands.
It's common for people to call 15-kilogram bars "women's bars," but anyone can use them. The primary thing to be aware of is that the sleeve length is shorter, so there's not quite as much room to load plates on it.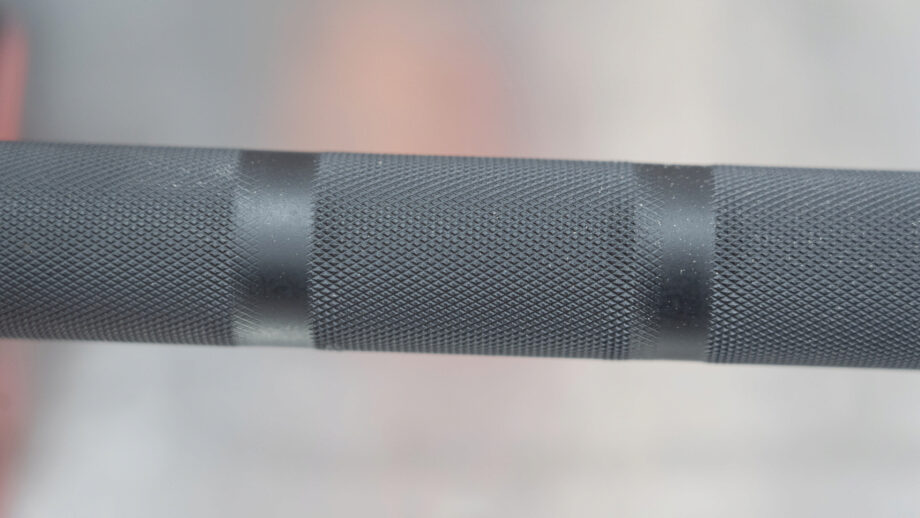 Knurling
I would've loved to see a center knurl and Oly knurl marks on the Bomba Bar V3. I know it's listed as a do-it-all bar, but I really think it's better suited to Olympic lifting. A lighter center knurl similar to what's seen on the Fringe Sport Hybrid Bar would be a nice value add.
The knurling feels a bit lighter than what I'd expect from an Olympic weightlifting barbell, which further suggests Fringe Sport really wants this to be a CrossFit-style bar with increased spin. The Bomba Bar V3 is probably constructed with a medium knurl, but I assume it turns more passive when coated in Cerakote.
It grips fine with chalk, but I'd personally prefer something more aggressive. The knurl marks are very wide and the knurling tapers. I think the knurl marks should be thinner and the start/stop of the knurl should be more pronounced as many people grip the bar right at the edge of the knurl mark.
Whip and Spin
This bar has a lot of spin—too much, almost, for anyone who doesn't do the Olympic lifts. The Bomba Bar V3 is a needle bearing bar, which creates the super-fast spin.
As for whip, Fringe Sport lists the whip as moderate, but in full truth, whip is a vanity metric that hasn't been proven to be different amongst any barbells on the market.
Either the 15kg or 20kg bar would be a great choice for home gym owners who love Olympic lifting. With some high-quality bumper plates and a wooden platform you might actually feel like you're one of the big dogs!
I wouldn't recommend this bar as a power bar, because it's shaft is rather thin at 28MM and I don't think it's the best option out there for deadlifts, bench press, and back squat. It's definitely more of a weightlifting bar.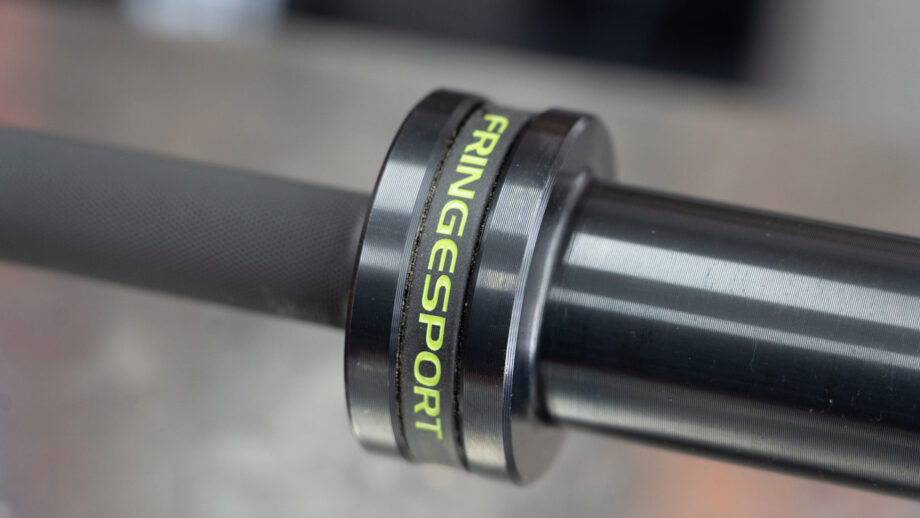 Fringe Sport Bomba Bar V3 vs. Fringe Sport Wonder Bar
The Wonder Bar is another popular barbell from Fringe Sport. They have some similarities but also a lot of differences.
The first thing that stands out to me: The Bomba Bar is made in the U.S. with U.S. steel and the Wonder Bar is not. That might not be the most important thing to some people, but to me it matters. (You can learn why in my video on USA-made gym equipment.)
First, let's look at the similarities between the Bomba Bar and Wonder Bar:
Knurling: Both of these bars have moderate knurling, dual knurl marks, and lack a center knurl.
Shaft and sleeves: Both bars are constructed to IWF specs with a 28-millimeter diameter, 16-inch sleeves, and 86inch full length
Options: The Wonder Bar and Bomba Bar both come in 15-kilogram versions in addition to 20-kilogram versions.
Warranty: Both come with FringeSport's lifetime warranty.
Now for the differences:
Finish: The Wonder Bar has an all black zinc finish, while the Bomba Bar has black zinc limited to the sleeves with a black Cerakote shaft.
Rotation system: The Bomba Bar V3 uses needle bearings. With the Wonder Bar, you can choose from bronze bushings or needle bearings.
Tensile strength: The Wonder Bar is slightly stronger than the Bomba Bar at 202K PSI vs 201K PSI.
In truth, they're both great bars. You just have to pick the one that best suits your preferences and training style. For lifters who do more powerlifting than Olympic lifting, I'm inclined to tell you to get the bushing version of the Wonder Bar to reduce some of the spin.
Fringe Sport Bomba Bar V3 Specs
| | |
| --- | --- |
| Weight | 20 kg or 15kg |
| Length | 2200mm (86.6") or 2,000mm (79.1") |
| Finish | Black Cerakote and black zinc |
| Sleeve Length | 16.4" or 13.0" |
| Shaft Diameter | 28mm or 25mm |
| Tensile Strength | 201K PSI |
| Rotation System | Needle bearing |
Customer Experience
Fringe Sport takes care of its customers. If you have a problem (which I never have), you can get in touch through chat, email, or a phone call during normal business hours. If you end up not liking anything you bought, you can return it within 30 days for a full refund. Fringe Sport will also accept some items up to a year after purchase if they're unused in the box. Customers are responsible for return shipping.
Customer Reviews
Most buyers of the Bomba Bar V3 have left positive reviews: The bulk are 4- or 5-star reviews gushing over how nicely the bar spins, how great it looks in their home gyms, and that the knurling is just right. The few bad reviews are from years ago, which I presume are pointed at the earliest iteration of the Bomba Bar. Hats off to improvement!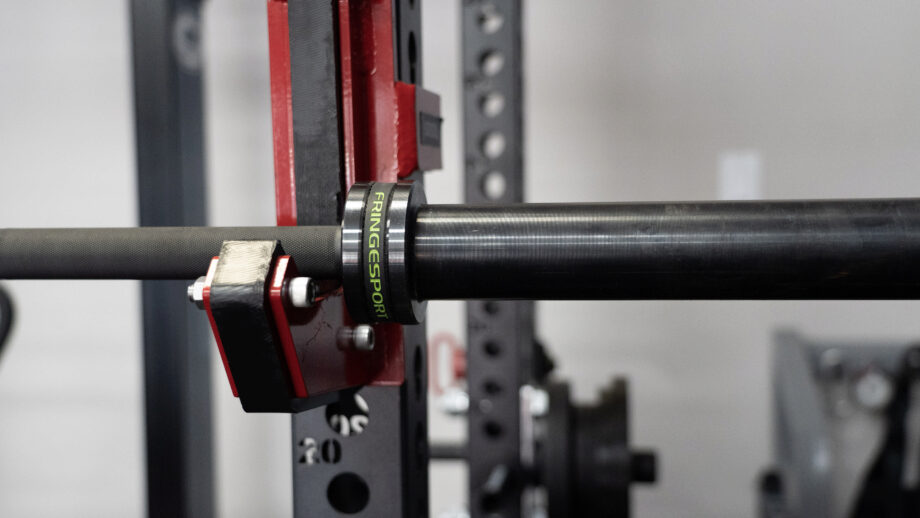 Final Verdict of Our Fringe Sport Bomba Bar V3 Review
The Fringe Sport Bomba Bar V3 is marketed as a multipurpose bar, but I think it's more of an Oly bar. Regardless, it's a great bar that comes at a fair price point with a lifetime warranty. It sports an aesthetic blacked-out finish and above-average tensile strength. The Bomba Bar V3 is a solid choice for garage gym owners who do mostly Olympic lifting and CrossFit WODs.
Full Rating
Fringe Sport Bomba Bar V3 FAQs
How heavy is the Fringe Sport Bomba Bar V3?
The Fringe Sport Bomba Barbell V3 comes in a 20-kilogram version and a 15-kilogram version.
Is the Fringe Sport Bomba Bar V3 good?
The Fringe Sport Bomba Barbell V3 is a great barbell for Olympic weightlifters and functional fitness athletes, but it might not be the best choice for powerlifters due to the fast spin in the sleeves. If you train the Olympic lifts in your garage gym, this is a good pick for you.
Does the Fringe Sport Bomba Bar V3 have bushings or bearings?
The Fringe Sport Bomba Barbell V3 uses bearings for rotation.
What colors does the Fringe Sport Bomba Bar V3 come in?
The Fringe Sport Bomba Barbell V3 comes with a black Cerakote finish on the shaft and a black zinc finish on the sleeves.
How much does Fringe Sport barbell shipping cost?
Fringe Sport ships the Bomba Barbell V3 for free.