We test and review fitness products based on an independent, multi-point methodology. If you use our links to purchase something, we may earn a commission. Read our disclosures.
Greens powders can be a convenient way to include more micronutrients, including vitamins, minerals, phytonutrients, prebiotics, and probiotics, in your daily diet. In our Greens First Review, we'll look at this popular wellness supplement that you can get on Amazon and break down the nutrition facts label.
Before diving in, I want to point out that this product makes some health claims that are quite tough to back up, particularly that it's an "alkalizing" supplement and can change the pH of your blood, leading to health benefits.
This immediately makes me raise an eyebrow because research1 shows that human blood is always in an alkaline state with a pH of 7.36 to 7.44. Only certain disease states can cause blood pH to change, and on top of that, there's no scientific consensus that nutrition habits can change blood pH.
All that said, we'll look at Greens First through our critical lens to tease out the potential benefits and drawbacks.
RELATED: The Best Greens Powder Supplements
Medical disclaimer: This article is intended for educational and informational purposes only. It is not intended as a substitute for medical advice. For health advice, contact a licensed healthcare provider. GGR also recommends choosing a product that has been third-party tested for quality.
Tasting the Bad Ones So You Can Buy the Good Ones
Greens powders are not known for being the most delicious dietary supplements. For every scoop of choke-worthy greens blends we've tried, we hope to have saved you the same misery. But more importantly, we aim to use our expertise in nutrition, supplements, and fitness to guide you to the best greens supplement for your needs.
Greens First Greens Powder
GGR Score: 2.8
Product Highlights
Powdered greens supplement 

70 ingredients with 49 different superfoods 

Claimed to promote easy digestion and help maintain optimal health and well-being 
Pros & Cons
Pros
1 scoop contains 15 servings of fruits and vegetables
No artificial ingredients, sweeteners, or preservatives
Subscribe and save 10%
Cons
Very mixed reviews of taste for all 3 flavors: "overly sweet/stevia tasting"
No unflavored option
Bottom Line
Greens First Original Greens is a supplement that provides 15 servings of fruits and vegetables per serving. According to Greens First, there are over 70 ingredients including 49 superfoods. Original Greens share that their product can help contribute to optimal health and ease digestion. However, there are extremely mixed reviews on taste for this product. Some customers enjoyed the taste and others disliked the taste so much that they did not finish the product they purchased.
A Quick Look at Greens First Greens Powder
Greens First claims to be a green superfood powder composed of whole-food fruit and veggies that creates a cocktail of health benefits—as does every other green juice powder, which is why we're so passionate about taking a closer look at every supplement we review.
This green drink in particular contains 49 different superfoods, according to the product description, and supposedly provides more than 15 servings of fruits and vegetables per scoop. It's free from artificial sweeteners, flavors, and preservatives; it's also lactose-free, non-GMO, and vegan.
RELATED: Best Ashwagandha Supplement
Before You Buy
There is no indication that this product is gluten-free; it contains barley grass powder, oat powder, and rice bran powder, so check with your doctor before consuming this product if you have a gluten allergy or sensitivity.
Greens First is sweetened with stevia; FYI for anyone who tends to have side effects to stevia.
This product contains soy lecithin; those with soy allergies should avoid it.
Is Greens First Worth It?
Greens First is a pretty basic greens powder that can help fill nutritional gaps in your diet. It's mostly organic, which was a bonus to our product tester, and the ingredients list boasts tons of nutrient-rich fruit and veggie powders. If you are looking for a powder that can supplement the nutrients you might miss in your diet on a daily basis, Greens First is worth a look.
RELATED: Best Organic Protein Powder 
Good for:
People who need to close some nutrient gaps
Individuals looking for a plant-based supplement that might help with gut health, the immune system, and energy levels
Those who like spearmint, berry, and chocolate flavors
Not recommended for:
People who already take a multivitamin or probiotic supplement that provides many of the same nutrients
Individuals who can't tolerate stevia
People who have gluten or soy allergies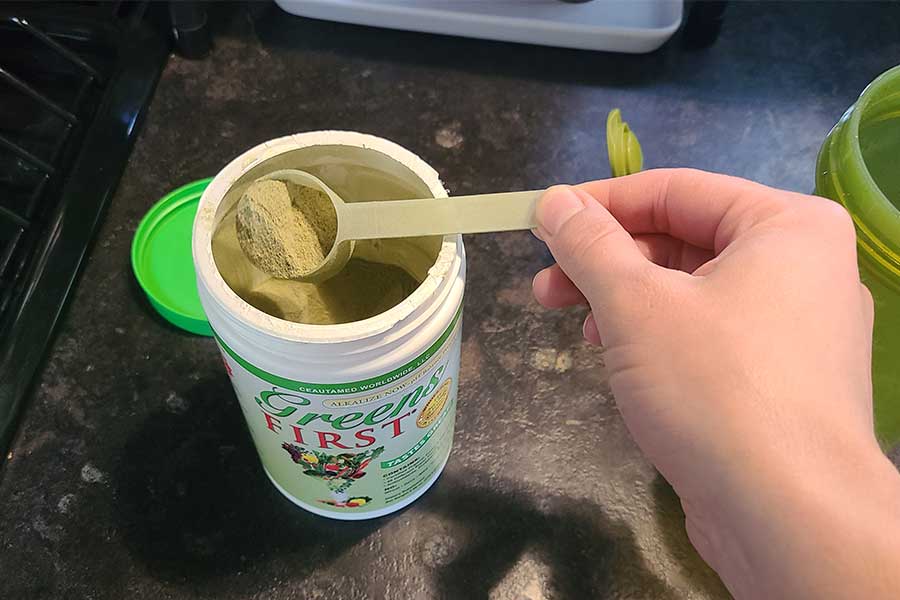 Greens First Specs
| | |
| --- | --- |
| Price | $27 for 15 travel packs; $44.99 for 30-serving tub; $84.98 for 60-serving tub |
| Price per serving | $1.41 to $1.80 |
| Serving size | 1 scoop (9.4 g) |
| Calories per serving | 40 |
| Formula | Blend of 49 fruits, vegetables, probiotics, prebiotics, and enzymes |
| Organic greens blend | Organic Barley Grass Powder, Chlorella Powder, Organic Spirulina Plant Powder |
| Proprietary fiber blend | Organic Oat Beta Glucan, Apple Fiber Pectin, Brown Rice Bran |
| Organic vegetable blend | Organic Carrot Juice Powder, Organic Cauliflower Juice Powder, Organic Broccoli Juice Powder, Organic Spinach Juice Powder, Organic Parsley Juice Powder, Organic Kale Juice Powder |
| OxiSure fruit and vegetable blend | Carrot Root Powder, Green Tea Extract, Blueberry Powder, Plum Fruit Powder, Grape Seed Extract, Cranberry Powder, Raspberry Fruit Powder, Tart Cherry Powder, Pine Bark Extract, 'HiActives' Tomato Powder 2000, 'HiActives' Carrot Powder 1200, 'HiActives' Spinach Powder 700, 'HiActives' Kale Powder, 'HiActives' Brussels Sprouts Powder |
| Digestive enzyme blend | Bromelain, Papain, Protease, Amylase, Lipase, Cellulase, Lactase |
| Probiotic blend | Lactobacillus acidophilus, Bifidobacterium longum, Lactobacillus casei, Lactobacillus rhamnosus |
| ResveraMax Blend | Polygonum Cuspidatum Extract, Acerola Cherry Powder, Concord Grape Powder |
| Other ingredients | Green Tea Extract (decaffeinated), Sprouted Barley, Quercetin, Milk Thistle Seed Extract, Red Beet Root Powder, Cinnamon Powder, Aloe Leaf Powder, Turmeric Rhizome Extract, Atlantic Kelp Powder, Licorice Root Extract |
| Flavors | Original Mint, Berry, Chocolate |
| Sugar per serving | 1 g |
| Sweeteners | Stevia |
| Third-party testing | Not indicated |
Experience Using Greens First
Frieda Johnson, GGR fitness editor and product tester, tried Greens First in the Original Mint Flavor. Frieda has tried several different greens supplements for our nutrition guides and reviews, and is very familiar with plant-based supplements from years of following a vegan diet. To try Greens First, she mixed the powder with cold water as directed, and simply shook it up in a Blender Bottle or stirred it with a spoon to test mixability both ways.
RELATED: Athletic Greens Review
Price Per Serving
Greens First costs $1.41 to $1.80 per serving when you buy from Amazon, depending on the size you choose. The more servings in the container, the cheaper the cost per serving, which is generally the case with dietary supplements. This price range is in line with what we expect from high-quality greens powders.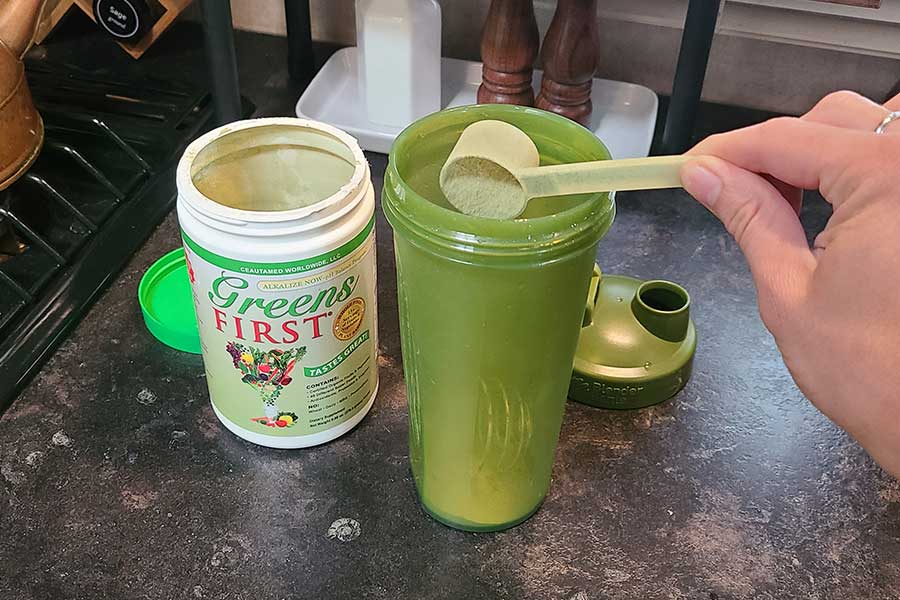 Formulation
The ingredients list is quite comprehensive, and it's separated into several distinct categories.
The organic greens blend contains barley, chlorella, and spirulina.
The fiber blend contains fiber from oats, apples, and brown rice.
The vegetable blend includes juice powder from carrots, cauliflower, broccoli, spinach, parsley, and kale.
The "OxiSure" fruit and vegetable blend is the antioxidant blend and it contains various juice powders and extracts, including from carrot, green tea, blueberry, plum, grape, cranberry, raspberry, tart cherry, pine bark, tomato, spinach, kale, and brussels sprouts.
The enzyme blend contains various digestive enzymes, including bromelain, papain, protease, amylase, lipase, cellulase, lactase.
The probiotic blend contains four different probiotics, Lactobacillus acidophilus, Bifidobacterium longum, Lactobacillus casei, and Lactobacillus rhamnosus, but the total number of CFUs is not listed.
Other ingredients not included in the above proprietary blends include:
Japanese knotweed root extract
Decaffeinated green tea extract
Sprouted barley
Organic barley seed powder
Quercetin
Milk thistle seed extract
Red beet root powder
Cinnamon powder
Aloe Leaf powder
Turmeric rhizome extract
Atlantic kelp powder
Licorice root extract
Total, there are nearly 50 plant compounds in Greens First. One serving contains 40 calories, 6 grams of carbohydrates, 1 gram of sugar, 1 gram of fiber, 1 gram of fat, and 1 gram of protein.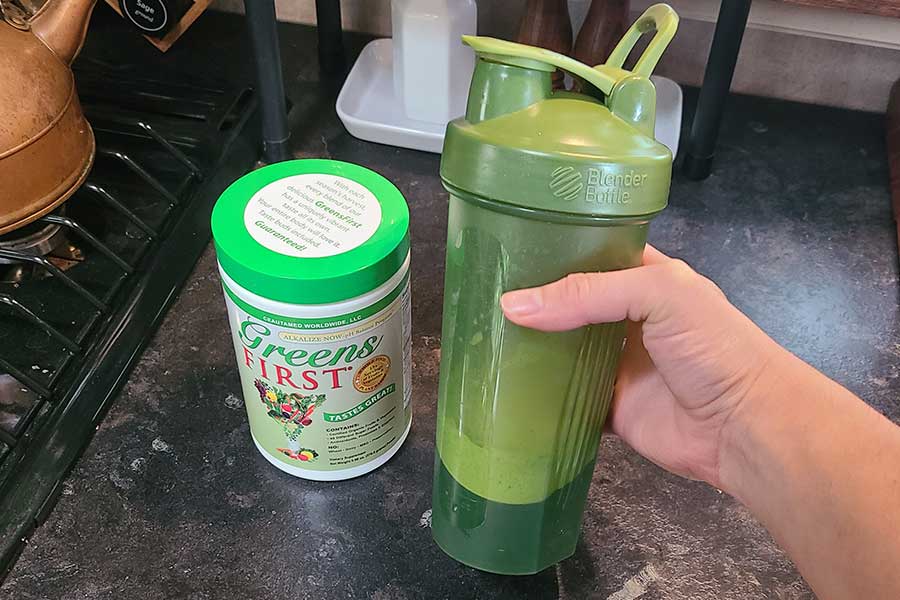 Weirdly, other than cholesterol, sodium, potassium, and the aforementioned nutrients, the label doesn't reveal anything about the contents of micronutrients like vitamin C, vitamin A, or vitamins B, D, E, or K. It also has no mention of mineral content aside from sodium and potassium.
The label also does not reveal the total number of CFUs of probiotics in the blend.
This could be problematic because if you are taking other vitamins and supplements, including a multivitamin, individual vitamin or mineral supplements, or a probiotic, because it could set you up for potential toxicities (yes, it's possible to consume too much of a given micronutrient).
On the flip side, it could mean that this powder is providing no nutrients at all—we really could never know without lab testing. That combined with the eyebrow-raising marketing claims makes me second-guess this product.
RELATED: Best Protein Powder
Taste and Solubility
Frieda tried the Original Mint flavor and unfortunately wasn't impressed. "The original mint tastes VERY strongly of spearmint, which would be fine except it tastes artificial and cloying to me," she says.
However, she also notes, "I think it might be due to the stevia, which I am sensitive to, so other people might enjoy it more. While I generally like mint-flavored things, I am not a fan of this one."
The solubility, on the other hand, is phenomenal. Frieda gave Greens First 5 out of 5 stars in this category, saying it blends very well and that she didn't notice any settling or graininess at all.
RELATED: Best Vitamin D Supplements
Side Effects
Because of the taste, Frieda was hardly able to get down a full serving. "This is so strongly flavored that it made me feel sick to my stomach when I tried to drink a full serving," she says.
Obviously, taste is subjective, and if you enjoy a strong mint flavor, you likely won't experience the same effects. That said, we wanted to point it out.
Other side effects may include bloating or other gastrointestinal discomfort and symptoms, since this product includes proprietary blends of both fiber and probiotics. Introducing these ingredients to your diet suddenly can affect your digestion, but effects should be temporary. You can try starting with half of a scoop if you're new to fiber or probiotic supplements.
Third-Party Testing
It does not appear that Greens First is third-party tested; I couldn't find any indication of the product being independently tested on Amazon or on the company website. This doesn't automatically indicate mislabeling or any other misconduct on the part of the brand, but it is something to be aware of, particularly for athletes who are subject to drug testing.
Greens First vs Nested Super Greens vs Amazing Grass
Nested Super Greens
GGR Score: 4.1
Product Highlights
Contains over 20 whole foods, probiotics, fiber, and enzymes

100% organic, non-GMO, and vegan

One scoop contains 667 milligrams of spirulina, 400 milligrams of chlorella, and 1.67 billion CFU of probiotics

Third party-tested and approved

Lifetime money-back guarantee
Pros & Cons
Pros
Non-GMO, Vegan, 100% organic
Available in chocolate flavor
Contains prebiotic inulin to help feed healthy bacteria in the gut
Over 20 whole foods included
Many reviews report noticeable differences in energy, mood, and digestion
Cons
May be too strong for some and irritate the stomach
Taste is not great but, as a powder made primarily with vegetables, that is not surprising
Bottom Line
While the taste may not suit everyone, Super Greens effectively provides users with a potent dosage of phytonutrients, micronutrients, probiotics, fiber, and enzymes.
Amazing Grass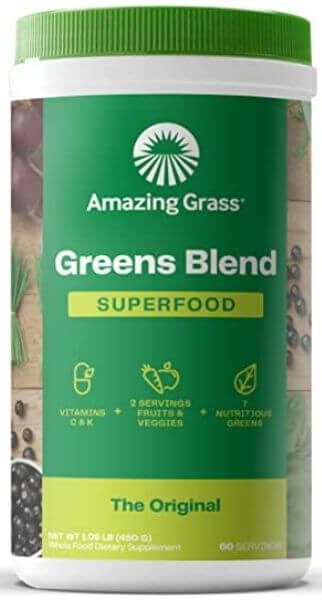 GGR Score: 3.8
Product Highlights
Greens Blend combines greens, fruits, and vegetables

Non-GMO, gluten-free, no sugar added 

Formerly called Green Superfood 

Available in 3 flavors
Pros & Cons
Pros
Subscribe and save 20%
Also available as a capsule
No sugar added
7 greens + 1 serving of fruit and veggies
Cons
Some users disliked the taste
Mixed reviews on how blendable the powder is
Less vitamins and minerals than competitors
Bottom Line
If you can handle the negatively reviewed taste of the Greens Blend, you may benefit from improved energy and digestion according to customer reviews.
Two other popular greens powders are Amazing Grass and Nested Naturals. We've tested both, and overall, they're quite similar to Greens First—the more you research greens powders, the more you'll notice that many of them contain very similar proprietary blends and ingredients.
This chart summarizes the differences between these three greens supplements, but you can read our full Amazing Grass Green Superfood review and our Nested Super Greens review for more information on both of these supplements.
| | | | |
| --- | --- | --- | --- |
| | Greens First | Nested Super Greens | Amazing Grass Original |
| Price | $27 for 15 travel packs; $44.99 for 30-serving tub; $84.98 for 60-serving tub | $31.95 for 30 servings or $59.95 for 60 servings | $39.95 for 45 servings |
| Price per serving | $1.41 to $1.80 | $0.99 to $1.06 | $0.88 |
| Serving size | 1 scoop ( 9.4 g) | 1 scoop (about 8 g) | 1 scoop (about 8 g) |
| Calories per serving | 40 | 30 | 30 |
| Key ingredients | Greens blend, fiber blend, enzyme blend, "OxiSure" fruit and vegetable blend, probiotic blend | Alkalizing blend, fiber blend, antioxidant blend, probiotic blend, enzyme blend | Green food blend, antioxidant blend, fiber blend, active culture pre/probiotic blend |
| Flavors | Original Mint, chocolate, berry | Original (unflavored), chocolate | Original (unflavored), chocolate, berry |
| Sugar per serving | 1 g | 0 g | 0 g |
| Sweeteners | Stevia | Monk fruit | None |
| Third-party testing | Not third-party tested | Independently tested for chromatology, pathogens, heavy metals, potency | Not third-party tested |
Customer Experience
The customer experience on Amazon is the same as you'd expect for any other Amazon purchase: You're subject to the retailer's policies, which in this case include free overnight delivery with Prime and a subscribe-and-save option that will save you up to 10% on each order. The product is not returnable, but you may request a refund if it arrives damaged or open.
If you buy directly from Greens First, your purchase is protected by a 60-day satisfaction guarantee, which is better than the standard 30 days. Shipping will take longer if you order from the manufacturer site.
Ordering Greens First
This product seems to be available primarily through Amazon, but you can get it on the Greens First website as well. It's also a wholesale item sold through healthcare professionals.
Customer Reviews
Customer reviews are largely positive, and the item has an average rating of 4.6 out of 5 stars on Amazon at the time of writing. Reviews mention that the solubility is great, and most customers like the taste or are at least okay with it.
Some customers have been using Greens First for several years, with one reviewer writing that this has been his go-to greens powder for 20 years. Now that's impressive!
One reviewer claims that the powder has helped their immune health: "I used to get sick two to five times a year. After using Greens First once a day for about two years, I hardly get sick anymore," the buyer wrote. "I have more natural energy and was able to cut back drastically on my caffeine intake as well. I highly recommend this product to anyone interested in supporting their immune system and living a healthier lifestyle."
Negative reviews complain of the taste being too sweet or too minty, indicating that other buyers felt the same as Frieda in that regard. A couple of reviews say that the overly sweet and strong minty taste also made them feel nauseated.
Still, by and large, the reviews are positive.
Final Verdict of Our Greens First Review
Greens First is a greens powder supplement with nearly 50 different ingredients that are derivatives of whole plant foods. It contains various fibers, digestive enzymes, and probiotics in addition to fruit and vegetable powders and extracts.
It's not the best-tasting greens powder our product testers have tried, but most customer reviews rate the taste positively.
One callout is that the supplements facts label does not specify what percentage of the daily value of vitamins and minerals is fulfilled by this product, except for sodium and potassium.
RELATED: Best-Tasting Protein Powder
Greens First Full Rating
Greens First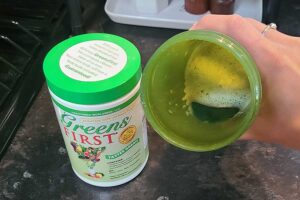 Our Greens First review looks at the nutritional profile of this greens powder to determine if it's worth buying.
Product Currency: USD
Product Price: 27
Product In-Stock: InStock
Greens First FAQs
What is the best greens powder? 
Do green drinks help with weight loss? 
Greens drinks are not weight loss supplements, but they might give you the momentum you need to kickstart a healthy lifestyle. Some people, including myself, enjoy the psychological aspect of greens powders—starting my day with a nutrient-dense drink (and water in general) helps me feel motivated to prioritize healthy habits throughout the rest of the day. If you're trying to lose weight, you can read our guide to the best weight loss programs, written by a certified  nutritionist.
Who shouldn't drink greens powder?
Individuals who have chronic health conditions and/or take prescription medication should always check with their healthcare provider before starting to take a new supplement. This is because there are potential interactions between medications and nutrients, called drug-nutrient interactions. People who take multivitamins, probiotics, and fiber supplements probably do not need to take greens powders since the other supplements fulfill the same needs. 
These statements have not been evaluated by the Food and Drug Administration. This product is not intended to diagnose, treat, cure, or prevent any diseases.