We test and review fitness products based on an independent, multi-point methodology. If you use our links to purchase something, we may earn a commission. Read our disclosures.
You can get anything on Amazon these days, including protein powders. But because Amazon allows third-party selling, there are tons of misbranded and misrepresented supplements1 on the mass retailer's site. At best, these supplements don't have as much protein as they say they do. At worst, they're filled with unlabeled ingredients and banned substances that could cause harm and/or disqualify you from a competition.
We relied on findings from our protein powder testing to help you sort through the real and fake, and to ensure you're getting a high-quality protein powder (there are a lot of sub-par options available even outside of Amazon) that actually tastes good. Using our own personal experience testing more than 70 protein powders, plus reviews from the many customers who've tried these products themselves, here are our recommendations for the best protein powders on Amazon.
Medical disclaimer: This article is intended for educational and informational purposes only. It is not intended as a substitute for medical advice. For health advice, contact a licensed healthcare provider.
Best Protein Powder on Amazon in 2023
Best Protein Powder on Amazon Overall: Legion Athletics Whey+
Good for: Anyone who wants to up their protein intake and is okay with whey
Legion Athletics Whey+ checks all the boxes for what makes a protein powder great. It's a whey isolate, so it's higher in protein and lower in fat, carbohydrates, and calories than a whey protein concentrate. It has 22 grams of protein per one-scoop serving, with 2 to 6 grams of carbs and 1 to 2 grams of fat depending on the flavor. Each scoop provides 5.6 grams of branched-chain amino acids (BCAAs), which include leucine, isoleucine, and valine.
Whey isolate is also lactose-free, so this protein powder can work for those with lactose intolerance who prefer whey to plant-based protein powders. The whey isolate is sourced from 95% grass-fed cows, and there are no refined sugars added to it. Instead, it's sweetened with stevia extract.
All Whey+ is also third-party tested. The protein powder is manufactured in the U.S. in a NSF- and GMP-certified facility, which ensures you're getting exactly what the bag says you are.
It comes in an impressive 15 flavors, from your standard Vanilla and Chocolate to fancier options like Apple Pie and Banana Bread. Certified personal trainer and GGR writer Anthony O'Reilly tried the Cinnamon Cereal and said it was reminiscent of Cinnamon Toast Crunch, but without as much flavor. If you like a really sweet protein powder, the flavor may not be quite strong enough for you, but if you prefer a milder option, this is it.
Check out Anthony's Legion Whey protein review for the rest of his thoughts.
| | |
| --- | --- |
| Price per serving | $1.99 |
| Protein per serving | 22 grams |
| Sweeteners | Stevia |
| Flavors | Unflavored, Chocolate, Vanilla, Strawberry Banana, Salted Caramel, Mocha Cappuccino, Honey Cereal, Cinnamon Cereal, Fruity Cereal, Cocoa Cereal, Cookies And Cream, Chocolate Peanut Butter, Birthday Cake, Banana Bread, Apple Pie |
Best Organic Protein Powder on Amazon: KOS Organic Plant Protein
Good for: Those who prioritize organic ingredients and want a plant-based protein powder
KOS Organic Plant Protein is more of a superfood blend than an isolated protein supplement. It contains five different types of plant-based proteins—pea, flaxseed, quinoa, pumpkin seed, and chia seed—that provide 20 grams of protein per two-scoop serving. Because this protein is plant-based, it is higher in carbohydrates than a whey isolate, but 3 of the 9 total grams of carbohydrates come from fiber.
In addition to the protein blend, it also contains a multitude of health-supporting ingredients, like an organic fruit and vegetable blend and added vitamins and minerals, like calcium, selenium, riboflavin, and potassium. There's also a digestive enzyme blend that helps with nutrient breakdown and absorption.
Almost all the ingredients in this protein powder are organic, and it's sweetened with a blend of organic coconut sugar and organic stevia extract. This protein powder is also gluten-, dairy-, and soy-free, and made without artificial sweeteners, colors, and GMOs. It comes in two basic flavors: Chocolate and Vanilla.
KOS protein powders are manufactured following Good Manufacturing Practice (cGMP) guidelines, which means they're tested for purity, strength, and ingredient composition—aka there are no unknown ingredients in the protein powder.
Even our team of meat-eating testers here at GGR doesn't mind KOS plant protein, which is saying something. Read more about it in our KOS vegan protein review.
| | |
| --- | --- |
| Price per serving | $1.66 |
| Protein per serving | 20 grams |
| Sweeteners | Organic coconut sugar and organic stevia extract |
| Flavors | Chocolate and Vanilla |
Best Whey Protein Powder on Amazon: Kaged Whey Protein Isolate
Good for: Anyone who wants a high-dose whey protein powder
Another high-quality whey protein isolate, Kaged Whey contains 25 grams of highly bioavailable protein per scoop. It's got the full spectrum of essential amino acids and BCAAs, plus an enzyme blend that breaks the protein down so you can fully digest and absorb those amino acids.
The ingredient list isn't as clean as some of the others on the list, but it's still relatively good compared to other protein powders out there. It's sweetened with sucralose, and there's only .5 grams of fat per serving.
There are five flavors—S'mores, Chocolate Peanut Butter, Vanilla, And Chocolate. Certified personal trainer and GGR editor Nicole Davis tried the Chocolate and she said it tastes pretty good, even just mixed with milk and ice. It was a little clumpy when mixing in a shaker with a ball, with both water and milk, but would be nice and smooth in a blender.
All of Kaged's products are third-party tested, and the protein powder is manufactured in NSF-certified facilities. The brand also follows cGMP practices and adheres to FDA guidelines for supplement production.
| | |
| --- | --- |
| Price per serving | $1.38 |
| Protein per serving | 25 grams |
| Sweeteners | Sucralose |
| Flavors | S'mores, Chocolate Peanut Butter, Vanilla, And Chocolate |
Best Budget Protein Powder on Amazon: Bulk Supplements Whey Protein Isolate
Good for: Those who want to increase their protein intake on a budget
Protein powders can get expensive, but Bulk Supplements Whey Protein Isolate is about half the cost per serving of many protein powders on this list. While we typically preach that you get what you pay for, in this case, going for a budget-friendly pick doesn't mean you have to sacrifice quality.
This protein powder has just two ingredients: whey protein powder and sunflower lecithin. But it's got a full amino acid profile with all the BCAAs. It doesn't contain any added sugar, and it's free of soy, yeast, gluten, and other artificial additives. This makes it really heavy on the protein—there are 26 grams per serving—with no carbohydrates and only one gram of fat.
It is unflavored, so it's not going to be the most delicious-tasting protein you've ever tried, but it blends well into any protein smoothie concoction. And we think that's a good trade-off for the low price and quality ingredient list.
The protein powder is third-party tested at various stages in the production process to ensure consistency and compliance with what's on the label. It's also manufactured according to cGMP Standards.
| | |
| --- | --- |
| Price per serving | $1.07 |
| Protein per serving | 26 grams |
| Sweeteners | None |
| Flavors | None |
Best-Tasting Protein Powder on Amazon: XWERKS Grow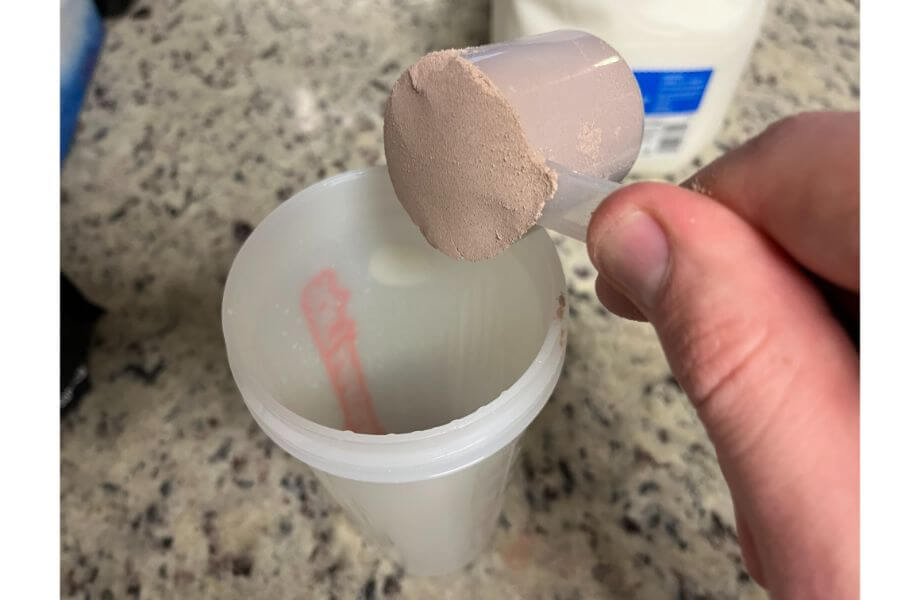 Good for: Protein powder newbies and anyone who really wants to enjoy the taste of their protein powder
Let's face it: Some protein powders can be chalky or leave a gnarly aftertaste (aka they're gross). We've officially tested around 70 protein powders, and have tried many more over the years, and XWERKS Grow is one of the best-tasting protein powders we've tried. Anthony says the Chocolate flavor tastes like a protein YooHoo. That's almost enough to sell us on it alone, but obviously the product details matter, too.
This is pure New Zealand grass-fed whey protein isolate that has 25 grams of protein, 6 grams of BCAAs (one of the highest on our list), and 800 micrograms of iron per scoop—which helps with endurance and optimal exercise performance4. (FYI: New Zealand has some of the strictest dairy laws, so the cows the whey is sourced from are treated humanely).
The whey protein isolate is extracted through cold-processing, which helps retain more nutritional compounds than other forms of processing. Some of these include albumin, lactoferrin, and immunoglobulins, which help support your immune system5.
There are four flavors—Chocolate, Vanilla, Peanut Butter, and Strawberry—and each one uses only natural flavors, like cocoa bean, vanilla bean, and peanut butter powder, plus stevia to sweeten. This protein is also gluten-free and soy-free.
| | |
| --- | --- |
| Price per serving | $1.87 |
| Protein per serving | 25 grams |
| Sweeteners | Stevia |
| Flavors | Chocolate, Vanilla, Peanut Butter, And Strawberry |
Best Casein Protein Powder on Amazon: Legion Athletics Casein+
Good for: Those who prefer to take their protein powder at night
Whey is typically the go-to for protein shakes, but studies6 show that taking casein protein—the other of the two milk proteins—about 30 minutes before bed can also help with post-workout recovery and overall exercise performance, especially if combined with evening resistance training. Casein protein is anti-catabolic, which means it helps prevent protein breakdown and can help with muscle growth.
Legion Athletics' Casein+ is a micellar casein protein, which is the highest quality you can get. It also digests more slowly than other forms, which helps improve the bioavailability of the amino acids in it. In other words, the level of amino acids in your bloodstream increases to a greater degree7 with micellar casein protein.
This high-protein supplement has 24 grams of protein and 5.2 grams of BCAAs per scoop. And it's held to the same rigorous standards as our best overall pick from the same brand, the Whey+. Legion Athletics manufactures it in the US in NSF- and GMP-certified facilities, and sends the batches off for third-party testing to ensure quality and potency.
It comes in five flavors; you have your standard Chocolate, Strawberry, and Vanilla flavors, as well as Banana Cream Pie and Cinnamon Cereal. The types of sweeteners and flavorings depend on which one you get, but typically includes some combo of stevia, erythritol, and/or natural flavorings, like organic cinnamon powder. It's non-GMO and free of anything artificial.
GGR Performance Editor Anthony O'Reilly tested the Banana Cream Pie flavor and says that while it does taste a bit like an underripe banana (not necessarily a bad thing), he likes the texture of this one. We recommend making a protein pudding with casein to really take advantage of its thickness.
| | |
| --- | --- |
| Price per serving | $1.80 |
| Protein per serving | 24 grams |
| Sweeteners | Erythritol and stevia |
| Flavors | Chocolate, Strawberry, Vanilla, Banana Cream Pie, Cinnamon Cereal |
Best Unflavored Protein Powder on Amazon: NOW Sports Whey Protein Isolate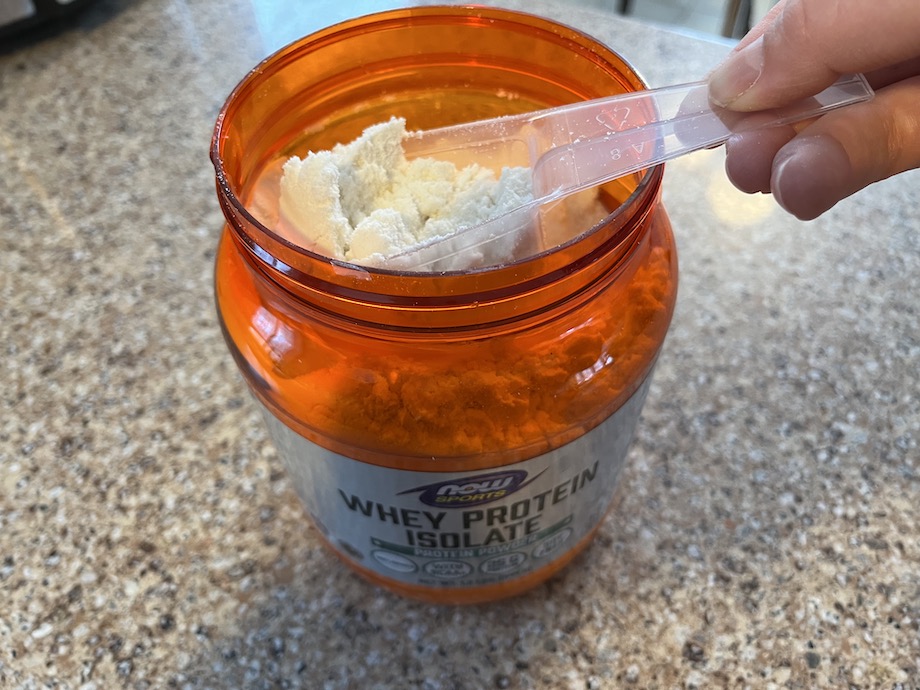 Good for: Those who don't want their protein to change the flavor of their food or shakes
If you prefer an unflavored protein powder but want to stick with whey, NOW Sports makes a really great whey protein isolate that has rave reviews. Unflavored protein can be a little rough, but GGR Staff Writer Lauren Strong says this one is pretty decent. "It does have a slight whey taste when mixed into plan water, but it blends well in pretty much everything and is a good addition to a smoothie."
Because it's a whey isolate, it's almost pure protein. It has 25 grams of protein, less than one gram of carbohydrates and 0.5 grams of fat. The ingredient list is super short, with only whey protein isolate and sunflower lecithin, which acts as an emulsifier to keep everything together.
Because NOW Sports is a sports nutrition company that's used by athletes, bodybuilders, and other competitors, the company also puts a major emphasis on third-party testing. This protein powder is Informed Sport-certified, which means it's been tested for more than 220 banned substances and found to be clear of them all. The third-party testing also ensures potency and identity (you're getting the type and breakdown of protein you think you are).
If you like the NOW Sports protein but would rather not get an unflavored version, there are Chocolate and Vanilla options, too. These go through the same strict testing, but have different ingredient lists—they're sweetened with stevia and xylitol and contain natural flavors.
It's worth noting that this is the biggest tub on our list, too. There are a total of 81 servings in one container, and the price per serving is one of the cheapest as well.
| | |
| --- | --- |
| Price per serving | $0.86 |
| Protein per serving | 25 grams |
| Sweeteners | None |
| Flavors | Unflavored |
Best Protein Powder for Athletes on Amazon: Onnit Grass-Fed Whey Protein Isolate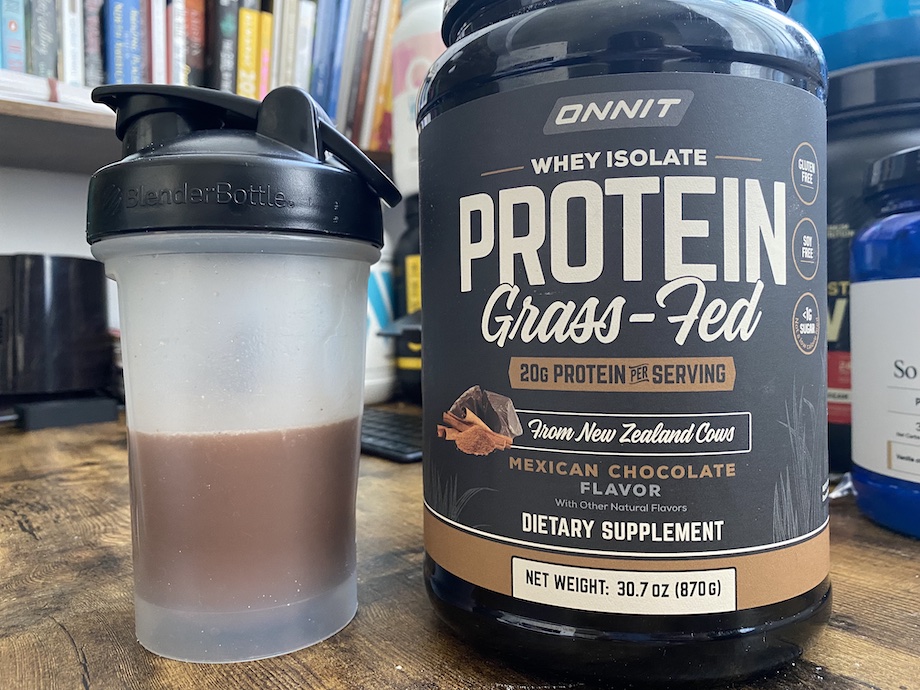 Good for: Active people who want a high-quality protein and a quick energy source
Getting enough protein is important for maintaining lean muscle mass, but this can be a struggle for athletes. Athletes also need quick-acting forms of energy, and a properly functioning digestive tract, so they don't feel weighed down and sluggish. This whey protein from Onnit can help with all those things.
While it's a little lower on the protein than others on the list, the protein used is very high-quality. There are 20 grams per serving, and the protein is in whey isolate form so it's rapidly absorbed, and comes from grass-fed New Zealand cows, so you know you're getting the good stuff. Because it's isolate, it's lower in calories, fat, and carbohydrates than other forms.
In addition to protein, it also has medium-chain triglycerides, which, unlike longer-chain fatty acids, are converted to energy for immediate use14. This offers a quick source of energy for athletes who need it during training or a competition. It also has a digestive enzyme blend that helps with protein breakdown and absorption.
There are no artificial flavors or sweeteners—the company uses monk fruit extract and stevia to sweeten both its chocolate and vanilla protein powders—and all ingredients are non-GMO. This protein powder is also gluten- and lactose-free. And Amanda says it dissolves really well even in water, albeit the texture is a bit thin, and it tastes good, too.
For peace of mind, Onnit's protein powder, and facilities, and warehouse, are NSF-certified safe for competitions.
| | |
| --- | --- |
| Price per serving | $1.80 |
| Protein per serving | 20 grams |
| Sweeteners | Monk fruit extract and stevia |
| Flavors | Chocolate and Vanilla |
Protein Powder with the Best Reviews on Amazon: Optimum Nutrition Gold Standard 100% Whey
Good for: Those who are okay with artificial sweeteners
Optimum Nutrition is a go-to brand for many, so it's not surprising that it has more than 134,000 reviews on Amazon. What's more impressive is that 83% of those reviews are five stars, garnering it a 4.7-star average—not an easy feat with the tough crowd on Amazon.
Most of the positive reviews speak to the taste and easy blending. Customers say it's one of the best-tasting protein powders, and that it dissolves easily, even in plain water. But the protein breakdown is something to praise too. There are 24 grams of protein and 5.5 grams of BCAAs per scoop, thanks to a blend of whey protein isolate, whey protein concentrate, and hydrolyzed whey protein. Because it has whey concentrate as one of the protein sources, it's a little higher in carbs than an isolate—there are 3 to 4 grams of total carbohydrates and 2 grams of sugar per serving depending on the flavor.
It comes in 18 flavors on the ON website, but 12 are available on Amazon including Chocolate, Vanilla, Banana Cream, Coffee, and Rocky Road. The downsides are that this protein contains artificial flavors, and is sweetened with two types of artificial sweeteners—acesulfame potassium and sucralose.
RELATED: The Best Optimum Nutrition Flavor
If you missed it, the World Health Organization2 recently came out with new guidelines to avoid artificial sweeteners as much as possible, and there was a recent May 2023 study in the Journal of Toxicology and Environmental Health3 connecting sucralose (aka Splenda) to some genotoxicity, or DNA damage.
Read our full Optimum Nutrition 100 Whey Gold Standard review for more info on this popular protein powder. All members of the GGR team have tried ON protein powder at some point in their fitness careers, and we all agree that it's a solid budget choice that tastes good, even with the artificial sweeteners.
| | |
| --- | --- |
| Price per serving | $1.19 |
| Protein per serving | 24 grams |
| Sweeteners | Acesulfame potassium and sucralose |
| Flavors | Chocolate, Vanilla, Chocolate Peanut Butter, Cookies And Cream, Strawberry And Cream, And Mocha Cappuccino |
Best Vegan Protein Powder on Amazon: Vega Sport Premium Plant Protein
Good for: Anyone looking for a vegan protein powder that supplies all the essential amino acids
Typically, vegan protein powder is thought to be inferior to whey protein if you want to build muscle, but this sports nutrition supplement from Vega has a lot of good going on. It's made with a base of pea protein, but also has pumpkin seed protein, organic sunflower seed protein, and alfalfa protein to supply all nine essential amino acids.
It has the highest amount of protein per serving on our list—you'll get 30 grams in a scoop—plus 5 grams of BCAAs and 5 grams of glutamic acid, which can boost endurance and reduce post-exercise soreness.
It also has additional supporting ingredients, like tart cherry juice which has been shown to support exercise recovery8, and probiotics, which can help with digestion and bloating (a common complaint when you increase your protein intake). It also has turmeric extract which can help with inflammation9.
Vegan protein powders are typically higher in carbs than whey protein, and this one is no exception. It has 6 grams of carbs per serving, 2 grams of which come from fiber, but it can still work for a low-carb diet, especially since there's no added sugar—it's sweetened with stevia.
Some other callouts are that it's NSF Certified for Sport, Non-GMO Project Verified, and gluten-free. There are five flavors—Vanilla, Chocolate, Berry, Mocha, and Peanut Butter—but if you purchase from Amazon you can also opt for a flavor bundle (Chocolate and Vanilla together).
It is on the more expensive side and you get fewer servings per container; this one has 19 to 20 depending on which flavor you choose, while most of the others on our list have 30 servings.
GGR Performance Editor Anthony O'Reilly tried Mocha and said it was actually quite good mixed into his morning coffee. Read our full Vega Protein Powder review to learn more.
| | |
| --- | --- |
| Price per serving | $2.75 |
| Protein per serving | 30 grams |
| Sweeteners | Stevia |
| Flavors | Vanilla, Chocolate, Berry, Mocha, and Peanut Butter |
Best Collagen Protein Powder on Amazon: Vital Proteins Original Unflavored Collagen Peptides
Good for: Those looking for skin, joint, and gut health benefits
Before we jump into our best collagen pick, we want to leave a little disclaimer: Collagen isn't the same as regular protein powder. Although it's sourced from animals, usually bovine, it's missing an essential amino acid (tryptophan) so it's not considered a complete protein, like whey or a mixed plant-based protein.
That being said, collagen supplements can supply your body with collagen (obviously), which starts to decline about 1% per year10 after the age of 40. This may help improve skin elasticity11, alleviate joint pain and stiffness12, and reduce bloating13.
And Vital Proteins really put collagen on the map. This supplement contains 20 grams of collagen per serving, plus other skin- and joint-supporting ingredients like hyaluronic acid and vitamin C. The collagen is sourced from grass-fed cows, and there are no additional ingredients, so it fits in well with almost any diet type (except vegan).
Aside from the health benefits, collagen peptide supplements are a convenient way to get this protein because they dissolve in anything—you can add it to water or your morning coffee and you can barely tell it's there. They don't add any thickness or change the taste of what you're mixing it into in any way. However, certified personal trainer and GGR editor Amanda Capritto did say she couldn't get it to completely dissolve in cold water—there were some small chunks left behind—so keep that in mind. Read her full Vital Proteins Review for the rest of her thoughts.
| | |
| --- | --- |
| Price per serving | $1.64 |
| Protein per serving | 20 grams of collagen |
| Sweeteners | None |
| Flavors | Unflavored |
Other Protein Powder We Researched
We've officially tested about 70 protein powders and have researched many, many more. A lot of these protein powders are available on Amazon (as most things are these days), but they didn't all make the cut for several reasons. We're not going to list every protein powder we've tried, but here are some callouts:
Orgain Organic Grass-Fed Whey: This protein has a lot going for it, and Anthony said it tasted fine and blended pretty well. But he was noticeably gassy after taking it, even though he's used to taking protein powder. You also need two scoops to get 20 grams of protein, and a lot of good options provide that (or more) in one scoop.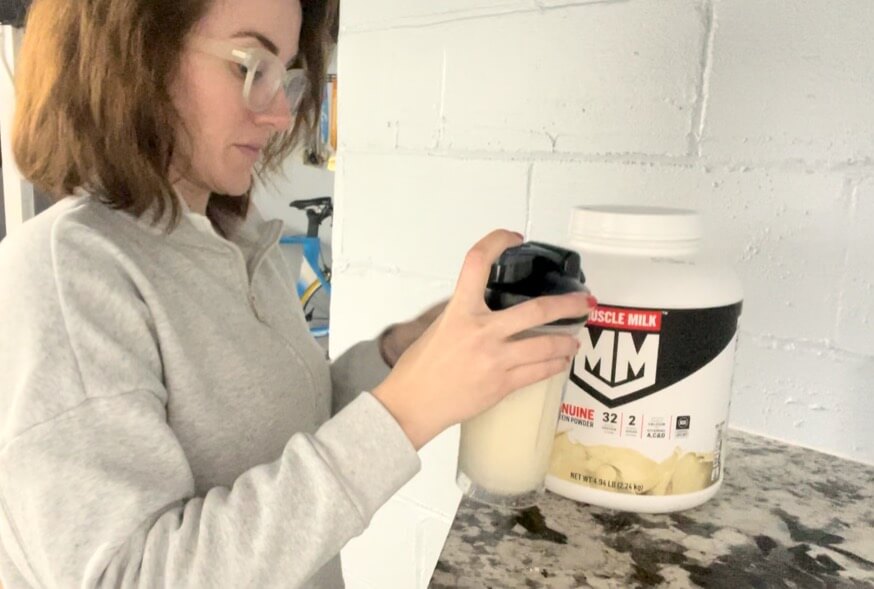 Muscle Milk Genuine Protein Powder: Like the Orgain option, the Muscle Milk Genuine Protein Powder has a two-scoop serving, which is a lot to dissolve in one protein or meal replacement shake. It also has artificial sweeteners and other undesirable ingredients, especially considering you can get a higher-dose protein powder with a cleaner ingredient list.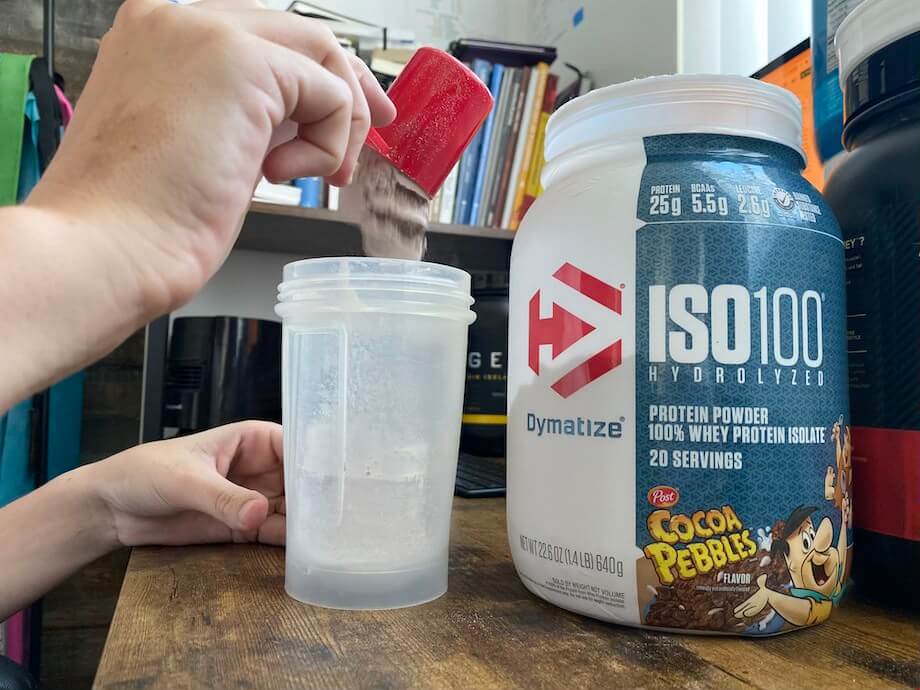 Dymatize ISO100 Hydrolyzed Protein Powder: This one tastes fine and dissolves well, but the ingredient list is pretty rough. In addition to artificial flavors and sweeteners, it also has dyes and the flavor Fruity Pebbles even has unnecessary additives like edible glitter (yes, you read that right).
Sun Warrior Protein Warrior Blend: The Sun Warrior Protein Blend may be a good option for those who are used to plant-based protein powders and don't mind the taste of hemp, but certified personal trainer and GGR head of content Kate Meier said it's a little grainy and has an off-putting aftertaste. The protein is also lower than others—it has 16 grams in one scoop. All things considered, we think you can find better.
Naked Egg Protein Powder: We didn't think this protein powder was bad; it's just different. Kate tried it mixed with fruit and milk, and blended into her coffee, and she said she liked it better with coffee. Because it has a unique taste and it gets very thick (she only used half a scoop and said her coffee turned thick), we just didn't think it had a major mass appeal.
How We Picked and Tested the Best Protein Powder on Amazon
We've officially tested more than 70 protein powders and unofficially tested much more than that in our day-to-day lives. We know that protein powder is one of the most popular sports nutrition supplements out there, and we take great responsibility in recommending them to you.
To test the protein powders, we mixed them with all different types of liquids. We used a shaker bottle with water, dairy milk, and plant-based milk, and mixed them into protein shakes with some fruit and additional ingredients. We made notes about consistency, how well the protein powder dissolved, and what it tasted like.
We also considered the supplement's details. In addition to tasting good and incorporating well into a protein shake, it also had to have a good macronutrient breakdown and ingredient list. Of course, for this list, it also had to be available on Amazon.
Here are some more details about the individual factors we considered when narrowing down our list.
Protein Content
Ideally, we like protein powder to have 25 to 30 grams per serving (preferably in a one-scoop serving), but 20 grams is enough to keep you full and a good cutoff point. The protein powders that made our list have between 20 and 30 grams of protein per serving.
Protein Type
Whey protein is generally considered the gold standard when it comes to protein powder, but we know that not everyone that uses protein wants this dairy-based option. Because of that, we included plant-based protein powders as well as whey and casein protein powder, another type of milk protein.
RELATED: Plant-Based Protein Powder Benefits
When choosing different types of protein, we also considered whether or not it supplied all nine essential amino acids. This is especially important for plant-based proteins since most of them are incomplete (meaning they're missing or very low in at least one of the essential amino acids). Typically, companies will add a blend of different types of plant-based protein powders to ensure you're getting all the necessary amino acids.
Other Macronutrients
We didn't weigh fats and carbohydrates too heavily, since everyone has different macro goals. However, a protein powder should be mostly protein and, because of that, we made sure each pick had a relatively low carb and fat content.
Taste
If you're going to use protein, you want it to taste good (or at least decent), otherwise it's probably going right into the trash. We used our testing experience to narrow down our picks to the ones we thought tasted good. If we included a pick that we didn't personally test, we relied on customer reviews to determine if the protein would pass the palatability test.
Price
Price is always a consideration for us, but obviously everyone has different budgets. We included a range of options that start at $0.86 per serving and go up to $2.75 per serving so you can make an educated choice about which one works best for you. We broke it down to price per serving since some containers have 19 servings and others have more than 30—we thought this is a better apples-to-apples comparison.

Ingredients
Sub-par protein powders are known for lengthy ingredient lists that include artificial sweeteners, fillers, and dyes. These things aren't necessary for an effective, and delicious, protein powder, so we tried to include brands that use minimal ingredients and stick to natural versions of flavorings and sweeteners whenever possible.
Digestibility
Some people experience digestive upset when introducing a new protein powder and/or increasing protein intake in general. We're used to protein supplementation, so if we noticed any digestive upset when taking one of the brands we tested, it was a red flag for us. We considered how well the protein powder digested and if it caused any digestive symptoms or bloating.
Third-Party Testing
Since supplements aren't well-regulated, it's up to the company itself to prove that the protein powder is what it claims to be. Third-party testing, which is when a company sends a product to an independent lab, validates purity and potency, and ensures the supplements aren't contaminated by heavy metals and/or banned substances. We advocate for choosing a third-party tested supplement whenever possible.
To ensure a supplement is third-party tested, we look for stamps of approval from the following organizations:
Informed Choice
NSF
Banned Substances Control Group
US Pharmacopeia (USP) Verification
Good Manufacturing Practices (cGMP)
We also look for transparency on a company's website. If a company isn't letting you know that their products are third-party tested, chances are they're not. Third-party testing is something that companies typically brag about.
Benefits of Protein Powder
Protein powders obviously help you meet your protein needs, but there are specific benefits beyond that, too.
Convenience
A 6-ounce chicken breast provides about 56 grams of protein15, while a scoop of protein powder can have anywhere from about 20 to 30 grams. While the chicken obviously contains more protein, it's a lot easier to mix up a protein shake and drink it down than it is to prepare, cook, and eat that piece of chicken.
It's also more portable. You can go to the gym drinking a protein shake and no one would bat an eyelash, but if you walked in gnawing on a piece of chicken, you might get a few looks.
Longer Shelf-Life
Protein powders also have a longer shelf life than other forms of protein, like meat or eggs, and they're shelf-stable. You can buy one for the month and have it whenever you need it, or stock up on flavors and rotate through them for some variety.
Helps With Body Composition Goals
There are many studies that show that adding protein powder to your day can help build muscle and promote weight loss16 (if that's your goal). While this may be a product of increasing protein intake, rather than the protein powder itself, the supplement sure makes it easier to meet your protein needs.
FAQs About Protein Powder
Which Brand is Good for Protein Powder?
There are so many good protein powders brands that it's impossible to pick just one. We like Legion Athletics, KOS Organic, Kaged, Vega Sport, Transparent Labs, and NOW Sports, to name a few.
Does It Matter What Protein Powder You Use?
Yes, it matters. There are so many junk protein powders out there. They may help you meet your protein needs, but you'll be getting unnecessary additives and fillers that may not support your other wellness goals. Some low-quality protein powders also use inferior types of protein or don't have high enough doses to really make a difference. Because of this, it's important to do your research before buying one and stick to a reputable brand.
How Much Protein Powder Should A Beginner Take Daily?
This really depends on your own protein needs and goals. Typically, one to two scoops, which can provide about 20 to 60 grams of protein per day, is a good place to start. The goal is to use protein powder to supplement the protein you're getting from food.
These statements have not been evaluated by the Food and Drug Administration. This product is not intended to diagnose, treat, cure, or prevent any diseases.
References
1. Crawford, C, Avula, B, Lindsey, AT, et al. Analysis of select dietary supplement products marketed to support or boost the immune system. JAMA Netw Open. 2022;5(8):e2226040. doi:10.1001/jamanetworkopen.2022.26040
2. World Health Organization. WHO advises not to use non-sugar sweeteners for weight control in newly released guideline. May 2023.
3. Schiffman, SS, Scholl, EH, Furey, TS, Nagle, HT. Toxicological and pharmacokinetic properties of sucralose-6-acetate and its parent sucralose: in vitro screening assays [published online ahead of print. J Toxicol Environ Health B Crit Rev. 2023;1-35. doi:10.1080/10937404.2023.2213903
4. Hinton, PS. Iron and the endurance athlete. Appl Physiol Nutr Metab. 2014;39(9):1012-1018. doi:10.1139/apnm-2014-0147
5. StatPearls. Immunoglobulin. May 2023.
6. Kim, J. Pre-sleep casein protein ingestion: new paradigm in post-exercise recovery nutrition. Phys Act Nutr. 2020;24(2):6-10. doi:10.20463/pan.2020.0009
7. Trommelen, J, Weijzen, MEG, van Kranenburg, J, et al. Casein protein processing strongly modulates post-prandial plasma amino acid responses in vivo in humans. Nutrients. 2020;12(8):2299. doi:10.3390/nu12082299
8. Vitale, KC, Hueglin, S, Broad, E. Tart cherry juice in athletes: a literature review and commentary. Curr Sports Med Rep. 2017;16(4):230-239. doi:10.1249/JSR.0000000000000385
9. Faria, FR, Gomes, AC, Antunes, A, et al. Effects of turmeric extract supplementation on inflammation and muscle damage after a half-marathon race: a randomized, double-blind, placebo-controlled trial. Eur J Appl Physiol. 2020;120(7):1531-1540. doi:10.1007/s00421-020-04385-7
10. León-López, A, Morales-Peñaloza, A, Martínez-Juárez, VM, Vargas-Torres, A, Zeugolis, DI, Aguirre-Álvarez, G. Hydrolyzed collagen-sources and applications. Molecules. 2019;24(22):4031. doi:10.3390/molecules24224031
11. De Miranda, R, Weimer, P, Rossi, R. Effects of hydrolyzed collagen supplementation on skin aging: a systematic review and meta-analysis. Int. J. Dermatol. 2021; 60(12):1449-1461. doi: 10.1111/ijd.15518
12. Khatri, M, Naughton, RJ, Clifford, T, Harper, LD, Corr, L. The effects of collagen peptide supplementation on body composition, collagen synthesis, and recovery from joint injury and exercise: a systematic review. Amino Acids. 2021;53(10):1493-1506. doi:10.1007/s00726-021-03072-x
13. Abrahams, M, O'Grady, R, Prawitt, J. Effect of a daily collagen peptide supplement on digestive symptoms in healthy women: 2-phase mixed methods study. JMIR Form Res. 2022;6(5):e36339. doi:10.2196/36339
14. Chapman-Lopez, TJ, Koh, Y. The effects of medium-chain triglyceride oil supplementation on endurance performance and substrate utilization in healthy populations: a systematic review. J Obes Metab Syndr. 2022;31(3):217-229. doi:10.7570/jomes22028
15. USDA FoodData Central. Chicken, broiler or fryers, breast, skinless, boneless, meat only, cooked, braised. 2019.16. Stokes, T, Hector, AJ, Morton, RW, McGlory, C, Phillips, SM. Recent perspectives regarding the role of dietary protein for the promotion of muscle hypertrophy with resistance exercise training. Nutrients. 2018;10(2):180. Published 2018 Feb 7. doi:10.3390/nu10020180