We test and review fitness products based on an independent, multi-point methodology. If you use our links to purchase something, we may earn a commission. Read our disclosures.
If you're looking for a post-workout snack that isn't a protein bar or a protein-packed way to satisfy your nightly sweet tooth, protein cookies should be on your radar. We'll be up front and say that protein cookies aren't necessarily healthier than regular cookies—they contain more protein, sure, but they're still cookies.
That said, our team of expert product testers, personal trainers, and nutrition coaches isn't afraid to admit that we enjoy sweet, chewy, treats—and with a few extra grams of protein? Sign us up! In our guide to the best protein cookies, we bring you our honest opinions of six popular protein cookies.
RELATED: High Protein Foods to Add to Your Diet
Medical disclaimer: This article is intended for educational and informational purposes only. It is not intended as a substitute for medical advice. For health advice, contact a licensed healthcare provider. GGR also recommends choosing a product that has been third-party tested for quality.
Best Protein Cookies in 2023
Best Overall Protein Cookie: Onnit Protein Bites
Good for: A snack you'd actually choose over a real cookie for taste and texture
Onnit Protein Bites are not so much a cookie, but more so a cookie dough-like, chocolate-coated pack of absolute goodness. They are delicious in every flavor (of which there are five) and "They taste like candy bars!" exclaims product tester and GGR head of content Kate Meier.
"We had at least half a dozen people try these, and everyone rated these 10 out of 10," she says. "The Cookies and Cream flavor is DANGEROUS. Chewy and delicious! The Coconut Cashew one is super similar to a Mounds Bar in texture. These are chewy and moist and just … *chef's kiss*."
The praise doesn't end there: "Overwhelmingly, we love the taste of these," Kate says.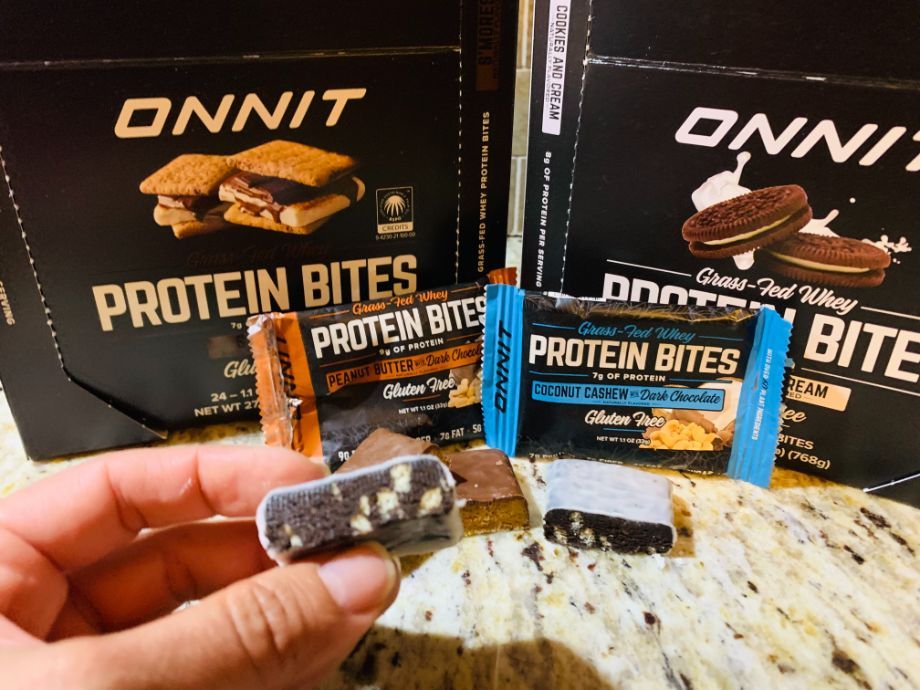 With 120 calories and 8 grams of protein per bite (a bite is like a small protein bar), the protein content isn't as high as we'd like to see in something dubbed a high-protein snack. Because of this, "it wouldn't be our go-to protein snack," Kate says of herself and the members of her weightlifting team. 
"I would view this like a 'healthy dessert' option for when chocolate cravings kick in, or you just want something sweet," she says.
For something that tastes so dang good, we're happy with the macronutrient ratio and ingredients list. It's not usually worthwhile to force down a chalky, dry protein cookie with subpar macros—but for Onnit Protein Bites, we're all in. Plus, they only contain 5 to 7 grams of sugar (not super low, but lower than a regular cookie) and have a very nice 7 grams of fiber per bite.
RELATED: Onnit Total Human Review
| | |
| --- | --- |
| Calories per serving | 120 |
| Protein per serving | 7-9 g |
| Protein source | Whey protein |
| Sugar per serving | 5-7 g |
| Flavors | Coconut Cashew Dark Chocolate, Cookies and Cream, S'mores, Peanut Butter with Dark Chocolate |
Best Plant-Based Protein Cookie: Lenny & Larry's The Complete Cookie Protein Cookies
Good for: People on vegan and vegetarian diets
"The Complete Cookie" is kind of a misnomer because I wouldn't say that these cookies provide complete nutrition. However, they are a consistently good snack that comes in many flavors and offers much more protein than a typical sweet baked good.
These cookies are massive—one cookie is actually two servings according to the label, so be aware if you're tracking macros or in a calorie deficit to lose weight. The product information online says they contain 16 grams of protein per cookie, which means you're only getting 8 grams if you eat one serving.
Kate Meier, GGR head of content, says her family loves Lenny & Larry's cookies as a protein snack. "We have tried Chocolate Chip and Double Chocolate, and they are very cookie-like: chewy, tasty, sweet," she says.
"There is that distinct protein-y taste you get in any 'healthy' protein treat, but it's not very strong and not at all a turn-off," she explains. They're good enough to sneak more protein into her kids' diets, so we call that a win!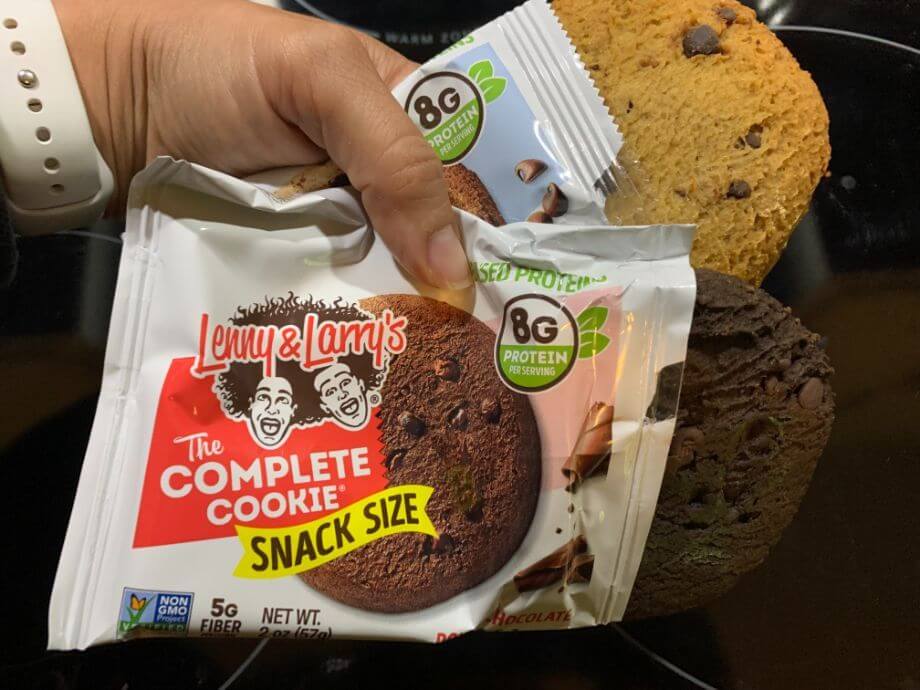 The Complete Cookies are quite high in carbohydrates and sugar, with 59 grams and 25 grams in one cookie, respectively. They do contain 10 grams of fiber, bringing the net carb number down to 49 grams per cookie—still far too high for any keto dieters. (These numbers may vary slightly depending on the flavor.)
These cookies are certified vegan. The protein blend contains vital wheat gluten, pea protein, and rice protein.
RELATED: Best Vegan Protein Powder
| | |
| --- | --- |
| Calories per serving | 210-230 |
| Protein per serving | 8 g |
| Protein source | Vital wheat gluten, pea protein, and rice protein |
| Sugar per serving | 9-14 g |
| Flavors | White Chocolate Flavored Macadamia, Chocolate Chip, Double Chocolate, Snickerdoodle, Oatmeal Raisin, Peanut Butter Chocolate Chip, Salted Caramel, Chocolate Donut, Choc-o-Mint, Peanut Butter, Lemon Poppy Seed, Birthday Cake |
Best Keto-Friendly Protein Cookie: Quest Nutrition Protein Cookies
Good for: People on keto diets
You may be familiar with Quest Bars, but did you know that Quest Nutrition makes protein cookies, too? These keto-friendly cookies contain the sugar alcohol erythritol to keep the sugar content low, plus substantial fiber to bring the net carb content down.
The 15 to 16 grams of protein come from a blend of milk protein isolate and whey protein isolate, so these aren't suitable for people with dairy sensitivities or who follow a vegan diet.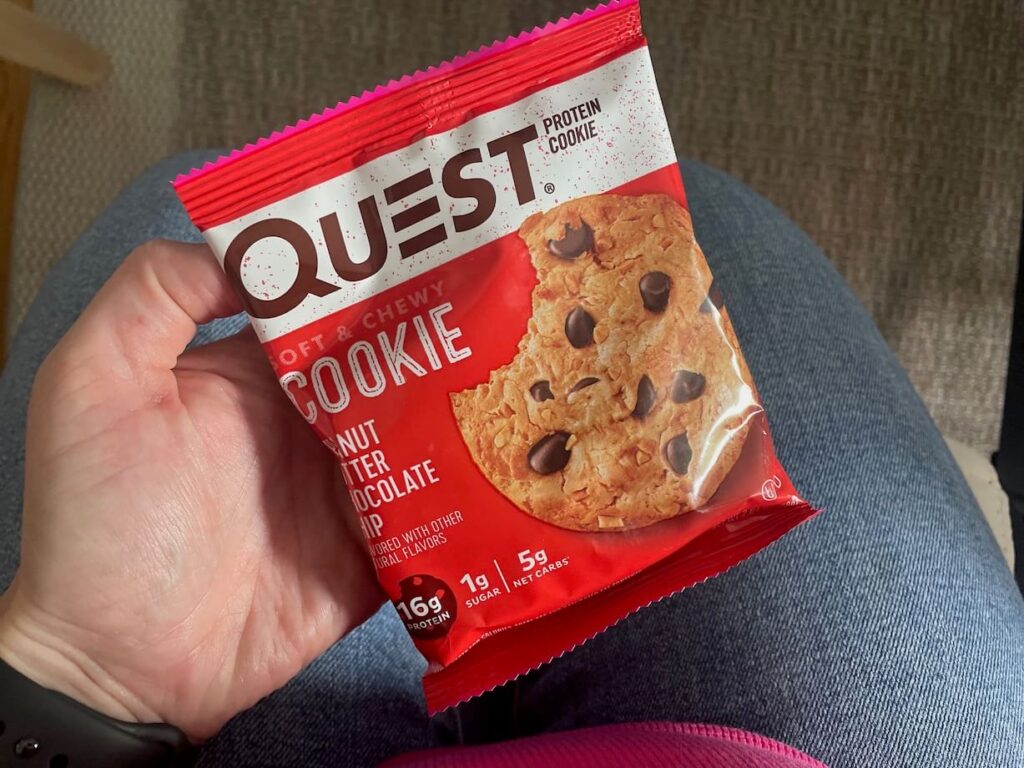 Nicole, GGR editor and product tester, says she wanted to like these but couldn't get over the taste of stevia—particularly the aftertaste. "I actually chose this flavor (Peanut Butter Chocolate Chip) because I thought it would taste the least artificial of all of them; at least that's how I normally find peanut butter-flavored things to be. But I just am not a fan of this one."
The texture is good, at least: It's soft and chewy, with chocolate chips and real peanut chunks. If you tend to have digestive problems after consuming stevia, Nicole advises you to take care with the Quest protein cookies.
In sum, Nicole says that for 220 calories and 16 grams of protein, she'd rather eat a regular cookie and have a protein shake on the side. But, "I'd try another flavor of these, just to see if I chose wrong," she says.
RELATED: Best Low-Carb Protein Bars
| | |
| --- | --- |
| Calories per serving | 220-250 |
| Protein per serving | 15-16 |
| Protein source | Milk protein isolate, whey protein isolate |
| Sugar per serving | 1 g or less (plus 4-5 g erythritol) |
| Flavors | Peanut Butter Chocolate Chip, Chocolate Chip, Double Chocolate Chip, Peanut Butter, Snickerdoodle |
Best Dairy-Free Protein Cookie: Tone It Up Protein Cookies
Good for: People on dairy-free and/or gluten-free diets
Tone It Up Protein Cookies have a nice, simple ingredients list with various flours, sugar in the form of allulose, and pea protein, plus texture and flavor ingredients. The macro balance isn't fantastic, with just 10 grams of protein in 190 calories, but they're still a stand-up option for a cookie.
"It tastes like a really dry chocolate chip cookie," says GGR writer and product tester Lauren Strong. "That said, this is gluten-free and dairy-free, so I didn't expect much going into this."
"I've tried a lot of gluten free stuff over the years because my bestie from childhood has been gluten-free since 2003 (aka before it was a fad). She tried this cookie and actually liked it," Lauren says. "My husband, on the other hand, tried one and said it was terrible. I'm in the middle—it's dry, which is unpleasant, but the flavor is OK. You're definitely not wanting another one, though."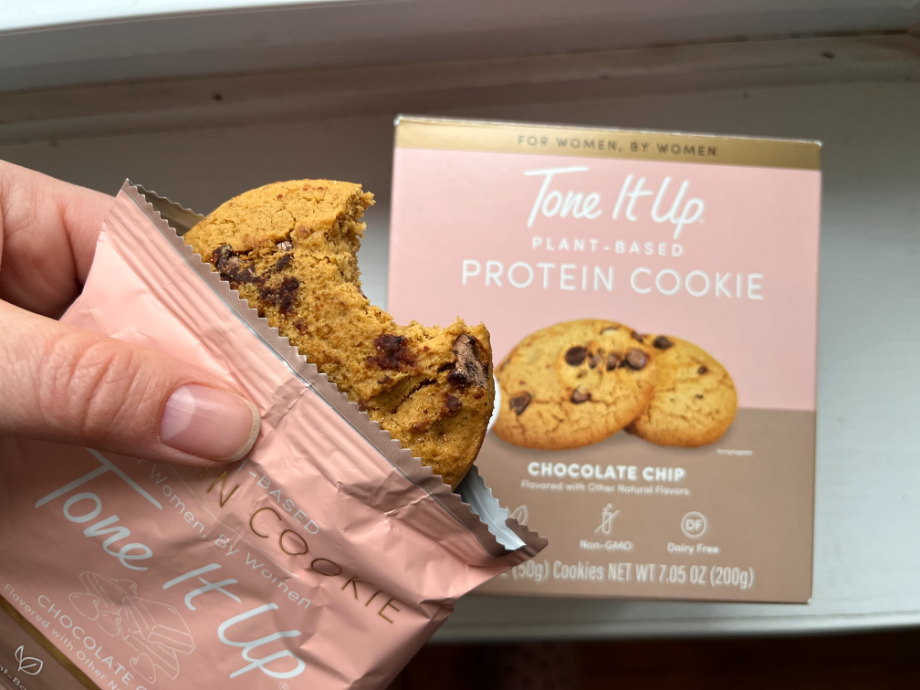 Lauren says the Chocolate Chip Protein Cookies are not hard to digest, but that she "would not suggest going ham and eating more than one," saying that the dryness and denseness of the cookie might make for "a tough bowel movement." We'll take your advice on this one, Lauren.
All in all, our testing revealed that this is a pretty tasty snack for being both gluten-free and dairy-free.
RELATED: Best Lactose-Free Protein Powder
| | |
| --- | --- |
| Calories per serving | 190 |
| Protein per serving | 10 g |
| Protein source | Pea protein |
| Sugar per serving | 4 g |
| Flavors | Chocolate Chip |
Best-Tasting Protein Cookie: Naked Nutrition Naked Cookie
Good for: Those who are more concerned about flavor and texture than getting as much protein as possible
Naked Nutrition frequently appears in our nutrition guides, such as our guides to the best natural pre-workout and the best pea protein.
Nicole, GGR senior editor and product tester who tried the Naked Cookies, says she didn't care for them on the first try, but admits, "I think I set the bar too high. I came back to them a few weeks later and I changed my mind. They don't necessarily taste like a regular, not-healthy chocolate chip cookie, but they're not bad for a healthy swap."
"They taste healthy and a bit nutty," she says, adding that they "aren't super sweet, and you don't get any artificial notes like in some other options. I will finish the box of these probably!"
Naked Cookies are gluten-free soft-baked cookies with 10 grams of grass-fed whey protein. They are nearly sugar-free, with just 1 gram of sugar per cookie. The allulose (a derivative of fructose), the sugar alcohol erythritol, monk fruit extract, and stevia extract pick up the slack to create sweetness. They're also soy-free and non-GMO, so they are suitable for many different diet types.
The ingredients list is relatively thin and simple, with whey protein being the very first ingredient. Other ingredients include defatted almond flour, palm kernel oil, chocolate chips, almond butter, corn fiber, vegetable glycerin, and cassava flour.
They have a really great texture, Nicole says, with "real dark chocolate chips that melt in your mouth, which is a nice, cookie-like touch."
| | |
| --- | --- |
| Calories per serving | 190-210 |
| Protein per serving | 10 g |
| Protein source | Grass-fed whey protein |
| Sugar per serving | 1-5 g (plus erythritol, stevia, and/or monk fruit depending on flavor) |
| Flavors | Chocolate Chip, Sugar Cookie, Oatmeal Raisin |
Best Gluten-Free Protein Cookie: Munk Pack Protein Cookies
Good for: People who need or want to avoid products with gluten
Munk Pack Protein Cookies are similar to Lenny & Larry's The Complete Cookies in that one serving is half of a cookie—make sure you read your nutrition labels, people. They're available in several flavors and all of them are gluten-free.
In half a cookie, there are 8 grams of protein from brown rice and pea proteins, and depending on the flavor, 160 to 170 calories and 8 to 9 grams of sugar. The ingredients list includes coconut and oat flours, as well as some other starches and flavor or texture ingredients that vary depending on the flavor.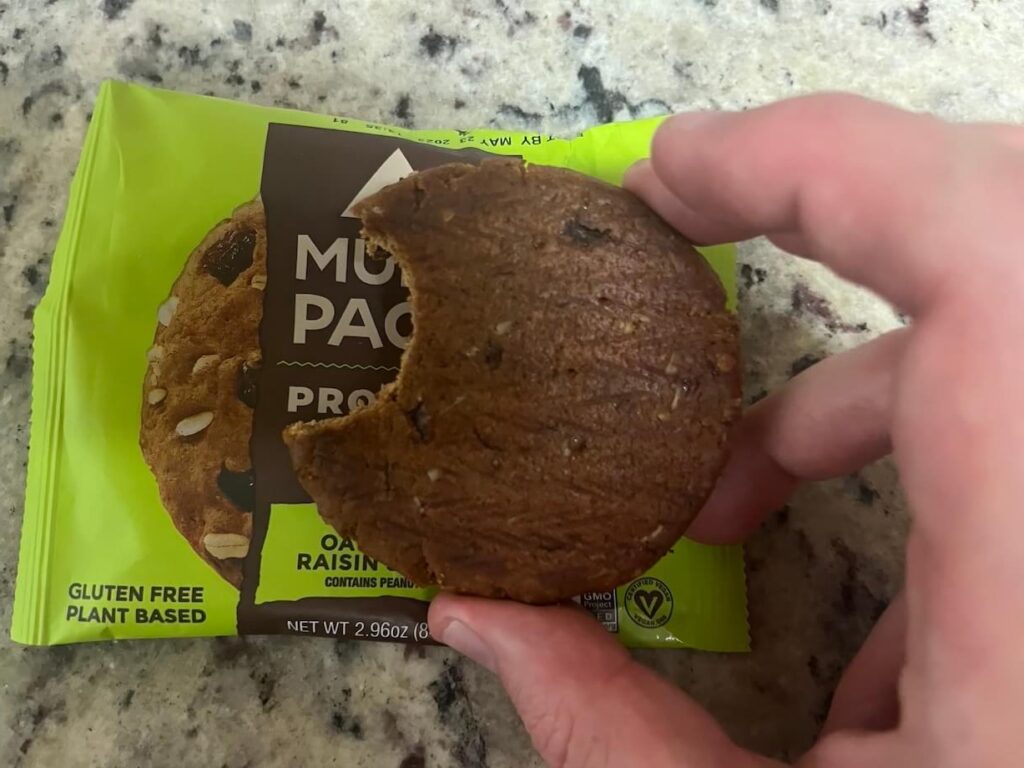 Anthony O'Reilly, GGR product tester and performance editor, tried the Coconut White Chocolate Macadamia and Oatmeal Raisin Spice. "Both are pretty decent when it comes to taste, but their texture is a bit crumbly. I've had worse non-protein cookies and I like them better than Lenny & Larry's, but I don't know if this would satisfy my cookie cravings," Anthony says.
"They are soft and chewy, though a bit crumbly," Anthony says—"not overly so, but I wouldn't eat this without a napkin nearby," he clarifies.
Anthony says he "blew through" his MunkPack cookies pretty quickly and, while he thinks they can work on the texture, "the overall taste is pretty good without being overly sweet."
| | |
| --- | --- |
| Calories per serving | 160-170 |
| Protein per serving | 8 g |
| Protein source | Brown rice and pea protein |
| Sugar per serving | 8-9 g |
| Flavors | Peanut Butter Chocolate Chip, Coconut White Chocolate Macadamia, Oatmeal Raisin Spice, Snickerdoodle |
Other Protein Cookies We Researched
Truth be told, there aren't that many protein cookies on the market.
Actually, a Google search for "protein cookies" brings up more protein cookie recipes you can make at home than protein cookies you can buy. Most of them feature "clean" swaps like almond flour or oat flour and coconut oil in place of the usual suspects. Based on all of my past attempts at homemade protein cookies, I'd rather just buy a box, to be honest.
There's one protein cookie we really want to try but can't find anywhere: The Barbell Bake Shop Black and White Cookies. We tried to order them from Walmart, but Walmart canceled the order. At the time of writing, they don't seem to be available anywhere.
I found a couple of other protein cookies through my research:
None of the above seem to be widely or regularly available.
Products similar to protein cookies that we found but didn't try are: Legendary Foods Protein Sweet Roll, Prozis Protein Cookie Thins, and Alpha Prime Protein Brownie.
How We Picked and Tested the Best Protein Cookies
This is where the super-duper fun part of our job comes in. We had the grand pleasure of buying these high-protein cookies in multiples and stuffing our faces.
We considered many factors as we taste-tested protein cookies, including:
Price per serving
Taste
Texture
Grams of sugar and added sugar
Alternative and artificial sweeteners
Macro profile (protein compared to fats and carbs; net carbs if applicable)
Protein source (e.g., whey vs pea protein vs egg white protein)
Ingredient transparency
Allergens
Digestive symptoms after eating, if any
Dietary suitability (e.g., low-carb or keto, gluten-free, dairy-free, vegan)
Together, all of the above factors influence the final score out of 5 possible points a product can get.
Benefits of Protein Cookies
Protein cookies can be a convenient and yummy way to get some more protein into your diet. If you tend to eat sugary snacks on a regular basis, protein cookies can serve as a good alternative when you want something more filling or satiating to satisfy a craving. Don't fall under the guise that protein cookies are innately healthy, though—they are still cookies.
Increasing your protein intake in general comes with many benefits, including appetite regulation1 and muscle growth2. However, protein cookies aren't as high in protein as a true supplement like protein powder.
If you're looking to increase your protein intake without adding more carbohydrates, sugar, or fat to your diet, you should look into the best protein powders instead of protein cookies; the best low-carb protein bars will have a better macro ratio than protein cookies, too.
Third-Party Testing
Since protein cookies are foods, not supplements, they are regulated by the FDA as foods and therefore adhere to much more stringent requirements than something like whey protein powder. You'll generally find that snacks such as protein cookies do not undergo any third-party testing.
FAQs About Protein Cookies
Are protein cookies good for you?
A protein cookie is still a cookie—we wouldn't label them "healthy" as a blanket statement. Generally, they're still high in sugar and sometimes in saturated fat, too. Depending on your definition of "healthy," protein cookies might not fit the bill. For some people, they are a more nutrient-dense (specifically in protein) version of a regular cookie; for others, they're nothing more than a glorified baked good. But, I say everything in moderation!
Do protein cookies have sugar?
Protein cookies will either have sugar or an alternative sweetener, such as monk fruit, stevia, sugar alcohols, or artificial sweeteners like sucralose, depending on the particular cookie. Make sure to read the nutrition label.
When should you eat protein cookies?
You can eat protein cookies any time you like. They're a tasty way to increase your protein intake without chugging another protein shake you don't really want. If you're serious about gaining muscle, you may want to eat your protein cookie post-workout to maximize the muscle protein synthesis window. (Although some research, such as this 2013 meta-analysis in the Journal of the International Society of Sports Nutrition3, suggests that the post-workout nutrient window isn't as short as some people once thought, so it doesn't seem to matter much.)
These statements have not been evaluated by the Food and Drug Administration. This product is not intended to diagnose, treat, cure, or prevent any diseases.
References
Moon J, Koh G. Clinical Evidence and Mechanisms of High-Protein Diet-Induced Weight Loss. J Obes Metab Syndr. 2020;29(3):166-173. doi:10.7570/jomes20028
Deldicque L. Protein Intake and Exercise-Induced Skeletal Muscle Hypertrophy: An Update. Nutrients. 2020;12(7):2023. Published 2020 Jul 7. doi:10.3390/nu12072023
Schoenfeld BJ, Aragon AA, Krieger JW. The effect of protein timing on muscle strength and hypertrophy: a meta-analysis. J Int Soc Sports Nutr. 2013;10(1):53. Published 2013 Dec 3. doi:10.1186/1550-2783-10-53