We test and review fitness products based on an independent, multi-point methodology. If you use our links to purchase something, we may earn a commission. Read our disclosures.
Quest Nutrition has been on the protein bar scene for over a decade and remains one of the protein bar companies that can be found in almost any health store. The well-known Quest bar was first created in 2010 by founders Ron and Shannan Penna in their personal kitchen. Since then, Quest Nutrition has grown from selling protein bars in specialty retail stores to offering a broad range of products in mass grocery stores. Although they've added protein chips, cookies, chips, and pizza to their product lineup, Quest protein bars remain among their best-selling items.
Our testers for this product are both certified personal trainers and CrossFit-L1 trainers, and are no strangers to Quest protein bars. In this Quest protein bar review, we'll highlight their assessment of Quest protein bars and provide insight into the nutritional content and quality of this popular product.
Medical disclaimer: This article is intended for educational and informational purposes only. It is not intended as a substitute for medical advice. For health advice, contact a licensed healthcare provider. GGR also recommends choosing a product that has been third-party tested for quality.
Quality Reviews You Can Trust
We've collected feedback from trusted personal trainers, CrossFit-L1 trainers, and nutrition coaches who are more than familiar with the taste, quality, and texture of countless protein powders and protein bars. Our GGR expert testers live and breathe health and fitness and are the most reliable sources when it comes to honest and dependable product reviews.
In addition to our testers' expert feedback, I've taken a deep dive into Quest bars to provide you with an accurate and reliable Quest protein bar review from the viewpoint of a registered dietitian. Keep reading to see if these protein bars live up to their hype.
Quest Nutrition Protein Bars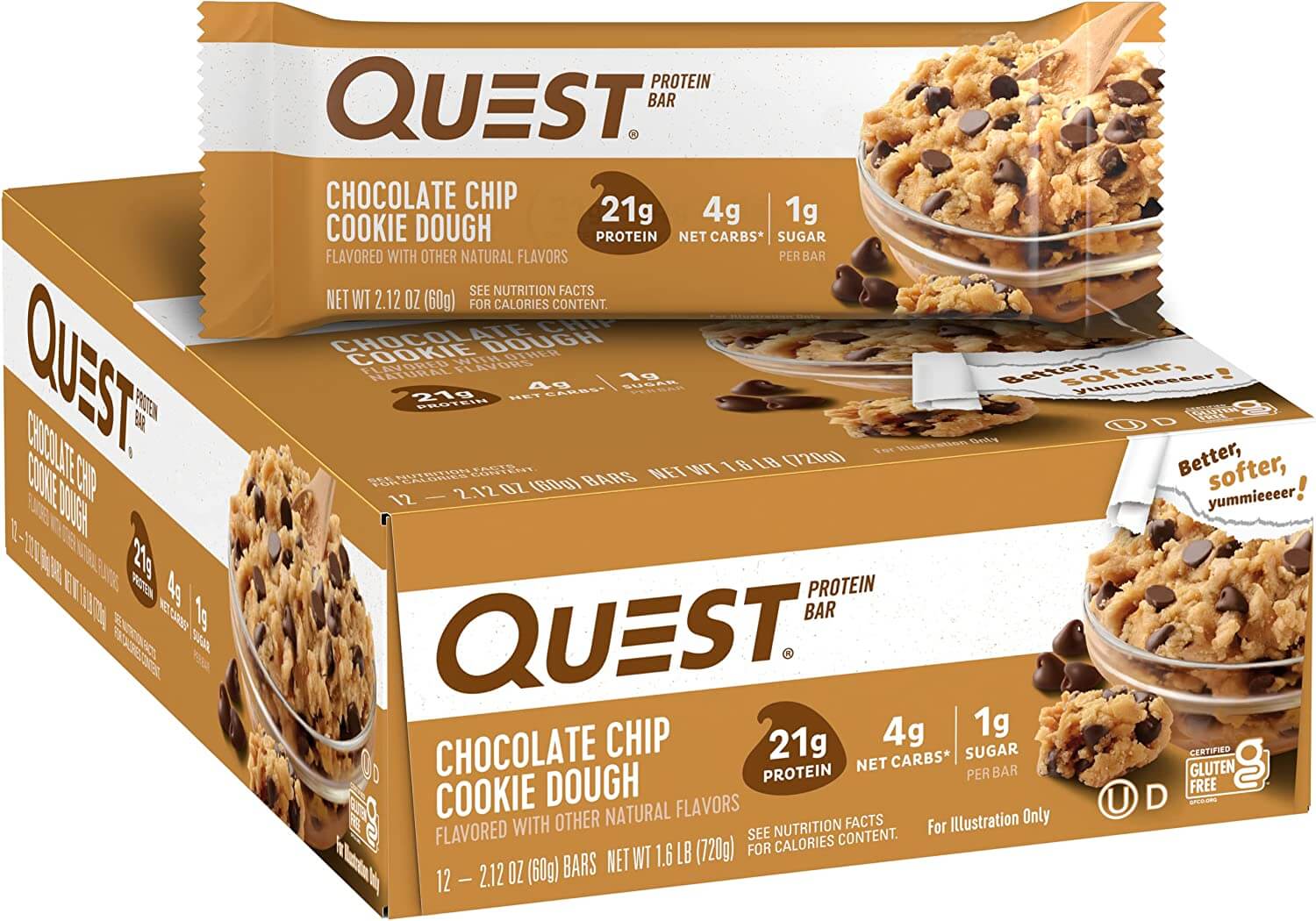 GGR Score: 4.1
Product Highlights
Gluten-free

Low-sugar

16 flavor options

17-21 grams of protein depending on the flavor

Low net carbs
Pros & Cons
Pros
Great product to keep your macronutrients on target
Simple, grab-and-go snack
Gluten-free helps with dietary restrictions
Low in sugar
Very filling
Cons
Chewy texture isn't for everyone
Uses sugar alcohols, which can upset digestion
The company recently changed the formula a bit and several customers didn't like the change
Can get too soft if gets too hot (like in a car or gym bag)
Bottom Line
Quest Nutrition has been serving the health and protein market since 2010 and they continue to give people high-quality products. They offer some unique flavors in their bars not seen by competitors such as White Chocolate Raspberry, Chocolate Sprinkled Donut, and Lemon Cake.This is one of the few bars that is actually recommended to stick in the microwave for about 15 seconds to produce a rich, tasty treat. Using a high-quality dairy-based protein, Quest Bars are dense and chewy in texture.These bars fall pretty well right in the middle as far as price point so you don't have to break the bank to get your protein in consistently. You will want to pay attention to the ingredients as many of the customers who have used Quest for a long time were not fans of the newer formula, although if you don't have anything to compare it to, you might find you like it just fine.
A Quick Look at Quest Protein Bars
The first Quest protein bar was hand-rolled in 2010 in the personal kitchen of founders Ron and Shannon Pena. Now Quest Nutrition is a multi-product company that strives to create foods people crave with healthier ingredients.
Quest protein bars are made with complete dairy-based protein, meaning they include all nine essential amino acids. They claim to be low in sugar and net carbs, while maintaining a desirable taste that will satisfy your snack cravings.
Today, there are 16 different Quest protein bar flavors. Oatmeal chocolate chip, cookies and cream, birthday cake, and dipped chocolate chip cookie dough are among the best-selling Quest protein bars.
Before You Buy
Each bar packs 17-21 g of protein depending on which flavor you purchase
Made with dairy-based protein so you get all 9 essential amino acids
Sweetened with low-calorie sugar alcohols and include no added sugar
All flavors are certified gluten-free for those with celiac disease or a gluten sensitivity
Are Quest Protein Bars Worth It?
Quest protein bars are high in protein and lower in net carbs. Sounds great, right? While many consumers appreciate the macronutrient content and taste of these bars, they certainly aren't for everyone.
Great for:
Athletes who want a protein-packed snack after a heavy weightlifting session
Individuals focused on increasing their intake of fiber and protein for weight loss goals
People with diabetes looking for a high-protein snack that won't spike their blood sugar
Those with celiac disease who require gluten-free snack options
Not recommended for:
Those looking for a vegan protein powder since these bars are dairy-based
Anyone with a milk or peanut allergy
People who are lactose-intolerant or can't stomach whey protein
Those who value products made with minimally processed whole foods
Quest Protein Bar Specs
| | |
| --- | --- |
| Price per bar | Around $2.00-$2.88 each |
| Flavors | Dipped Cookies & Cream, Chocolate Chip Cookie Dough, Oatmeal Chocolate Chip, Chocolate Peanut Butter, S'mores, Caramel Chocolate Chunk, Lemon Cake, Chocolate Brownie, Chocolate Sprinkled Doughnut, Mint Chocolate Chunk, Birthday Cake, Blueberry Muffin, Double Chocolate Chunk |
| Calories per bar | 180-200 kcal, depending on flavor |
| Protein per bar | 17-21 g, depending on flavor |
| Carbs per bar | 24-25 g, depending on flavor |
| Fiber per bar | 8-13 g, depending on flavor |
| Total fat per bar | 6-9 g, depending on flavor |
| Saturated fat per bar | 1.5-5 g, depending on flavor |
| Protein source | Protein blend (milk isolate protein, whey isolate protein) |
| Notable additional ingredients | Polydextrose (prebiotic fiber), erythritol, cocoa butter, almonds, soluble corn fiber, stevia |
Experience Using Quest Protein Bars
Protein bars, like Quest protein bars, make it unbelievably easy to eat a high-protein snack post-workout, on the road, in the office, or any other time it would be inconvenient to eat more traditional high-protein foods. These protein bars are shelf-stable and can be kept in your pantry, gym bag, or desk drawer for months. You do want to make sure they are stored in their wrapper at room temperature or cooler so they maintain their shape.
While you don't want these bars turning to mush in a hot car, you may want to warm them up right before snacking. Microwaving these protein bars for 15 seconds gives them a soft, chewy texture similar to a freshly baked cookie.
Pricing
You can purchase Quest protein bars separately, in a four-count box, or 12-count box. Individual bars at mainstream grocery stores like Walmart are sold for $2.88. When you buy them online from Quest Nutrition, a four-count box costs $10.99, which means you get each bar for $2.75.
If you eat Quest bars daily, consider the 12-count box, which sells online for $33.48, putting each bar at $2.79 a piece. The best online deal Quest Nutrition offers is a bundle that includes three 12-pack boxes (36 bars) for $94.44. At this price, each bar costs $2.62.
On Amazon, at the time of this writing, you can get a box of 12 for as low as $25, making them a little over $2 each.
Nutrition Specs and Ingredients
The chocolate chip cookie dough Quest bar, a fan favorite, includes 21 grams of protein from milk isolate protein and whey protein isolate. This amount meets 42% of the recommended daily value for adults eating a 2,000-calorie diet.
It's not considered a low-carb bar, however most carbs in this bar come from fiber. The chocolate chip cookie dough Quest bar includes 22 grams of total carbohydrates but only 4 grams of net carbs. The other carbohydrates come from 12 grams of fiber and 6 grams of alcohol sugars, most of which are not digested by the body.
At 9 grams of total fat, this Quest bar provides 12% of the recommended daily value. Of these 9 grams, 2.5 are saturated fat (13% of the daily value). This product is neither high nor low in saturated fat but falls into the moderate range. Most of the fat in this Quest bar comes from peanuts.
The chocolate chip cookie dough Quest bar includes 1 gram of sugar, 0 grams of added sugar, and 6 grams of sugar alcohols. Quest bars are considered low-sugar protein bars. Sugar alcohols are a low-calorie alternative to regular table sugar. Erythritol is used in Quest bars and has minimal effects on blood sugar, according to research1.
The macro content of Quest bars is impressive, however these bars are highly processed and lack the vitamin and mineral content of whole foods.
Taste and Texture
Our expert reviewer, GGR staff writer and personal trainer Amanda Capritto, took a six-year hiatus from Quest protein bars after burning out on them. She recently tried the Chocolate Chip Cookie Dough bars and shared, "these bars taste exactly like I remember."
When it comes to texture Amanda specifies, "They're protein bars, so it's not like eating a real cookie, despite what the customer reviews might say. But for a snack with 20 grams of protein, 12 grams of fiber, and only 1 gram of sugar, they're not half bad."
RELATED: Best-Tasting Protein Powder
Side Effects
Quest protein bars are made with milk isolate protein and whey isolate protein. If you have a milk allergy or are lactose intolerant, this type of protein could result in uncomfortable side effects like gas, bloating, and diarrhea.
Those with a milk allergy could have more severe side effects and may need to avoid consuming milk. Talk with your doctor if you believe you might be lactose intolerant or have a milk allergy.
Comparison to Pure Protein Bars
Pure Protein bars
GGR Score: 4.3
Product Highlights
Low-sugar

Gluten-free

20 g of protein per bar

Great taste and flavor options

Affordable
Pros & Cons
Pros
Packed with protein that helps you feel full and reduce cravings
Great price for overall quality of product
Gives you fuel to keep an active lifestyle going
Variety of flavor options to satisfy any sweet-tooth
Tastes like candy
Cons
The specific carb and calorie count will vary by flavor
Uses artificial flavoring
Includes artificial sweeteners
Some customers felt these had a bit more aftertaste than other bars
Bottom Line
If you are trying to keep a diet that is balanced and are struggling to get enough protein in, this would be a great bar to add to your shopping cart, online or in person. Pair it with a piece of fruit, maybe a healthy carb, and a glass of water and you have a great meal on the go.
At first glance, Quest protein bars have many similarities to Pure Protein bars. Comparable to Quest bars, Pure Protein bars have 180-200 calories per bar. They generally include the same amount of protein, falling right around 20 grams per bar. The main differences fall in their fiber and sugar content.
GGR Head of Content and personal trainer, Kate Meier, generally likes protein bars for a short time before changing her mind and deciding she actually hates them. However, when it comes to Pure Protein bars she shares, "This is probably one bar I could see myself eating more often because I really like the taste, and it isn't dry like many other bars are." Kate thinks these bars taste more like candy bars than other protein bars. She states, "They are a little chalky—like, VERY little—not in the way you taste with other protein bars."
Quest bars are higher in carbohydrates but contain considerably more fiber than Pure Protein bars. The carbohydrate content of Pure Protein bars consists significantly of starches rather than fiber. Both Quest and Pure Protein bars use alcohol sugars for additional sweetness. However, Pure Protein bars also include low amounts of added sugar, while Quest protein bars are made without added sugar.
Overall, Quest and Pure Protein bars include a reasonable amount of calories and protein for what's considered a high-protein snack. Whey protein isolate and milk protein isolate make up most of the protein content in these bars. Additionally, both are low in total sugar and include moderate amounts of total and saturated fat.
Pure Protein bars are much more expensive than Quest protein bars when sold individually. A single Pure Protein bar costs $3.99, compared to only $2.88 for a Quest bar.
RELATED: No Cow Protein Bar Review
Customer Experience
Quest offers a full refund if you're not completely satisfied with your order made through the company website. All refunds must be made within 90 days. Quest does not offer exchanges. If you want to purchase a different item, refund your original order and make a new purchase.
Ordering Quest Bars
Many consumers report Quest protein bars to have a better texture when purchased from the grocery store or company website rather than from Amazon. Longer shipping times may result in a harder consistency.
Shipping and handling charges apply for orders $79 and under on the Quest Nutrition website. All orders $79.01 and over receive free standard delivery. Due to increases in gas prices, Quest adds a $1.25 fuel surcharge to all online orders.
Customer Reviews
Most of the online customer reviews are very positive with people loving the flavors. The Chocolate Chip Cookie Dough flavor has a rating of 4.4 out of 5 stars on Amazon and 4.5 on the Quest site at the time of this writing.

Most of the less-than-stellar Amazon reviews refer to the subpar quality they received compared to buying them in-store.

Final Verdict of Our Quest Protein Bar Review
Quest protein bars are a quick and convenient high-protein snack for after a workout or between meals. In addition to being high in protein, Quest bars are fiber-rich, low-sugar, low-sodium, and low in net carbs. They include moderate amounts of total and saturated fat.
That said, they are highly processed and do not contain the same vitamin and mineral content as whole foods. They make an appropriate snack or supplement, but shouldn't be used as a meal replacement bar.
They have a soft and chewy texture and aren't dry or crumbly. Since Quest bars are protein bars they still have a very slight chalky aftertaste, however, our expert testers agree they rank highly on taste compared to many other protein bars.
Quest bars are a good option for weight lifters wanting to preserve and build muscle mass and people with diabetes who want a protein bar that won't spike their blood sugar. Since they are high in protein and fiber, they promote satiety which research shows2 could reduce overeating and help with weight loss.
Quest bars could be the best protein bar for you if you're looking for an affordable protein bar with balanced macros and quality taste.
RELATED: Best Protein Shakes
Quest Protein Bar Rating
Quest Protein Bar
Looking for your next favorite protein bar? Find out if this one is right for you with our Quest Protein Bar review.
Product Currency: USD
Product Price: 2.99
Product In-Stock: InStock
Quest Protein Bar Review FAQs
Are Quest protein bars actually good for you?
Generally speaking, Quest protein bars can be a part of a complete and nutritious diet. They are a good source of protein and fiber and are low in sodium and sugar. Quest protein bars are highly processed and do not contain the same variety of vitamins and minerals found in whole foods. They are not meant to be meal replacement bars. 
Is Quest protein good for weight loss?
Quest protein bars come with a reasonable calorie count and are packed with protein and fiber which keep you feeling fuller for longer. This could reduce overeating throughout the rest of the day and may help with weight loss. 
Are Quest bars healthier than ONE bars?
Quest bars are lower in saturated fat and calories than ONE bars. Quest bars are a healthier option for those looking to reduce their saturated fat intake. These bars have very similar protein, fiber, and sugar content. 
Why are Quest protein bars so chewy?
Polydextrose, glycerin, and xanthan gum are ingredients in Quest protein bars that make them chewy. These ingredients smooth texture, improve moisture retention and add bulk. Without them, Quest bars may be crumbly and dry. 
These statements have not been evaluated by the Food and Drug Administration. This product is not intended to diagnose, treat, cure, or prevent any diseases.
References
Msomi N.Z.,, Erukainure O.L., Islam M.S. Suitability of sugar alcohols as antidiabetic supplements: A review. J Food Drug Anal. 2021;29(1):1-14. Published 2021 Mar 15. doi:10.38212/2224-6614.3107
Moon J., Koh G. Clinical Evidence and Mechanisms of High-Protein Diet-Induced Weight Loss. J Obes Metab Syndr. 2020;29(3):166-173. doi:10.7570/jomes20028