We test and review fitness products based on an independent, multi-point methodology. If you use our links to purchase something, we may earn a commission. Read our disclosures.
Finding a protein bar without a ton of artificial ingredients, fillers, or sugar is a tough task from the start. The task becomes even more arduous when you have specific dietary needs or preferences, such as if you follow a vegan, gluten-free, dairy-free, or soy-free diet.
No Cow makes protein bars that are free from dairy and other animal products, soy, gluten, and genetically modified organisms (GMOs). They're certified vegan and kosher, and Non-GMO Project Verified. Could this be the bar for you? Find out in our No Cow protein bar review.
RELATED: Best Protein Shakes
Medical disclaimer: This article is intended for educational and informational purposes only. It is not intended as a substitute for medical advice. For health advice, contact a licensed healthcare provider. GGR also recommends choosing a product that has been third-party tested for quality.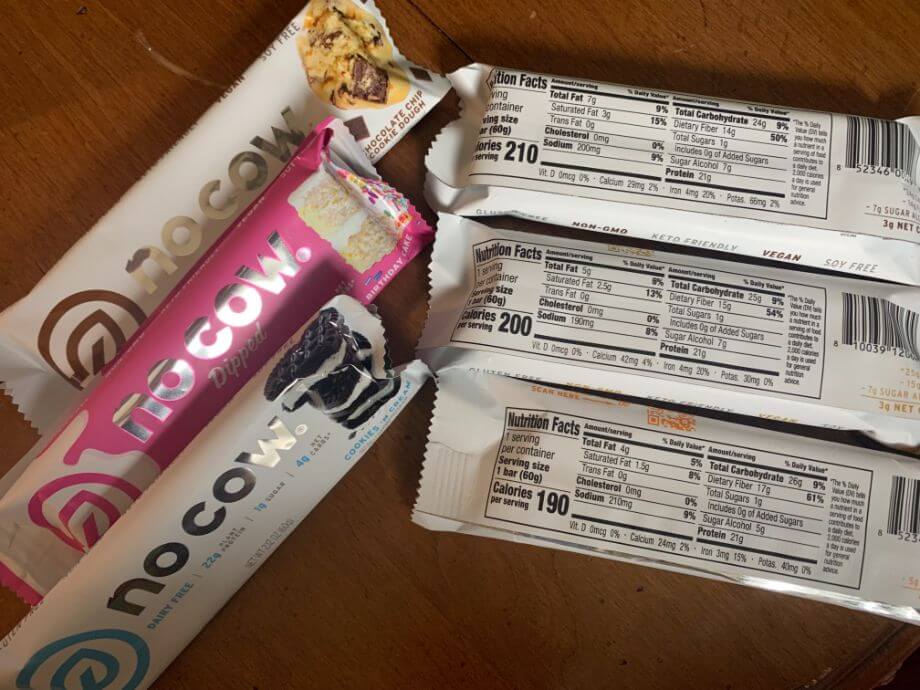 No Cow, No Problem—and No Fake Reviews
Our product testers, many of whom are certified nutrition coaches and certified personal trainers, have taste-tested dozens of protein bars for our GGR nutrition guides as well as in our personal lives. For this No Cow protein bar review, we had six members of an Olympic weightlifting team try the bars. One of our product testers who regularly eats vegan and dairy-free foods also tried the bars, as did several members of her family.
No Cow Protein Bars
GGR Score: 3
Product Highlights
Plant-based protein bar 

Non-GMO, gluten-free, keto-friendly, dairy-free 

12 flavors available
Pros & Cons
Pros
12 flavors
Certified gluten-free
Subscribe and save 10%
Vegan
Soy-free
Cons
No variety pack available
Contains erythritol, which may cause an upset stomach
Reportedly bad customer service
Mixed reviews on taste
Bottom Line
No Cow's protein bars are a vegan and gluten-free option with 20–22 grams of protein but with extremely mixed reviews on flavor.
A Quick Look at No Cow Protein Bars
With the tagline "No Cow. No Bull. No Whey!™" we probably don't need to tell you that these bars are vegan. And, clearly, not made with whey protein like many other popular protein bars.
With 20 to 22 grams of protein from plant sources, these bars are a good option for people who eat a vegan or vegetarian diet. They're also suitable for people who follow a gluten-free, lactose-free, non-GMO, or soy-free diet. (But, no, they're not paleo.)
The macros are great, unless you follow a keto diet: 190 to 210 calories, 20-plus grams of protein, 24 to 26 grams of carbs (15 to 16 grams of which are fiber), and 7 grams of fat. They're not meal replacement bars, but with that amount of protein, fiber, and fats, they can definitely provide you with sustained energy.
RELATED: Macros for Weight Loss
Before You Buy
These things have a LOT of fiber; as in, 15 to 16 grams per bar. That's a ton for someone who isn't used to eating a lot of fiber, especially in one sitting, so take caution if that sounds like you. (For the record, the recommended daily fiber intake is 21 to 25 grams per day for women and 30 to 38 grams per day for men, according to the Mayo Clinic.
Our review is honest—our testers aren't fans of these protein bars—but there are thousands of positive customer reviews on No Cow bars, so clearly people do like them. While we will always give you our honest opinion and details about our experiences, don't let us dissuade you from trying the bars if they are a good fit for your dietary preferences. Everything is at least worth a try if it makes sense for your lifestyle.
You can try No Cow with the free trial pack! Just don't forget to cancel the auto-subscription if you don't want to continue receiving them.
Are No Cow Protein Bars Worth It?
If you follow a vegan or vegetarian diet, probably, yes. If you can drink whey protein powder or take other whey-based supplements without issue, then there are likely better-tasting options out there for you.
No Cow Protein Bar Specs
| | |
| --- | --- |
| Price per serving | $2.75 |
| Flavors | More than 20 |
| Calories per serving | 190 to 210 |
| Protein per serving | 20 to 22 grams |
| Sweeteners | Monk fruit, stevia, erythritol |
Experience With No Cow Protein Bars: Taste and Texture
First, this is a dairy-free, gluten-free, non-GMO, vegan, soy-free bar—so you have to take that into consideration when thinking of taste, GGR head of content and expert product tester Kate Meier explains. Meaning, if you don't regularly eat products like this, you might be surprised at the taste (or lack thereof).
Kate and five members of her weightlifting team tried a variety of the No Cow bars, including Birthday Cake, Chocolate Peanut Butter Cup, and all the others in the sampler pack.
The full flavor lineup is:
Chocolate Peanut Butter Cup
Chocolate Sea Salt
Chocolate Chip Cookie Dough
Cookies 'N Cream
Chocolate Fudge Brownie
Lemon Meringue Pie
Chunky Peanut Butter
Blueberry Cobbler
Key Lime Pie
Sticky Cinnamon Roll
Chocolate Sprinkled Donut
S'mores
Peanut Butter Chocolate Chip
Raspberry Truffle
Maple
Pumpkin Pie
Frosted Gingerbread Cookie
Chocolate Coconut Almond
Chocolate Mint Cookie
Chocolate Salted Caramel
So, there are a ton of different flavors for whatever your taste buds might want.
RELATED: Best-Tasting Protein Powder
Out of all of the flavors, Kate says the Birthday Cake and the Chocolate Fudge were voted as best among her team.
"For the most part, we could eat the entire bar, but it wouldn't be our favorite thing," she says. "You can tell there is an attempt to fulfill the flavor on the label, but it's just that—a flavoring, clearly not close to the real thing."
"It was suggested that I put one in the fridge, so I tried that with the dipped Chocolate Fudge Brownie bar, and that actually did help the taste a little," Kate continues. "It didn't seem quite so dry. It does still leave that grainy feeling on your teeth, but I actually did eat the entire thing. It still wouldn't be my go-to bar, but I do think that refrigerating helps!"
In general, the dipped versions taste a little better than the "naked" ones because the dip adds a little more moisture and better texture, Kate says.
As someone who eats more dairy-free, gluten-free, and soy-free items than most people on the team, GGR editor Frieda Johnson says that the No Cow bars were about what she expected: not the best she's ever tried, but not the worst, either. 
"Some of the flavors have a really strong stevia/sugar alcohol aftertaste, in my opinion, although my family was split 50/50, with half of us not noticing it and half being bothered by it," Frieda says. "We all agreed that the Birthday Cake flavor was the best one. It actually tasted pretty good with less of the aftertaste of the other flavors. We thought the Chocolate Chip Cookie Dough was the worst."
These are on the dry side texture-wise, Kate and Frieda agree. Some are dipped, some are "naked"; they all have that nougat-like texture, but because they are dry, it is mealy, not moist, Kate explains.
Kate noticed that some of the bars made her teeth feel grainy and she recommends keeping a glass of water nearby; Frieda agrees, saying "The texture is a bit odd; it's smooth and creamy but somehow dry and grainy at the same time."
"My husband thought they were a little bit like a 'less sticky' old-school PowerBar," she adds.
Price Per Serving
The price per serving may vary depending on where you buy the bars or how large of a package you buy. When we bought the sample pack, it cost $39.99 for 12 bars, making the price per bar $2.75.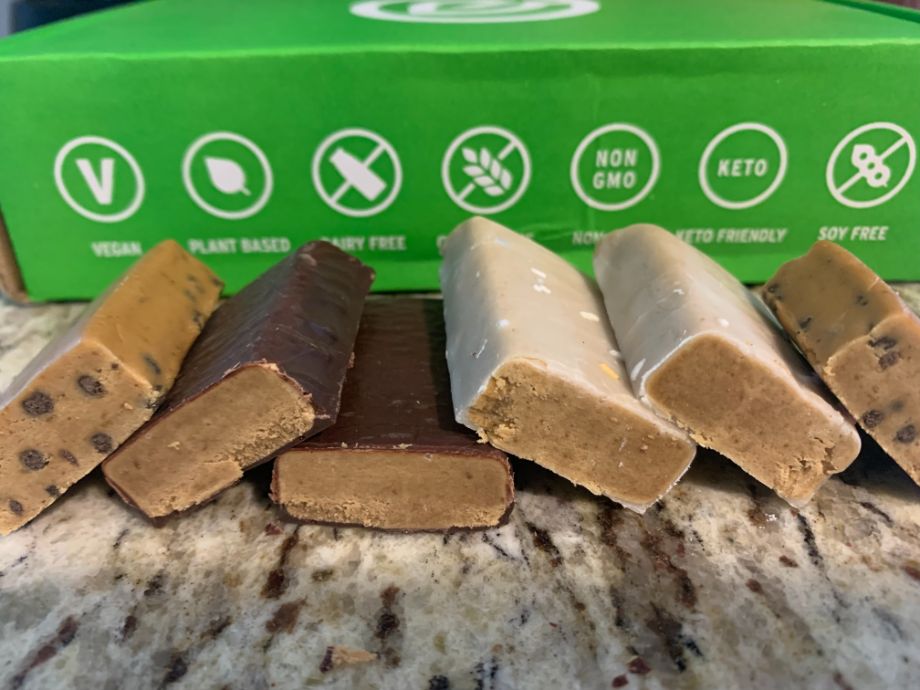 Formulation
The No Cow Protein Bar ingredients list reads, generally, as:
Protein blend (brown rice protein, pea protein)
Soluble corn fiber
Glycerine
Sweetener blend (monk fruit extract, erythritol, stevia)
Palm oil
Salt
Water
Natural flavors
Ingredients specific to the flavor (such as almonds, cocoa butter, sprinkles, and cacao)
As you can see, that's not a ton of ingredients, which is precisely the reason why many people choose to buy No Cow bars. Low-sugar (but not low-carb), high-fiber, and high-protein, they're a nutritionally sound snack for people who want more plant protein in their diet.
Side Effects
Kate didn't notice any side effects after eating the bars. "I had no ill effects," she says, "which I'd expect from a bar meant to be free of anything that might cause tummy issues."
Frieda, however, says she is pretty sensitive to stevia and sugar alcohols. "I did notice some minor GI distress after eating these," she says. "No one else in my family did, though, so I would imagine they wouldn't be a problem for most people."
Third-Party Testing
No Cow protein bars are Non-GMO Project Verified, as well as certified vegan and kosher. To our knowledge, there is no other third-party testing completed on No Cow products (such as for banned substances) but since this is a food product, not a true supplement, we're not hung up on that.
RELATED: Best Vegan Protein Powder
Customer Experience
No Cow offers a 60-day satisfaction guarantee. If you're not happy with your purchase, you can email the company to provide information as to why you want a refund, and they'll process your request. Note that No Cow doesn't guarantee the quality of their products when bought from a third-party retailer like Amazon.
You can actually try No Cow bars for free! You just have to cover 99 cents for shipping, and you'll be on your way to taste-testing a variety pack. Just note that you do have to provide card info and you'll be automatically enrolled into No Cow's subscription program, so don't forget to cancel it if you don't want to continue.
Ordering No Cow Protein Bars
You can order No Cow bars directly from the No Cow website (which is recommended in case you want to take advantage of the satisfaction guarantee), or from a variety of retailers. Amazon, GNC, The Vitamin Shoppe, Walmart, Target, Walgreens, Kroger, Wegmans, CVS, Sprouts, Wawa, 7 Eleven, and Whole Foods all stock No Cow protein bars. Your best bet for finding the flavor and quantity that you want is to order from the No Cow website, though.
Customer Reviews
While our taste test of the variety pack didn't stack up to the way we feel about some other protein bars, the customer reviews of No Cow bars prove that there are, indeed, many people who think these are great-tasting bars and order them over and over again.
The sample pack has a rating of 4.3 out of 5 stars on the No Cow website at the time of writing, with countless customers saying these are the only protein bars that fit their needs and don't taste like dirt.
Customer Kristie K. wrote, "Some of the best protein bars I have ever tasted. No aftertaste, and they fill me up. Only downside is, they are dry, but hey, everyone is supposed to drink lots of water!"
Emily T. says "No Cow never disappoints" and "every dipped bar flavor is amazing. This is the best ratio for vegan bars in terms of fuel, calories, carbohydrates, and protein itself.
On Amazon, the reviews are just as enthusiastic, with another 4.3 out of 5 star rating and nearly 7,000 reviews.
Reviewer Bryan kept it real: "Going to be honest. Are these things better than eating a Snickers? Nope. Not even close. But for what they are, a protein bar, they are pretty good. They're at least edible, which is saying something, because things with this much fiber are usually disgusting. So 5 stars to them for what the product is."
Amazon reviewer lon_star wrote, "Normally, protein bars are like trying to eat Play-Doh (don't pretend you never tried that as a kid) but these No Cow bars have a nice consistency and actually taste like different flavors instead of that syrupy-sweet vanilla or dusty chocolate you get in other brands.
We, too, have tasted our fair share of syrupy vanilla and dusty chocolate on our quest to find the best protein bars, so we sympathize with lon_star.
Final Verdict of Our No Cow Protein Bar Review
All in all, Kate says of the bars, "I wouldn't call them disgusting, but I don't think I'd ever eat one again." Frieda says that the bars are "pretty solid, nutrition-wise, in my opinion; high in protein and fiber, pretty low in fats and empty carbs. Not mind-blowing, but solid. The taste and consistency are not amazing; I would eat it if someone gave me one, but I wouldn't buy them."
No Cow bars are high-protein bars made with plant-based protein.
They're sweetened with monk fruit extract, stevia, and erythritol, a sugar alcohol.
They contain around 200 calories, around 20 grams of protein, 15 grams of fiber, and 1 gram of sugar.
No Cow Protein Bar Full Rating
No Cow Protein Bar
Find out if No Cow bars live up to their reputation as the best vegan protein bar in our No Cow protein bar review.
Product Currency: $
Product Price: 57
Product In-Stock: InStock
No Cow Protein Bar FAQs
Who makes No Cow bars? 
No Cow is based in Denver, Colorado, and was founded by Daniel Katz, who was 18 at the time he realized there were no protein bars to suit his needs. The brand now receives investments from General Mills.
Are No Cow bars organic? 
There is no information on the No Cow website stating that the bars are organic. Usually, foods that are certified organic display the USDA Organic badge on the packaging. If you're looking for organic protein, check out our guide to the best organic protein powder.
Are No Cow bars paleo?
No. Since No Cow bars contain ingredients like erythritol and sprinkles, they wouldn't be considered a paleo snack.
These statements have not been evaluated by the Food and Drug Administration. This product is not intended to diagnose, treat, cure, or prevent any diseases.