We test and review fitness products based on an independent, multi-point methodology. If you use our links to purchase something, we may earn a commission. Read our disclosures.
Just like phones, computers, and cars, gym equipment keeps getting smarter. First we had fitness apps and Bluetooth headphones, and those now-basic advents paved the way for high-tech treadmills with TV screens and even AI-based workout programming.
One newer piece of smart home gym equipment is the Speediance home gym, officially called the Speediance Gym Monster, released first on Kickstarter by a company backed by two venture capital firms in 2021. It started shipping to U.S. customers in mid-2022.
In our Speediance review, we'll take a look at how it stacks up to competitors like the Tonal and Vitruvian Trainer+.
Smart Home Gym Fever
The concept of smart home gym equipment burst onto the fitness scene about as fast as Usain Bolt's 200-meter sprint world record. Or, it certainly felt that way—particularly when I had a collection of five fitness mirrors installed in my 1,300-square-foot home back in 2021. GGR founder Coop and I have tried our hands (and legs and arms and abs) at the majority of smart home gym items on the market, with one of the latest being the Speediance Home Gym. 
Speediance Smart Gym
Product Highlights
All-in-one smart home gym 

Digital resistance 

Space saving design 

Full body training
Pros & Cons
Pros
All-in-one piece of fitness equipment
No subscription fee to access workouts (!)
Can support strength training, cardio, and HIIT
Weight increments of 1 kg (2.2 lbs)
Frame folds to save space when not in use
Guided instruction is good for beginners
Can target all muscle groups with it
Foldable space-saving design
Ready to use out of the box
Versatile design can be: rower, ski machine, and squat rack
Cons
Limited user reviews
Maximum weight of 220 lbs (still enough for most people though)
Resistance mechanism glitches/catches during use
Limited workout library compared to other options
Reviews report trouble contacting customer service
Accessories are extra and crucial to the versatility of the machine
Bottom Line
The Speediance Gym Monster Home Gym is an expensive option for a smart and compact functional trainer.
A Quick Look at the Speediance All-In-One Home Gym
Coop's first impression is that, "It's a more budget-friendly Tonal. The hardware isn't quite up to the level of Tonal, and the classes aren't as engaging, but it's less expensive."
"And that's not automatically a bad thing," he continues. "This is a piece of high-tech equipment coming to consumers at a lower cost. And I think that's great."
Let's delve a bit deeper.
The Speediance certainly looks a lot like the Tonal—it looks similar to a cable machine you'd see in a commercial gym, with a platform and a frame with two pulleys. Depending on the exact setup you purchase, it may also have a weight bench, a rowing slide rail, a small barbell, tricep rope, ankle straps, ski erg handles, hooks (like j-cups on a squat rack), and smart handles.
Like a functional trainer, the Speediance is intended to be an all-in-one solution for a home gym and have full-body workout capabilities.
RELATED: Best Home Weight Machine
Before You Buy
This is a newer product, so set your expectations accordingly. New tech products often have bugs and glitches in the first few iterations, so I recommend you don't expect perfection. That said, Speediance seems to be working really hard on improving the software.
For a super well-rounded workout routine, I also recommend having some free weights for your use (if you have the space and budget). Smart home gyms like this are great, but I recommend including compound exercises with free weights in your routine, too.
Is the Speediance Home Gym Worth It?
The Speediance is expensive, no arguing about that. With a starting price tag of $3,599—increasing to $4,398 for all of the accessories—this smart gym out-prices every other smart home gym we can think of, including Tonal (barely).
At the time of writing, the unit is on sale for a starting price of $2,600, which is significantly cheaper than Tonal. But as is typical, the "list price" is probably just a fake to make customers think the "sale" price is a good deal.
This is to say, we think the price will remain around $2,600, which makes it less expensive than competitors. Yay!
Still, because it's a newer product that just left Kickstarter in 2022, I'm inclined to say that at this price, it may not be your best option—just yet.
When you have a less expensive product that's already been through years of research and development (Tonal), it makes too much sense to just buy the one that's been fine-tuned. Plus, Tonal offers financing and as of this writing, Speediance does not.
Great For:
Beginners
People who want an all-in-one trainer
Guided feedback and instruction 
People who want a smart home gym for less than the mainstream options
Not Recommend For:
Powerlifters, CrossFitters, and Olympic weightlifters
Anyone who doesn't care for real-time guidance and/or instruction
People who prefer free weights
Speediance Specs
| | |
| --- | --- |
| Footprint (unfolded) | 4.1' L x 2.3' W x 6' H |
| Footprint (folded) | 1.15' L x 2.3' W x 6' H |
| Weight | 85 kg (about 187 lbs) |
| Maximum digital weight | 50 kg (about 110 lbs) per side |
| Weight increments | 1 kg |
| Audio | Hi-Fi digital audio stereo 2*10w |
| Display | 21.5-inch 1080P HD touch screen |
| Connectivity | Wifi 2.4G Bluetooth 5.0 wireless technology |
| Warranty | 2 years |
| Accessories | Smart handles, barbell, triceps rope, ski handles, bench, rowing bench, ankle straps, J hooks |
Workout Experience: Using Speediance
Overall, the Speediance Home Gym is easy to use, Coop says. "After a strength assessment, it recommends the weights for you based upon the reps, similarly to Tonal. It's designed for a novice, so beginners shouldn't have any issues getting it set up and in working order."
Generally, the resistance is smooth, although "The pulleys do hitch and I find the resistance somewhat uneven when using a bar," Coop laments. The resistance goes up to 100 kilograms or 220 pounds total, so 110 pounds per arm.
Given that digital resistance is well-known to feel much heavier than "analog" resistance, this should more than suffice for the average home gym owner.
Sam, our GGR Facility Manager who put the unit together, had this to say: "I will tell you that the unit and the components themselves seem very white-label," meaning the parts feel basic in construction and don't have any particular sort of branded feel. (An example of something that does have that feel is the equipment that comes with Tempo Studio.)
"However, the programming seems pretty decent," Sam continues. "For instance, you can definitely feel a difference between having it in barbell mode versus chains. It definitely feels like a chain simulation when lifting with it."
As for the workouts themselves, Coop says they are somewhat lacking, but gives Speediance some grace for being a newer company. The workout library isn't as comprehensive as what you'd find with Tonal, Tempo, iFIT, Peloton, or another fit-tech company, but you'll still enjoy a decent selection of cardio and strength training workouts.
Coop said he has faith in the company's investment in programming and hopes to see a more robust library soon.
Here's a look at the workout library screen.
Footprint and Portability
One of the main selling points of the Speediance Gym Monster is its footprint. Compared to Tonal and Tempo Studio, the Speediance unit is actually pretty minimalist.
In photos of the Speediance next to other smart home gyms, it looks to be about the same height as the NordicTrack Vault and similar items. The exact specifications are: 4.1 feet long by 2.3 feet wide by 6 feet high.
One thing to note is that Speediance has a floor platform, so it'll take up more floor space than MIRROR, Tonal, or Tempo, but not as much floor space as a cardio machine.
While I wouldn't call a machine like this inherently portable, Speediance is much more portable than most of its competitors. Because it doesn't require any sort of installation that requires drilling holes into your walls, you could theoretically move this wherever you want, whenever you want. But you would have to partially disassemble it if you're moving it alone, and to move it through door frames and narrow hallways.
Durability and Construction
As Sam, GGR Facility Manager, mentioned earlier, the Speediance parts feel quite "white-label," and Coop noted that overall, the machine doesn't feel as durable as Tonal. However, we think that with moderate use—assuming no software issues—Speediance will hold up fine. At this time, we're not sure if it's a lifetime product or if it's something customers might find themselves upgrading after a few years.
The Ergonomics
Using the Speediance felt a lot like using a regular cable machine, said both Coop and Sam. At least, this is true for exercises you'd normally do with a cable machine, such as chest flys and triceps push-downs.
For squats, deadlifts, and other compound movements, the Speediance can feel a bit awkward and take some getting used to, but this is also true of a typical cable machine or functional trainer.
The Speediance is compatible with a number of different attachments and accessories, so everyone can find something that suits their needs and/or preferences.
Tech Specs
The tech features are what most people are interested in when looking at a home gym option like Speediance, so let's dig into that.
Similar to Tonal and Tempo Studio, the Speediance provides some feedback, but it's not as detailed as what you'll see on those other two machines. For example, on Tempo Studio, you can actually see a 3D rendering of your body performing the movements, along with cues to help you improve your form.
On Speediance, you'll see a musculoskeletal figure on which the muscle fibers light up to match the exercise you're doing.
There's no real form of real-time personal training at this point, though. There are no cameras nor 3D sensors on the Speediance like there are on Tonal, Tempo, and MIRROR. Even though the Speediance website says the machine can monitor your form and provide technique feedback, our testers could not replicate that function IRL.
I asked Speediance about this and here's what they said:
The feedback is the "Showing and recording [of] the real-time resistance of each side, as well as the total weight and calories burnt, etc. In this way, customers could see directly from the screen about how the workout is being done in real-time and notice if there's any issue (e.g. if the both side is doing the same work, same resistance, no. of reps, etc.)."
The representative went on to say, "In the current version, 'feedback' might be a more accurate word than 'correction.' While we're developing our form correction by using sensors in the handles, motors, etc., we appreciate the heads up and will consider altering the expression!"
You can follow along with the workouts on the machine's 21.5-inch 1080px touchscreen display, which rotates 90 degrees in either direction and tilts up and down.
Some of the attachments are Bluetooth-enabled smart accessories, as in they can count your reps for you and automatically send that information to the trainer and the app.
Speaking of the app, it also houses the 100+ workouts you'll get with your purchase—no subscription needed. This is one point I want to hammer home: There are currently no other products like Speediance that operate without a subscription. So if a monthly fee bothers the heck of of you, Speediance may be your saving grace!
Speediance vs Vitruvian Trainer+
Vitruvian Trainer+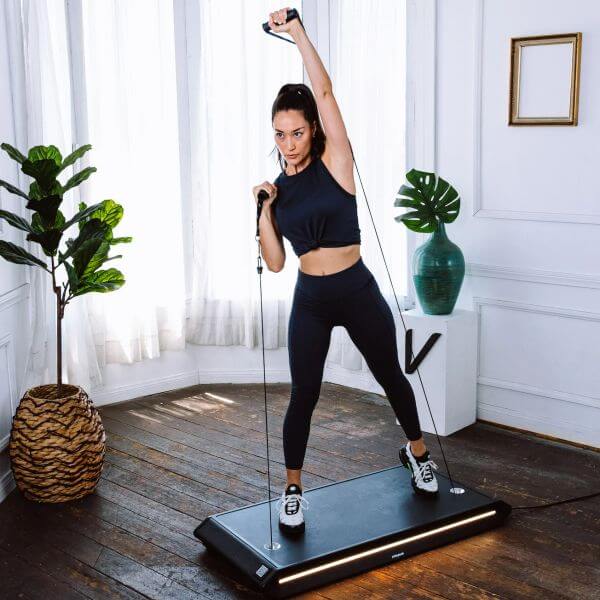 Community Score: 4
Product Highlights
Adaptive weight system that produces weight from 0 to 440 pounds
Advertised as working similarly to a rack without having to change plates or store any of the weight
The technology will do it all for you
However, different from a squat rack, you are able to do over 200 different exercises that target all parts of your body
All Access Membership costs $39 per month.
Without the Trainer All Access Membership, you are still able to work exercises and create your own workouts.
Pros & Cons
Pros
Guided workouts with advanced data tracking
Can move the Trainer+ for the ability to workout in various locations
Varying levels of resistance for variety in training
Cons
Monthly membership of $39
Higher entry price at almost $2,500
This product is still in beta model
Bottom Line
The adaptive weight technology in the Vitruvian Trainer+ is impressive and has great potential. However, since it's a newer product, many consumers may opt to wait until the product is out of beta and the company has had time to make necessary improvements.
Coop is a big fan of the Vitruvian Trainer+, in part due to the compact and portable size, but large in part due to the smooth resistance mechanism and high max resistance of 440 pounds.
Compared to the Speediance, the Vitruvian Trainer+ has much more weight-training capability in a much smaller package.
What you lose out on with the Vitruvian is versatility. Though you can certainly do many activities with the Vitruvian Trainer+, it doesn't support all of the accessories and attachments that the Speediance has.
Still, based on what I know about the status of Speediance—such as software bugs and shipping issues—I think Vitruvian is a wiser investment at this time, if you have the money to spend.
Read our full Vitruvian Trainer+ review.
Speediance vs Tonal
Tonal Smart Gym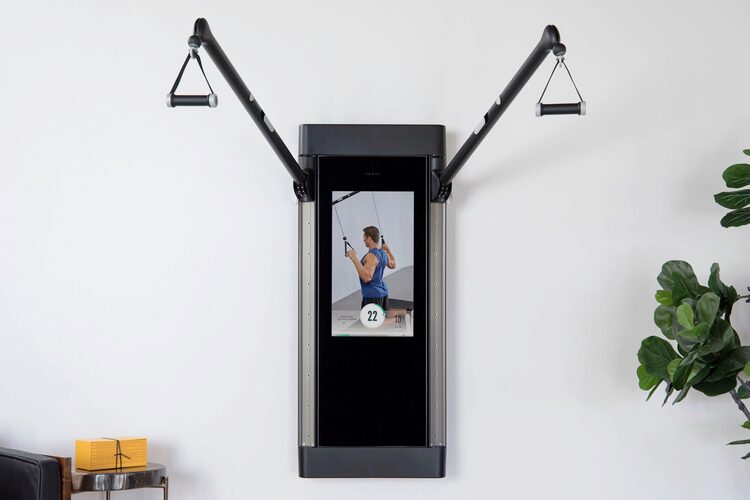 Product Highlights
AI gets to know you and makes weight adjustments for you
Up to 200 pounds in digital resistance
All-in-one gym that takes up minimal space
Access to on-demand and live classes
30-day trial period
Pros & Cons
Pros
AI gets to know you and makes weight adjustments for you
Lift up to 200 pounds in digital resistance (much different from free weights)
All-in-one gym that takes up minimal space
AI assesses your form and gives real-time cuing
Access to on-demand and live classes
30-day trial period
Cons
High initial price tag
Accessories cost extra and are pretty crucial to your workouts
12-month initial subscription required (and an additional cost)
200 pounds in resistance might not be enough for heavy lifters
Bottom Line
A complete smart home gym that offers versatility in a compact piece of equipment, but at a high price.
Compared to Tonal, the Speediance accessories are generally of lower quality, Coop says.
However, the "free mode capabilities are fantastic," he says. "It judges your range of motion very quickly and I can go from exercise to exercise with no problem—without having to reset anything."
The programming is underwhelming compared to Tonal's large library and excellent production value, Coop continues, but to be fair, he says: "Tonal has been around longer and has spent much more time and money on this part of the equation. Tonal's AI is also superior, but again, Speediance is a value play."
Read our full Tonal review.
Customer Experience
The customer experience doesn't seem great from what I can tell online.
For starters, the company offers a measly seven-day return policy and the customer is on the hook for return shipping, unless the return is due to "performance faults." This would include costs incurred from shipping overseas and through international borders.
I inquired about this with a Speediance company representative, and we were told that the seven-day policy is standard in China, where the company is based, but that they have learned that a 30-day or 60-day return policy is more common in the States. The representative didn't confirm whether or not Speediance would alter the return policy.
While there are no explicit return shipping costs outlined on the Speediance site, my understanding is that this could turn out to be a very expensive process, particularly given the size and weight of the home gym, and that you'd be shipping it overseas (unless/until Speediance opens warehouses in more countries).
The return policy also states that a refund may not be given under "other circumstances not stated in this policy where applicable." This essentially means that Speediance can reject a return and refuse a refund at their discretion.
The warranty period is just two years for the machine and one year for the parts and accessories. It covers manufacturing defects only and is not transferable.
You can contact Speediance for support via chat, phone, or email.
Ordering and Assembling the Speediance Gym
Here's some good news: The Speediance arrives almost completely assembled, says Sam Presley, GGR Facility Manager.
"All you have to do is pull it out of the box," he says. "The only assembly required is on the bench, which is only for the screws; and the rower, which is also a fairly quick and easy build with only a couple different components."
It only took about 30 minutes total to get the Speediance in working condition, he says.
Customer Reviews
Speediance gym reviews are few and far between. The few customer reviews on the Speediance website are all positive, but I encourage you to take these with a grain of salt considering most companies curate the reviews on their website. I was unable to find any other reviews on independent websites, such as Google, Amazon, BBB, Google Play, or the App Store.
As far as in-depth reviews from other fitness reviews publications, I was able to find a few that rated Speediance mostly positively. However, those reviewers didn't seem to dig too much into the actual company, as opposed to just the product.
Interestingly, I found a Reddit thread in the Tonal subreddit named "Anyone seen a Speediance in the wild?", implying that no one has seen or used one of these machines in the U.S. Since this was posted almost a year ago as of this writing, I'm considering it dead, but I wanted to call out that a lot of U.S. customers did have trouble getting their unit and dealing with customer service.
Many people have certainly received their products, as evidenced by the private Facebook group that Speediance let me in after asking to see some customer reviews. Here are a few screenshots of customers who did receive their Speediance unit:
However, there still seems to be some tension among Kickstarter backers who haven't received the project they funded.
Final Verdict of Our Speediance Review
At the end of the day, the Speediance hardware seems promising; the software needs work; and the customer experience seems questionable. At this time, we think that Tonal or something similar, like the Vitruvian Trainer+ or MaxPro Smart Home Gym, are wiser investments given their proven history of success and customer satisfaction.
Full Rating
Speediance
Like a functional trainer, the Speediance is intended to be an all-in-one solution for a home gym and have full-body workout capabilities, just in a much more compact package and relying heavily on technology for functionality.
Product Currency: $
Product Price: 3,599
Product In-Stock: InStock
Speediance FAQs
Is Speediance a rowing machine? 
The Speediance gym can be used as a rowing machine, yes. It comes with a rowing bench (slide rail) similar to what you'd find on an erg. However, as is true with all hybrid equipment, the rowing function on the Speediance won't provide the same experience as a workout machine that's actually designed for rowing and rowing only. 
Where can I buy Speediance home gym? 
The trending workout machine is available on speediance.com as of this writing. It doesn't seem to be available on Kickstarter anymore. 
Can I use Speediance with free weights?
No, the Speediance gym doesn't support training with free weights such as dumbbells. However, you could use free weights in conjunction with your Speediance workouts as part of an overall home fitness routine.