We test and review fitness products based on an independent, multi-point methodology. If you use our links to purchase something, we may earn a commission. Read our disclosures.
There are a ton of pre-workout supplements out there—we know because we've tested nearly 50 among our seven product testers who are certified personal trainers, certified nutrition coaches, athletes, and avid exercisers.
Unfortunately, many of the available pre-workouts contain wildly high amounts of stimulants, along with artificial flavors, colors, sweeteners, and sometimes questionable ingredients (which you can learn more about in our Woke AF pre-workout review).
That's why I've created this guide to the best natural pre-workouts, so you can get a great muscle pump and an energy boost without any ingredients you don't want in your body.
RELATED: Best Pre-Workout Supplements
Medical disclaimer: This article is intended for educational and informational purposes only. It is not intended as a substitute for medical advice. For health advice, contact a licensed healthcare provider.
Best Natural Pre-Workout in 2023
Best Overall Natural Pre-Workout: Legion Athletics Pulse
Good for: Bodybuilding and strength athletes looking for natural energy and muscle pumps
If you're looking to get the most out of your workout, look no further than Legion Athletics Pulse Pre-Workout, which is our pick for best overall natural pre-workout supplement, ideal for boosting nitric oxide and blood flow during weight training.
Legion Pulse Pre-Workout is free from added sugar but chock-full of all the good stuff you want in your body ahead of intense workouts. It contains calcium, sodium, and potassium, electrolytes that are important for hydration and keep your muscles contracting.
Other important ingredients are: 350 milligrams of caffeine anhydrous for energy and focus; beta-alanine1 for the production of carnosine, which helps prolong exercise performance; betaine anhydrous2, a derivative of beetroot extract that acts as a blood pressure regulator and neurotransmitter; L-theanine3, an amino acid that's thought to bolster the effects of caffeine; and alpha-GPC4, a substance made from choline that acts as a nootropic.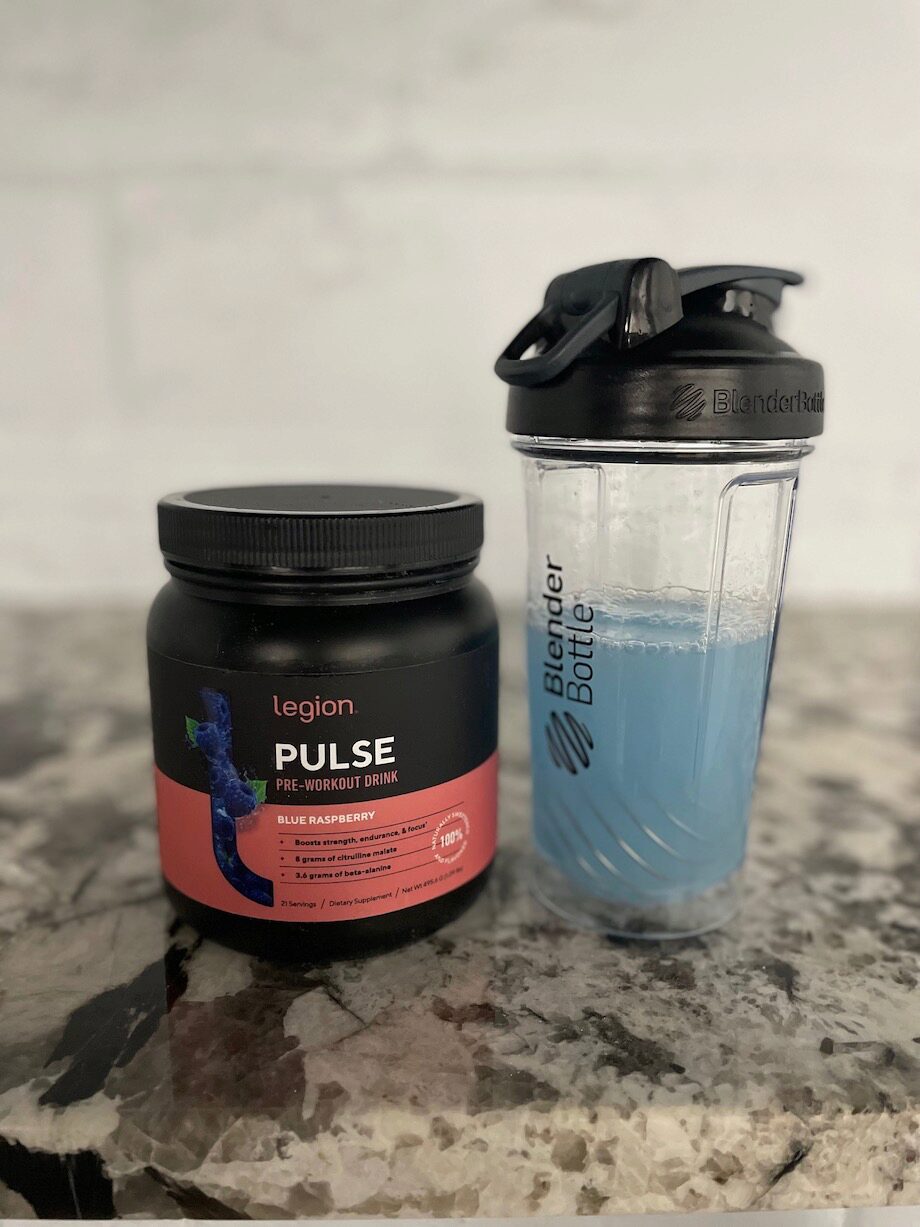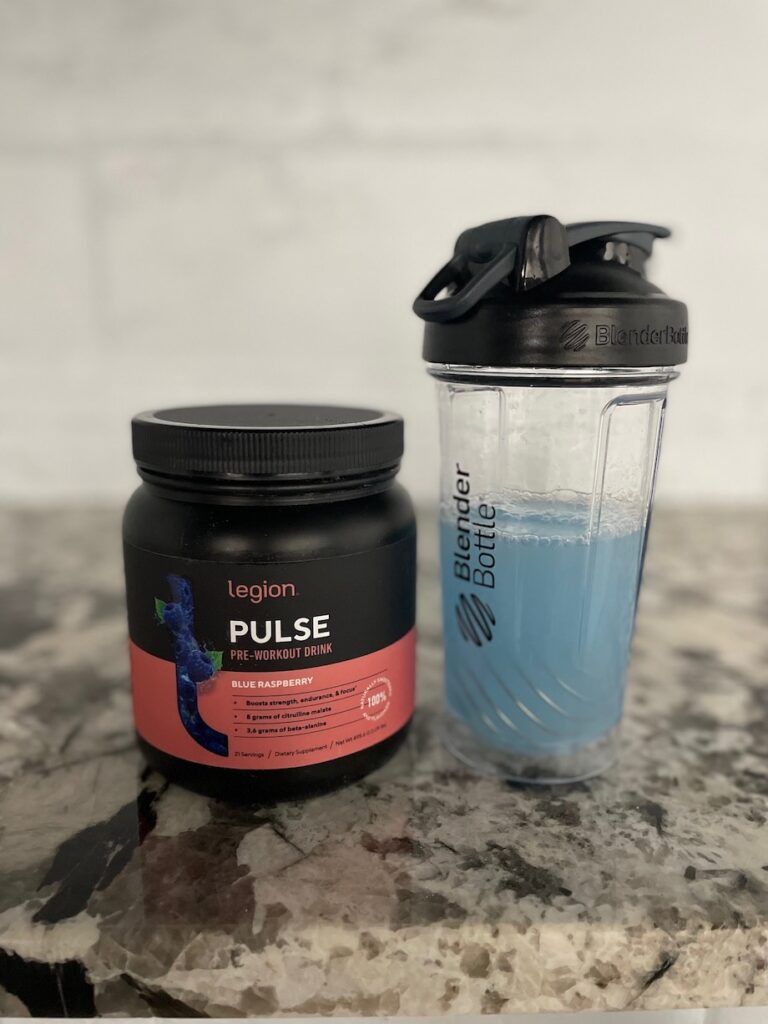 But for a pump, what you're probably most interested in is the 8 grams of L-citrulline D-malate, a very popular pre-workout ingredient that boosts nitric oxide production, resulting in muscle pumps. Legion Athletics Pulse contains a 2:1 ratio of L-citrulline to D-malate, which is on the high end of the clinically effective dose5.
GGR editor and product tester Nicole Davis thought that Legion Pulse had a "weird aftertaste," which is probably due to the erythritol (a sugar alcohol that is naturally occurring in many plants). However, she thinks the taste is good overall, and it mixes well into an opaque but smooth solution.
RELATED: Legion Whey Protein Powder Review
| | |
| --- | --- |
| Price per serving | $1.71 |
| Caffeine per serving | 350 mg of caffeine anhydrous |
| Sweeteners | Erythritol, stevia, monk fruit |
| Other key ingredients | L-citrulline D-malate, beta-alanine, betaine anhydrous, L-theanine, alpha-GPC, sodium, potassium, calcium |
Best Natural Pre-Workout for a Pump: Naked Nutrition Naked Energy Pre-Workout
Good for: Those who want all the benefits of caffeine and beta-alanine without additives and artificial sweeteners
Naked Nutrition is well-known for its fitness supplements made with natural ingredients. With their tagline, "Look at us Naked: We've got nothing to hide," it shouldn't come as a surprise that Naked Nutrition Pre-Workout contains a very minimalistic supplements facts label, with the "other ingredients" section reading very matter-of-factly, "none."
With 200 milligrams of natural caffeine anhydrous from coffee beans, this pre-workout will nicely boost energy levels sans fillers. Naked Energy Pre-Workout contains a complex of B vitamins (vitamins B3, B6, B12, and folate as folic acid, to be specific), which may help keep your energy levels high without the dreaded crash when the caffeine wears off. Plus, according to a 2016 review in the journal Nutrients6, B vitamins play a very important role in brain function and energy regulation.
Naked Pre-Workout also contains beta-alanine and creatine for a nice pump, although both of these ingredients are present in lower doses than what's clinically indicated for benefits like muscle growth and enhanced athletic performance.
Available in Fruit Punch, Citrus, or Unflavored, Naked Energy is a good choice for individuals who want a sugar-free, vegan-friendly, pre-workout drink.
One thing I really like about this pre-workout is that the scoop size is small compared to some other top pre-workout formulas with more ingredients. I enjoyed the citrus flavor for the most part—it's nothing special but nothing bad—and GGR editor Nicole Davis thought the unflavored version was best mixed with a sports drink instead of plain water.
| | |
| --- | --- |
| Price per serving | $0.90 |
| Caffeine per serving | 200 mg caffeine anhydrous |
| Sweeteners | None |
| Other key ingredients | Creatine monohydrate, beta-alanine, vitamin C, vitamin B complex, calcium, L-arginine |
Best Budget Natural Pre-Workout: Garden of Life Sport Organic Plant-Based Energy
Good for: a vegan pre-workout made from natural flavors and
Garden of Life Sport Organic Plant-Based Energy is a wallet-friendly sports nutrition supplement that, at $1.14 per serving, is a steal for the right person.
RIght off the bat, product tester and GGR performance editor Anthony O'Reilly says "this is not a gym-goer's pre-workout." What he means by this is that it doesn't contain typical pre-workout ingredients like citrulline malate, taurine, creatine, beta-alanine, or betaine. However, the target customer for this product likely isn't looking for those ingredients, anyway.
This is more of a gentle energy supplement, Anthony says, noting that it's not a pre-workout he thinks people after muscle mass and monster gains will like or use. "Does it give you an energy boost? A little, but nothing that's gonna push you to a PR. Have a busy day and ran out of coffee? This will work just fine," he says.
Garden of Life Sport Organic Plant-Based Energy contains 85 milligrams of caffeine from organic coffeeberry, an amount that allows you to rest assured you won't get the jitters or other caffeine side effects, such as nervousness, unless you are super-duper sensitive to caffeine.
There's also an antioxidant blend that contains cane sugar, baobab fruit, coffeeberry, whole coffee fruit extract, and emblic fruit extract. Finally, this pre-workout contains a nitrate blend to boost nitric oxide production, and it includes spinach leaf, beetroot, and kale leaf.
All things considered, Garden of Life Sport Organic Plant-Based Energy is a good fit for people who need just a little pick-me-up to get in the gym and reap the health benefits of exercise.
| | |
| --- | --- |
| Price per serving | $1.14 |
| Caffeine per serving | 85 mg from coffeeberry |
| Sweeteners | Organic cane sugar and fruit extracts |
| Other key ingredients | Plant-based antioxidant blend and nitrate blend |
Best Organic Natural Pre-Workout: Ora Organic Pre-Workout Powder
Good for: People who want organic ingredients only
Personally, I'd call this Ora Organic Pre-Workout Powder more of a lightly caffeinated wellness supplement than a true pre-workout, but like the Garden of Life Sport product, there is a target consumer for this product—and it might be you!
Individuals who prioritize organic ingredients will be pleased to know that all of the ingredients in this pre-workout—and all Ora Organic products—are USDA certified organic. This pre-workout contains 90 milligrams of caffeine per serving from green coffee bean, matcha green tea, and green yerba mate. The "energy and electrolyte blend" also contains coconut water and coconut sugar.
The adaptogen blend of ashwagandha, rhodiola root, Panax ginseng, and maca root are intended to keep you focused throughout your workout, while the nitric oxide booster blend of pomegranate juice powder and beetroot powder intend to give you a nice muscle pump and improve exercise endurance.
RELATED: Best Time to Take Ashwagandha
This pre-workout is high in carbohydrates compared to other pre-workouts, but still, it only contains 9 grams of carbs—enough to potentially kick you out of ketosis if you're on a keto diet, but really not a lot for anyone who's not on a low-carb diet.
I tried the Raspberry Lemonade flavor of the Ora Organic pre-workout, and I can't say I was impressed. While the texture was okay, the flavor tasted "clean" in all of the wrong ways—that is, it definitely has a plant-y taste.
| | |
| --- | --- |
| Price per serving | $1.84 |
| Caffeine per serving | 90 mg from coffee bean, matcha, and green yerba mate extracts |
| Sweeteners | Stevia, monk fruit extract |
| Other key ingredients | Ashwagandha, rhodiola, maca, pomegranate juice powder, beetroot powder, calcium, sodium, potassium, yerba mate, matcha |
Best Natural Pre-Workout With BCAAs: Truth Nutrition Pre-Workout
Good for: People who want branched-chain amino acids in their pre-workout
Branched-chain amino acids are a specific type of amino acid with a branched structure that are important for muscle protein synthesis and glucose uptake into the skeletal muscle tissue. While the jury is still out on how much supplementation can improve these processes, adding BCAAs to your supplement regimen won't hurt—and will potentially accelerate your fitness goals. (See the best BCAA supplements.)
Truth Nutrition Pre-Workout is a great option with a 2:1:1 ratio of leucine to isoleucine and valine, the clinically indicated ratio for optimal results. Research shows that leucine has the most profound ability to elicit a muscle protein synthesis response, but keep in mind that all essential amino acids and branched-chain amino acids are required for muscle protein synthesis.
In any case, Truth Nutrition Pre-Workout with BCAAs deserves a spot in your regimen thanks to its formula that includes PurCaf®, which, according to Truth Nutrition, is a "90% pure caffeine extract derived from water extracted green coffee beans for naturally sourced energy" and a host of other ingredients: BioPerine, an absorption aid, elevATP, a compound that helps the body produce more ATP during exercise7, quercetin, a phytonutrient, NeuroFactor, a nootropic, and L-tyrosine8, an amino acid that is important for several muscular functions.
Kate Meier, GGR head of content and product tester, tried this pre-workout with members of her Olympic weightlifting team. She said the lemonade flavor really tastes like lemonade, and not to choose this option if you don't like lemons because it is very lemony! It "completely dissolves" in 16 ounces of water.
Agnes, a member of the team who tried it, said, "I definitely feel energy from it; I don't have any tingles like I would get with other pre-workouts, which makes sense because there is no beta-alanine, but I definitely get an energy boost."
RELATED: Best Pre-Workout With BCAAs
| | |
| --- | --- |
| Price per serving | $1.52 |
| Caffeine per serving | 150 mg from PurCaf green coffee bean extract |
| Sweeteners | 1 g added sugar, but source not specified |
| Other key ingredients | BioPerine, elevATP, quercetin, NeuroFactor, L-tyrosine, coconut water powder, whole tart cherry |
Best Natural Pre-Workout for Athletes: Klean Pre-Workout
Good for: Athletes who need supplements that are certified to be free of banned substances
Klean Athlete is a supplements brand that focuses on making NSF Certified for Sport products. When a product is NSF Certified for Sport, it means that it's been independently tested and verified to be free from ingredients that are banned in sporting events and competitions, largely performance-enhancing drugs.
In addition to being NSF Certified for Sport, Klean Pre-Workout is also free of artificial colors, flavors, and sweeteners. In fact, the ingredients list is pretty bare in general: This pre-workout includes vitamin C, sodium, beetroot extract, and caffeine as PurCaf green coffee bean extract.
In other words, Klean Pre-Workout is extremely minimal as far as pre-workouts go, so it's not the best pre-workout for muscle gain. But, for the right person, this is a good thing.
Product tester Samantha, an athlete on Kate's weightlifting team, says, "Tastes like a lemon and a Tootsie Roll hooked up. It's not an ideal taste, but you can drink it. The taste grows on you, so stick with it. I wouldn't choose this flavor over something better-tasting, but it's okay–and it mixes fine; no complaints there."
Samantha said she doesn't think she'd buy Klean Pre-Workout as part of her usual regimen, mainly because there isn't enough caffeine for her—at 75 milligrams, it is quite low in stimulants, but it's a good fit for the caffeine-sensitive person.
| | |
| --- | --- |
| Price per serving | $2.23 |
| Caffeine per serving | 75 mg from PurCaf green coffee bean extract |
| Sweeteners | 2 g added sugar; source not specified |
| Other key ingredients | Beetroot extract, ascorbic acid |
Best Natural Pre-Workout for Focus: Promix Pre-Workout
Good for: People who prioritize focus and mental acuity
Promix Pre-Workout is another quite minimalistic pre-workout, with its supplements facts label sporting just six ingredients: vitamin C, vitamin B12, beta-alanine, L-tyrosine, taurine, and caffeine.
With a full 3.2-gram dose of beta-alanine, this pre-workout will likely give you the tingles, and the relatively mild 200 milligrams of caffeine should provide a nice energy boost without bringing you crashing down later.
Promix Pre-Workout also contains L-tyrosine, a nonessential amino acid that the body makes from the amino acid phenylalanine. L-tyrosine is an important component involved in the production of neurotransmitters and hormones, including adrenaline. Some research has shown L-tyrosine to extend exercise capacity8.
The taurine in Promix Pre-Workout acts as an aid for focus and mental clarity9, and it may increase blood flow10 to muscle tissue, which is important for the delivery of glucose during exercise.
Overall, product tester and GGR performance editor Anthony O'Reilly likes Promix Pre-Workout, noting that it "tastes good and gives good energy and focus, though it does nothing for strength gains or pump."
"That said, it's easy to stack this with an unflavored creatine supplement," he continues. "It could be part of a decent stack. The energy and focus are A+—I just wish they added citrulline or something to make it a bit more complete."
| | |
| --- | --- |
| Price per serving | $1.70 or $1.06 depending on size bought |
| Caffeine per serving | 200 mg coffee bean extract |
| Sweeteners | Monk fruit |
| Other key ingredients | Beta-alanine, taurine, L-tyrosine |
Best Vegan Natural Pre-Workout: Vega Sport Energizer
Good for: People on a vegan diet
Vega Sport Energizer is a natural pre-workout option for plant-based dieters. Like many other natural pre-workouts, Vega Sport Energizer doesn't mimic the profile of a typical pre-workout most would use for building muscle and enhancing strength performance.
This pre-workout contains a plant-based energy and focus blend that contains coffeeberry, green tea extract, rhodiola, and eleuthero root extract. It also contains electrolytes to support hydration and muscle function, as well as acerola cherry extract, which is a powerful antioxidant that may benefit endurance athletes11.
GGR product tester and performance editor Anthony O'Reilly says this pre-workout is "Good if you want a little focus for your day, but not for the weight room," adding that he" might take this if I plan to go for a run."
This isn't to play down the benefits of pre-workouts such as Vega Sport Energizer, but to point out the difference between this and something like Transparent Labs BULK or 1st Phorm Endura-Formance, which are pre-workouts that contain ample creatine, beta-alanine, citrulline, and other proven pre-workout ingredients.
Vega Sport Energizer and other natural pre-workouts aren't bad at all, but we want to make sure you know what you're getting so you can best support your goals and endeavors.
Regarding the taste, Anthony says, "The Berry flavor sort of smells like cotton candy powder and tastes as if someone poured cotton candy into water and let it melt. It's not bad, but it's a unique flavor profile I've never come across in a pre-workout before."
RELATED: Best Vegan Protein Powder
| | |
| --- | --- |
| Price per serving | $1.21 |
| Caffeine per serving | 100 mg from coffee fruit and green tea |
| Sweeteners | Stevia leaf extract |
| Other key ingredients | Calcium, magnesium, sodium, potassium, coffeeberry, green tea extract, eleuthero root extract, rhodiola rosea extract |
Best Natural Pre-Workout Without Caffeine: Naked Nutrition Stim-Free
Good for: People who want a caffeine-free performance booster for their workout routine
This is the stim-free version of the Naked Nutrition Naked Energy, which is our top pick for the best natural pre-workout overall. The formula in the stim-free version is sans caffeine, of course, but it's slightly different in a couple of other ways, too.
For starters, Naked Energy Stim-Free contains Carnosyn Beta-Alanine, a patented form of the beta-amino acid shown to enhance carnosine production12 and extend exercise endurance. It also contains Nitrosigine® arginine silicate inositol, a substance that can increase energy and produce muscle pumps13. The 1 gram of citrulline malate will boost nitric oxide production, although that's on the low end dosage-wise.
One other notable ingredient in this pre-workout is elevATP, a plant-based compound that has been shown to increase ATP production7 in the body during exercise. If you're not familiar, ATP is the "currency" of muscle contraction, so it's really important for keeping your body moving.
Finally, Naked Nutrition Stim-Free Pre-Workout contains the same vitamin and mineral blend as its caffeine-containing cousin: a blend of B vitamins, vitamin C, and calcium.
While we haven't had the chance to taste Naked Stim-Free and test it for its solubility yet, we're confident based on our experience with Naked Energy that it mixes well with juice or a sports drink.
RELATED: Best Stim-Free Pre-Workouts
| | |
| --- | --- |
| Price per serving | $1.20 |
| Caffeine per serving | None |
| Sweeteners | None |
| Other key ingredients | CarnoSyn® Beta-Alanine, niacin, Nitrosigine® (L-arginine stabilized with inositol), L-citrulline malate |
Other Natural Pre-Workouts We Researched
The above 11 pre-workouts are far from the only pre-workouts we've researched and tested. While not all of the supplements we've tried are 100% naturally derived, we do think there are some others that deserve a shoutout.
Transparent Labs LEAN: This is one of our all-time favorite pre-workouts, and we recommend it for those whose goals involve weight loss as part of a healthy diet and exercise routine.
Transparent Labs BULK: Another goodie from Transparent Labs, BULK is formulated for people who are looking to pack on muscle mass.
Transparent Labs Stim-Free: This formula features beta-alanine, citrulline malate, L-tyrosine, taurine, betaine anhydrous, and choline bitartrate as active ingredients for performance gains without the jitters.
Kaged Pre-Kaged: This is one of our top recommendations for a pre-workout with clinically dosed creatine.
Kaged Pre-Kaged Sport: Sport is a lower-stim option compared to Pre-Kaged, and it has lower doses of key ingredients because it's designed for beginners and lower-intensity workouts. It's a good option for endurance athletes.
1st Phorm Endura-Formance: This is my personal go-to pre-workouts and I like it for both weight training sessions and endurance training.
Cira Pre-Game: Cira makes supplements formulated specifically for women, although there aren't any clinical guidelines stating that women should take different pre-workout ingredients than men. Nonetheless, we like Cira Pre-Game for its vibrant flavors, smooth consistency, and inclusion of key ingredients.
MyProtein PRO The Pre-Workout: Between the vitamin B complex and healthy doses of citrulline and creatine, this pre-workout is a good choice for almost anyone.
How We Picked and Tested the Best Natural Pre-Workout
We buy, test, and analyze almost all of the products we recommend. We rate products against specific categorical criteria, which in the case of pre-workout, is as follows.
Taste and Texture
While taste is a subjective quality, we think it's important to disclose how yummy (or not) a product is—because no matter how good the formula is, if it tastes like garbage, you won't want to use it. Texture is important, too: If it's clumpy, grainy, or foamy, it won't be a pleasant experience.
Caffeine and Stimulants
For the most part, caffeine is something you want in a pre-workout. However, the amount is important, and some manufacturers can really get carried away with the caffeine content. Under 150 milligrams is low, 150 to 300 milligrams is standard, and anything about 300 milligrams deserves a second thought. As for other stimulants, we generally recommend steering clear.
Other Key Ingredients
There are research-backed doses of specific ingredients that make a pre-workout effective:
Creatine: At least 3 grams
Citrulline: 6 grams
Citrulline Malate: 6 to 8 grams
Beta-Alanine: 3 grams
If the product has less or more, more research should be done to determine if the product can still help you meet your goals.
Third-Party Testing
Transparency is the most important factor in supplements. Since governmental regulations are virtually nonexistent in the U.S., it's the responsibility of the manufacturer to ensure that their products are safe and effective. We try to refrain from recommending supplements that have no third-party verification, unless the manufacturer posts certificates of composition and/or analysis.
Side Effects
Some pre-workout ingredients can have side effects. Caffeine, for starters, is known to cause symptoms when taken in high doses or by caffeine-sensitive individuals, including nervousness, jitters, temporary high blood pressure, temporary high heart rate, and inability to sleep.
Beta-alanine causes paresthesia, a harmless but off-putting sensation that feels like pins-and-needles or tingling under the skin. This sensation is often concentrated on the fingers and face, especially the lips.
Creatine can cause bloating or general GI discomfort.
It's important for the consumer to check the dosages of these ingredients before taking them if they are sensitive to any particular one. We look at supplements facts labels and call out if a pre-workout seems too high in a given ingredient.
Benefits of Natural Pre-Workouts
The main benefit of natural pre-workouts as compared to regular pre-workouts is that they're free of artificial ingredients, including colorings, dyes, flavors, and sweeteners. Generally, natural pre-workouts are also free of gums, thickeners, emulsifiers, and other ingredients typically used to improve the texture of pre-workout powder.
Otherwise, a natural pre-workout can provide the same benefits as other pre-workouts: a boost in energy, increased focus, improved endurance, and enhanced exercise performance, depending on the specific formula.
Dosing and Interactions
Some pre-workout ingredients might interact with medications. There are dozens of pre-workout ingredients, so if you take any prescription medication, it's critical that you check with your doctor before starting a supplement regimen.
FAQs About the Best Natural Pre-Workout Supplements
Here are some common questions about pre-workout.
What is the difference between natural pre-workout and regular pre-workout?
Natural pre-workout contains many of the same ingredients as regular pre-workout, such as caffeine, citrulline, and beta-alanine. However, there should not be any artificial sweeteners, colors, or flavors in a natural pre-workout.
How can I tell if a pre-workout is natural?
You can check the ingredients list and look for indicators of artificial ingredients. A natural pre-workout won't contain artificial sweeteners, dyes, thickening agents, lubricants, or emulsifiers. In general, you'll want to look for a short ingredients list of 10 or fewer items.
Is pre-workout safe?
Most pre-workouts are safe when taken as directed. Some pre-workouts have dangerously high levels of stimulants, and we do not recommend taking such supplements. Always check with your doctor or a dietitian if you are unsure.
These statements have not been evaluated by the Food and Drug Administration. This product is not intended to diagnose, treat, cure, or prevent any diseases.
References