We test and review fitness products based on an independent, multi-point methodology. If you use our links to purchase something, we may earn a commission. Read our disclosures.
Everyone can agree that Optimum Nutrition Gold Standard 100% Whey Protein is one of the most budget-friendly and popular protein powders available, but people can't seem to agree on what's the best Optimum Nutrition flavor. Of course, taste is subjective and one person's yuck could be another's yum.
That's why we've made sure to ask several Garage Gym Reviews team members and you, the reader, for flavor recommendations. While these are unscientific polls, they do reflect the opinions of expert product testers and people who have tried many of Optimum Nutrition's 18 flavors.
Read on to see what they said was the best Optimum Nutrition flavor. 
Related: Optimum Nutrition 100% Whey Gold Standard Review
Medical disclaimer: This article is intended for educational and informational purposes only. It is not intended as a substitute for medical advice. For health advice, contact a licensed healthcare provider. GGR also recommends choosing a product that has been third-party tested for quality.
Giving You Tips for Optimum Nutrition and Home Gym Training
This might be one of the few articles where we allow our personal biases to take over, but our thousands of supplement and home gym equipment reviews and roundups are based in facts, research, and our years of experience as certified personal trainers, certified nutrition coaches, CrossFit Level 1 Trainers, and competitive weightlifters (including an Olympian).
Just like many of you, Optimum Nutrition is one of the first protein powders many of us tried when we first started training, and it still appears in our pantries from time to time. Some of us stick to the classics, while others like to try more exotic flavors when it comes to protein shakes.
Optimum Nutrition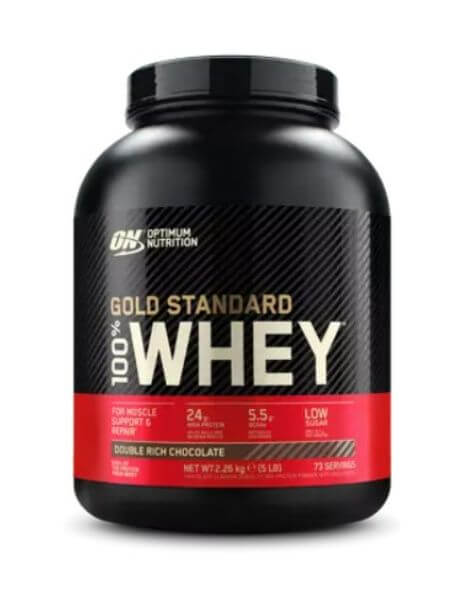 GGR Score: 4.2
Product Highlights
Contains 3 different kinds of whey protein

Tested for banned substances

Over 5 g of BCAAs per serving

Instantized to help prevent clumping
Pros & Cons
Pros
High in protein
Plenty of flavor options
Low in carbs
Cons
Some users say it's overly sweet
Contains artificial flavors
Most flavors contain sucralose
Bottom Line
With plenty of flavor and size options to choose from, Optimum Nutrition Gold Standard 100% Whey is a great basic choice in protein powder.
Best Optimum Nutrition Flavors
Best Chocolate Flavor: Double Rich Chocolate
Garage Gym Reviews Senior Staff Writer Amanda Capritto, who moonlights as a competitive triathlete, has been using Optimum Nutrition's Double Rich Chocolate flavor for nearly a decade.
"This flavor is the only one I don't get tired of, across Optimum Nutrition and other brands, to be honest," she says. "It's chocolatey but not too rich, and mixed with milk, it tastes just like chocolate milk made with Hershey's syrup." Pour me a shaker bottle, please.
GGR reader and fitness buff Chris Heinaranta responded to our Instagram poll with the same choice. "Everyone else is wrong," he says. Those sound like fighting words, Chris.
Several other readers responded with the same suggestion, though others said they prefer the chocolate taste of Chocolate Mint and Extreme Milk Chocolate (more on that in a bit).
GGR founder Cooper Mitchell went a different whey and said Chocolate Malt, a flavor also selected by several of our readers.
Best Vanilla Flavor: Vanilla Ice Cream
Instagram user thekidmule put it best when he said Optimum Nutrition's Vanilla Ice Cream Flavor "feels like home." On its own, it gives us "vanilla ice cream on a hot summer's day" vibes, but what makes this the best vanilla flavor is its ability to be mixed with whatever you want.
Alan, GGR Instagram follower and amateur strongman, mixes it with a scoop of peanut butter powder for his daily shakes. "The best," he says. Bill Baehner recommends mixing it with Orange Powerade or Gatorade Zero (a protein creamsicle? Count us in!).
Five-star Amazon reviewer Susan F. also uses it to create some protein baking recipes. "It works great in place of liquid vanilla plus allows me to cut down or even eliminate the need for a sweetening ingredient like sugar."
Amanda personally prefers the French Vanilla Creme, which was also highly recommended by many GGR Instagram users. "With 2% dairy milk, it's delicious, like a french vanilla milkshake," she says, though she adds the taste isn't quite as delicious when mixed with cold water or almond milk.
Best Peanut Butter: Chocolate Peanut Butter
Jacob Penner, a USA Weightlifting Level 1 coach and protein powder connoisseur, confused us with his recommendation of Chocolate Peanut Butter. "It reminds me of Christmas," says Jacob, a member of GGR's expert panel. "Like a Christmasey treat someone made with chocolate and peanut butter."
While we don't understand his logic, Jacob's far from the only one who puts this at the top of his list. Verified Amazon purchaser Zachary Smith likened it to "Reese's Puffs Milk with gains."
"I'm lactose-intolerant so I mix it with oat milk and it tastes just like the milk after a bowl of Reese's Puffs," he says. "Makes for a very satisfying dessert replacement without cheating on your macros."
Many of our Instagram followers echoed those statements, so as someone who received a 36-pack of Reese's Cups for Valentine's Day, I'm getting the sense that this is something I have to try.
Most Underrated Flavor: Mocha Cappuccino
Mocha Cappuccino isn't just a fancy name, as this Optimum Nutrition flavor comes with 15 milligrams of caffeine—which may or may not give you a little energy boost, but it will certainly tingle your taste buds.
"Flavor is off-the-charts good," says five-star Amazon reviewer William E. Dahl. "Like a delicious milkshake, but also good for you."
Several of our Instagram followers said the same thing, and GGR Senior Editor Nicole Davis also ranked it as her top choice.
"I'm a coffee lover, so any way to get some protein with my coffee is an A++ for me," Nicole says. "The Mocha Cappuccino flavor is chocolate-y with just the right amount of coffee flavor, so it's great to mix with cold brew, and I also blend it with milk and a frozen banana for a smooth, chilly treat."
If you're a fan of slightly caffeinated protein powders, Optimum Nutrition also has a Coffee flavor that comes with 40 milligrams of caffeine, which is roughly the same amount as a 4-ounce cup of coffee.
Most Beloved Flavor: Extreme Milk Chocolate
Extreme Milk Chocolate was one of the most common responses we received on our Instagram poll, and it also has a 4.8 average rating from Amazon reviewers with more than 9,500 reviews!
"This flavor, it's sent from heaven, because it actually tastes like chocolate milk when mixed with 1% or higher milks," says Amazon user "Highly Recommended" (yes, that's their name). "Please, don't mix this with water like some psychopath…God gave us this gift, a protein supplement that doesn't taste like chalk and lies, so use it appropriately."
Lauren Strong, GGR staff writer, wasn't quite as praising of Extreme Milk Chocolate but still called it her go-to flavor. "I appreciate the fact that the Extreme Milk Chocolate flavor tastes more like true cocoa, not a sugary milk chocolate candy," she says. "I have a major sweet tooth, but I'm particular about the context of when I eat sweets—I don't prefer starting my day off with a sugary flavor profile after a morning workout."
Other Optimum Nutrition Protein Powder Flavors
Optimum Nutrition Gold Standard Whey Protein also comes in the following flavors:
Banana Cream
Chocolate Hazelnut
Chocolate Coconut
Cookies & Cream
Delicious Strawberry
Rocky Road
Strawberries and Cream
Strawberry Banana
White Chocolate
Why Buy Optimum Nutrition 100% Gold Standard Whey?
Optimum Nutrition is one of the best beginner-friendly and budget-friendly protein powders, but cost is just one of the reasons we recommend it.
Protein
Optimum Nutrition Whey Protein uses a blend of whey protein concentrate, whey protein isolate, and hydrolyzed whey protein. All three whey protein types have every essential amino acid needed for muscle growth and recovery, and most flavors have around 24 grams of protein.
BCAAs
Most Optimum Nutrition flavors come with 5.5 grams of branched-chain amino acids (BCAAs), which have been shown to improve muscle growth and recovery1 in bodybuilders and other resistance-trained individuals.
Digestibility
The use of whey protein isolate and hydrolyzed whey protein means people with slight dairy sensitivities may be able to better stomach this high-quality protein powder, literally. Both types of whey protein have had much of the lactose removed, though whey protein concentrate has a good amount of lactose in it.
Many customer reviewers stated Optimum Nutrition is one of the few protein powders that doesn't upset their stomach.
That said, it does contain sucralose and other artificial sweeteners that may give it an aftertaste and cause some digestive issues in people.  
Who Should Take Optimum Nutrition Whey Protein
People with fitness goals ranging from muscle-building to weight loss
Those looking for the best protein powder on a budget
Anyone who doesn't mind artificial flavors
Who Shouldn't Take Optimum Nutrition Whey Protein
People who prefer a natural protein
Those who want creatine in their protein powder
Anyone who doesn't like the taste of artificial sweeteners
What to Consider Before Buying Optimum Nutrition Protein
There are a few things to keep in mind besides what flavor you want to purchase.
Nutrition Content
The protein, carbs, and fat may change from flavor-to-flavor, as do the vitamins and minerals. For example, different flavors may have a higher sodium content than others while some may be higher in fat. Check the nutrition label to see if your desired flavor will complement your fitness goals.
Container Size and Cost Per Serving
Optimum Nutrition comes in containers ranging from 22 servings all the way to 149, depending on how much protein powder you eat in a day. Generally, the cost per serving will decrease as the container size increases so it might be worthwhile to get a bigger tub (protein powder can last up to 18 months if properly sealed and kept in a cool, dry place).
Flavor Fatigue
Some people (such as the person writing this sentence) may not like having the same flavor day after day and will either switch flavors or have a couple on hand for variety.
Subscriptions
Whether it's through Optimum Nutrition's website or Amazon, you can set up regular subscription deliveries so you always have protein on hand. This also usually results in a slight discount, around 10% or more.
FAQs About Best Optimum Nutrition Flavors
What is the best flavor for Optimum Nutrition?
Here are our picks for the best Optimum Nutrition flavor:
Best Chocolate Flavor: Double Rich-Chocolate 
Best Vanilla Flavor: Vanilla Ice Cream 
Best Peanut Butter: Chocolate Peanut Butter 
Most Underrated Flavor: Mocha Cappuccino 
Most Beloved Flavor: Extreme Milk Chocolate
What is the best flavor for Optimum Nutrition Gold Standard?
There are 18 Optimum Nutrition Gold Standard Whey flavors, but here are our top picks:
Best Chocolate Flavor: Double Rich-Chocolate 
Best Vanilla Flavor: Vanilla Ice Cream 
Best Peanut Butter: Chocolate Peanut Butter 
Most Underrated Flavor: Mocha Cappuccino 
Most Beloved Flavor: Extreme Milk Chocolate 
Which flavor is best in whey protein?
These statements have not been evaluated by the Food and Drug Administration. This product is not intended to diagnose, treat, cure, or prevent any diseases.