We test and review fitness products based on an independent, multi-point methodology. If you use our links to purchase something, we may earn a commission. Read our disclosures.
Whether via an adjustable kettlebell set or landmine attachment to immensely diversify your home gym, uniqueness paired with functionality truly excites us. And if there's any nutrient that marries the two, it's vitamin D—affectionately known as the "sunshine vitamin" and truly one-of-a-kind.
Yes, you can find vitamin D in foods (like any nutrient). But it's also sourced from sweet sunshine (unlike any other nutrient). Unfortunately, though, vitamin D deficiency1 is an emerging health condition worldwide and available data2 points out that 25 to 50% (or more!) of patients in clinical practice are deficient in the vitamin. This can increase the risk of broken bones, muscle weakness, and seizures, just to name a few.
We absolutely encourage a foods-first approach and the great outdoors. But if you're needing a vitamin D boost, like most of the world, look no further than this best vitamin D supplement round-up.
As a registered dietitian, I personally evaluated the products on this list (as well as others our team researched). We had members of the GGR team, including personal trainers and certified nutrition coaches, personally test each of these products. Together, we rated each supplement on factors such as:
Formulation and dosage
Price
Effects
Through applying our in-depth supplement testing methodology, we arrived at the best vitamin D supplements on the market.
Medical disclaimer: This article is intended for educational and informational purposes only. It is not intended as a substitute for medical advice. For health advice, contact a licensed healthcare provider.
Best Vitamin D Supplements for 2023
Let's Quickly Chat Vitamin D
Before diving straight into our top picks, let's get a better understanding of vitamin D. At its essence, vitamin D is a fat-soluble vitamin essential for bone, immune, heart, and mental health. (The nutrient also plays other vital health roles that we'll dive into in the next upcoming sections, so be sure to stick around.)
Vitamin D is also very unique in that not only is it sourced naturally from foods, but also from glorious sunshine—which is why vitamin D is also known as the "sunshine vitamin." The vitamin D we get from sun exposure is known as vitamin D3, although vitamin D2 is another form of the vitamin.
Vitamin D2 vs Vitamin D3
Vitamin D primarily exists in two forms: vitamin D2 and vitamin D3. While their structures and uses are similar, the potency of vitamin D2 and vitamin D3 appears to be different. Bear with us here—while the differences are subtle, they make a world of difference in which form might be best to supplement with.
We'll first discuss vitamin D3, also known as cholecalciferol, for explanation purposes. Vitamin D3 naturally occurs in a select few food sources—like fatty fish, egg yolks, and fortified products such as cereal—but is mainly synthesized by the human body, especially when skin is exposed to sunlight.
Vitamin D2, or ergocalciferol, is also synthesized by sunlight but by plants instead of the human body. What this means is that plants—such as mushrooms and yeasts—synthesize vitamin D from the sun and humans can obtain vitamin D2 by consuming the aforementioned foods.
Interestingly, both vitamin D2 and D3 are absorbed, metabolized, and used in the body similarly, However, research3 shows vitamin D2 is much less effective in the body and that vitamin D3 is more effective in increasing blood levels of vitamin D in the blood.
Overall, both vitamin D2 and D3 are functional forms of vitamin D and you could certainly get enough vitamin D from either. But, you would have to consume a lot more vitamin D2 to reach an adequate level—and what this really comes down to is a "work smarter, not harder" approach, and why you'll notice all of our top picks include vitamin D3 as its primary form.
All this said, let's explore our (sun)shining vitamin D picks!
Best Vitamin D Supplement Overall: Pure Encapsulations Vitamin D3 Vegan Liquid
Good for: Those seeking a high-quality, effective dose of vitamin D
Pure Encapsulations Vitamin D3 Vegan Liquid provides "everything you need and nothing you don't." As our top overall pick, let's see what it offers.
The Pure Encapsulations supplement provides 25 micrograms (mcg)—or 1,000 international units (IU)—of vitamin D3 as cholecalciferol. The amount of vitamin D you need daily is listed in both micrograms (mcg) and international units (IU), in which 1 mcg of vitamin D equals 40 IU.
The National Institutes of Health (NIH) indicates males and females should get 15 mcg (600 IU) of vitamin D daily and increase intake to 20 mcg (800 IU) at age 70 and older. However, the Endocrine Society4 states that to maintain adequate vitamin D levels, adults might need at least 37.5-50 mcg (1,500–2,000 IU) per day of supplemental vitamin D, and children and adolescents might need at least 25 mcg (1,000 IU).
Vitamin D2 is typically a plant-based dietary supplement source, as vitamin D3 supplements5 are often manufactured from animal products—therefore not naturally vegan-friendly. But as we've covered, vitamin D3 is not as effective as vitamin D2, which can present a real challenge for those following a vegan-based diet searching for an effective vitamin D supplement.
Pure Encapsulations has overcome such an obstacle by formulating their plant-based vitamin D3 using sustainably harvested lichen, a complex life form of both fungus and algae. According to Pure Encapsulation's Product Information Sheet, it's the only plant-derived source of vitamin D3 that has been accepted by the UK Vegan Society.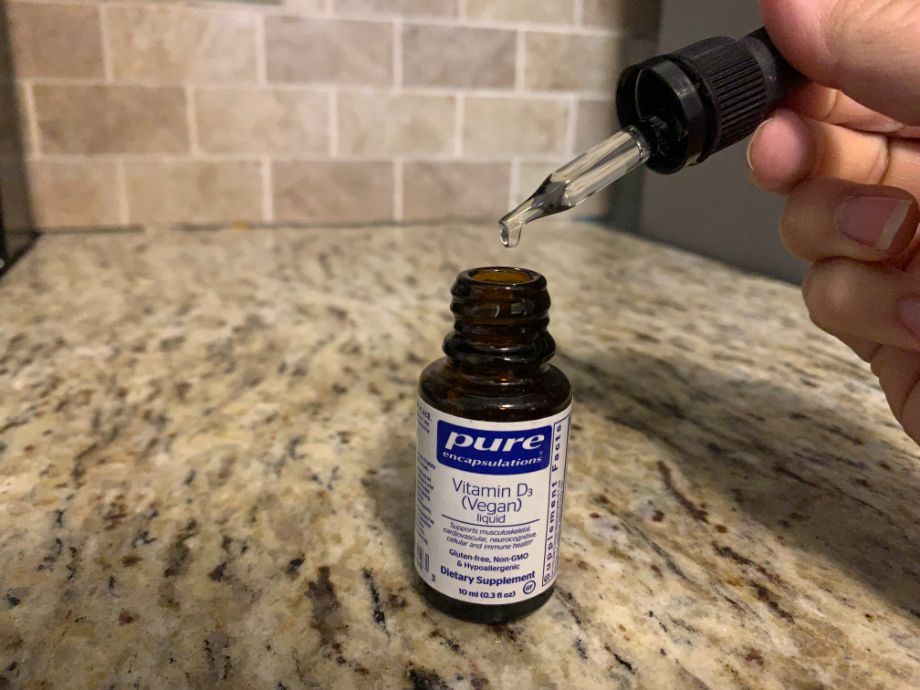 Because vitamin D is a fat-soluble vitamin, the liquid vitamin supplement also contains medium-chain triglycerides (MCT) to help its absorption. The addition of natural alpha tocopherols (vitamin E) helps preserve the supplement's freshness and could even lower inflammation according to a study published in Lipids in Health and Disease6.
Along with being vegan-friendly, the vitamin D supplement is also certified gluten-free and devoid of common allergens like peanuts and tree nuts. It's also free of GMOs, artificial colors, artificial flavors, artificial sweeteners, and other unnecessary binders, fillers, and preservatives.
Pure Encapsulations further indicates storing the vitamin D supplement in a cool, dry place. This is because vitamin D is sensitive to heat and UV light, along with air and mineral acids.
One serving is five drops, and GGR head of content and expert product tester Kate Meier found these to be very easy to take—they have no taste and can easily be added to any beverage you're enjoying. Kate did mention that it may be easy to take too much of this liquid supplement, as you really have to pay attention to how many drops you're consuming, but all in all, it's a great experience.
| | |
| --- | --- |
| Form | Liquid drops |
| Dosing instructions | Take 1-7 drops daily, with a meal, or as directed by a health progressional |
| Cost per serving | $34.95/100 servings = $0.35/serving |
Best Multivitamin With Vitamin D: Ritual Essential Multivitamin 18+
Good for: Those seeking a high-quality, effective dose of vitamin D
Providing 50 micrograms of D3, Ritual Essential Multivitamin 18+ (which comes in formulas for men and women) is a great option for those looking to get vitamin D as well as other key minerals and vitamins. To put another way, 50 micrograms is 250% of the recommended daily value of Vitamin D3.
Frieda Johnson, GGR editor, tested these vitamins for our team. She said these were a great option because they didn't hurt her stomach as much as other multivitamins usually do.
Depending on which version of the vitamin you get (for men or for women), you'll also get:
Vitamin A (men's)
Vitamin B12
Vitamin E
Folate
Iron (women's)
Magnesium
Zinc (men's)
Boron (men's)
Vitamin K2
Omega-3
Frieda was thrilled to see that these capsules, which she found easy to swallow, have a minty flavor. "It's quite pleasant; definitely preferable to a typical pill flavor!"
We should point out that Ritual is a subscription-based company, meaning you have to sign up for a subscription for the vitamins (monthly). They do offer a money-back guarantee, and you can cancel your subscription at any time.
These vitamins are also more expensive than other multivitamins. However, they are third-party tested.
| | |
| --- | --- |
| Form | Capsules |
| Dosing instructions | Take 2 pills daily |
| Cost per serving | $33/30 servings = $1.10/serving |
Best Budget Vitamin D Supplement: Nature Made Vitamin D3 1000 IU Softgels
Good for: Anyone who's equally cost and health-conscious
Nature Made's Vitamin D3 supplement is a softgel option with budget top of mind. And when we say budget, we mean it—you can purchase 300 servings for about $0.06 (and that's even without the 10% subscribe and save discount with free shipping)!
Low cost also doesn't mean low quality, as it provides 1,000 IU of vitamin D3 like Pure Encapsulations. It also contains a touch of the fat source soybean oil to help aid in the absorption of vitamin D, and taking with a meal (especially with a fat source) can enhance the absorption as well.
The vitamin D supplement is protected by a softgel capsule produced from gelatin and glycerin, so it's not a vegan-friendly option. Don't worry, though, we have the best vegan vitamin D supplement (in softgel form) coming righttt up!
The Nature Made vitamin D3 supplement is gluten-free and does not contain any added colors or artificial flavors. It also sports the USP Verified label—meaning it's been tested and verified ingredients, potency, and manufacturing process—and is recommended to be stored tightly closed in a cool, dry place to preserve vitamin D's integrity.
"I found out a few months ago that I have low vitamin D so my doctor suggested I start supplementing," says GGR Senior Editor Nicole Davis. "I bought these Nature Made Vitamin D3 softgels initially and I take one a day. I've definitely noticed a difference in my energy levels since starting to supplement."
| | |
| --- | --- |
| Form | Softgels |
| Dosing instructions | Adults take 1 softgel daily with water and a meal |
| Cost per serving | $8.59/100 servings = $0.09/serving |
Best Vegan Vitamin D Supplement: HUM Nutrition Here Comes The Sun
Good for: Plant-based dieters who need not worry about a vegan vitamin D3 source
HUM Nutrition Here Comes The Sun is a high-potency vegan vitamin D3 supplement. It uses lichen as its vitamin D3 source like Pure Encapsulations, but provides double the dose—specifically 2,000 IUs of vitamin D, or 250% of its daily value—and in softgel form.
To enhance the absorption of the fat-soluble vitamin, the vitamin D3 supplement contains extra virgin olive oil. The starch-based vegetable capsule—made up of tapioca, glycerin, and water—may also protect the vitamin D within it when compared to animal-based capsules.
GGR senior staff writer and expert product tester Amanda Capritto tried these HUM capsules, and said they were really easy to get down. She lives in sunny Florida so is outside a ton (jealous!) and is probably not deficient in vitamin D, but she liked these nonetheless.
All HUM Nutrition products, including its vitamin D supplement, are made in FDA-approved facilities that follow GMPs (Good Manufacturing Processes). They are specifically triple-tested and third-party validated to help ensure each product contains the right identity, purity, strength, and composition.
The HUM vitamin D supplement is formulated by registered dietitian nutritionists, which is fully appreciated by a fellow RDN. Also rest easy knowing the vitamin D supplement is free of GMOs, gluten, and the "Tricky 12"—ingredients that HUM Nutrition deems should be avoided in supplements like artificial ingredients, hydrogenated oils, and high-fructose corn syrup.
| | |
| --- | --- |
| Form | Vegan softgel capsules |
| Dosing instructions | Take 1 softgel, at any time, with food |
| Cost per serving | $12/30 servings = $0.40/serving |
Best Liquid Vitamin D Supplement: Athletic Greens D3 + K2 Liquid
Good for: Vitamin D seekers who prefer a liquid, mixable option
Athletic Greens put itself on our map as one of the best greens powders on the market. But the brand also made its way as the best liquid vitamin D supplements, specifically in liquid form that provides 1,000 IU of vitamin D3 and 200 mcg of vitamin K2.
According to the official Athletic Greens website, vitamins D and K2 "work synergistically to support the heart, vascular system, immune system, and respiratory system." A 2017 study published in the International Journal of Endocrinology7 supports this, suggesting that joint supplementation of vitamins D and K might be more effective for bone and heart health rather than consuming either alone.
While vitamins K1 and K2 are both beneficial, vitamin K1 is more involved with blood clotting and Vitamin K28 has pronounced roles in heart, bone, and really overall health. Vitamin K2 is under-consumed, though supplying high doses via supplementation could help consumers reach the required daily intake and improve their health.
The D3+K2 liquid drops are also made with an olive oil base to augment the absorption of both fat-soluble vitamins, as well as vitamin E to preserve freshness. Lauren Strong, GGR staff writer and expert product tester, said the liquid does feel a little viscous like olive oil, but because you only have to swallow a few drops, it's not too bad.
"I honestly didn't really notice much for side effects, but I accidently fell off the wagon taking this supplement daily and I got sick about two weeks later," Laure says. "With the lack of sun in the winter I think supplementing with Vitamin D where I live plays a huge role in overall immune system health."
| | |
| --- | --- |
| Form | Liquid drops |
| Dosing instructions | Take 2 drops daily or as directed by a healthcare professional; may be put on a spoon or food or mixed in with other liquids |
| Cost per serving | $52.50/600 servings = $0.09/serving*on-sale from $62.99 |
Best Gummy Vitamin D Supplement: Bulletproof A+D+K Gummy
Good for: Kids at heart with adult vitamin D needs
Bulletproof A+D+K Gummy is the one and only vitamin D gummy on our list. The Bulletproof A+D+K gummies provide the familiar ingredients vitamins D3 (50 mcg) and K2 (180 mcg), which we've learned could be a synergistic power duo. But how do vitamins A and K1 fit in?
Bulletproof's website details the "three essential vitamins that help your body work better when taken together. Instead of taking a separate vitamin A gummy, vitamin K gummy, and vitamin D gummy, this is your one-stop-shop for bone, heart, and immune support."
Vitamin A—also a fat-soluble vitamin—supports normal vision, the immune system, reproductive health, and growth and development. And as we just recently touched on, vitamins K1 and K2 are both beneficial but vitamin K18 plays a larger role in blood clotting and is often administered as a medication. This is why newborns receive a vitamin K1 injection shortly after birth: to prevent the potentially lethal vitamin K deficiency bleeding.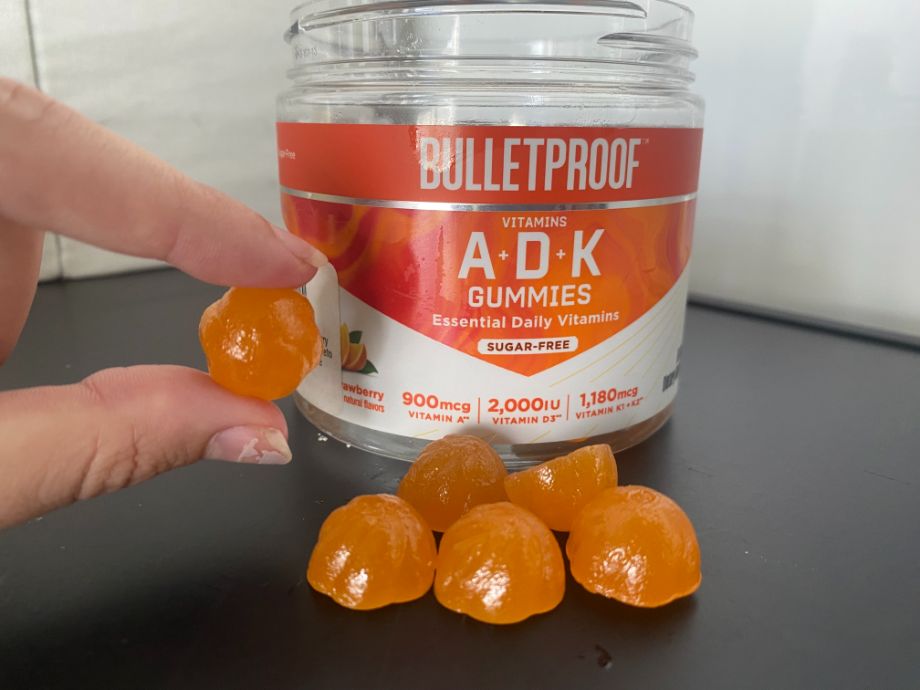 Vitamins aside, the orange strawberry-flavored gummies do not contain any added sugars. Instead, they are sweetened with the sugar alcohols xylitol and erythritol, as well as the natural sweeteners monk fruit and stevia leaf extracts.
"These are SO GOOD," says GGR Senior Staff Writer Amanda. "I'm almost out of these gummies and I'm really sad about it. The Orange Strawberry flavor is so tasty and tropical. I look forward to taking these every day."
While not totally obvious on the vitamin D's product page, a little poking around the Bulletproof site tells us their supplements only contain high-quality and "clean" ingredients provided in science-backed doses. They're also free of GMOs, dyes, soy, gluten, and artificial fillers.
| | |
| --- | --- |
| Form | Gummies (Orange Strawberry-flavored) |
| Dosing instructions | Take 2 gummies daily, preferably with food |
| Cost per serving | $24.95/30 servings = $0.83/serving |
Best Vitamin D Supplement Drops: Thorne Vitamin D/K2 Drops
Good for: Vitamin D-rop searchers who prefer liquid over capsules and chewables
Thorne Vitamin D/K2 Drops are a purposeful, synergistic blend of vitamins D and K2 to support bone, immune, and cardiovascular health. With each 2-drop serving, you'll specifically be taking in 25 mcg (1,000 IU) of vitamin D3 and 200 mcg of vitamin K2.
The vitamin D drops also contain MCT oil to enhance absorption, as well as mixed tocopherols to preserve freshness. It's also free of gluten and dairy-free, devoid of artificial flavors, and recommended to be stored in a cool, dry place (and not refrigerated).
To help ensure the accuracy of the dosed drops, the Thorne vitamin D supplement comes with a self-dispensing tip. The top disperses individual drops, which Thorne says you might experience a delay between them for safer dosing, though they also encourage dispensing onto a spoon before consuming can help you get the right dosage.
GGR Senior Editor Nicole Davis, who was initially supplementing with the Nature Made Vitamin D3 softgels, has since switched to the Thorne liquid vitamin D. "These drops are tasteless, and I love that you can mix it into a beverage. I find them easier than taking a pill everyday. And, I haven't noticed any difference in benefits from the softgels I was taking, which is a good thing as I definitely noticed better energy when I first started taking vitamin D."
According to Thorne's website, the US-manufactured and FDA-regulated supplement brand is trusted by 45K+ healthcare professionals, 100+ sports teams, 10K+ pro athletes, and U.S. Olympic teams. Thorne is also an official collaborator with Mayo Clinic, as well as the official supplement partner of CrossFit and UFC.
| | |
| --- | --- |
| Form | Liquid drops |
| Dosing instructions | Take 2 drops one to three times per day or as recommended by your health-care practitioner; may be added to food or beverages |
| Cost per serving | $28.00/600 servings = $0.05/serving |
Best Whole Food Vitamin D Supplement: Garden of Life Raw Whole Food Vitamin D
Good for: Whole food advocates looking for a boost of vitamin D, probiotics, and nutrients
Garden of Life Raw Whole Food Vitamin D is formulated with whole food nutrition and contains a heavy dose of vitamin D3—5,000 IU to be exact. With such a large dose, compared to other products on our list, it's urged to consult your healthcare practitioner before starting the supplement.
Vitamin D might be the nutrient of interest, but it cannot be overshadowed by the other 20+ whole food ingredients it contains. Kate Meier, GGR head of content, said the capsules do taste a bit "plant-like," but it's not off-putting.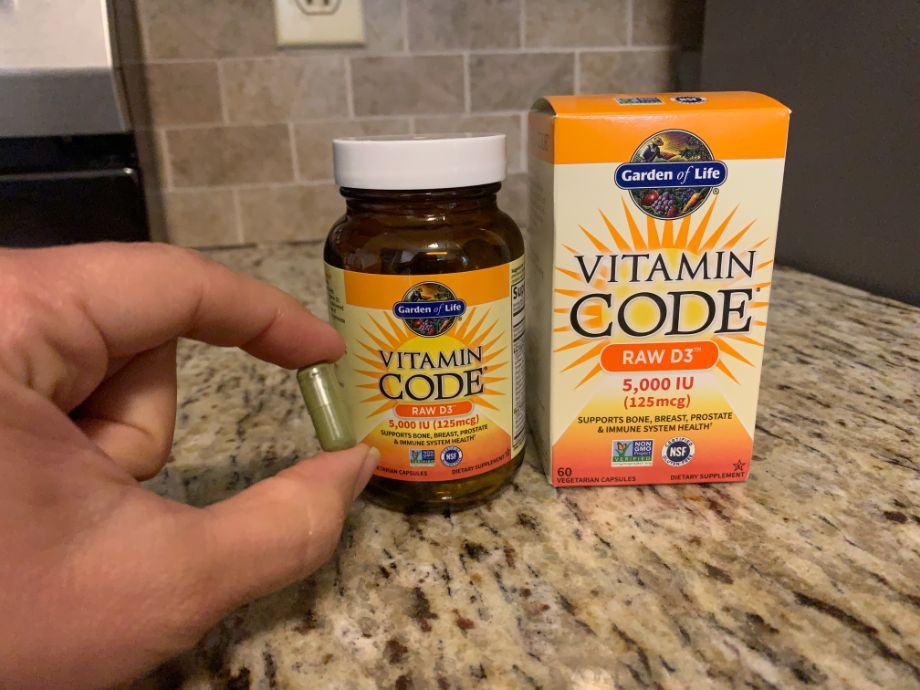 We'll first note the vitamin D supplement is joined with omega-9—a lipid base sourced from organic green chlorella (a type of algae)—to promote absorption. It also provides a raw organic blend of live probiotics and digestive enzymes to further enhance the absorption of nutrients, although we also recommend checking out the best probiotics to optimize your gut and overall health.
The robust vitamin D formulation also contains an organic fruit and vegetable blend of apple, beet, and broccoli, amongst many others down the colorful alphabet. Their addition is intended to provide antioxidants, vitamins, and nutrient cofactors that help drive essential chemical processes in the body.
The whole food supplement is also certified by the nonprofit B Lab to meet rigorous standards related to social and environmental performance, accountability, and transparency. It's also certified non-GMO, gluten-free, and kosher and manufactured without high heat, synthetic binders, fillers, artificial flavors, artificial sweeteners, artificial colors, and other additives.
Garden of Life also prides itself on its traceability, meaning each ingredient can be traced back to its source, and partnering with charitable organizations and foundations. They were also the first vitamin and supplement brand to be Certified Carbon Neutral and are committed to sustainable practices.
| | |
| --- | --- |
| Form | Capsule |
| Dosing instructions | Adults take 1 capsule daily or as directed by your healthcare practitioner; best when taken with a meal; capsule may also be opened and contents added to water or juice |
| Cost per serving | $20.94/60 servings = $0.35/serving |
Best Vitamin D Supplement for Kids: Carlson Labs Kid's Super Daily D3 + K2
Good for: Kiddos recommended to an effective and high-quality vitamin D supplement
Carlson Labs Kid's Super Daily D3 + K2 is formulated for children aged four years or older, specifically providing 25 mcg (1,000 IU) of vitamin D. The amount of vitamin D matches some of our picks for adults, so is this too much or justtt right for the kiddos?
The NIH recommends infants from 0-12 months get 10 mcg (400 IU) of vitamin D each day and graduate to an adult dose of 15 mcg (600 IU) at age 1. However, the Endocrine Society says that children one year and older require at least 600 IU daily to maximize bone health.
The Endocrine Society further states at least 1,000 IU of vitamin D daily can help raise blood levels consistently. And under medical supervision, maintaining tolerable upper limits (UL) of vitamin D should be at least 3000 IU/d for children aged 4 to 8 and 4000 IU/d for everyone over 8 years of age. However, higher levels of 4000 IU/d for children 1 to 18 years old may be needed to correct vitamin D deficiency.
Preventing and correcting vitamin D deficiency is essential at all life stages, but especially in growing children to support their growing bones and bodies. Adequate vitamin D also reduces the risk of rickets, a condition described as the softening and weakening of the bones, particularly in children ages 6 to 24 months.
GGR Senior Editor Nicole Davis, mom of two, is no stranger to Carlson vitamin d drops. "With my second we went through two different types of vitamin D before trying this brand…she had a bad reaction to others (we think), crying super duper hard and was just so unhappy. Something did not sit right with her. In my delirium at 2 a.m. with a screaming newborn I remember Googling vitamin D drops and read reviews about these so I thought I'd try them. Voila! Never looked back, and I will use Carlson again with baby no. 3."
Carlson vitamin D supplement provides 22.5 mcg of vitamin K2 as well. While we've explored the benefits of vitamin K2 for adult health, a 2022 review9 examining the impacts of vitamin K2 on children's health points out children have the highest vitamin K needs. Vitamin K2 shows to be safe and effective for children and promotes bone health, blood clotting, and a healthy heart.
The review further suggests that 45 to 50 mcg of vitamin K2 is an appropriate intake range for children, although the supplement contains about half of the vitamin K2 recommendations. Parents and caregivers can help fill in the remaining needs with vitamin K2-rich food sources10, including cheese, milk, and other fermented foods and animal products.
Overall, even though everyone benefits from seeking medical assistance regarding their vitamin D and nutritional needs, it's a critical step for children. Before starting this product, or any other supplement for that matter, please consult with your child's pediatrician for their utmost safety.
The D3+K2 supplement also contains MCT oil and an antioxidant blend—of d-alpha tocopherol and rosemary extract—to enhance absorption and freshness. The formulation comes in unflavored vegetarian drops, that can be added to food or a drink, to lower any intake resistance from the little recipient.
Also rest easy knowing the kid's vitamin D supplement is free of GMOs, soy, gluten, dairy, and artificial preservatives. It's also tested to meet potency and purity standards.
| | |
| --- | --- |
| Form | Liquid drops |
| Dosing instructions | Children 4 years of age or older: take one drop daily or as directed by your healthcare professional |
| Cost per serving | $29.90/360 servings = $0.08/serving |
Best High-Dose Vitamin D Supplement: Pure Encapsulations Vitamin D3 10,000 IU
Good for: Those advised to take an extra potent vitamin D dose
Pure Encapsulations' high-dose vitamin D contains a whopping 10,000 IU per capsule—wowza.
We'll first point out that Pure Encapsulations cautions that the 10,000 IU vitamin D supplement is for short-term or intermittent use only, and should not be taken by pregnant or lactating women. They further advocate for individuals taking more than 50 mcg (2,000 IU) vitamin D per day to have their blood levels monitored, especially consulting with a healthcare provider if managing a health condition and/or taking any medication.
With the cautionary statement out of the way, is 10,000 IUs of vitamin D actually appropriate considering the general 400 IU recommendation? Interestingly, research published in the Journal of Bone and Mineral Research11 suggests that because sunshine can provide an equivalent of daily oral 10,000 IU, prolonged intake of this dose should not pose adverse risks.
Another study from Mayo Clinic Proceedings2 suggests people with malabsorptive conditions—such as from a gastric bypass surgery—may require 50,000 IU of vitamin D once weekly or even daily to maintain sufficiency. And for people with severe vitamin D deficiency, a "loading dose" of 50,000 once weekly (for up to three months) is a commonly applied strategy.
The bottom line is that a high-dose vitamin D supplement can be both safe and effective, especially when vitamin D status is monitored.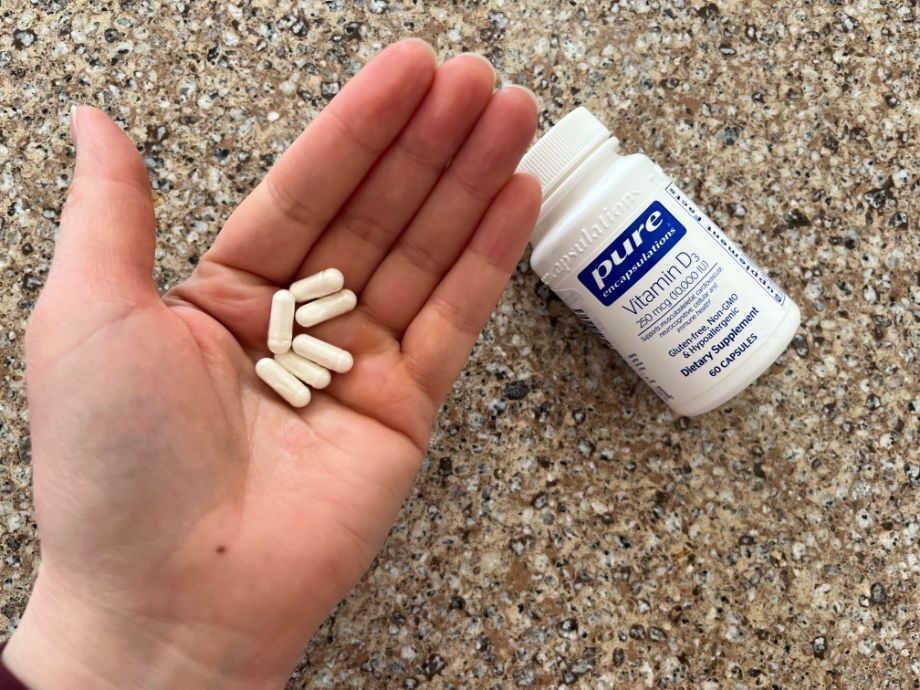 Unlike other vitamin D supplements with other added ingredients, including Pure Encapsulation's lower-dose sibling, the high-dose formula only contains vitamin D3. Well, besides the cellulose and water that acts as a binder and encapsulates the potent dose of vitamin D. And GGR Staff Writer Lauren Strong found these teeny-tiny capsules to be a breeze to take, even with their high-potency. She also attributes these to potentially staving off sickness this winter, as when she stopped taking them she was hit with a gnarly respiratory bug.
The Pure Encapsulations high-dose vitamin D supplement is certified gluten-free, vegetarian, and free of GMOs, artificial ingredients, coatings, and unnecessary fillers—which is apparent with its intentional slim ingredients list. It's also devoid of common food allergens and intolerances like gluten, wheat, dairy, soy, eggs, peanuts, and tree nuts.
And just as the final icing on the cake, Pure Encapsulations supports non-profit organizations that are dedicated to supporting global wellness and sustainability. So with any Pure Encapsulations purchase, low and high-dose vitamin D supplements included, you'll also be joining in on their commitment to a healthier, greener planet.
| | |
| --- | --- |
| Form | Capsules |
| Dosing instructions | Take 1 capsule daily for up to five days per week, with a meal, or as directed by a health professional |
| Cost per serving | $27.35/60 = $0.46/serving |
Other Vitamin D Supplements We Researched
Because there are hundreds of vitamin D supplements out, it's nearly impossible to capture other great finds into one small, yet mighty list. Beyond our top picks, other vitamin D supplements we researched and approve include:
Nordic Naturals Zero Sugar Vitamin D3 Gummies
TheraCal D2000 Bone Health Supplement
NATALIST Vitamin D3 Gummies
Source Naturals Vitamin D-3 Liquid Drops
Designs for Health Liposomal D Supreme Vitamin D
How We Picked and Tested the Best Vitamin D Supplements
We take our product reviews verryyy seriously and the same goes for picking and testing the best vitamin D supplements on the market. To form our top picks list, we specifically analyzed and factored in the following:
Vitamin D type: As we've mentioned, vitamin D3 shows to be the most effective for increasing blood levels of vitamin D. This said, we are preferential towards vitamin D3 and each of our chosen products contains this form.
Additional ingredients: If additional ingredients are formulated with vitamin D, what's the intention? The inclusion of extra virgin olive oil is a great example of this, as the fat source can help enhance the absorption of the fat-soluble vitamin. We also favor products with cleaner formulas that are free of artificial ingredients, fillers, and other lower-quality, unnecessary ingredients.
Supplemental form: Consumers differ on how they wish to take a supplement—such as a liquid or softgel—so we captured various supplemental forms to honor various preferences.
Cost: While vitamin D supplements tend to be budget-friendly as a whole, we made sure to pick assorted price points to accommodate just about every personal budget.
Manufacturing and testing: Because supplements are not tightly regulated, we always always prioritize products that have undergone tight manufacturing and testing practices. This includes compliance with the Current Good Manufacturing Practice (cGMP) set and monitored by the U.S. Food and Drug Administration (FDA).
Brand loyalty: Is the company committed to high-quality products? Do they strive to keep customers both informed and satisfied? Just as we're loyal to our review process and consumers, we place major weight on brands that do the same.
Benefits of Vitamin D Supplements
Some health benefits of vitamin D are familiar, but others are less obvious. Regardless, what vitamin D can do for the body and health is impressive and all backed by research.
Supports Bone Health
One of the most obvious and notable functions of vitamin D is its critical role to build and support healthy bones. Vitamin D deficiency also increases the risk of rickets in children, as well as osteomalacia and osteoporosis in adults.
This is because the body needs vitamin D for calcium absorption; and without enough of each, the body will start pulling available calcium in the skeletal system and eventually weaken bones. Supporting data12 clearly indicates that inadequate vitamin D over long periods of time can lead to bone demineralization.
A meta-analysis13 shows that vitamin D supplementation does not appear to improve bone health for those with adequate vitamin D levels. However, research14 advises that vitamin D intake of 800 IU per day—in tandem with sufficient calcium intake—is optimal for fracture prevention.
Protects from Several Chronic Diseases
Chronic diseases are conditions that last one year or more—like heart disease, Type 2 diabetes, and cancer—are the leading causes of death and disability in the U.S. Lifestyle factors, including diet and exercise, mainly contribute to the risk of chronic disease but vitamin D also shows to protect from the following:
Heart/cardiovascular disease: A 2014 meta-analysis15 suggests vitamin D supplementation might protect against heart failure in older adults. A supporting 2019 systematic review and meta-analysis16 shows supplementing with vitamin D may reduce blood cholesterol and triglyceride levels.
Cancer: Research17 proposes that low blood vitamin D is associated with an increased risk of 15 different cancers—including breast, colon, lung, and prostate cancers—whereas adequate vitamin D may reduce the growth and spread of malignant (cancer) cells. A 2019 systematic review and meta-analysis18 also found that vitamin D supplementation could reduce the risk of cancer death by 15%.
Type 2 diabetes: Because vitamin D deficiency is linked to insulin resistance and type 2 diabetes, researchers continue examining if vitamin D supplementation could prevent or help manage the chronic disease. Although a 2017 review19 advises vitamin D supplementation cannot be recommended to prevent or improve Type 2 diabetes at this time, a recent 2022 study20 hints vitamin D could be effective in decreasing diabetes in adults with prediabetes.
Bolsters Immune Function
The immune system helps the body defend against harmful invaders, and 2011 data21 suggests lower levels of vitamin D may increase the risk of infections. Cells of the immune system—like B cells, T cells, and monocytes—may also positively respond to vitamin D, thus bolstering immune function, especially in individuals managing an autoimmune disease.
A more recent 2020 review published in Nutrients22 tells us that vitamin D shows to exert immunological activities on many immune system responses. There have also been associations between low levels of vitamin D and greater risks of immune-related health conditions, including psoriasis, multiple sclerosis, type 1 diabetes, and rheumatoid arthritis.
Boosts Mental Health
Have you ever felt down in the dumps, only to get an instant mood and energy jolt after basking in the sweet sunshine? Well, not only can getting out in the sun boost your mood, but vitamin D supplementation might as well.
A 2020 systematic review and meta-analysis23, covering 25 trials and 7,500+ participants, found that vitamin D supplementation can reduce negative emotions. The benefits may be more pronounced in patients with major depressive disorders and individuals with vitamin D deficiency, though the evidence appears promising.
Supports Weight Loss
Fat loss is the byproduct of lifestyle factors, especially diet, and vitamin D might surprisingly play a role. Interestingly, obesity can increase the risk of vitamin D deficiency whereas weight loss can increase vitamin D levels according to a 2011 study published in The American Journal of Clinical Nutrition24.
In a 2018 study25, researchers conducted a double-blind clinical trial on 50 overweight and obese women: one group received 50,000 IU of vitamin D per week while the other group received a placebo for six weeks. The group receiving vitamin D significantly reduced weight, waist circumference, and body mass index while increasing blood levels of vitamin D.
A less recent, yet larger 2014 study26 prescribed over 200 overweight and obese women (aged 50-75 years) with a calorie-restricted diet and exercise routine—and half of the women received 2,000 IU daily of vitamin D3 or and the other half took a placebo. After one year, the researchers found women who repleted vitamin D stores experienced greater improvements in their weight loss.
Dosing and Interactions
While vitamin D supplements are mostly considered to be safe, you should still dose accordingly. Vitamin D can also interact with certain medications, which could pose serious risks and/or reduce the efficacy of the supplement or prescription.
Dose Recommendations
The amount of vitamin D you need each day is based on Recommended Dietary Allowances (RDAs), or the average daily intake level to meet nutrient requirements. Provided by the National Institutes of Health, the RDAs below indicate daily intakes sufficient to maintain bone health and calcium metabolism in healthy metabolism:
| | | | |
| --- | --- | --- | --- |
| Age | Male | Female | Pregnancy & Lactation |
| 0-12 months* | 10 mcg (400 IU) | 10 mcg (400 IU) | |
| 1-13 years | 15 mcg (600 IU) | 15 mcg (600 IU) | |
| 14-18 years | 15 mcg (600 IU) | 15 mcg (600 IU) | 15 mcg (600 IU) |
| 19-50 years | 15 mcg (600 IU) | 15 mcg (600 IU) | 15 mcg (600 IU) |
| 51-70 years | 15 mcg (600 IU) | 15 mcg (600 IU) | |
| >70 years | 20 mcg (800 IU) | 20 mcg (800 IU) | |
*Recommendation based on Adequate Intake (AI)
Interestingly, too, a 2020 review22 hints there's still debate on what level of vitamin D in the blood is optimal to achieve the health benefits of vitamin D. However, it's likewise advisable to increase vitamin D intake—and have sensible sunlight exposure—to maintain levels.
To add more complexity to the matter, vitamin D testing can be expensive and not always supported as a screening tool2. For successful repletion of vitamin D, it's prudent to mention who might be at the greatest risk of deficiency which includes:
People who cannot tolerate or avoid dairy products or follow a vegan diet
Those who are classified as obese
Individuals condition that impacts the digestive system, including Crohn's disease and conditions that interfere with normal fat digestion
People who have undergone gastric bypass surgery
Darker-skinned individuals or those who are regularly fully-clothed/use sunscreen that blocks vitamin D absorption from the sun
Older adults, especially who spend more time indoors
Those who live in the northern hemisphere, especially when winter arrives and sun exposure lessens
All this said, recommended intake values also vary based on an individual's vitamin D level. Someone with a significant vitamin D deficiency will require more vitamin D to replete those vitamin D stores.
Interactions & Safety
It's smart to consult with your doctor before taking any sort of supplement, especially if you're taking medication. This is because there's always a risk of drug interactions, which can make the prescription less effective and/or lead to unwanted—and sometimes dangerous and fatal—side effects.
Mayo Clinic counsels the following medications can lead to possible interactions, including:
Aluminum
Anticonvulsants, specifically phenobarbital and phenytoin
Atorvastatin
Calcipotriene
Cholestyramine
Cytochrome P-450 3A4 substrates
Digoxin
Diltiazem
Orlistat
Thiazide diuretics
Steroids
Stimulant laxatives
Verapamil
Beyond medication interactions, vitamin D supplementation shows to be safe and toxicity is rare12. Severe adverse effects have only been reported with very extreme intakes of vitamin D ranging from 15,000-42,000 mcg, which is well above natural intakes from food or supplements.
Still, most of the risks are related to vitamin D's function of increasing calcium absorption—the more vitamin D available, the more calcium that's absorbed, which can cause hypercalcemia. Defined as high calcium in the blood, hypercalcemia can cause bone pain, digestive complications, kidney stones and failure, depression, and other worrisome health concerns.
It might sound like a broken record, but it's genuinely important to seek medical guidance to help determine your unique nutrient needs.
Buying Guide: What to Look for in Vitamin D Supplements
Whether you're looking for additional guidance to choose between our top picks or venturing outside the list, lean on these expert tips to decide which vitamin D supplement is right for you.
Review the Formulation
The formulation is what you'll actually be consuming, so it's important to review it. Here's what to look out for in a vitamin D supplement:
Vitamin D form: Vitamin D supplements mostly contain one of two forms, including vitamin D2 (ergocalciferol) or vitamin D3 (cholecalciferol). Both are great sources of vitamin D but we do recommend choosing a supplement with vitamin D3 since it's more effective in raising vitamin D levels in the blood.
Vitamin D content: Most vitamin D supplements provide 1,000-2,000 IUs of vitamin D, although some offer higher doses. Ultimately, you and your doctor should explore together how much vitamin D might be best for your individual needs and select a dosage to match.
Added ingredients: Beyond vitamin D, review and consider additional ingredients in the supplement. For instance, some vitamin D supplements contain other nutrients such as vitamins A and K while others (outside of our picks) might contain unwanted fillers.
Consider the Supplement Form
Would you rather consume the vitamin D supplement as liquid drops, softgels, or gummies? Pick a supplement form based on your preferences, as you'll be more consistent in taking it if it's in a preferential form.
Factor in Your Dietary Needs and Preferences
Do you follow a vegan diet? Or perhaps you're managing Celiac disease and needing a gluten-free option. Consider your dietary needs and/or preferences and choose a vitamin D supplement to match.
Explore Verifications and Certifications
Exploring the product verification and certifications can give you great insight into what's actually in the supplement. (And what's not in the product.)
Look out for third-party testing verifications to best validate the product's safety, purity, and quality. Also, check to see if the product holds verifications that are important to you like certified gluten-free and/or vegan.
Investigate the Brand Behind the Product
Investigating the brand behind the product of interest can deepen your understanding of the brand's standards and reputation. Areas that can provide great insight include:
Return policies and 100% money-back guarantees
Customer reviews on the site's main webpage, as well as on Amazon and other third-party seller sites if available
Customer service access or at minimum a contact form you can fill out—and actually get a response back
Taking this extra step can help you decide if you're willing to support a company (and acquire your hard-earned dollars)!
FAQs About Vitamin D Supplements
What is the best form of vitamin D to take?
Research suggests vitamin D3 is the best form to take rather than vitamin D2. Both forms act and function similarly in the body, although vitamin D3 shows to be effective in increasing vitamin D levels. 
How much vitamin D should you take every day? 
How much vitamin D you should take depends on many factors, including your age and current vitamin D status. As a general rule, most males and females should consume 15 mcg (600 IU) of vitamin D daily and increase to 20 mcg (800 IU) after age 70.
Is it OK to take vitamin D everyday?
Side effects and toxicity risks of vitamin D are rare, suggesting it's okay to take vitamin D each day. However, it's still essential that you discuss the amount and frequency of vitamin D to take with a healthcare professional for your utmost safety.
Who Needs a Vitamin D Supplement?
Most people are able to take vitamin D without any risk, though there are some people who may be more at risk of a vitamin D deficiency. According to the Mayo Clinic and the Cleveland Clinic, those populations include:
– The elderly
– Post-menopausal women
– People who are obese
– People who have been on steroids for an extended time
– People who have darker skin