We test and review fitness products based on an independent, multi-point methodology. If you use our links to purchase something, we may earn a commission. Read our disclosures.
Creatine is the most-studied sports nutrition supplement available, with protein powder tailing it for second place. The study of this supplement on athletic performance dates back to the 1980s1 and creatine benefits include things like increased muscle mass/lean body mass, improved muscle performance, increased power and strength, and even enhanced cognitive function.
Thorne Research is one of many, many brands producing creatine supplements. In my Thorne creatine review, I'll evaluate this product from the perspective of a certified personal trainer and nutrition coach and determine if it's a high-quality creatine supplement.
Medical disclaimer: This article is intended for educational and informational purposes only. It is not intended as a substitute for medical advice. For health advice, contact a licensed healthcare provider. GGR also recommends choosing a product that has been third-party tested for quality.
More Than 30 Creatine Supplements Tested
Our team of product testers, who are also certified personal trainers, nutrition coaches, and athletes, have collectively tested more than 30 different creatine products to find out which ones are the best creatine supplements.
Thorne Creatine
GGR Score: 4.3
Product Highlights
Creatine monohydrate

Supports muscle strength and size 

May improve cognitive function
Pros & Cons
Pros
Subscribe and save 20%
1 ingredient: creatine monohydrate
NSF Certified for Sport
Gluten-, dairy-, and soy-free
Made in the United States
Cons
Only available as unflavored
Available in 1 container size, 90 servings
New formula due to supply chain issues
Some customer complaints of grittiness
Bottom Line
Thorne Creatine provides 5 grams of creatine per scoop. They recommend taking it in the morning to improve brain performance or near a workout to help improve muscle strength and size. Customer reviews of this product are generally positive, although Thorne has changed their formula recently due to supply chain issues, and some long-time users do not like the new version as much.
A Quick Look at Thorne Creatine
Thorne Creatine is a pure creatine monohydrate powder: nothing more, nothing less. This is the most widely studied form of creatine and it's still considered the best2, even as novel creatine types like creatine hydrochloride (HCl) and Creatine MagnaPower® (creatine with magnesium) appear more often. It's unflavored, provides 5 grams of creatine per serving, and comes in a 90-serving tub.
RELATED: Creatine vs Pre-Workout: Should You Take Both?
Before You Buy
This is unflavored, pure creatine monohydrate at a reasonable price. You really can't go wrong here.
If you're looking for something flavored, check out our guide to the best creatine supplements, which has all sorts of different creatine options.
Is Thorne Creatine Worth It?
In general, pure creatine monohydrate is worth it. Unless the price per serving is wildly and unacceptably high, most nutrition professionals such as registered dietitians and nutritionists will tell you that creatine is a worthwhile supplement. And this one comes to you at a very reasonable price with no added ingredients.
Great for:
Maintaining creatine stores in the muscle
People who want simple products with simple ingredients lists
Individuals who need certified gluten-free, soy-free, and dairy-free products
Athletes who need supplements that are certified to be free of banned substances
Not recommended for:
Individuals looking for a supplement with more than just creatine
People who want their supplements to be flavored
Thorne Creatine Specs
| | |
| --- | --- |
| Price per serving | $0.44 |
| Creatine type | Micronized creatine monohydrate |
| Creatine per serving | 5 g |
| Serving size | 5 g |
| Calories per serving | 0 |
| Flavors | Unflavored |
| Sugar per serving | 0 g |
| Sweeteners | None |
| Other key ingredients | None |
| Other ingredients | None |
Experience Using Thorne Creatine
Product tester and GGR editor Frieda Johnson tried Thorne creatine. "I have been taking creatine every day for almost a decade, and this is exactly what I would expect from a single-ingredient creatine monohydrate," she says.
"It seems to be in line with my experience consuming 5 grams of creatine monohydrate daily," she continues, adding that she didn't experience any side effects while taking this.
Price Per Serving
At the time of writing, Thorne Creatine costs 44 cents per serving both on Amazon and on the Thorne Research website. This is more than acceptable for a creatine supplement and well worth the cost.
Formulation
Thorne creatine contains just one ingredient: creatine monohydrate. This is as good as it gets, people. Each serving is 5 grams, which is in line with the clinical recommendations3 for maintaining creatine saturation in the muscles.
Taste and Solubility
While Thorne creatine scored high for taste with Frieda, it didn't get the highest marks for texture. "It's pretty tasteless and I had no problem drinking it plain in water," Frieda says. However, "It settles quite a bit and needs to be stirred several times while drinking."
Side Effects
Common creatine side effects include bloating, water retention, and general abdominal discomfort, according to a 2021 review of studies in the Journal of the International Society of Sports Nutrition4. When taken in very high doses, creatine may cause diarrhea5. However, there is "no compelling evidence" that creatine causes any long-term negative health effects, according to a 4-year-long study in the journal Medicine and Science in Sports and Exercise6.
RELATED: Creatine Benefits
Third-Party Testing
Since supplements aren't strictly regulated by the FDA, the best supplement manufacturers get their products tested by independent labs, which is referred to as third-party testing.
Thorne creatine is NSF Certified for Sport through the NSF's Informed Sport testing program. This ensures the product is free of banned substances as dictated by the World Anti-Doping Agency (WADA) and safe for athletes to take.
It's also certified gluten-free, soy-free, and dairy-free, as creatine monohydrate should be.
Thorne Creatine vs Optimum Nutrition Creatine Monohydrate
Optimum Nutrition Creatine Monohydrate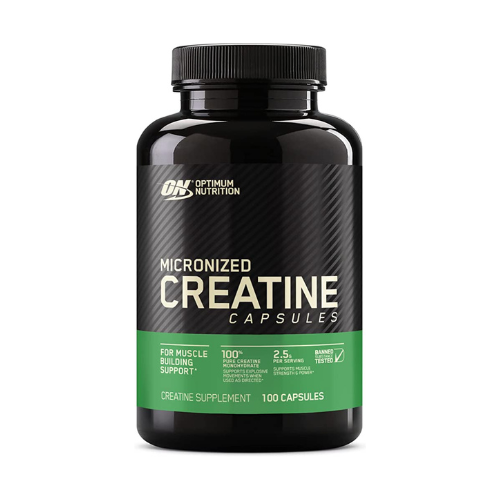 GGR Score: 4.65
Product Highlights
Supports muscle growth, recovery, and overall performance

Provides 2.5 grams of creatine monohydrate per 2-capsule serving (5 grams recommended daily)

Easy to take on the go

Should be taken with a meal

Receives great reviews for its effectiveness
Pros & Cons
Pros
Capsule form is more convenient for some
No need to worry about mixability or taste
Main ingredient is high-quality creatine monohydrate
Fewer reported digestive side effects
Cons
Must take four pills for 5-gram dose
More expensive than powder form
Bottom Line
If you prefer capsules over powder, the Optimum Nutrition Micronized Creatine Capsules provide the same dosage and affect on performance as seen in the traditional powder supplement.
Creatine, evidently, is like dumbbells: most of it is manufactured in the same labs and then rebranded and sold from a variety of brands and retailers. Take a look at this chart comparing Thorne creatine to Optimum Nutrition creatine—these products are exactly the same. They're both great products, so the driving force behind a purchasing decision here comes solely down to price and brand preference.
I will say that Thorne creatine is rated ever-so-slightly lower than Optimum Nutrition creatine according to our testing criteria solely because it settles in the glass after mixing, and that's a tad annoying.
| | | |
| --- | --- | --- |
| | Thorne Creatine | Optimum Nutrition Creatine Monohydrate |
| Price per serving | $0.44 | $0.36 to $0.66 depending on size bought |
| Creatine type | Micronized creatine monohydrate | Micronized creatine monohydrate |
| Creatine per serving | 5 g | 5 g |
| Serving size | 5 g | 5 g |
| Calories per serving | 0 | 0 |
| Flavors | Unflavored | Unflavored |
| Sugar per serving | 0 g | 0 g |
| Sweeteners | None | None |
| Other key ingredients | None | None |
| Third-party tested | Yes, NSF Certified for Sport | Yes, Informed Choice |
Customer Experience
Thorne products are available on Amazon, from the Thorne Research website, and from retailers like Target, iHerb, and Walmart. We typically recommend buying directly from the manufacturer so you can easily take advantage of any return or refund policies. Third-party retailers don't always extend the same courtesies.
Thorne does stipulate that purchases made from authorized retailers are subject to the same return policy on the Thorne website, which is nice. Thorne offers a 60-day satisfaction guarantee and allows returns for any reason, unless the product is past its expiration date when you initiate the return.
Ordering Thorne Creatine
As mentioned above, you can find Thorne supplements at many stores online. The exact checkout process varies depending on where you buy, but no matter what, it is as easy as clicking "add to cart."
You can sign up for the subscribe-and-save option when you buy directly from Thorne Research as well as on Amazon. On the Thorne website, you can save up to 20% by subscribing; on Amazon, you can save up to 10%.
Customer Reviews
Out of almost 8,000 ratings at the time of writing, Thorne creatine has an average rating of 4.6 out of 5 stars on Amazon.
"I have tried many different brands of creatine, and this is by far the best. It dissolves very easily in water, but I put it in my protein shake daily," wrote one reviewer. "In a rush, I can dump it in a glass of water and slam it down with no stomach upset. All other creatines would typically upset my stomach if I just mix it straight with water. I also have seen great results with this from a strength standpoint and do not feel as if I look swollen or puffy. Definitely recommend this product!"
Another wrote, "I love the fact that this is basically tasteless, and I can add it to a glass of water, yogurt or a protein shake and not really know it's there."
Negative reviews, of which there are few, mention that the inner safety seal was punctured or ripped, or that the consistency of the powder was different from a previous order.
Final Verdict of Our Thorne Creatine Review
Thorne creatine contains pure micronized creatine monohydrate. It's unflavored and dissolves well in any beverage, including plain water, although our product tester found that it settles if you don't drink it in one go. This supplement is reasonably priced and a good choice for anyone who is trying to build muscle or improve athletic performance. It's also NSF Certified for Sport.
Thorne Creatine Full Rating
Thorne Creatine
Find out how Thorne Research supplements can help you reach your fitness goals in our Thorne creatine review.
Product Currency: USD
Product Price: 40
Product In-Stock: InStock
Thorne Creatine FAQs
What is creatine? 
Creatine7 is a compound synthesized from three amino acids: glycine, arginine, and methionine. Your body makes it to produce cellular energy as adenosine triphosphate (ATP), which it does via its role in the phosphocreatine metabolism system.
What are the benefits of creatine? 
Creatine is multi-beneficial. It's known to increase exercise capacity and power output, and expedite muscle growth. It may also have positive effects on the nervous system and brain function, as creatine also has a role in brain health. We have a full guide to creatine benefits that dives deeper into the many aspects of this supplement.
Does creatine make you gain weight? 
Creatine might make you gain water weight (bloating is a common complaint), or it might result in weight gain from increased lean body mass. Creatine alone will not make you gain body fat. 
These statements have not been evaluated by the Food and Drug Administration. This product is not intended to diagnose, treat, cure, or prevent any diseases.
References