We test and review fitness products based on an independent, multi-point methodology. If you use our links to purchase something, we may earn a commission. Read our disclosures.
When you think of electricity, your mind likely flicks to a light bulb or some sort of snazzy electronic like this magical MIRROR. But did you know the cells in your body conduct electrical charges?
That's right, the body relies on and needs these electrical producers otherwise known as electrolytes1—sodium, potassium, chloride, magnesium, calcium, phosphate, and bicarbonates. Electrolytes play vital roles in fluid balance, muscle contraction, nerve stimulation, blood pressure regulation, and so much more.
Getting adequate amounts of each electrolyte can prevent an electrolyte imbalance that could actually be life-threatening. While electrolytes are also minerals that you can consume from foods, there are instances when drinking electrolytes is both necessary and convenient.
Fortunately, we've tested and selected our top picks so you can enjoy the best electrolyte drink to suit your needs. So, let's explore how to drink electrolytes to keep our bodies (and workouts) electric!
Medical disclaimer: This article is intended for educational and informational purposes only. It is not intended as a substitute for medical advice. For health advice, contact a licensed healthcare provider.
We Are Nutrition Experts Who Find Product Testing Electrifying
Our testing and review squad of registered dietitians and sports nutritionists, certified personal trainers, and competitive athletes truly light up about all things fitness and nutrition. Of course, we want to find products to ignite our own workouts and health, but getting to share our expertise with the world is even more electrifying.
Truly, you won't find a product on our lists that we don't investigate from all angles—we analyze the company's website, search through research databases, and actually try them. And when our own positive experiences with products collide with high-quality, research-backed ingredients, we truly stand by our top picks and are thrilled to recommend them.
7 Best Electrolyte Drinks for 2023
Best Electrolyte Drink Overall: Transparent Labs Hydrate v3
Good for: All-around hydration with an innovative flair
Transparent Labs Hydrate v3 is an electrolyte drink powder designed to rapidly replenish electrolytes and hydrate the body before, during, and after exercise. Combining electrolytes, taurine, and an adaptogen mix, the powder claims to support recovery and athletic performance while reducing muscle cramps.
The electrolyte powder provides 500 milligrams (mg) of sodium2, which is the most important electrolyte for fluid balance while being the predominant electrolyte lost most in sweat. Thus, the American College of Sports Medicine (ACSM)3 encourages consuming 500 to 700 mg of sodium if exercise lasts longer than one hour to reduce physical fatigue, muscle cramps, and the risk of hyponatremia (a loss of sodium), which can actually be life-threatening.
The mix includes coconut water powder, which is a natural source of potassium. While not lost in sweat as much as sodium, the electrolytes potassium, magnesium, and calcium in the powder further help promote hydration and electrolyte balance.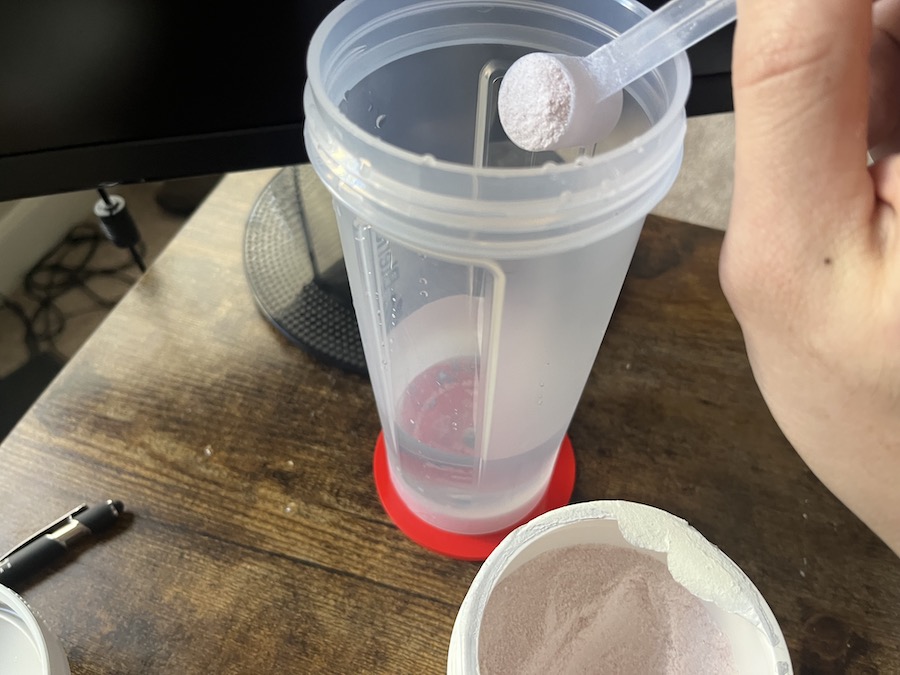 Taurine4 is an amino acid especially abundant in skeletal muscle. A study published in Amino Acids5 suggests taurine may alleviate exercise-induced oxidative stress and enhance exercise performance.
The electrolyte mix also provides an "innovative Senactiv® adaptogenic extract" to "take your performance to the next level." With a little digging, I found Senactiv™ is a trademark of NuLiv Science. The official NuLiv Science website suggests Senactiv® is a "patented, plant-based sport nutraceutical scientifically validated in human and in-vivo studies to promote more muscle energy and preservation via senescent cell clearance." You can also view scientific papers by completing a form, which I did, but did not receive the information sent to my email as it stated.
The Tropical Punch powder contains no artificial sweeteners, coloring, or preservatives. Instead, it's flavored, sweetened, and colored with more natural ingredients like stevia extract, beetroot powder, and beta-carotene (a carotenoid pigment that gives some fruits and vegetables their bright color).
Our expert product tester, GGR writer Anthony O'Reilly, said this reminded him of a concentrated Hawaiian Punch, and that he noticed increased hydration when he took this both pre- and post-workout. "As a pre-workout it's a great way to increase muscle endurance," he says.
| | |
| --- | --- |
| Dose Instructions | Mix 1 scoop with 8-12 oz of water 1-3 times per day |
| Electrolyte Formula | 500 mg sodium250 mg potassium84 mg calcium50 mg magnesium |
| Form and Flavor(s) | Powder (Tropical Punch) |
| Cost | $28.99/40 servings = $0.72/serving (or $26.09 with subscribe and save offer) |
Best Budget Electrolyte Drink: Pedialyte Sport
Good for: Those looking for a concentrated electrolyte formula without breaking the bank
For the most concentrated electrolyte bang for your buck, Pedialyte Sport electrolyte blend is said to provide three times the amount of electrolytes-—specifically sodium, chloride, potassium, magnesium, and phosphate—and a fourth of the sugar compared to other sports drinks on the market. The electrolyte powder also comes in convenient, on-the-go rehydration packets.
According to the official website, Pedialyte Sport provides hydration benefits like the other Pedialyte options, including the original Pedialyte and Pedialyte Advanced Care. Pedialyte Sport specifically replaces electrolytes, offers prebiotics, and provides additional electrolytes for muscle support (particularly magnesium, phosphate, and potassium).
The packets come in two flavors—Lemon Lime and Fruit Punch—and provide 40 calories per serving. However, while this is based on personal needs and preferences, Pedialyte Sport contains small amounts of artificial flavors, artificial colors, and artificial sweeteners.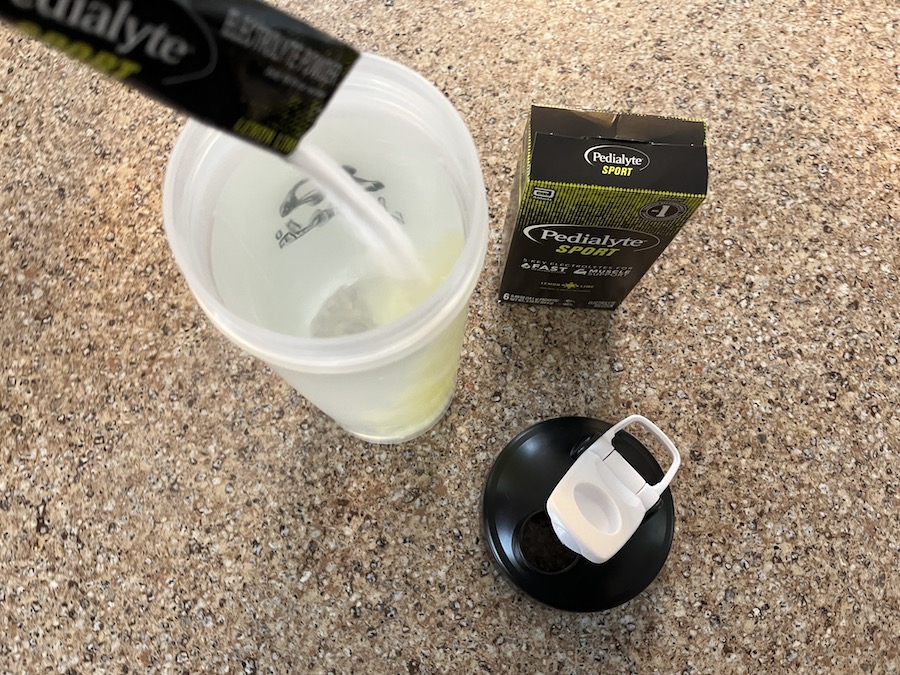 Our expert product tester, GGR writer Lauren Strong, is no stranger to the classic Pedialyte drink for kids, so she had high hopes for Pedialyte Sport. "I think it works almost as well for hydration as regular Pedialyte at a great cost per serving," she explains. Lemon-Lime also got an A+ in her book for taste.
| | |
| --- | --- |
| Dose Instructions | Mix one packet (a serving) of Pedialyte Powder with 16 fl oz water only |
| Electrolyte Formula | 920 mg chloride 650 mg sodium600 mg potassium190 mg phosphorus 55 mg magnesium |
| Form and Flavor(s) | Powder (Lemon Lime and Fruit Punch) |
| Cost | $37.90/24 packets = $1.58/packet |
Best On-the-Go Electrolyte Drink: Liquid I.V. Hydration Multiplier Single Serving Packets
Good for: Easily portable hydration
Liquid I.V. Hydration Multiplier Single Serving Packets make hydration on the go a breeze. The four-pack combo also contains hydration packets to support energy and sleep—specifically coming with 2 "Hydration Multipliers" in Lemon Lime and Passion Fruit, 1 "Sleep Multiplier" in Blueberry Lavender, and 1 "Energy Multiplier" in Lemon Ginger.
All "Multipliers" are powered by Cellular Transport Technology (CTT), which is based on the World Health Organization's guidelines for creating Oral Rehydration Therapy6 to combat the risks and effects of dehydration. CTT is a precise and intentional blend of sodium, potassium, and glucose (the simplest type of carbohydrate) to deliver fast hydration. ACSM3 also supports that drinking a blend of electrolytes and carbs can provide benefits over water alone.
Our expert product tester and GGR senior editor Nicole Davis is a Liquid I.V. fan, particularly now that she is pregnant. "Being pregnant I am PARCHED at all times, and many times this is the only thing that will really quench my thirst," she explains. "I feel like I drink water constantly and am still thirsty, but I pop one of these bad boys and I'm good."
The Hydration Multiplier provides 500 mg of sodium, 370 mg of potassium, and 11 grams of carbs, as well as vitamin C and various B vitamins. Vitamin C is important for tissue repair, while B vitamins are essential for energy and metabolic support.
And if you're curious about the "Sleep Multiplier" and "Energy Multiplier" hydration packets, we were as well. The sleep packets contain a "proprietary Sleep Blend with Melatonin, L-Theanine, and Valerian root to help you eazzz into sleep faster." The Energy Blend contains a proprietary blend of Coffeeberry® Energy Extract, CognatIQ™ Coffee Fruit Extract, and L-Theanine for physical energy and a cognitive boost."
Regardless of your daily hydration needs and goals, there's a packet to enjoy for just any time of the day. On the Liquid I.V. official website, you can also "Build Your Own Bundle" with various flavors and types—like Tart Green Apple as a kombucha powder with probiotics, Wild Berry for immune support, and Yuzu Pineapple for energy.
No matter which you choose, rest easy knowing each packet is free of gluten, soy, dairy, GMOs, and artificial flavors. And rest even easier, and prouder, knowing your purchase funds a serving in need around the world. (Now THAT's worth sipping to!)
| | |
| --- | --- |
| Dose Instructions | Add 1 stick to 12 ounces of water and shake thoroughly before drinking |
| Electrolyte Formula | 500 mg sodium370 mg potassium |
| Form and Flavor(s) | Powder (Passion Fruit, Lemon Lime, Tropical Punch, Golden Cherry, Acai Berry, Guava, Strawberry, Watermelon, Concord Grape, Pina Colada) |
| Cost | $24.99/16 sticks=$1.56/packet |
Best Electrolyte Drink Tablets: Nuun Sport
Good for: Those looking for gentle hydration in a compact, dissolvable tablet
Nuun Sport is available with and without caffeine, but you'll still sip the electrolyte blend—300 milligrams of sodium, 150 milligrams of potassium, 40 milligrams of chloride, 25 milligrams of magnesium, and 13 milligrams of calcium. (Sidenote: We'd choose Nunn Sport + Caffeine as the best caffeinated electrolyte drink, hands down!)
These electrolyte tablets come in a compact, convenient tube that can be thrown in your gym bag, car, purse, hiking backpack, or really anywhere else. When you need an electrifying and energizing jolt, simply pop the tube, drop and dissolve the tablet in water, and enjoy.
However, our tester, Anthony, did say that he does have to do a little mixing after the tablet is dissolved, just to get the remnants off the bottom of the glass. Despite that, he loves these for long bike rides, hikes, and walks for a good boost of energy. Choose from many flavors, including Strawberry Lemonade, Citrus Fruit, Fruit Punch, Grape, Lemon Lime, Orange, Tri-Berry, Tropical, and Watermelon.
Like all Nuun tablets, Nuun Sport is Banned Substance Tested by LGC Science and certified vegan, kosher, gluten-free, and non-GMO. Nuun also offers cost-saving options, including an 8-tube box, and free shipping on all orders over $45.
RELATED: Best vegan protein powders
| | |
| --- | --- |
| Dose Instructions | Drop 1 tablet into 16 ounces of water, wait up to 3 minutes for the tablet to fully dissolve, then enjoy |
| Electrolyte Formula | 300 mg sodium150 mg potassium25 mg magnesium13 mg calcium |
| Form and Flavor(s) | Tablets (Strawberry Lemonade, Citrus Fruit, Fruit Punch, Grape, Lemon Lime, Orange, Tri-Berry, Tropical, and Watermelon) |
| Cost | $24.53/40 tablets = $0.61/tablet |
Best Low-Sugar Electrolyte Drink: LMNT Recharge Variety Pack
Good for: Conscious consumers reducing sugar intake but who still want quick, flavorful hydration
LMNT Recharge Variety Pack provides a robust electrolyte blend without any added sugar. While anyone can enjoy it, the no-sugar-added electrolyte drink mix is promoted for those following a keto, low-carb, or paleo diet.
Each stick provides 1,000 mg of sodium in the form of sodium chloride, as well as 200 milligrams of potassium and 60 milligrams of magnesium. In addition to being free of sugar, it also contains no gluten and "dodgy ingredients"—apparently, "everything you need, nothing you don't"—and is vegan, paleo, and keto-friendly.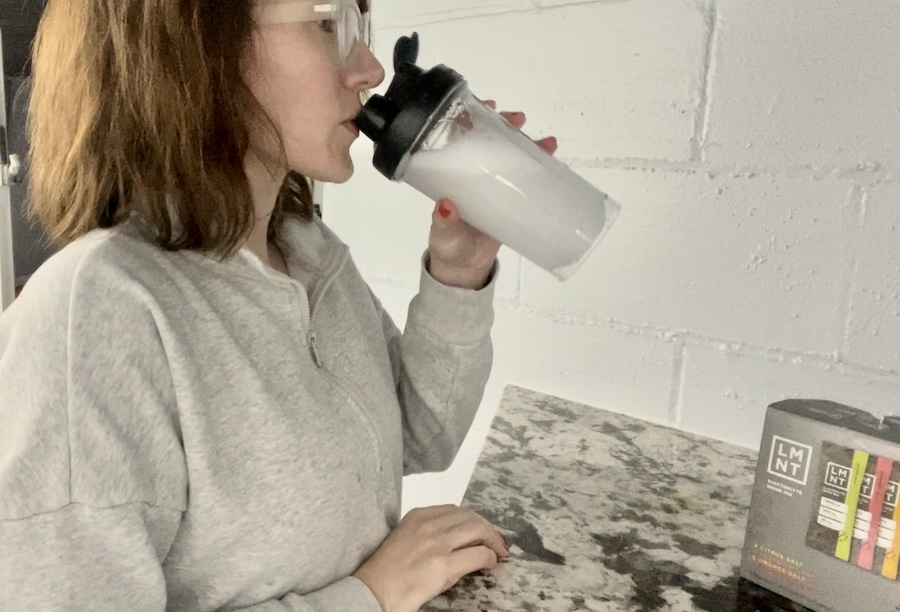 The variety pack comes with 12 packets, including 3 packets of Citrus Salt, Raspberry Salt, Orange Salt, and Watermelon Salt. Purchasing through their website offers free shipping on all U.S. orders and a no-questions-asked refund policy.
Our tester, Nicole, appreciated the unique flavors—Chocolate Salt, anyone?—but does say that these packets are an acquired taste. "This tastes salty, I won't sugar coat it," she quips. "It's an acquired taste. But, on my third packet, I actually started to dig it. And I also appreciate that there's no additional sugar added to the formula."
| | |
| --- | --- |
| Dose Instructions | Mix 1 stick with 16-32 ounces of water |
| Electrolyte Formula | 1000 mg sodium200 mg potassium60 mg magnesium |
| Form and Flavor(s) | Powder (Citrus Salt, Raspberry Salt, Orange Salt, Watermelon Salt, Chocolate Salt, Mango Chile, Raw Unflavored) |
| Cost | $20.00/12 packets = $1.67/packet |
Best Electrolyte Drink for Runners: DripDrop ORS Hydration Solution
Good for: Trainers and racers to electrify their long and/or intense runs
DripDrop ORS Hydration Solution is doctor-developed hydration aiming to prevent dehydration where IV therapy is not available. Specifically, the formula is a precise blend of sodium and glucose to deliver fast hydration. And as we've determined, the combo of sodium and carbs can enhance the hydration impact.
Although electrolytes and carbs can improve hydration for runners, half and full-marathoners7 have admitted to not monitoring hydration levels or employing a proper hydration plan. The researchers urge greater attention to valid hydration techniques, so if you're reading this—follow proper hydration methods to keep your runs and body strong!
The electrolyte mix comes in individually-wrapped packets with the choice of two sizes: 8-ounce packets with 330 mg of sodium and 16-ounce packets that provide double the amount at 670 mg. The 8-ounce packets come in a 32-count while the 16-ounce packets come in an 80-count.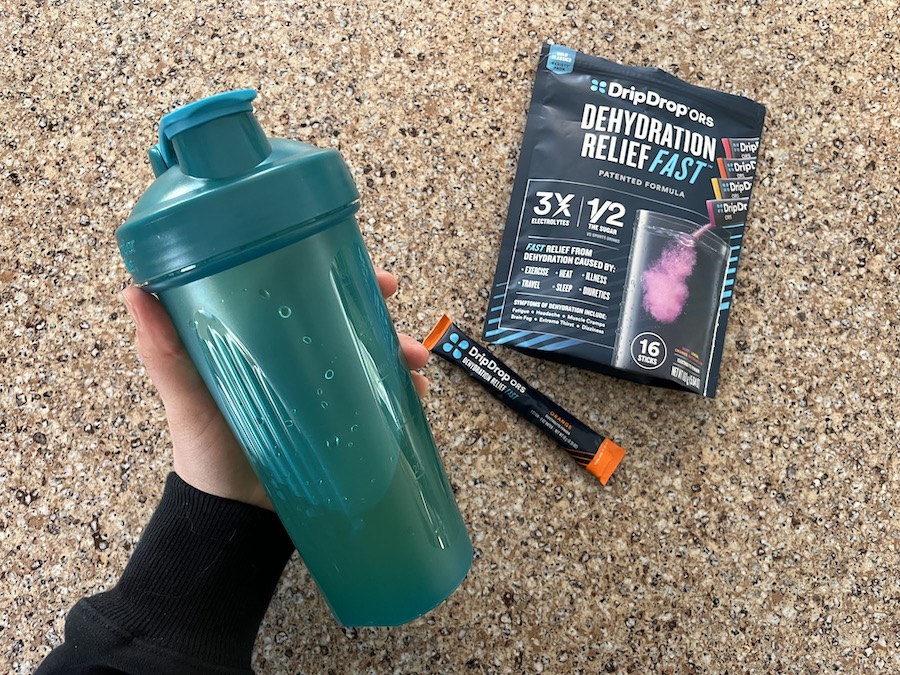 The options keep coming, blessing us with the most flavor variety on our list. A dazzling array of flavors include Berry, Watermelon, Lemon, Orange, Passion Fruit, Fruit Punch, Honey Lemon Ginger, Hibiscus, Decaf Green Tea, as well as Bold (Berry, Watermelon, Lemon, and Orange), Juicy (Cherry), Concord Grape, Fruit Punch, and Strawberry-Lemonade), and Hot (Cherry, Concord Grape, Fruit Punch, and Strawberry-Lemonade) varieties.
Our tester Lauren gave DripDrop a big thumbs up, and loved the flavor options. "I thought this actually helped with hydration and didn't make my mouth feel coated with sugar afterward."
That's probably because each packet is free of artificial ingredients, including artificial sweeteners that commonly cause digestive upset—and the last thing you want to deal with while running. DripDrop also comes in a sugar-free option, all of which are free of gluten, soy, dairy, soy, and GMOs.
DripDrop also offers free shipping on every order and a 100% money-back guarantee. While all packets are FSA and HSA eligible, you can only select "subscribe to save 25%" on the 8-ounce packets.
| | |
| --- | --- |
| Dose Instructions | Mix one (8-oz) packet with 8 oz of water |
| Electrolyte Formula (for 8-oz packet) | 330 mg sodium185 mg potassium39 mg magnesium |
| Form and Flavor(s) | Powder (Berry, Watermelon, Lemon, Orange, Passion Fruit, Fruit Punch, Honey Lemon Ginger, Hibiscus, Decaf Green Tea, and Bold, Juicy, and Hot Variety Packs) |
| Cost | $35.99/32, 8-oz packets = $1.25/packet |
Best Pre-Workout Electrolyte Drink: XWERKS Motion
Good for: Quick energy and hydration to maximize exercise performance and recovery
Supplying "a synergistic blend of cluster dextrin carbohydrates, branch-chain amino acids, and electrolytes," XWERKS Motion could just be your next favorite pre-workout companion. But we still encourage you to check out our best pre-workouts list, where you'll see XWERKS rank once again.
XWERKS Motion offers a gentle dose of electrolytes to enhance performance and recovery. So, what's the deal with adding cluster dextrin carbs and BCAAs?
The official XWERKS website explains cluster dextrin, which is highly soluble and thus digested rapidly, allows you to perform better and recover quicker than ever before. They also cite studies from the Journal of Sports Medicine and Physical Fitness8 and Food Science and Technology Research9 to support their claims, which we fully appreciate.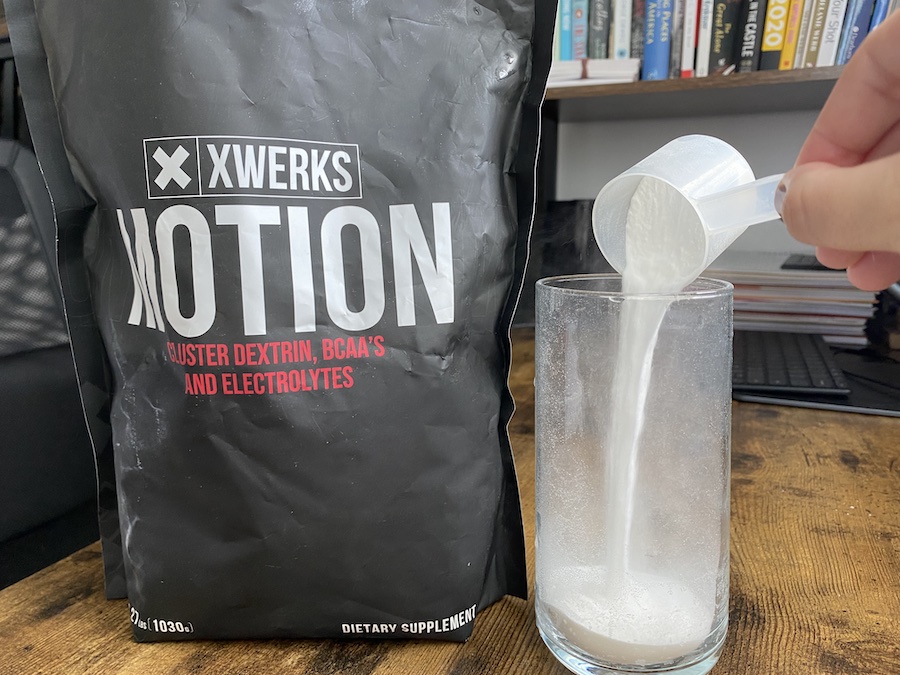 The electrolyte blend also provides a BCAA ratio of 2:1:1 (leucine:isoleucine:valine) to promote muscle growth and decrease fatigue during training, just like the best BCAA supplements reviewed by GGR. Research from the Journal of Nutrition10 supports the addition of BCAAs, suggesting BCAA supplements may lessen muscle damage induced by exercise and promote recovery. Also because leucine strongly promotes protein, it's often included in higher amounts compared to isoleucine and valine.
Because of the blend of ingredients in Motion, our tester Anthony uses this as a pre-workout drink if he doesn't feel like eating before an early morning workout. "I can feel the difference in my energy and output during those sessions—highly recommend!"
XWERKS Motion comes with a money-back guarantee, free shipping, 100% protected online shipping, as well as two flavors (Raspberry Lemonade and Watermelon) and subscribe-and-save options. While it's also free of gluten and dairy like most electrolyte drink mixes, XWERKS Motion does contain soy in case you are avoiding or limiting soy-based products.
RELATED: Best pre-workout for women
| | |
| --- | --- |
| Dose Instructions | 1-2 scoops for every hour of training |
| Electrolyte Formula | 80 mg calcium35 mg magnesium34 mg sodium |
| Form and Flavor(s) | Powder (Raspberry Lemonade and Watermelon) |
| Cost | $49.00/30 servings (scoops) = $1.63/serving |
Other Electrolyte Drinks We Researched
With hundreds of electrolyte products on the market, it's tough to narrow down the list to just eight. While we still stand by our picks, other electrolytes we researched and approved of include:
Ultima Replenisher: Our expert product testers liked the flavor of these, but didn't notice any significant effects, so we left it off the list.
Cira Glow-Getter Hydration: Our expert product testers felt like this was much too sweet for most people.
Skratch Labs Sport Hydration Mix
Thorne Research Catalyte Lemon Lime Flavored
Tailwind Nutrition Endurance Fuel
G.1.M Sport and Electrolytes from Bare Performance Nutrition
Ultima Replenisher
Klean ATHLETE Klean Hydration
How We Picked and Tested the Best Electrolyte Drinks
From testing the best fish oil supplements to the best electrolyte drinks, our team of testers has high standards. That's why we based our top picks on the following:
Electrolyte formulation: Because sodium is lost most in sweat, we made sure the selected products were richest in sodium. Of course, the other electrolytes—like potassium, calcium, magnesium, and chloride—are also important for hydration and performance, so the tested products also contain at least one more of these in varying dosages.
Other ingredients added: Electrolytes are the highlight of an electrolyte drink but other ingredients can impact its effectiveness as well. For instance, research shows electrolytes combined with carbs can enhance absorption while providing the athlete with quick energy. Some products also contain additional ingredients—like taurine and branched-chain amino acids—to augment exercise performance and recovery.
Form: Sports drinks—like Gatorade and Powerade—often come premixed. However, the electrolyte products we chose come in compact powders and tablets so you can travel lightly without the worry of spills.
Variety of flavors: Because flavor can enhance water intake and everyone has their own unique preferences, we picked products with various flavor options. From Lemon Lime to Watermelon Salt to Tropical Punch, you're likely to find a flavor that encourages you to drink more.
Brand trust: Is the brand reputable? Do they have easily accessible contact options, as well as a clear refund policy? In addition to evaluating the product, we analyze the brand and company behind it and select those that display high standards just as much as we do at GGR.
Benefits of Electrolyte Drinks
Here's the thing: water will always be the top hydration pick among nutrition experts. But the addition of electrolytes11 can prevent electrolyte imbalances—which are high or low electrolyte levels—that can disrupt normal bodily functions and even be life-threatening.
RELATED: Best BCAA for women
Each electrolyte offers its own unique function to the body. When combined with one, two, or a few others, the electrolytes can improve hydration, athletic performance, recovery, and so much more.
Main Functions & Benefits of Electrolytes
Truly, electrolytes are essential for basic life functioning. Sodium, potassium, and chloride are the significant electrolytes along with magnesium, calcium, phosphate, and bicarbonates, although all are critical for good health. Since each electrolyte has its own significance, it's worth exploring them on their own1:
Sodium: helps control fluid balance (particularly the extracellular fluid, or the fluid outside of the cells) that subsequently impacts blood pressure, promotes normal nerve and muscle functions
Potassium: helps control fluid balance (particularly the intracellular fluid, or the fluid inside the cells), sends nerve signals, promotes muscle contraction, regulates blood pressure, supports bone health, controls heartbeats
Calcium: builds strong bone and teeth, promotes muscle movement, helps blood clot
Bicarbonate*: helps the body maintain a healthy pH, regulates heart function
Magnesium: promotes muscle and nerve function, maintains a healthy heart rhythm, regulates blood glucose levels
Chloride*: helps control fluid balance, balances electrolytes and pH levels, promotes good digestion
Phosphorus*: supports tissue growth and repair, strengthens teeth and bones, regulates normal function of nerves and muscles, makes up our genes
*Bicarbonate, chloride, and phosphorus are mostly added to electrolyte products as pairs with other electrolytes such as Sodium Chloride (table salt), Potassium Chloride, Sodium Bicarbonate, and Potassium Phosphate.
Potential Benefits of Consuming Electrolyte Drinks
Electrolytes are pretty remarkable on their own, huh? But since electrolyte drinks contain a hybrid of electrolytes, or at least sodium partnered with another, let's see how much more electric they are when working together:
Maintain cellular and overall health: At their core, electrolytes are minerals that help regulate chemical reactions in the body's cells related to fluid balance, muscle contraction, heart function, and so much more. They are an important and necessary part of maintaining cellular health that impacts the entire body.
RELATED: Best greens powder
Prevent dehydration: Water is always the drink of choice for optimal hydration but if too many electrolytes have been lost, dehydration is still possible. Adding electrolytes, particularly under certain conditions like intense exercise, can help keep the body hydrated and well-functioning.
Improve athletic performance: Exercise induces weight loss, particularly water weight via sweat, and even losing as little as 1 to 2 percent of body mass can negatively impact physical performance according to this 2018 review12. This makes rehydration13 with water and salt is an important part of the post-exercise recovery process. Also because electrolytes are essential for proper heart and muscle functions, they can improve aerobic capacity preventing muscle cramps.
Offer hydration when sick: Fever, diarrhea, and vomiting often occur when sick and are also common causes of electrolyte imbalances. You can help restore hydration while sick with the help of electrolyte drinks, especially when appetite is low and food just isn't appealing.
Promote recovery: Whether after a grueling workout, injury, or surgery, it's essential to promote an environment for recovery. High-protein foods are ke,y but electrolytes also play a role since they assist in blood clotting, bone health, and tissue growth and repair.
Enhance mood and cognition: The physical effects of dehydration are well-known and the impact on mood and cognition is starting to become more recognized. A 2019 study published in Nutrients14 suggests an electrolyte-water combo can prevent increases in hostility and anxiety while benefiting attention and working memory.
Dosing and Interactions
When considering an electrolyte drink, it's important to identify what you might need to take and if it could interact with certain medications. Factoring any health conditions, like kidney disease, is also extremely important before consuming an electrolyte drink.
Electrolyte Dosages
The number of electrolytes you need mostly varies based on many factors, including age, activity level, and dietary patterns. A good starting point to identify your electrolyte needs is by understanding how much you need daily using Dietary Reference Intakes:
Sodium: 2,300 mg/day (Upper Limit)
Potassium: 4,700 mg/day (Adequate Intake)
Chloride: 3,600 mg/day (Upper Limit)
Magnesium: 3,500 mg/day (Upper Limit from supplements only)
Calcium: 1,000 mg/day
Phosphorus: 700 mg/day (Recommended Dietary Allowance)
These electrolytes are mostly obtained by the foods we eat and if you consume a balanced diet, your electrolyte levels are likely adequate. However, aside from eating a diet that lacks nutrient variety, there are certain instances when an electrolyte drink might be beneficial such as:
Exercising longer than 1 hour
Working out in the heat
Acclimating to high altitudes15
Experiencing major fluid losses, such as via diarrhea and vomiting
Now this begs the question, how much electrolytes should you take? Because sodium is the predominant electrolyte lost in sweat, researchers mostly focus on this mineral: According to this 2022 review16, a sports drink containing 230-690 mg/L of sodium results in optimal absorption and prevention of hyponatremia. Also, recall that the ACSM encourages consuming 500 to 700 mg of sodium if exercise lasts longer than one hour.
And then there's this 2018 study11 that suggests there is no one universal hydration strategy, as each individual sweats at a different rate with varying losses. Individualityy is not a new concept in the nutrition world, as there truly is no "one-size-fits-all" and electrolyte needs are no different.
Overall, while electrolytes are mostly considered safe for the general population, consider consulting with a registered dietitian nutritionist (RDN) or another nutrition expert before taking an electrolyte drink to help identify your unique needs.
Electrolyte Interactions
Electrolytes play pivotal roles in our health but aren't always warranted, especially if you're taking certain medications and/or managing a healthcare condition. This is because electrolytes can interfere with the efficacy of medications and exacerbate certain conditions, which can place tremendous concern on the body's health and safety.
Common interaction risks mostly include diuretics and blood pressure medications, particularly as these medications help manage what electrolytes do—balance fluid and blood pressure. Certain health conditions, such as heart failure and kidney disease, can be managed by following specific dietary guidelines that often encompass fluid balance and respective electrolytes.
Again, reaching out to a dietitian can be immensely helpful for understanding your body's needs and the potential risks of electrolyte consumption. They can also help you pick the best electrolyte drink for you, although you can get a head start using our expert tips right below.
Buying Guide: What to Look for in Electrolyte Drinks
While we focused on variety to encompass a wide array of needs and preferences, there are specific call-outs to look for when choosing an electrolyte drink best for you. These include the amount of electrolytes and additional ingredients the formulation is composed of, as well as factoring in convenience and flavor.
Amount of Electrolytes
Because sodium is the predominant electrolyte lost in sweat, it should be the primary point of interest when looking for an electrolyte drink. You might opt for a higher sodium option (like LMNT Recharge with 1,000mg) or lower (such as Nuun Sport with 300mg), as well as a product with other electrolytes like potassium, depending on your hydration needs.
Additional Ingredients
Your training goals can further guide you to an electrolyte product right for you. For instance, some electrolyte beverages add carbohydrates in various forms—such as glucose and sugar—that can give you [just about] instant energy while training. Especially if you have any food allergies and intolerances, ensure the electrolyte is free of soy, gluten, artificial sweeteners, etc.
Convenience
What electrolyte supplement will best fit your lifestyle? Pre-mixed options, like Gatorade, are available but more compact powders and tablets are as well. Pick which one will be the most convenient one for you to consume when you need electrolytes the most.
Flavor
Absolutely, ingredients do matter, but only if you enjoy, or at least tolerate, them. Many flavors are available—like a fruity Fruit Punch or citrusy Lemon Lime—so choose one that will encourage you to hydrate!
Best Electrolyte Drinks FAQs
What is the best drink to replace electrolytes?
The best drink to replace electrolytes contains at least sodium, which is the electrolyte mostly lost in sweat, along with a combination of the others. Research shows an electrolyte formula with added glucose can increase how well the electrolytes are absorbed and replaced. Overall, the best drink is the one you can easily consume when replenishing electrolytes is needed the most.
Is drinking electrolyte drinks good for you?
Drinking electrolytes is a smart hydration approach if they are inadequate in your daily diet and/or are lost more rapidly with fluid loss whether it be via sweating, vomiting, or diarrhea. However, if you aren't ill and have a balanced diet and shorter, less intense workouts, electrolyte drinks are likely not working in your favor.
Which drink has the most electrolytes?
Based on our list, LMNT Recharge offers the most sodium electrolyte at 1,000 milligrams. However, Pedialyte Sport identifies the most electrolyte variety, including 920 milligrams of chloride, 650 milligrams of sodium, 600 milligrams of potassium, 190 milligrams of phosphorus, and 55 milligrams of magnesium.
Is it OK to drink electrolytes every day?
While drinking electrolytes is considered to be safe for healthy individuals, consuming them in excess is not always necessary in the absence of conditions that increase fluid and electrolyte loss. In fact, you might already be getting sufficient electrolytes through other food and fluid intake. It's best to consult with a healthcare professional to determine if you could benefit from drinking electrolytes daily. 
These statements have not been evaluated by the Food and Drug Administration. This product is not intended to diagnose, treat, cure, or prevent any diseases.
References: