We test and review fitness products based on an independent, multi-point methodology. If you use our links to purchase something, we may earn a commission. Read our disclosures.
Electrolytes are essential for human health1 and become increasingly important as physical activity levels increase. There are many electrolytes, but research points to sodium and potassium as the most critical for optimal hydration1.
But what are the best electrolyte powders? If you're health-conscious, you may be looking for a better option than a sugary Gatorade or a Powerade Zero sweetened with artificial sugar.
Something like Liquid I.V., a popular hydration supplement, might be a better choice for those looking for a quick way to replenish electrolytes and avoid artificial flavors, dyes, and sweeteners. Let's take a deeper look in our Liquid IV review.
Medical disclaimer: This article is intended for educational and informational purposes only. It is not intended as a substitute for medical advice. For health advice, contact a licensed healthcare provider. GGR also recommends choosing a product that has been third-party tested for quality.
Taste-Tested and Trail-Tested
You can find a stick pack of Liquid I.V. in one of my active backpacks almost at all times: Liquid I.V. lives in my favorite hydration vest for running, in my biking backpack, and in my CrossFit bag. Not only have I been using it for years, but other members of our product testing team have tried it, and we're certified nutrition coaches and personal trainers who can break down the supplement facts and ingredients list to tell you how Liquid I.V. will affect your body.
RELATED: Best Supplements for Runners
Liquid I.V. Hydration Multiplier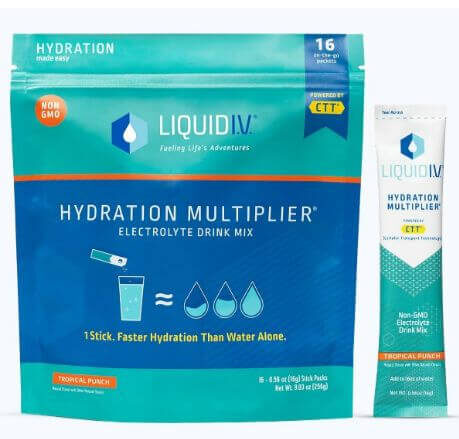 GGR Score: 3.8
Product Highlights
Cellular Transport Technology for rapid absorption

Three times the electrolytes of a sports drink

Contains 5 essential vitamins

Non-GMO and free of artificial ingredients
Pros & Cons
Pros
Hydrates faster than water
Travel-friendly
Contains essential vitamins
Charity donations made with every purchase
Cons
Can be too sweet for some
Stevia can cause GI distress for some people
Bottom Line
Liquid I.V. Hydration Multiplier is a great product to help boost your hydration quickly, especially for people who prefer a less-salty electrolyte drink.
A Quick Look at Liquid I.V. Hydration Multiplier
Liquid I.V. Hydration Multiplier is an electrolyte powder designed to support hydration for runners and other athletes via "cellular transport technology" (CTT). According to Liquid I.V., this technology is an enhanced delivery system that helps water and nutrients absorb into your body's cells more quickly.
Usually, water is absorbed passively via osmosis in the digestive tract. With CTT, water is absorbed actively via sodium-glucose transport. The interactions among the different ingredients in Liquid I.V. (namely sodium, glucose, and potassium) result in rapid uptake of water, thus resulting in quicker hydration than if you drink a glass of plain water.
Liquid I.V. meets the World Health Organization's (WHO) standards for an oral rehydration solution (ORS). A certified ORS is a solution that passes rigorous testing by the WHO to serve as an aid in developing countries and disaster areas, where people are in dire need of rapid hydration.
Oral rehydration solutions such as Liquid I.V. have been shown to be more effective at rehydrating individuals than traditional sports drinks after exercise, according to a 2020 study in the journal Nutrients2.
From a dietary standpoint, Liquid I.V. is suitable for people who eat a non-GMO, dairy-free, soy-free, or gluten-free diet.
Before You Buy
In this Hydration Multiplier review, the main focus is on the Hydration Multiplier product. However, there are a few different Liquid I.V. products, including the Liquid I.V. Sleep Multiplier, Liquid I.V. Energy Multiplier, and Liquid I.V. Immune Support.
People who have hypertension (high blood pressure) or need to monitor sodium intake for any other health reason, should talk to a doctor before supplementing with Liquid I.V.
I recommend buying the variety pack if it's your first time trying Liquid I.V. There are a lot of flavors, so you can buy your favorite next time around.
Is Liquid I.V. Worth It?
Liquid I.V. is a relatively inexpensive way to increase consumption of essential electrolytes, which is necessary for people who are exercising heavily, spending a lot of time outdoors in warm weather, or otherwise partaking in activities that result in high sweat rates.
RELATED: Best Running Shoes
In my professional opinion as a certified trainer and nutrition coach, Liquid I.V. is a worthwhile investment and a simple, convenient option for electrolyte support.
Great for:
Endurance athletes
People who spend a lot of time outdoors, especially in hot weather
Anyone looking to increase electrolyte intake
Not recommended for:
People who need to limit sodium intake
Liquid I.V. Specs
| | |
| --- | --- |
| Price per serving | Depends on package size bought |
| Flavors | 10 flavor options |
| Sweeteners | Organic stevia leaf extract and cane sugar |
| Electrolytes | Sodium, potassium |
| Ingredients | Pure cane sugar, dextrose, citric acid, salt, potassium citrate, dipotassium phosphate, silicon dioxide, stevia leaf extract, vitamin C (ascorbic acid), vitamin B3, vitamin B5, vitamin B6, vitamin B12, natural flavors |
| Instructions | Mix 1 serving with 16 oz of drinking water or to taste |
| Suitable for (diet types) | Gluten-free, non-GMO, soy-free, dairy-free |
| Where to buy | Liquidiv.com, Amazon, retailers like CVS, Walgreens, Walmart, Target, Costco, etc. |
| Liquid I.V. products | Hydration Multiplier, Energy Multiplier, Sleep Multiplier, Hydration Multiplier + Probiotic Kombucha, Hydration Multiplier + Immune Support |
Experience Using Liquid I.V.
Liquid I.V. has been a part of my supplement stack for years. I don't drink it daily, and sometimes I'll go several weeks without drinking it; it just depends on how I feel, what I'm craving, my thirst levels, and my workout volume.
I typically turn to Liquid I.V. when my endurance training volume increases, such as when I'm in the midst of a new triathlon training plan or, in the summer, when I spend some evenings after work out on the mountain bike trails. During long rides on the road or the trails, I keep two of the best running water bottles on my bike: one with plain water and one with electrolytes.
RELATED: Marathon Training Plan
I also like to keep Liquid I.V. on hand during the scorching summer months in general, since I spend more time outdoors.
In any case, Liquid I.V. is 100% a thirst-quencher. While I haven't done any true experimentation—e.g., going on a 2-hour ride with only water and then, under the same conditions, going on a 2-hour ride with Liquid I.V.—I can genuinely say that Liquid I.V. keeps my thirst levels down. Whether it's placebo or not, I don't really care. What works, works!
Also, unabashedly, I'll admit that I use Liquid I.V. as a hangover cure. Actually, I use it as a preventative, consuming it with 20 or so ounces of water before I let my eyes close after a night out. I've never—seriously, never, not once—woken up with a hangover after guzzling a stick pack of Liquid I.V. the night prior.
Sometimes, I'll forget and drink it in the morning instead. It helps, but by that point it's usually too late and the headache is already setting in. Word to the wise: Hydration Multiplier after drinks, before bed, and you won't miss your Saturday a.m. partner workout.
GGR editor and product tester Nicole Davis also ended up loving Liquid I.V. for pregnancy, stating, "Being pregnant, I am parched at all times, and many times Liquid I.V. is the only thing that will really quench my thirst.
RELATED: Best Protein Powder for Pregnancy
"I feel like I drink water constantly and am still thirsty, but I pop one of these bad boys and I'm good," she continues. "I will buy more of this when it runs out, which I don't feel like I've said often during supplements testing!"
What to Consider About Liquid I.V.
Using our extensive supplement testing methodology, I'm going to walk you through the things we considered when ordering, testing, and tasting Liquid I.V. Hydration Multiplier, including:
Price per serving
Formulation and ingredients
Taste and solubility
Side effects
Third-party testing
Price Per Serving
The price per serving for Liquid I.V. Hydration Multiplier varies depending on where you buy it, such as on Amazon or in-person at your local Walgreens.
Here's the price breakdown on the Liquid I.V. website (before shipping and taxes):
16 pack: $24.99
32 pack: $49.98
48 pack: $74.97
64 pack: $99.96
All of these come down to about $1.56 per serving. Unfortunately, the price per serving doesn't decrease when you purchase more at a time.
There is a save-and-subscribe option available on the website, though. It'll bring the price to about $1.20 per serving.
Formulation and Ingredients
Although Liquid I.V. sugar content is fairly low compared to traditional sports drinks, it's worth noting that it contains pure cane sugar, dextrose, and stevia leaf extract in the ingredients for a total of 11 grams of sugar per serving.
RELATED: Best Low-Sugar Protein Bars
Additionally, the natural flavors vary based on the flavor you choose, but Liquid I.V. doesn't disclose exactly what they are. On the website, it's advertised that the flavors come from sources like fruits, vegetables, and roots.
That said, the Liquid I.V. ingredients list reads:
Pure cane sugar: Provides sweetness in flavor and carbohydrates for energy
Dextrose: A type of sugar that is derived from corn or wheat
Citric acid: Food additive for flavor and preserving ingredients
Salt: Helps control fluid balance outside of cells that subsequently impacts blood pressure, promotes normal nerve and muscle functions
Potassium citrate: Helps control fluid balance inside of cells, sends nerve signals, promotes muscle contraction, regulates blood pressure, supports bone health, controls heartbeats
Dipotassium phosphate: Food additive that functions as an emulsifier, stabilizer, and texturizer
Silicon dioxide: Food additive that functions to avoid powders from clumping
Rebaudioside-A (stevia leaf extract): Provides sweetness to flavor
Vitamin C (ascorbic acid): Antioxidant that helps protect cells against free radicals
Vitamin B3 (niacinamide): Helps keep nervous system, digestive system, and skin healthy
Vitamin B5 (D-calcium pantothenate): Plays a crucial role in making red blood cells
Vitamin B6 (pyridoxine hydrochloride): Helps aid healthy function of nervous system and immune system
Vitamin B12 (cyanocobalamin): Aids healthy function of blood and nerve cells
Natural flavors: Food additive extracted from plant or animal sources
If you choose a different Liquid I.V. product, such as Sleep Multiplier or Energy Multiplier, you'll see additional ingredients, including: l-theanine, melatonin, matcha, valerian root, zinc, Coffeeberry Energy Extract, CognatIQ Coffee Fruit Extract, and Guayusa.
Taste and Solubility
Upon tasting Liquid I.V. for the first time, you'll immediately notice that it's salty—like, really salty, at least to me. The suggested use instructions on the packaging say to mix one serving or one stick pack with 16 ounces of water (which is one standard bottle of water), but I prefer to use 20 to 24 ounces to dilute the saltiness a bit.
I'm unsure if that affects the cellular transport technology or not. If you're super serious about maximizing the hydration potential, it's probably best to stick to the suggested usage.
At the time of writing, the Liquid I.V. flavors lineup includes:
Lemon Lime
Tropical Punch
Pina Colada
Concord Grape
Golden Cherry
Acai Berry
Guava
Passion Fruit
Strawberry
Watermelon
The best Liquid I.V. flavors (in my opinion) are the Passion Fruit, Acai Berry, and Lemon Lime flavors. I've also tried Strawberry, Tropical Punch, and Guava, and they're good, too.
RELATED: Best-Tasting Protein Powder
Nicole also likes Lemon Lime and Acai, so those are two-for-two on our team: "Really yummy," she says. "It's not super sweet, and the flavor really comes through, which I like."
Nicole doesn't find Liquid I.V. quite as salty as I do, saying that it's "just a touch salty." She goes on to say that the flavor and texture are "fine if you follow the instructions and mix with 16 ounces of water. If you try to short it, it turns out grainy and much too pungent…don't ask me how I know that."
Yes, Hydration Multiplier dissolves nicely, like Nicole said, when you follow the instructions. Your water will remain nearly clear—just a little foggy looking, as Liquid I.V. doesn't contain any dyes or artificial colorings.
Side Effects
Healthy individuals should be able to drink Liquid I.V. without any problems, side effects, or health issues. People who have hypertension or another medical condition that requires them to monitor and/or limit sodium intake should consult with a medical professional before drinking Liquid I.V.
If you drink too much Liquid I.V.—that is, more than the one recommended serving (one stick pack) per day—you may experience the side effects of overconsumption of salt.
Such side effects include:
The primary long-term effect of excessive salt intake is elevated blood pressure3, but some research has linked high-salt diets to an increased risk of gastric cancer5 and negative implications for heart health6, too. However, research on the latter two is not conclusive.
One serving of Liquid I.V. contains 510 milligrams of sodium, which equates to 22% of the daily value for a 2,000-calorie diet. If you're watching your salt and/or sodium intake, Liquid I.V. may not be the right supplement for you.
Third-Party Testing
Liquid I.V. has a pretty thorough webpage that explains the science behind the formulation of the powder, but as far as I can tell, the products aren't vetted or certified by agencies like the National Sanitation Foundation (NSF), which independently tests supplements for potentially harmful ingredients and ingredients banned in sport.
The company does claim it meets the WHO standards for an oral rehydration solution, however it's not clear whether the product has actually been subject to WHO testing.
Not having a certification doesn't mean a product is inherently bad or unsafe, but as nutrition coaches and trainers, we like to see third-party testing and certifications. This also doesn't mean that Liquid I.V. is not currently in the process of third-party verification.
Liquid I.V. vs Nuun
Nuun Hydration
GGR Score: 4.6
Product Highlights
Some flavors offer caffeine for energy 

Tablet form makes this perfectly portable

Certified vegan, kosher, gluten-free, and non-GMO

Third-party tested for banned substances
Pros & Cons
Pros
Low in sugar
Travel-friendly
Low per serving cost
Gluten-free and vegan
Non-GMO and kosher
Lots of flavor options
Cons
Tablets can be hard to fit in the mouth of some bottles
Tablets are hard to dissolve
Stevia can cause GI ditress in some people
Bottom Line
If you need something easily portable that you can toss in your bag and go, Nuun Sport is a great choice in electrolyte supplements.
Nuun is the other electrolyte supplement you can find in my home almost at all times. I got hooked on Nuun when I trained for my first triathlon and I love it for both training and everyday hydration.
Nuun is also one of our top picks for best electrolyte drinks. And if you thought that supplements couldn't get more convenient than stick packs, well, I've got news: Nuun comes in insanely convenient tablets that work like alka seltzer tablets. Just pop one in a glass or bottle of water and let it fizz. The tablets come in small plastic tubes that can fit virtually anywhere.
Nuun offers many variations of the tablets, but we'll focus on Nuun Sport. Taste-wise, the Sport tablets are much milder than Liquid I.V. You also get a slight sensation of carbonation, which is fun. There are 12 flavor options, four of which are also available caffeinated.
Compared to Liquid I.V., Nuun Sport contains less sodium (300 mg) and less potassium (150 mg), but also contains magnesium, chloride, and calcium. The electrolyte profile is broader, but the intent is different. Nuun Sport is a "level 2" product from Nuun, which intends to replenish electrolytes lost during physical activity. Nuun's "level 3" products function more similarly to Liquid I.V. in that they are intended for very rapid rehydration.
Liquid I.V. vs DripDrop Oral Rehydration Solution (ORS)
DripDrop ORS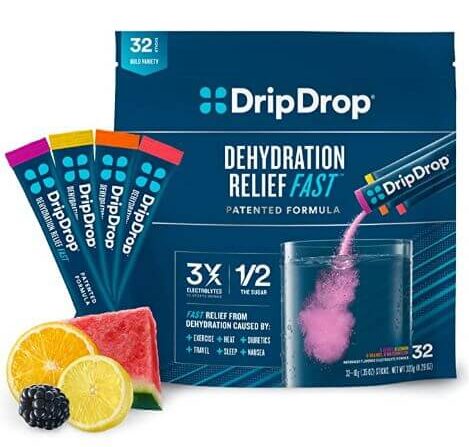 GGR Score: 4.25
Product Highlights
Developed by a doctor

Precise ratios of sodium and electrolytes 

No artificial flavors or preservatives

DripDrop is a Public Benefit Company

Free of gluten, soy, and dairy

Non-GMO, vegan, and kosher
Pros & Cons
Pros
Delivers hydration fast
Zero-sugar option available
Formulated by a doctor
Money-back guarantee
Lots of flavor option
Cons
Very sweet taste
Contains artificial sweetener
16 oz packets only available in 80-count box
Bottom Line
DripDrop has a doctor-formulated electrolyte mix to hydrate you fast. With plenty of flavors, some that are even sugar free, and sticks that come for 8 or 16 ounces of water, it is a customizable option for anyone.
DripDrop was created by a doctor who worked in areas where people needed extreme, quick rehydration solutions and IV therapy was not available. Such areas include natural disaster zones, developing countries, and refugee zones.
Like Liquid I.V., DripDrop contains a specially formulated solution that increases absorption of water into the body's cells. The formula includes 330 milligrams of sodium, 7 grams of sugar from fructose and dextrose, 185 milligrams of potassium, 39 milligrams of magnesium, and 1.5 milligrams of zinc.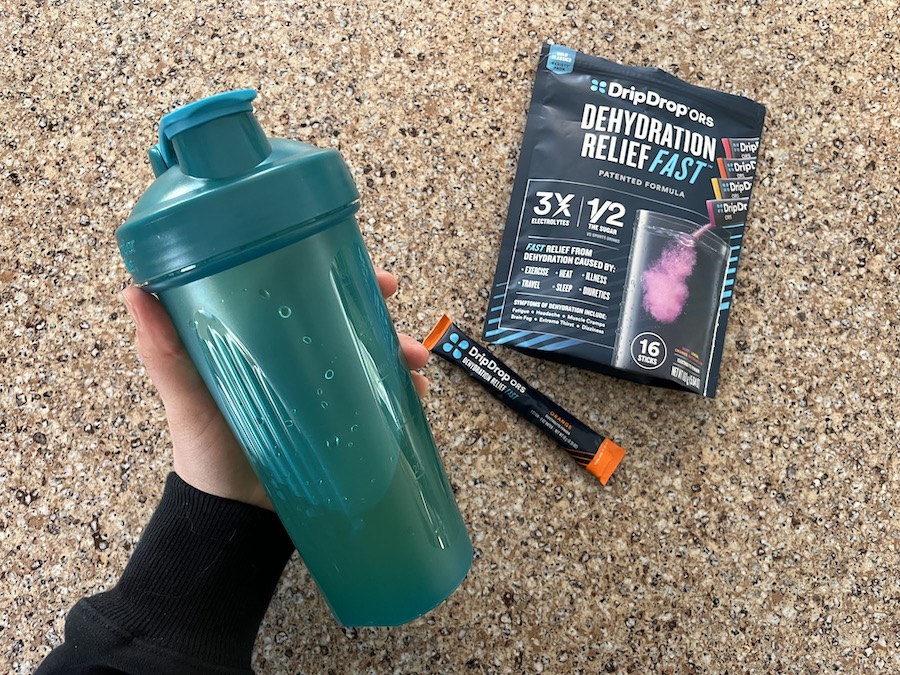 The primary differences between DripDrop and Liquid I.V. are the electrolyte profiles and the sources of sweeteners—Liquid I.V. uses dextrose alone, while DripDrop also includes fructose. Additionally, Liquid I.V. uses stevia for taste while DripDrop uses sucralose.
In my personal experience, DripDrop flavors are more robust than Liquid I.V., but they also feel saltier. Otherwise, I truly don't notice much difference in the effects between them.
Customer Experience With Liquid I.V.
The customer experience will differ depending on where you buy Liquid I.V. You can find Liquid I.V. products in person in many retail stores, as well as online on Amazon and through grocery delivery.
I usually pick it up during grocery runs, so I've never had to interact with Liquid I.V. customer support. However, should you have the need to, you can get in touch with the company via email, phone, or online contact form.
Ordering Liquid I.V.
Again, depending on where you choose to purchase it, the process will be a bit different. I think it's easiest to buy Liquid I.V. on Amazon or in a store. You can get it same-day on Amazon Prime depending on your location.
Customer Reviews
Liquid I.V. reviews are generally positive. At the time of writing, Hydration Multiplier has an average rating of 4.7 out of 5 stars on Amazon with more than 30,000 reviews.
One reviewer who suffers from bad headaches wrote: " I had a terrible headache tonight, and when that happens they don't ever go away until the next morning, even when I chug water and take pain medicine. I chugged a Liquid I.V. and it actually disappeared within 10 minutes! I felt a difference in one!! It definitely works to hydrate you quickly!"
Others say it's "not a miracle, but helps": "I wouldn't say this is a miracle cure or anything, but I could tell the difference after using it. It did help with my headache, but all the other symptoms of a hangover were still present. The taste is ok, definitely not the best strawberry drink I've ever tasted, but I know it has to be super sweet to cover up the salt content. I would say the price is a bit high, but overall not a bad product."
Several reviewers share that they prefer to mix one packet in more than the recommended 16 ounces of water to dilute the salty taste.
And like myself, many people seem to use Liquid I.V. as a hangover remedy. I wouldn't steer you wrong on this front!
Interestingly, I don't see many reviews from athletes—most are from regular individuals who were looking for hydration support during long work days, for headache relief, and for a tasty way to drink more water without artificial sweeteners.
Final Verdict of Our Liquid IV Review
Liquid I.V. is a good supplement for hydration support in active individuals or those whose sweat rate is high for other reasons. It's also a great hangover cure!
People with hypertension should talk to a healthcare professional before supplementing with Liquid I.V.
Liquid I.V. can support hydration during intense or long workouts.
It may help in instances where you need quick rehydration, such as after drinking alcohol, or if you forgot to drink enough water a couple days in a row.
Full Liquid IV Rating
Liquid I.V.
Liquid I.V. is a rapid rehydration solution that, using Cellular Transport Technology, helps the cells in your body absorb water faster via sodium-glucose transport.
Product Brand: Liquid I.V.
Product Currency: $
Product Price: 24.99
Product In-Stock: InStock
Liquid I.V. FAQs
We answered some frequently asked questions on Liquid I.V.:
What is Liquid I.V.?
Liquid I.V. is an electrolyte powder you can mix with a glass of water to improve hydration. It contains the electrolytes potassium and sodium, along with non-GMO glucose and other ingredients to increase water uptake by the body. 
Is Liquid IV healthy? 
It depends on what you mean by "healthy." Liquid I.V. can help support proper hydration, especially for those who sweat a lot and sweat often. This electrolyte drink mix is healthier than many traditional sports drinks thanks to the lower added sugar content (as compared to something like Gatorade—not Gatorade Zero). Electrolyte powder like Liquid I.V. brings health benefits such as improved hydration and reduced exercise fatigue.
Does Liquid I.V. really cure hangovers? 
There's no cure for hangovers per se, other than simply waiting it out and drinking enough water before, during, and after drinking alcohol, but a product such as Liquid I.V. can help. In my own experience, Liquid I.V. helps tremendously when taken with 16 to 20 ounces of water before going to sleep after a night of drinking alcohol.
When should you drink Liquid I.V.?
According to the suggested use on the packaging, you can drink Liquid I.V. daily at any time, but it may be best consumed during or after exercise. If you drink Liquid I.V. daily, just be sure to monitor your salt intake if you have or may be prone to high blood pressure or cardiovascular diseases.
Does Liquid I.V. raise blood sugar? 
Seeing that Liquid I.V. contains glucose, yes, it can temporarily raise your blood sugar. Assuming you're drinking it to support sports performance, that's not necessarily a bad thing. If you have a medical condition that requires you to watch your blood sugar levels, it's best to consult with your doctor before beginning to supplement with Liquid I.V. 
These statements have not been evaluated by the Food and Drug Administration. This product is not intended to diagnose, treat, cure, or prevent any diseases.
References