We test and review fitness products based on an independent, multi-point methodology. If you use our links to purchase something, we may earn a commission. Read our disclosures.
A Beginner Triathlete's Comprehensive Guide to Preparing for a Multisport Race
Some people see triathletes as bold go-getters who refuse to be good at just one thing. Others view them as bonkers. If you're here, I'm willing to guess you fall into the former group and you're researching how to train for a triathlon because you want your token of endurance competence, too!
Well, you've arrived at the right webpage: Whether you're training for your very first sprint triathlon or looking for advice on leveling up to a long-distance triathlon race, we've got you covered in this guide to triathlon training.
Breaking Down a Triathlon: The Three Disciplines of Multisport Racing
Triathlon consists of three separate sports performed in succession: swim, bike, and run. All of these are pretty self-explanatory, but we'll look at some details of each.
Swim
The swim segment of a triathlon typically takes place in open water, meaning a bay, inlet, river, lake, or other body of water. For the shorter distances (which we cover in detail below), the swim may take place in a lap pool. (Learn more about indoor triathlon training.)
For cold open water swimming, you'll want a wetsuit, especially for longer distances. In some warm places, USAT-sanctioned races (races certified by the USA Triathlon organization) actually do not allow wetsuits. You'll have to check the details of the race you want to register for wetsuit legality.
Bike
Depending on where you're at, the bike course may consist of flat terrain or hilly, winding terrain. One thing is for certain, though: in a USAT-sanctioned race, the bike course will not venture off of paved road. So, you'll want a road bike or a triathlon bike if you're getting serious about triathlon as a sport. (But any bike will do if you're just doing it for fun!).
Related: Best Cycling Apps to Track Your Bike Rides
Run
Run courses vary and may take place fully on a paved road or a mixture of road, gravel, and trail. You'll want good running shoes and comfy clothes (if you're not wearing a tri suit).
The run is the last portion of a triathlon, which arguably makes it the most difficult, even if you're a good runner. You should practice running under fatigue to prepare for this, which we'll cover in more detail in our triathlon training plan later.
Types of Triathlons
Here's an overview of different triathlon distances, including short-course and long-course races.
Short-Course Triathlon Distances
There are three standardized short-course triathlon distances: the super sprint, sprint, and Olympic distances. Yes, I was equally as surprised when I learned that the Olympic-distance triathlon is considered a short course!
Super Sprint Triathlon
Extremely beginner-friendly and a fun way to work on speed, super sprint triathlons consist of:
250-meter swim
5K bike (3.1 miles)
1.2K run (about ¾ of a mile)
A super sprint triathlon is the perfect way to dip your toes in the water (literally) of multisport racing. This is a newer format and race distances for super sprints don't seem to be standardized yet, so we listed the distances that athletes raced at the 2023 inaugural USA Triathlon Multisport National Championships Festival.
You should allow for three to four hours of triathlon-specific training per week for a super sprint tri.
Sprint Triathlon
A step up from the super sprint, the sprint triathlon includes:
0.46-mile swim (750 meters)
20K bike (12.4 miles)
5K run (3.1 miles)
While sprints are still very beginner-friendly, they'll take about an hour more of training time per week, so allot four to five hours each week.
Olympic Triathlon
Perhaps the most popular recreational race distance, the Olympic triathlon consists of:
1.5K swim (0.93 mile)
40K bike (24.8 miles)
10K run (6.2 miles)
Even for moderately conditioned individuals, training for an Olympic tri will require a dedicated training plan and up to 12 hours of training per week—that is, if you'd like to not feel like you've been hit by a bus the day after your race.
Related: Indoor vs Outdoor Cycling—Which Is Better?
Long-Course Triathlon Distances
If there's one thing about triathlon, it's that there is no middle ground between short-course racing and long-course racing.
The jump from an Olympic triathlon to a half-Ironman (the shortest long-course version) is absurd if you ask me. It includes 50 more kilometers on the bike, not to mention the differences between the swim and run!
Long-course triathlon racing is not for the faint of heart—let's take a look at the standardized distances.
Half-Ironman
Also known as the "70.3 race", a half-Ironman includes:
1.93K swim (1.2 miles)
90K bike (56 miles)
Half-marathon run (13.1 miles)
You will need a minimum of eight hours of training per week to prepare for this type of race, although first-timers will need up to 12 hours per week.
Full Ironman
Finally, a full Ironman triathlon consists of:
3.9K swim (2.4 miles)
180K bike (112 miles)
Marathon run (26.2 miles)
Quite frankly, just looking at those distances makes me shudder. Preparing for a full Iron-distance triathlon requires double-digit hours weekly, even for (or perhaps especially for) the most advanced racers.
How to Train for a Triathlon
Now that you're briefed on the different triathlon distances, we'll dig into how to actually train for one. We're looking at how to train for an Olympic-distance triathlon, considering that it is a highly popular recreational distance that the average healthy person can successfully complete with a bit of determination and time (and it's where our expertise ends, as none of our trainers have completed a longer triathlon).
Related: How to Build Stamina for Long-Distance Running
Olympic-Distance Triathlon Training Schedule
Beginner triathletes should expect to commit to four to six training sessions per week. Triathlon is a time-intensive endurance sport and requires you to become proficient in three separate activities—no small feat!
Rest assured you'll feel proud and accomplished that you dedicated so much time and effort for your race medal.
A common weekly split for Olympic-distance triathlon training is some variation of two runs, two swims, two bike rides, and a brick workout.
A Word on Brick Workouts
A "brick" workout is a term used in triathlon training to describe one training session that includes two disciplines. A brick workout can be any variation of:
Bike+run
Bike+swim
Swim+run
It's important to include these, since they're good practice for the act of transitioning from one activity to another, as well as for building up work capacity under fatigue. Trust me, when it comes time to transition from the swim to the bike and from the bike to the run on race day, you'll be glad you sprinkled some brick workouts into your training plan.
12-Week Olympic Distance Triathlon Training Plan
This training program will prepare you for the Olympic-distance triathlon, which includes a 0.93-mile (1.5-kilometer) swim, 24.8-mile (40-kilometer) bike, and 6.2-mile (10-kilometer) run.
This plan includes individual run, bike, and swim workouts, as well as brick workouts and strength training sessions.
It should be noted that this plan is intended for individuals who have some cardio training under their belt and can commit to six training sessions per week for a total of 12 weeks of training, including four triathlon training sessions and two cross-training sessions. (The 13th week is race week).
Before starting this plan, you should be able to:
Run 3 miles without stopping (at any pace)
Bike 8 miles without stopping (at any pace on any terrain)
Swim 50 meters (two laps in an Olympic pool) without stopping
If you think you need more than 12 weeks to prepare, it would be a wise move to hire a USA Triathlon (USAT)-certified triathlon coach or subscribe to a service like TrainingPeaks and choose a plan that suits your needs.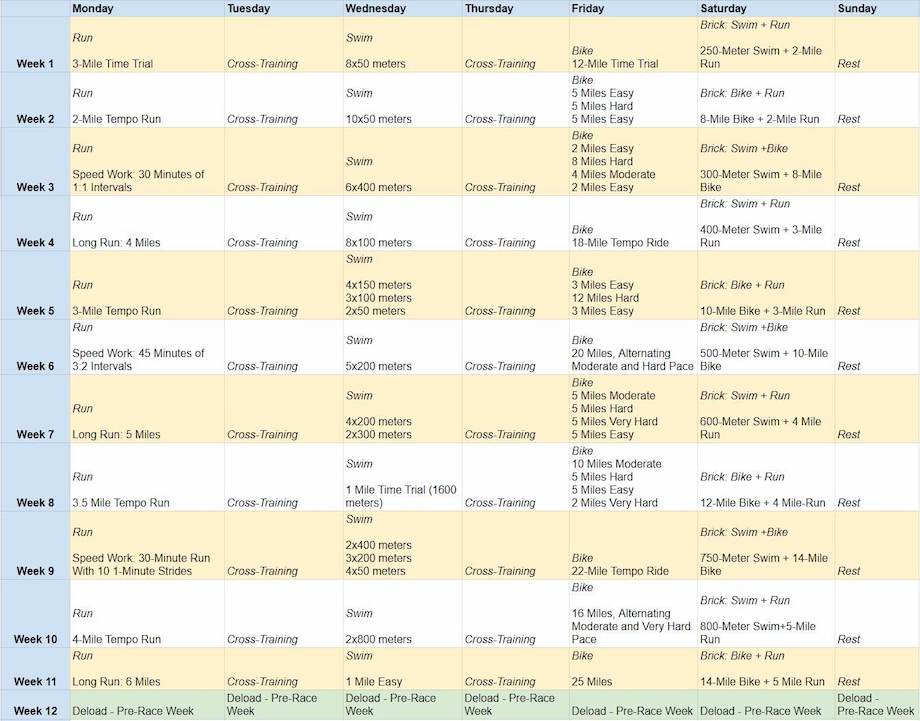 What Gear Do You Need to Train for a Triathlon?
Triathlon is a rather gear-heavy sport. You need garb and gear that allows you to swim, bike, and run, after all—three things that require their own individual setups.
However, you don't need to fork out as much cash as you might think. Some people will tell you that you need a wetsuit (only if you're going open-water swim in cold waters), a high-quality road bike, clip-in pedals and special cycling shoes, an ultra-aerodynamic helmet, and a heart rate chest strap, among other things.
This simply isn't true for your first race—or even your second, third, or more, as long as you're training in a way that's comfortable for you and your gear allows you to reach your goals.
Take it from me: I completed my first triathlon on an entry-level mountain bike wearing a basic one-piece training swimsuit and Target bike shorts. Did I place on the podium or even come close to winning my age group? No, of course not—but my sole goal was to cross the finish line.
Now that I've determined that I do enjoy the sport of triathlon, I've been slowly investing in better triathlon-specific gear that will be more comfortable (and faster) for future races.
This is to say, all that you really need is:
A swimsuit appropriate for the water conditions you'll be swimming in
A swim cap (usually provided at the race)
Goggles
Running shoes and socks
A bike (any bike capable of safely traveling the race distance)
A helmet
Comfortable shorts for the bike leg and run
A water bottle, running hydration vest, or other vessel for fluids
Race nutrition (energy gels, fruit, etc.)
A bag to hold all of these items in your transition area
Triathlon Training FAQs
Now that you know how to train for your first triathlon, here are some answers to very common questions among first-time triathletes.
How long does a triathlon take? 
The time it takes to complete a triathlon depends first on which type of triathlon you choose to do: a super sprint, sprint, Olympic, half-Ironman, or Ironman. Like times for marathons and other races, the time tables for triathlons are vast. Olympic-distance triathlon race times range from under 2 hours to more than 4 hours. A "good" Olympic time for a beginner would be anything under 4 hours. (Good in quotes because it's subjective). 
And don't forget: Your final race time includes your transition times, so don't forget to practice moving from the water to the bike and from the bike to the run.
What is the hardest part of a triathlon? 
The toughest part of a triathlon depends on your unique strengths and weaknesses. Someone who comes from a running background will find the swim or bike segment hardest. Likewise, someone who already has experience with bike workouts will find the run or swim harder. I think it's safe to say that the majority of beginners will find the swim segment to be the hardest, though, considering that most people don't have easy access to a lap pool and lap swimming is not as popular an exercise choice as running or cycling.
Which segment of a triathlon takes the longest? 
The bike ride is the longest portion of the race, by far—no matter which distance you choose. In a sprint, biking 12.4 miles will take longer than running a 5K; in an Olympic race, biking 24.8 miles will take longer than running a 10K; and so forth, regardless of how good of a cyclist you are.
How many weeks does it take to train for a triathlon? 
People with some cardiovascular training under their belt can sufficiently prepare to complete an Olympic  triathlon in about 12 weeks. If you're a true beginner, you'll want to allot more time. About six months should be sufficient for a true beginner. People who can already adequately perform in one of the three disciplines may not even need 12 weeks of training. For instance, someone who can already run a 10K may only need six to 10 weeks to prepare for the swim and bike segments.