We test and review fitness products based on an independent, multi-point methodology. If you use our links to purchase something, we may earn a commission. Read our disclosures.
Following any restrictive diet can be difficult. Whether you're new to tracking sodium intake or you've been doing it for a while and just want to make things a little easier, the best low-sodium meal delivery services can take some of the pressure off.
RELATED: Low-Calorie Meal Delivery
Even better? The GGR team, which includes an expert bunch of certified personal trainers, nutrition coaches, and professional athletes, tested more than 40 of the best meal delivery services and narrowed them down to eight of our favorite options so you don't have to do any of that preliminary work yourself.
We gave each meal delivery service a score based on various criteria, including:
Price
Portion size
Ease of preparation
Meal variety
Taste
Ultimately, the following companies were crowned the best low-sodium meal delivery services.
Medical disclaimer: This article is intended for educational and informational purposes only. It is not intended as a substitute for medical advice. For health advice, contact a licensed healthcare provider.
Best Low-Sodium Meal Delivery Service
Best Gourmet Low-Sodium Meal Delivery: CookUnity
Good for: People who want fancier meals without a lot of extra effort
CookUnity does things a little differently than other meal delivery services. Instead of a boilerplate menu, the company sources recipes and meals from local chefs around the U.S. so you can try different food styles and cuisines.
"CookUnity is unique because it offers chef-made entrees delivered fresh to your doorstep. Its culinary artists create authentic cuisines you'd expect to get at a nice restaurant, except you can enjoy them in the comfort of your own home," says registered dietitian and GGR Expert Panelist Perry Nix. 
The meals are different for the East Coast, West Coast, Midwest, and Texas, and you'll find upscale menu options like Braised Short Ribs with Parmesan Grits and Charred Broccoli (yes, this is a low-sodium choice at the time of publication). This is part of the reason it earned the spot of "best gourmet," but it has a lot to offer beyond that, too.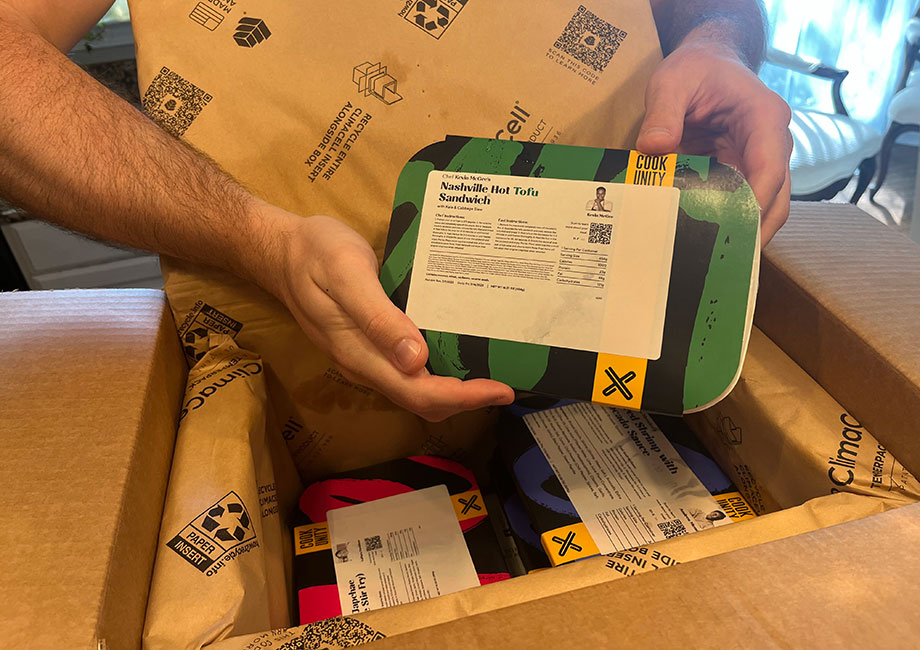 It's easy to filter meals by the "low-sodium" qualifier—you can choose the option from the dropdown menu—and you'll get plenty of options. There are about 30 lower-sodium meals to choose from for each territory every week. All meals are pre-cooked, so you'll just have to heat them once they arrive.
One issue, however, is that the company doesn't list the full nutrition facts for each meal online. You can see calories per serving but not the specific sodium levels (and there's no macro breakdown on-site either). Ultimately, you have to take their word for it when ordering. That said, GGR Performance Editor and certified personal trainer (CPT) Anthony O'Reilly reports that the nutritional information is listed on the meals once you receive them. But if you're on a strict low-sodium diet, having that information before you order your meals is probably vital.
Anthony scored CookUnity a 5 out of 5 for both variety and meal plans/customization, saying there are dozens of meals to choose from that fit multiple lifestyles and diets. Taste was a little hit or miss—Anthony gave this service a 4 out of 5 for ingredient quality and a 3 out of 5 for taste—but some of this came down to personal preference.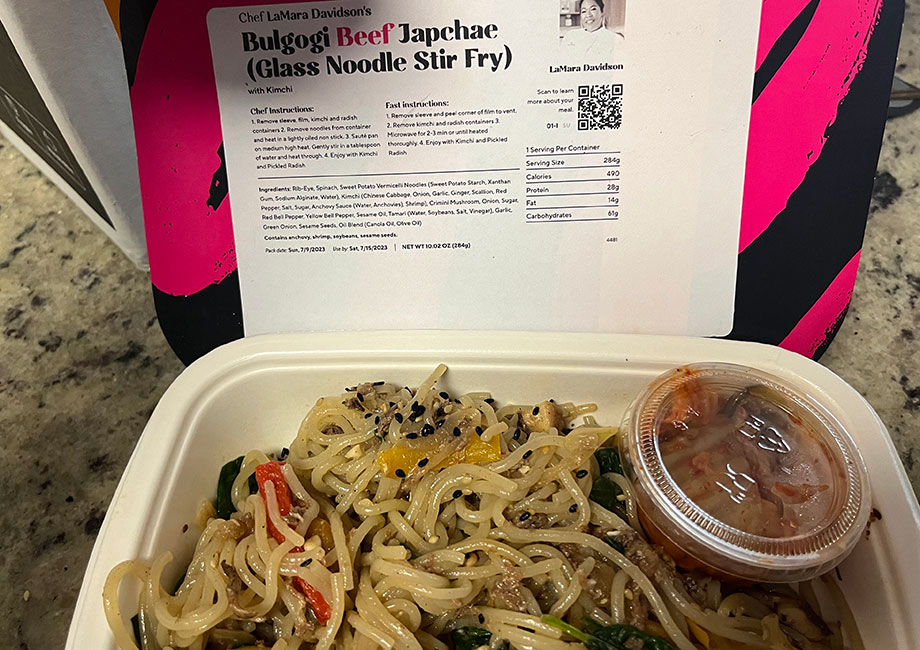 Some of the meals tasted a little bland to him, but that's pretty common with low-sodium food. The upside is that you can season it however you like when you get it (within reason, of course).
| | |
| --- | --- |
| Price per serving | Starts at $11.09 per meal |
| Type (meal kit or prepared) | Prepared meals |
| Meals per week | 4-16 |
| Delivery area | Most contiguous U.S., excluding parts of Montana, Wyoming, Colorado, South Dakota, North Dakota, and Nebraska |
| Meals we tried | Nashville Hot Tofu Sandwich, Bulgogi Beef Japchae, Potsticker Noodle Bowl with Ground Pork |
Best for Medical Diets: BistroMD
Good for: People looking for more restrictive diets for various health reasons
BistroMD is a doctor-designed meal delivery service that's intended to be a form of medical nutrition therapy.
"BistroMD offers ready-made entrees that cater to a variety of dietary preferences and health conditions. By answering a few quick questions, they help you determine the best program for your needs. Whether you're looking for a diet to help you lose weight, improve heart health, or manage blood sugar, there's a meal plan for you," says Perry Nix, RD, LD.
There are various "medical" diet options, like Keto Flex, Diabetic-Friendly, Menopause, and Vegan, but the low-sodium plan is the Heart Healthy Program.
All meals on this program are at or below the American Heart Association's1 (AHA's) recommendations for sodium, as well as calories, total fat, and saturated fat. This means that the meals contain less than 600 milligrams of sodium and 3.5 grams of saturated fat per serving.
BistroMD says they're designed to help lower blood pressure for those with high blood pressure and support weight loss and general wellness—but check in with your doctor or a nutritionist about what you should be eating to support your health goals, especially if you have any form of heart disease.
All meals come pre-cooked and are frozen before delivery. This can be a downside for those who prefer fresh meals, but it does extend the shelf life; frozen meals can last several months, while refrigerated meals typically last a week at most.
The menu has a decent amount of variety, too. There are about 100 options to choose from, including breakfasts, lunch/dinner entrees, and snacks. GGR staff writer and certified personal trainer (CPT) Lauren Strong rates BistroMD a 5 out of 5 for variety (she tried the Signature Program).The options don't change every week, but they do switch things up and rotate meals every so often. And you are able to access the full nutritional information (including sodium amount) on the site, getting another 5 out of 5 from Lauren for this category.
| | |
| --- | --- |
| Price per serving | Starts at $8.99 per meal |
| Type (meal kit or prepared) | Prepared meals (frozen) |
| Meals per week | 10-20 |
| Delivery area | Contiguous U.S. |
| Meals we tried | Chicken, Rice, and Cheddar Casserole; Sloppy Joe with Cabbage Slaw; Turkey Breast with Cranberry Apple Chutney; Merlot Meatballs with Grits; Chicken Florentine Cannelloni |
Best Prepared Low-Sodium Meal Delivery: Snap Kitchen
Good for: People looking for delicious prepared meals with generous portion sizes
Several prepared meal delivery services made this list, but Snap Kitchen earned this special callout because GGR social media manager and expert tester Brittany Combs gave it really high ratings for taste (4 out of 5), ingredient quality (4.5 out of 5), and portion size (5 out of 5).
"Everything I ate looked really good. I never once cringed when I opened a container. I'm not 100% positive on where they source the food from, but…their food contains zero preservatives, antibiotics, artificial sweeteners, hormones, or other junk," Brittany says.
She was also impressed with the high-quality ingredients, saying that the veggies taste fresh, not mushy or gross like some other services she tried. There's not a ton of variety (Brittany scored a 3.5 out of 5 for this), but there are various meal types, like heavier entrees and lighter fare like soups and salads.
It's worth mentioning that Snap Kitchen doesn't market its meals as low-sodium per se (there's no specific low-sodium menu), but because they use mostly fresh ingredients, there are many options that are naturally low-sodium. And all nutrition facts, including the amount of sodium, sugar, and fiber, are listed on the website so you can design your diet plan to hit your overall goals during the ordering step.
The major downside is that Snap Kitchen doesn't deliver nationwide yet because they're a smaller company located in Texas. The company doesn't say exactly where it delivers, other than "Texas and many states within the continental United States," but I can't get delivery to any zip code in Massachusetts.
Perry Nix, RD, LD, calls out another potential downside, saying, "Some entrees include only one side and no vegetables. Personally, I like my plate to include protein, grains, and vegetables for a variety of nutrients."
However, this is more of a personal preference, and you'll always have the option of adding extra veggies if you want to build out your meals a little more.
| | |
| --- | --- |
| Price per serving | Starts at $11.92 per meal |
| Type (meal kit or prepared) | Prepared meals |
| Meals per week | 6-12 |
| Delivery area | Texas and many states within the continental U.S. |
| Meals we tried | Buffalo Burger with Roasted Cauliflower, Korean BBQ Meatballs, Bison Quinoa Bowl, Peach BBQ Brisket, Country Breakfast Bowl |
Best Low-Sodium Meal Kit: Sunbasket
Good for: Anyone who prefers a little more cooking and preparation
Sunbasket is the only meal kit service that made this list. It's not that the others, like HelloFresh and Green Chef, don't have low-sodium options, but Sunbasket just has more to offer. (And many of the ingredients are organic, too).
RELATED: Green Chef Reviews
For starters, there are breakfast, lunch, and dinner options, as well as extra bulk proteins, snacks, and sides, so you can really build out your meals for the week with one order. There are also a handful of prepared meals if you ever want to switch things up.
The variety is where Sunbasket really shines, which is why GGR Senior Writer and certified nutrition coach (CNC) Amanda Capritto gave it a 4.5 out of 5 for this category.
"There are a LOT of meals to choose from across two different meal categories (meal kits and "fresh-and-ready"). The meal kits you have to cook yourself. The ingredients come in a paper bag and with a recipe card. The fresh-and-ready meals just need to be popped in the microwave and are great for a quick lunch. You could easily use this subscription for several months without getting bored," Amanda says.
RELATED: Best Meal Kits
Taste does leave a little something to be desired. Amanda gave Sunbasket a 3.75 out of 5, saying that she "doctored up" almost every meal with more herbs and spices, flavorful ingredients like honey or hot sauce, and extra aromatic veggies.
The upside is this gives you a little more freedom to make things just like you want them, but if you're a true novice in the kitchen, you may not want to put in the extra effort.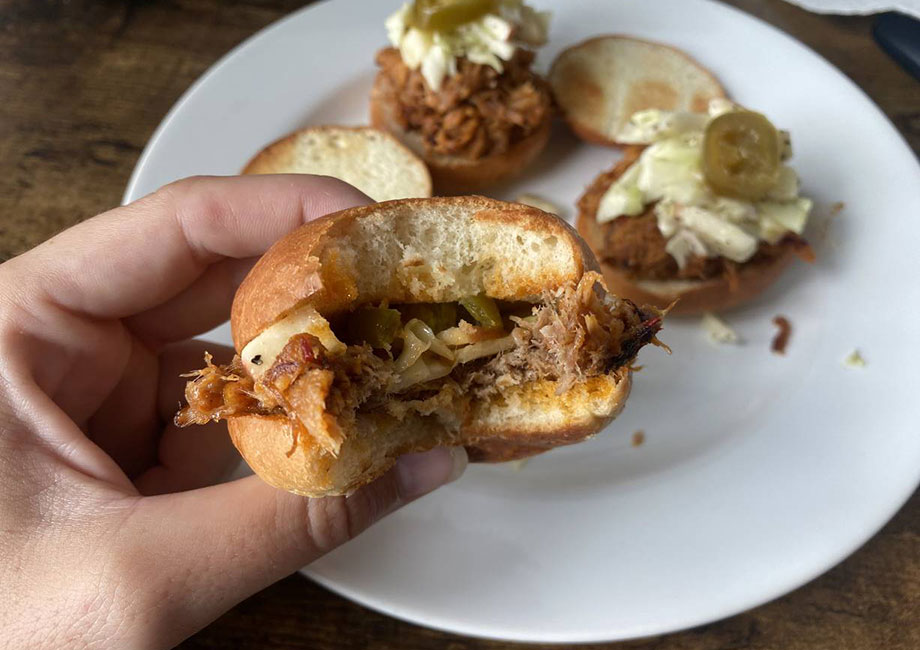 Another item of note is that not all of the meals are low-sodium, and there's no easy way to filter for them. To find the low-sodium options, you'll have to click on each recipe on the weekly menu and check the nutrition facts.
Because this is a meal kit, you'll have more control over the ingredients, though. If a recipe calls for salt, you can simply leave it out or reduce the amount, and that will change the estimated nutrition facts—and the number of available meals that are "low-sodium."
For more, check out our in-depth Sunbasket review.
| | |
| --- | --- |
| Price per serving | Starts at $10 per serving |
| Type (meal kit or prepared) | Meal kit and prepared |
| Meals per week | Minimum of 4 servings |
| Delivery area | Nationwide except AK, HI, MT, ND, and parts of NM |
| Meals we tried | Pulled Pork Sliders, Linguica, Steak, Philly Cheesesteak Skillet |
Best Gluten-Free Low-Sodium Meal Delivery: ModifyHealth
Good for: Anyone looking for low-sodium meals that also cater to other restrictions, like gluten-free and low-carb.
ModifyHealth is another frozen meal delivery service that left our tester, GGR Senior Editor and certified personal trainer (CPT) Nicole Davis, "pleasantly surprised."
She gave it a 4.5 out of 5 for taste, saying, "These are frozen meals, and I didn't have high hopes based on the other frozen meal deliveries I had tried. These were the best by far. I tried an assortment of meals from the Mediterranean plan, which is a lot of fish, and I enjoyed all of them. Salmon was my favorite."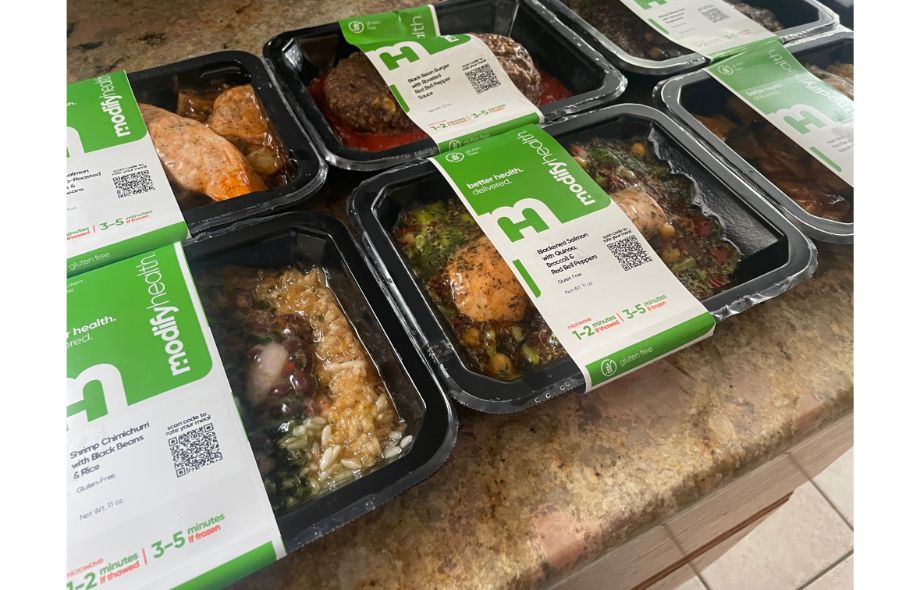 Nicole also said that despite being frozen, the ingredients taste very fresh and nothing like the typical frozen processed meals you might find at the grocery store. Plus, all meals are gluten-free, and the company uses organic ingredients whenever possible.
Registered dietitian Perry Nix also gives this meal service her nod of approval for offering complete meals.
"ModifyHealth makes balanced meals consisting of protein, grains, and vegetables. Most of their meals contain a lean source of protein like chicken, fish, or tofu, which is ideal for anyone wanting to eat less saturated fat or reduce their cholesterol," Perry says.
As for sodium (which is really why you're here), there's a specific heart-healthy, low-sodium meal plan that follows a Dietary Approaches to Stop Hypertension (DASH) diet format. All meals contain no more than 700 milligrams of sodium and 6 grams of saturated fat. There are also low-carb and digestive health (low-FODMAP) plans that have all low-sodium, non-GMO meals.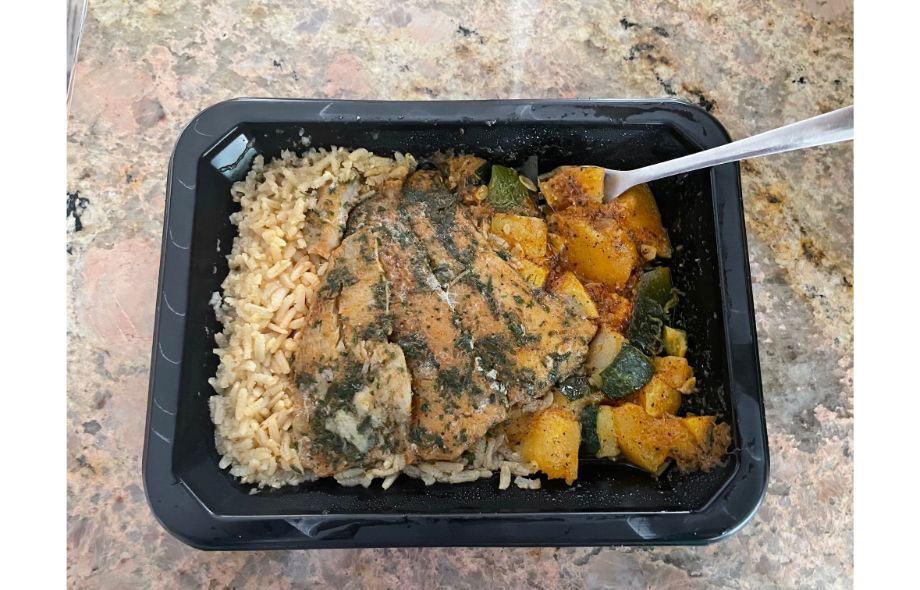 And there's a decent amount of variety, too. Nicole scored it a 4.5 out of 5, saying there are about 30 meals to choose from in each plan. She wasn't exactly sure how frequently the meals are repeated, but said the amount of variety was "totally fine" for her.
| | |
| --- | --- |
| Price per serving | Starts at $12.95 per meal |
| Type (meal kit or prepared) | Prepared meals |
| Meals per week | Unlimited; minimum of 6 |
| Delivery area | Continental U.S. |
| Meals we tried | Salmon, Herb-Roasted Fish Fillet with Squash & Rice, Black Bean Burgers, Shrimp Chimichurri with Black Beans |
Best Frozen Low-Sodium Meal Delivery: MealPro
Good for: Those who want meal delivery without the recurring subscription
After trying, MealPro came out on top as the best frozen low-sodium meal delivery for its taste and generous portion sizes. GGR Staff Writer and Olympic Weightlifter Caine Wilkes, who tasted 18 meals in total, scored it a 4 out of 5 for taste and a 4.5 out of 5 for portion sizes.
"Overall, they were really good! The beef lasagna, steak fajitas, and Alaskan cod were standouts for me. I docked one point because the chicken in the meals was sometimes dry, and a couple of meals were under-seasoned (pretty common with prepared meals). But overall, for a frozen prepared meal, it was very good and exceeded expectations," he says.
Caine also adds that as a larger athlete, he was satisfied by the meals (and that they were sometimes too much for his wife). "Calories range from 500 to 800 a meal, which will satisfy most people," he notes.
You can sign up for a diet-specific meal plan—High-Protein (Bodybuilding), Keto, Low-Carb, Medical (doctor-designed), or just pick and choose from the à la carte menu.
RELATED: Best Oven-Ready Meal Delivery
All of these meal plans have low-sodium options, but there's also a dedicated low-sodium plan with meals that have as little as 35 milligrams of sodium per serving—the lowest of any of the options on this list. Most meals have around 100 to 200 milligrams of sodium per serving, which is still considerably lower than other options.
These meals are all made with no-salt herbs and spices and include organic and non-GMO ingredients. To be fair, Caine didn't try this meal plan specifically, but they are made with the same fresh ingredients as the meals he did try.
You can also create your own meals if you prefer a meal-prep-style delivery. If you go this route, you'll be prompted to pick a protein, two sides (mostly veggies and starch-based options like rice or potatoes), and a topping. As you build your meal, you'll be able to see the nutrition facts, including sodium, in real time so you can adjust as needed.
And unlike other meal delivery services, you don't have to sign up for a subscription. You can if you want recurring orders, but it's not a requirement.
| | |
| --- | --- |
| Price per serving | Starts at $9.99 per meal |
| Type (meal kit or prepared) | Prepared meals (frozen) |
| Meals per week | 18 or 20 |
| Delivery area | U.S. and parts of Canada |
| Meals we tried | Lean Beef Lasagna, Steak Fajitas, Alaskan Cod, Turkey Bowl |
Best Low-Sodium Meal Delivery for Seniors: Magic Kitchen
Good for: Anyone looking for an easy-to-navigate website
Some meal delivery services can be a little complicated, but Magic Kitchen makes things easier for older adults who may not be as familiar with online ordering. GGR product tester Stephanie Lehner rated Magic Kitchen a 5 out of 5 for the ordering process, saying that ordering was easy and there's a wide selection of meals and dishes to choose from.
There are only two menu options: à la carte and complete meals. The à la carte menu allows you to mix and match mains, sides, soups, and desserts however you want, while the complete meals come with one main course and one or two sides (depending on the dish).
Regardless of which option you go with, you can easily filter by low-sodium options to make browsing through the menu really straightforward. Complete nutrition facts are listed on the website—most low-sodium meals have around 400 to 500 milligrams per serving—and there are close to a hundred options to choose from, which is why Stephanie gave Magic Kitchen a 5 out of 5 for variety.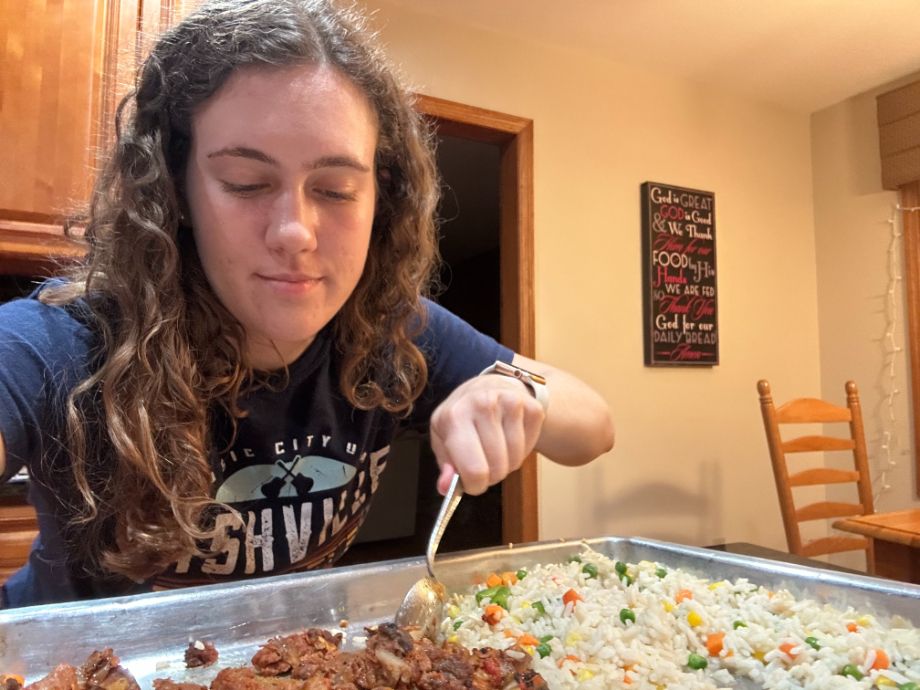 "They have a nice variety of foods available on their website, so you should be able to order different options each week and not get bored of eating the same meals consistently," she says.
Stephanie also called out the ease of preparation as another potential, albeit inconsistent, perk of Magic Kitchen, scoring the service a 3 out of 5. "Most meals did not require much work. I either put them in the oven or microwave. Some required more time than what was stated on the package. The few that I made in the microwave were extremely quick and easy to prepare," she says.
Magic Kitchen also accepts Medicaid and Medicare, so if you're eligible for home food delivery, you may get all or part of the service covered (you'll need to check in with your case manager, who can figure this out for you).
| | |
| --- | --- |
| Price per serving | Starts at $10.50 per meal |
| Type (meal kit or prepared) | Prepared meals |
| Meals per week | Unlimited |
| Delivery area | Continental U.S. |
| Meals we tried | Corned Beef, Salmon, Veggie Stew, Chicken, Beef Bourguignon |
Best Plant-Based Low-Sodium Meal Delivery: Splendid Spoon
Good for: Vegans, vegetarians, and anyone who wants to get more veggies into their diet
All of Splendid Spoon's meals are vegan, so if you're looking for plant-based meals that are also dairy-free, this is a good option. GGR editor Frieda Johnson scored the service a 5 out of 5 for ease of preparation and a 4.5 out of 5 for variety, saying that they have a good number of options in each food category, including smoothies, soups, noodles, and other dishes. They also cycle their menu occasionally to keep things fresh and interesting.
It didn't earn as high of marks for taste (3 out of 5) as some others, but Frieda said the food is "surprisingly good," especially for gluten-free, vegan frozen meals.
"I've tried a few similar frozen meals over the years from grocery stores, and I've always been disappointed, but I actually look forward to these," she says.
The smoothies can be hit or miss, and that's what drove the rating down. Fortunately, you can skip the smoothies altogether if you prefer and just choose from the soups and entree dishes. Many of the foods from Splendid Spoon are lighter fare. There are lots of noodle- and rice-based dishes and some semi-hearty options, like Vegan Shepherd's Pie and a falafel-based dish.
But Perry Nix, RD, LD, adds that even though the meals are lighter, they're full of vegetables, and because of that, "They're loaded with antioxidants that reduce inflammation and lower your risk of chronic disease."
Every meal isn't low-sodium, but there are plenty of options with less than 400 milligrams per serving. The nutrition facts are also easily accessible on the website, so there are no surprises once your delivery arrives.
| | |
| --- | --- |
| Price per serving | Starts at $9.99 per meal |
| Type (meal kit or prepared) | Prepared meals |
| Meals per week | 14-28 |
| Delivery area | Contiguous U.S. |
| Meals we tried | Green Curry Noodles, Coconut Curry Rice, Creamy Butternut Squash Noodles, Black Bean and Plantain Grain Bowl, Fruity Greens Smoothie |
Other Low-Sodium Meal Delivery Services We Tested And Researched
HelloFresh: HelloFresh has a fair share of low-sodium meals but no dedicated low-sodium plan. Since this is a meal kit, you'll have more control over the ingredients, though. In other words, you can make meals lower-sodium than intended by just omitting some of the salt. HelloFresh did score a 4.5 out of 5 for taste during our testing, so it's a good option if you don't need a dedicated meal plan.
RELATED: HelloFresh Review
Blue Apron: Blue Apron has many dishes with less than 600 milligrams of sodium, the AHA's cutoff for a "low-sodium meal." It didn't make the list because it got a 3.5 out of 5 for taste and a 2 out of 5 for preparation. We just think there are tastier and easier-to-prepare options. That being said, Blue Apron has a generous portion size and lots of variety if you do want to try it.
Dinnerly: Dinnerly's focus is on budget-friendly meals, so while there are some low-sodium options, you won't find too many. But, like all meal kits, you can adjust the added ingredients if you want to lower your sodium intake. If you want a less expensive option and don't mind adjusting the recipes, Dinnerly may still be a good choice. It scored a 4 out of 5 for both taste and portion sizes.
Mom's Meals: Mom's Meals is marketed toward older adults with more specific dietary needs. There's a low-sodium meal plan, a renal-friendly option for those with kidney disease, a heart-friendly plan for those with cardiovascular disease, and a cancer support plan (among others). We think it's beneficial for those looking for healthy meals without a lot of hassle, but doesn't have as much mass appeal as some of the others. We also haven't tried it ourselves, so we can't provide that first-person insight.
How We Picked and Tested the Best Low-Sodium Meal Delivery
Our team of experts at Garage Gym Reviews includes certified personal trainers, nutrition coaches, Olympic athletes, and CrossFit coaches who have a vested interest in health and wellness.
Testing fitness equipment is a big part of what we do, but we also like to try every meal delivery service and supplement before recommending it to you. To come up with this list of the best low-sodium meal delivery, we collectively tested more than 40 meal delivery services over several weeks.
We went through the ordering process and prepared the meals ourselves to see exactly what the entire experience was like. During our testing, we rated each service on 13 different factors outlined in our comprehensive testing methodology (here's our GGR Supplement Testing Methodology, for example). Some of these factors were more straightforward, like price, customer service, customer reviews, and access to nutritional information.
But we also dug a little deeper into important things like taste, variety, ease of preparation, and ingredient quality. Here's a little more about how we assessed those things:
Taste
With any meal, taste is of utmost importance. But it's especially important with low-sodium meals, since salt is often what gives food a lot of its flavor. While taste is partly subjective, we rated each service on a scale of 1 to 5, with 1 being horrible and 5 being "This is delicious, give me more ASAP!"
Variety
Often, menu options can be pretty lacking with more restrictive diets. Like taste, variety is always important, but we're extra diligent about looking for plenty of options when your choices are limited by dietary restrictions. For this rating, we considered whether or not there were a lot of meals to choose from and how often (or not) the menus changed.
Ease of Preparation
If you're looking for a meal delivery service, chances are you want to cut down on prep time. Because of this, we considered how easy meals were to prepare, including how long it took to clean everything up.
To get a high score here, meals had to take 20 minutes or less and cleanup had to be pretty easy (as in there weren't too many pots and pans to wash). Most of the services that made our list are prepared meals, which can be ready in a matter of minutes, but there is a meal kit option that we found easy enough.
Ingredient Quality
We're big believers that you shouldn't have to completely sacrifice quality for convenience. Yes, you may have to make some compromises, but you should still be enjoying your food. To make the cut, ingredients had to look and taste good to absolutely delicious.
RELATED: Best Organic Meal Delivery
Benefits of Low-Sodium Meal Delivery
There are many reasons you might want to move toward a low-sodium diet, but more often than not, the switch is prompted by specific health goals. And when you have a chronic health condition, it can be incredibly challenging to navigate your changing diet, according to registered dietitian Perry Nix.
Low-sodium meal delivery can be a convenient tool for those who are unsure how to meal plan for a restrictive diet and/or how to eat to manage the condition. Of course, the same goes for those who are trying to lower their sodium intake for any other personal reason.
Low-sodium meal delivery eliminates the hassle of finding low-sodium recipes, grocery shopping for ingredients, cooking, and then cleaning up. And it really takes the guesswork out of tracking meals—most of them have the nutrition facts listed out for you, so you can easily calculate how much sodium you're consuming in a day.
In short, the main benefits of signing up for a low-sodium meal delivery service include:
Convenience: Goodbye to meal planning and grocery shopping.
Variety: Forget about recipe ruts; the best low-sodium meal delivery services have plenty of options to keep things interesting.
Introduction to new foods: You may come across recipes that you never thought to try on your own.
Less stress: Instead of trying to put your own meals together, they're pre-designed for you.
Time saved: At the risk of sounding repetitive: Goodbye meal planning and grocery shopping! And if you opt for prepared meals: Goodbye cleanup, too!
Low-Sodium Meal Delivery: FAQs
Does HelloFresh offer Low-Sodium Meals?
HelloFresh does offer some low-sodium meals, but there's no way to filter meals by sodium content. Instead, you'll have to do some digging into the nutritional facts, which are listed on the site for each recipe. Also, because HelloFresh is a meal kit service, you can make the meals lower-sodium by omitting some or all of the salt and seasonings called for in the recipe.
Are Green Chef Meals Low-Sodium?
Like HelloFresh, Green Chef does have some low-sodium options, but you'll have to do some digging to find them. You can also alter the ingredients you add to your meals when you're actually preparing the recipes.
These statements have not been evaluated by the Food and Drug Administration. This product is not intended to diagnose, treat, cure, or prevent any diseases.
References
1. American Heart Association. Heart-Check food certification program nutrition requirements. Accessed September 27, 2023.