We test and review fitness products based on an independent, multi-point methodology. If you use our links to purchase something, we may earn a commission. Read our disclosures.
Full stop: Weight loss requires a low-calorie diet. At least, a lower-calorie diet that puts you in a caloric deficit. Filling, nutritious meals are essential to meeting weight loss goals because they keep you feeling satisfied and minimize your risk for nutrient deficiencies.
Since it can be really tough to put together healthy meals with high-quality ingredients on your own, we put together this guide to the best low-calorie meal delivery with the help of registered dietitian nutritionist Perry Nix.
We ordered meals from more than 40 services and analyzed each one, rating them according to more than a dozen criteria, including: 
Price per meal
Calories per serving
Specific weight loss meal plans available
Nutritional profile
Diet types supported
Dietary restrictions accommodated
Flexibility and customization
Ordering, packaging, and shipping/delivery
Customer service
Portion sizes
RELATED: Best Meal Delivery Services
Medical disclaimer: This article is intended for educational and informational purposes only. It is not intended as a substitute for medical advice. For health advice, contact a licensed healthcare provider.
Best Low-Calorie Meal Delivery Services
Best Low-Calorie Meal Delivery Overall: Diet-to-Go
Good for: Calorie-controlled portions for people on low-carb, diabetes-friendly, Mediterranean, or vegetarian diets
Diet-to-Go consistently appears on our various guides to weight loss—like the best meal delivery for weight loss and the best weight loss programs—because it provides convenient, ready-to-eat meals that feature a balanced nutritional profile and actually taste good. All Diet-to-Go meals contain between 300 and 500 calories.
Well, most of them taste good, according to our product tester, GGR YouTube reviewer Lindsay Scheele. She says the delectability of Diet-to-Go meals was "hit or miss" in her experience, but that she really loved some of the meals, including the chicken with cauliflower puree from the keto menu and the mushroom and vegetable ravioli from the vegetarian menu. She rated Diet-to-Go with 3 out of 5 stars for taste because of the hit-or-miss experience.
Lindsay also says preparation and cleanup are super easy, although you do need to plan ahead a little bit because the meals arrive frozen. So, be sure to thaw in the fridge prior to heating up in the oven or microwave.
Lindsay was most impressed with Diet-to-Go's customer service, awarding it 5 out of 5 points in that category. Customer service was "incredibly helpful" she says, and responded to her questions and canceled her subscription within minutes.
Registered dietitian Perry Nix says Diet-to-Go is a good option to kickstart weight loss and learn portion control, although she cautions against using this for longer than eight weeks at a time. "Unfortunately, eating too few calories for a prolonged time can actually damage your metabolism and make it harder to lose weight," she says, referring to the very low calorie count in Diet-to-Go meals.
| | |
| --- | --- |
| Price per serving | $9 to $15 |
| Type (meal kit or prepared) | Prepared |
| Meals per week | Up to 21 |
| Delivery area | Contiguous U.S. |
| Examples of meals we tried | A Whole Chicken with Cauliflower Purée; Mushroom and Vegetable Ravioli; Pork Tenderloin with Indian Seasonings; Burger Patty with Green Beans |
Best Low-Calorie Meal Delivery for Variety: BistroMD
Good for: Various dietary needs and people who want a lot of meal options
BistroMD crafts doctor-designed meals that are low in calories and targeted at specific populations or goals. For instance, there's a women's plan and a men's plan, a gluten-free plan and a vegan meal plan, plus diabetes-friendly and menopause plans. It's one of our favorite prepared meal delivery services.
All of the BistroMD plans follow three core elements: They're high in protein, with 25 to 30 grams per serving; moderate in carbohydrates, with a focus on low-glycemic carbs; and high in fiber, with an average of 5 grams per serving to help keep you satiated.
Our product tester, GGR staff writer and certified personal trainer Lauren Strong, chose the Signature program, which is a balanced low-calorie plan that includes all three macronutrients (proteins, carbs, fats). She tried a week's worth of BistroMD meals and ultimately gave the service 4 out of 5 points for taste, quipping that the meals were "pretty darn good for these being both health-conscious and frozen."
Lauren found the portions much too small for herself, with most meals being in the 300-to-400-calorie range. Even as a weight-loss-oriented service, this is low—we recommend supplementing the meal plan with snacks or sides, unless otherwise instructed by your doctor or dietitian.
Perry Nix, RD, LD, likes that "BistroMD recognizes that weight loss isn't easy and that a 'eat less, exercise more' approach doesn't work for everyone," but says that eating BistroMD meals alone would result in a calorie intake that is "much too low."
| | |
| --- | --- |
| Price per serving | $6.59 to $8.99 depending on plan |
| Type (meal kit or prepared) | Prepared |
| Meals per week | 10 to 20 |
| Delivery area | Contiguous U.S. |
| Examples of meals we tried | Chicken, Rice and Cheddar Casserole; Sloppy Joe with Cabbage Slaw; Turkey Breast with Cranberry Apple Chutney; Merlot Meatballs with Grits; Chicken Florentine Cannelloni |
Low-Calorie Meal Delivery for Tracking Macros: Trifecta
Good for: Easy access to nutritional information and balanced meals
Trifecta is an athlete-oriented meal delivery service, but anyone can use it. We recommend it to anyone interested in keto, Whole30/paleo, plant-based, or balanced meal plans who is interested in tracking macronutrients. Our Trifecta meal delivery review covers this in more detail.
Trifecta makes it really easy to choose meals based on macros, clearly displaying the total calories, carbs, fats, and protein for each meal before you add it to your cart. The nutrition information is also on the cardboard cover of each meal tray.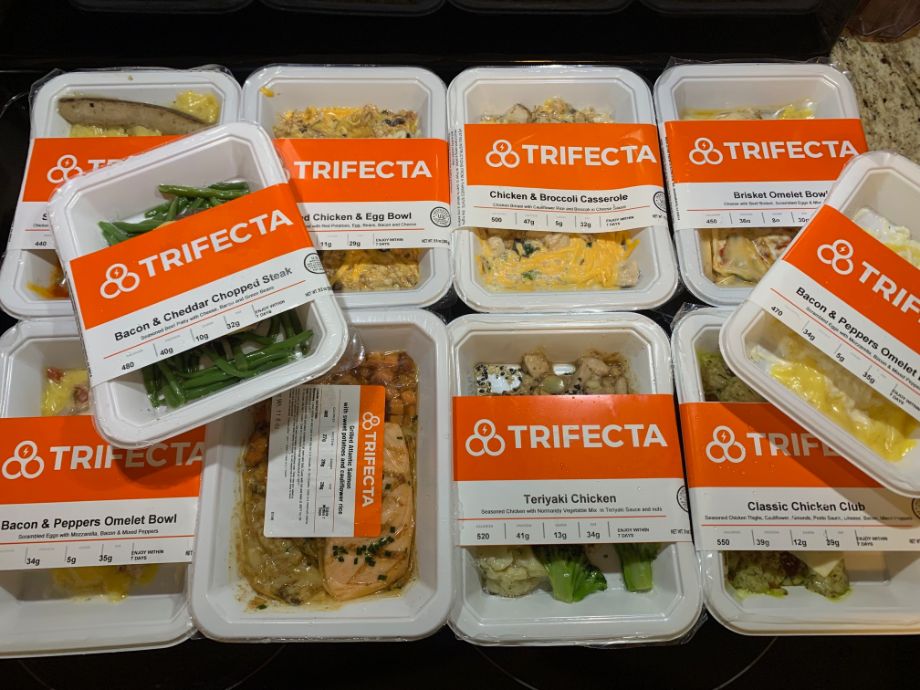 Two people on our team tried Trifecta, ultimately giving it 4 out of 5 stars for taste. One of our testers, Sarah Price, said "some meals were great; some meals, I took one bite and threw away." On the flip side, Kate Meier, GGR head of content and certified personal trainer, said she "really liked the taste of all of them."
"For context," Kate added, "I typically eat pretty plainly, so I don't need a crazy amount of flavor or spice. I do think these are great for quick, healthy options." Trifecta also earned high remarks for quality thanks to its many organic ingredients and fresh taste despite being ready meals.
As far as calories go, Trifecta meals vary, but they're all pretty low in calories. For the balanced meal plan, which Trifecta calls the "Clean Plan," meals range from about 300 to 600 calories. The average macros for meals in this plan are 29 grams of protein, 45 grams of carbs, and 17 grams of fat in 450 calories.
Registered dietitian Perry Nix says, "You'll likely want to add snacks between meals to meet your energy requirements for the day," even if you're trying to lose weight.
| | |
| --- | --- |
| Price per serving | Starts at $14.80 |
| Type (meal kit or prepared) | Prepared |
| Meals per week | Up to 21 |
| Delivery area | Contiguous U.S. |
| Examples of meals we tried | Bacon and Cheddar Chopped Steak, Chicken and Broccoli Casserole, Teriyaki Chicken |
Low-Calorie Meal Delivery on a Budget: EveryPlate
Good for: Fresh ingredients and low-calorie food on a budget
Healthy eating can be even more challenging when you're on a tight budget. If you're in need of nutritious meals for reasonable prices, EveryPlate might be your lucky charm as it's one of the cheapest meal delivery services. Meal pricing starts at an impressive $4.99 per serving, although that's for six meals with six servings per week—great if you're feeding a family! The fewer meals you buy, the higher the price is, but the highest price is still a palatable $7.49 per meal.
Registered dietitian Perry Nix raves about the cost-effectiveness of EveryPlate as a customer herself. "I was tired of meal planning and making the same meals over and over again. I'm now cooking with new ingredients I wouldn't typically buy at the store and my family enjoys the variation in meals," she says, pointing out that "EveryPlate is one of the most affordable meal kits available."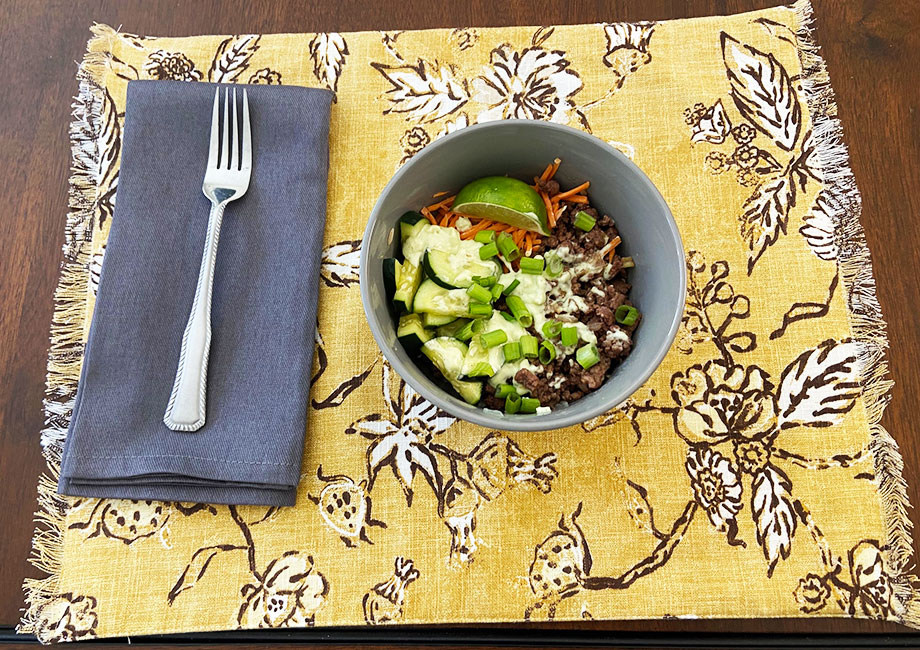 Now that we've praised the pricing, we'll deliver the not-as-good news. With EveryPlate, you'll have to work a lot harder to find low-calorie meal options compared to other recommendations on this guide. It's 100% doable, with many meals ranging from 400 to 600 calories per serving, but you will have to sift through recipes in the 700 to 900 calorie-per-serving range.
Regardless of calorie content, all EveryPlate meals feature a robust nutritional profile with a variety of ingredients. There are also add-ons available, such as breakfast egg bites which contain 270 calories per serving and plain cooked chicken breast you can use in your own home-cooked meals.
Product tester and certified nutrition coach Erin Chancer thought EveryPlate meals were good, albeit a bit plain in the seasoning department, giving it 4 out of 5 points for taste. The portion sizes were perfect, with two servings being plenty for her and her partner and often resulting in leftovers. She also rated EveryPlate with 4 out of 5 points for portion sizes.
| | |
| --- | --- |
| Price per serving | Starting at $4.99 |
| Type (meal kit or prepared) | Meal kit |
| Meals per week | Up to 6 |
| Delivery area | Continental U.S. (includes Alaska but not Hawaii) |
| Examples of meals we tried | Southwest Pork Flautas, Beef Banh Mi Bowls, Crispy Buffalo Ranch Chicken with Mashed Potatoes, Chicken Sausage and Kale Soup, Beef and Black Bean Chili, Loaded Pork Potato Wedges |
Best High-Protein Low-Calorie Meal Delivery: Fresh N Lean
Good for: Variety of meals with 20 to 40 grams of lean proteins per serving
Fresh N Lean is a healthy meal delivery service that offers a few different meal plans. We particularly like the Protein+ plan, which offers 20 to 40 grams of protein per serving. This is in line with recommendations to maximize muscle protein synthesis, the process that drives muscle growth, according to registered dietitian Perry Nix. This makes it great for "individuals wanting to optimize their fitness," she says.
Additionally, Perry notes that Fresh N Lean prioritizes using "whole-food, locally grown, nutrient-dense ingredients," as well as non-GMO produce and organic produce when available. All this meant we weren't surprised when product tester Kate Meier, GGR head of content and certified personal trainer, found herself "shocked" at the quality of the meals despite them being microwave meals.
Kate rated Fresh N Lean with 5 out of 5 points for taste, which is, obviously, the highest score a service can get according to our testing methodology. A very, very select few earned the full 5 points in this category. Kate says that the steaks were cooked to a perfect medium, the Brussels sprouts somehow retained a crunch, and the cauliflower was still crisp even after microwaving.
Fresh N Lean also scored highly for ingredient quality, earning 4 out of 5 points, and for preparation, earning 4.5 points because you "just nuke it" and throw away the tray when you're done. If we had to complain about Fresh N Lean, there's just one (miniscule) thing: "It's hard to pull the plastic off the food after you heat it," Kate says.
See our other picks for the best high-protein meal delivery.
| | |
| --- | --- |
| Price per serving | Starts at $8.49 per meal |
| Type (meal kit or prepared) | Prepared |
| Meals per week | 5 to 21 |
| Delivery area | Nationwide (extra fee for Alaska and Hawaii) |
| Examples of meals we tried | Red Pepper Grilled Chicken with Sweet Potatoes, Salmon, Vanilla Peaches Oatmeal, Bearnaise Grass-Fed Steak and Sweet Potatoes |
Best Single-Serve Low-Calorie Meal Delivery: ICON Meals
Good for: Chef-prepared meals to help with portion control
ICON Meals is a good choice for people who are looking for portion-controlled, single-serving meals high in nutrient-dense ingredients. Registered dietitian Perry Nix says this service makes meals that are "especially appealing for athletes wanting to cut fat and gain muscle."
"Not only do they offer high protein meals, but their snacks are also protein-packed to promote muscle growth and rev up metabolism," Perry says. "I like that ICON Meals helps you select entrees based on your health and fitness goals. You can choose high-protein meals if you're looking to gain muscle, or calorie-conscious meals if you'd like to lose weight."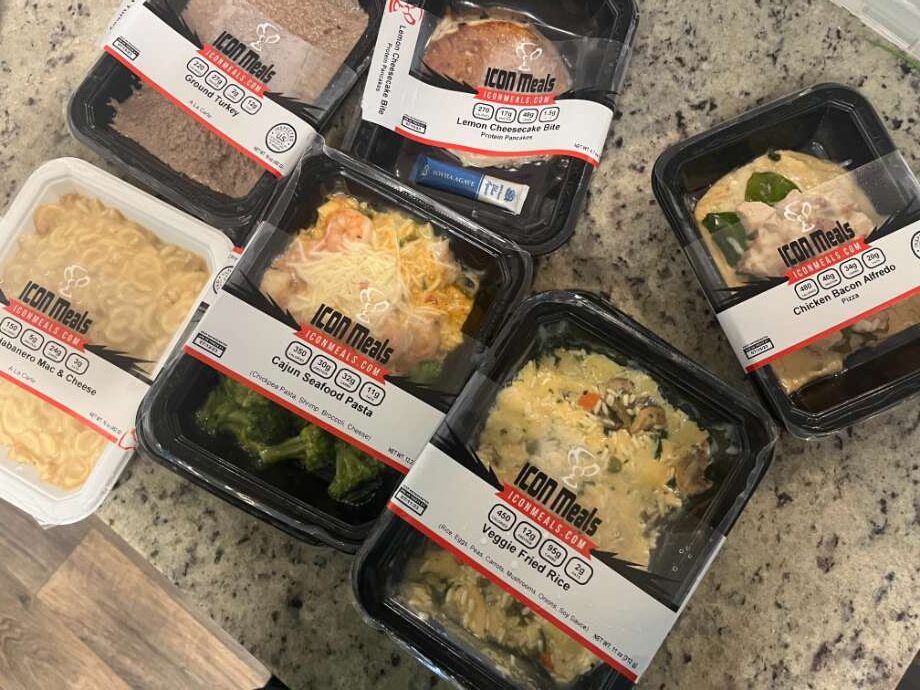 Perry also likes that ICON Meals allows you to create custom meals to suit your dietary needs and preferences, making it ideal for people who are trying to hit specific macronutrient goals each day.
Anthony O'Reilly, GGR performance editor and certified nutrition coach, tried ICON and said it was his favorite out of all the services he tested. He tried a number of the meals plus some a-la-carte items, and found most of them tasty and filling.
His favorite meal was the Titan Breakfast Burrito, of which he says, "I was surprised at how well-spiced it was. It kind of had a Middle Eastern vibe to it, and with more than 50 grams of protein, it was very filling! I could order five of these a week and be more than happy." He rated ICON with 4 out of 5 points for taste in the end.
ICON earned scores of 4 to 5 out of 5 points across the board. One area where it fell short was ingredient quality, but it's not that the ingredients weren't fresh. Anthony says he noticed more preservatives and processed ingredients in ICON meals than he did in meals from other services. Examples include emulsifiers, anti-caking agents, and gums—all of which are safe food additives, but something to know about if you're looking for 100% whole-food meals.
| | |
| --- | --- |
| Price per serving | Starts at $11.46 per meal |
| Type (meal kit or prepared) | Prepared meals |
| Meals per week | 12-24 |
| Delivery area | Contiguous United States |
| Examples of meals we tried | Titan Breakfast Burrito, Cajun Seafood Pasta, Chicken Bacon Alfredo, Veggie Fried Rice, Lemon Cheesecake Bite |
Best Plant-Based Low-Calorie Meal Delivery: Daily Harvest
Good for: Plant-based meals and nutrient-dense sweet treats to satisfy cravings
Daily Harvest is a simple food subscription box that offers frozen goods like pre-portioned smoothies, soups you can heat up on the stove, oat bowls you can microwave, and some main and side dishes such as veggie flatbreads and grain mixes.
All Daily Harvest meals are low in calories, ranging from just 200 to about 400 calories per serving. Perry Nix, RD, LD, says this calorie amount is quite low and that people shouldn't rely on Daily Harvest items entirely for their day's worth of calories—that would make it difficult to meet your nutrient requirements, she says.
However, Daily Harvest is an awesome pick for vegan and vegetarian appetizers, side dishes, and snacks that can hold you over in between meals. Some of the larger items, like the flatbreads, are quite filling even though they're low in calories. (Thanks, veggies!).
I particularly enjoy the smoothies, especially as a sweet treat after dinner. The oat bowls work well for that, too, and I also enjoy the oat bowls for breakfast on days when I don't feel like I need a full breakfast plate.
If you really love smoothies and soups, you'll love Daily Harvest. These are by far the best out of all of the options. Smoothies can't get any easier: You don't have to cut or peel any fruit. And the soups are simple to heat up on the stove, like canned soup, but they taste fresher and less salty. Overall, I rated Daily Harvest with 3 out of 5 points for taste because many of the dishes, like the oats and grain bowls, needed a lot of seasoning added to be palatable for me. (I will admit that I grew up in Louisiana and I cannot stand bland food.)
I like that Daily Harvest offers easily customizable meal boxes. You're not locked into a plan and you can choose the individual items you want each week, so I gave it 4 out of 5 points for the customization category. For other vegetarian options, see our guide to the best plant-based meal delivery.
| | |
| --- | --- |
| Price per serving | $5.99 to 11.99 |
| Type (meal kit or prepared) | Prepared |
| Meals per week | 9, 14, or 24 |
| Delivery area | Most of the continental U.S. |
| Examples of meals we tried | Smoothies, Mulberry Dragon Fruit Harvest Bowl, Flatbread, Rice Bowls |
Best Low-Calorie Meal Delivery for Beginners: Freshology
Good for: People who are new to healthy eating and need assistance with meal prep
Freshology is part of Diet-to-Go, our top pick for the best low-calorie meal delivery. This service offers five meal plans: Balance, Balance-Diabetes, Keto-Carb30, vegetarian, and Mediterranean. All five plans feature chef-prepared, low-calorie meals with about 300 to 500 calories per serving.
This is great for help with portion control, although registered dietitian Perry Nix recommends also eating snacks throughout the day if you're only eating Freshology meals. Adults, both men and women, need more than 1,200 to 1,600 calories per day to meet nutritional requirements, she says.
Freshology is good for beginners because all of the meals arrive pre-cooked and ready to eat. According to the website, they arrive fresh if you live close to the Freshology facilities and flash-frozen to retain nutritional value and quality if you live further from the facilities.
Perry points out that Freshology meals from the Balance and vegetarian plans are made in accordance with guidelines from the American Diabetes Association, American Cancer Society, and USDA for cholesterol, sodium, and fat. This makes them good choices for those trying to manage their blood pressure and cholesterol, she says.
Also, the meals start at a price of less than $10 per serving and the price only goes down from there if you commit to more meals—great for beginners who may feel hesitant to spend top dollar on a meal plan.
| | |
| --- | --- |
| Price per serving | Starts at $9.71 |
| Type (meal kit or prepared) | Prepared |
| Meals per week | Up to 21 |
| Delivery area | Contiguous U.S. |
Other Low-Calorie Meal Delivery Services We Researched
Our product testers have collectively tested more than 40 meal delivery services.
Sunbasket: Sunbasket offers some low-calorie meals and accommodates several dietary preferences and restrictions, but it's not as cut-and-dry for weight loss as the other options on this list.
Factor: I enjoyed Factor when I tested it, but it may not be the best choice for people whose health goals include losing weight. Many of the meals are 700 to 800 calories, although there are some in the 400 to 600 range.
MealPro: MealPro offers a range of premade meals, with plans for keto, high-protein, bodybuilding, or a-la-carte balanced meals. They also offer several medical meal plans which could be a fantastic option for people who are trying to lose weight and manage medical conditions.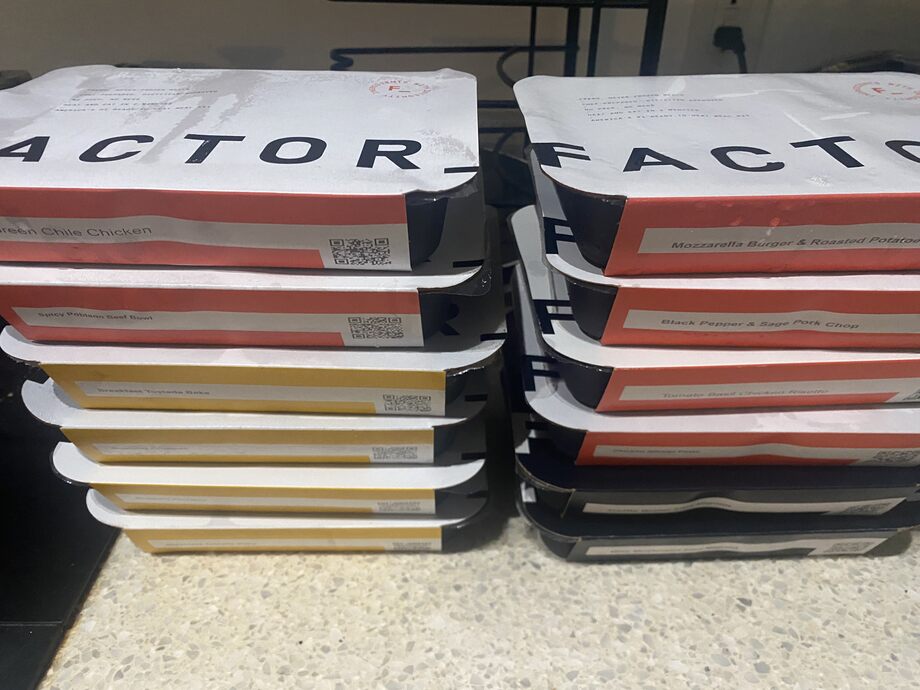 How We Picked and Tested the Best Low-Calorie Meal Delivery
Hands-on product testing is the name of the game at Garage Gym Reviews. We rate products based on criteria specific to the product category at hand. The following are some of the most important factors we look for when rating meal delivery services.
Price Per Meal
As consumers ourselves, we know how important pricing is. Paying top dollar for a truly outstanding service is one thing, but overpaying for subpar ingredients or yucky food is a different story. We analyzed more than 40 services to understand the industry standard for pricing and rated each company accordingly.
Calories Per Serving
For low-calorie meal delivery specifically, we chose companies that offered specific weight-loss tracks or offered a substantial number of meals with 600 calories or less.
Access to Nutrition Info
Because nutrition information is of great importance when losing weight (and always), we looked for services that make calorie and macronutrient information easy to find—ingredients, too.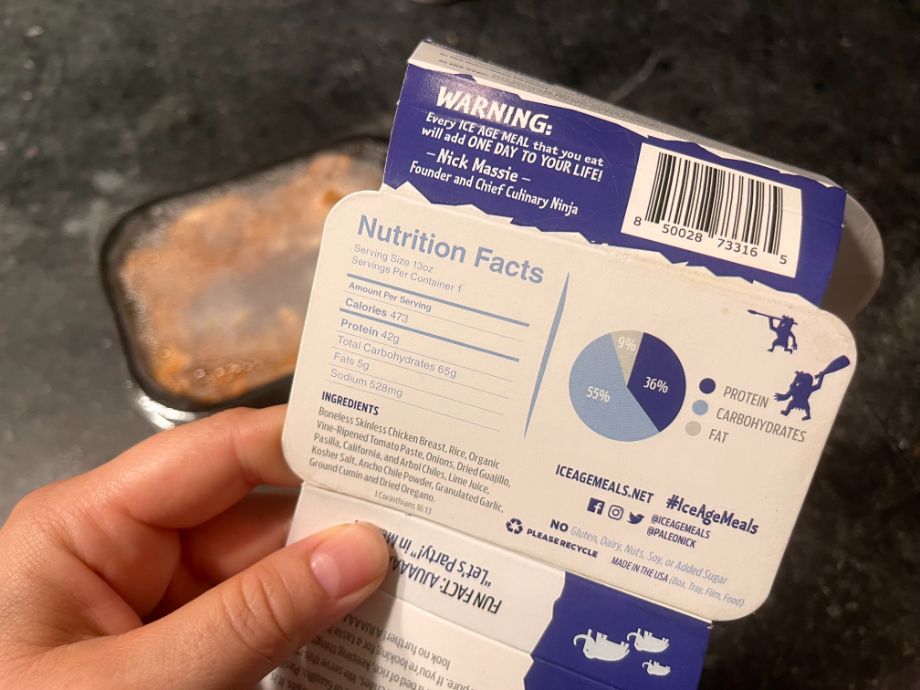 Preparation and Cleanup
Losing weight is hard enough without the prep and cleanup that come with cooking. Many of the services we chose for this guide include ready-to-eat meals, and the meal kits we chose got high remarks for easy preparation.
Taste and Freshness
Taste and ingredient quality were of the utmost importance during our testing. Companies lost points when ingredients arrived past their prime or went bad quickly, as well as if meals required a lot of doctoring up with our own spices or other ingredients.
Variety and Customization
Most people tire of eating the same meals over and over again, so we made an effort to select companies that offer a lot of variety and ways to customize your subscription.
Benefits of Low-Calorie Meal Delivery
If you're currently trying to lose weight, I don't have to tell you how hard it is. Tallying up calorie counts, weighing food, and reading nutrition labels can get real old, real fast. Thankfully, low-calorie meal delivery services can make it a tad easier.
Easy Meal Planning
No more stressing over your weekly menu or thinking up different meal ideas—our top picks for low-calorie meal delivery have you covered. Many of our recommendations offer oven-ready meals, and the ones that don't come with helpful recipe cards and many pre-portioned ingredients to reduce prep time.
Less Grocery Shopping
If you don't like spending your time at the grocery store, the great news is that meal delivery services can seriously cut down on your time spent shopping. Some services even offer ample add-ons, like healthy snacks and groceries, which can cut down shopping time even more.
Confidence in the Meal Plan
When you sign up for a low-calorie meal delivery plan, you can have peace of mind that you're staying within your calorie intake range. You won't need to measure or weigh food because all of the nutrition info is there for you on the labels.
Low-Calorie Meal Delivery FAQs
Does Blue Apron have low calorie meals?
Blue Apron does have a selection of meals that are under 600 calories. They also offer a Wellness For 2 plan that focuses on calorie-conscious meals.
What type of diet is best for weight loss?
It doesn't matter if you eat a paleo or Whole30 diet, decide to cut out carbohydrates, or go dairy-free: Losing weight requires eating fewer calories than you burn. In reality, the type of diet is more about adherence than anything else. The best diet for weight loss is the one you can stick to.
Is HelloFresh healthier than fast food?
HelloFresh is definitely more nutritious than typical fast food joints. Cooking at home is almost always healthier than eating out, especially at fast food restaurants, says registered dietitian Perry Nix. HelloFresh is one of the best meal delivery services because of its focus on nutrient-dense ingredients and balanced plates.