We test and review fitness products based on an independent, multi-point methodology. If you use our links to purchase something, we may earn a commission. Read our disclosures.
Just about every certified personal trainer or nutrition expert has been asked, "How should I workout?" or "What should I eat?" And as much as you hate hearing it, the answer will always be "It depends." Your training goals, fitness level, and a hundred other things are going to impact what works for you.
But what if there was a way you could get both of those questions answered with one simple test?
Our InsideTracker review gives you the straight truth on whether a blood analysis could reveal the workout and nutrition regimen that could put you on the road to better health.
No-Nonsense Reviews from Fitness and Nutrition Experts
Since its very inception, Garage Gym Reviews has promised to give unbiased and expert reviews on everything we write about. We've done that with the countless home gym equipment we've tested and reviewed over the years, as well as the best pre-workouts, metabolism trackers, and more.
And why should you trust what we have to say? Well for one, I'm a certified nutrition coach who sometimes reads scientific studies for fun (I'm not kidding). We also work with registered dietitians and nutritionists who provide their expert insight to help us look past companies' marketing and give you the truth, the whole truth, and nothing but the truth.
InsideTracker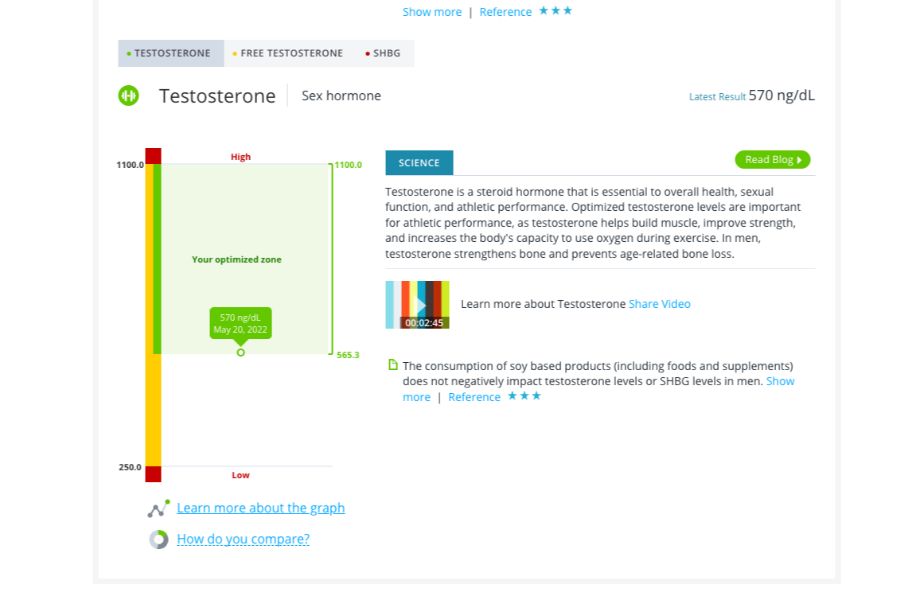 InsideTracker
InsideTracker provides you with personalized training and nutrition advice by analyzing your blood for different biomarkers and tells you how you might improve them. Biomarkers are molecules found in your blood that show how well your body responds to different conditions or diseases.Depending on where you live, you can either provide the blood at a lab that partners with InsideTracker or have a blood technician do the draw at your house (this is not available in all areas though). You can then log into the InsideTracker app to see your results.
A Quick Look at InsideTracker
InsideTracker promises to give you personalized nutrition and workout recommendations by analyzing your blood for different biomarkers (a molecule that shows how well your body responds to different conditions or diseases). The blood is obtained through a blood draw at a lab, or via a technician that comes to you (the latter is only available in certain areas).
Each test also requires you to answer a few questions about your lifestyle and dietary habits and food preferences.
The company looks at things such as your testosterone, cholesterol, and cortisol (the stress hormone), and tells you what your levels are and how you can improve any that aren't where they should be. You get the blood test results by logging into your account via InsideTracker.com, or their smartphone app.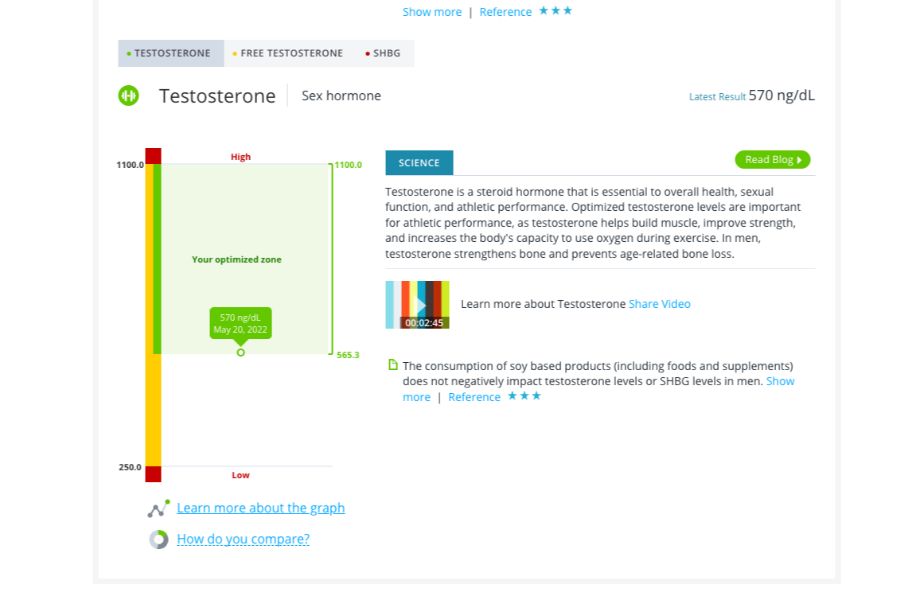 There's also a kit that promises to do the same for more than 250 genetic markers through a simple DNA test conducted via a cheek swab (we'll explain the difference between genetic markers and biomarkers later on).
One thing we really like about InsideTracker is that it doesn't try to sell you a specific supplement or workout plan, which is often the case with similar companies.
Our Tips
Follow the instructions very carefully. Failure to do so can lead to skewed results, which means the advice won't be as accurate for your personal needs.
Pros:
Price of blood work is included in most packages
Company doesn't promote specific products or workout plans
Evaluates dozens of blood biomarkers in one simple test
Cons:
Not everyone has access to a blood lab or home testing 
Can be costly, but financing plans are available 
The scientific study backing up the test was funded by InsideTracker, which raises some credibility concerns
Is InsideTracker Worth It?
InsideTracker plans can range from just under $200 to just under $600, which is more expensive than similar tests like 23AndMe. But is it better than them and worth the price?
Well, InsideTracker promotes a peer-reviewed study that says their test can absolutely help people improve their health, which sounds great. The only problem is that InsideTracker paid the scientists who conducted the study and helped design the methodology for it. This means they could have skewed the testing process to find a predetermined result (key phrase here is could have).
That said, there are various independent studies that show similar tests could benefit athletes and everyday trainees, but that more extensive research needs to be done. One study said such feedback helped people lose or maintain their weight, but that it didn't "dramatically" change their athletic performance.
All that aside, there's no harm in finding out more about what's going on in your body, and because InsideTracker doesn't require insurance it may be a cheaper option than a traditional blood draw for some people.
Another thing that separates InsideTracker from other companies is that they don't just show you results, but they give you a research-backed action plan on how to improve on any biomarker for which you may be out of the optimal range for.
These actionable recommendations are provided by an algorithm designed by InsideTracker's team, which consists of physicians from Harvard, Yale, MIT, and Tufts University.
Great for:
Those who want to learn more about their health
People who appreciate research-based wellness tests
Trainees who may want to switch up their exercise regimen and eating habits
Not recommended for:
Anyone without immediate access to a blood lab
Those on a budget
People looking to learn more about their ancestry (there are better genetic tests for that)
InsideTracker Plans
| | | | | | | |
| --- | --- | --- | --- | --- | --- | --- |
| Plan | Essentials | Inner Age 2.0 | DNA Kit | Immunity | Home Kit | Ultimate |
| Price | $189 per test | $249 per test | $249 per test | $269 per test | $299 per test | $589 per test |
| Biomarkers Tested | 13 | 17 | 261 genetic markers | 25 | 7 | 43 |
Using InsideTracker to Hack Your Health
InsideTracker offers 10 different plans, and each analyzes a different number of blood biomarkers. The more you pay, the more biomarkers they analyze and provide specific recommendations for.
Coop, founder of Garage Gym Reviews and our chief expert product tester, opted for the Ultimate plan, which is the company's most comprehensive blood test and looks at 43 biomarkers including hemoglobin (a protein found in red blood cells that carries oxygen throughout the body), glucose (blood sugar), cholesterol, and cortisol.
Right off the bat, we have to tell you to do as Coop says and not as he does. InsideTracker instructs you not to work out for 48 hours before testing because doing so can change some of the biomarkers the test looks at, specifically cortisol.
Our body emits more cortisol when we train to help treat inflammation, but cortisol also increases your blood sugar and other biomarkers.
In classic Coop fashion, he took the test right after a Brazilian jiu-jitsu class, so his cortisol levels were likely much higher than they would've been if he had just rested for two days.
He did say the testing service required quite a few vials of blood, which could cause some people to become sleepy following the lab test.
The Results and Recommendations
Most of Coop's levels were within the normal range for a man his age and fitness level, with the exception of six: creatine kinase (an enzyme that's linked to muscle health), cortisol, lipids, LDL (the so-called "bad" cholesterol), liver enzymes, and AST (an enzyme linked to liver function).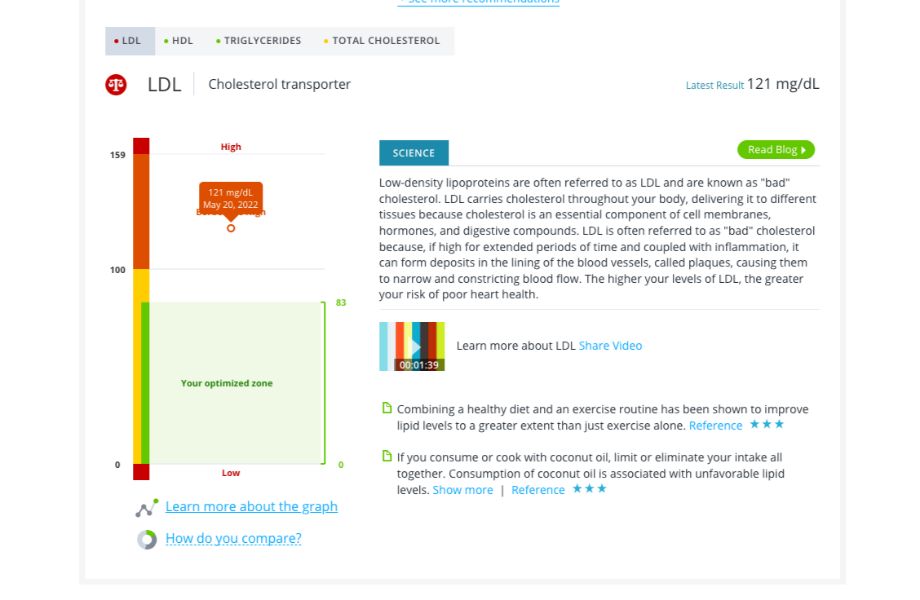 One of InsideTracker's main recommendations for Coop was for him to work out less, and they also recommended he take 500 milligrams of green tea extract to improve his dietary fat levels. The advice is one thing that impressed Coop, since many often just throw numbers at you without letting you know what they mean.
"Much like fitness trackers, the data is only helpful to those that know what the data indicates," Coops says.
Speaking of fitness trackers, InsideTracker allows you to pair your AppleWatch with their app to record your sleep data and exercise habits. This information can be used during check-ins to see if and how the recommended lifestyle changes have impacted a person's overall well-being.
But the main question is, will InsideTracker's suggestion work for Coop? Not that this should surprise anyone who knows him, but Coop hasn't slowed down his workouts as the test suggested.
He has, however, started taking a few supplements to increase his testosterone levels, curcurmin (a compound found in turmeric that has research-backed benefits for treating inflammation), and reduced the amount of patty fork he eats.
The results? "Aggression and libido are definitely higher, but other than that, I'll have to wait for another test to determine if my numbers have improved," he says.
He plans on testing again in six months, and we'll update this review when he does.
Blood Test or DNA Test
InsideTracker offers two types of tests: A blood test and a DNA test. The latter is performed by a cheek swab and tests for 261 genetic markers. If you're wondering how that's different from the biomarkers tested during the blood draw, let me use myself as an example.
Both my mom and dad's families have a long history of diabetes and high blood pressure, so if I were to undergo InsideTracker's DNA analysis, it would show I have a genetic predisposition for them.
But if I were to take the blood test, it would likely say I'm not at risk for either. That is, according to my latest doctor's visit that showed I was within the optimal zone for those specific biomarkers.
The DNA kit would be a good fit for anyone who's unclear about their medical history, especially as it pertains to their family. Knowing your risk for certain conditions can be a great thing, especially when you're trying to create a plan with your doctor to help improve your health.
The DNA results also show things such as your caffeine tolerance, food sensitivities, and if you're a carrier for any genetic diseases (like sickle cell anemia).
Privacy
When you sign up for InsideTracker, you will be asked to sign a document allowing the company to use your health information in research studies. All identifying information, such as your name, are kept private.
The good news is that if you're uncomfortable with any of your biometric information being used in this way, you can not sign the waiver and still use InsideTracker's services. And if you do sign it and later decide you don't want your information used, you can email customer service to opt out.
Ordering InsideTracker
Once you decide what package you want to go for, you'll have to find a blood lab near you or, if it's available in your area, have a blood technician come to your house. After the blood is collected and analyzed, your test results will be uploaded to the InsideTracker app (which is available for free on the iOS and Android app stores).
Refunds and Financing
If, for any reason, you wish to cancel your InsideTracker order and get a refund, you must ask for one within 30 days of your original purchase, and before you take a blood test.
InsideTracker offers financing plans through Affirm, which you can apply for at checkout.
Customer Reviews
InsideTracker has hand-picked testimonials on its website, and there's not a place to leave an independent review. We'll update this section if that changes.
There are mixed reviews on TrustPilot, with some people saying customer service didn't respond to complaints about results not being uploaded or blood technicians failing to arrive at their home.
Final Verdict of Our InsideTracker Review
Ultimately, we're going to have to wait for Coop to retest to see if InsideTracker's recommendations have any long-term benefits on his training, nutrition, and overall health.
We do like that InsideTracker uses scientific research to explain its diet and lifestyle recommendation to its customers, gives them a personalized roadmap toward their health, and doesn't try to sell anyone on a specific brand of supplements as other tests sometimes do.
And while the jury may still be out on the effectiveness of such tests, it never hurts to learn more about what's going on inside your body and potential ways you might be able to improve certain conditions.
InsideTracker Rating
InsideTracker FAQs
How much does InsideTracker cost?
InsideTracker offers plans that range from $189 to $589. Technically, there are cheaper plans but they don't include the blood draw or cheek swab necessary to analyze your information, so you'd have to provide that yourself (which is an additional cost). 
What does InsideTracker test for?
InsideTracker tests to see your levels for several different biomarkers, the exact number is determined by which plan you purchase, including testosterone, cholesterol, and cortisol (the stress hormone). You're then provided information on how to improve certain biomarkers through research-backed training and diet advice.
Is InsideTracker covered by insurance?
InsideTracker may be covered under some flexible spending or health savings accounts, according to its website.