We test and review fitness products based on an independent, multi-point methodology. If you use our links to purchase something, we may earn a commission. Read our disclosures.
Training for an Ironman? Want to have a diet plan with science-based macros to hit? Simply looking to lose weight with more low-carb days? If you answered yes to any of these, the Lumen might be the device for you, if it's all it claims to be.
Stick around for my full Lumen review where I tell you if I think this metabolism tracker is all hype, the next big thing, or something in between. Nutrition and fitness go hand in hand, so I'm excited to review this innovative product for my Garage Gym Reviews readers.
Why You Should Trust Us
Trying to build your dream physique with just working out is like buying a Maserati and forgetting to purchase tires; you're going to go nowhere. Nutrition is a critical part of being fit and living a long life. I've reviewed some of the best fitness equipment on the market, and now I'm excited to review something else that could make your health journey even better.

On top of that, we consulted with Crystal Hochman, a certified functional diagnostic nutrition practitioner, to assess Lumen. She has reviewed this article for accuracy.
Lumen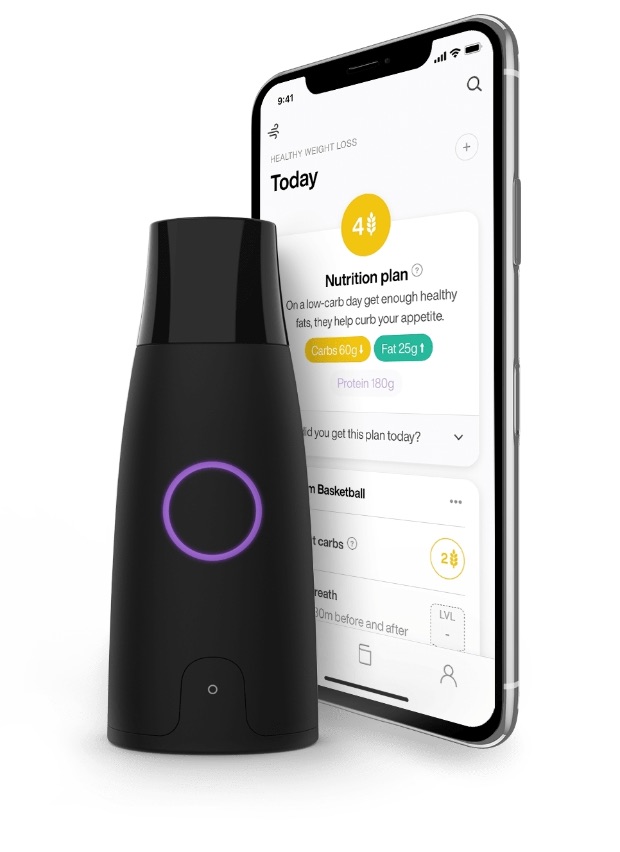 Lumen
The Lumen is an expensive hand-held device that looks to make people more conscious of what they're putting into their bodies on a daily basis. However, the price tag is a steep one; for just 6 months of use, you're looking at paying close to $250 (and it obviously only goes up from there).If you're looking to figure out if your body is burning fat or carbs for weight loss purposes, you'll likely really appreciate what this device has to offer. The connected app will tell you what type of food you should be eating that day based on what your body is currently using as fuel. I think that the app could offer more concrete food plans as a next updated step, but the simple suggestions and daily Flex Score are fun to see.
A Quick Look at Lumen
Lumen was founded in 2016 by two people passionate about both fitness and science–and it shows. Numerous studies (available on the Lumen website) have been conducted to explain the benefits of knowing what your body is burning as fuel at any given time.
Why might you want to know what your body is using as fuel you might ask? This has to do with metabolic flexibility, meaning your body is able to switch between using carbs and fat for fuel. The Lumen is able to determine what your body is burning with a simple 10 second breath.
Coop's Tips:
Wondering where your Lumen Flex Score is? Don't stress, it can take up to two weeks for the device to assign you a score.
In order to get the most out of the Lumen, being committed to the process is key. Write reminders or set alarms on your phone to remember when to use the device.
Lumen measures your heart rate, and won't allow you to take breaths into the device until your heart is at a normal resting level (in order to not screw up the measurement of Co2 and O2).
Pros:
Makes me more mindful of what I'm eating
Portable and easy to take places
High-quality hardware
Sleek packaging and aesthetically pleasing
Cons:
Expensive; almost $250 for 6 months of use
Cannot be used without the subscription service
Integrations are limited
Is Lumen Worth It?
There is no doubt about it, the Lumen is a pricey piece of equipment that I wouldn't recommend to just anyone. However, I think this niche product will be a home run for some. Check out who I think the Lumen is best for.
Great for:
People who have the movement part of weight loss down and want to work on diet
Committed individuals
Those who need help figuring out what their body needs at any given time
Not Recommended for:
People who don't want a recurring subscription
Individuals who can't be bothered to use it multiple times throughout the day
Those looking for a quick solution
Lumen Specs
| | |
| --- | --- |
| Battery | Lithium polymer battery |
| Dimensions | 102mm x 41.4mm x 33.3mm |
| Connectivity | Apple iPhone 6 and later; Android |
| Price | Between $249-$349 |
| Sensor | CO2 |
| Battery Charge | Lasts up to 14 days w/out charge |
| Connection for charging | USB-C |
Using the Lumen
Ever seen a breathalyzer in a TV show (or in real life)? The Lumen is similar usage-wise, in that instead of checking for blood-alcohol levels, it can see what your body is using as fuel. Aesthetically, it looks very sleek, but if we're being honest, it looks like an oversized vape at the same time.
Looks aside, I was super intrigued to try out the Lumen. I've haven't tried a product that claims to do what this one does: see if your body is burning carbs or fat throughout the day. You're supposed to blow steadily for 10 seconds, but I found the Lumen usually needed a second go round to get an accurate reading.
What's the Lumen looking for, you may ask? Carbon dioxide. The Lumen will give you a score between 1-5 based on if your CO2 readings are low or high. If your CO2 levels are high, your body is currently burning carbs as fuel. If your levels are low, your body is burning fat.
The benefits of knowing what your body is using as fuel has to do with metabolic flexibility. If your body has metabolic flexibility, you'll reap a variety of health benefits. Wondering what those are? The Lumen website says the following can happen with improved metabolic flexibility:
Easier weight loss
Better sleep
Stronger immune system
Weight maintenance
Not sluggish and feeling energized
Improved workout performance
Stable blood glucose levels
Easier to build muscle mass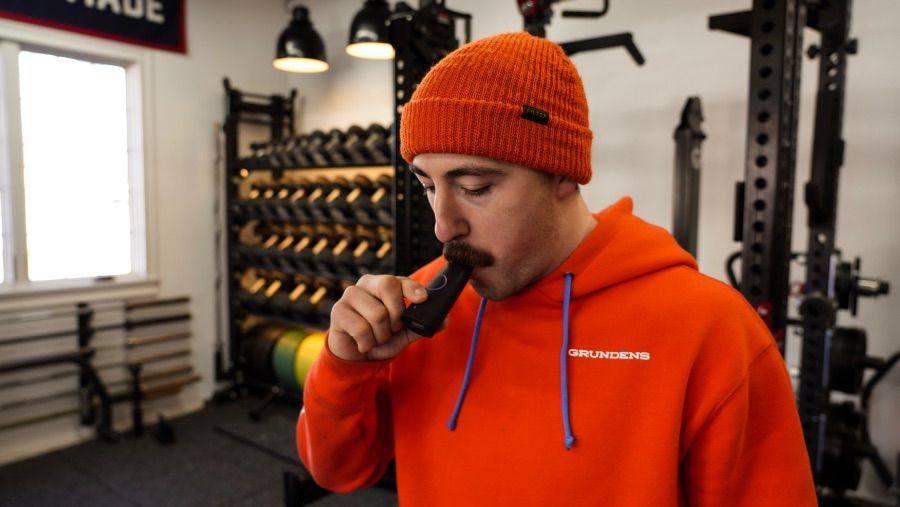 I was told two people can use the same Lumen device, but each person needs to have their own app for their individual flex scores. Even with this info, I don't think I'd want to share a device I'm blowing air into multiple times per day with anyone. Think of all the germs (*shiver*).
The Lumen is a device that is supposed to "hack your metabolism" and help you burn fat, gain muscle, and shed unwanted weight. After trying the Lumen out for a while, I would say it meets this objective. I like that the device forces people to confront their eating, sleeping, and exercising habits that they may have ignored.
However, if you're someone who struggles with consistency, this may not be an ideal device for you. This is because in order to get accurate advice about your habits, the Lumen requires you to blow into the device multiple times a day. If you cannot remember to do this, you won't be able to access the full benefits the device can really offer.
I'm someone who typically eats Keto (high fat, low carb) in the morning, and Lumen is definitely a cheaper way to test for ketosis than ketone strips in the long run. It's also nice to get recommendations on how to improve your eating to better meet your goals. I'm not looking to lose weight, but it's always nice to see what ways I can improve my eating habits.
Accountability
I decided to join the Lumen Community Facebook page, a private group of close to 18,000 members. Lumen users ask questions, celebrate weight loss, and encourage each other to achieve their goals. I found it pretty wholesome, and it still inspires a sense of community and camaraderie I think this device is otherwise missing.
Every day, the Lumen gives you a nutrition plan with a certain number of carbs, fats, and proteins to hit daily. These macros change frequently based on what your body is burning (fat or carbs) so it doesn't stay stagnant. The app might also recommend "boost days," which are usually high carb days, which everyone in the Lumen Facebook group seems to love because who doesn't want to eat more carbohydrates?
Construction and Materials
Hardware-wise, the Lumen is impressive. The device is made of tech materials you're likely familiar with; plastic shroud and a metal lip covering. On the mouth tip, there is a magnetic cap to keep the area clean (and the internals protected).
I'm a big fan of the USB-C charger because you simply place the device on its stand and it remains charged. It reminds me quite a bit of my electric toothbrush, which is a good thing because you don't have to worry about replacing the battery on either the Lumen or my toothbrush.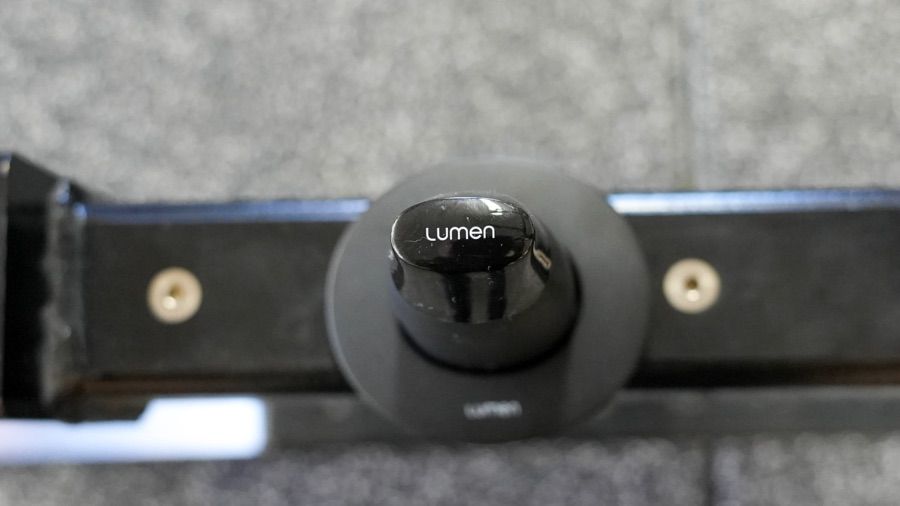 Lumen App
The pricing structure for the Lumen is similar to the Whoop Strap. You pay for the subscription service accessed via the app, and the device comes "free." There are three options to choose from subscription wise:
6 months: $249
12 months: $399
18 months: $349
Something I appreciate about the app is how intuitive it is with a variety of recommendations. I feel like Lumen nailed the combo between hardware and software, which is very Peloton-esque. However, since the Lumen isn't super old, there naturally are some bugs and kinks that need to be worked out. I do like that they are always providing software updates for the Lumen (and the app) which makes me confident any issues will be worked out with time.
The app provides a variety of recommendations on macros and how to lose weight/be healthier. It's great to know what your body is using for fuel, but for most people, they need more advice on what to do with the information.
The recipes and nutrition guides in the app that are designed to change your metabolic flexibility are nice, but it seems a bit half-baked and hard to follow.I think that these could be improved upon in the future, because they seemed a little clunky. Lumen also has little focus on actually working out, which plays a large role in metabolic health.
I noticed in the Facebook group some people were frustrated with not losing weight even after following Lumen's nutrition advice. I think what everyone needs to remember is that while diet does play a large role in your body composition, weight lifting and working out do, too. Studies have shown that the more muscle mass you have, the more your metabolism will improve. I think this is a neglected part of the Lumen that could easily be improved with some thought.
Flex Score
After two weeks of consistently using the Lumen and the accompanying app, you'll receive a flex score. A flex score is a number between 0-21 that represents your metabolic flexibility and how easily your body can work with what you're consuming. Need help decoding your flex score? Here are the ranges and what they mean:
0-6 (Metabolic flexibility is low)
7-14 (Metabolic flexibility is average/medium)
15-21 (Metabolic flexibility is high)
Connectivity
Similar to how you can integrate your Apple Watch with programs like Future, the Lumen is also able to be integrated with your device and Apple Health (as long as you have iOS 4 or greater). You can also connect your Lumen to an Android via Bluetooth.
However, it was mentioned in the Facebook group that if your phone or device is low on power, it'll have difficulty connecting. While I didn't personally experience any connectivity issues between my Lumen and iPhone, it seems to be a common complaint amongst users, so it is worth noting.
Customer Experience
In order to contact Lumen with any questions or concerns, you can email support@lumen.me or talk to customer service via the app. There is also a frequently asked questions portion of the Lumen website to see if your question has already been answered.
In terms of warranty, I think the 1 year that comes with the Lumen could be improved upon. This seems like a rather low amount for something that is expensive and technology based.
The refund policy is pretty standard. You have 30 days from receipt to return the Lumen new and unopened for a refund.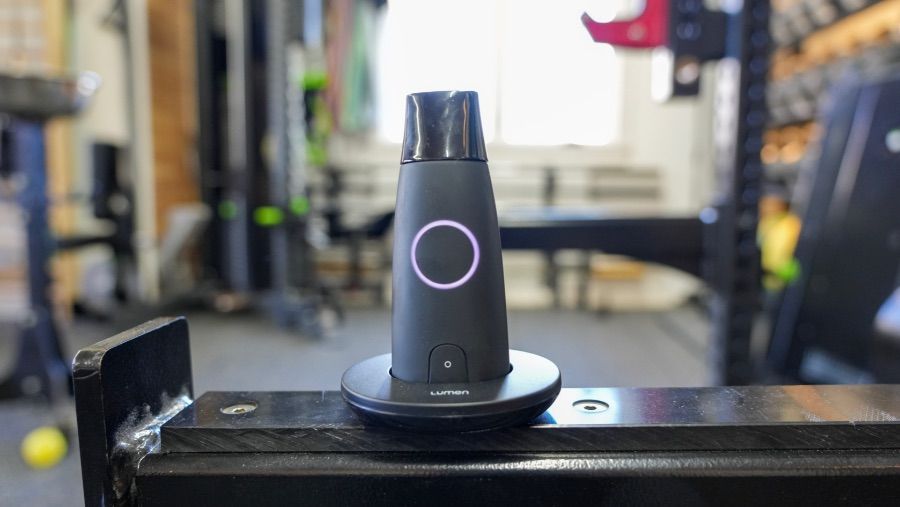 Customer Reviews
With almost 400 reviews on TrustPilot, the Lumen earns a 4.6 out of 5 stars amongst customers. People raved that it assisted them with intermittent fasting, the Keto diet, and keeping track of their macronutrients.
On the negative side, a few people thought the Lumen was one of those gadgets that needed more software work before being released to the public. However, the negative reviews were definitely the minority compared to the glowing assessments of the product.
Final Verdict of Our Lumen Review
All in all, I think the Lumen could really work for specific people to be more conscious about what they're putting into their bodies. The competitive side of me wanted to hit my macros within the app and be mindful of the food I was eating.
I do think the data could overall be more actionable, but I do believe Lumen CAN help people become more metabolically flexible and therefore, I do think it's effective. If the ongoing subscription cost doesn't bother you and you're looking to lose weight or clean up your diet, I'd suggest going for it.
Lumen
The Lumen is a device that aims to help the user figure out what their body is using as fuel at any given time.
Product Brand: Lumen
Product Currency: USD
Product Price: 249
Product In-Stock: InStock
Lumen FAQs
Does the Lumen really work for weight loss?
The Lumen will work for weight loss as much as you're willing to put in the effort to clean up your diet and get the proper exercise. It is a device that can aid in weight loss, but it won't magically allow you to lose weight with zero effort on your part. 
What is a good Lumen flex score?
A good Lumen flex score is between 15-21.
What is the backstory of the Lumen?
The Lumen was created by twin sisters with PhDs, Merav and Michal Mor, who wanted to create a handheld device that would be the gold standard for metabolic measurement. The sisters wanted to see how their energy levels were impacted by being in fat burning mode versus carb burning mode. Thus, the Lumen metabolism tracker was born.
What is the respiratory exchange ratio or RER?
To put it simply, rer is the relationship between the Co2 and O2 that a person is producing. The Lumen works by determining your fuel source via an O2 and Co2 sensor after you blow into the mouthpiece multiple times per day.