We test and review fitness products based on an independent, multi-point methodology. If you use our links to purchase something, we may earn a commission. Read our disclosures.
Can you imagine being involved in over 300 critical roles across multiple departments around the clock? *Google searches "the strongest pre-workout"…*
Magnesium, an essential mineral, helps carry out 300+ processes throughout the entire body: it helps your muscles contract, your heart maintain a normal rhythm, and so much more. Despite this, over half of the U.S. population is estimated not to get enough magnesium in their diets, according to a 2017 review1.
At GGR, we want you to fully experience all that magnesium can do from head-to-toe. So, our expert nutrition team rounded up and reviewed the best magnesium supplement options, hoping you can reclaim those 300+ processes magnesium helps with!
Medical disclaimer: This article is intended for educational and informational purposes only. It is not intended as a substitute for medical advice. For health advice, contact a licensed healthcare provider.
Best Magnesium Supplement
Uncapping the Truth: What is Magnesium
Before diving into our top magnesium supplements, let's uncap what the essential mineral is so you can better understand its importance. As the National Institutes of Health (NIH) tells us, magnesium is involved in over 300 cellular processes in the body, which alone signals just how important it is.
While we'll dive deeper into the benefits of magnesium throughout and compile them near the end (so be sure to stick with us!), it's involved in energy production, protein synthesis, muscle and nerve function, blood glucose control, and infinitely-ish more.
Despite its critical importance, magnesium has recently been named "the forgotten electrolyte2" because it often doesn't receive attention like other electrolytes like sodium, potassium, and calcium. However, magnesium is still a key component in some of the best electrolyte drinks, although it's found in other sources as well.
High Magnesium Sources, Yet Low Magnesium Intakes
Magnesium is naturally found in various food sources, including spinach, nuts, seeds, legumes, and whole grains. And in general, foods rich in dietary fiber (found in most plants) tend to provide magnesium.
But like dietary fiber intake, Americans tend to fall shy of the recommended magnesium intake. The 2017 review1 estimates that 56 to 68% of Americans do not have enough magnesium in their daily diet.
How could this be? Many factors are at play, but diets rich in ultra-processed foods contain diminished magnesium levels. Common dietary staples in the Westernized diet contribute less than 20% of daily magnesium requirements.
Interestingly, too, vitamin D deficiency can reduce the absorption of magnesium. Alas, a deficiency of the sunshine vitamin is also on the rise—so one of the best vitamin D supplements may help.
Speaking of supplements, magnesium also comes in supplemental form often on its own, in the best multivitamins for men and women, or another elixir blend. There are many forms of supplemental magnesium—like magnesium glycinate, magnesium oxide, and magnesium oxide—that each comes with its own benefits and potential side effects, which we'll touch upon.
Of course, we always encourage eating more wholesome, nutrient-rich foods to lower deficiency risks and optimize your health. But we likewise understand supplements can and do have their time and place to fill in any nutritional gaps, and that is exactly why we want to share our top magnesium supplements with you and how the various forms could enrich your health.
Best Magnesium Supplement Overall: Transparent Labs Magnesium Bisglycinate
Good for: Enhancing your daily magnesium intake with high-quality, third-party tested capsules
Transparent Labs provides high-quality products and full transparency about them, its single-ingredient magnesium supplement included. As our best magnesium supplement overall, let's see what this single-ingredient magnesium supplement is all about.
Each three-capsule serving provides 300 milligrams of magnesium bisglycinate chelate, a combo of magnesium and the amino acid glycine. Also known as magnesium glycinate and chelated magnesium, magnesium bisglycinate provides great absorbability with fewer side effects—like diarrhea and abdominal cramping—compared to other forms of magnesium.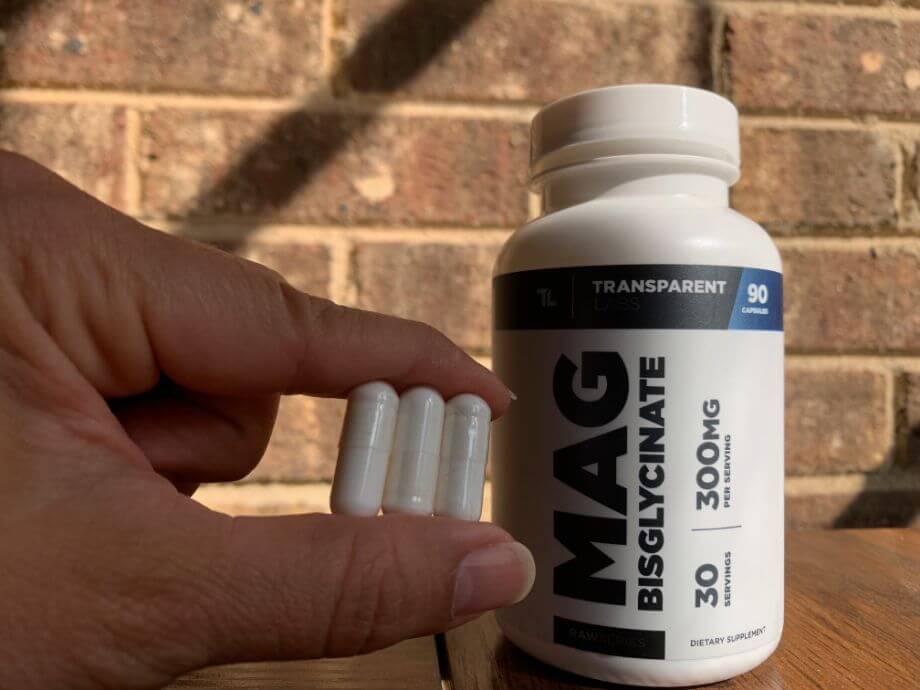 GGR head of content Kate Meier tested Transparent Labs' magnesium out, and said the capsules are quite large—and you have to take three per serving. Keep that in mind if you don't like swallowing pills.
While we cover dosing in full below, how much supplemental magnesium you get varies based on many factors—like the intended use and the amount of magnesium you consume from food sources. But to provide context for Transparent Lab's 300-milligram dose, and the other options ahead, the Daily Value (DV) for magnesium is 420 milligrams daily for an adult male and 320 milligrams for an adult female.
Like all Transparent Lab products, its magnesium supplement is free of artificial ingredients and third-party tested. You can even view its Certificate of Analysis (COA), aligning perfectly with the brand's commitment to transparency.
| | |
| --- | --- |
| Type | Capsules |
| Form of Magnesium | Magnesium Bisglycinate |
| Magnesium Per Serving | 300 mg (71% DV) |
| Dosing Instructions | Take 3 capsules with or without a meal once or twice daily |
| Cost | $16.99/30 servings = $0.57/serving |
Best Magnesium Supplement for Athletes: Legion Sucrosomial Magnesium
Good for: Supporting your daily fitness, health, and magnesium goals
Committed to providing clinically effective doses and total formulation transparency, Legion is a supplement brand we trust and regularly recommend. And supposedly providing a scientifically proven form of magnesium that supports athletic performance, amongst other benefits, Legion Sucrosomial Magnesium could be a great option for athletes and health enthusiasts alike.
If you're wondering what "Sucrosominal Magnesium" is all about, it's a patented form of magnesium oxide protected by a sucrosomial complex trademarked by Maypro. The company website tells us that phospholipids and sucrose esters cover magnesium to enhance absorption—and apparently absorb faster with 20 percent higher bioavailability than magnesium citrate. A 2018 study3 further suggests that sucrosomial magnesium leads to an increased bioavailability of magnesium compared to other forms like magnesium oxide.
And regarding those athletic benefits, out of all of the minerals, magnesium (and iron) has the strongest quality evidence4 for improving athletic and muscle performance. But given that magnesium helps with energy metabolism and muscle function, it's unsurprising that it may support athletic endeavors.
Specific to magnesium oxide, there's some research5 hinting that supplementing with it for 12 weeks seems to improve physical performance in healthy older women. Overall, because adequate magnesium levels6 are positively linked to muscle performance and cardiorespiratory health during aerobic exercise, adequate intake should be emphasized over the form.
Like all Legion products, we appreciate that the magnesium supplement is free of artificial ingredients. Oh, and Legion offers a "no return necessary" money-back guarantee and will give you a full refund on the spot—no forms or return necessary!
And as the magnesium-rich cherry on top, Legion products are also made in U.S.-based, National Sanitation Foundation (NSF)-certified, Food and Drug Administration (FDA)-inspected, and Good Manufacturing Practices (GMP)-compliant facilities. They also undergo third-party testing to ensure it meets FDA purity standards, and you can even view each product's COA on the Sucrosomial Magnesium product page.
GGR head of content Kate Meier tested Legion's magnesium and said the pill was easy to swallow—she appreciated the serving size is only one capsule, too. She regularly takes magnesium and didn't notice any interruption or side effects when swapping this product in, which is a good thing.
| | |
| --- | --- |
| Type | Capsules |
| Form of magnesium | Sucrosomial magnesium (magnesium oxide) |
| Magnesium per serving | 150 mg (36% DV) |
| Dosing instructions | Instructions are not denoted on the product page, although a serving size is 1 capsule |
| Cost | $29.99/120 servings = $0.25 |
Best Magnesium Supplement for Sleep: Swolverine ZMT
Good for: Enhancing your sleep and magnesium regimen
Trouble chasing down those Zzz's and making any muscle gains? Swolverine ZMT is formulated to be the "perfect nighttime elixir for restful recovery and sleep."
Swolverine ZMT's robust blend provides 422 milligrams of magnesium glycinate that may improve subjective measures of insomnia—like sleep efficiency, time, and onset—according to a 2012 study.7 Magnesium is thought to improve sleep by regulating your levels of gamma-aminobutyric acid8 (GABA), an amino acid that acts as an inhibitory neurotransmitter with stress-reducing and sleep-enhancing effects, in which GABA is also included in ZMT.
The sleep-promoting magnesium supplement also contains natural sleep aids and adaptogens like melatonin, theanine9, and ashwagandha10. (If you do not necessarily need a magnesium supplement but are looking for sleep benefits, check out the best ashwaghanda supplements).
GGR performance editor Anthony O'Reilly tried Swolverine ZMT and did in fact notice the effects of the melatonin and other sleep aids.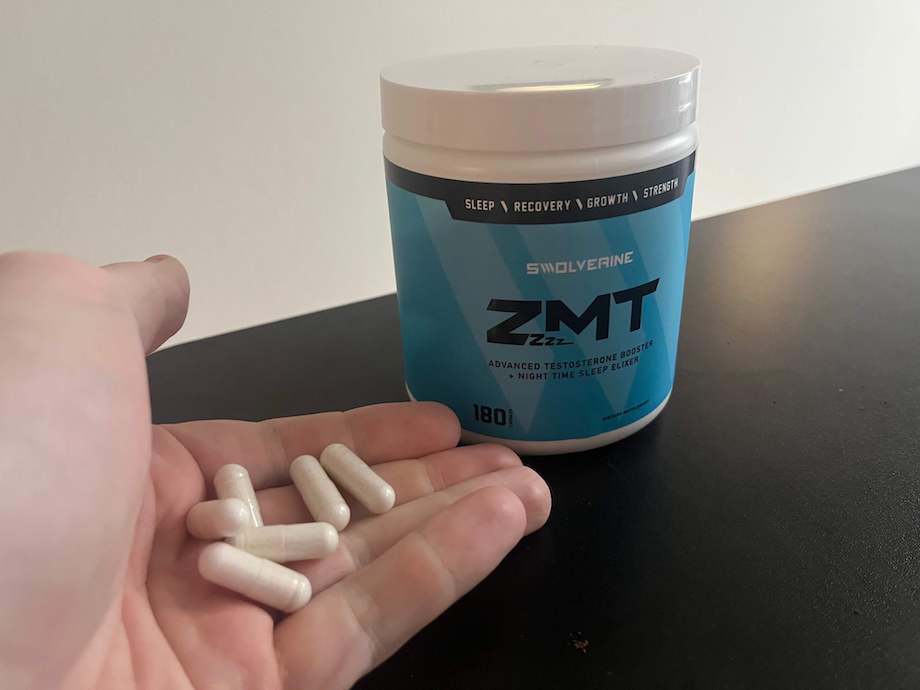 Beyond getting a healthy dose of shuteye, this formula also claims to boost testosterone with the help of vitamins B6 and B12, zinc, and other plant compounds such as diindolylmethane (DIM). While plant and herbal ingredients are mainly safe, they can come with risks—especially if taking certain medications and managing a health condition—so it's extra essential to approach them with caution and under the care of your doctor.
Potential benefits and risks aside, Swolverine ZMT is vegan, non-GMO, and gluten-free. And like all Swolverine products, it's formulated in the U.S. and third-party tested in an NSF and FDA-certified inspected facility for Good Manufacturing Practices (GMP) compliance. You can also view Swolerine's Certificates of Analysis that ensure each product's quality, content, and purity.
| | |
| --- | --- |
| Type | Capsules |
| Form of magnesium | Magnesium glycinate |
| Magnesium per serving | 422 mg |
| Dosing instructions | Instructions are not denoted on the product page, although a serving size is 6 capsules |
| Cost | $64.99/30 servings = $2.17/serving |
Best High-Dose Magnesium Supplement: LifeForce Magnesium
Good for: Those who need a high magnesium dose to treat anxiety-related symptoms
If you're looking for the biggest bang for your buck when it comes to dosage, LifeForce Magnesium contains 315 milligrams of magnesium per three-tablet serving. Registered dietitian Laila Ouldibbat says that amount is perfect for anyone looking to take magnesium to alleviate stress or anxiety-related symptoms.
"Glad it falls within the recommended daily allowance and 'stress dose,'" Laila says. A 2017 review of studies on magnesium found supplementing with the micronutrient reduced stress-related symptoms such as mild anxiousness, premenstrual syndrome (PMS), and hypertension. There were no improvements in postpartum anxiety, the study found.
Laila warns, however, that users should know how much magnesium they're getting from their food in addition to this magnesium supplement. The average adult should limit themselves to 350 milligrams of magnesium per day—not far from the 315 mg dose. Excess magnesium could lead to an upset gastro-intestinal tract.
Kate Meier, GGR head of content and expert product tester, didn't notice much of a change in her mood during her testing. She added that the tablets were large and "very chalky."
"I couldn't take all three at once," Kate says.
| | |
| --- | --- |
| Type | Tablets |
| Form of magnesium | Magnesium bis-glycinate chelate, magnesium L-threonate, di-magnesium malate, magnesium n-acetyltaurinate |
| Magnesium per serving | 315 mg |
| Dosing instructions | 3 tablets |
| Cost | $60/30 servings = $2/serving |
Best Budget Magnesium Supplement: Nature Made Magnesium Glycinate
Good for: Supplementing with a high absorbable magnesium at a lower cost
While great for any budget, Nature Made Magnesium Glycinate is far from low-quality! And for extra savings, and longer-term use, we recommend snagging the 180-count filled with 90 servings—this amounts to about $0.57 per day versus about $0.70 per day for the 60-count, 30-day supply.
Your health-devoted $0.55 per day provides 200 milligrams of highly absorbable magnesium glycinate to support a healthy heart, bones, and nervous system. This form of magnesium may also be gentler on the stomach than others like magnesium oxide.
GGR performance editor Anthony O'Reilly tried these Nature Made tablets and said for the price, you can't beat them. "Did it help me fall asleep? Yes, but not to the point where I'd take them every night," he says. "I do take them now if I need to fall asleep quickly, such as the night before a flight or something like that."
Although Nature Made prides itself on being the first vitamin brand to earn United States Pharmacopeia (USP) verification on many of its products, there's no sign online that its magnesium supplement is. But we like that it's free of synthetic dyes, artificial flavors, and gluten.
| | |
| --- | --- |
| Type | Capsules |
| Form of magnesium | Magnesium bisglycinate |
| Magnesium per serving | 200 mg (48% DV) |
| Dosing instructions | Take 2 capsules daily with water and a meal |
| Cost | $50.97/90 servings = $0.57/serving |
Best Magnesium Supplement for Constipation: NOW Magnesium Citrate
Good for: Promoting regularity one magnesium capsule at a time
Google search "magnesium functions," and you'll find roles related to helping with muscle and nerve function, managing blood sugar levels, regulating blood pressure, and supporting immune health, amongst others. Search for "magnesium citrate," it makes sense why NOW Magnesium Citrate is crowned to send you back to your porcelain throne.
NOW provides 400 milligrams of magnesium citrate, a form of magnesium well known for its laxative effects. It works by increasing fluid in the small intestine, thus softening the stool and relieving constipation, often within 30 minutes to 6 hours.
GGR staff writer Lauren Strong says this magnesium was recommended to her for pelvic floor health, as well as regularity, by her physical therapist. "I like that the one pill has a 400-milligram dose, which is exactly how much I'm supposed to take."
Early 1990 research11 shows that magnesium citrate is more soluble and bioavailable than magnesium oxide, another form of magnesium commonly used to treat constipation. Newer 2017 research12 confirms and supports the former data, suggesting magnesium citrate may be more suitable than magnesium oxide for optimizing dietary magnesium intake.
To totally support your gut health, we recommend checking out the best prebiotic, best probiotic, and best fiber supplements (especially if you aren't getting enough of these in your daily diet).
But back to the NOW, its magnesium citrate is not manufactured with wheat, gluten, soy, egg, fish, shellfish, and tree nuts. However, it's made in a GMP facility (great to see!) that processes common food allergens (so please select accordingly).
| | |
| --- | --- |
| Type | Capsules |
| Form of magnesium | Magnesium citrate |
| Magnesium per serving | 400 mg (95% DV) |
| Dosing instructions | Take 3 capsules daily, preferably in divided doses, with food |
| Cost | $21.45/80 servings = $0.27/serving |
Best Magnesium Supplement for Migraines: Nature Made Magnesium Oxide
Good for: Alleviating migraines and increasing magnesium intake with one daily capsule
Did you know magnesium can help with migraines? According to the American Migraine Foundation, a 400 to 600-milligram dose of magnesium oxide may prevent migraines. A recent 2021 study13 further supports that magnesium oxide may be as effective as valproate sodium14, a medication for migraines.
Nature Made provides 400 milligrams of magnesium oxide per 1 soft gel serving, aligning with the 400 to 600 milligram dose for migraine. Beyond managing and preventing migraines, the Nature Made magnesium supplement is formulated to support bone, nerve, and heart health.
It's important to note that magnesium oxide can have a strong laxative effect and is the reason why it's often used to treat constipation.
GGR senior editor Nicole Davis has been supplementing with Nature Made's magnesium oxide to help with headaches during pregnancy, and has noticed a huge improvement in her symptoms—consider her sold!
And as previously mentioned, many of Nature Made's products are third-party tested and certified through USP. But like its magnesium glycinate supplement, there's no indication of USP certification on magnesium oxide's product page.
| | |
| --- | --- |
| Type | Tablets |
| Form of magnesium | Magnesium oxide |
| Magnesium per serving | 400 mg (95% DV) |
| Dosing instructions | Take 1 softgel daily with water and a meal |
| Cost | $13.99/60 servings = $0.20/serving |
Best Powder Magnesium Supplement: Thorne Magnesium Bisglycinate
Good for: Mixing and sipping a lightly-sweetened, third-party tested magnesium powder
Thorne Research is known for its high-quality ingredients in clinically effective doses, even collaborating with Mayo Clinic, and that's one of the reasons why we awarded it the best iron supplement overall. All this to say, it's really not so surprising that its magnesium powder landed on our top picks.
Formulated to promote restful sleep and muscle relaxation, one scoop of the taste-free powder provides 200 milligrams of magnesium bisglycinate. While the powder does not indicate a specific flavor, it is sweetened with the natural sweetener monk fruit. It's also free from gluten, added sugars, thickeners, and artificial flavors and colors.
Thorne's facilities are verified by multiple international third-party organizations, including Australia's Therapeutic Goods Administration, a regulatory agency run by the Australian Government Department of Health. Thorne supplements are also NSF Certified for Sport, meaning they have been tested for and are free of over 200 substances banned by many major sports organizations.
| | |
| --- | --- |
| Type | Powder |
| Form of Magnesium | Magnesium bisglycinate |
| Magnesium Per Serving | 200 mg (48% DV) |
| Dosing Instructions | Instructions are not denoted on the product page, although a serving size is 1 scoop |
| Cost | $48.00/60 servings = $0.80/serving |
Best Magnesium Complex: Klaire Labs Mag Complete
Good for: Obtaining multiple forms of magnesium with a single goal of increasing daily intake
Is taking more than one form of magnesium best? According to Klaire Labs, "a blend of four bioavailable forms of magnesium allows your body to optimally absorb and use this vital mineral." But you know how we roll at GGR, so let's dig into the data.
Klaire Labs Mag Complete provides 240 milligrams of magnesium sourced from four different forms of magnesium: magnesium succinate, magnesium taurinate (also referred to as magnesium taurate or acetyl taurate), magnesium malate, and magnesium aspartate.
A 2019 study15 suggests magnesium acetyl taurate and malate forms have higher absorbability than magnesium citrate and oxide, while magnesium aspartate shows to compensate for deficiency more effectively and faster than 10+ other forms according to 2010 data.16 However, it's important to note that the results are based on animal studies, and more human studies should be conducted.
Interestingly, GGR staff writer Lauren Strong found that Mag Complete gave her trouble sleeping. "It was noticeable that I wasn't falling asleep as easily as I do with other magnesium blends." And while this is not the common side effect, we thought we should call it out.
| | |
| --- | --- |
| Type | Capsules |
| Form of magnesium | Magnesium succinate, magnesium taurinate, magnesium malate, magnesium aspartate |
| Magnesium per serving | 240 mg (57% DV) |
| Dosing instructions | Take 2 capsules, 2 times daily with food |
| Cost | $23.90/60 servings = $0.40/serving |
Best Gummy Magnesium Supplement: Trace Minerals Magnesium Gummy
Good for: Kids and adults alike who prefer chewable nutrients beyond their food
You should ideally bite into magnesium-rich foods—like leafy greens, nuts, seeds, and whole grains—on a daily basis. But Trace Minerals Magnesium Gummies can conveniently supplement your magnesium intake in just a few chews.
One gummy serving provides 84 milligrams of magnesium citrate to support a healthy mood, energy levels, and mental focus. The small dose in each gummy makes them suitable for children and Trace Minerals recommends kids aged 4 to 12 years to chew 1 gummy per day. Anyone aged 13 and older can chew 1 gummy up to 4 times daily spread throughout the day to mitigate the laxative effect of magnesium citrate.
Like most gummy supplements, all three flavors—Peach, Tangerine, and Watermelon—contain added sugars sourced from organic cane sugar and organic tapioca syrup. But unlike most gummies, these are gelatin-free, making them a great option for a vegan diet.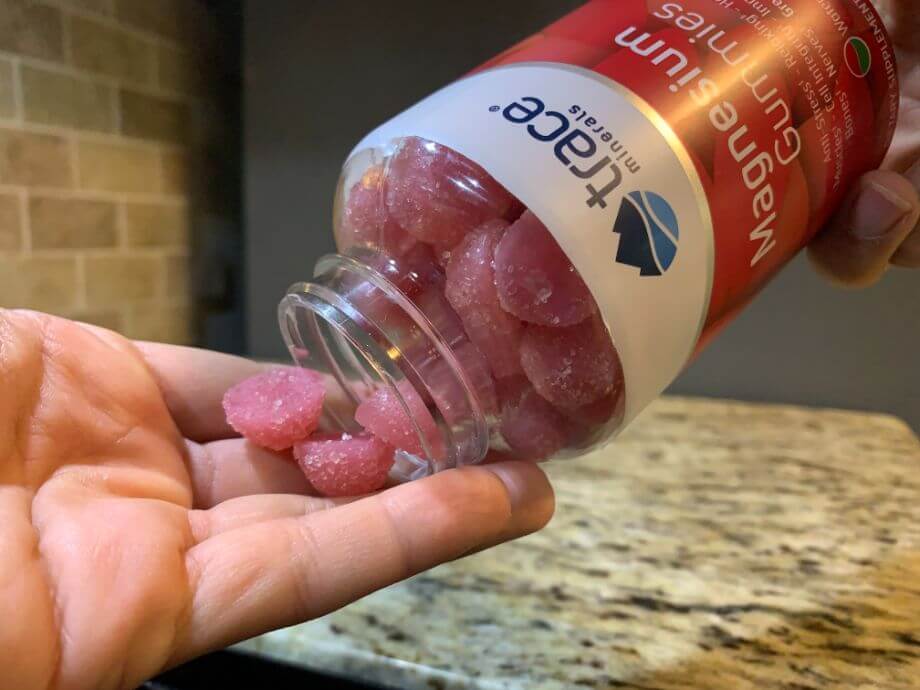 GGR head of content Kate Meier tried these gummies, and she said not only are they delicious, they work, too. "I take four at a time; they provide a very calming effect and help me sleep. I have wild dreams, too!"
Speaking of, Trace Minerals Magnesium Gummies are Certified Vegan and also free of gluten and GMOs. While no identifiable logo indicates additional third-party testing, Trace Minerals claims its "rigorous standards and certifications from manufacturing to packaging guarantee clean, trustworthy products."
| | |
| --- | --- |
| Type | Gummies |
| Form of magnesium | Magnesium citrate |
| Magnesium per serving | 84 mg (20% DV) |
| Dosing instructions | Children ages 4 to 12, chew 1 gummy per day; for ages 13 and older, chew 1 gummy up to 4 times daily alone or at mealtime |
| Cost | $19.99/120 servings = $0.17/serving |
Best Magnesium Supplement for Stress: Natural Vitality Calm
Good for: Combatting day-to-day stress one sip of magnesium at a time
Breathe in, breathe out… Sip Natural Vitality Calm, and mellow out. If you're seeing this Natural Vitality, new slogan? And if you're seeing this in hopes of managing stress, Natural Calm might be your newest supplement stack addition.
The calming magnesium powder provides 350 milligrams of magnesium carbonate in a 2-tablespoon serving size. Magnesium carbonate is joined with citric acid, so when they're added to water, it forms magnesium citrate—but does it really ease stress?
Based on a 2017 review1, emotional stress—whether related to excitement, anxiety, or depression—increases the need for magnesium. This is likely because magnesium converts tryptophan to serotonin, a neurotransmitter majorly linked to mental health and mood. Complementary evidence published in Nutritional Neuroscience17 suggests magnesium supplementation may prevent depression and be an adjunctive therapy.
The magnesium-calming drink comes in its original, unflavored option and five flavors—Cherry, Lemon, Orange, Raspberry Lemon, and Watermelon—all free of added sugar, fructose, and artificial colors and flavors.
"I have taken Natural Calm, either as a powder or as gummies, on and off for years," says GGR head of content Kate Meier. "I love it. I always sleep better when I take it (and it always gives me dreams that are totally bananas!). I started off just taking two at a time, and now I take four gummies."
| | |
| --- | --- |
| Type | Drink Mix (5 flavor options) |
| Form of magnesium | magnesium carbonate |
| Magnesium per serving | 350 mg (83% DV) |
| Dosing instructions | Add 2 tsp to 2-3 oz water, let it fizz, then stir and enjoy |
| Cost | $22.77/113 servings = $0.20/serving (for Original on Amazon) |
Best Magnesium Supplement for Brain Health: Life Extension Neuro-Mag
Good for: Boosting magnesium levels and supporting an intelligent noggin
A serving of Life Extension Neuro-Mag provides 144 milligrams of magnesium sourced from Magtein, the patented name for magnesium L-threonate (MgT). According to Magceutics, magnesium L-threonate is a mineral salt of magnesium, a brain-bioavailable form of magnesium, and well-tolerated with no significant adverse effects.
Most of the research on the effects of magnesium L-threonate are animal studies, including these 201018 and 2019 studies19 that imply MgT improves brain-related functions like learning and memory. Fast forward to 2022, a study20 suggests that Magtein, paired with vitamins C and D, may improve memory and cognition in healthy adults.
GGR performance editor Anthony O'Reilly tried these Life Extension magnesium tablets, and said that while they weren't life-changing for him right off the bat, he may need more time to take them.
The capsules are manufactured in the United States, gluten-free, and non-GMO. But if capsules aren't your thing, Life Extension offers a Tropical Punch powder that also provides 144 mg of Magtein magnesium L-threonate per serving.
Life Extension is committed to quality assurance, as NSF International certifies its procedures meet high GMP standards. Life Extension also voluntarily participates in the ConsumerLab program—a third-party organization that tests for potency and purity—and provides the COAs of each product on request.
| | |
| --- | --- |
| Type | Capsules (Tropical Punch Powder also available) |
| Form of magnesium | Magtein magnesium l-threonate |
| Magnesium per serving | 144 mg (34% DV) |
| Dosing instructions | Take 3 capsules daily |
| Cost | $26.94/30 servings = $0.90/serving |
Other Magnesium Supplements We Researched
While we stand by our top picks, we also researched these other magnesium supplements, which we haven't had a chance to try yet:
How We Picked and Tested the Best Magnesium Supplements
Wanna get in on a little secret? When picking and testing the best magnesium supplements, our team of registered dietitians and licensed nutrition experts use our supplement testing methodology to looks at things like:
Magnesium form: Beyond satisfying your daily magnesium needs, different types of magnesium supplements elicit different benefits. Whether your focus is relieving constipation, improving sleep, or enhancing brain health, our list of magnesium supplements is diverse to satisfy the various needs of our readers.
Formulation: What's inside each supplement matters most, so we captured magnesium products formulated with high-quality ingredients and without artificial ingredients, fillers, and preservatives.
Third-party testing: Finding products that comply with Good Manufacturing Practices (GMPs) and undergo third-party testing is at the top of our priority list.
Cost: Because everyone's budget varies, and we believe everyone should have access to supplements and products to optimize their health, you'll always find different price options on our roundups.
Consumer satisfaction: We want to guide our readers to companies with their best interests in mind, so we always review their core values, return policies, and customer reviews on the companies' websites and third-party seller sites like Amazon.
Benefits of Magnesium Supplements
Active in over 300 processes in the body, the health benefits of magnesium follow suit. Here's how magnesium supplements could enhance your health for the better:1
May improve athletic and muscle performance and help alleviate muscle cramps that may inhibit performance
Can help control blood sugar levels in healthy individuals and those managing type 1 diabetes21 and type 2 diabetes22
Supports bone health and lowers the risk of osteoporosis, which makes sense given 53% of magnesium reserves are in bone
Relieves constipation, particularly with the help of magnesium citrate and oxide forms
Prevents and manages migraines, even showing to be as effective as medications13
Promotes a good night's rest and improves sleep efficiency, time, and onset7
Supports cardiovascular health by reducing high blood pressure and atrial fibrillation, irregular heartbeats
Bolsters mental health by preventing depression, improving mood, and alleviating stress
Enhances cognition, especially learning and memory function18
Offers nutritional insurance and convenience if/when magnesium-rich food sources are not readily available
Dosing and Interactions
While magnesium supplements are mostly considered safe, you should still dose them accordingly. Magnesium can also interact with certain medications and supplements, posing serious risks and reducing effectiveness.
Dosing Magnesium
While there's no standardized magnesium supplement dose, the tolerable upper limit of magnesium supplementation is 350 milligrams per day without side effects. However, higher levels can be used as indicated, but consuming too much magnesium can lead to digestive diarrhea, muscle weakness, and other adverse side effects.1
As a starting point, it's wise to understand how much magnesium you need each day. Provided by the NIH, the RDAs (or the average daily intake to meet nutrient requirements) below indicate the amount of magnesium to consume based on life stage.
| | | | | |
| --- | --- | --- | --- | --- |
| Age | Male | Female | Pregnancy | Lactation |
| Birth to 6 months* | 30 mg | 30 mg | | |
| 7-12 months | 75 mg | 75 mg | | |
| 1-3 years | 80 mg | 80 mg | | |
| 4-8 years | 130 mg | 130 mg | | |
| 9-13 years | 240 mg | 240 mg | | |
| 14-18 years | 410 mg | 360 mg | 400 mg | 360 mg |
| 19-30 years | 400 mg | 310 mg | 350 mg | 310 mg |
| 31-50 years | 420 mg | 320 mg | 360 mg | 320 mg |
| 51+ years | 420 mg | 320 mg | | |
*Recommendation based on Adequate Intake (AI)
Magnesium Interactions
Did you know certain nutrients can interfere with how other supplements and medications work in the body? This can downplay anticipated results and even be really dangerous in some instances. The NIH tells us that magnesium supplements can interact or interfere with some medicines and supplements, including:
Antibiotics
Bisphosphonates
Diuretics
Proton pump inhibitors
Zinc supplements
But before taking any sort of supplement, we always recommend consulting with a dietitian, doctor, or another healthcare professional. They can help you determine a dose of magnesium right for you, especially if you have high or low levels of magnesium, and review any interaction risks.
Third-Party Testing
Did you know that dietary supplements aren't tightly regulated by the Food and Drug Administration (FDA)? This is why we always prioritize companies who voluntarily have their products third-party tested to verify purity and safety. Reputable, third-party testing stamps to look out for include:
Informed Sport
National Sanitation Foundation (NSF)
US Pharmacopeia (USP) Verification
The FDA does, however, establish Good Manufacturing Practices (GMPs) regulations for quality assurance that we recommend looking out for. Products can also be certified to help consumers make well-informed decisions related to specific dietary restrictions and preferences, like being Certified Gluten-Free or USDA Organic.
Buying Guide: What to Look for in Magnesium Supplements
Before committing to and starting a magnesium supplement, make sure you check off these boxes to find one that best supports your nutritional needs and goals:
Intended use: Consider if there's a specific use for taking a magnesium supplement beyond supporting your daily magnesium intake. For instance, magnesium citrate is best known for managing constipation, while magnesium L-threonate might support cognition.19 
Magnesium dose: If you're already taking a multivitamin and regularly consuming magnesium-rich foods, you might start with a lower dose. But again, consult with a dietitian or another healthcare professional for expert guidance on how much supplemental magnesium you need. 
Dietary restrictions and preferences: Choose a product that factors your dietary restrictions and preferences, like being vegan or gluten-free. 
Intake form: Do you prefer gummies, capsules, or powders? Are you okay with taking larger doses multiple times daily or do you want a one-and-done product? These are important factors to consider so you'll be more apt to take the supplement consistently. 
Budget: Factor in how much you're willing to spend on a supplement, especially for long-term use if or as needed. 
Third-party testing: Opt for third-party tested products manufactured in GMP-compliant facilities as often as possible. 
Magnesium Supplements FAQs
What is the most effective form of magnesium supplement?
The NIH mentions some forms of magnesium—like magnesium in the aspartate, citrate, and chloride forms—are better absorbed than magnesium oxide and magnesium sulfate.
However, a 2021 meta-analysis23 suggests that all magnesium supplements can maintain physiological levels in healthy individuals. 
Moreover, each form of magnesium offers different benefits, so it's best to take the one that supports your health goals and needs. For instance, magnesium citrate shows to be the most effective for managing constipation due to its laxative effects, while magnesium L-threonate may benefit brain health more.
Is it better to take magnesium citrate or magnesium glycinate?
Because magnesium citrate and magnesium glycinate appear well-absorbed but offer different health benefits, it's best to take the one that addresses your needs. Magnesium citrate is more effective for managing constipation due to its laxative effects, whereas magnesium glycinate may be best for promoting general health and wellness.
Which magnesium is safe to take daily?
All forms of magnesium appear safe, although magnesium citrate and oxide are known to cause digestive distress. Dosing according to the product's instructions and, ideally, under medical guidance is also essential.
What type of magnesium is best for weight loss?
Although a 2021 meta-analysis24 suggests magnesium supplementation may reduce body mass index (BMI), there's no definitive type best for weight loss. Magnesium supplements should be used to ensure adequate intake of the mineral rather than a weight loss aid.
Is it better to take magnesium supplements in the morning or at night?
The answer, as always, is it depends, and also the time of day isn't as important as taking it on a consistent basis. If you're more likely to remember to take your supplement in the morning then do it then, but if it's easier for you at night then there's no problem with that.
These statements have not been evaluated by the Food and Drug Administration. This product is not intended to diagnose, treat, cure, or prevent any diseases.
References
Schwalfenberg GK, Genuis SJ. The Importance of Magnesium in Clinical Healthcare. Scientifica (Cairo). 2017;2017:4179326. doi:10.1155/2017/4179326
Ahmed F, Mohammed A. Magnesium: The Forgotten Electrolyte-A Review on Hypomagnesemia. Med Sci (Basel). 2019;7(4):56. Published 2019 Apr 4. doi:10.3390/medsci7040056
Brilli E, Khadge S, Fabiano A, et al. Magnesium bioavailability after administration of sucrosomial® magnesium: results of an ex-vivo study and a comparative, double-blinded, cross-over study in healthy subjects. Eur Rev Med Pharmacol Sci. 2018 Mar;22(6):1843-1851. doi: 10.26355/eurrev_201803_14605. PMID: 29630135.
Heffernan SM, Horner K, De Vito G, et al. The Role of Mineral and Trace Element Supplementation in Exercise and Athletic Performance: A Systematic Review. Nutrients. 2019 Mar 24;11(3):696. doi: 10.3390/nu11030696. PMID: 30909645; PMCID: PMC6471179.
Veronese N, Berton L, Carraro S, et al. Effect of oral magnesium supplementation on physical performance in healthy elderly women involved in a weekly exercise program: a randomized controlled trial. Am J Clin Nutr. 2014;100(3):974-981. doi:https://doi.org/10.3945/ajcn.113.080168
Zhang Y, Xun P, Wang R, et al. Can Magnesium Enhance Exercise Performance?. Nutrients. 2017;9(9):946. Published 2017 Aug 28. doi:10.3390/nu9090946
Abbasi B, Kimiagar M, Sadeghniiat K, et al. The effect of magnesium supplementation on primary insomnia in elderly: A double-blind placebo-controlled clinical trial. J Res Med Sci. 2012 Dec;17(12):1161-9. PMID: 23853635; PMCID: PMC3703169.
Hepsomali P, Groeger JA, Nishihira J, et al. Effects of Oral Gamma-Aminobutyric Acid (GABA) Administration on Stress and Sleep in Humans: A Systematic Review. Front Neurosci. 2020;14:923. Published 2020 Sep 17. doi:10.3389/fnins.2020.00923
Rao TP, Ozeki M, Juneja LR. In Search of a Safe Natural Sleep Aid. J Am Coll Nutr. 2015;34(5):436-47. doi: 10.1080/07315724.2014.926153. Epub 2015 Mar 11. PMID: 25759004.
Yang L, Chen X, Gao Y. Efficacy of Different Concentrations of Withanolides in Ashwagandha Supplements for Insomnia and Enhancing Energy Level. Curr Dev Nutr. 2022;6(Suppl 1):881. Published 2022 Jun 14. doi:10.1093/cdn/nzac067.001
Lindberg JS, Zobitz MM, Poindexter JR, Pak CY. Magnesium bioavailability from magnesium citrate and magnesium oxide. J Am Coll Nutr. 1990 Feb;9(1):48-55. doi: 10.1080/07315724.1990.10720349. PMID: 2407766.
Kappeler D, Heimbeck I, Herpich C, et al. Higher bioavailability of magnesium citrate as compared to magnesium oxide shown by evaluation of urinary excretion and serum levels after single-dose administration in a randomized cross-over study. BMC Nutr. 2017;3(1). doi:https://doi.org/10.1186/s40795-016-0121-3
‌Karimi N, Razian A, Heidari M. The efficacy of magnesium oxide and sodium valproate in prevention of migraine headache: a randomized, controlled, double-blind, crossover study. Acta Neurol Belg. 2021 Feb;121(1):167-173. doi: 10.1007/s13760-019-01101-x. Epub 2019 Feb 23. PMID: 30798472.
Rahman M, Nguyen H. Valproic Acid. [Updated 2022 Jul 4]. In: StatPearls [Internet]. Treasure Island (FL): StatPearls Publishing; 2023 Jan-. Available from: https://www.ncbi.nlm.nih.gov/books/NBK559112/
Uysal N, Kizildag S, Yuce Z, et al. Timeline (Bioavailability) of Magnesium Compounds in Hours: Which Magnesium Compound Works Best? Biol Trace Elem Res. 2019 Jan;187(1):128-136. doi: 10.1007/s12011-018-1351-9. Epub 2018 Apr 21. PMID: 29679349.
Spasov AA, Petrov VI, Iezhitsa IN, et al. [Comparative study of magnesium salts bioavailability in rats fed a magnesium-deficient diet]. Vestn Ross Akad Med Nauk. 2010;(2):29-37. Russian. PMID: 20364677.
Derom ML, Sayón-Orea C, Martínez-Ortega JM, et al. Magnesium and depression: a systematic review. Nutr Neurosci. 2013 Sep;16(5):191-206. doi: 10.1179/1476830512Y.0000000044. Epub 2012 Dec 6. PMID: 23321048.
Slutsky I, Abumaria N, Wu LJ, et al. Enhancement of learning and memory by elevating brain magnesium. Neuron. 2010 Jan 28;65(2):165-77. doi: 10.1016/j.neuron.2009.12.026. PMID: 20152124.
Sadir S, Tabassum S, Emad S, et al. Neurobehavioral and biochemical effects of magnesium chloride (MgCl2), magnesium sulphate (MgSO4) and magnesium-L-threonate (MgT) supplementation in rats: A dose dependent comparative study. Pak J Pharm Sci. 2019 Jan;32(1(Supplementary)):277-283. PMID: 30829204.
Zhang C, Hu Q, Li S, et al. A Magtein®, Magnesium L-Threonate, -Based Formula Improves Brain Cognitive Functions in Healthy Chinese Adults. Nutrients. 2022;14(24):5235. doi:https://doi.org/10.3390/nu14245235
Lin CC, Huang YL. Chromium, zinc and magnesium status in type 1 diabetes. Curr Opin Clin Nutr Metab Care. 2015 Nov;18(6):588-92. doi: 10.1097/MCO.0000000000000225. PMID: 26406393.
Piuri G, Zocchi M, Della Porta M, et al. Magnesium in Obesity, Metabolic Syndrome, and Type 2 Diabetes. Nutrients. 2021 Jan 22;13(2):320. doi: 10.3390/nu13020320. PMID: 33499378; PMCID: PMC7912442.
Pardo MR, Garicano Vilar E, San Mauro Martín I, Camina Martín MA. Bioavailability of magnesium food supplements: A systematic review. Nutrition. 2021 Sep;89:111294. doi: 10.1016/j.nut.2021.111294. Epub 2021 Apr 28. PMID: 34111673.
Askari M, Mozaffari H, Jafari A, et al. The effects of magnesium supplementation on obesity measures in adults: a systematic review and dose-response meta-analysis of randomized controlled trials. Crit Rev Food Sci Nutr. 2021;61(17):2921-2937. doi: 10.1080/10408398.2020.1790498. Epub 2020 Jul 11. PMID: 32654500