We test and review fitness products based on an independent, multi-point methodology. If you use our links to purchase something, we may earn a commission. Read our disclosures.
If you're reading this, you likely either intentionally searched for the strongest pre-workout supplements or accidentally stumbled across our list in your search for the best pre-workout and your interest was piqued.
Whichever camp you fall into, we want to preface with this: High-stimulant pre-workouts might sound like a good time, but we can't stress the importance of safe consumption enough. They also give much truth to the notion, "Just because you can, doesn't mean you should."
At GGR, we're the first to admit that most of us have tried these products first-hand and genuinely do enjoy them. We're also the first to admit that we are brutally honest in our reviews—exhibit A: our Woke AF Pre-Workout Review.
All of this said, we want to help you navigate how to select and use the strongest pre-workout as carefully as possible. So, without further delay, let's take heed of our top picks formulated to take your workout to the next level (or a few)!
Medical disclaimer: This article is intended for educational and informational purposes only. It is not intended as a substitute for medical advice. For health advice, contact a licensed healthcare provider.
Strongest Pre-Workouts
Strongest Pre-Workout Overall: Nutrition Cartel El Jefe
Good for: Anyone looking to enhance their pre-workout game with effective ingredients
If you're looking for the strongest of the strong overall, El Jefe Pre-Workout might be the Mitchell Hooper of pre-workouts. It's got a lofty ingredients list, so saddle up as we decipher their rhyme and reason. But before that, we need to tell you about Mike, a weightlifting teammate of GGR's head of content Kate Meier.
Mike, a very strong man, knew right away that the Creamsicle flavor was going to be a strong pre-workout. "After I took this I felt like my sinuses cleared up—felt like my nostrils were huge! I felt like I could breathe better." Mike says. "The taste is good, kind of like an orange smarty. Not too sweet, just tangy. It mixed pretty well, but there is a bit of a chalky aftertaste."
And as far as the pump, "It definitely gives you a big pump and is quick to kick in," Mike says. "It kicked in almost right away. I didn't feel like my skin was crawling but still had that energy. The biggest thing was the focus—this is one of the best feelings of being "locked in" compared to others I've tried (and I've used 20-30 different ones)."
We'll point out that you can enjoy El Jefe as a single or double serving, although we highly encourage you to start low and slow to gauge tolerance. This is mainly because two scoops of El Jefe provide a whopping 400 milligrams of caffeine, the total daily recommended amount set by the U.S. Food and Drug Administration (FDA). And to put caffeine content in perspective, gentler pre-workouts range between 150-300 milligrams per serving. 
However, the International Society of Sports Nutrition1 suggests that 3-6 milligrams of caffeine per kilogram of body mass can offer ergogenic benefits. So for someone who weighs 82 kilograms (about 180 pounds), this amounts to 246-492 milligrams of caffeine. But, again, start low and increase your tolerance level or as a healthcare provider advises.
Caffeine aside, a double scoop serving of El Jefe contains 7 grams of citrulline malate2—a combo of L-citrulline and malate—to help enhance nitric oxide and subsequent blood flow and muscular endurance. Two scoops also supply 2.5 grams of betaine anhydrous3, 2 grams of taurine4, and 150 milligrams of ElevATP to improve aerobic and anaerobic performance and recovery.
You'll also get 4 grams of beta-alanine per two scoops, which research5 shows is effective for delaying neuromuscular fatigue and improving exercise performance if you're supplementing with 4-6 grams. But if you experience paresthesia—that tingling feeling after taking pre-workout—the International Society of Sports Nutrition6 suggests that dividing beta-alanine into lower doses of 1.6 grams can help (so maybe stick to one scoop versus two).
El Jefe also provides choline7 to increase endurance performance in activities that reduce circulating choline levels below normal. It also contains Nitrosigine, or L-arginine stabilized by inositol. Research8 suggests 1,500 milligrams of Nitrosigine—the amount El Jefe supplies in two scoops—helps increase pre-workout energy levels and post-workout muscle pump while decreasing muscle damage.
It also contains Huperzine A, a derivative of a traditional Chinese herb that may combat inflammation and increase cognition, and black pepper extract9 to help enhance nutrient absorption.
And as the cherry on top, El Jefe delivers a "Jefe Stim Matrix" that's really just a proprietary blend filled with various nootropics, stimulants, and plant extracts—like theobromine10 and Eria Jarensis (N-phenethyl dimethylamine). We also need to point out that Eria Jarensis is a banned substance in Australia, and research about its benefits and risks is minimal.
Active ingredients aside, all four flavors—including Tigers Blood and Orange Creamsicle—contain artificial flavorings, sweeteners, and colorings. There's also no sign of third-party certifications, so it's hard to tell if the strong pre-workout undergoes rigorous testing to validate it contains what it's claimed to.
| | |
| --- | --- |
| Caffeine Content | 200 mg per 1 scoop, 400 mg per 2 scoops |
| Other Important Ingredients | L-Citrulline (8,000 mg), beta-alanine (4,000 mg), betaine anhydrous (3,000 mg), DMAE (2-dimethylaminoethanol) bitartrate (500 mg) (2 scoops) |
| Flavor Option(s) | Orange Creamsicle, Peach Rings, Sour Gummy Bear, Tigers Blood |
| Cost | $54.95/40, 1-scoop servings = $1.37/serving$54.95/20, 2-scoop servings = $2.75/serving |
Strongest Pre-Workout for Strength and Power: Transparent Labs BULK Black
Good for: Powering your workout with science-backed ingredients and clinically-effective doses
While you shouldn't always read a book by its cover, just one peek at Transparent Labs BULK Black's sleek exterior tells us it means business. And its ingredients inside are ready to power up your next workout. 
Certified personal trainer and GGR performance editor Anthony O'Reilly knows this from personal experience. "This is the pre-workout you take if you want to feel like you're in the middle of a musical montage," he says. "The first time I took this I felt like I was invincible. I PR'ed on two lifts in the same day, and I'm not sure if it was because of the actual ingredients or because of how 'locked in' I felt."
Anthony has been ordering extra espresso shots in his lattes since 16, but even he felt energized by the 275 milligrams of caffeine—that might be because the high-stim pre-workout contains other ingredients to prolong caffeine's energy-boosting effects.
"To address the elephant, yes, this is worth the higher price," says Anthony, who's tried dozens of high-caffeine pre-workouts. "Energy was quick, long-lasting, and non-crashing. Face tingles were minimal, and the strength gains were noticeable."
The powerful pre-workout formula contains familiar ingredients in efficacious doses—like 4 grams of beta-alanine5, 2.5 grams of betaine anhydrous, and 1.3 grams of taurine.4 It also provides an 8-gram dose of citrulline malate2, which research11 shows can help increase athletic performance in high-intensity anaerobic exercises and relieve post-exercise muscle soreness.
And here's where that extra power comes in: the Transparent Labs pre-workout also contains alpha-glycerylphosphorylcholine (alpha-GPC). Research12 suggests that alpha-GPC increases lower-body force production and that speed and power athletes should consider adding it to enhance muscle performance. It also contains boron13, which is thought to improve muscle growth and strength, although no current evidence shows it to be a helpful ergogenic aid. 
RELATED: Best Pre-Workout for Muscle Gain
Oh, and we can't forget that caffeinated power! BULK Black provides 275 milligrams of caffeine anhydrous—a concentrated caffeine powder—per scoop. It also provides 30 milligrams of Infinergy™, a trademarked caffeine salt of malic acid (dicaffeine malate), formulated to prolong the ergogenic effects of caffeine and give a smoother, longer-lasting increase in mental performance.
Overall, the nootropics in BULK Black—like alpha-GPC12, L-tyrosine14, and L-theanine15—are said to improve your mental focus and mental acuity without the worry of jitters or that dreaded post-workout crash. And research15 shows that intentionally pairing L-theanine with caffeine may increase reaction time, attention, and memory while reducing stress16 and blood pressure.17
The pre-workout provides sodium and potassium18 to boost the pump even more and promote hydration, as well as vitamins B6, B12, and D to enhance energy production. AstraGin™, a blend of Astragalus membranaceus and Panax notoginseng roots, is also added to help the body absorb the active ingredients in BULK Black.
All five flavors of BULK Black are free of artificial sweeteners, coloring, and preservatives. Also, rest easy knowing that it's third-party tested, with its Certificate of Analysis readily available online and has Informed Choice certification, meaning it's been screened for banned substances. 
RELATED: Transparent Labs BULK Review
| | |
| --- | --- |
| Caffeine Content | 305 mg per 1 scoop serving |
| Other Important Ingredients | Citrulline Malate (8,000 mg), Beta-alanine, (4,000 mg), Taurine (1,300 mg), L-Theanine (200 mg) |
| Flavor Option(s) | Black Cherry, Blue Raspberry, Cherry Kiwi, Peach Mango, Sour Gummy |
| Cost | $54.99/30 scoops = $1.83/scoop |
Strongest Pre-Workout for Focus: JYM Supplements Pre-JYM
Good for: Lasering your focus while boosting your athletic performance and recovery
Look no further than "Pre-JYM" if you're looking for energy with enhanced focus. The JYM Supplements pre-workout has 13 ingredients claimed to "fuel your most intense workouts and help you reach your loftiest fitness goals."
Some of those 13 ingredients are familiar—like alpha GPC12, beta-alanine5, betaine anhydrous3, and citrulline malate.2 And if you're wondering about the stim, Pre-JYM provides 300 milligrams of caffeine19 per scoop to enhance focus, attention, and the overall performance of your workout. 
That's exactly what happened to Jacob Penner, a Level-2 USA Weightlifting Coach and GGR expert panel member. "I've taken this at least half a dozen times, and I always felt really clear and super stimulated for my workouts," says Jacob, owner of Endless Strength Weightlifting. "This actually has ended up being the team's favorite pre-workout of potentially all time, and these guys have literally used 50+ pre-workouts. For the last few months, this is the one they grab most often and enjoy the most, both in taste and in effects."
Unlike other strong pre-workouts on our list, Pre-JYM provides 6 grams of branched-chain amino acids in a 2:1:1 ratio (which we look for in the best BCAAs) to support muscle growth and enhance athletic performance and recovery.
Pre-JYM also contains creatine HCl to improve your strength gains and performance in the gym. Research20 also shows that compared to creatine monohydrate, creatine HCl is 41 times more soluble and provides favorable changes to body composition.
Pre-JYM's addition of beetroot extract21 may also enhance nitric oxide, blood flow, and athletic performance. It also provides Huperzine A to combat inflammation and increase cognition, along with BioPerine Black Pepper Extract to help absorb the nutrients it offers—like calcium, sodium, and potassium18.
Depending on the flavor, the pre-workout also contains color additives such as Blue #1, Red #40, and Yellow #5. While the Food and Drug Administration (FDA) suggests these color additives are primarily safe and side effects are rare, allergic-type and other adverse reactions can still occur.
As our full JYM pre-workout review covered, there's no sign of third-party testing. While this doesn't exactly mean you should avoid it, lacking certification makes us question if it adheres to manufacturing and testing practices for safety and purity. 
| | |
| --- | --- |
| Caffeine Content | 300 mg per 1 scoop serving |
| Other Important Ingredients | Creatine-HCI (2 g), Beta-alanine (2 g), Taurine (1 g), Alpha-GPC (150 mg), Huperzine A (50 mcg) |
| Flavor Option(s) | Black Cherry, Cherry Limeade, Grape Candy, Orange Mango, Pineapple Strawberry, Pink Lemonade, Rainbow Sherbert, Raspberry Lemonade, Strawberry Kiwi, Tangerine |
| Cost | $54.99/30 servings = $1.83/serving |
Strongest Natural Pre-Workout: Legion Pulse
Good for: Anyone looking for a powerful pre-workout formulated with high-quality and natural ingredients
Legion Pulse provides the most natural ingredients out of all the strongest pre-workouts on our list. And while its ingredients list might be one of the slimmest of the bunch, don't confuse that with ineffective!
RELATED: Best Natural Pre-Workout
Nicole, GGR senior editor and certified personal trainer, says, "It gives me energy for sure, and I haven't experienced any of the negative stuff. Many other reviewers tend to agree, saying that it provides amazing energy without that infamous stimulant-induced post-workout crash."
We'll point out that Legion Pulse supplies a hefty 350-milligram dose of caffeine (but Legion Pulse also comes in non-caffeinated options). And to potentially help enhance the effects of the caffeine, Legion Pulse also provides 350 milligrams of L-theanine.15  
Legion Pulse is formulated with other commonly used pre-workout ingredients, including citrulline malate2 (8 grams), beta-alanine5 (3.6 grams), alpha-GPC12 (300 milligrams), and betaine3 (2.5 grams). The main product page backs its formula with scientific studies, so it's quite clear that each selected ingredient has a purpose and effective dosing.
The pre-workout comes in over 10 flavors, all sweetened with erythritol and stevia leaf extract and free of artificial sweeteners, flavors, food dyes, and other "chemical junk." We also applaud that Legion Pulse is third-party tested by Labdoor, free of banned substances, and made in National Sanitation Foundation (NSF)-certified, Food and Drug Administration (FDA)-inspected, and Good Manufacturing Practices (GMP)-compliant facilities in the U.S. (Oh, and they will give you a full refund "on the spot" if you don't love Pulse!)
| | |
| --- | --- |
| Caffeine Content | 350 mg per 2 scoops (1 serving) |
| Other Important Ingredients | L-Citrulline (8 g), Beta-alanine (3.6 g), Betaine (2.5 g), Alpha-GPC (300 mg) |
| Flavor Option(s) | Apple Cider, Arctic Blast, Blood Orange, Blue Raspberry, Blueberry Lemonade, Cherry Limeade, Frosted Cranberry, Fruit Punch, Grape, Green Apple, Mojito, Peach Ring, Pink Lemonade, Sour Candy, Strawberry Kiwi, Strawberry Margarita, Tropical Punch, Watermelon |
| Cost | $44.99/20 servings = $2.25/serving |
Strongest Pre-Workout on a Budget: Huge Supplements Wrecked Enraged
Good for: Eliciting a highly stimulated workout without breaking the bank
Low budget goals but strong stim desires? Enter Wrecked Enraged, perhaps the strongest pre-workout priced at the lowest cost.
But let us first preface that a two-scooped serving of Wrecked Enraged contains 400 milligrams from various stimulants. According to ConsumerLabs, some of the stimulants Wrecked Enraged contain—like N-phenethyl dimethylamine and N-isopropylnorsynephrine—are prohibited and banned in some countries.
Jacob Penner, a USA Weightlifting Level-Two Coach has tried 50-plus pre-workouts during his lifetime, "and this is wildly aggressive, even for me.
"I am more than good with just one scoop of this; can't imagine taking two," Jacob continues. "I will say that this could be one of the best ones I've tried; it doesn't hurt my stomach, I feel really stimulated, and I like the ingredients—I'd just be careful taking this."
With that outta the way, the pre-workout provides ingredients that are pretty standard and expected—like 4 grams of beta-alanine5 and 1 gram of alpha-GPC.12 You'll also be provided with Huperzine A and black pepper extract9 to augment cognition and nutrient absorption, respectively.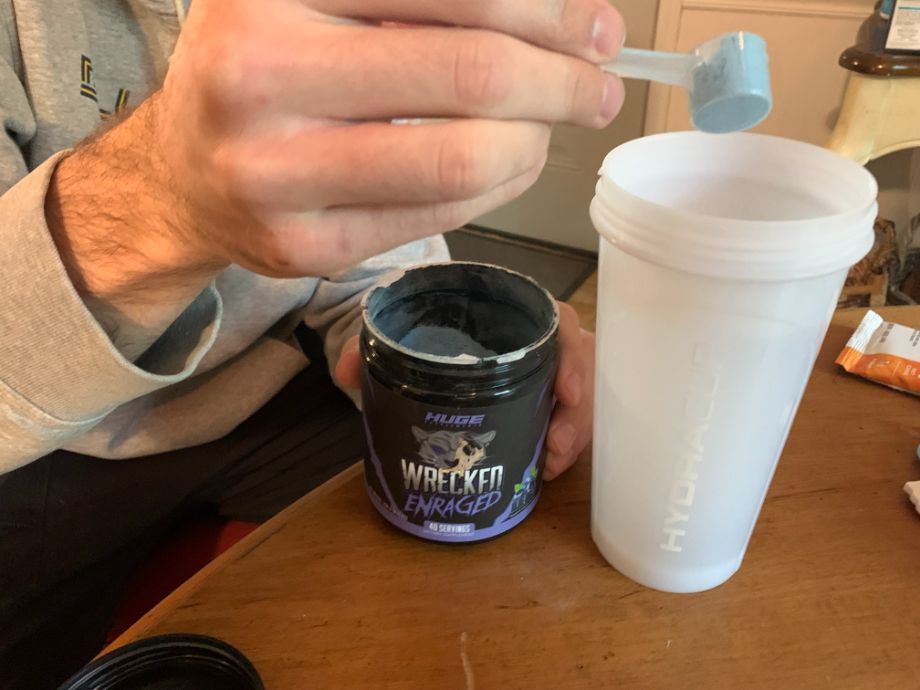 Wrecked Enraged also introduces us to the newer ingredient halostachine—also known as N-methylphenylethylamine—that works as a "fat burner" similar to ephedrine, a weight loss drug banned for sale as a dietary supplement by the FDA. While halostachine is commonly dosed at 50 milligrams twice daily, hardly any research supports its use.
Wrecked Enraged also contains artificial flavors, sweeteners, and dyes like other strong pre-workouts, although that hasn't stopped Jacob from enjoying it: "I tried Blue Razz and the taste is so good. It tastes like a blue Icee; it is sweet, but not overly sweet. It's almost dangerous how good it tastes because it doesn't taste like a supplement, it just tastes like a good blue drink. I was actually able to eat after taking this. A lot of times when you take high-dose pre-workouts, you don't want to eat. I actually wanted to eat with this."
| | |
| --- | --- |
| Caffeine Content | 200 mg per 1 scoop, 400 mg per 2 scoops |
| Other Important Ingredients | Beta-alanine (4,000 mg), Alpha-GPC (1,000 mg), Huperzine A (35 mg) (2 scoops) |
| Flavor Option(s) | Blood Razz, Blue Razz, Death Wish, Mango Citrus |
| Cost | $44.95/40, 1-scoop servings = $1.12/serving$44.95/20, 2-scoop servings = $2.25/serving |
Strongest Pre-Workout for a Pump: Jacked Factory NitroSurge Max
Good for: Pumping up your workouts with premium and patented ingredients
While we named Jacked Factory Nitrosurge as the best pre-workout for beginners, its cousin Nutrisurge Max might be for more advanced lifters. That's because it supposedly elicits "skin-splitting pumps," so let's dive deeper into this "hard-hitting" formula.
RELATED: Best Pump Pre-Workout
We'll first note that Nitrosurge Max truly doubles down on the pump by providing a whopping 9,000 milligrams of L-citrulline22 per two scoops. L-citrulline, an amino acid that helps increase the body's nitric oxide production, improves blood flow and subsequently provides the "pump."
Nitrosurge provides the familiar ingredients betaine anhydrous3 and L-tyrosine14 to enhance power and cognition. And it's also fully loaded with premium trademarked ingredients, including nooLVL, AlphaSize, ElevATP, and PurCaf.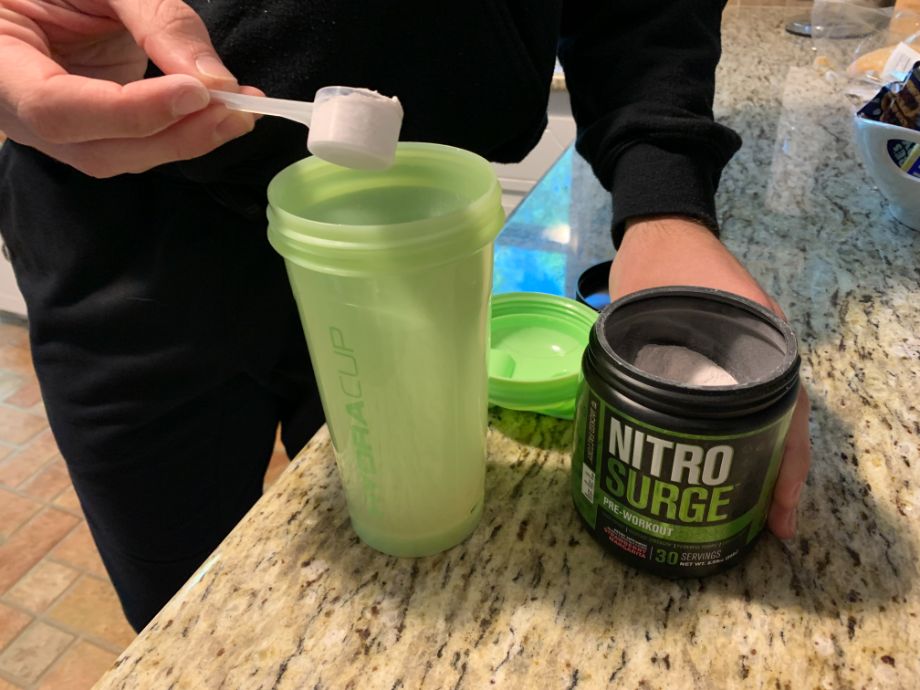 While used chiefly in eSports, research23 shows that nooLVL (a non-stimulant known as inositol-enhanced arginine silicate) improves focus, attention, and energy levels. AlphaSize (alpha GPC12), ElevATP (a natural combo of ancient peat and apple polyphenols), and Senactiv (a blend of Rosa roxburghii and Panax notoginseng, may increase energy supply to the muscles, synergize the mind-muscle connection, and enhance recovery.
As you might've guessed, PurCaf is the caffeine source—specifically pure organic caffeine from green coffee that's USDA-certified organic. One scoop provides 175 milligrams of caffeine, which actually still could be a gentler beginner option, while two scoops provide 350 milligrams (and more suitable for those with higher tolerances).
We'll also note that while it's a more budget-friendly option, all three flavors of Nitrosurge Max are often sold out (including the time of writing this). So if you're looking for the least expensive strongest pump pre-workout, Wrecked Enraged might be for you. 
| | |
| --- | --- |
| Caffeine Content | 175 mg per 1 scoop, 350 mg per 2 scoops |
| Other Important Ingredients | L-Citrulline (9,000 mg), Betaine (2,500 mg), Alpha GPC (300 mg), Huperzine A (250 mcg) (2 scoops) |
| Flavor Option(s) | Cherry Bomb, Electric Blue Raspberry, Watermelon Rocket |
| Cost | $39.99/40, 1-scoop servings = $1.00/serving$39.99/20, 2-scoop servings = $2.00/serving |
Strongest Pre-Workout with Best Taste: RedCon1 Total War
Good for: Those looking for intense (and delicious) pre-workout energy
What's better than kicking off your workout routine with a delicious pre-workout and your favorite workout playlist? A strong pre-workout with a delicious taste and some killer beats, perhaps!
To jump right into the flavors, RedCon1 Total War offers over 20! Looking for something simple? You might go with Grape, Green Apple, or Watermelon. Want to sip into the tropics? Go for Pineapple Juice or Watermelon Margarita. No matter your palate, there ought to be a flavor for you.
Anthony, GGR performance editor and product tester, has tested the Total Wars "Star Wars" (Light Side" flavor and a collab with All Elite Wrestling superstar Kenny Omega."
The pre-workout gets a 5-out-of-5 on both taste and effects, Anthony says. "You can definitely feel the stimulants within the first 30 minutes of drinking it, but I never experienced a crash or over-stimulation (I have a high caffeine tolerance, though). So A+ when it comes to energy boost. In terms of strength, it's pretty good but nothing special. It's better than C4 or Optimum Nutrition, but I've experienced similar strength gains on similarly priced pre-workout, so I give it a B+."
Flavors aside, one scoop of Total War provides 320 milligrams of caffeine for energy, 6 grams of citrulline malate2 for the pumps, and 3.2 grams of beta-alanine5 for muscular endurance. It also supplies the familiar ingredients taurine4, theobromine10, and black pepper extract.9 
Total War also welcomes us to juniper24 and naringin25 extracts. While there's limited research about their effects on athletic performance, both offer antioxidant properties and may combat inflammation in the body. It also provides agmatine sulfate26, which may boost nitric oxide levels and provide neuroprotective benefits.
RedCon1 supplements are manufactured in GMP facilities and carried at U.S. military exchanges and commissaries. They're also third-party tested with ABC for ingredient level verification and heavy metals and comply with Prop 65. 
Learn more in our full Total War Pre-Workout Review.
| | |
| --- | --- |
| Caffeine Content | 320 mg per 1 scoop serving |
| Other Important Ingredients | Citrulline Malate (6 g), Beta-Alanine (3.2 g), Taurine (1 g), Theobromine (50 mg) |
| Flavor Option(s) | 20+ such as Baja Bomb, Blue Lemonade, Bubble Gum, Cali Splash, Grape, Icy Lemonade, Orange Crush, Peach Iced Tea, Rainbow Candy, Strawberry Mango, Tigers Blood, Watermelon |
| Cost | $42.99/30 servings = $1.43/serving |
Strongest Pre-Workout with Creatine: Kaged Pre-Kaged Elite
Good for: Anyone looking to enhance their muscular endurance in a single product
If you're looking for one mighty pre-workout, let us introduce you to Kaged Pre-Kaged Elite: Pre-Kaged's stronger and more caffeinated brother. Pre-Kaged Elite provides 20 effective ergogenic ingredients—nine patented—conveniently categorized on the Supplement Facts label. 
Jacob Penner, USA Weightlifting Level-2 Coach and GGR expert panel member says, "I feel like I have a constant amount of energy—not hyper, no spikes, no lows. Not tingly at all. I'd use this again! I really like the flavor and the effects. Wouldn't use it on a day I need a massive burst of energy or pump, but would use it for routine training."
We'll start with "Pump & Performance" which provides a mega dose of 10,000 milligrams of L-citrulline22 and 3,200 milligrams of beta-alanine.5 It also contains 5 grams of total creatine monohydrate and creatine nitrate, which is the effective dose found in the best creatine supplements. Creatine nitrate comes from NO3-T, a patented creatine that helps support strength, increase muscle mass, and produce muscle pumps.
"Power & Burn" is formulated with patented betaine anhydrous3 and L-carnitine, which helps the body turn fat into energy and may improve athletic performance. Taurine4, coconut fruit water powder, and elevATP comprise the "Cellular Hydration & ATP Amplifier" matrix to promote hydration and energy production.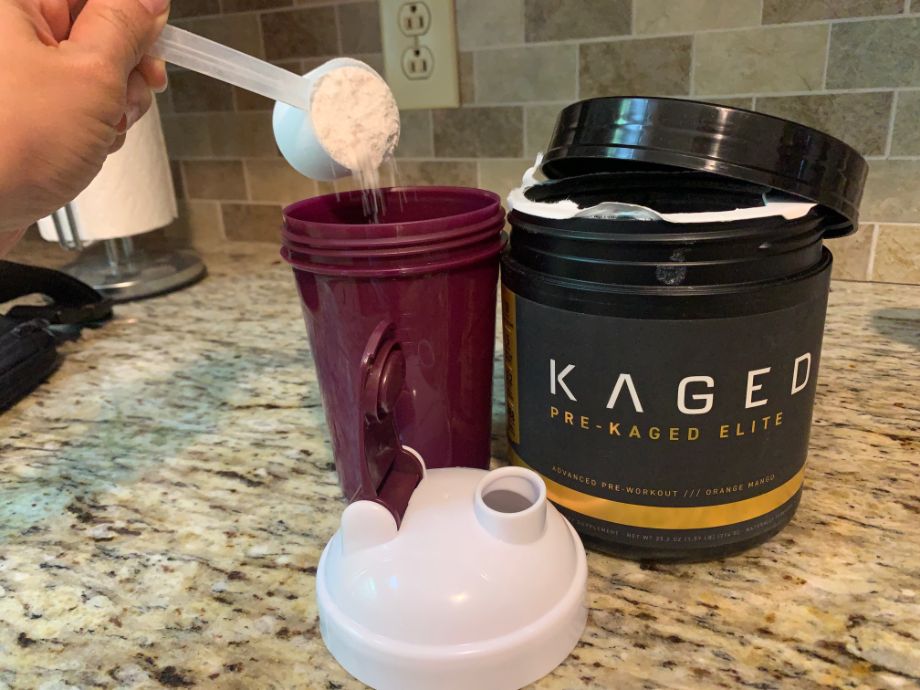 The "Energy & Focus" matrix provides L-tyrosine14, alpha-GPC12, huperzine A, and caffeine sourced from the patented ingredients PurCaf and AmaTea. Whereas Kaged Pre-Kaged provides a specific 274 milligrams of caffeine per serving, the Elite blend provides a whopping 388 milligrams.
Pre-Kaged Elite is also rich in various vitamins and minerals, including vitamin B6, vitamin B12, magnesium, potassium, and sodium.18 It also provides a high dose of niacin, a B vitamin that helps the body convert food into energy, but could elicit a facial flushing effect, according to a 2019 study.27
Out of all the strongest pre-workouts, Pre-Kaged Elite is the only one to be Informed Choice Certified—meaning it undergoes third-party testing and is free of banned substances. And while it's not cheap, costing $3.00 per serving, we think its high-quality and tested formulation might be well worth the spend if you have wiggle room in your budget. (And it could displace your creatine tub and act as a 2-in-1 supplement!)
RELATED: Kaged Muscle Pre-Kaged Review
| | |
| --- | --- |
| Caffeine Content | 388 mg per 1 scoop |
| Other Important Ingredients | Creatine (5,000 mg), L-Citrulline (10,000 mg), Beta-alanine (3,200 mg), Taurine (2,000 mg) |
| Flavor Option(s) | Caribbean Sunrise, Fruit Punch, Glacier Grape, Orange Mango, Strawberry Lemonade |
| Cost | 59.99/20 servings = $3.00/serving |
Other Strong Pre-Workouts We Researched
There are plenty of other strong pre-workouts on the market, including these options that just didn't make the final cut on the list of our top picks:
How We Picked and Tested the Strongest Pre-Workout
While picking and testing the strongest pre-workout products on the market isn't a job for the faint of heart, the GGR team is always up for trying products to best serve our readers. Here's the inside scoop on our selection process:
Stimulants: Strong pre-workouts call for strong stimulants; we didn't skimp out on them. But because everyone's tolerance varies, we included varying caffeine contents and products that can easily be divided into single scoops.
Formulation: Caffeine might be the backbone of a strong pre-workout, although even the best stim-free pre-workouts can provide stellar pump and dialed-in focus. That said, we looked for products formulated with staple pre-workout ingredients like beta-alanine5, citrulline malate2, and alpha-GPC.12
Flavor options: Because everyone has different palates, our list falls nothing short of flavor variety. So, say NO to dry scooping pre-workout and all the yes to mixing and sipping your favorite pre-workout flavor with water!
Cost: Our roundups always feature products with varying costs in hopes there's at least one option to fit into our readers' budgets.
Third-party testing: Whether searching for the best creatine or best fish oil supplement, we always prioritize products that undergo third-party testing.
Benefits of Strong Pre-Workouts
We might've already hinted about the benefits of strong pre-workouts, but below highlights just how supplementing with one could take your fitness to the next level.
Enhances energy and stamina: While more energy for your workout is likely the motivator behind looking for a strong pre-workout, research1 actually shows that caffeine offers ergogenic effects. Other common pre-workout ingredients—like beta-alanine5 and citrulline malate2—help combat fatigue to boost your workout stamina.
Improves blood flow and pumps: Pre-workouts with nitric oxide boosts, including L-citrulline22 and citrulline malate2, can improve blood flow and your muscle pumps.
Enhances exercise performance and recovery: More stimulants in the tank can excel your workouts, though other common pre-workout ingredients—such as creatine and taurine4—also can enhance exercise performance and recovery.
Increases focus and cognition: Caffeine, huperzine A, alpha-GPC12, and other ingredients act as nootropics to increase your focus during a workout.
Supports overall health: While formulated to boost your workouts, common ingredients in strong pre-workouts may support your overall health. For instance, beetroot extract21 may improve immune function while L-theanine has been shown to reduce stress.16
Dosing and Interactions
While there's no one-size-fits-all on how much pre-workout to take, we recommend starting with the lower end and gauging your tolerance. You should also dose according to the directions of your selected pre-workout, particularly if it provides a high stimulant dose, to avoid unwanted pre-workout side effects.
Certain populations should be extra cautious of caffeine intake, including pregnant women and those with certain health issues like sleep disorders and heart conditions.
Herbal ingredients, especially, may also interact with medications and interfere with their effectiveness. And because pre-workout ingredients and serving sizes are not standardized, we encourage you to review what's in your pre-workout of choice and the doses of each.
Talking with your physician before starting a new supplement routine is always a smart idea. This is extra important when considering the potency of the ingredients in the strongest pre-workouts.
Third-Party Testing
We always encourage selecting products that have been third-party tested—and maybe even more so with the strongest pre-workouts. The FDA does not tightly regulate dietary supplements and stimulants can be dangerous (and even banned by WADA and some countries).
For these reasons, we recommend—at minimum—seeking products manufactured in Good Manufacturing Practices (GMP) facilities. And if you're a competitive athlete, we can't stress the importance of using products free of banned substances and third-party tested—like Informed Choice Certified, Informed Sport Certified, and NSF Certified for Sport.
FAQs About the Strongest Pre-Workouts
Which pre-workout hits hardest?
What pre-workout is most effective?
No single pre-workout has proven to be the most effective. However, those with research-backed and clinically-dosed ingredients—like 4-6 grams of beta-alanine5 and 5 grams of creatine—likely elicit the biggest ergogenic benefits.
What pre-workouts have the most caffeine?
Based on the strongest pre-workouts on our list, Nutrition Cartel El Jefe, Huge Supplements Wrecked Engaged, and Kaged Pre-Kaged Elite offer the most caffeine. El Jefe and Wrecked Enraged provide 400 milligrams per 2-scoop serving, while Pre-Kaged Elite supplies 388 milligrams per 1-scoop serving.
What are the side effects of taking strong pre-workouts?
Taking strong pre-workouts on a regular basis may lead to caffeine dependency, elevated heart rates, disrupted sleep cycles, and risk of developing a cardiovascular disorder.
These statements have not been evaluated by the Food and Drug Administration. This product is not intended to diagnose, treat, cure, or prevent any diseases.
References