We test and review fitness products based on an independent, multi-point methodology. If you use our links to purchase something, we may earn a commission. Read our disclosures.
Do you ever hear your favorite song while working out and feel a rush of motivation? You're not alone. In fact, studies have shown that playing music (versus not playing music) during a workout can actually make you exercise longer. I mean, I was already convinced that music holds power, but now I'm extra sure, since smart, science-y people just confirmed it.
Whether you're into pop or punk, rock or rap, we have you covered with the best workout playlist on Spotify for you. Let's jump in!
Beast Mode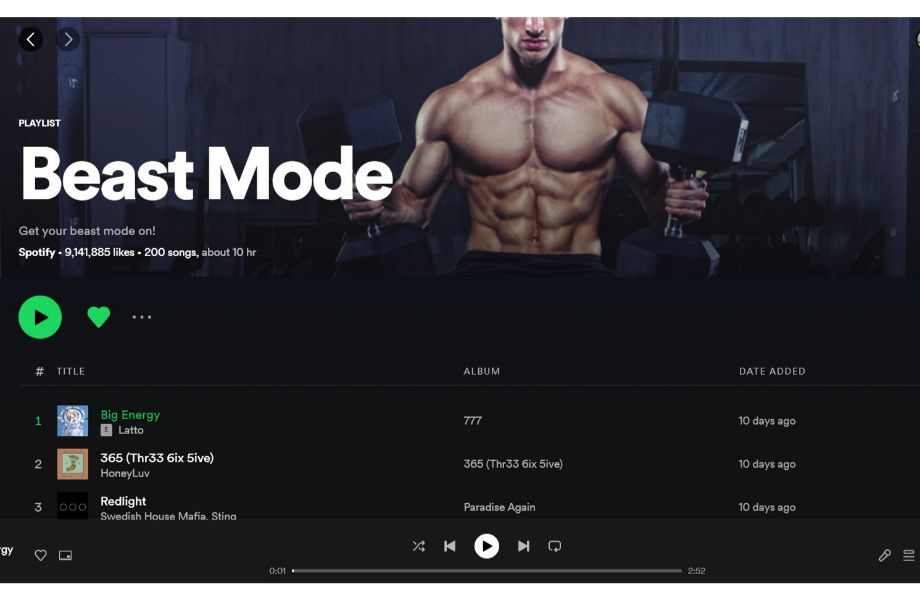 Standout track: "AP-Music from the film Boogie" by Pop Smoke
Best for: Group workouts or gyms
There's a reason this Spotify Original playlist has over 9 million likes––it's full of certified bangers. With over 200 songs to choose from (and new options added frequently), "Beast Mode" certainly won't leave you starved for choice. Sing along to top hits like "Knife Talk" by Drake and 21 Savage or listen to TikTok smash "Astronaut In The Ocean" by Masked Wolf.
"Beast Mode" combines multiple genres of music––like rap, pop, rock, and R&B–– into one playlist. It's a crowd-pleasing option for gyms who want to keep the energy up while still catering to (almost) everyone.
Listen to Beast Mode on Spotify
2000's Rap Workout
Standout track: "6 Foot 7 Foot" by Lil Wayne and Cory Gunz
Best for: Nostalgic rap fanatics
This "2000's Rap Workout" playlist transports me back to riding in my older brother's car on the way to middle school. I was not allowed to touch the music, thank you very much. Even though I would've never told him at the time, I actually really enjoyed his taste in music. This playlist has all the mid-2000's rap classics of my brother, Kyle's dreams–think Drake, Lil Wayne, Future, Migos, and Eminem.
I mean c'mon––if you haven't slapped down a deadlift PR to "Blunt Blowin" by Lil Wayne, you are simply not living life to the fullest. Just kidding, but it is an elite combo.
Listen to 2000's Rap Workout on Spotify
Running Tempo Mix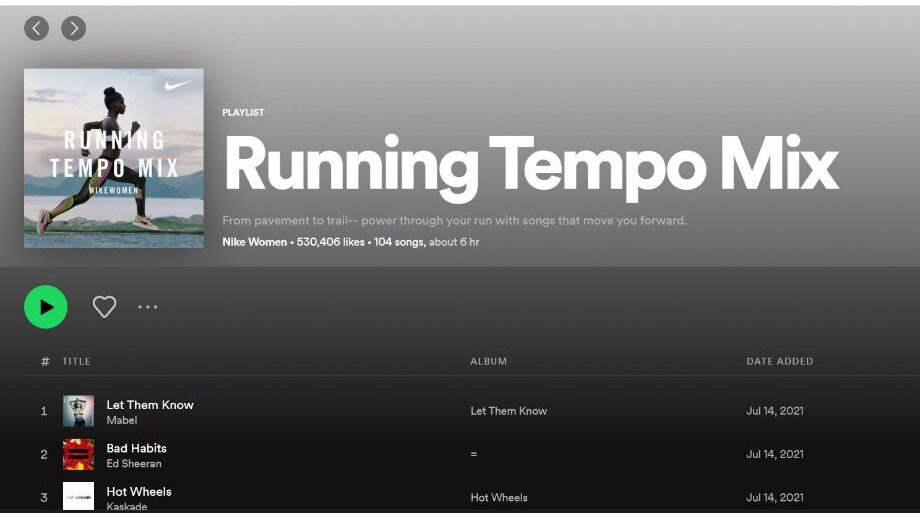 Standout track: "Let Them Know" by Mabel
Best for: Cardio enthusiasts
Companies like Adidas, Gymshark, and more have started making their own workout playlists on Spotify, and I'm certainly not mad about it. This "Running Tempo Mix" was created by Nike Women and features empowering pop songs that'll make you want to crush your cardio of choice.
You'll find songs by Becky Hill, Daya, Billie Eilish, and dozens more sprinkled throughout this playlist. Some of the songs on this mix are ideal for a light jog, while others are geared towards a steady, long-distance run.
Fun workout idea: You could shuffle this playlist and change your tempo based on the song that comes on. Since there are over 100 songs to choose from, you'll have to decide ahead of time how many songs you want to play during your workout. Happy running (and sweating)!
Listen to Running Tempo Mix on Spotify
PR OR ER typa Vibe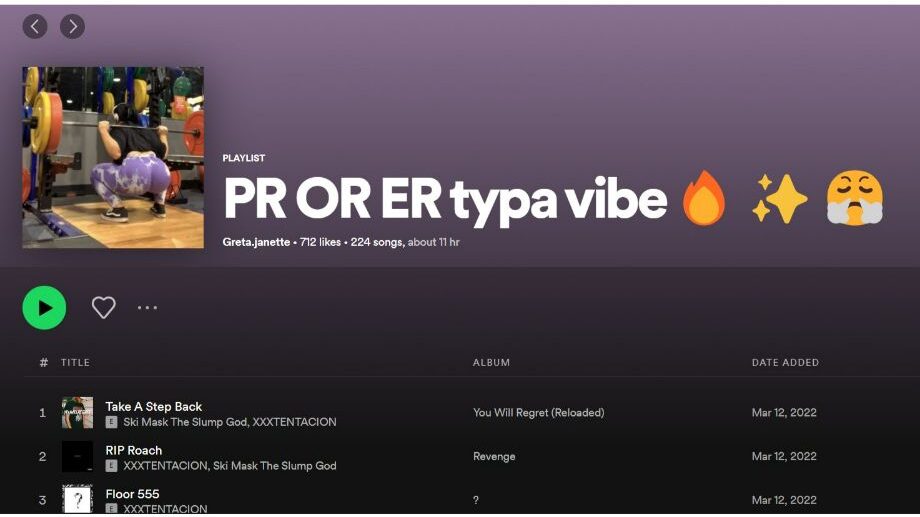 Standout track: "Ric Flair Drip" (with Metro Boomin) by 21 Savage and Offset
Best for: Maxing out or heavy weightlifting
The "PR OR ER typa Vibe" playlist has fire tracks like "Love Sosa" by Chief Keef and "Lord Knows" by Meek Mill and Tory Lanez. Pretty much every single song on this playlist makes me want to load a barbell up as heavy as humanly possible and max out. However, I don't want to go to the ER (and I don't want you to either, internet friend), so be safe!
I will warn you––if you're not into explicit music, you won't love this playlist. As someone who has the mouth of a sailor, I personally don't mind one bit, but I did want to put out that disclaimer.
Listen to PR OR ER typa Vibe on Spotify
Pop Punk Emo Workout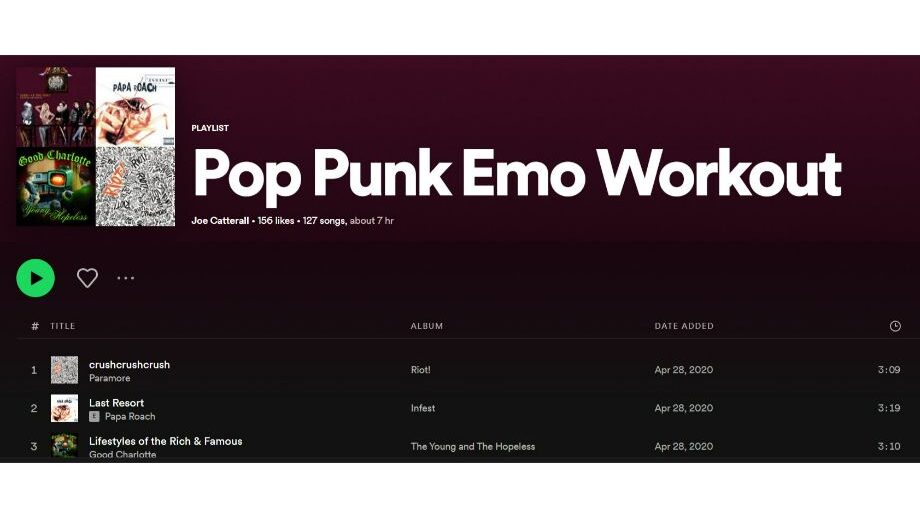 Standout track: "Teenagers" by My Chemical Romance
Best for: Unleashing your inner emo kid
I don't know who the heck Joe Catterall is, but he sure put together a banger of a playlist. "Pop Punk Emo Workout" has all the grunge staples––"The Anthem" by Good Charlotte, "Flavor Of The Week" by American Hi-Fi, and "Fat Lip" by Sum 41. I'm basically listening to my iPod shuffle I had in 1st grade with this Warped Tour-themed playlist.
Whether you're pounding the pavement on a run or picking up a set of dumbbells, you'll want to sing your happy little punk heart out when you hear these songs.
Listen to Pop Punk Emo Workout on Spotify
pregame&party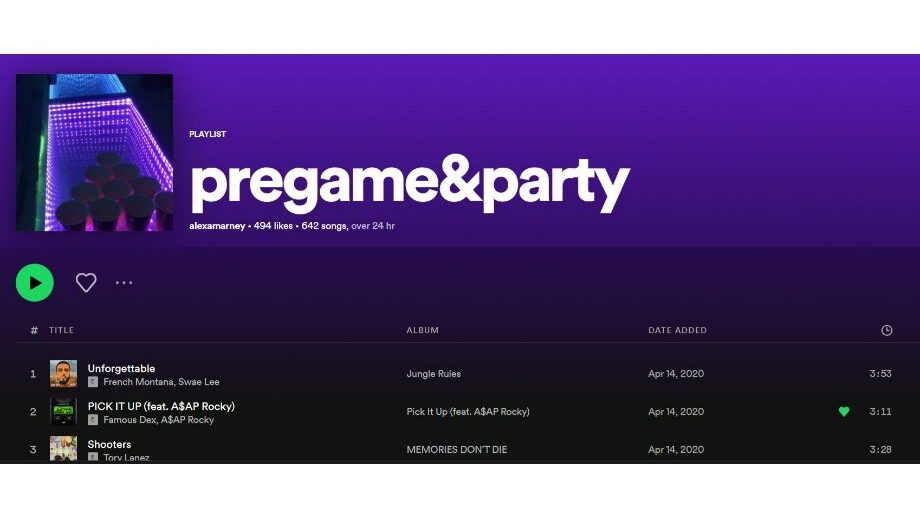 Standout track: "TOES" by DaBaby, Lil Baby, and Moneybagg Yo
Best for: Getting hype at the beginning of a workout
Obviously, the creator of this playlist probably didn't intend for "pregame&party" to be for a workout, but hey, you can pregame your workout with some pre-workout, amiright? On days you need a little more energy and motivation to exercise, listen to this playlist for tracks from Kanye West, Tiësto, Calvin Harris, DMX, Nicki Minaj, and more. 
RELATED: Best Pre-Workout
I always try to listen to hype music during my warm up so I can mentally prepare myself to lift or run, and the "pregame&party" playlist doesn't miss. There are over 640 songs, which equals out to 24 hours (crazy). Since it's so long, I guess you can also use it on the weekend for its intended purpose. So versatile. We love to see it.
Listen to pregame&party on Spotify
CROSSFIT WOD BANGERS
Standout track: "edamame" by bbno$ and Rich Brian
Best for: HIIT, CrossFit, and functional fitness junkies
Good playlists are crucial in every CrossFit box, and the "CROSSFIT WOD BANGERS" passes the vibe check. Not into CrossFit? You'll still probably be into this playlist (plus the elite Elmo meme as the cover image). Almost every type of music and artist is represented––think EDM remixes to Kendrick Lamar with random Post Malone songs in between.
All the songs on this gym playlist are great for high-intensity movements since they have excellent beats. So get ready to sweat, (maybe cry, depending on how hard your WOD is) and enjoy this workout music!
Listen to CROSSFIT WOD BANGERS on Spotify
Days in Boone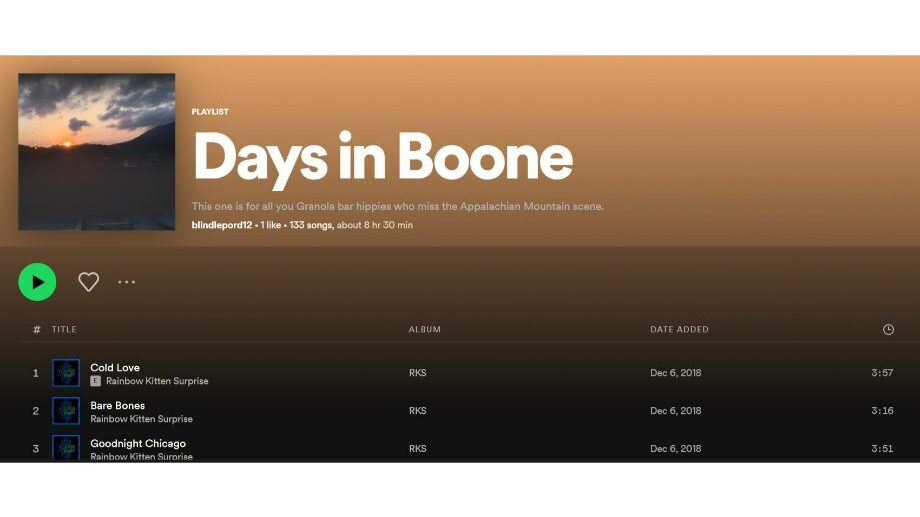 Standout track: "Light My Love" by Greta Van Fleet
Best for: Yogis and cooling down
Fun fact: I went to college in a hippie town in the mountains of North Carolina. If you've ever been to Boone, North Carolina, you know the pace is slower and the weather is quite a bit colder. The "Days in Boone" playlist is the perfect representation of this beautiful town I called home for four years.
Oh yeah, and it rocks for yoga. Whether you're into power yoga or just want some easy listening for a cool down stretch, this playlist will supply you with all the good vibes. Jam out to Boone staples like Rainbow Kitten Surprise, and feel all the feels in downward dog when
"The Girl" by City and Colour comes on.
Listen to Days in Boone on Spotify
Garage Gym Reviews Team Workout Playlist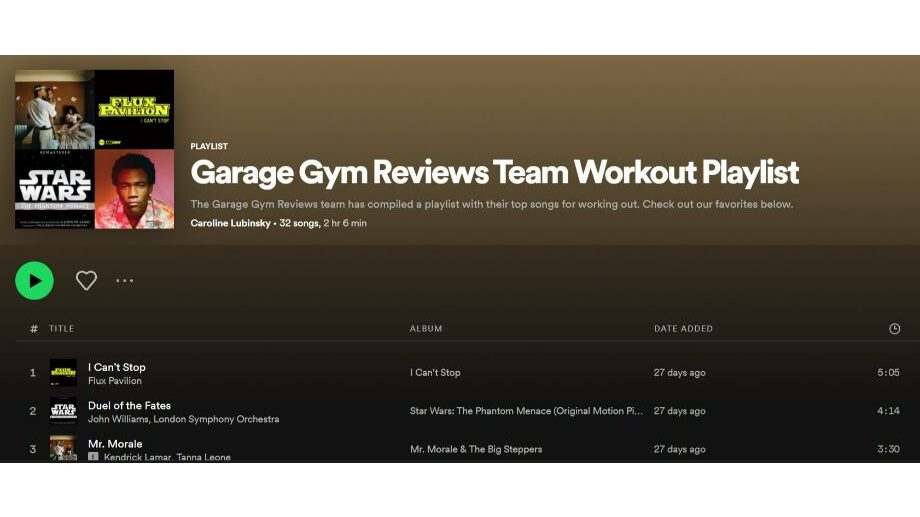 Standout track: "emo girl" By Machine Gun Kelly and WILLOW
Best for: Short and sweet workouts
I consulted with all 29 members of the Garage Gym Reviews team to compile our top workout songs and this is what we came up with—a rich combination of popular hits, coupled with songs from the "Star Wars" soundtrack (lol, Anthony), and music that makes us want to throw a weight plate out of a window or squat 400 pounds. Think of this playlist as the Chex Mix of music––you never know what you'll pull out of the bag!
Listen to Garage Gym Reviews Team Workout on Spotify
Workout Playlists on Spotify FAQs
What's the best album to listen to while working out?
I consulted with my music-loving friend and GGR writer Anthony O'Reilly to pick the best album (with no skips!). Listen up, powerlifters: Anthony chooses "Battle of Los Angeles" by Rage Against the Machine. His standout track? "Sleep Now in the Fire."
What is a good pump up song?
My personal favorite is "Run This Town" by Jay-Z, Ye, and Rihanna. I used to listen to this song before every single soccer game I played on the road. Of course, you can't go wrong with pretty much any option from AC/DC, Skrillex, Young Thug, Travis Scott, or Eminem (throwback to 'Till I Collapse).
What music motivates you while exercising?
I've already blabbed about my personal preferences when it comes to music, so I asked my friend Amanda Capritto, a writer and editor at GGR, what she thinks.
"My music preferences change based on the type of workout I'm doing," Amanda admits. "When I'm lifting weights, I want to be yelled at. I like hip-hop, rap, or hard rock while lifting weights or doing CrossFit-style workouts. When I'm running or biking, I like something lighter and more upbeat––either pop music with workout remixes or chill summer-y, vibey songs."