We test and review fitness products based on an independent, multi-point methodology. If you use our links to purchase something, we may earn a commission. Read our disclosures.
Although a pair of ankle weights might not replace the versatility of the best adjustable dumbbells, if you're on a budget (or new to fitness), why not start building your home gym with some small, bite-size investments?
Ankle weights can offer beginners and high-rep enthusiasts a way to train the lower body with minimal sticker shock. As a certified personal trainer, I see ankle weights useful for hamstring curls, quad extensions, glute-building exercises, and single-leg movements. The best ankle weights don't slide or chafe, which is why we had to get hands-on experience to see which ones are cut out for a recommendation from your favorite expert product testers here at Garage Gym Reviews.
7 Best Ankle Weights
Best Overall Ankle Weights: Sportneer Adjustable Ankle Weights
Good for: Folks looking for a solid ankle weight with removable weights
The Sportneer adjustable ankle weights make it to our top pick for best ankle weights for three reasons: They are adjustable, affordable, and durable. This pair of ankle weights is priced at $29.99 on Amazon and comes in a variety of colors.
We also like the fact you can adjust the weight anywhere from one to 5 pounds on each ankle weight. The wearable weight is constructed from a soft and breathable neoprene material and features small cylindrical pouches where you can adjust the removable weight—each weighing just under one pound each.
From my experience testing these ankle weights, I found the weight changing process to be fairly easy but I found the best practice for adding weight back to the ankle strap was to take the ankle weight off and lay it flat on the ground. The Velcro closure makes it easy to take on and off quickly.
It's basically like putting a heavy (but tiny) sandbag back into a neoprene case. It's not impossible, but you'll need some patience. It's also worth noting that the neoprene material doesn't have an official closure over each adjustable section. Each section stays in place with a fabric hood.
RELATED: Best Workout Sandbag
| | |
| --- | --- |
| Price | $29.99 |
| Weight | 5 lbs each |
| Dimensions | 14.5" L x 5.5" H |
| Closure | Velcro strap with metal buckle |
Best Ankle Weights for Beginners: GAIAM Restore Ankle Weights
Good for: Beginners seeking wearable weights for home workouts
The GAIAM Restore ankle weights are ideal for beginners and feature soft material that won't cause chafing or irritation during home workouts. They are sold in pairs and come in 2.5- or 5-pound sets, which makes them a solid choice for anyone who's looking to add resistance to an established bodyweight fitness routine.
I tested the GAIAM ankle weights in the 5-pound-per-ankle option and found them to stay tight around my ankles and feel soft on my skin. These wearable weights will be an ideal addition for a beginner learning fundamental movements like squats and lunges.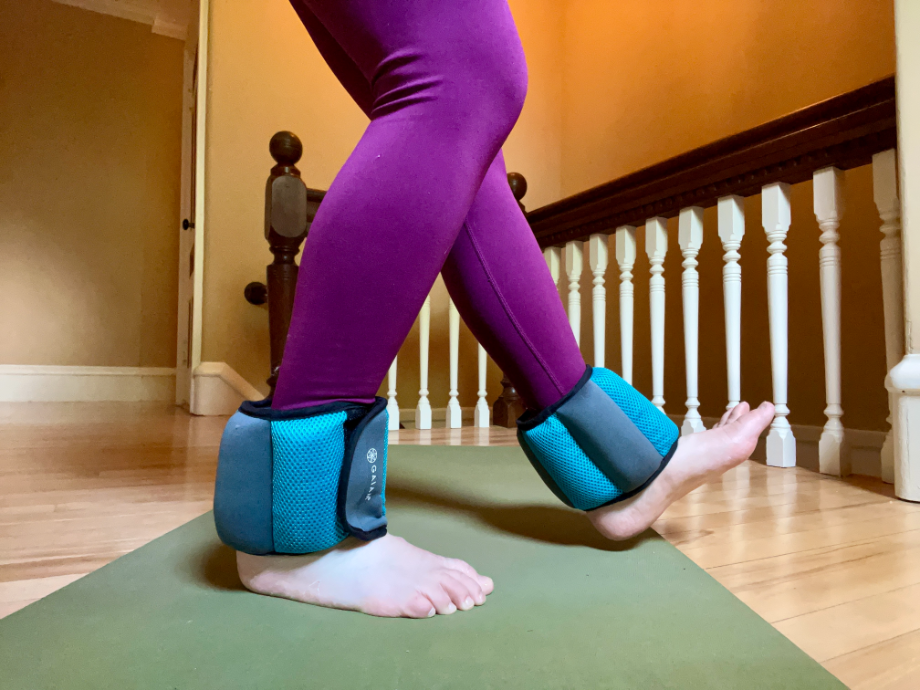 RELATED: 6-Week Beginner Workout Plan
On Amazon the product description notes that these GAIAM ankle weights feature adjustable straps, but let me give you the real insight: There is a rather large area featuring a fabric fastener on either end of the ankle weight, but there is no adjustable strap or buckle closure to pull this pair of ankle weights tighter around your leg.
When you put the GAIAM ankle weights on, basically just stick the two fabric fastener tabs together. I will admit these tabs are fairly large and strong, but I thought it was misleading that the word "adjustable" was used to describe the closure.
| | |
| --- | --- |
| Price | $24.99 |
| Weight | 2.5-lb or 5-lb each |
| Dimensions | 14″ L x 4.5″ H |
| Closure | Fabric fastener |
Best Ankle Weights for Comfort: Nike 5-lb Ankle Weights
Good for: Folks who are willing to spend a little more for a comfortable-fitting ankle weight
The Nike 5-lb ankle weights might not offer different weights to choose from, but you will have the most comfortable fit as far as ankle weights are concerned.
I tested eight different ankle weights and my overall consensus was that they're bulky and awkward (especially if each ankle weight weighs 5 pounds or more). That said, this pair of Nike ankle weights has a contoured shape, slimmer profile, and offers a secure fit.
When walking around or using the Nike ankle weights for lower body exercises (like lateral lunges, side-lying leg raises, and glute kickbacks) these were the most comfortable and least bulky. They also feature a strong fabric fastener tab on either end of the ankle weight and a moisture-wicking liner.
RELATED: What Muscles Do Lunges Work
The one downside I see to these Nike ankle weights is the fact they are $45 at Dick's Sporting Goods. This is one of the most expensive pairs of ankle weights on this roundup, but if you've tried ankle weights in the past and remember not liking them due to their bulky nature, I'd recommend giving these a try.
| | |
| --- | --- |
| Price | $45.00 |
| Weight | 5 lbs each |
| Dimensions | 14.76" L x 5.91" W x 2.17" H |
| Closure | Fabric fastener |
Best Budget Ankle Weights: BONA Fitness Ankle Weights
Good for: Anyone looking for a lightweight pair of ankle weights for under $25
The first thing we like about the BONA Fitness Ankle Weights is the fact they are under $25 on Amazon and often go on sale for less than that. Plus, these ankle weights feature a reflective trim at the top and bottom of the ankle strap to give additional visibility for anyone planning to wear these outside.
When testing these BONA ankle weights I also came to like the breathable material and flexible design. They are easy to get on, off, and secure around your ankle with a fabric fastener strap and a metal buckle closure for adjustability.
With the weight of these BONA ankle weights set to 1.5 pounds each, this set is ideal for beginners, seniors, or folks returning to exercise from an injury. This light load around the ankles is not ideal for experienced gym folks who train with barbells, dumbbells, and kettlebells.
That said, I found these adjustable enough in size to use them as wrist weights and perform upper body prehab and some of the best warm up exercises for full-body workouts.
| | |
| --- | --- |
| Price | $18.59 |
| Weight | 1.5 lbs each |
| Dimensions | 12.4" L x 3″ W x 1″ H |
| Closure | Fabric fastener with buckle |
Best Heavy Ankle Weights: The Cuff Original Ankle Weight
Good for: Folks looking for heavier weight options in the ankle weight arena
If you are someone looking for ankle weights with heavier loads, The Cuff ankle weight might be the option for you. Before we get into the details, I think it's worth mentioning that unless you select a set of ankle weights from the Amazon purchasing options, you'll have one lone ankle weight show up at your door. This is the only brand I tested that was not sold in pairs.
The Cuff is definitely geared toward folks looking to use heavier weights with options going all the way up to 25 pounds. I ordered an 8-pound ankle weight and right away noticed the strong fabric strap for the fastener. It worked well, but I can imagine that on heavier weight options the ankle weight staying in place with one strap could get a little precarious.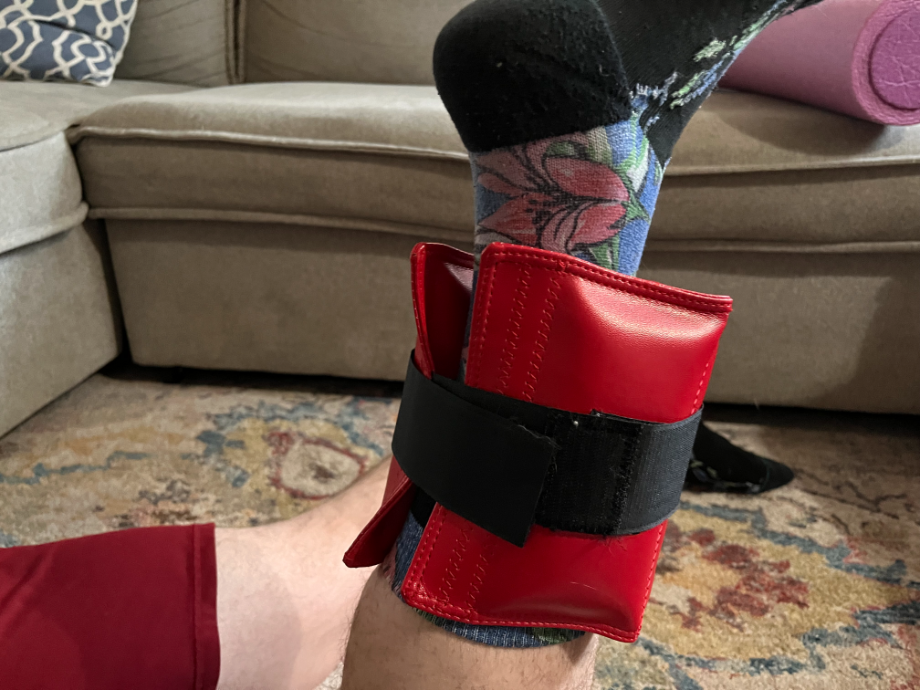 RELATED: What is Resistance Training?
I appreciate the vinyl outer material, which is durable and will certainly hold up to wear and tear for home gyms or commercial gyms alike. I also like the fact the vinyl is easier to wipe down and clean compared to other ankle weights featuring neoprene or lycra.
| | |
| --- | --- |
| Price | $8.99 to $68.61 |
| Weight | 0.25 to 25 lbs |
| Dimensions | 12" L x 0.5" W x 4.25" H |
| Closure | Fabric fastener |
Best Light Ankle Weights: Theraband Ankle Weights
Good for: Exercisers looking for lighter options for wearable ankle weights
Theraband Ankle Weights come in as our top pick for light ankle weights because you can find them in 1-, 1.5-, or 2-pound increments per ankle.
Regardless of which weight you choose, you'll have an adjustable fabric fastener strap that loops securely through a metal D-ring to adjust to your desired tightness. Although dimensions vary depending on which size you choose, I had no problem securing the pair of 2.5-pound weights into place.
You may also like knowing the fabric on the inside of the ankle weights is lined with soft terry cloth so you won't have to worry about chafing.
Similar to the BONA ankle weights, these Theraband wearable weights also feature a reflective that is stitched around the trim of the ankle weight for added visibility. I will also mention that I didn't mind how the Theraband felt around my ankles—it wasn't too bulky or uncomfortable. I'm also not surprised because they weigh a little less than most of the other ankle weights I tested.
| | |
| --- | --- |
| Price | $18.27 to $29.99 |
| Weight | 1, 1.5, or 2.5 lbs each |
| Dimensions | 10.125" or 10.5" L x 3.5", 3.625", or 4.5" W |
| Closure | Fabric fastener with D-ring |
Best Adjustable Ankle Weights: Synergee Adjustable Ankle Weights
Good for: Anyone looking for a heavy-duty adjustable weight for the ankles
The Synergee Adjustable Ankle Weights feature removable weights so you can make adjustments depending on who is using them and what exercises you're doing.
You can choose from 2.5, 5, or 10 pounds per ankle and depending which weight you choose the removable weights will have different removable increments (0.5, 1, and 2 pounds respectively).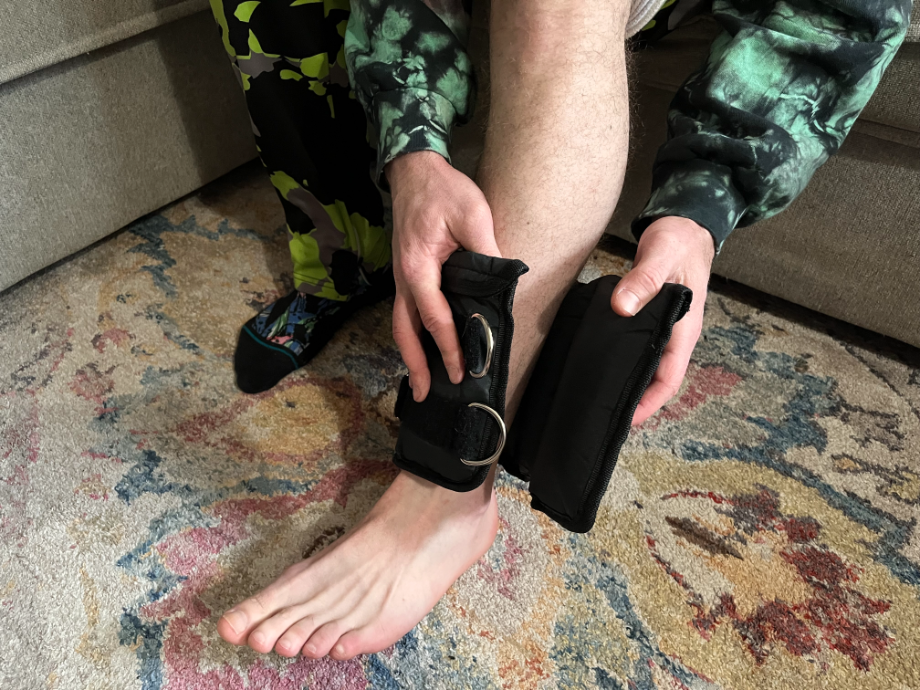 Although I appreciate the fact this pair of Synergee ankle weights offered a heavier load than other ankle weights I tested, it was one of the bulkiest pairs of wearable weights I used. That said, I made several adjustments on the removable weights and found I have the best fit when one section is removed.
I will also mention that the website is slightly confusing with how the weight options are labeled. The brand is featuring the total weight, not the weight per ankle. I thought I was ordering 10-pound ankle weights per leg but it turns out it was 5 pounds per ankle.
Personally, I think that's totally OK. I'm not sure I really want a 10-pound ankle weight per leg for the glute exercises I did throughout the ankle weight testing process.
| | |
| --- | --- |
| Price | $17.48 to $29.95 |
| Weight | 2.5, 5, or 10 lbs each |
| Dimensions | 14" or 18.5" L x 5.5" or 7" H |
| Closure | Two Velcro closures with D-rings |
Other Ankle Weights We Researched and Tested
We ordered and tested the seven top picks we featured in this roundup plus two other brands.
All Pro Ankle Weights: Although these adjustable weights were the easiest to slide in and out of the ankle straps, this product is currently unavailable on Amazon.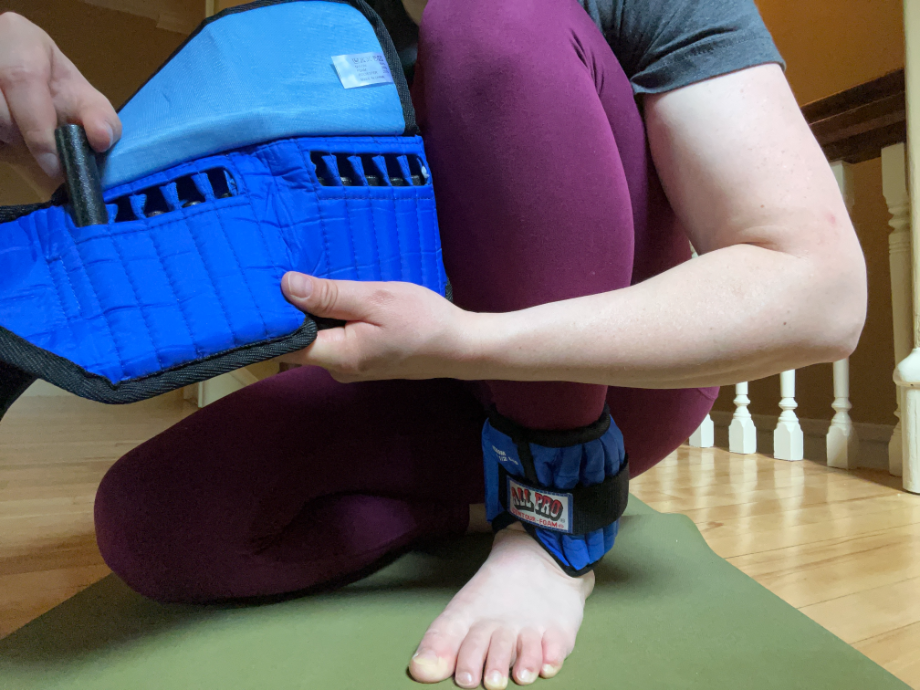 Bala Bangles: We didn't feature these ankle weights because they cost a whopping $65 for a pair of 2-pound ankle weights. The Bala brand has gained popularity because the founders were on the TV show Shark Tank and TikTok influencers have been blowing up feeds with "hot girl walks" and booty exercises.
How We Picked and Tested
As with most of our roundups, we start our research online to see what ankle weights are on the market, which ones are seemingly popular, and which ones are actually worth testing.
From there, we narrowed down our list to eight different ankle weights. I personally ordered and tested each weight on this list with short bouts of walking, squats, lunges, hamstring curls (standing and lying), seated quad extensions, and a smattering of other glute-focused exercises.
RELATED: Glute Exercises At Home
From there, I made note of how each pair of ankle weights performed and listed any callouts I had as well.
Benefits of Ankle Weights
While you can use ankle weights for cardio exercise, there is not a ton of research supporting the benefits of wearing ankle weights to improve aerobic performance or overall calorie expenditure.
That said, here are the top two benefits we see of using ankle weights in your strength training workout routine:
Ideal for Beginners
Because ankle weights offer low resistance loads, you can use them to help you begin your journey with resistance training and target the muscle groups in the lower body. You can also use ankle weights for physical therapy rehabilitation exercises.
Affordable Strength Training Option
If you're starting off on the home gym building process, ankle weights are a simple, affordable, and effective way to add resistance to your workouts (much like the best resistance bands). Ankle weights provide an accessible method to train your glutes, hamstrings, and quads with exercises like glute kickbacks (aka donkey kicks), standing hamstring curls, or seated quad extensions.
Improve Balance
You can absolutely improve your balance without resistance or extra weight, but once you've mastered certain movements, you may need to add load to keep improving your overall strength.
Ankle weights can help you add resistance to single-leg exercises that help you improve balance (like step-ups, single-leg lifts, or single-leg deadlifts).
Buying Guide to the Best Ankle Weights
Before you click "add to cart," here are the top three things to consider:
Weight Options
For most folks, 5-pounds per ankle weight or less will do the trick. If you're on the fence between weight options, having adjustable or removable weights gives you flexibility to add or remove weights for different exercises or as you progress over time.
Comfort and Fit
When it comes to ankle weights, the ideal fit will be snug around your ankle without limiting movement flexion of the foot. We suggest double-checking measurements before buying to ensure the ankle weights won't be too big or too small. Additionally, adjustable straps and closures will offer the most customization when it comes fit.
Lastly, soft materials like terry cloth, neoprene, or lycra will provide the most comfort and are the least likely to cause chafing and skin irritation.
Durability and Quality
To ensure your ankle weight will hold up to regular use, be sure to look for reinforced stitching, strong fasteners, and high-quality materials.
Best Ankle Weights FAQs
What's the best weight for ankle weights?
The best weight for a pair of ankle weights depends on your personal fitness level and what exercises you'll be performing with them on. 
Do ankle weights help weak ankles?
Wearing ankle weights during single-leg, balance-focused exercises can help strengthen your ankles and reinforce proper ankle alignment (versus overly supinated or pronated posture). However, we recommend mastering balanced-focused drills with your own body weight before adding additional load.   
Are one-pound ankle weights effective?
This depends on your fitness level and experience with resistance training. An untrained individual or someone returning to exercise after injury might only need a one-pound ankle weight per leg to gain strength with certain movement patterns.