We test and review fitness products based on an independent, multi-point methodology. If you use our links to purchase something, we may earn a commission. Read our disclosures.
When it comes to setting up your home gym, one of the most daunting tasks you'll take on is deciding what fitness equipment to add. Of course, most people opt for ellipticals and treadmills because they're what we're most familiar with. However, there's nothing wrong with switching it up a bit and getting something equally (if not more) impactful, either. 
The ProForm Carbon HIIT H7 is a machine that lets you do high-intensity interval training exercises in a low-impact way. It's sort of like an elliptical trainer and stair stepper in one.
If you're interested in learning what this unique machine could do for you, continue reading this ProForm Carbon HIIT H7 review. Although it's discontinued by ProForm, you might still be able to find a few in limited supply at different retail stores or come across someone selling it online.
We've Taken Steps To Determine The Best
Our team of personal trainers, exercise specialists, CrossFit-L1 trainers, and more have tried out many machines so you don't have to. We've spent hundreds, possibly thousands, of hours combined sweating, testing, and taking notes. So when we do product reviews, we provide the type of feedback you can take to the bank before breaking the bank.
As fitness-focused exercise fanatics, we live and breathe working out. Therefore, if you want to know about the best ellipticals, stair climbers, or how it is when these machines are combined, we've got you covered.
Looking for an Alternative to ProForm Carbon HIIT H7?
Best Alternative to ProForm Carbon HIIT H7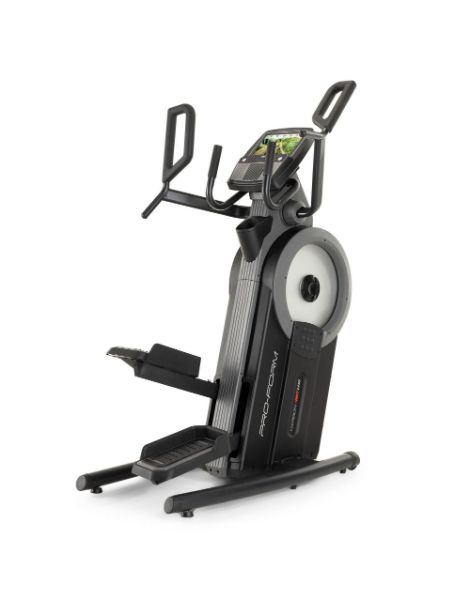 GGR Score: 3
Product Highlights
Hybrid climber

10" vertical with a 5" horizontal stride

Low-impact, intense full-body workout

24 levels of resistance

10" smart HD touchscreen display

iFIT-enabled with a free 30-day iFIT family membership included

56 pre-programmed workouts outside of iFIT
Pros & Cons
Pros
Compact
Quick but intense workouts
Immersive training via iFIT
Quiet
Free 30-day family membership included
Over 50 pre-programmed workouts
Cons
Assembly is reportedly difficult
Not for casual workouts
Bottom Line
The ProForm HIIT H10 trainer offers shorter, intense workouts on a compact and high-quality machine.
The Carbon HIIT H7 isn't the most accessible item to find, so it's only fitting that we explore other options. One such alternative is the ProForm Carbon HIIT H10, which is just as out of this world as the H7.
Stepping up to the plate with 50 built-in workout programs and an optional iFIT membership, you shouldn't find yourself bored anytime soon with this cross-trainer. The 10-inch touchscreen display only adds to its appeal, letting you immerse yourself in the interactive training experience.
Although it's compact, don't assume it won't give you a good, full-body workout. This particular elliptical machine/stair master has a steep incline angle that will surely have your glutes on fire. The Carbon HIIT H10 lets you have a 10-inch vertical and 5-inch horizontal stride that completely ups the ante. You can also engage your upper body by grasping onto the moving handlebars. You'll feel like you're pushing your various muscle groups and cardiovascular system to the max.
You'll get an intense workout from this machine, but it does have comfort features like a built-in workout fan and cushioned oversized pedals to make it a little better. It also operates quietly, thanks to ProForm's proprietary Silent Magnetic Resistance (SMR) component.
Despite it being pricy, challenging to assemble, and heavy, it's a good piece of fitness equipment.
A Quick Look at the ProForm Carbon HIIT H7
The Carbon HIIT H7 is a part of ProForm's HIIT Trainer Series. This collection, which also includes the HIIT H10 and HIIT H14, is known for providing a vertical elliptical path in addition to a horizontal stride so you can achieve an intense calorie burn session.
Having this in your home gym is like having both an elliptical and a stepper machine, but you get it all in one instead of having two different machines. However, is it really worth the over $1,000 price tag? You'll find out if you keep reading this ProForm Carbon HIIT H7 review.
Pros:
7-inch smart HD touchscreen
30-lb flywheel
iFIT enabled
CoolAire™ Workout Fan
24 resistance levels
Cons:
Heavy, weighing 225 lbs
Pricey
Only 1-year labor warranty
ProForm Carbon HIIT H7 Specs
Due to the fact that the ProForm Carbon HIIT H7 is off the market, our team had trouble finding reputable sources for some of these specs.
| | |
| --- | --- |
| Footprint | 52″L x 29.25″W x 66″H |
| Weight | 225 lbs |
| Weight capacity | 325 lbs |
| Stride | 10" Vertical, 5" Horizontal |
| Display | 7" Smart HD Touchscreen |
| Resistance Levels | 24 Resistance Levels with SMR™ Silent Magnetic Resistance |
| Incline | N/A |
| Built-in Programs | 32 |
| Flywheel | 30 lbs |
| Heart rate monitor | EKG Grip Pulse Heart Rate Sensor |
| Warranty | 10-Year Frame, 2-Year Parts, 1-Year Labor Warranty |
Key Features of the ProForm Carbon HIIT H7
The ultimate standout feature of this cardio machine is the ability to perform full-body training. As a result, you burn calories faster and more efficiently by using both your upper and lower body. This is great for someone who doesn't want to go back and forth using different machines to achieve similar results.
The 10-inch vertical and 5-inch horizontal stride lengths provide a stair climbing-like experience combined with the fluidity of using an elliptical. However, based on our experience with the H10, the elliptical motion is barely noticeable. Nonetheless, the 30-pound inertia-enhanced flywheel helps the machine operate smoothly and naturally so trainees get the most out of their workout.
This resistance trainer can support users up to 325 pounds who want to do elliptical HIIT workouts, and tall folks shouldn't have an issue either. It's not every day that you find compact equipment that's also size inclusive, so it's nice to see that here.
Console: iFIT Training Programs and More
The Carbon HIIT H7's console has wireless technology that connects with iFIT, so you can easily access the program's vast library. In addition, there are 32 built-in programs available for you to complete cardio HIIT. Both the iFIT and onboarding programs will automatically change the resistance of the pedals as you go through your exercise session.
As you exercise, you'll be able to view your exercise feedback, so stats like calories burned, the time elapsed, speed, and more will show up. It'll show your pulse, too, if you grab ahold of the EKG grip pulse sensors that are built into the handlebars.
The full-color touchscreen works like a tablet, allowing you to slide your fingers to view your next Google Maps destination or type text to find a new workout posted by your favorite iFIT trainer.
Resistance
This hybrid machine includes 24 levels of resistance that employs SMR technology. As a result, you get a quiet, smooth, frictionless workout experience at every level.
Footprint and Portability
The Carbon HIIT H7 is smaller than many other exercise equipment, making it ideal for home gyms. It's 52 inches long, 29.25 inches wide, and 66 inches high, making it smaller than the popular NordicTrack Commercial 9.9 elliptical. Wherever you decide to put it in your home, make sure that you have 3 feet of clearance in the front and rear of your machine and 2 feet on each side. Also, don't forget about your ceiling, as you don't want to bump your head on it. Be sure you have at least 10 inches of headspace to work with, or you might risk a concussion.
It might be compact, but this machine is 225 pounds, so it's not light. Fortunately, there are front-mounted transport wheels to make navigating it around a flat surface a little easier, but moving it might be a slight workout in itself.
Design and Durability
Based on customer reviews, the ProForm Carbon HIIT H7 is sturdy and well built with quality parts. We've also tried out the Carbon HIIT H10, which is very similar and found it solid and stable. This cardio machine does have a plastic shell, but it's not the super cheap kind of plastic that doesn't last long.
Overall, it's an attractive elliptical/stepper machine in its own funky way. The plastic shell is black, and there's bold, red text on the side that says PRO-FORM. The oversized, cushioned pedals are black and red, giving them even more appeal. The hints of gray on the console and body give it some charm, too.
Conveniences
I'm so glad this hybrid machine has the CoolAire workout fan because anyone using it will need it! There's a water bottle holder, too, so you can stay hydrated throughout your HIIT workout.
To stay in the zone and keep motivated, you can listen to music, podcasts, or audiobooks from your device on the elliptical trainer using the auxiliary port or Bluetooth connectivity.
Another convenience you'll find on this machine is QuickSpeed buttons for resistance adjustments. No one wants to press a button multiple times to get to a desired level, so they make it easy by placing the numbered buttons on the console.
Even though there's already a touchscreen display, you could secure a tablet holder on the machine, too. However, that's sold by ProForm separately.
Final Verdict of Our ProForm Carbon HIIT H7 Review
We'd recommend this stair climber/elliptical to those who desire a machine that's easy to use, compact, well built, and has solid tech features. It might not be as low-impact as an elliptical, but it should be better than what you'd typically experience during HIIT workouts.
However, it's no longer about what we think about this machine at this point. What are your thoughts now that you've read this ProForm Carbon HIIT H7 review?
ProForm Carbon HIIT H7 Rating
ProForm Carbon HIIT H7
Is it possible to do a HIIT workout that's also low-impact? In this ProForm Carbon HIIT H7 review, you'll find out!
Product Currency: $
Product Price: 1403
Product In-Stock: InStock
ProForm Carbon HIIT H7 FAQs
Does The ProForm HIIT Trainer Work? 
Absolutely! In fact, you'll feel it working when you notice the sweat dripping down your face and your muscles getting tired. 
What Muscles Does The ProForm HIIT Trainer Work? 
The ProForm Carbon HIIT H7 mainly engages your lower-body muscles, but the multifunctional handlebars are there to let your upper body join the workout party, too. So, in short, it uses your whole body.
Are HIIT Trainers Worth It? 
It really comes down to your individual preferences. If you're looking for a compact cardio machine that combines an elliptical and stair-stepper experience, absolutely. If you like high-intensity interval training and want to complete it in the most low-impact way possible, this piece of fitness equipment can help you do that. If you're looking for something that'll help you burn off some calories, it'll undoubtedly be able to assist you with that! 
Ultimately, you have to decide if those factors are worth it to you, though. Like other things workout-related, it all comes down to your own fitness goals and budget.
Does ProForm HIIT Work Without iFIT?
Yes, there are 32 workout programs you can use if iFIT isn't your thing. However, I'm not really sure if I'd get this machine if I didn't plan to utilize interactive programming. Of course, you'd still be able to get a good workout in without iFIT, but using your 7-inch HD touchscreen display to access a library of over 16,000 personal-trainer-led exercises is what makes this thing worth it.